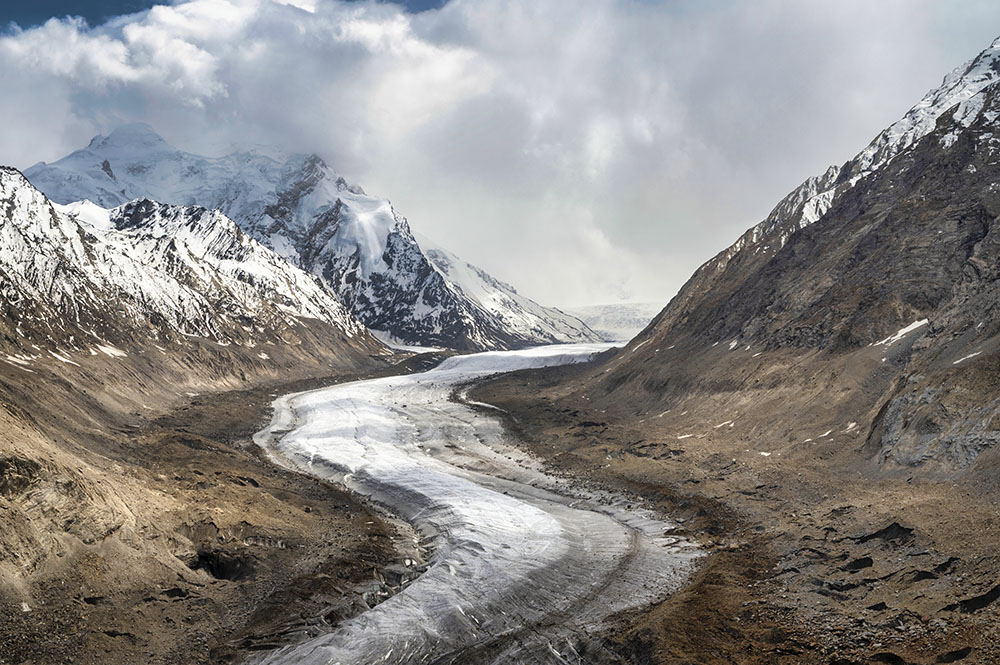 Adventure is the word that aptly describes the journey from Kargil to Zanskar Valley. Do not get me wrong. I am not by any means saying that it is a dangerous road to take. When I say adventure, I mean the kind that a regular tourist or traveler would like to venture on.
It is a journey that offers views you probably would never have seen in your life. Clear blue skies, snow-capped mountains, lush green villages in barren valleys, high-altitude lakes, a mountain pass, and several glaciers on the way are bound to leave you charmed.
Then why do I say an adventure? Well, that is mostly because of the road and the landscape that it passes through.
This was the journey that we intended to take on the 9th day of our trip. To read the previous parts of the travelogue, you can take a look at the links below.
Journey So Far:
This was not the first time that I was traveling from Kargil to Zanskar Valley. I had already seen it all before. But did that dampen my spirits even a bit? Not at all. I was still as excited to be on this route as I was the first time I did it.
Kargil to Zanskar Valley
The journey from Kargil to Zanskar Valley is approximately 230 kilometers long. It may not seem a lot in terms of the distance but it can easily take 11 to 12 hours to complete, thanks to the bad roads on the way.
Contrary to the common belief, you do not enter Zanskar the moment you leave Kargil. In fact, for the next 110 kilometers, you pass through another beautiful yet lesser-known region, Suru Valley.
The villages of Sankoo, Panikhar, and Parkachik are all part of the Suru Valley. Even Rangdum is located in the upper region of the Suru Valley.
After Rangdum, you drive up the Pensi La Pass and when you drive down on its other side, that is when you enter Zanskar, about 120 kilometers after leaving Kargil.
You can also see a video of our journey at the links below.
Part 1
Part 2
Kargil to Zanskar Road Conditions
The condition of the road from Kargil to Zanskar Valley is notoriously bad. It is not as bad now as it was a decade ago when I first visited Zanskar but it is still far from being good.
Below is a breakdown of the road condition. Work to build a broader and better road is underway and it will definitely get better in the coming days but below is how it is right now.
Kargil to Sankoo to Panikhar – Excellent
Panikhar to Parkachik – Very Bad
Parkachik to Pensi La – Bad Dirt Road but broad. Can easily manage 30 kmph in a car
Pensi La to Abran – Bad Dirt Road but broad. Can easily manage 30 kmph in a car
Abran to near Padum – Terrible
Closer to Padum – Excellent
In and around Padum – Excellent
Kargil to Zanskar Bus
There is no bus service available between Kargil and Zanskar valley. If you are traveling by public transport, you will have to rely on shared cabs.
There is also no direct shared cab as well though. You will have to jump from one cab to another for the next town. There is a high chance that you may not even find a cab at all on the day of your travel.
For example, you may find a cab from Kargil to Panikhar but nothing beyond that. If that happened, you will have to stay for the night in Panikhar and push your travel plans to the next day.
Kargil to Zanskar Taxi Fare
The best way to travel is either in your personal vehicle or by a private taxi. A cab from Kargil will cost you anywhere between Rs. 5,000 to 10,000 for a drop to Padum in Zanskar.
The final price will depend on your negotiation skills and the time of your travel. If offseason, you will pay less and in peak tourist season, taxi prices can even go beyond Rs. 10,000.
Also Read: How to Plan a Trip to Zanskar Valley
Kargil to Zanskar Valley Distance
The distance between Kargil and Zanskar Valley is about 230 kilometers but this is for Padum, the largest town of Zanskar.
In terms of the valley or district itself, you enter Zanskar about 130 kilometers later, once you cross over Pensi La Pass and drive down to its other side.
Kargil to Zanskar
Now coming back to the travelogue, we woke up in our hotel in Kargil at 5 am. The plan was to be up by 4 and be on our way by 5 am but we just could not get up so early. The tiring 16 hours long drive from Sonamarg to Kargil made sure that we continued to sleep for as long as we could.
The journey from Sonamarg to Kargil usually takes only 5 to 6 hours on an ideal day. In our case though, there was a landslide at the top of the Zojila pass that shut the road down temporarily.
So we started from Sonamarg at 6 am and were left waiting on the road for about 10 hours until the road was cleared. Not just us, there was a long line of tourists and travelers stranded on both sides of the pass the entire day.
Due to this tiring journey, by the time we did go to sleep, it was already midnight. We had hoped to be up by 4 am but there was absolutely no way that was going to happen.
Also Read:  How to Plan a Trip to Leh Ladakh – A Complete Travel Guide
Kargil to Zanskar Valley Travel Time
I was on the Kargil to Zanskar highway only a few months ago. During my last trip, we started from Kargil at around 7 am but due to the bad roads, we did not make it to Rangdum until 2 pm. That is how long it took us to cover about 110 kilometers.
Keeping that in mind, I wanted to start by 5 this time, so that we are able to reach Rangdum by 12 noon and Padum before dark.
But anyway, that did not happen. After snoozing the alarms in our cellphones numerous times, we finally left our beds at 5 am.
It was way too early in the morning. The hotel staff was still fast asleep and the kitchen was closed. So we started at 6 am hoping to find a tea stall somewhere on the way. The first destination was the small town of Sankoo.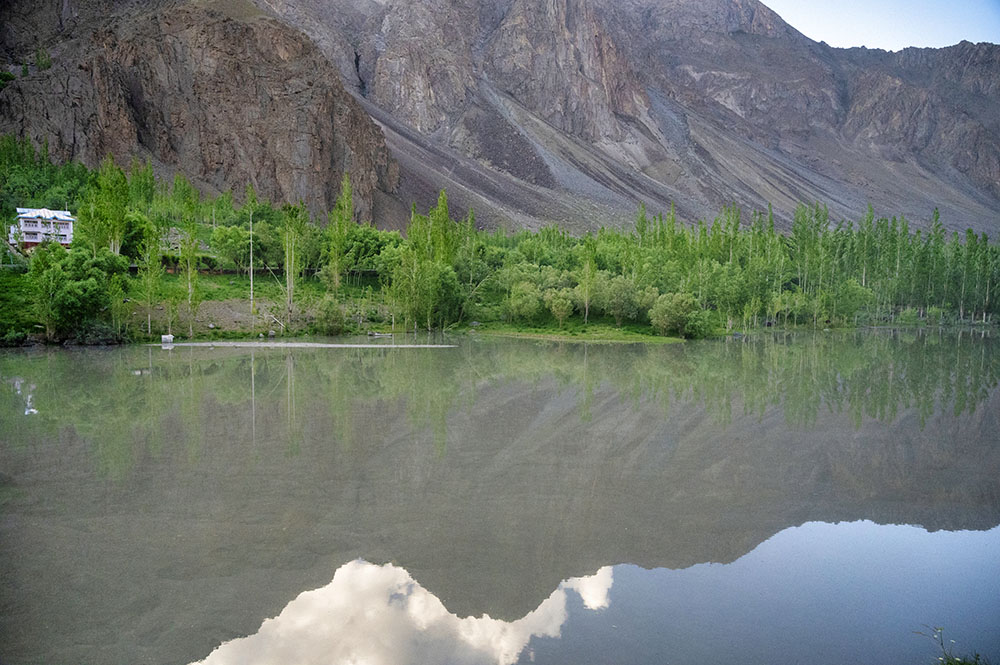 Kargil to Sankoo to Panikhar
Sankoo is the largest town in Suru Valley and is located at a distance of about 40 kilometers from Kargil. It has a small market, bank, ATM, petrol pump, and accommodation choices in the form of small hotels and homestays.
The town is also known for an ancient rock-carved statue of Maitreya Buddha at Karste Khar, a nearby village.
The road from Kargil to Sankoo remains to be in good condition for the entire 40 kilometers, except for a few small bad patches in between. It runs right next to the Suru River, through a few small villages and plenty of greenery on both sides.
But since it is a narrow single-lane road that runs through a populated area, you will not be able to speed up on it. It took us slightly over an hour to reach Sankoo.
Thankfully, the market was open by then and we took our first break at a restaurant called Hussaini.
After getting something to eat, we continued our journey. The views get even better after you cross Sankoo. Greenery starts to slowly get replaced with a barren landscape and the views also open up.
You will continue to drive next to the Suru River and will get your first view of the Nun Kun Massif near Purtikchey, another village a few kilometers before Panikhar.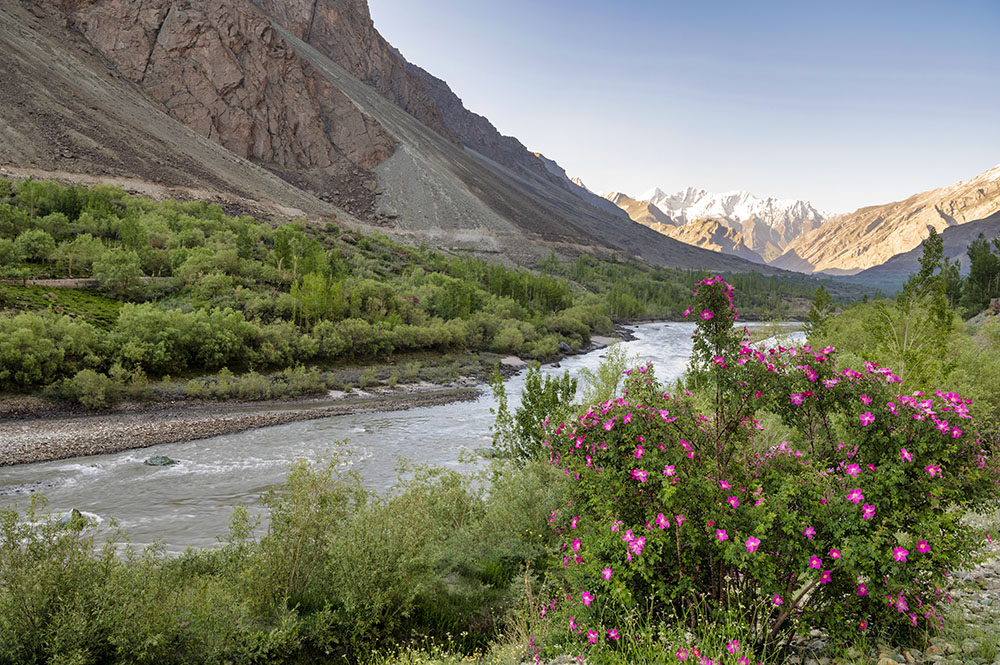 I tried to capture some good shots of the Nun Kun peaks but with the rising sun, the view was completely blown out. We reached Panikhar at around 8 am and stopped again at a campsite where I intended to stay the night before.
Panikhar to Parkachik
This is a small campsite near Panikhar village. Here, you can get accommodation in the form of wooden cottages and can also pitch your own tent if you wished to do self-camping.
I noticed this campsite during my previous trips to Zanskar Valley. It offers a stunning view of the Nun Kun peaks, the Suru River, and the valley around.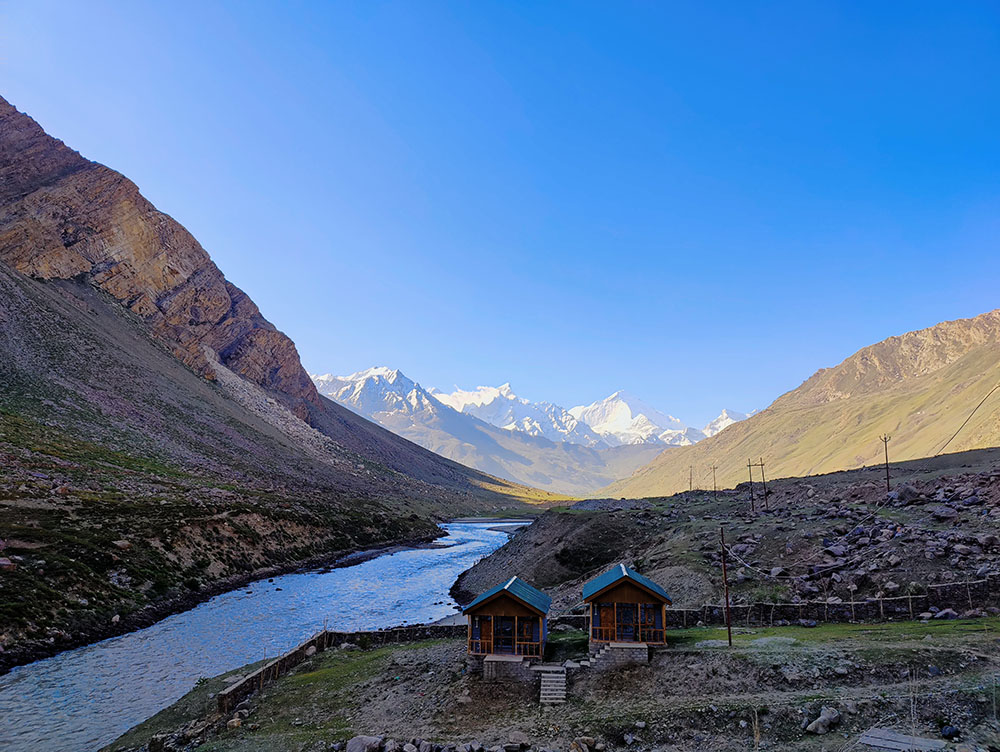 I was so mesmerized by the setting of the campsite and the views that I wished I could stay here for a day. Back then, I could not afford to do so since we were short on time.
But I made a note to myself to spend at least a day the next time I was in either Kargil or Zanskar. Fate however would not have it so. Even this time, we ended up being in Kargil because of the traffic at Zojila, and our stay at Panikhar got canceled.
But it was still a good spot for a break and to get a cup of tea. We stopped at the campsite for a quick break, met with the campsite owner, and moved on to Parkachik.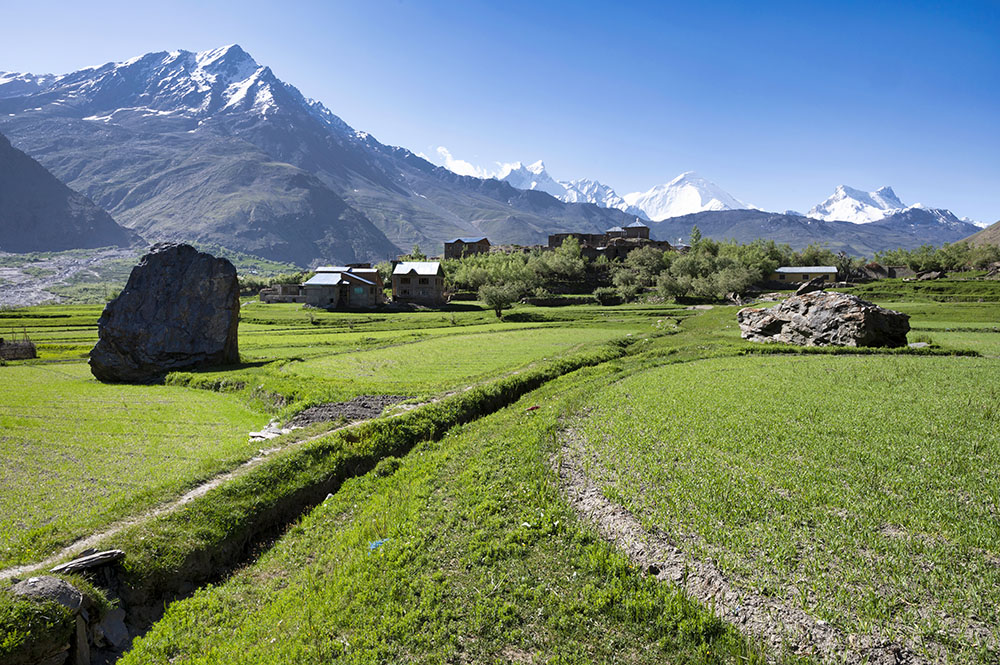 Parkachik to Rangdum
Until Panikhar, the road remained to be in a good condition, for about 60 kilometers from Kargil. However, as soon as we crossed Panikhar, it turned into a badly damaged dirt road that was tough to drive on. Our average speed dropped down to about 20 kilometers an hour.
We were carrying three postpaid cellphone connections – Airtel, BSNL, and Jio. Both Airtel and BSNL worked until Panikhar but after that, it was only Jio that remained connected.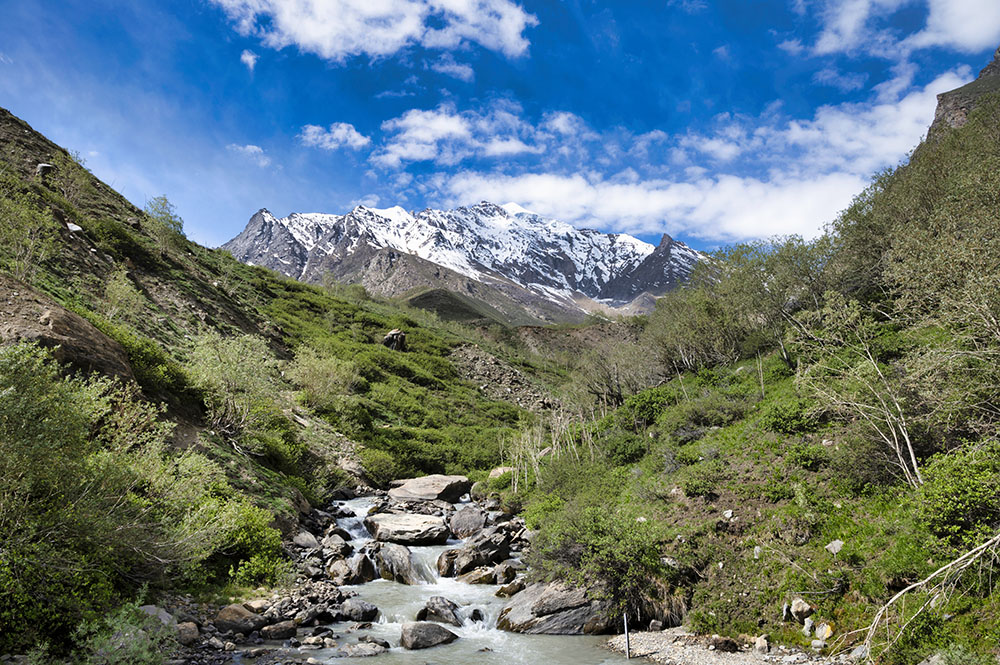 Not much happened after that. We struggled on the bad roads, made our way slowly, and arrived at the next village en route, Parkachik.
This village is best known for its great view of the Parkachik glacier. You do not even have to go too far for it and get a good enough view from the road itself. There are a couple of small restaurants near the bridge where you can also get something to eat.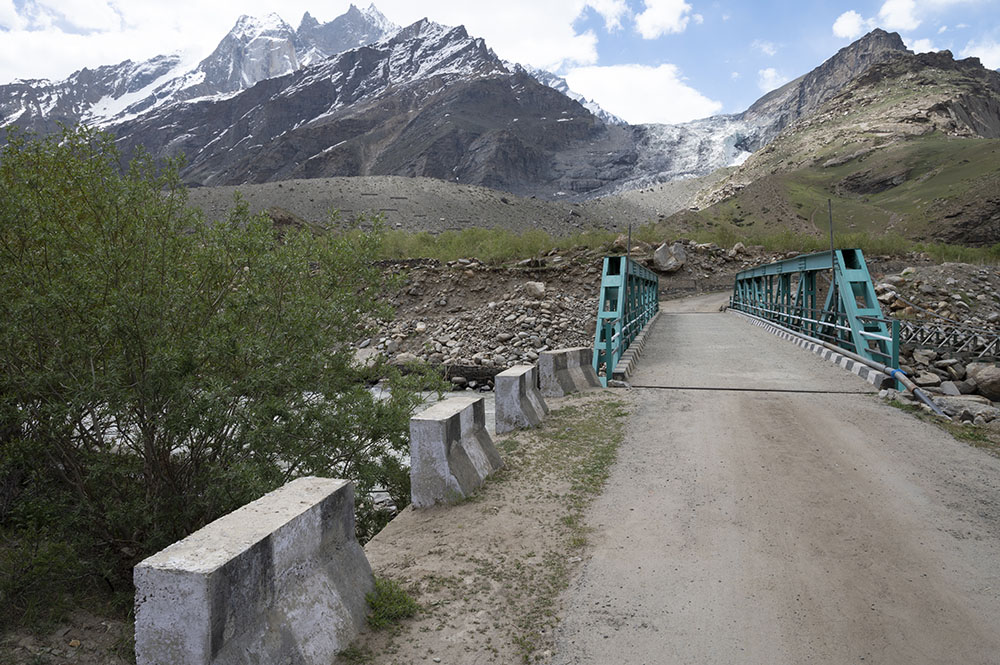 We stopped at the restaurant, clicked a few pictures, got some Maggie to eat, and tea to drink, and continued on our way to Rangdum.
Also Read: How to Plan a Trip to Kashmir – A Complete Travel Guide
Rangdum to Pensi La Pass
Rangdum is a group of 3 or 4 small villages, all within a few kilometers' distance from each other. This is where the Suru Valley ends. The region where Rangdum is located is known as the upper Suru Valley.
Rangdum is best known for the Rangdum Gompa, a monastery located on the top of a hillock. The place also offers accommodation choices in the form of small homestays.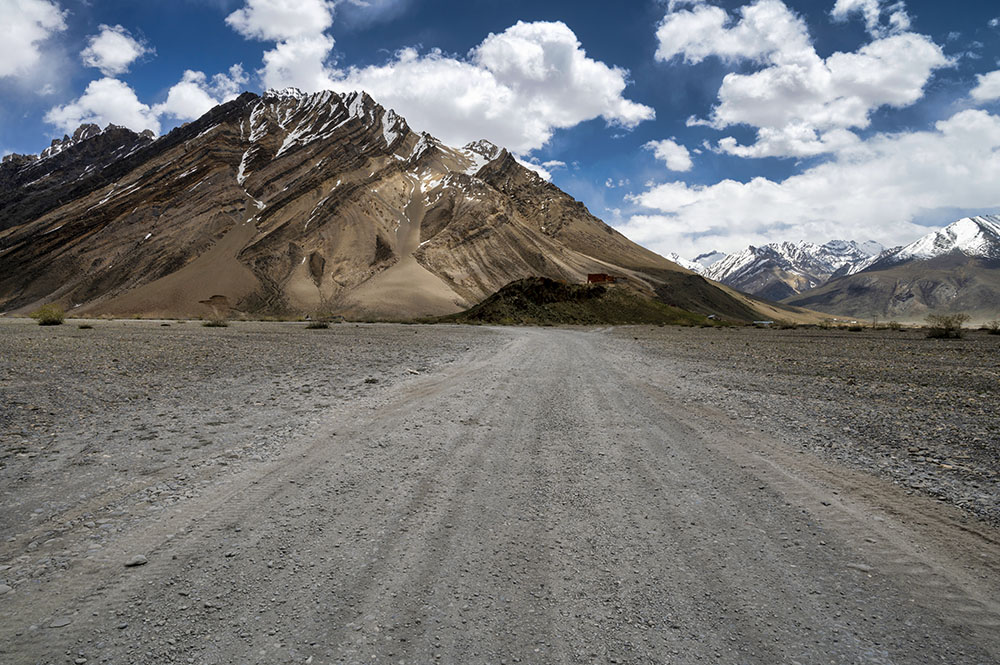 There is a police check post just before the first village of Rangdum. Here, you are required to register yourself before moving on to the Zanskar Valley.
We made our entries at the check post and headed straight to the Rangdum Gompa. Unfortunately, though, the monastery was closed and we had to turn back from its gate.
When inquired, we were told that the Lama in charge had gone to one of the villages for some personal errand and no one knew when he would be back. Since we were also short on time, we could not afford to wait for him and continued on our way to a nearby restaurant, Tashi Tea Stall.
We took a short break at the Tashi tea stall, ordered some tea and Maggie, and continued our journey. The next stop was going to be at Pensi La, the only high-altitude pass on this route.
Pensi La Pass to Drang Drung Glacier
Pensi La is one of the easier passes of Ladakh and Zanskar. At an altitude of 4,400 meters (14,400 ft), it connects the Suru Valley region to the Zanskar Valley region.
The drive to the top of the pass is an easy one. If it wasn't for the bad roads, you actually would not even realize that you were driving up a mountain pass. At the top of the pass, one also gets to see two small glacial lakes – Ta Tso and the Lang Tso.
The drive from Rangdum to Pensi La is about 40 kilometers and took us an hour to complete. We reached the top, took a short break, clicked some pictures, and headed for the prime attraction of this journey, the Drang Drung Glacier.
Drang Drung Glacier to Abran Village
The Drang-Drung Glacier is a mountain glacier near the Pensi La at a distance of about 142 kilometers from Kargil, at an average elevation of 4,780 meters (15,680 ft).
At a maximum length of 23 km, it is considered to be the largest glacier in Ladakh, second only to the Siachen Glacier in the Karakoram Range.
Also known as the Durung Drung Glacier, it is a long river of ice and snow that gives birth to the Stod River which is a tributary to the Zanskar River. The Zanskar river flows towards Leh and then merges with the Indus river near Sangam point.
It is also one of the most easily accessible glaciers in my opinion. You do not need to trek or climb mountains to get to it. It is visible from the Kargil – Padum road itself and offers a mesmerizing sight for all travelers.
It wasn't the first time that I was seeing this glacier but that did not matter. I had been before but it still left me as breathless as it did the first time I glanced at it.
The view of this mighty glacier itself makes the entire journey to Zanskar Valley worth it. All the pain on the bad roads that you take to get here is forgotten at that moment when you stand there, looking in awe.
We spent about half an hour at the glacier viewpoint and started driving down to the other side of the Pensi La pass. That is when we exited Suru Valley and entered Zanskar.
Abran Village to Padum
The road between Kargil and Pensi La pass is bad, no doubt about it. But it is nothing in comparison to what you get when you start driving on the road between Pensi La and Padum.
The condition of the road turns from being bad to being a nightmare. You cross several small villages on the way but the condition doesn't change.
We kept praying for the road to get better but all in vain. Our average speed dropped down to just about 10 to 15 kilometers an hour and it started to make me wonder if we will be able to get to Padum before dark.
What makes things worse on this stretch is the fact that the villagers themselves have dug on the road, in order to make drains for the water to flow from one side to another.
After a super bumpy and tiring drive, we reached Abran Village at around 4 pm.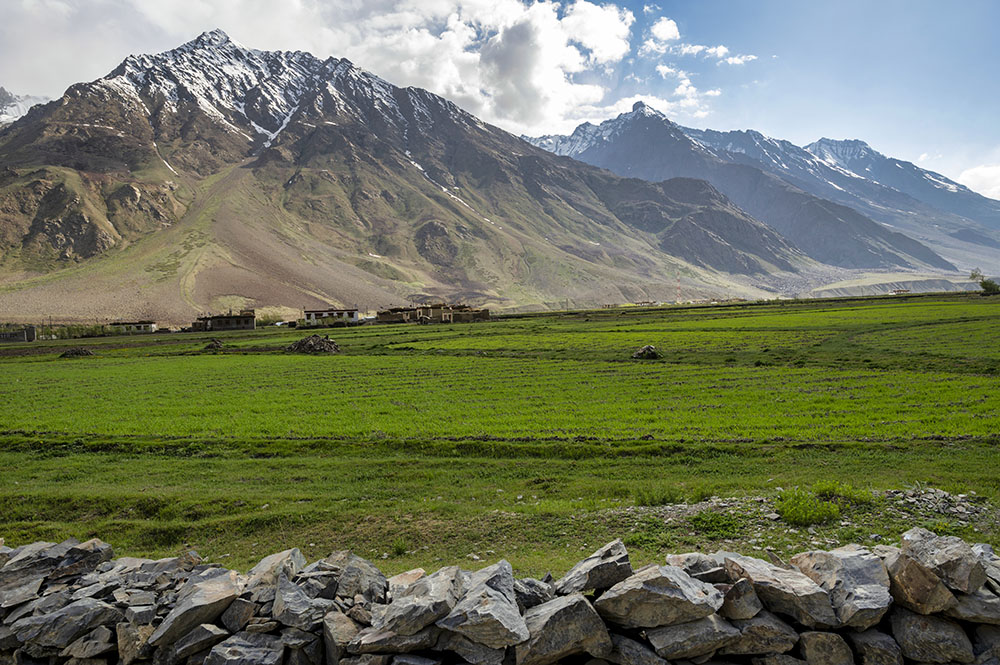 Abran Village to Padum
We took a short break at Abran to get something to drink. After stretching our backs and legs, we started the painful drive again.
Padum is about 40 kilometers from Abran and I was estimating that it will take us another couple of hours to get there. Thankfully though, the bad road lasted for only half of the distance.
About 20 kilometers before Padum, we once again found what we had been missing on the road so far, Tar.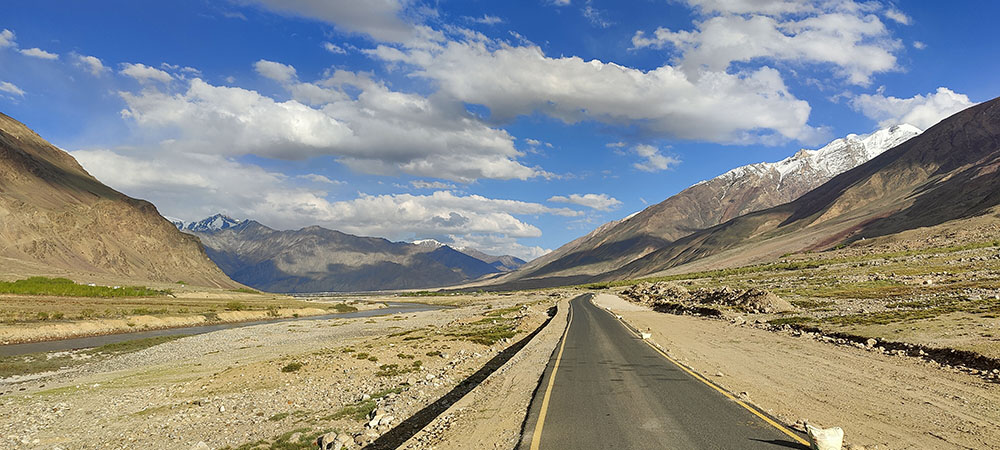 The road once again was super smooth and we started to enjoy the drive again. The next break came at the beautiful Sani Village, to enjoy the view of the Sani Lake.
We reached Padum by evening and checked into a super large disappointment, Hotel Omasila.
Hotel Omasila, Padum
I had seen a few pictures of this hotel and from the outside, it looked grand. But when we reached there, all I wanted to do was to walk out. I couldn't do this because our stay here was booked in advance and I had already made the payment.
This possibly was one of the worst hotels I have stayed at in my entire life. The room was Shabby, the service was poor and the entire hotel looked like a huge tragedy. For more details, take a look at Hotel Omasila Review.
There was nothing we could do about it now though and with a sigh, we checked in. We were both super tired by now and after having an early dinner, we were fast asleep by 10 pm.
Best Time to Travel on Kargil to Zanskar Road
The road is declared open sometime in April or early May and remains so until early October. During the winter season, it becomes inaccessible after Pensi La Pass gets snowed out.
The best time to travel on it is anytime between May to September. If you travel early in the season, you will find plenty of snow around Pensi La Pass.
Mobile Connectivity on Kargil Zanskar highway
Once you leave Kargil, BSNL and Airtel will have good connectivity until Panikhar. After Panikhar, only Jio remains connected. Even BSNL will lose its network and will not work.
In Padum, both Jio and BSNL work during the day. For some reason, after 11 pm, the network is gone and doesn't get restored until early morning.
I am not sure why it is this way but it could be related to electricity. After 10 or 11 pm, there is no power available until morning.
In the future, both electricity and phone signals may become available at night but for now, this is how it is.
The original plan for the next day was to drive to Shinku La Pass. But we changed that and spent the day sightseeing in Padum itself. We visited Sheela Waterfall, Bardan Monastery, and Karsha Monastery. Please click on the link above to continue reading the next part of the travelogue.
Kargil to Zanskar Valley – Conclusion
I hope the travelogue, pictures, and details on traveling from Kargil to Zanskar Valley were of help.  If you have any questions, please feel free to ask in the comments section below. You can also follow me on Instagram to chat with me live or subscribe to my YouTube channel and ask a question there.
This error message is only visible to WordPress admins
Error: No feed found.
Please go to the Instagram Feed settings page to create a feed.