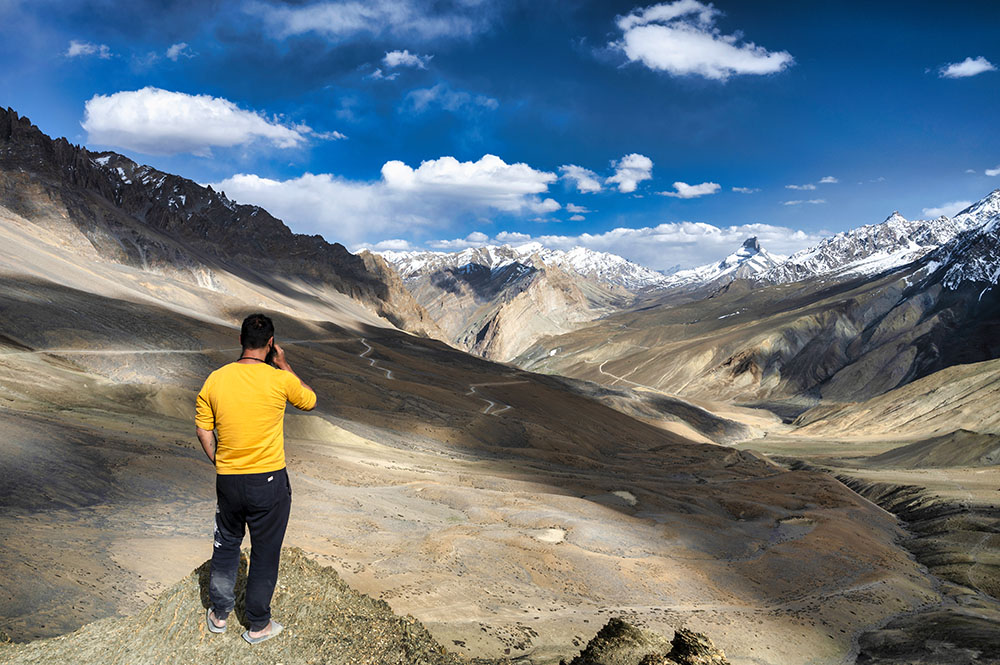 I recently traveled on the Padum to Lamayuru road via Lingshed. It was a part of my 2 months long journey to Ladakh. After completing the trip now and covering the majority of the Ladakh region in several weeks, I can say that this is one of the most adventurous roads I have ever been on.
Through a narrow gorge, on roads barely wide enough for one car, and climbs so steep that your vehicle will stall, it is a route that will get your heart pumping and will remain etched in the memory for life.
We reached Padum from Kargil on Day 9, stayed there for a day, and moved on to Lamayuru via the Lingshed route on Day 11. To read the previous parts of the travelogue, you can follow the links below.
Journey So Far:
In short, this is truly a road for adventure seekers and thrill junkies.  It takes you through a region so remote that for the most part of it, you will be all on your own. Read on to find out more.
Padum to Lamayuru Road via Lingshed
The road between Padum and Lamayuru via Lingshed came into existence only a few years ago. It earlier used to be a trek route covering 5 different high-altitude passes but now has been converted into a motorable road.
When I say motorable, I only mean that you can drive on it. It is far from being a good road though. There is work going on to widen the road and put some tar on it but for now, it is just a dirt road that is not everyone's cup of tea.
The distance between Padum and Lamayuru by this route is approximately 210 kilometers. Of this, only about 50 kilometers are tarred and the remaining is a dirt road.
This journey can be broken down into 8 parts. The travel time can be anywhere between 8 to 10 hours depending on your speed and breaks. It took us almost 11 hours with a lot of breaks in between.
Padum to Zangla – 35 kms
Zangla to to Lingshed – 39 kms
Lingshed to Singe La  – 38 kms
Singe La to Photoksar – 26 kms
Photoksar to Sirsir La – 12 kms
Sirsir La to Wanla – 39 kms
Wanla to Lamayuru – 17 kms
Please note that the distances I mentioned above are as per my car's odometer. This road still does not exist on Maps. Below are the videos of our journey on this day if you want to check these out.
Part 1
Part 2
Plan for the Day
I wanted to start this day as early as possible. I knew that we were up for traveling on some really bad roads and it would take us time to complete the journey.
On top of it, I take a lot of breaks for clicking photographs and shooting videos while traveling. So the travel time was bound to be higher.
The third reason was that I also wanted to visit Stongde Gompa and Zangla Fort. Both of these places are located on the road that goes to Lingshed. So the plan was that we will take brief breaks in between, visit the monastery and the fort and be on our way.
But to be able to do so, we would have to start our journey as early as possible. With that thought in mind, we decided that we will be up by 5 am and out on our way by 6 am. We will first go to Stongde early in the morning, then Zangla, and continue to Lingshed after sightseeing at both these places.
Unfortunately, though, that night before in Padum was a very uncomfortable one. We hardly got any sleep at all. As a result, by the time we did manage to get up, get ready and leave Padum, it was already 9 am.
We were already late by 3 hours than planned and I knew that I will now have to give up the idea of Stongde Gompa and Zangla Palace and head straight to Lingshed.
Padum to Zangla Check Post
Zangla is a small village located at a distance of 32 kilometers from Padum. It is best known for an ancient fort, known as Zangla Palace, which is also one of the prime attractions of Zanskar Valley.
We checked out of the hotel and started our journey for the day at around 9.30 am. The first destination was the Zangla check post where travelers are required to register themselves before continuing further.
This part of the journey was bliss. The roads were excellent and the views stunning. We took several photography breaks in between. As a result, it took us an hour to cover this stretch.
We passed Stongde and Zangla Villages on the way. For a minute, I wondered if we should stick to the original plan and visit the monastery and the palace anyway. But then good sense prevailed and we continued straight, skipping both of the villages.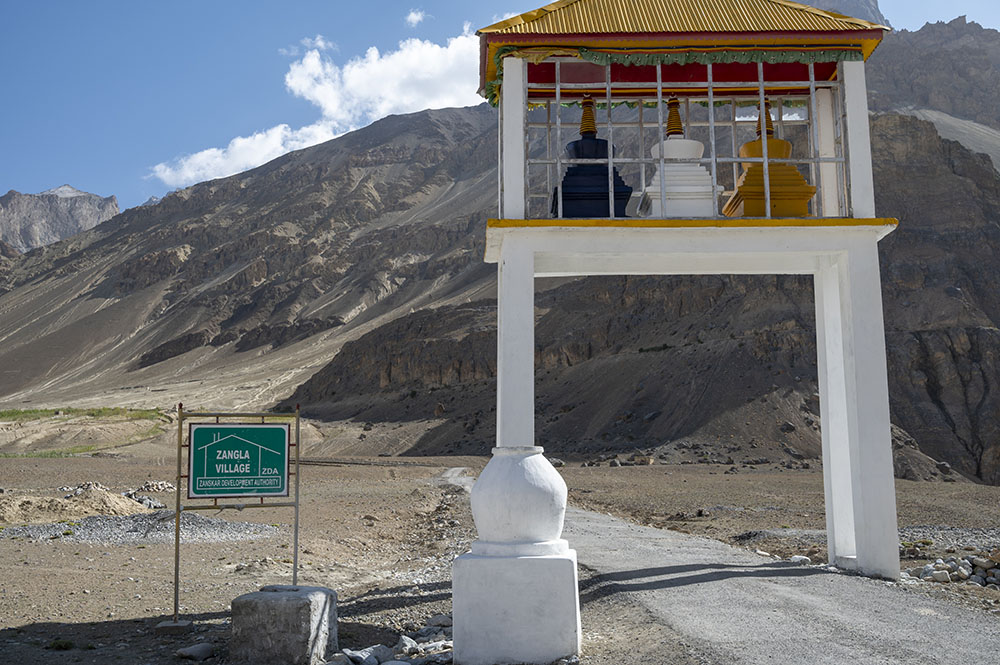 Shortly after the Zangla Village, we arrived at the check post, made our entries in the register, and continued the journey.
Also Read:  How to Plan a Trip to Leh Ladakh – A Complete Travel Guide
Zangla Check Post to Lingshed Diversion
The good road lasted for about 6-7 kilometers after the check post. After that, the tar vanished and our affair with the bad road began.
The check post after Zangla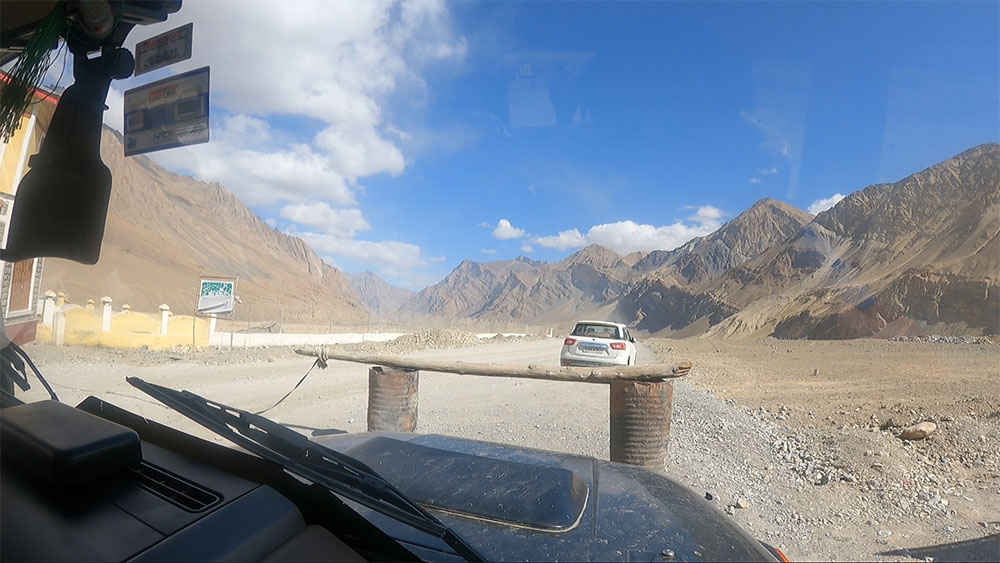 What made this part of the journey adventurous and difficult was not the condition of the road but rather its width. We were traveling right next to the Zanskar river and the road here was barely wide enough for one car.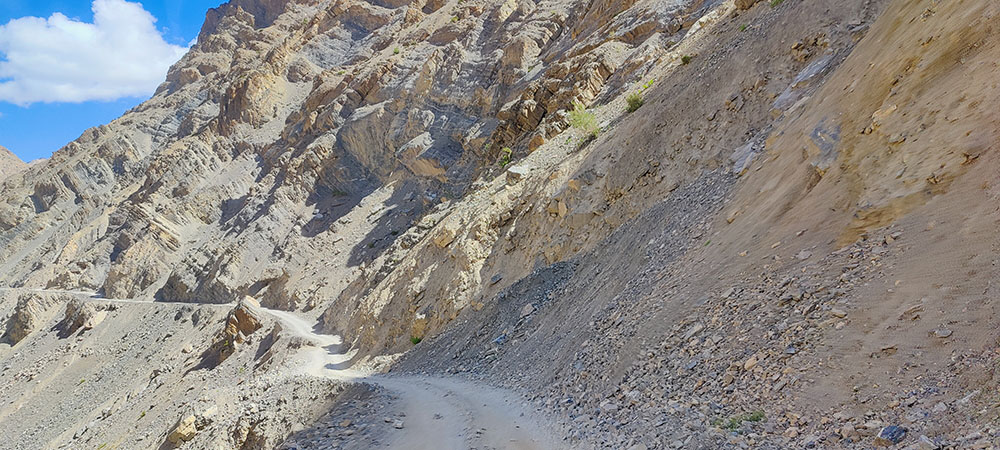 At a couple of places, we did run into cars coming from the opposite direction and had to reverse until we found a wide enough spot to cross. This sure was tricky business and I kept praying for us to not come across a truck on this stretch.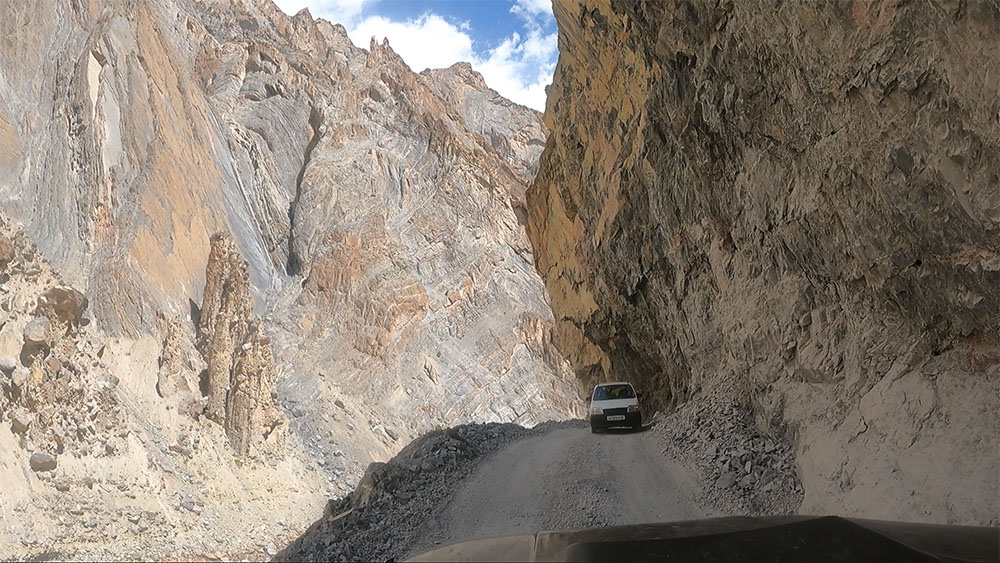 The road was bad and broken and bumpy. We crossed two bridges on the way – Kilima Bridge and Shamsher Singh Bridge.
Until Shamsher Singh Bridge, we were traveling a little higher than the river. But once we crossed the Shamsher Bridge and get to the other side, we were almost at the same level as the water.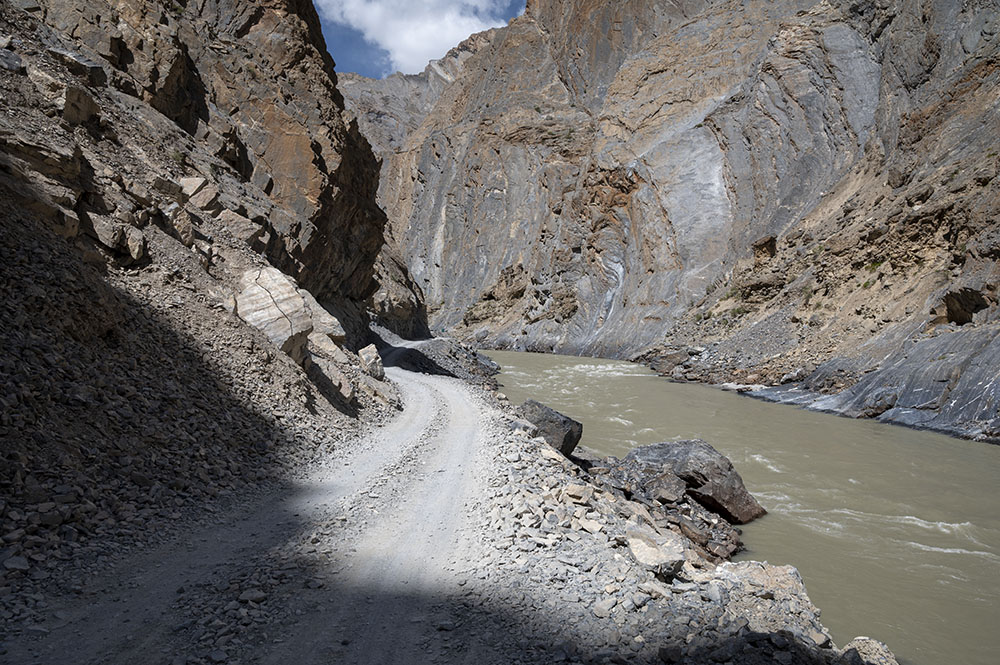 Finally, after a long and slow drive, we reached this spot.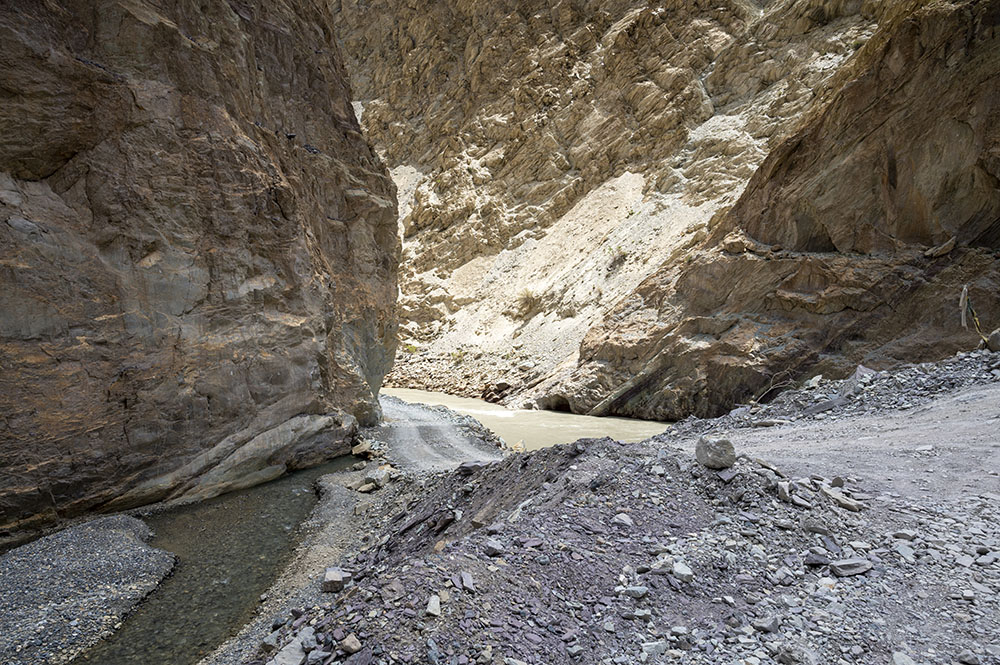 From here, we turned left. The road straight ahead is the one that will eventually connect Nimmu in Ladakh to Padum. But it is under construction for now and it will be a couple of years before it is completed.
Keep an eye out for this spot. There are markers on the stone advising you to take a left. If you go straight, you will eventually reach the end of the road and will have to backtrack.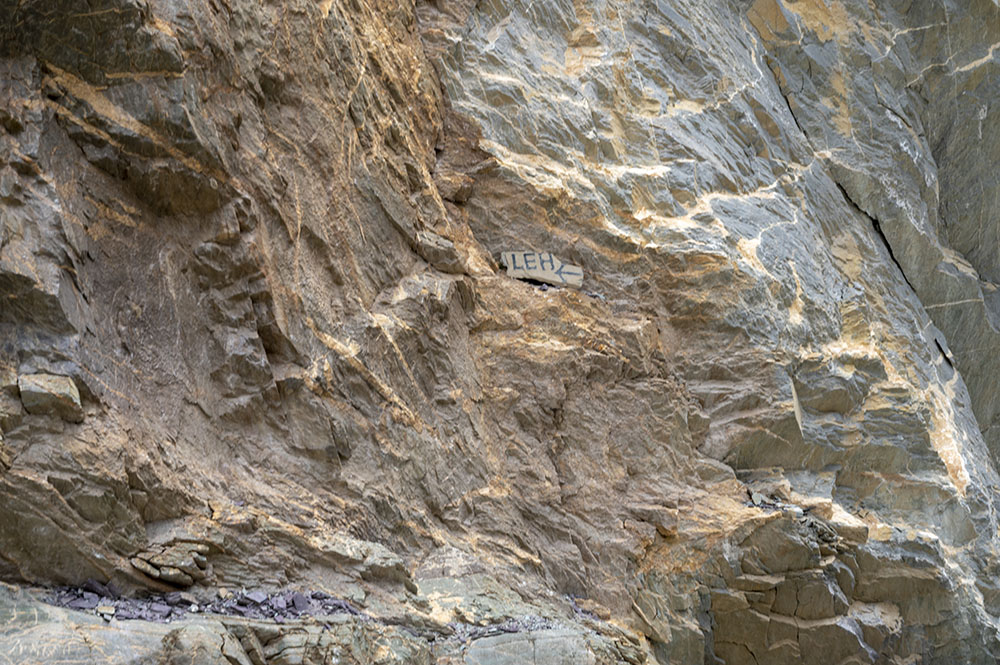 Lingshed Diversion to Lingshed
You will need to turn left towards Leh from the spot in the picture above. The same road that goes to Lamayuru will then exit on the Srinagar Leh highway, connecting the route to Leh.
In the future, the road straight ahead will exit at Nimmu, connecting Leh to Padum. But for now, it is the road to the left that connects the two places via Lingshed.
There were two things that I noticed once we turned left. The first is that the road turned super dusty. I am not sure why but there was just so much dust on this stretch of the road.
The second thing was that we slowly started gaining altitude. Until now, from Padum to the diversion point, the road was mostly either straight or downhill. There were inclines at a few places but nothing too steep.
But after the diversion, the road started to gain altitude. For the first 5 or 6 kilometers, it was a gradual incline but after that, all of a sudden, we found ourselves driving up a set of loops so steep that it got our hearts pumping.
Steep Inclines
Two other cars and a couple of bikers were traveling a little ahead of us. One of the cars was an SUV and the other one was a Brezza. The bikers were two guys on one pulsar.
At one such incline, while we were climbing up, I noticed that both the Brezza and the Pulsar had stalled ahead of us. There were guys on the road pushing the car and the bike, trying to get them up that steep stretch.
I had no other choice but to stop and wait for them to clear the road which they did after several tiring attempts. But this left us in a pickle.
My Thar was now on a very steep incline on a dusty road. I knew that there was no way it was going to pull itself up here. I would have to back up until I find a flat spot and try to make it back up from there. The problem was that there was no flat spot for a few kilometers behind us.
But then that is the advantage of the 4X4 vehicles. All I did was engage 4X4 low and the car pulled itself with minimal effort like it was a joke.
Finally, after a super adventurous and bumpy drive, we reached this bifurcation.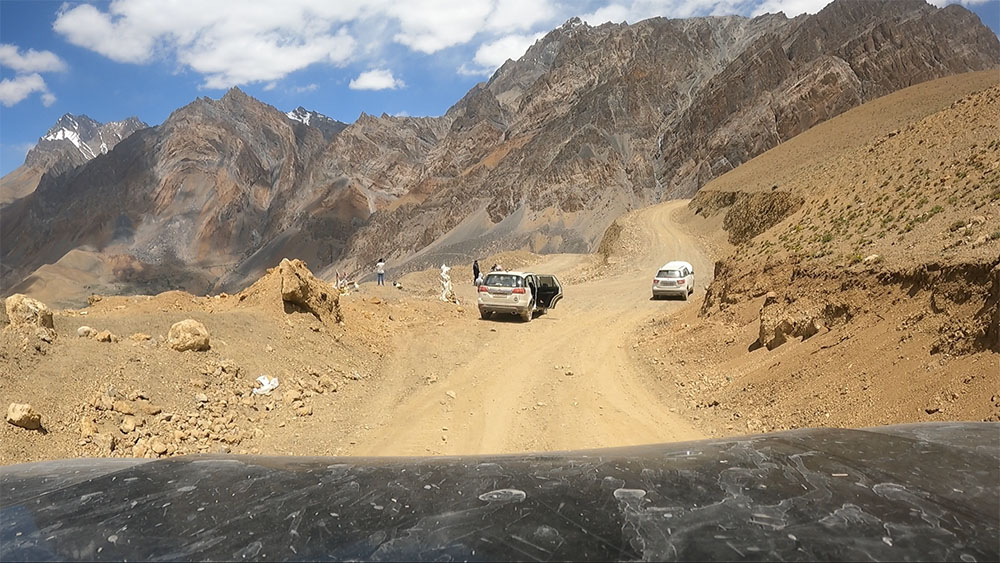 The road going downhill to the left goes to Lingshed Village. The one to the right goes to Singe La pass.
Lingshed
At this spot, I was confused for a minute. I could not recall whether we were to turn right on the uphill road or left on the downhill one. The cars and the bikers were also waiting there, trying to figure the way out.
They looked in my direction asking if I knew which way to go but I just shrugged my shoulders. I was equally confused.
Finally, after a bit of guesswork, I remembered that the road downhill goes to the Lingshed village and ends there. In order to go to Singe La pass, we were to turn right and continue to Skumpata village.
Lingshed village does not actually fall on the route. You reach this spot and continue to Singe La to the right, bypassing the village entirely. I had no problem doing that because there is nothing to see in Lingshed anyway, except for a monastery.
This is the Lingshed village.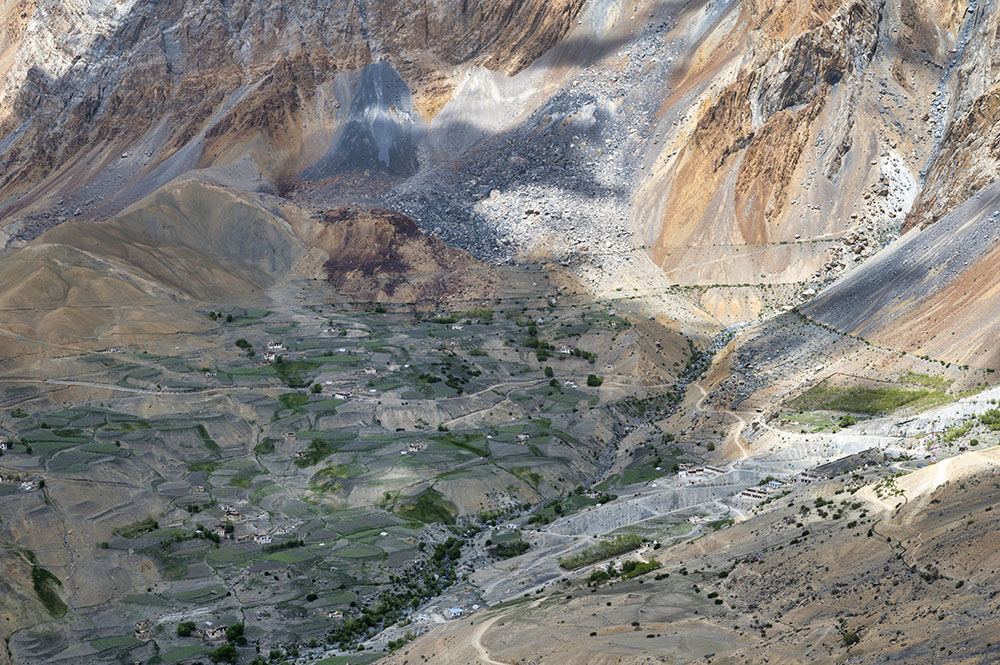 But if you still want to visit it, you can take the road to your left, drive downhill, see the village, and then come back to this spot. Accommodation is also available in Lingshed in the form of homestays, in case you wish to spend a night here.
Lingshed to Singe La
We turned right from this spot and the road went uphill for about a kilometer. After that, it is a downhill drive for the next 5 or 6 kilometers to this spot.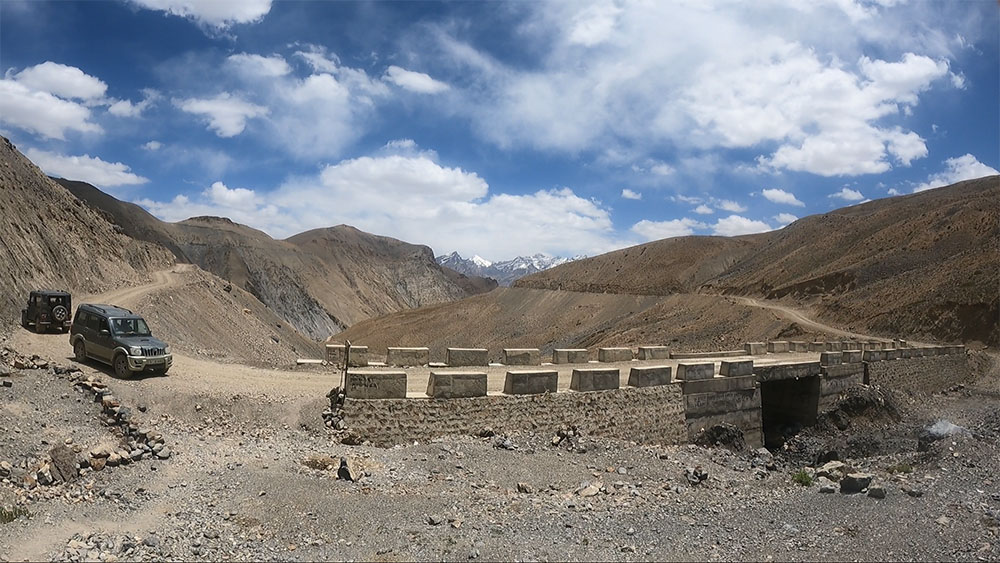 The village here is known as Skumpata. There is this small shack right next to the road where we stopped for a break and to get something to eat.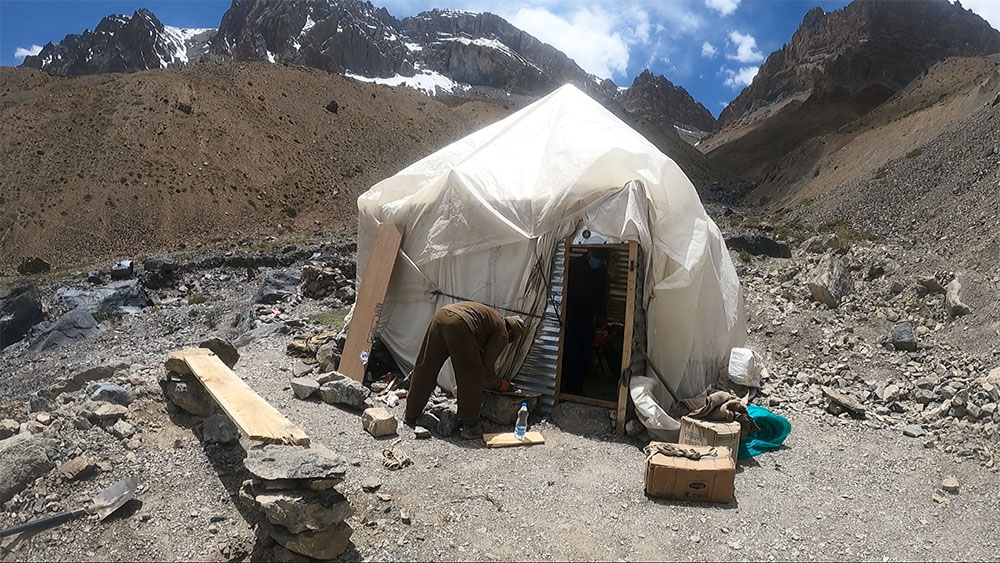 After a few cups of tea and Maggie for lunch, we continued our journey for about an hour and a half. The climb was once again steep on a narrow road with a lot of twists and turns in between.
There is really nothing worth mentioning that happened during the journey. We were having fun tackling the tricky roads and enjoying the journey to the fullest.
The views kept getting better though. As we gained altitude, we started coming across patches of snow on the sides of the road. The mountains around here were all snow-capped and looked stunning.  It is this landscape that makes this journey entirely worth it.
Of all the mountain passes that I have been to, Singe La is the one that seemed farthest. The last 20 kilometers really seemed never-ending.
We kept driving up and up hoping that we will see the top of the pass at any turn of the road now but it just kept evading us. After what seemed like a lifetime of offroading and waiting, we finally reached the top of the Pass.
Singe La to Photoksar
The altitude of the Singe La Pass is 16,590 ft. It may not be the highest motorable pass in the world but is no less in terms of difficulty. The steep incline and the tricky roads will give you a true taste of adventure and offroading.
But in the end, when you stand up there gazing upon the mountains, the view just makes it worth all the pain. Be ready to be mesmerized is all I can say.
We spent about 30 minutes at the top of the pass. I wanted to get a clear photograph of the board below but the wind kept throwing the prayer flags on top of the sign, covering it entirely.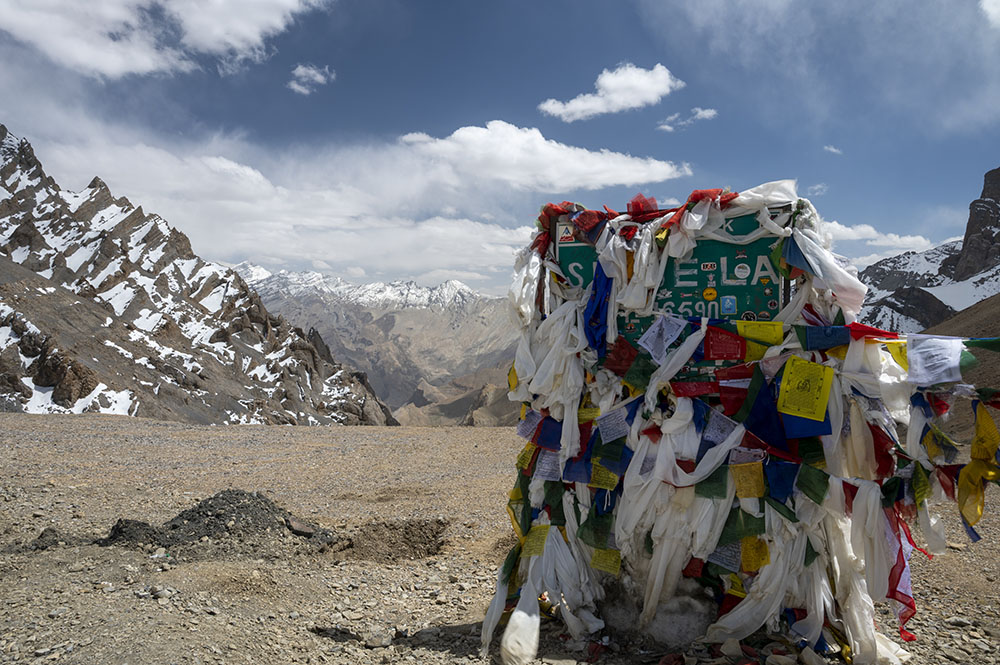 All that I wanted was a picture with the words Singe La in a clear view but the winds just made it impossible. We tried numerous times to remove the flags but they were back again, covering the sign the next second.
Finally, we gave up, shot some videos, and moved on.
From Singe La, we drove downhill for a few kilometers and reached a spot where we crossed a small bridge. The downhill drive turned into an uphill one immediately after the bridge and the road once again started to climb up.
It actually made me think that we were now going up the Sirsir La Pass but I was wrong.  The road after the bridge goes up for a while but then it becomes downhill again after a few kilometers.
The condition of the road also got better slightly. It was still a broken dirt road but not as bad as what we had already been on. After driving downhill for a few kilometers, we reached Photoksar.
Photoksar to Sirsir La
Photoksar is one of the many small villages on this route, just a handful of houses that seem in the middle of nowhere. You will come across a few shacks of road construction works and a small dhaba by the road.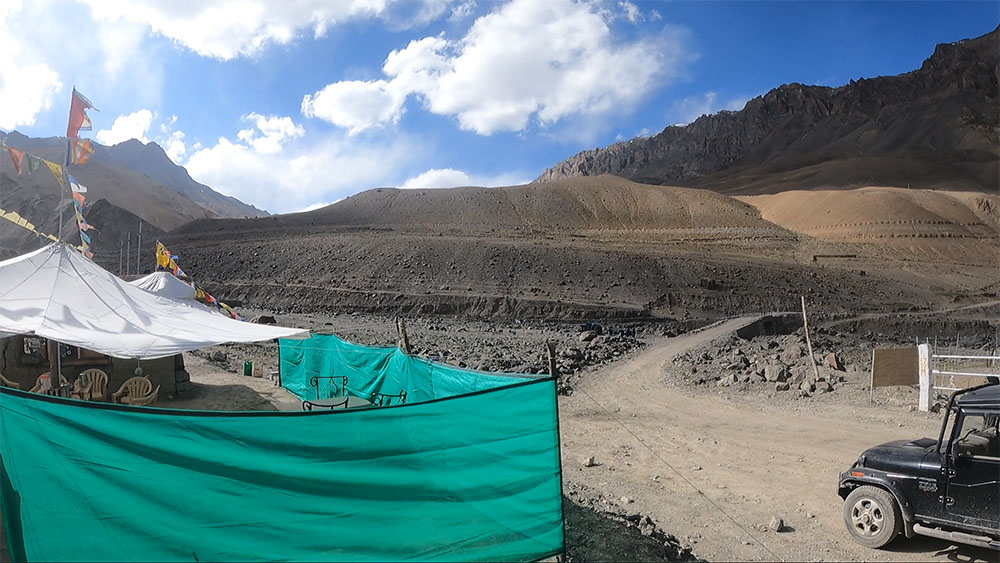 We decided to a break at the dhaba and ordered tea.  By now, we were both starting to get tired. The bumpy ride on the extremely bad roads was taking its toll but the excitement to drive up the Sirsir La Pass overshadowed everything else.
After a brief break, we continued our journey. Immediately after Photoskar, the climb for Sirsir La began. It was an uphill drive of about 12 kilometers but was comparatively much easier than Singe La. I think it took us only about 45 minutes to reach Sirsir La top from Photoksar.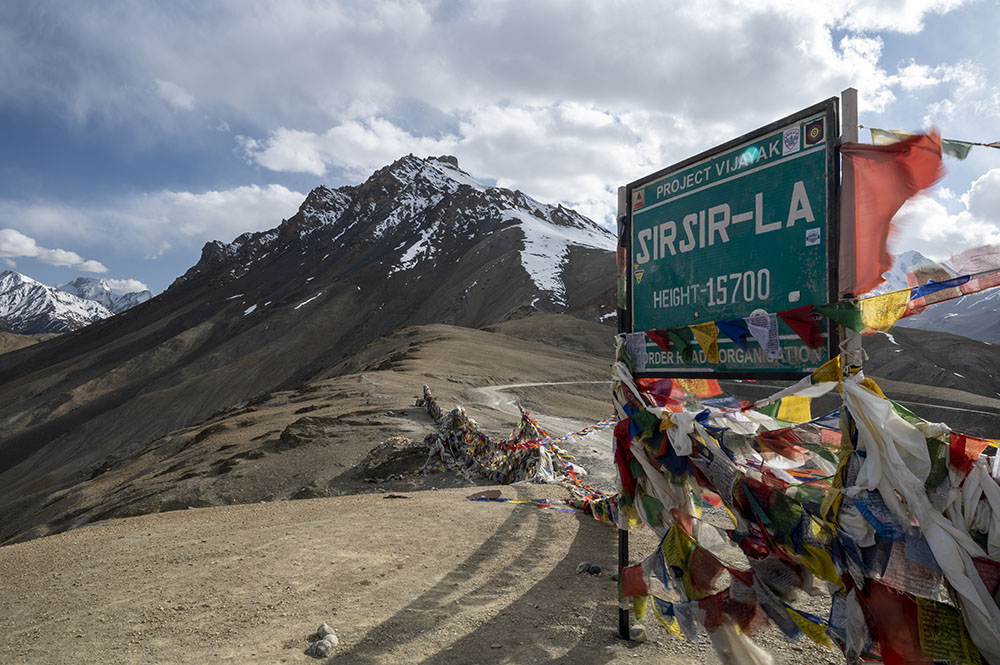 Sirsir La is the second high-altitude pass on this route. It is at an altitude of 15,700 ft and offers great views of the surrounding valley and the snow-capped peaks. It was also the 5th high-altitude pass of our trip.
So far we had covered
Peer ki Gali
Zoji La
Pensi La
Singe La
Sirsir La
We spent some time at the top of Sisir La, clicked some pictures, and started driving down on the other end of the pass. We were traveling in late May and there were still huge snow walls on one side of the road at Sirsir La.
Sirsir La to Wanla
After Sirsir La, it is a downhill drive all the way. We crossed a small bridge after 6 kilometers and continued on our way to Hanupatta village.
The road on this stretch turned dusty again. We crossed several signs warning us of shooting stones so we kept our breaks limited and were very careful of where we were stopping.
Hanupatta is located at a distance of about 18 kilometers from Sirsir La top. It is just another small village and there is nothing worth mentioning about it.
We crossed Hanupatta and a few kilometers later, we entered one of the most scenic locations on this route. The road here passed through a narrow gorge. We were driving right next to a water stream with tall mountains on both sides.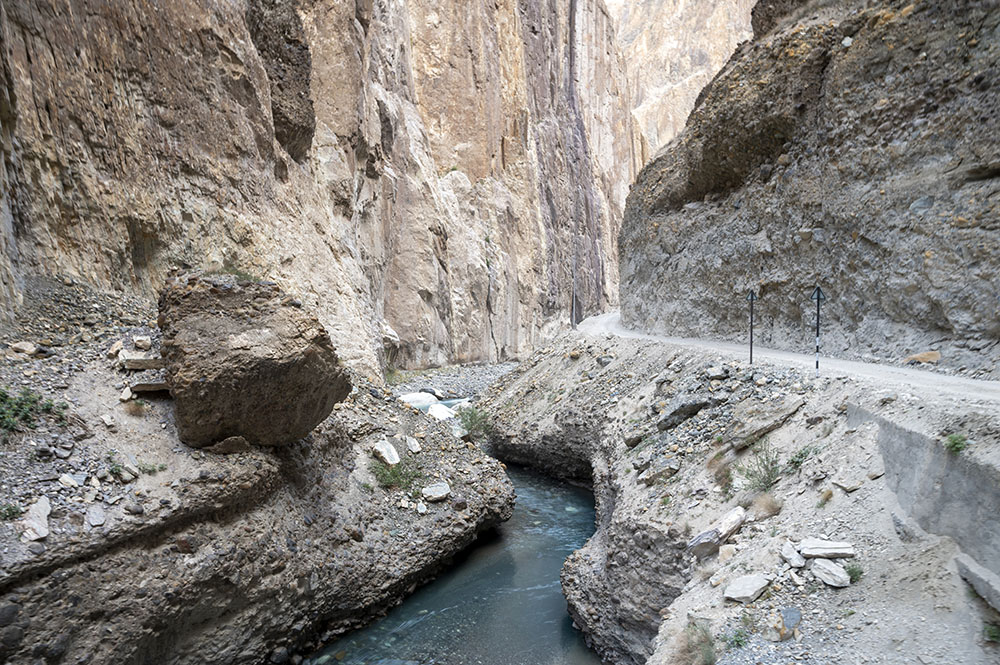 It was really fun to be here. The echo here was crazy and we had fun shouting our names out loud, only to hear them back from the mountains.
We crossed a small bridge on the stream here and finally found what we had been missing so far in this journey – a road.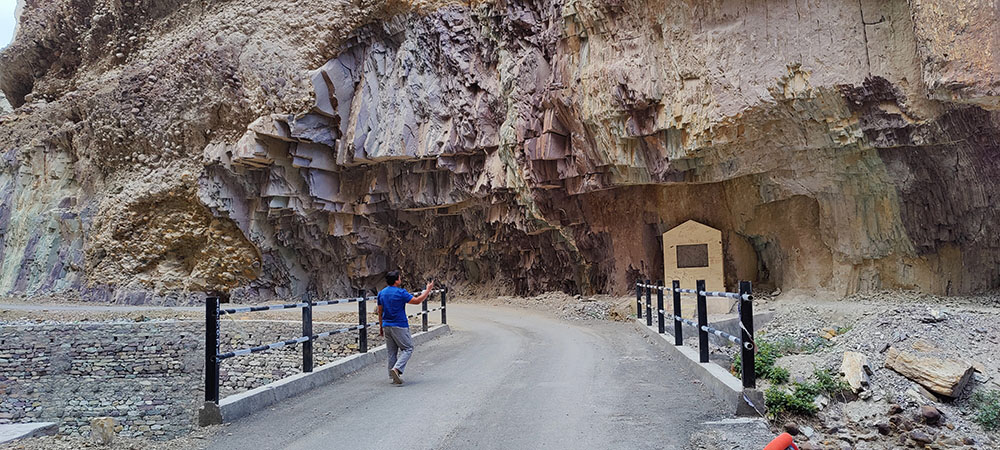 The drive after this was a smooth one. We crossed Fanjila village on the way and reach the village of Wanla. If you have some time and wish to, you can pay a visit to the Wanla Gompa but we decided to skip it. The sun was already going down and I wanted to make it to Lamayuru before it got dark.
Wanla to Lamayuru
A few kilometers after Wanla, we exited on the Srinagar Leh highway, after this stone gate. This is where the adventurous part of the journey ended.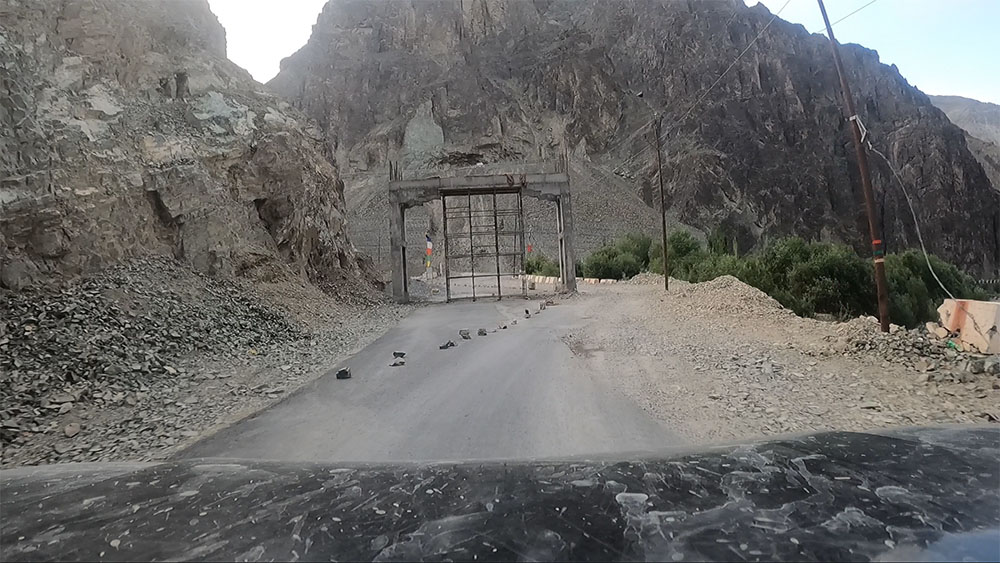 The road here goes to Lamayuru to the left and Khalsi to the right.  In haste, I did not stop to make sure of the way and turned right, thinking that this was the way to Lamayuru.
A few kilometers later, I realized my mistake and took a U-turn. At about 7.30 pm, we reached Lamayuru and checked into Hotel Moonland. That was the end of our journey for the day.
This was the first time I was staying in the Hotel Moonland. It was a great hotel and even though I was here for just one night, I really enjoyed our brief stay.
We took a much-needed shower and went straight to the dining hall of the hotel to get some food. Both of us were terribly hungry as we haven't had anything to eat all day.
With our bellies full, we retired to our room and it was now time to call it a day. Tomorrow, we circle back to Kargil via the Aryan Valley and the village of Batalik.
Journey Ahead: Lamayuru to Kargil via the Aryan Valley
Below are some good-to-know details about this route.
Padum to Lamayuru Road Condition
Below is a breakdown of this route in terms of the road condition.
Padum to Zangla – Excellent
Zangla to Lingshed – Very bad
Lingshed to Singe La – Very bad
Singe La to Sirsir La – Very bad
Sirsir La to Hanupatta – Very bad
Hanupatta to Wanla – Average
Wanla to Lamayuru – Excellent
Is the route Safe to Travel On?
How safe is this route? Well, that depends on how experienced you are in terms of driving in the mountains and handling bad narrow roads. The road passes through a very remote region and most of the time, you will be traveling on your own.
So you must make sure that your vehicle is ready for the tough journey ahead. A breakdown here will be a huge problem.
You should also be confident in your own driving skills. This is not the road that you want to take if you do not have enough mountain driving experience.
Also Read: How to Plan a Trip to Zanskar Valley
Best Vehicle for Padum to Lamayuru Road
This brings us to the next question. Which vehicle is best for this route?
If we talk about cars, a 4×4 SUV will be the best. If not, then any SUV with good ground clearance will be the next best option.
But with that being said, I have seen people completing this route even in cars like Swift and Brezza. So yes, it can be done but you should have excellent driving skills for that. You must know how to handle the bad roads, twists and turns, and most of all, the steep inclines.
If we talk about motorcycles, the bigger the engine, the easier the journey will be. A Royal Enfield 350CC or higher will be the best choice. But you can also bring smaller engine bikes like a Pulsar.
The only thing you should keep in mind is that it would be best to ride on this route solo. Do not bring a pillion. If there were two people on the bike, it is bound to stall at a few places and you will have to get down to push it up.
Best Time to Travel on Padum to Lamayuru Road
The best time to travel would be any time between May to September. This is when this route is open. Before May, you will not even be able to reach Padum as all the roads leading to Zanskar Valley will remain closed.
You may plan the journey in April, depending on the weather and how fast the roads were opened in that respective year. But a safer time to plan the journey will be between May to September.
Do not also plan for October because it would start to snow by that time. Traveling that late in the season would mean that you risk getting stranded on the route due to a snowfall or road closure.
Phone Connectivity

on Padum to Lamayuru Road
Jio has the best network in Zanskar Valley and also on the route from Padum to Lamayuru. It may not remain connected all the time but you will get a reception whenever you are closer to the small villages en route.
Both Jio and Airtel work well between Lamayuru and Leh. BSNL also has a reception in these areas but the network is intermittent and reception bad. Voice quality with BSNL may not be that good.
Also Read: How to Plan a Trip to Kashmir – A Complete Travel Guide
Accommodation Choices on Padum to Lamayuru Road
There are no hotels or guest houses between Padum and Lamayuru. But the option of homestays is available in villages like Zangla, Lingshed, Skumpata, Fanjila, and Wanla.
Between Lamayuru and Leh, there are several hotels in Lamayuru, Khalsi, Nimmu, and almost everywhere where there is a human settlement.
Public Transport 

on Padum to Lamayuru Road
There is no public transport available between Padum and Lamayuru. You will have to either travel by your own vehicle or rent a private taxi from Padum.
Petrol Pumps / Mechanics
There is a petrol pump in Padum and one in Khalsi. Mechanics are only available in either Padum, Lamayuru, or Khalsi.
Do you need any permits?
There is no permit required for traveling on Padum to Lamayuru road.
Padum to Lingshed Distance
The distance between Padum and Lingshed is 110 kilometers approximately.
Our journey the next day turned out to be an equally exciting one. We traveled through the lesser-known Aryan Valley, the village of Batalik, and also crossed the 7th high-altitude pass of our trip, Hambuting La. In the morning, we first visited the monastery in Lamayuru and attended the prayers.
I incorrectly assumed that our journey the next day will be a short one and we started a bit late in the morning. But I was wrong. It again took us about 9 hours to get back to Kargil. Please click on the link above to continue reading the next part of the travelogue.
Padum to Lamayuru Road – Conclusion
I hope the travelogue, pictures, and details on Padum to Lamayuru road via Lingshed were of help.  If you have any questions, please feel free to ask in the comments section below. You can also contact me on Instagram to chat with me live or subscribe to my YouTube channel and ask a question there.
This error message is only visible to WordPress admins
Error: No feed found.
Please go to the Instagram Feed settings page to create a feed.