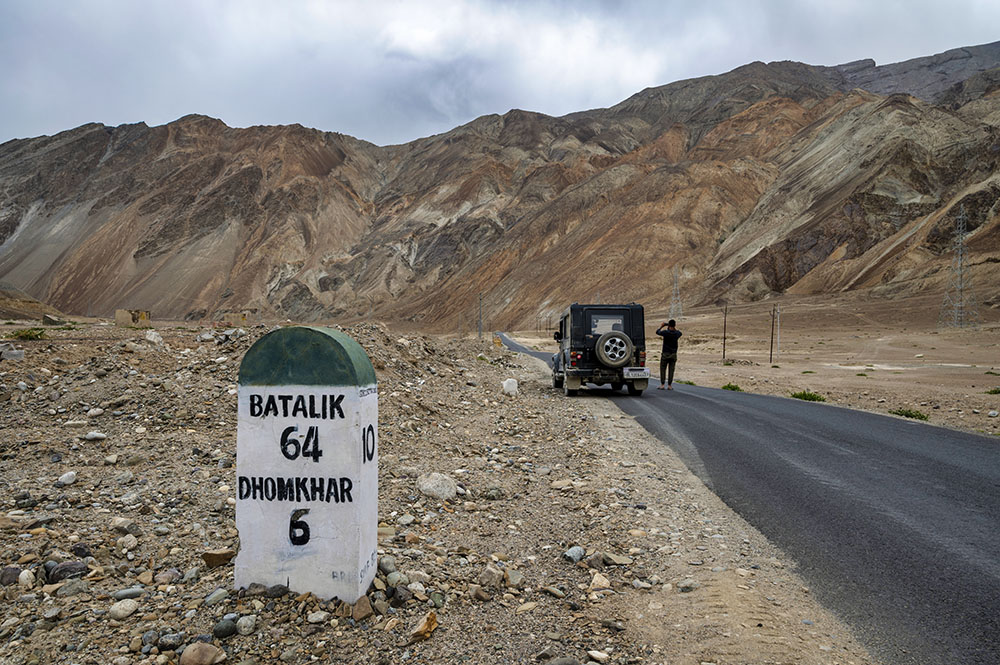 The road from Kargil to Leh via Batalik is one of the most beautiful routes of Ladakh. It is a road that not many tourists chose to travel on but the ones that do, return with an experience that is hard to get anywhere else in Ladakh.
Traveling by this route, you will cross the high-altitude pass of Hambuting La and see the village of Batalik which sits right next to the India-Pakistan border. You will also pass through the lush green Aryan Valley, inhabited by the Brokpa people who are said to be the direct descendants of Alexander.
This 136-kilometer-long road from Kargil to Khalsi is still not on the tourist map for some reason. It is definitely not an unknown route but just the one that gets ignored by tourists and travelers.
But because of the same reason, this area seldom gets crowded. Even when the rest of Ladakh is filled with tourists, you will rarely find anyone other than the locals out here.
So if you were planning to visit Ladakh soon and wanted to go a bit offbeat, Kargil to Leh via Batalik is a route that you will definitely like. Read on to find out more.
For all other details on visiting Ladakh, like how to reach, where to stay, what to see, the best time to go, safety, and other tips, please take a look at How to Plan a Trip to Leh Ladakh – A Complete Travel Guide.
Kargil to Leh via Batalik
A journey on the Srinagar Leh highway is ideally a 2 days affair. On Day 1, you travel from Srinagar to Kargil via Sonamarg, Zojila Pass, and Dras and stay there for the night.
On the second day, you will start from Kargil, cross the passes of Namika La and Fotu La, and the small towns of Mulbekh and Lamayuru to reach Khalsi. From there, it is a straight drive of 95 kilometers to Leh.
The road from Kargil to Leh via Batalik is an alternate route to complete the journey between Kargil and Khalsi. The rest of the journey remains the same. The alternate route is only between Kargil and Khalsi.
If you travel by this route, you will cross the high-altitude pass of Hambuting La, Batalik village, and journey through the beautiful Aryan Valley to exit on the Srinagar Leh highway just before Khalsi.
Below is a road map to help you understand this better. To download a complete version of this map covering all of Ladakh, please take a look at Leh Ladakh Road Map.

Which one should you choose? It is really a personal choice. In my opinion, both the roads are equally beautiful and both deserved to be experienced.
The only difference is that the Lamayuru road is a well-maintained highway and passes through a region filled with tourists. On the other hand, the Batalik road is a narrow one but offers a true taste of offbeat Ladakh.
If your plan is to travel from Kargil to Leh via Batalik, below is a complete route guide.
Kargil to Hamboting La Pass – 32 kms
I will strongly recommend taking an early start from Kargil because your speed on this route will remain limited to an average of 20 kilometers an hour. The road is narrow with a lot of twists and turns and will keep your progress slow.
Starting from Kargil, the first destination of the day will be the high-altitude pass of Hamboting La, at an altitude of 4024 meters (13,202 ft). The pass is not really that well-known and is hardly considered a tourist attraction but offers great views of the valley around.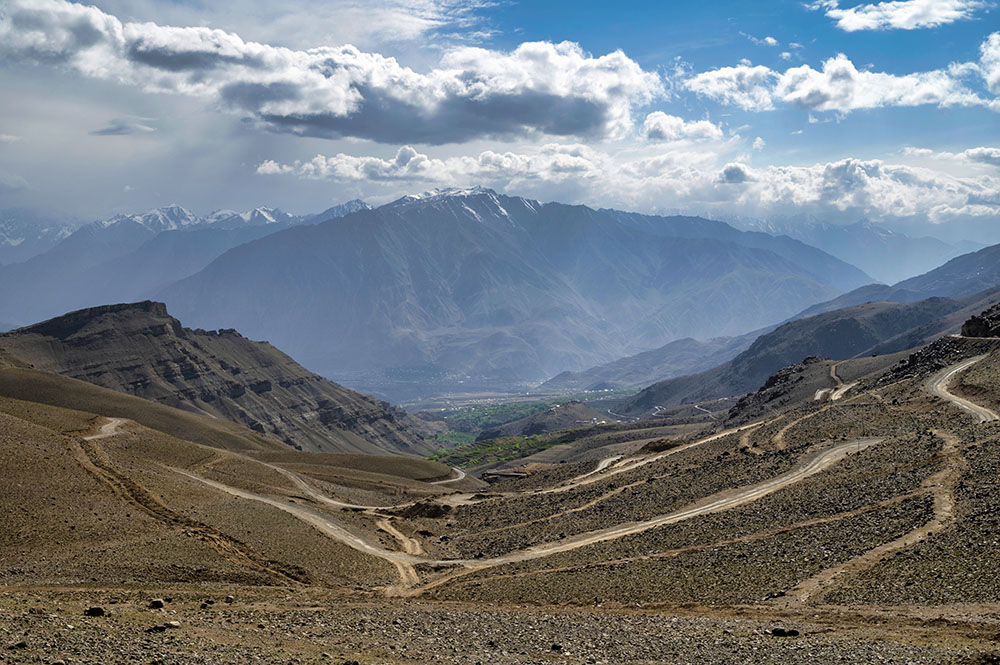 The road from Kargil to Hamboting La is a very steep one. Within 32 kilometers, you gain a tremendous amount of altitude. It is also very narrow in a lot of places so drive carefully.
But all the trouble of driving up the steep curves pays off in the end when you stand at the top of the pass and gaze at the mesmerizing views all around.
Hamboting La to Batalik – 22 kms
After Hamboting La, it is a downhill drive all the way to the Batalik Village. Contrary to the common belief, Batalik actually does not fall on the way and you will have to deviate from the main route to get there.
After about 20 kilometers from Hamboting La, you will arrive at a bifurcation. The road will get divided into two – one going to your left and the other one to your right.
If you want to visit the Batalik Village, you need to turn left. Drive for another 1.5 kilometers and you will reach the small market area of Batalik. This is as far as you can go and the road ends here.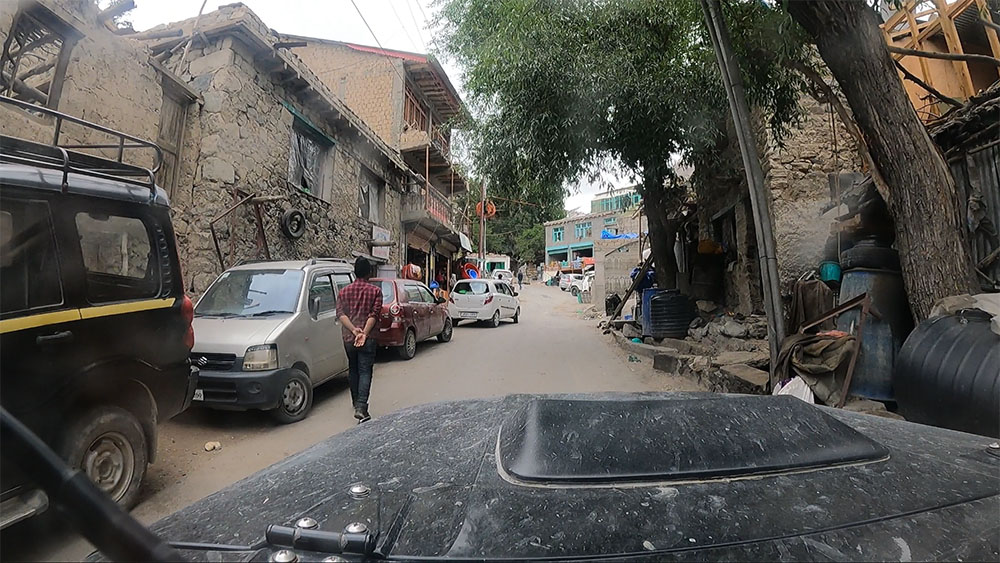 See the village, walk around and then drive back to the same spot where you turned left. From here, now take the road that went right and continue toward the Aryan Valley.
Aryan Valley is a small region located on both sides of the Indus River in lower Ladakh. It consists of five villages – Dah, Hanu, Garkon, Darchik, and Chulichan. The people that occupy this region are called Brokpa people.
Why is it called Aryan Valley? That is because the Brokpa people are also known as "Minaro," which literally means "Aryan".
According to popular belief, the Brokpas were part of the army of Alexander the Great and came to the region over two thousand years ago.
Is it true? I cannot confirm that but what I can tell you is that the culture of the people here is very different and it is worth spending some time with them.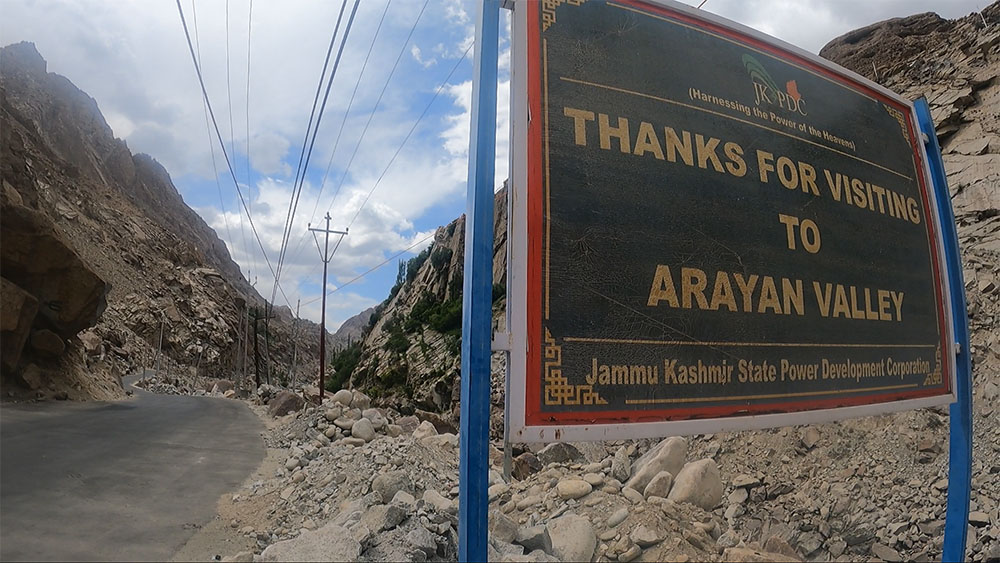 Batalik to Dah to Sanjak – 23 kms
A little after the Batalik Village, you will reach the police check post where you will be required to register yourself before moving on. From that spot, you can also clearly see the mountains that Pakistan tried to capture during the 1999 Kargil war.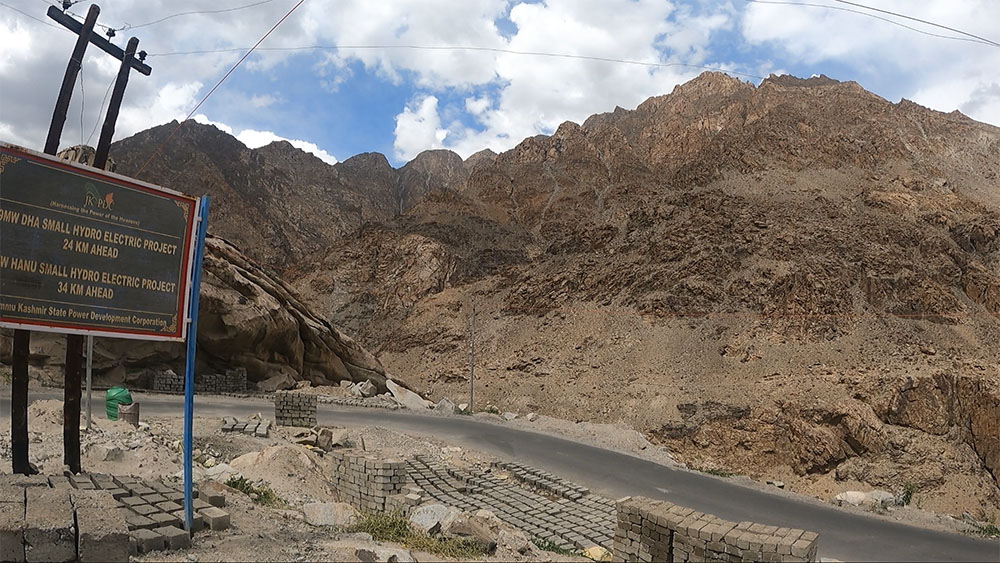 After the police check post, as you start driving downhill, this is when you enter the Aryan Valley. You will be driving right next to the Indus River and will cross the small village of Dah on the way.
The landscape will remain barren but whenever you get closer to a village, you will notice a lot of greenery around. The drive will both be thrilling and pleasant, at the same time.
23 kilometers after Batalik, you will reach the following spot.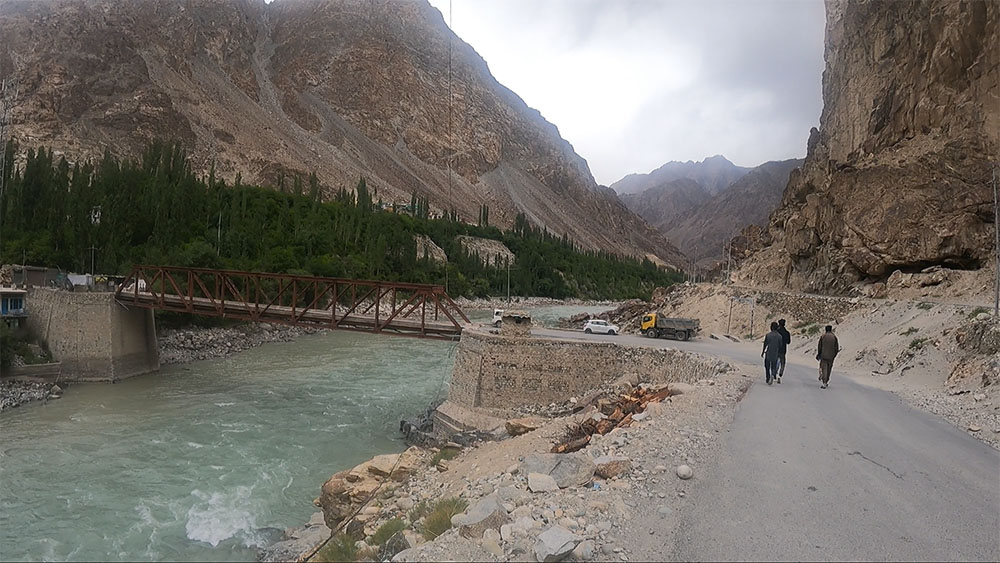 Sanjak to Hanu – 8 kms
At this spot, you will notice a village on the other side of the river and a bridge connecting it to the main road. Do not turn right and cross the bridge. You need to continue straight.
The road to your right goes to Chiktan Village, famous for the Chiktan fort. From there, it continues straight and then exits on the Srinagar Leh highway near Khangral, 30 kilometers later.
So unless that was your plan and you wanted to see Chiktan, you do not need to turn right here. Continue driving straight for another 8 kilometers and you will reach the following spot.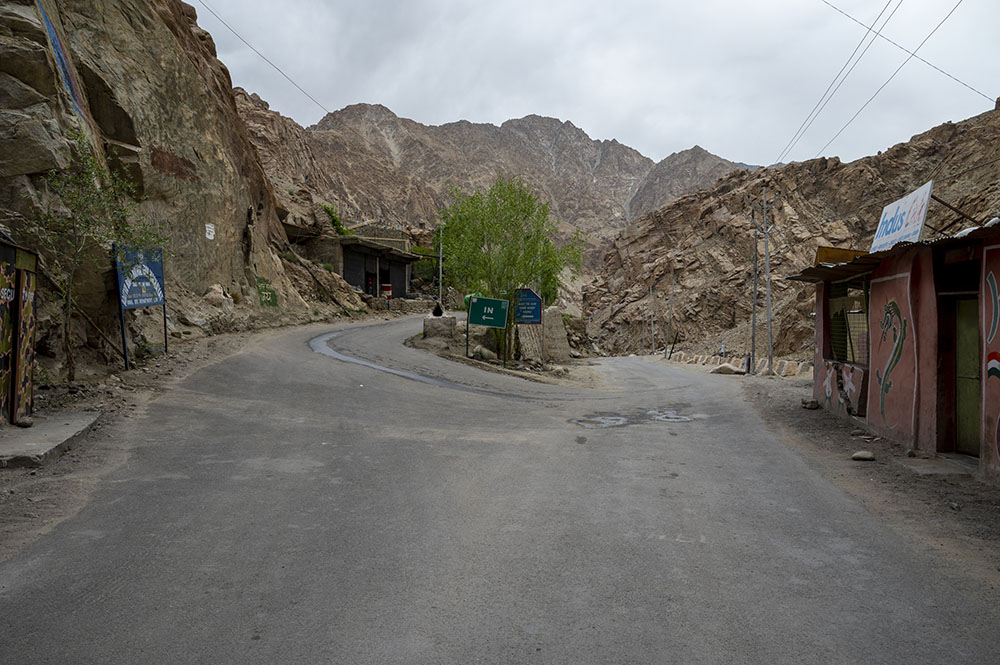 The village of Hanu does not actually fall on the route. If you want to go see the village, you will have to take the road to your left and go uphill.
The village is divided into two – Hanu Yokma and Hanu Goma. Hanu Yokma is about 10 kilometers from this point and that is where most of the tourists return from. If you continue driving up for another 5 kilometers, you will reach Hanu Goma.
The road actually continues uphill for another 20 kilometers after the village but I do not believe tourists are allowed to go any further.
There are a couple of guest houses and homestays in Hanu Yokma if you want to stay there overnight. Otherwise, drive uphill for 10 kilometers, see the Aryan village and come back to the same spot.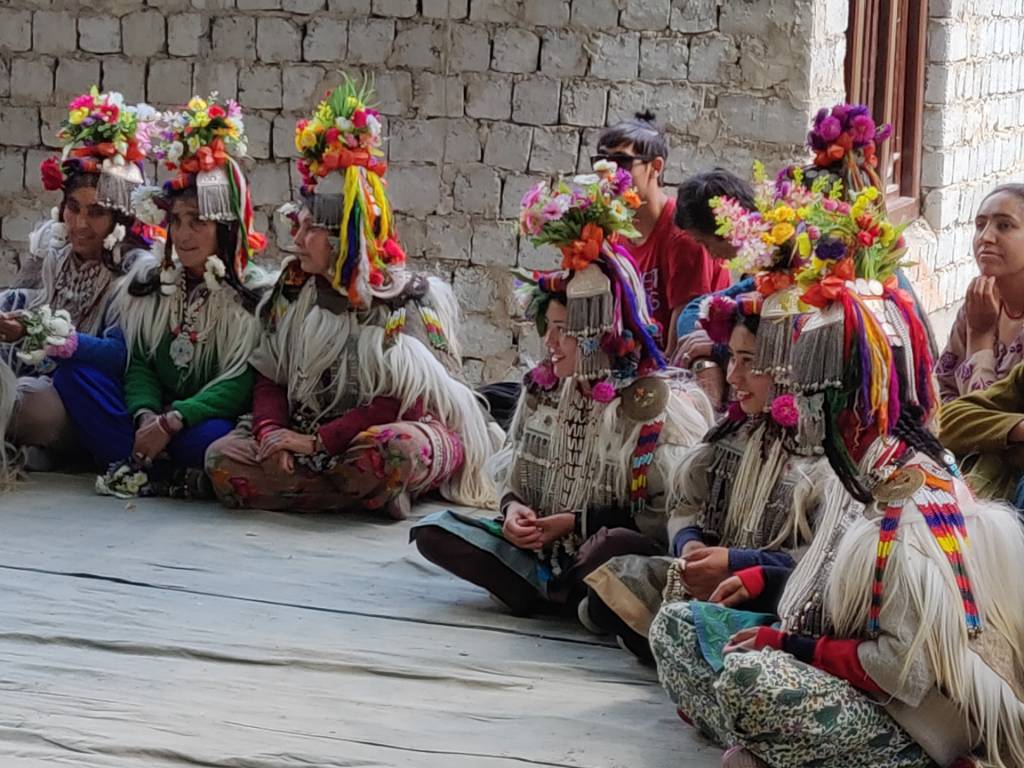 Hanu to Achinathang to Skurbuchan – 22 kms
If you are short on time, you can skip Hanu Village and you won't really miss much. It is like any other village that you will see en route. There is no major tourist attraction there as such. But this is just my opinion.
After Hanu, your next destination will be Achinathang Village. In my opinion, it is the greenest of all the Aryan Villages. The village has a small market area where you can take a break to get something to eat and drink.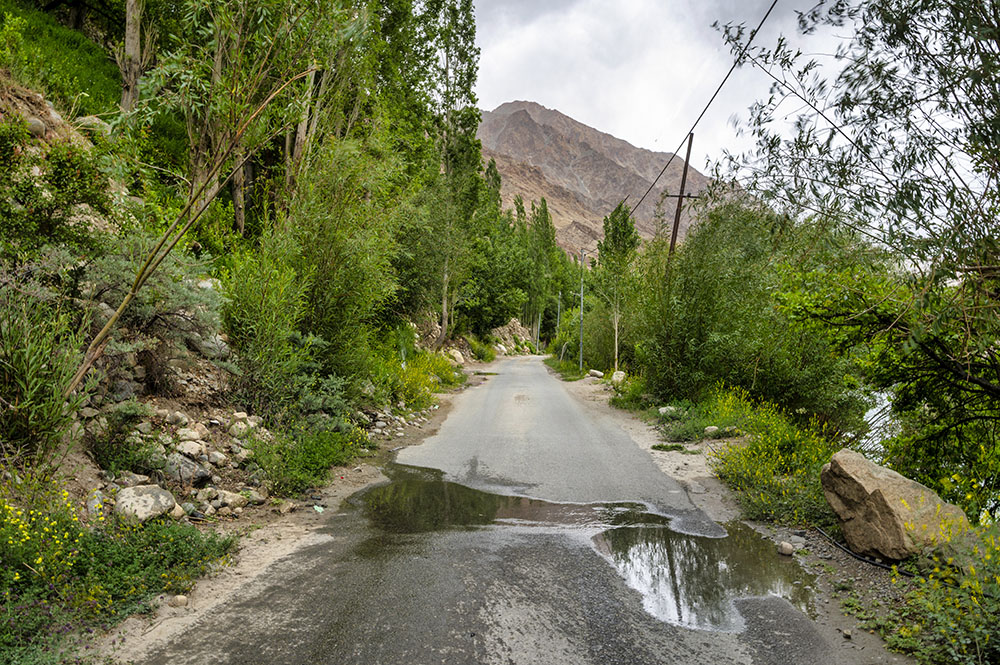 After Achinathang, you will continue driving for another 15 kilometers to reach Skurbuchan. There is a monastery here in the village which is really beautiful. If you have the time and the monastery was open, I will highly recommend visiting.
The monastery will fall to your left shortly after you have crossed the Skurbuchan Village.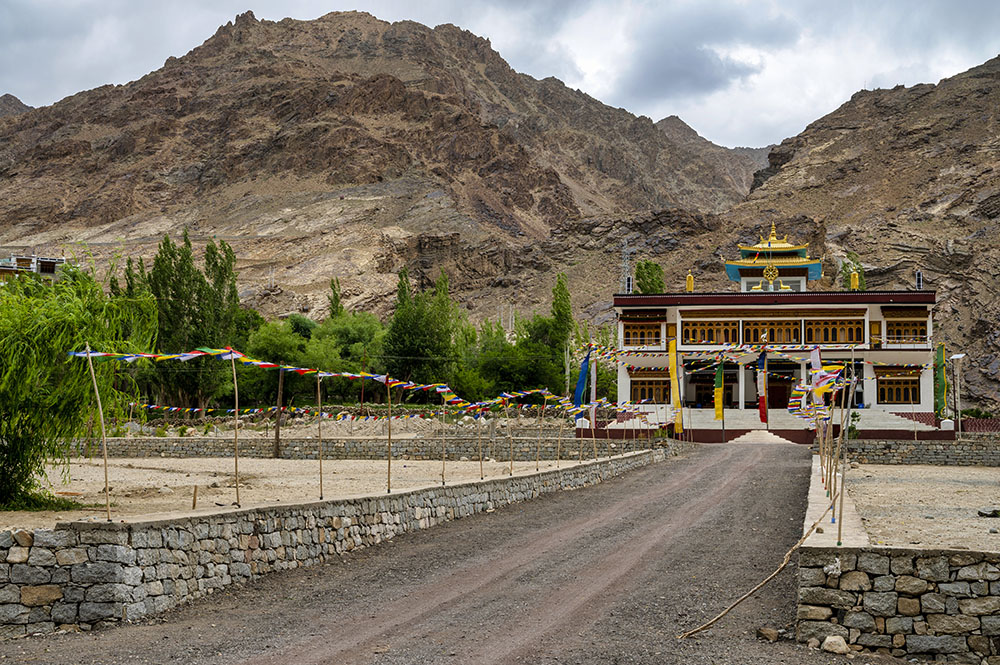 Skurbuchan to Khalsi- 29 kms
After Skurbuchan, there is not much worth mentioning. Continue driving for another 27 kilometers and you will exit on the Srinagar Leh highway near Khalsi.
Take a break in Khalsi, and get some fuel at the Khalsi fuel station if you need to. From there, it is a smooth drive of 95 kilometers on excellent roads to Leh.
Khalsi to Leh – 95 kms
The road between Khalsi and Leh is one of the best parts of the Srinagar Leh route. You drive on a super-smooth road and the journey is bliss. On the way,  Basgo Plains, Magnetic Hill of Ladakh, Gurudwara Patthar Sahib, and Sangam point are some of the tourist areas that you can cover.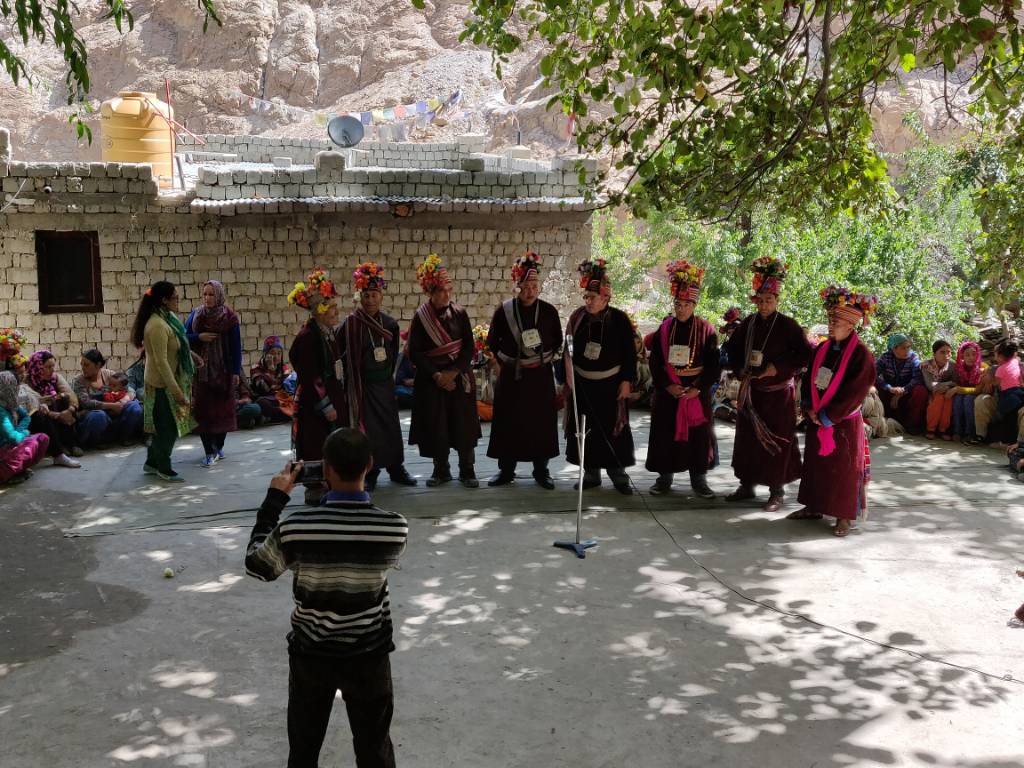 Kargil to Leh via Batalik Vs Lamayuru
Which route should you travel by is entirely your choice. If you travel via Batalik, you will miss the Passes of Namika La and Fotu La, and the village of Mulbekh and Lamayuru.
If you travel via Lamayuru, you will miss the entire Batalik route that I described above. So there are pros and cons to both and it is only a matter of which one appeals to you the most.
There are several ways you can plan this journey. You can either just cover the Lamayuru route on your first trip to Ladakh and keep the Batalik route for your second visit.
You can also reach Leh via Lamayuru and return via Batalik. But then, you will have to come back to Srinagar and leave the Manali Leh highway out of your plans. Or you can just add a day to your trip and extend your stay in Kargil by a day to just cover the Batalik route.
Kargil to Leh via Batalik Road Conditions
The condition of the road on this route is a mix of good and average. There are a few short bad stretches as well but for the most part of it, it is either a good road or an average one.
The tricky part is that it is a narrow road. It has a lot of twists and turns and it also runs through several small villages on the way. Due to this, the travel time between Kargil and Khalsi can be anywhere between 6 to 8 hours; even though the distance is not that great.
Accommodation Choices
If you want to spend a day in the Aryan Valley, my recommendation will be that you do so in Hanu Village. There are a couple of guest houses and a few homestays there that can well serve the purpose.
There is a large hotel and a few homestays in Achinathang as well which in my opinion will be the next best option.
I cannot confirm this but I believe there is an option for homestays in Skurbuchan as well.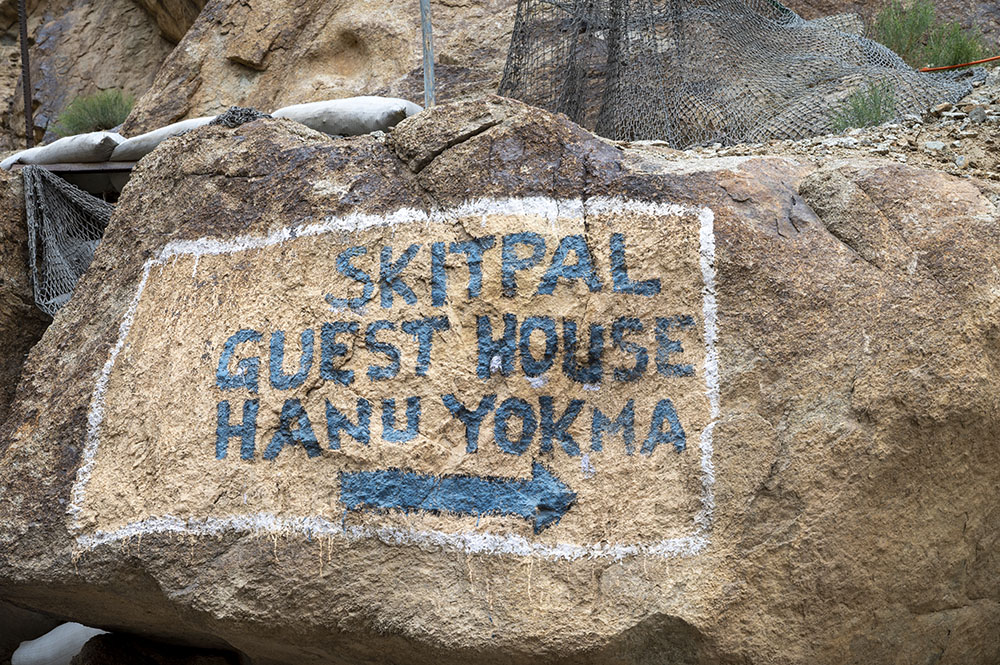 Mobile Network on Kargil to Leh via Batalik Route
There is mobile connectivity on this entire route if you have a Jio or Airtel postpaid phone. The network reception is strong with 4G data speed.
BSNL also works here but their services aren't as good as Jio or Airtel. No other network works in this area.
Permits for Kargil to Leh via Batalik
There is no permit required to travel on this route. You will only need to register yourself at the police check post near Batalik.
Sightseeing Options
This entire route is actually a tourist attraction in itself. You will be traveling right next to the Indus River and travel through an area that is so close to the border.
There are no special places to mention as such but the monastery in Skurbuchan is definitely worth visiting. The ancient fort in Chiktan is another tourist attraction but it is not exactly on the way.
Hanu Village is also considered to be a tourist attraction but, in my opinion, it is just another village.
Hamboting La Pass and the view from its top will be your greatest prize. It may not be the highest altitude pass of Ladakh but it is no less in terms of presenting a challenge and offering rewarding views.
Best Time to Travel from Kargil to Leh via Batalik
From the Kargil side, this road remains open only between May and October. In the winter season, the road across the Hamboting La Pass may get blocked completely in case of extreme weather conditions.
From the Khalsi side, the route remains open for all 12 months. But you will only be able to get as far as Batalik and may not even be able to reach Kargil. The road between Kargil and Srinagar will also be closed in the winter season.
The best time to be on this route is between June to September because this is the best time to visit Ladakh. All the roads in the region in these months remain open. Your sightseeing will be complete and you will be able to enjoy your visit to the fullest.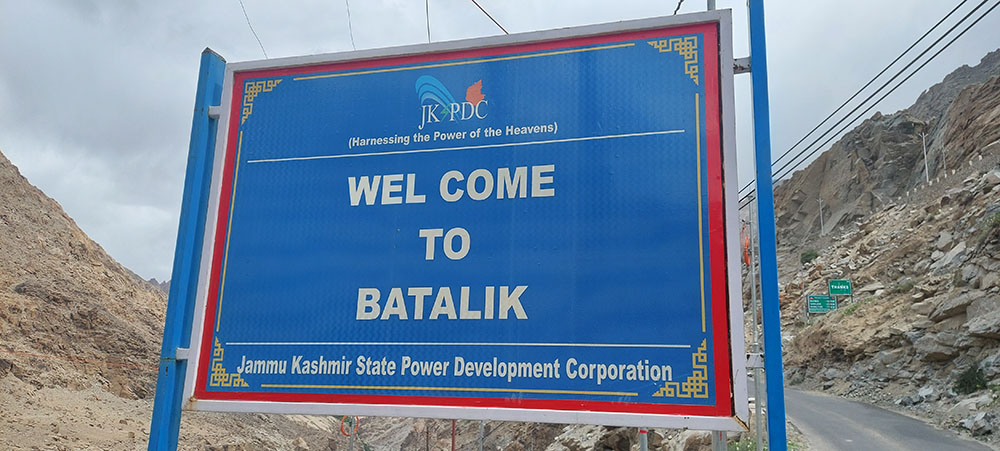 Best Vehicle
The only challenging part of this route is the climb to the Hamboting La top. The rest of the road mostly goes straight and presents very little challenge.
If your vehicle was able to get you to Kargil or Leh without any problems, then it is good enough for Kargil to Leh via Batalik as well.
The only thing that you should keep in mind is that this is a lesser visited and more remote region than the Srinagar Leh highway.
So if there were any signs of mechanical problems with your vehicle, you should stick to the Srinagar Leh highway. In case of a breakdown, chances of finding help there are more than the Batalik route.
Batalik to Leh Distance
The distance between Batalik and Leh is a total of 177 kilometers via Aryan Valley and 270 kilometers via Kargil.
Kargil to Batalik
Batalik is located at a distance of 54 kilometers from Kargil.
Kargil to Leh via Batalik – Conclusion
I hope the information above on traveling from Kargil to Leh via Batalik was of help.  If you have any questions, you can ask in the comments section below. You can also contact me on Instagram to chat with me or subscribe to my YouTube channel and ask a question there.