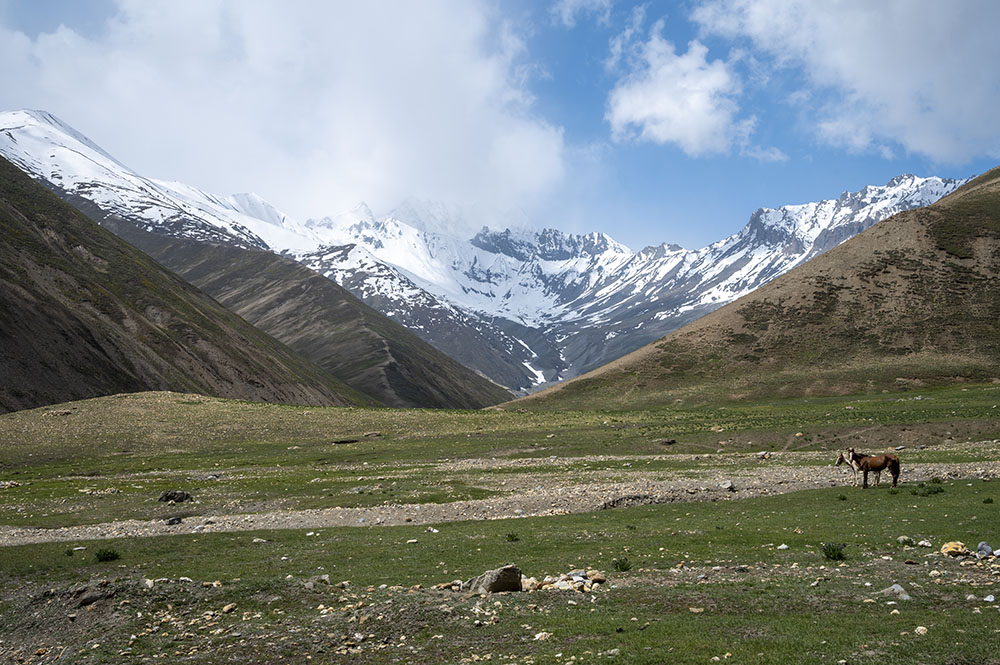 Umba La is a high-altitude pass located in the Ladakh region of India, at an elevation of 4,496 meters (14,750 ft). The steep mountain road over the pass works as a shortcut between the towns of Sankoo and Drass and remains open only for about 5 months in a year, from late May to Mid-October.
Not a lot of people are familiar with either this pass or the route. It is what can be called one of the lesser-known passes of Ladakh. The road across Umba La is challenging at the least and not that frequently traveled even by the locals.
I recently had the opportunity to stand at the top of Umba La and good luck to do so during a snowfall. The post below is a narration of our journey to this beautiful pass and also provides other necessary details that may be of help to other travelers.
It was the 13th day of our 2-months long trip to Zanskar, Ladakh, and Spiti Valley. We had already traveled to the Zanskar valley and spent the next 2 days relaxing and sightseeing in Kargil before moving on to Ladakh. To read the previous parts of the travelogue, you can follow the links below.
Journey So Far:
It was one of these 2 days in Kargil that we decided to use for traveling on the Umba La circuit. The journey was fun, adventurous, and full of excitement, and had our hearts jumping to our mouths at a couple of places. Read on to find out more.
About Umba La
Until a few years ago, Umba La was a trek route mostly used by local shepherds and some adventure enthusiasts. The trek would start from Dras, get you across the Umba La pass, and end in the town of Sankoo in Suru Valley.
In those days, if you wanted to travel between Dras and Sankoo by road, the only way to do so was via Kargil. It would be a drive of about 105 kilometers that would take you anywhere between 3 to 4 hours.
Later on, this trek was turned into a motorable road, providing an alternate way of traveling between Dras and Sankoo.
It was meant to be a shortcut between the two towns, cutting the distance down to just about 70 kilometers and significantly reducing the travel time. Take a look at the map below for a better understanding.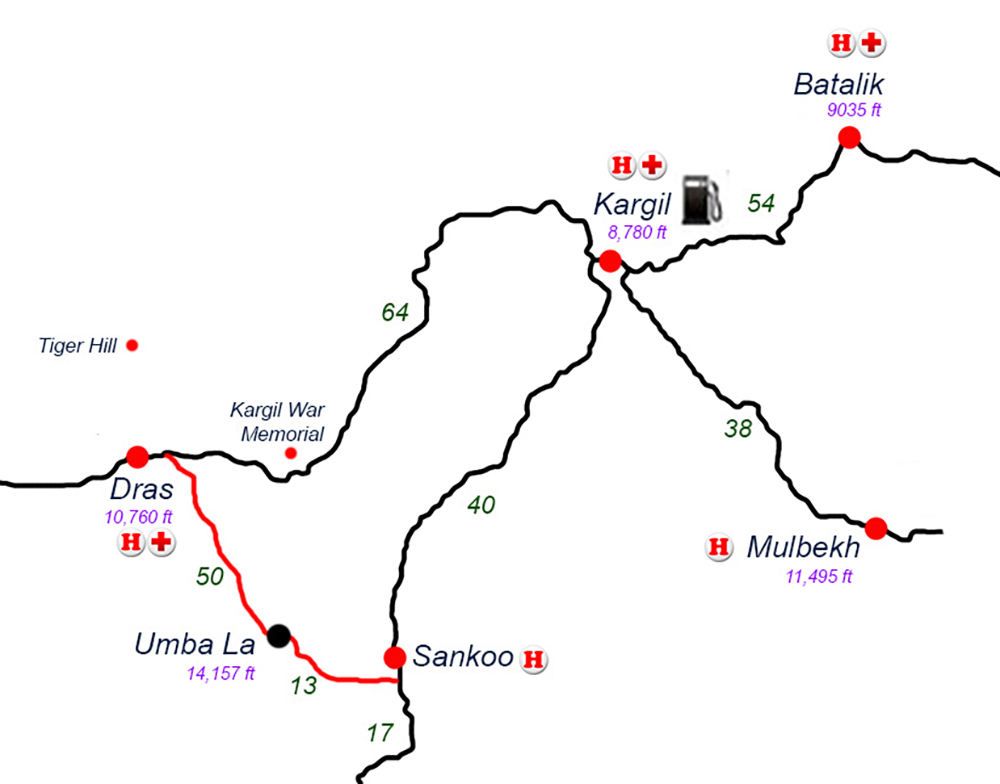 Below is a video of our journey on this day if you want to check it out or you can continue reading the travelogue.
Dras to Sankoo
Unfortunately, though, while the distance was reduced, it did not help much with the travel time for two reasons.
The first one is that there are not one but two high-altitude passes on this route – Umba La and Manman Top. You climb up and down both these passes in a matter of just 70 kilometers.
The second reason is that even today, it is a badly broken dirt road with a lot of twists and turns in between. In several places, it is barely wide enough for one car. The road on this route has been asphalted multiple times but it never holds.
Due to this, the travel time between Dras and Sankoo even via Umba La is still about 3 hours. The distance may just be 70 kilometers but the progress is slow because of the passes in between and the condition of the road.
Even the locals do not choose to travel via Umba la and would rather go via Kargil. Why? Because that road is much better in condition and would not have them drive up and down the two passes on tricky roads.
Also Read: How to Plan a Trip to Leh Ladakh – A Complete Travel Guide
Umba La & Manman Top
Now let us briefly talk about the two passes on this route. Umba La may not be among the highest passes of Ladakh but it is no less in terms of difficulty and scenic beauty. The elevation of the pass is 4,496 meters (14,750ft).
The second pass is called Manman Top. I could not find the exact elevation of this pass but if I am to assume, it would be anywhere between 13,500 ft to 14,000 ft.
If you started from Dras, Manman Top will be the first pass you cross. You will then drive up and down Umba La to arrive in Sankoo in Suru Valley. If you started from Sankoo, you will first cross Umba La and then Manman Top.
What makes this journey challenging is that you cross these passes within a very short distance. The road is either going up or down and is never straight. The inclines of both passes are also very steep.
Let me explain the journey a little more in detail, starting from Dras and ending in Sankoo.
Dras to Manman Top
The road to Manman Top bifurcates from the Srinagar Leh highway shortly after Dras. If you were coming from Srinagar, you will have to drive across the entire Dras town and get to its other side.
About a kilometer after Dras, this road will fall to your right. If you need a marker, there are a couple of automobile shops there. One that I remember was called Sadiq Automobile.
The last time I traveled on this route, the road from Dras to Manman Top was completely tarred and in good condition. The incline is very steep though and you gain a tremendous amount of altitude within a short distance.
Due to this, the progress will definitely be slow. If I am to assume, it will take you no less than 45 minutes to an hour to reach Manman Top from Dras.
The views will be outstanding though. You will get an eagle-eye view of the entire Dras Valley and the town. You can also see the LOC from Manman Top.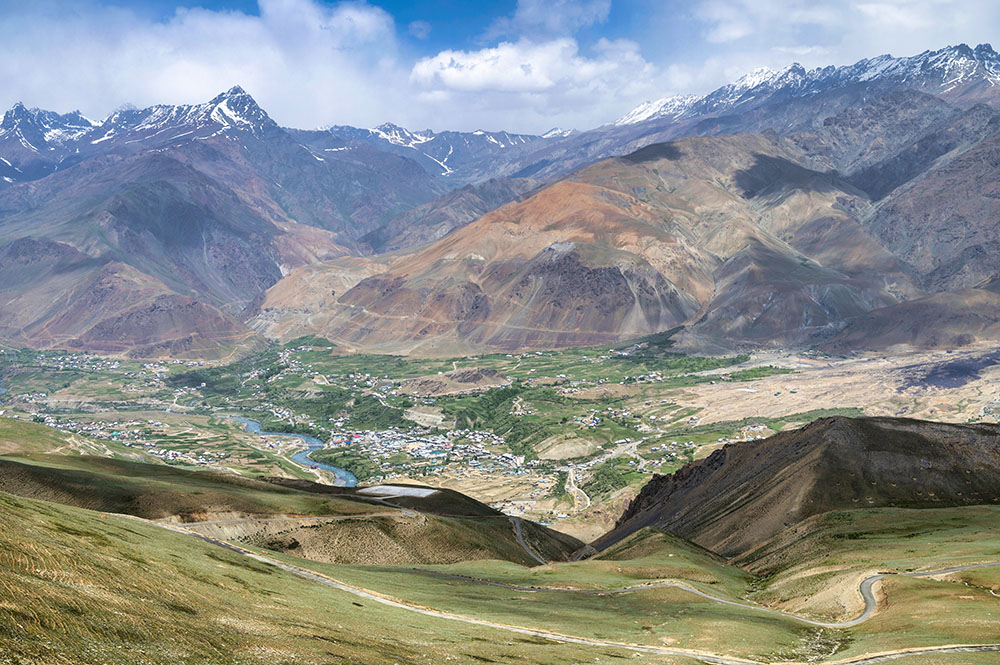 Manman Top to Umba La
The actual challenging part of the journey begins after you start driving down to the other side of Manman Top. The road will be in very bad condition, narrow, and will also have mud caused by the melting snow.
The picture below should give you an idea of what I am talking about.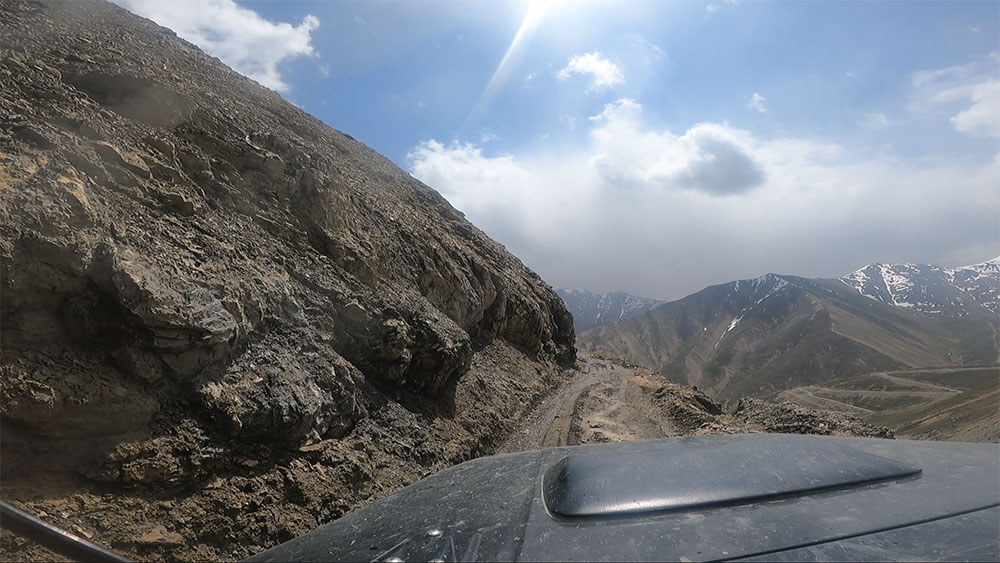 You will lose altitude just as quickly as you gained it. Driving down a steep descent, you will finally reach a meadow-like area.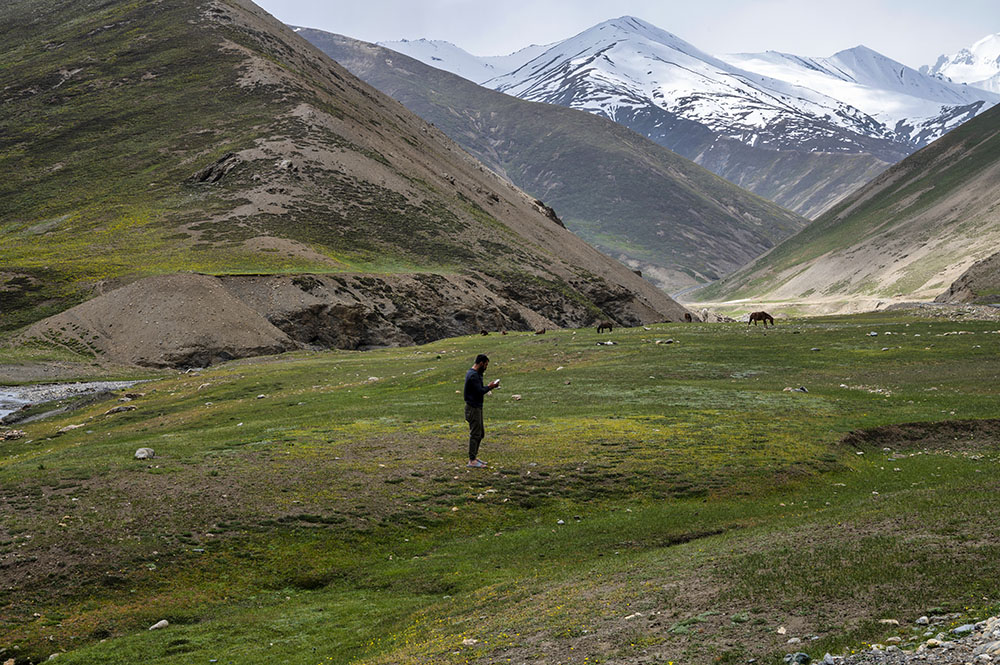 I loved the views from this spot. If you were lucky, you may run into some shepherds grazing their livestock. Why am I saying lucky? Because it will present a great photographic opportunity.
After this spot, you will cross a small bridge, and immediately after, the incline for the Umba La pass begins. The last time I traveled on this route, this part of the road was completely asphalted.
But the road here keeps getting damaged every year. So there is a high possibility that when you travel on it, you may find it devoid of any tar.
As you gain altitude and get closer to Umba La top, you will start coming across snow walls on both sides of the road.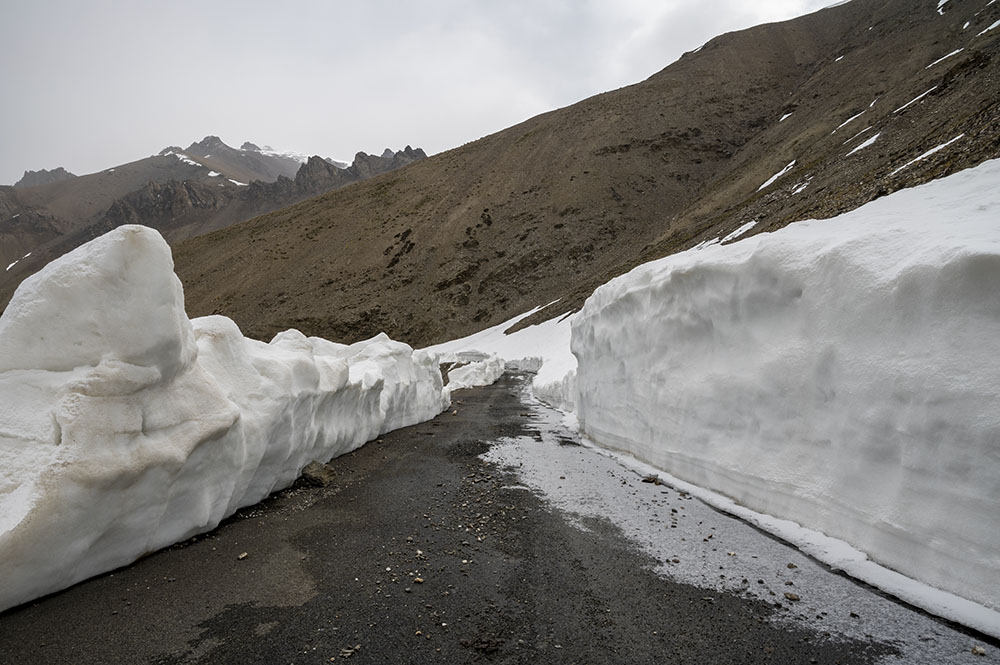 Finally, you will be standing at the top of the second high-altitude pass on this route, Umba La.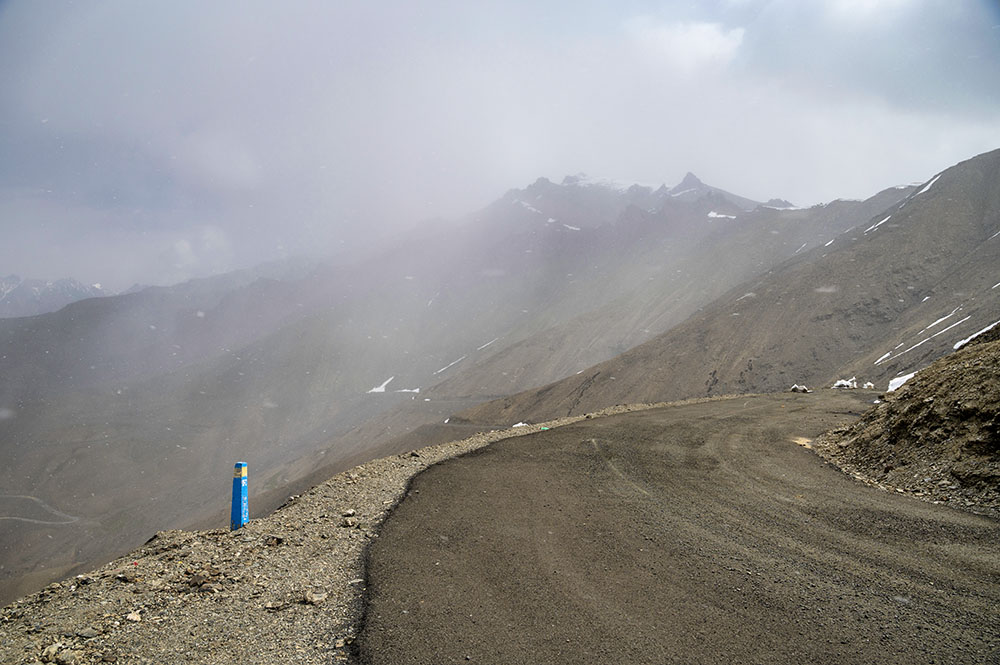 Umba La to Sankoo
The road between Umba La and Sankoo is in a real bad shape. This will be the most challenging part of the journey. You will drive over a lot of loose gravel, the descent will be steep and the curves will keep coming after every couple hundred meters.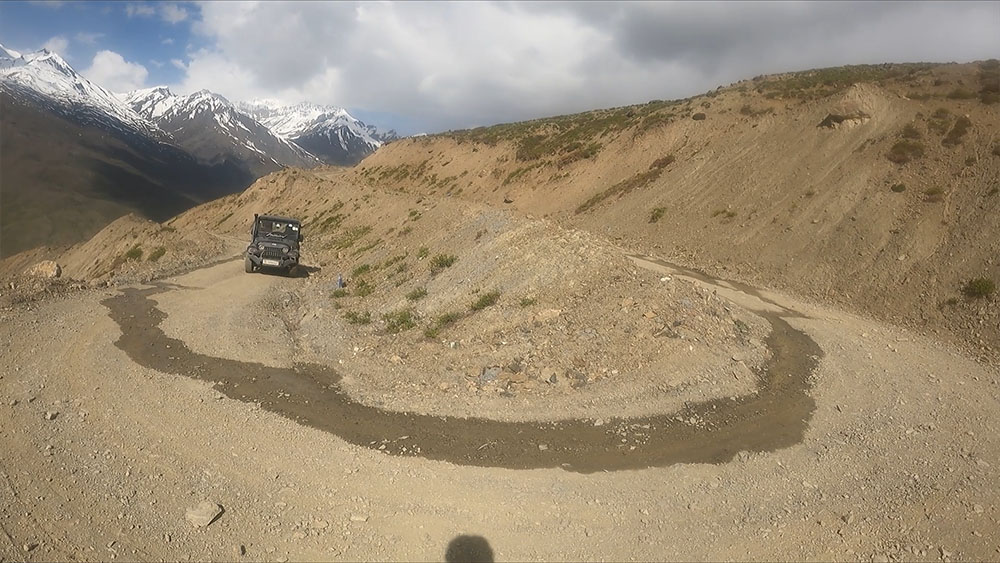 Finally, you will find a good tarred road about 10-12 kilometers before Sankoo.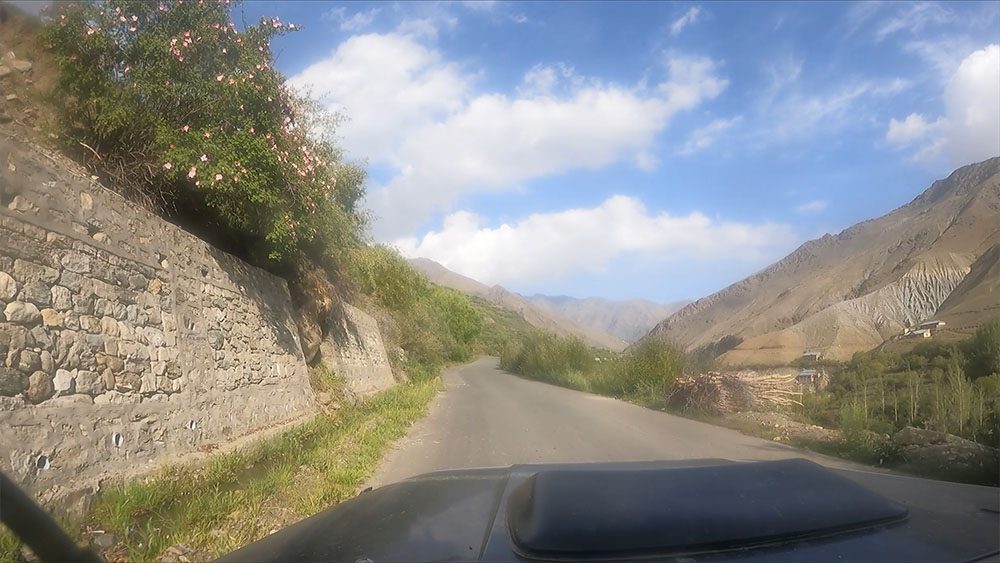 As I mentioned previously in the article, this entire journey from Dras to Sankoo is only about 70 kilometers long but will easily take you close to 3 hours due to the challenging nature of the terrain and the bad condition of the roads.
Mobile Network at Umba La
Jio has an excellent network in Suru Valley and provides good service. You will remain connected on the stretch between Dras and Manman Top and between Umba La top and Sankoo.  Between both passes, we did lose network at a lot of places but it kept coming and going.
Other than Jio, we also had Airtel and BSNL post-paid connections but those worked only when we were in Dras or Sankoo. During most of the journey via Umba La, none of these networks worked. I also know that Vodafone and Idea do not work on this stretch either.
Also Read: How to Plan a Trip to Suru Valley
Umba La Road Conditions
The condition of the road on this stretch is a mix of excellent, average, and very bad. The good thing is that the very bad stretch is limited to only a few short stretches.
Starting from Dras, the drive to Manman Top is smooth. The road on the other side of the pass however is badly damaged and tricky in a lot of places.
After Manman Top, you will get down to the meadow I posted a picture of above and from there, it is a smooth drive to Umba La top. But the road from Umba La to Sankoo is badly broken for most of it.
There is no guarantee of the road on this stretch. It gets made each year and then it breaks each year in the winter season after this entire area gets buried under several feet of snow.
So there is a high possibility that the condition of the road may be different than what I stated above at the time of your travel.
Kargil to Umba La
Now let me come back to the travelogue and talk about our journey across Umba La Pass. As per the initial itinerary, we wanted to cover the Umba La route on our way to Zanskar Valley, on the 8th Day of the trip.
The plan was to stay in Sonamarg for the night and go straight to Sankoo the next day. That way, we would be able to cover the Umba La road and also shorten our journey to Padum the next day by staying in either Sankoo or Panikhar.
Fate however would not have it so. That day, due to a landslide, we were stuck at Zojila for almost 8 hours and had no other option but to give up the plan of Umba La.
After the road was opened at 4 pm, there was no way that we could have made it to Sankoo. We had to alter our itinerary and headed straight to Kargil for the night stay.
From there, in the following days, we moved on to Zanskar Valley, then covered the Lingshed and Batalik routes and circled back to Kargil once again. I have talked about this journey in the previous parts of this travelogue.
2 Days in Kargil
It was a Wednesday when we reached Kargil from Lamayuru via Batalik. The plan now was to stay there for the next 2 days and move on to Leh on Saturday.
We could have gone straight to Leh from Lamayuru as well but I wanted to cover the Batalik route. That was the only reason why we circled back to Kargil once again.
Our stay in Kargil for 2 days was more of a necessity than a choice. We were carrying our laptops along and were also working while traveling.
So the idea was to stay at our hotel in Kargil on Thursday and Friday where we had a stable internet connection and were able to complete our work properly.
My friend and I both worked the night shifts so we had some time in the day available for sightseeing. This is how the plan for Umba La formed once again.
Until now, I was of the opinion that we missed Umba La this time and will have to cover it in the future on another trip.
But while we were in Kargil, it just made sense to take a few hours out on Thursday and complete the Umba La circuit as well. It was after all a part of our itinerary for this trip only.
Also Read: How to Plan a Trip to Zanskar Valley
Kargil to Sankoo
So with this thought, we woke up early on Thursday morning and were ready to be on our way by 7 am. Initially, we thought to first go to Dras and then return via Sankoo after crossing Umba La.
But at the last minute, we decided to do it the other way around and go to Sankoo first. There was no particular reason behind it and I do not even remember why we changed our plan at the last moment but we did.
Nevertheless, we drove out of Kargil and were soon on our way to Sankoo, the largest town of Suru Valley. The condition of the road was super smooth and since it was early in the morning, there were hardly any vehicles around.
Enjoying the early morning drive through the beautiful Suru Valley, we reached Sankoo in 45 minutes. The town was just coming alive with only a few shops open.
Since we started early from Kargil, we haven't even had a cup of tea so far. We decided to take a break in Sankoo and stopped at the Hussaini restaurant to get something to eat.
This was the same restaurant that we ate at a few days ago while going to Padum. The owner of the restaurant was surprised to see us back and was even more surprised when we told him that we did all of it just because we wanted to cross Umba La.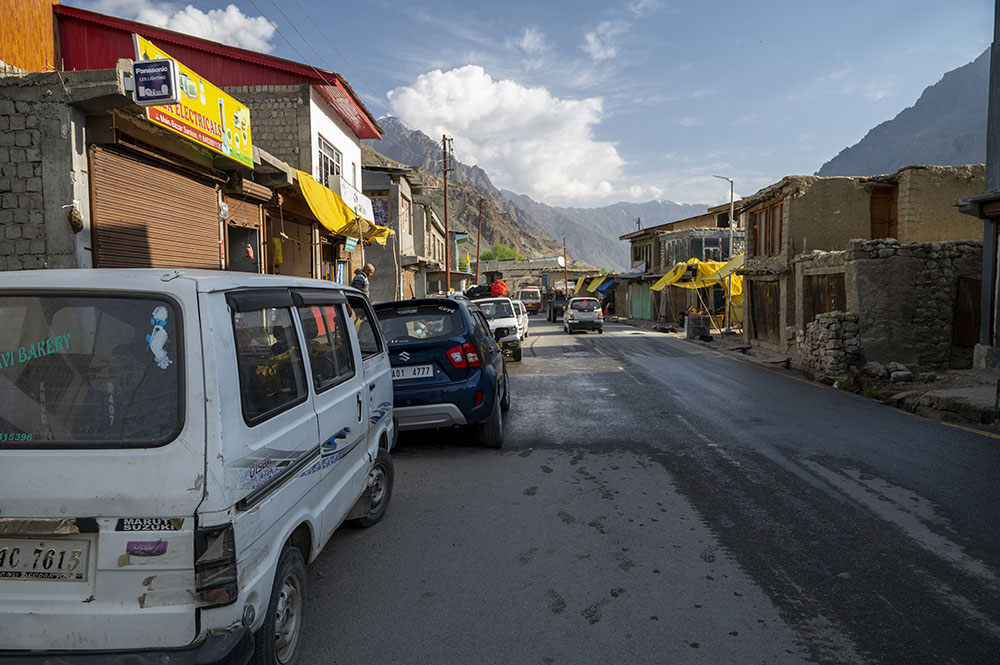 Sankoo to Umba La
After a brief break, we were once again on our way. The road to Umba La pass bifurcates near the market area in Sankoo. Keep an eye out for this board. This can help you decide where to turn.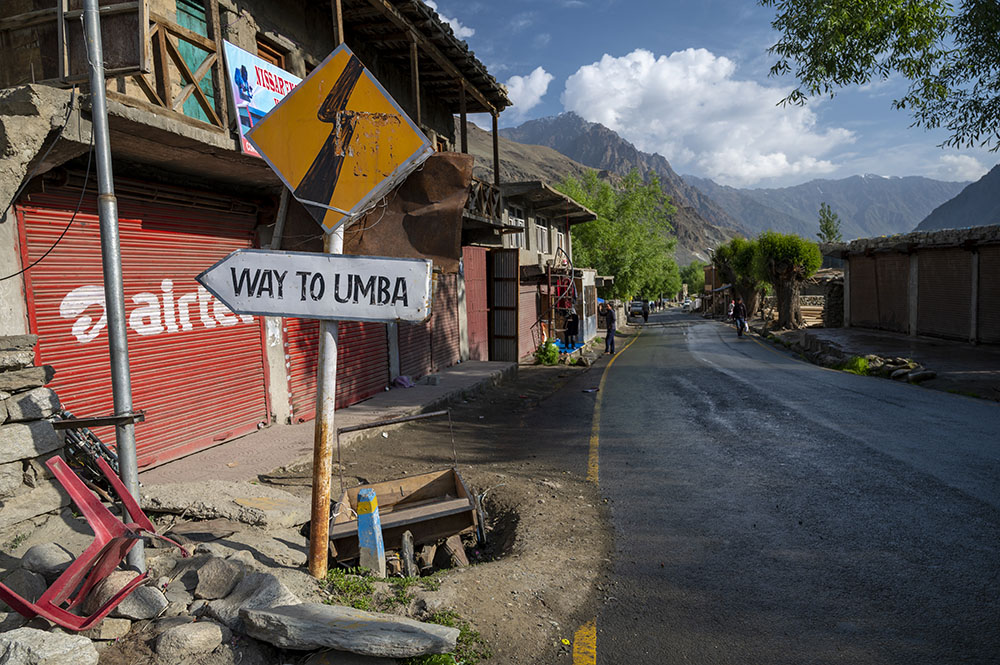 We took the turn and for the next 11 or 12 kilometers, it was an enjoyable drive on a smooth tarred road. The weather was pleasant, the sun was just started to come up and so far, it was a fun journey to be on.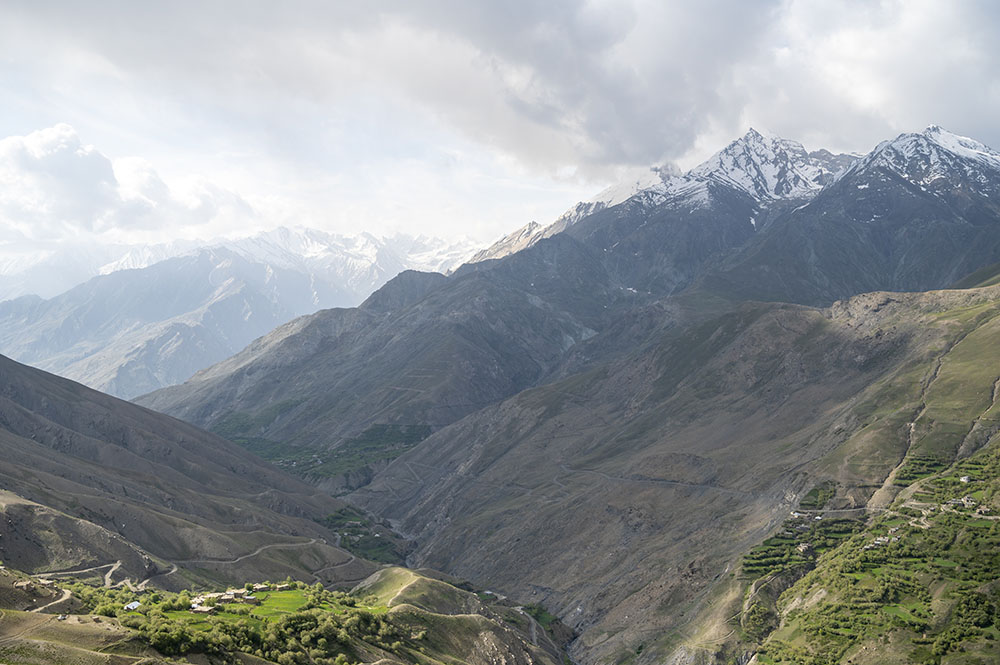 From the information that I gathered about Umba La on the web, the road was notoriously bad and the climb steep. But when we started from Sankoo, it made me wonder if all that information was history now.
The road that we were on was even better than the Delhi roads. True that it was narrow but well-tarred and in excellent condition. My joy however was short-lived.
About 12 kilometers from Sankoo, the asphalt on the road was gone. We were now driving up a badly broken dirt road that matched the description I read about the pass on the web.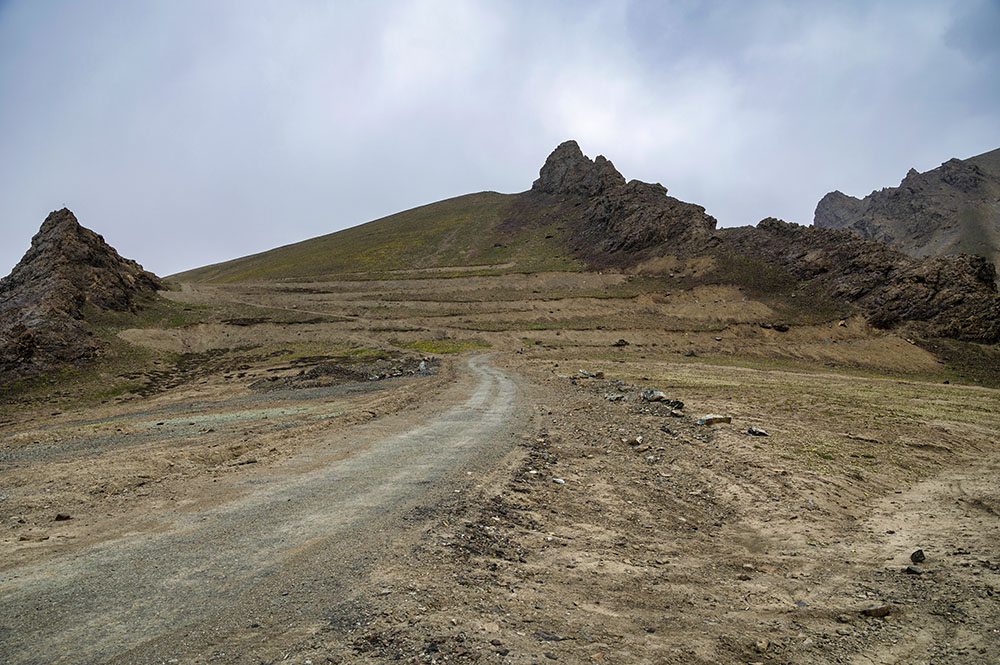 Umba La Top
The difference between Umba La and the other passes that we had been on so far in this trip was the curves. They were only a couple of hundred meters apart from each other. We will turn on the one curve, drive up a couple of hundred meters and there will again be another loop to turn on.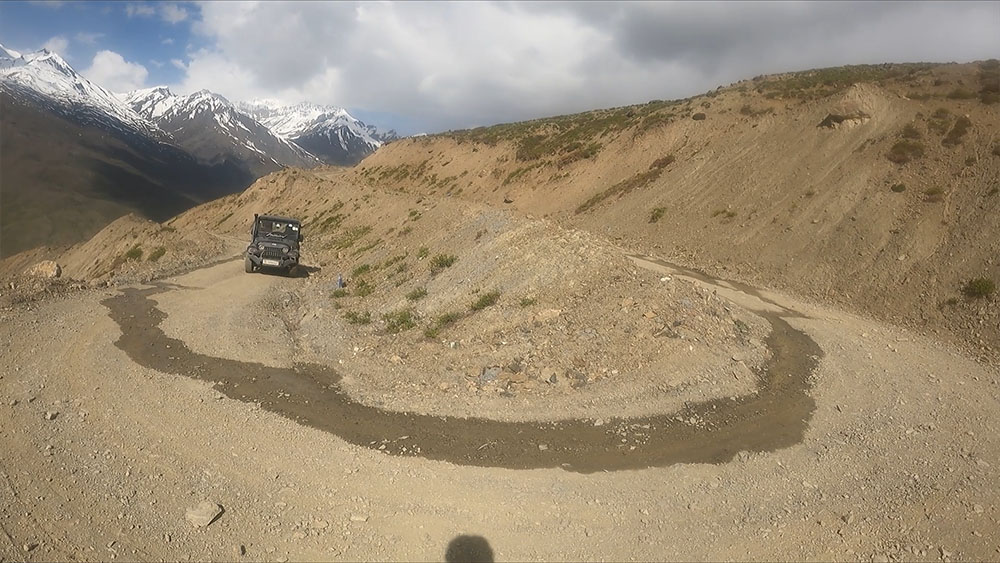 It was a fun offroading experience nonetheless. The incline was steep and the roads were challenging. The views however were rewarding.  Making our way up and tackling the narrow loops, we finally made it to the top of Umba La Pass and a surprise awaited us.
Just when we reached the top of the pass, it started to snow. It was just a light spell of snow though but a surprise still. The weather was cloudy, the winds strong and cold, and the views mesmerizing.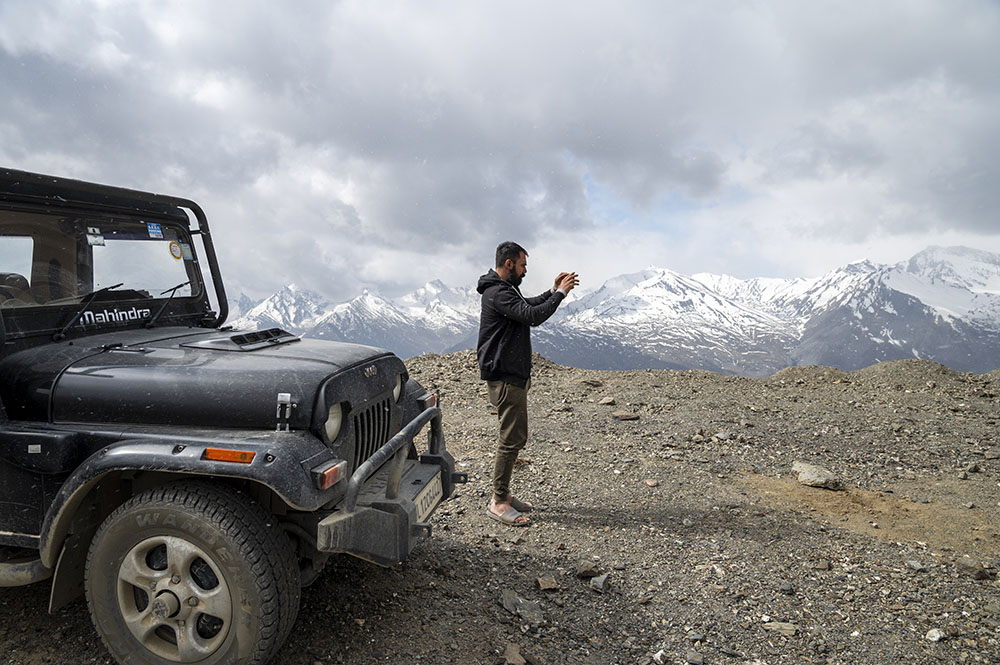 Overall, I loved standing at the top of Umba La Pass. There were a few Yaks grazing there and they were as surprised to see us there as we were to see them.
From the distance, all these Yaks just kept staring at us. This told me that not a lot of travelers chose to be on this road and seeing us there was something of a curiosity for the Yaks as well.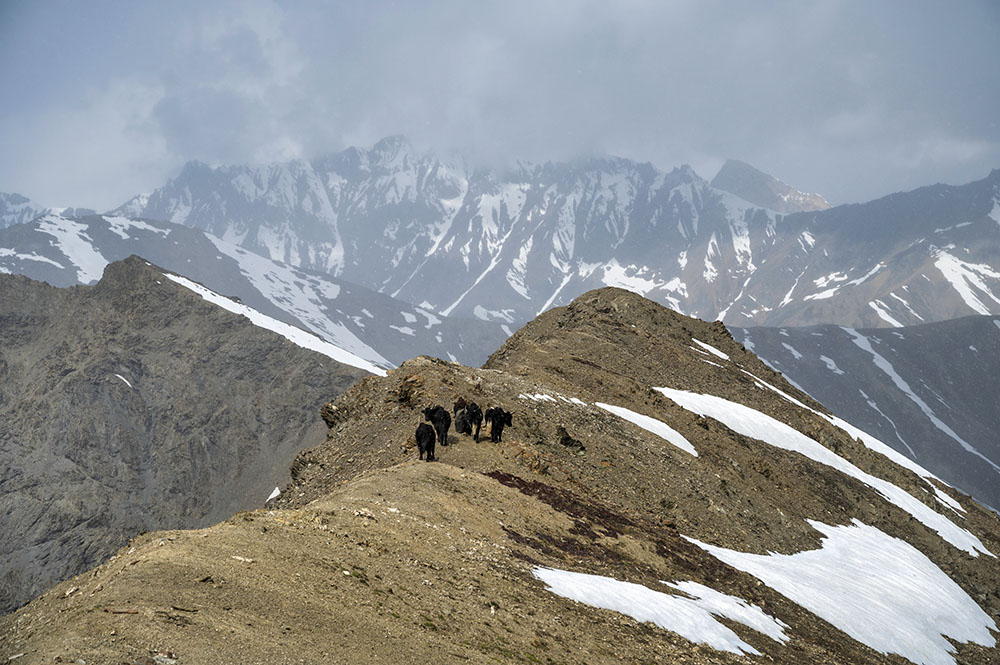 When I think about it now, we actually came across only one other car on this entire stretch. Other than that, we were all by ourselves.
Umba La to Manman Top
The Yaks both intrigued and scared us at the same time. I am pretty sure that they were scared of us as well. It was like a Mexican standoff. The Yaks just stood their ground staring at us from distance.
We kept an eye out for them as well while clicking pictures and shooting videos.  Several times, we actually thought that one of the Yaks was coming forward to charge at us. The experience was both scary and fun.
After spending some time at the pass, we started driving down to its other side. To my complete surprise, the road on this side of the pass was asphalted and smooth once again.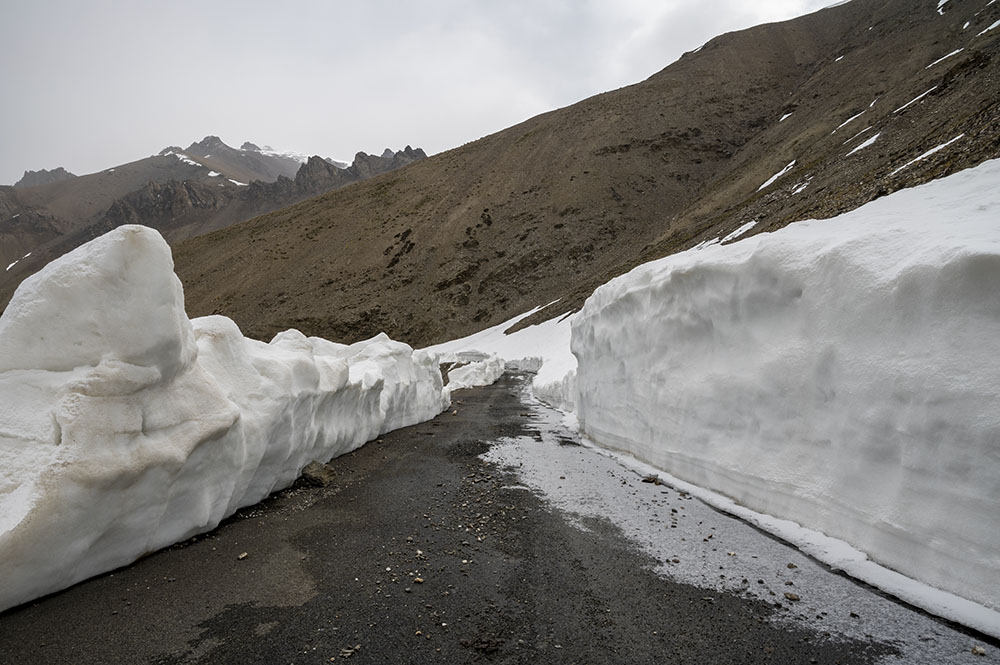 We also started to come across snow walls near Umba La top. It was the month of June and there was still a lot of snow left there.
Having fun on a smooth road and taking a lot of photography breaks, we finally drove down the pass to this meadow-like area. There was a small bridge that we crossed on the way and stopped at this place for a break.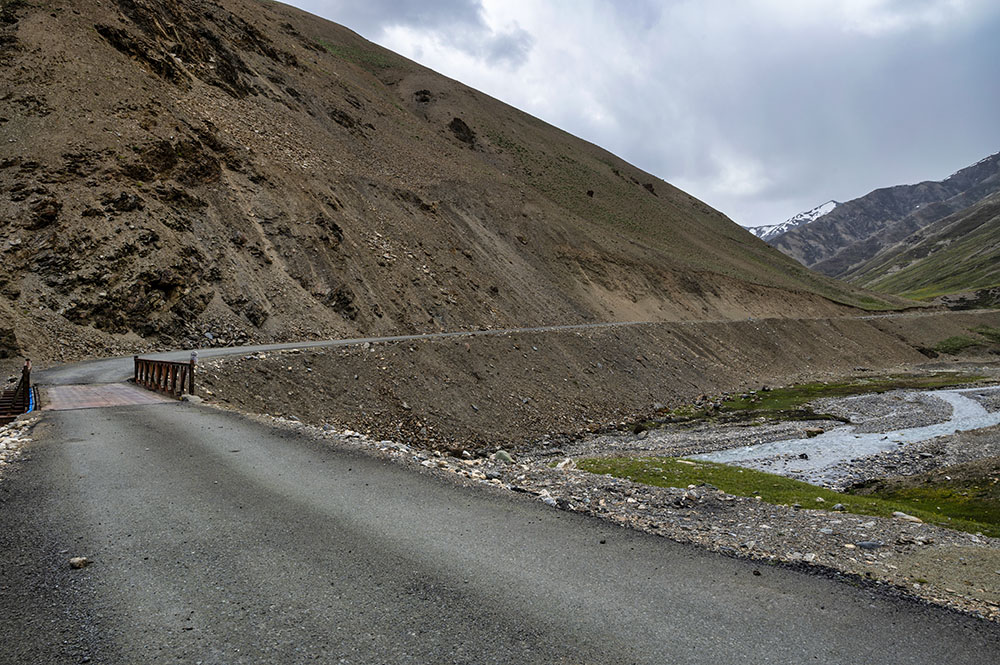 We took a brief break here, clicked some pictures, and continued our journey. Right after this meadow, the climb for Manman Top started and we were once again driving uphill on a bad road.
The climb to Manman Top was as steep as it was for Umba La. But one thing that made it even more challenging was the mud caused by melting snow. Please click on the link above to continue reading the next part of the travelogue.
Umba La – Conclusion
I hope the travelogue, pictures, and details on Umba La were of help.  If you have any questions, you can ask in the comments section below. You can also contact me on Instagram to chat with me or subscribe to my YouTube channel and ask a question there.
This error message is only visible to WordPress admins
Error: No feed found.
Please go to the Instagram Feed settings page to create a feed.