Two terms are fast catching pace in Indian tourism market. The first one is 'offbeat destination' and the second one is 'adventure sports'. Bir Billing is a name that qualifies on both. It is a small town located about 65 kilometers from Dharamshala and is home to a large Tibetan exile community due to which it is also known as 'mini Dharamshala'. But that is not what it is really famous for. At an altitude of 1,525 meters, it is most known for India's best paragliding experience. In 2015, an event for Paragliding World Cup was held here, after which the small and almost unknown town came to limelight and became of a favorite among adventure enthusiasts. The very name of the place now stands as a synonym to paragliding and several other adventure sports like trekking and mountain biking.
Bir is also home to several Buddhist monasteries, institutes, and NGOs. But what you will not find here is the regular tourist crowd like in the towns of Mcleodganj and Dharamshala. Majority of the visitors in Bir Billing will be the ones looking forward to paragliding and the rest will be the ones interested in meditation courses, volunteering, and ecotourism. This makes Bir a perfect place for anyone wanting to spend time at a peaceful place without going too remote. For paragliding, there isn't a better place to experience it in India. How can you plan a trip to Bir Billing, where can you stay and what can you do there is what I will be discussing in this article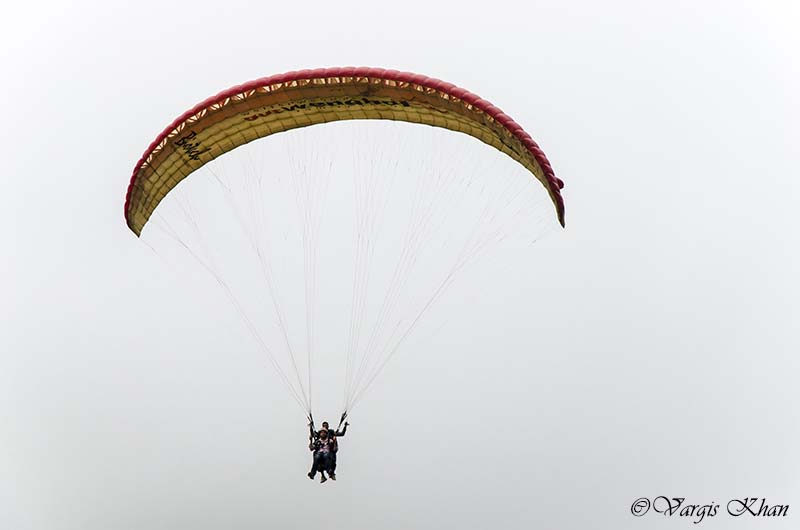 Below is a quick navigation index of the information covered in this article.
Know Bir Billing
---
About Bir Billing
The names Bir and Billing are always clubbed together as one but these are in fact two different places. The name of the village or town is Bir and it is divided into two parts. The Bir that is known to the tourist community is called Chaugan, also known as 'Tibetan Bir'. The original settlement or the village is now known as 'Upper Bir' or 'Bir Proper' or 'Indian Bir'. It is a small market and surrounding farming community, located in the foothills above Chowgan at a distance of about 2 kilometers.
Billing, on the other hand, is a ridge top used as the launch point for paragliding. It is at a distance of about 16 kilometers from Chaugan and 14 kilometers from Bir. You drive up to the top, sail off in the air and land at Chaugan. More experienced fliers actually can reach as far as Dharamshala, Mandi, and even Manali. Both Bir and Billing are connected by a small but smooth road.
Location of Bir Billing
Bir is located in Joginder Nagar Valley of Himachal Pradesh; at a distance of 65 kilometers from Dharamshala; 160 kilometers from Manali; and 520 kilometers from Delhi. Billing is located another 16 kilometers ahead of Bir.
Bir Billing Altitude
Bir is at an altitude of 1,525 meters (5,003 ft.) whereas the paragliding launch site in the meadow at Billing is at an elevation of 2400 meters (7874 ft.) 
Why should you visit Bir Billing
Bir billing is well known for its paragliding experience and that is what you should visit here for. There are several reasons why it is considered as one of the top sites for paragliding in India. The topography of the region, weather and wind conditions make wind sailing here a pleasurable experience and can be done for a longer duration. Since it has evolved into a paragliding base, there are several companies and instructors to choose from with plenty of experience behind them. This also makes paragliding here a bit safer than other places.
However, if you have no interest in Paragliding, you can still visit Bir Billing to spend some time in peace. There are plenty of treks around here that you can venture upon. You can also visit the monasteries, taste some Tibetan food and observe Tibetan lifestyle. Mountain Biking is another fun activity to enjoy in Bir Billing and you can easily get a bike on rent here.
If nothing else, then just spend some time in the beautiful valley, taste some amazing food, click loads of pictures and have a great time. You will not feel it overcrowded like Shimla and Manali but at the same time, you will also not go too far away from civilization or too remote. The town is easily accessible and has great mobile connectivity which can be of reassurance to a lot of people, especially the ones visiting with family.
Also Read: Palampur – A Complete Travel Guide & Itinerary
How to reach Bir Billing
---
Connectivity to Bir is really great and reaching the town will not be a problem at all. It is located in an area that is one of the most visited ones in all of Himachal. It is not only important in terms of tourism but also religiously and to some extent politically as well. As a result, you can reach here in all 12 months and by several modes of commute.
How to reach Bir Billing from Delhi
Let me begin with first explaining how you can reach Bir if you were traveling by road and your own vehicle. For the sake of explaining the route, I will assume Delhi as your starting point. However, even if you were coming from a different town, the following information can still help you understand how you can arrive at Bir and then reach Billing.
Delhi – Panipat – Karnal – Kurukshetra – Chandigar – Anandpur Sahib – Amb – Kangra – Palampur – Bir – Billing

There can, of course, be several other variations to this route but the one I mentioned above is the quickest. Traveling this way, Delhi to Bir Billing will be about 520 kilometers and will take you a total of 11-12 hours to complete; depending on your speed and breaks.
Delhi to Bir Billing Road Condition
The journey may be long but the good part is that the road remains to be a smooth one for most of the journey, even up in the hills. There are a few bad patches in between but for the majority of it, it is smooth sailing all the way.
Best Vehicle for Bir Billing
There is really no best vehicle required for visiting Bir. I have seen the locals there driving around in old Maruti 800 as well. So as long as your vehicle is well maintained, serviced and is not too old, you can drive to Bir Billing by any car or motorcycle. If you were coming by a smaller engine bike though, I will recommend traveling light and solo.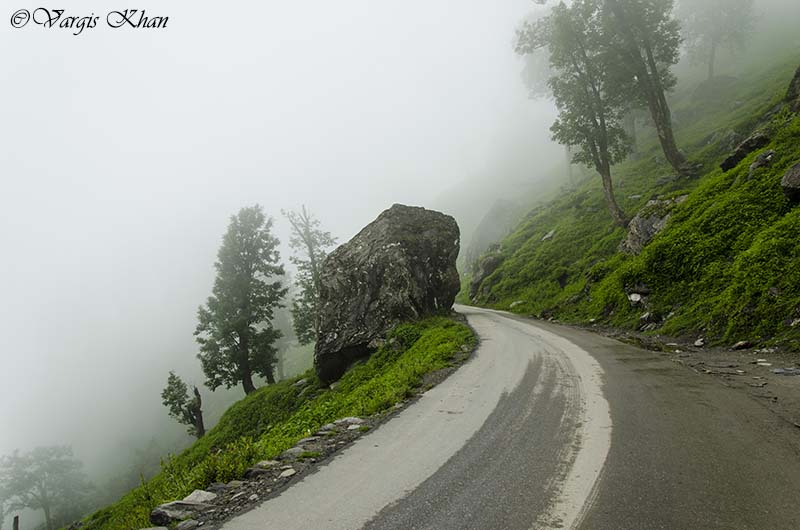 How to reach Bir Billing from Dharamshala
Bir is about four hours from Dharamshala and McLeodganj by road. If you weren't traveling by your own vehicle, you can rent a taxi for Bir which is the most convenient way to travel between the two places. A hatchback or a Sedan will cost you about Rs. 1200 to drop you at Bir in about 2 to 3 hours.
For budget travel, there are two daily buses from Dharamshala for Bir. The buses leave from Dharamshala at 6 AM and 2 PM everyday and travel all the way to Bir Road/Upper Bir. It takes about 3-4 hours to complete the journey. If you could not find a direct bus for Bir, then board any bus going towards Palampur or Baijnath. From Baijnath there is a Bus leaving for Upper Bir every half an hour.
Also Read: What to see in Manali | Places to Visit in Manali
How to reach Bir by Bus
HRTC Operates a regular Bus for Bir from almost all nearby major cities. If you were coming from Delhi, you can board the bus from Inter-state Bus Terminal (ISBT). Apart from HRTC, several private tour operators also provide this service as well. You can check the availability for HRTC buses on its Online Portal. There are no direct buses for Bir though. Most of these buses will either drop you at Baijnath or Bir Road and then you will have to board another bus for your final leg of the journey like I explained above.
How to reach Bir Billing by Train
Nearest Railway Station to Bir is located at Ahju at a distance of about 3 kilometers. It is connected by a narrow-gauge line from Pathankot to Jogindernagar; the well-known Kangra Valley Toy Train. It is much similar to the Shimla Kalka Toy train and is a great way to travel if you had some leisure time.
The nearest broad gauge railway station is at Pathankot (112 km) from where the toy train starts in the morning and takes around 7 hours to complete the journey till Ahju. Most of the trains from Delhi arrive at Pathankot just before the Toy Train starts. For someone looking forward to enjoying a relaxed journey through the mountains, rivers and green pastures, Kangra Valley Toy Train is the best choice.
How to reach Bir from Pathankot
The toy train, however, is a long and tiring journey; and can often get a bit crowded as well. It is only for someone who can afford to spend 7-8 hours on a slow-moving train. If you wanted to complete the journey quicker, then the next best choice for you is an HRTC Bus. You can reach Pathankot by train and board a bus for Bir which will take about 5 hours to complete the journey. If you could not find a bus for Bir direct then look for a Bus to Palampur or Baijnath.
How to reach Bir Billing by Taxi
If Bus was not a convenient way then you can opt to travel by a private taxi as well. You can get a taxi from Pathankot for Rs. 3000 approximately for a drop to Bir.
How to reach Bir Billing by Flight
The nearest airport to Bir Billing is the Gaggal Airport, located at a distance of about 65 kilometers. It is also known as Kangra Airport or Dharamshala Airport and is well connected by multiple airlines to Delhi, Jaipur, Hyderabad, Mumbai, and Pune. There are regular flights available by Air India and Spice Jet. Once you land at the airport, you can rent a taxi for the last leg of your journey to Bir from right outside the airport itself.
Local Transport in Bir Billing
For moving around locally in Bir, you can easily get a taxi from the Upper Bir Bus stand or the main intersection of the Tibetan colony. There is also a local Bus service that connects some parts of the town. If you were up for it, you can also easily walk around from one part of the town to another.
Also Read: Dharamshala Mcleodganj Trip – How to Plan & What to See
Places to visit & Things to Do
---
What to see in Bir Billing 
Mentioned below are some tourist places in Bir Billing that are worth a visit.
Monasteries in Bir Billing
It is usually the towns of Dharamshala and Mcleodganj that are known for their monasteries. People looking to get a taste of Tibetan culture head out to both these places but Bir Billing has a few beautiful monasteries too that are definitely worth a visit. Paplung Sherabling Monastery is the largest in this area and is beautifully located in Bhattu Village; in the woodlands between Bir and Baijnath, at a distance of 7 kilometers from Bir.
Chokling is another monastery that you can visit. It is quite a beautiful one with its entrance decorated with sculptures and painted stones. They also have a retreat center where you can stay for a few days. It is located in Chaugan.
Dzongsar Khyentse Monastery in Chauntra is another one that you can visit.
Bir Tea Factory
Also known as Bir Tea Gardens, or Chaugan Tea Gardens, it is located in the central area of Bir Bazar. Various kinds of tea are grown here but it is most famous for its organic tea plantation. Tourists visit the tea packing factory to buy tea in large quantities and at very reasonable rates because once it hits the market after packing, the prices increase several folds.
Baijnath Temple
Baijnath town falls on the way about 12 kilometers before Bir. The ancient Baijnath Temple located here is said to have been built in 1204 AD and is dedicated to Lord Shiva (Baijnath). You can take a short break at the town while either going to Bir or from returning there; and pay a visit to the temple.
Gunehar River Pool & Waterfall
You will have to trek a little to reach the village of Gunehar where the River Pool and the waterfall is located.
Also Read: Dharamkot – A Complete Travel Guide & Itinerary
What to do in Bir Billing
Apart from visiting and sightseeing at the above mentioned places, listed below are some other tourist things to do in Bir Billing.
Paragliding
Bir Billing is the heart of Paragliding in India and this is what most people visit here for. If you have never done Paragliding before, it will surely be a memorable trip for you. Sailing through the skies over the beautiful mountain peaks for the first time is an experience that you will remember forever, no matter how many times you do it again.
You do not have to have any kind of experience for paragliding. Rides here are available for both experienced fliers (solo ride) and first-timers (with an instructor). Duration of a flight can be anywhere between 20 to 60 minutes and will cost you from Rs. 2500 to Rs. 6000. The price entirely depends upon how long your flight was and how well you were able to negotiate with the operator. There is a lot of competition among them here so if you were good at negotiating, you can definitely get them to lower the cost a bit.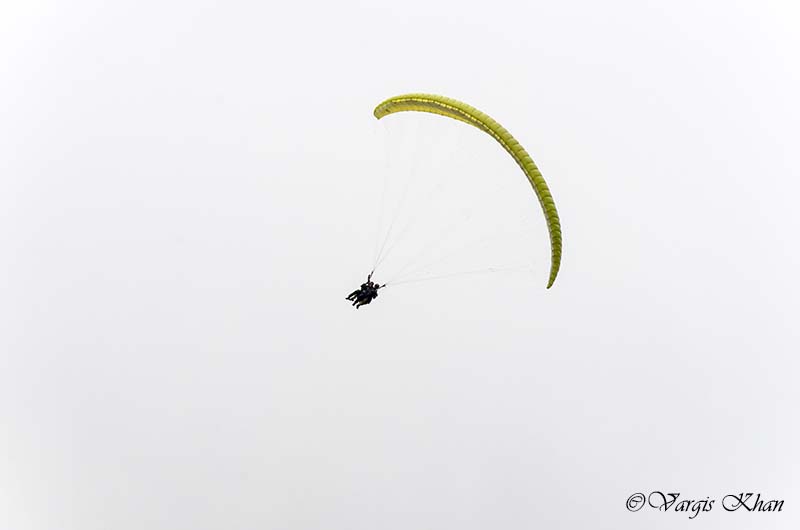 As a first timer, you will, of course, go for a tandem ride. This is when the instructor and you will be flying on the same chute. The instructor, or the pilot as they call themselves, will be maneuvering the chute and you will just be enjoying the ride and taking pictures. For people interested in flying solo, you will have to take a short duration flying course which is offered here by many operators. These courses last for 2 to 3 weeks post which you will get your certification and will be allowed to take a flight solo.
Also Read: Mashobra – A Complete Travel Guide & Itinerary
Trekking in Bir Billing
Bir Billing is a center of adventure activities and paragliding is not the only one in the list. The next two entries of Trekking and mountain biking are equally thrilling. There are several long and short treks out of Bir that you can venture upon. The most known ones are the treks leading to the villages of Raj Gundha and Kukkar Gundha. Billing to Raj Gundha takes about 5-6 hours to reach. So if you had a couple of days to spare, you can trek to the village, camp there for the night and return to Bir the next day. The trail passes through a scenic route covered with Rhododendron, Deodar and Oak trees; and provides great views of views of Kangra valley on one side and Raj Gundha valley on the other side.
Hanumangarh Trek is another 5-6 hours long trail that takes you to the pilgrimage site. From the top of Hanumangarh, you get an awesome view of Dhauladhar range and the valley around. Hanumann Garh is ancient religious place. The trek starts from Bari village and passes through a dense forest. and Siddha Rafat valley. You will reach Hanumangarh by evening to enjoy a great sunset view.
If you were short on time then you can head on Tatta Pani trek. It can easily be covered in 2-3 hours so if you started early in the morning, you will be back by noon. The trail ends at a hot water spring where you can take a dip as well. It is a 4 km Steep trek to Tatta Paani camp site.
Mountain Biking in Bir Billing
After Paragliding and Trekking, third adventure sport in the list is of Mountain Biking. There are several beautiful trails in the area that you can enjoy while biking through picturesque scenery. This, of course, is not everyone's cup of tea and you would have to have some experience in cycling before you try biking in Bir Billing. Bikes can easily be availed on rent. As a matter of fact, almost all the paragliding operators would also have mountain bikes to give out on rent and can also arrange trekking and camping for you. If not, then you can easily find several agencies and shops in Bir Bazar that rent out bikes.
Also Read: Dalhousie – How to Plan your Trip & What to See !
Learn
Deer Park Institute is located at a distance of about 4 kilometers from Bir and is a must-visit for anyone interested in philosophy, meditation and learning various aspects of Buddhism. Classes taught here are in English and free of cost. Dharmalya Institute is another place that offers classes in meditation and karma yoga. It is an Indian NGO and what they have in Bir Billing is an eco-campus for volunteering and meditation. Their other programs here include skill training for villagers, organic farming, and a tree-planting project. For a long duration programmer, you can check out Guna Institute which offers a five-year Tibetan Translators Degree Program.
Meditate
Several places in Bir hold weekly meditation session and group talks. These sessions are open for everyone and are free of cost.
Do Some Volunteer Work
The Dharmalaya Institute (NGO) is also a great place where you can do some volunteer work and learn activities like organic farming, tree planting, and trail building, etc.
Enjoy Great Sunset Views
The best spot to observe a wonderful sunset is from the paragliding landing site. As the sun goes right in front of you, it presents an amazing view to capture. Or you can trek to Keori village if you would prefer to view it from a height. Another great spot to view the sunset is the road leading to the Palpung Monastery.
Visit the Tibetan Colony
The Tibetan colony in Chaugan is a serene place to walk through. It is a residential area of course but is filled with people involved in all kinds of crafts inside. There are shops where you can buy some Buddhist prayer flags and some local souvenirs. There is also a noodles manufacturing factory inside that you can visit.
Also Read: What to See in Shimla | Fun Things to do in Shimla
Best time to Visit Bir Billing
---
Weather of Bir Billing
Due to its altitude, the weather of Bir Billing remains pleasant for most of the year. Winter here is harsh and it gets terribly cold in the months of January and February. It does not snow in Bir town but the upper areas of Billing can receive as much as 2 to 3 ft. of snow sometimes. Spring arrives towards the end of March and this is when the weather here is at its best, with clear sunny skies, warm days and pleasantly cool nights. It remains so until April but things begin to heat up in May and June. The day temperature in these months can sometimes go as far as 35-40 degrees Celsius.
Monsoon arrives towards the end of June and it continues to rain here until early September. Dhauldhars are in fact one of the wettest regions of Himachal which means that it rains here quite a lot. September marks the end of monsoon season and is one of the most pleasant months of the year here. Autumn arrives in October; and everything that was green in September now turns to a golden orange; giving a magical touch to the valley. Winter again starts to settle in towards the end of October; and the following months of November and December are probably the driest and most dull time of the year here.
The average temperature during summers is around 20 to 35-degree Celsius from April to June. Monsoon season tends to get quite wet with heavy rainfall and winters are mild to chilly between October and February. The night temperature can sometimes fall even below 0-degree Celsius in the months of late December and January.
When to visit Bir Billing
Now based on the information above, I think it is safe to say that the best time to visit Bir Billing is in the months from April to June; or September and early October. But this will also depend on your reason to visit. If Paragliding was your primary reason then you can come anytime between March and June; or in October and November. If photography was your reason then you should visit in either April, September; or early October. If you did not mind the rain then you will actually get some of your best shots in July and August. But if you do not like wet areas or the monsoon season then you should avoid visiting from late June to early September. If cold is not your thing then do not visit between November and March.
If you want to enjoy paragliding as well as some snow then you should visit in January or February. Bir does not get any snow but Billing does and sometimes enough to block the road. Paragliding, however, remains on during the winter season as well. You will drive with the paragliding operator till the point the road was free of snow and will then walk the last distance to the ridge. November and December are overall a bad time to visit because the scenery will be very dull in these months. Weather will be very cold and there won't even be any snow around at Billing.
If you just want to enjoy pleasant weather then plan in either April, May or September. Otherwise, you can visit Bir Billing in any month of the year to spend some time in peace and get away from our regular lives. It is a very scenic and peaceful place and worth a visit.
What to Pack
---
Clothes to Pack
What clothes you should be packing for visiting Bir Billing entirely depends on your time of arrival. For a trip in the months from November to February, you must bring heavy woolens and a windproof jacket. Ensure that your jacket has a hood as well to protect your head and neck. If it doesn't then you should also pack a warm cap and a muffler. If you are planning to paraglide in winters then you must completely wrap and cover yourself.
For visiting in April, May, June, and September, just bring your regular cotton clothes along with a light jacket and that will suffice. Summers can get really hot here and you may not even need a jacket at all but just pack one to be on a safer side. For visiting during monsoon season, pack clothes that can dry faster, like polyester; or just your regular light cotton clothes. For visiting in October and March, pack some light woolens and a heavy windproof jacket. Good quality gloves will be a necessity during the winter season. Along with your clothes, pack a pair of shoes that has a good grip, possibly a pair of trekking shoes.
Other Items to Pack
Listed below are some items to pack that can be really useful.
Do not forget to bring along your selfie stick if you wish to capture some pictures or a video of your flight.
Warm Caps
Pair of Waterproof Warm Gloves
Sunglasses
Sunblock lotion with highest SPF that you can find (if visiting in summer)
Prescribed medicines if you are on medication
Head Phones/Earphones
Power Bank (If you own one)
Chargers for your electronic items
Umbrella or a Rain Poncho (if visiting during monsoon)
Torch
Comfortable lower if planning to go on a trek as jeans is not advisable for this purpose
Also Read: Triund and Snowline Trek Mcleodganj
Where to stay in Bir Billing
---
Bir Billing has several hotels, campsites, and homestays that you can stay at. Depending on your own preference, you can choose to stay at either of the places. Accommodation rates range from Rs. 500 to Rs. 2500 per night. There are a lot of homestays as well in Tibetan Colony where you can stay but please note that Bir Tibetan Colony is classified as a protected area; which means that foreigners can visit here but cannot stay overnight unless they obtain a Protected Area Permit (PAP) before arriving.  This can be availed from Dharamshala.
Camping in Bir Billing
There are a few campsites as well in Bir where you can stay if you do not want to be confined in the cemented walls of a hotel. Camp Oak View is the one where I stayed and it probably is the most famous one here. My stay with these guys was a convenient one and the food too tasted quite good. They may sound a bit on the costly side but give them a try if within budget.
Also Read: Kasol and Kheerganga Trip – A Mesmerizing Experience
Food & Shopping
---
Shopping in Bir Billing
Choices of shopping in Bir Billing are not that great. You can buy some artificial jewelry, woolen garments, handicrafts, etc. but a better option would be to head out to Dharamshala and buy all these things there. The items on display will be the same but you will get better options and price in Dharamshala. There are a few shops in Bir Bazaar in Bir proper and a few in Tibetan Colony where you can shop some. In the Tibetan Colony, there is a handicraft center selling a variety of handmade products at a reasonable price. While you are in the town, pay a visit to the tea gardens and don't forget to buy some freshly picked tea.
What and Where to eat in Bir Billing
Bir Billing and the nearby areas of Dharamshala and Mcleodganj have a mix of Indian, Tibetan and a fair share of people from other countries as well due to which, the food here ranges from Indian to Tibetan, to Chinese, to Italian and a lot more. Just take a walk through the town and you will come across numerous restaurants that you can eat at. The traditional Himachali Thali is a must-try dish. Local wines and beer are worth trying as well if you want to get a taste of local liquor.
Also Read: Best time to Visit Mcleodganj and Dharamshala
Bir Billing Itinerary
---
Time Needed for a Trip
How much time can you spend will entirely be a personal choice but a minimum of 4-5 days is what I recommend to visit Bir Billing and the other nearby towns of Dharamshala, Mcleodganj, Palampur and Dharamkot.
Itinerary for Bir Billing
Below is an example of an itinerary that you can follow. For the sake of providing the information, I will assume Delhi as your starting point. However, even if you were coming from a different town, only the information for the first and last day will be different. Rest of the details will still apply.
Day 1: Delhi to Dharamshala
Travel to either Dharamshala or Mcleodganj on your first day
About 500 kilometers in total
11-12 hours of journey
Overnight in Dharamshala
Day 2: Dharamshala to Bir Billing
Travel to Bir Billing
Spend the day sightseeing on the way
Visit Kangra Museum, Norbulingka art Gallery, Maa Chamunda Temple, Palampur Tea garden and Baijnath Temple.
Overnight at Bir
Day 3: Bir Billing
Stay in Bir on this day and enjoy Paragliding
Visit Buddhist Monasteries, Deer Park, Bir Tea Garden & Local Tibetan market in the later half of the day
Day 4: Bir to Delhi
Return home on Day 4
About 500 kilometers of distance
11-12 hours of travel time
Also Read: Triund Trek – How to Plan your Adventure
Facilities Available & Travel Tips
---
Bank / ATM in Bir
There are several banks and ATMs in Bir and you will have no problem finding cash here. To be on a safer side though, I will advise traveling keeping some cash in reserve, in case the ATM was not functional.
Petrol Pumps / Mechanics
There are several petrol pumps on the route and in the area. Mechanics too are easily available.
Mobile Network in Bir
No matter which network you were on, your mobile phone will work fine in Bir.
Medical Assistance
This entire region, including the towns of Dharamshala, Mcleodganj, Kangra, and Palampur are very well-populated areas. You will easily find a hospital if medical assistance was required.
Other Tips
Before you go for paragliding, just check and ask if the pilot was carrying a reserve parachute or not. You may want to ask him about how old the glider was and take a look at the age sticker. If the glider was over 7 or 8 years old, it would be best to talk to some other operator. Do not eat a heavy meal before the flight. The best option would be to bring along your selfie stick to capture a video of your paragliding experience. Or you can also avail the GoPro service provided by operators for about Rs. 500. They also have photographers at the landing site who can take your picture just before or while landing. This will cost you about Rs. 200.
Also Read: Monasteries in Mcleodganj and Dharamshala
FAQs about Paragliding in Bir Billing
---
1. Where is Bir Billing?
Bir is located in Joginder Nagar Valley of Himachal Pradesh; at a distance of 65 kilometers from Dharamshala; 160 kilometers from Manali; and 520 kilometers from Delhi. Billing is located another 16 kilometers ahead of Bir.
2. Is Paragliding in Bir Billing Safe?
Bir Billing is considered to be a safe place for Paragliding. Multiple National and International Paragliding Championships have been held here. But make sure you are gliding with an experienced Instructor and the equipment is not too old.
3. Can you go Paragliding in the rain?
No, Paragliding is not allowed during monsoon season for safety reasons.
3. What is the cost of Paragliding in Bir Billing?
For a flight time of 20 – 30 minutes, you will be charged about Rs. 2,500 per head. For a flight lasting 45-60 minutes, the cost will increase to Rs. 4500 – 5500.
4. When should I visit Bir Billing?
The months of March to June are best for paragliding. If you missed this window, you can try again in October and November. Paragliding remains open in winter months as well but sometimes the road from Bir to Billing may get blocked due to snowfall.
5. Is there snowfall in Bir Billing?
Bir does not receive snow but the area around Billing can get up to 2 ft. of snow each year.
6. Is there any weight limit for paragliding?
A person should not weigh more than 120 kg for paragliding in Bir Billing.
7. Do you need training for paragliding?
For solo-flying, you will have to be trained and certified. But for a tandem flight with the instructor, you do not need any kind of training at all.
Conclusion
I hope the information above on visiting Bir Billing was of help. If you have any questions; or need any other details; please feel free to ask in the comments section below; or at our Community Forum; and I will be glad to answer. If you have been to Bir & Billing and have some tips that can be of help to others, please do share.