Continuing further in my series of a comprehensive travel guide on visiting Dharamshala and Mcleodganj, in this post I will talk about Dharamkot; a small village located near Mcleodganj, which now more or less is considered as part of the town only. Along with Bhagsu, another village near Mcleodganj, Dharamkot in recent times has come up as an alternate to Mcleod itself. However, unlike the main town, these villages are not so crowded and perfect for someone looking to spend some time in peace.  Also referred to as a hippie Village, Dharamkot mostly attracts budget and long-stay travelers with inexpensive styles. It is really an unconventional town full of people seeking spirituality and peace. Some of Mcleodganj's best yoga and meditation centers are located here. It also serves as the base for multiple treks such as Triund, Ilaaka, Indrahar Pass, etc.
Also Read: How to Plan a Trip to Mcleodganj – A Complete Travel Guide
Dharamkot is located at a distance of about 7 kilometers from the main Mcleodganj town. The reason why it is called a Hippie Village is that you will find many Israeli tourists living here. When I say living, I am talking about making Dharamkot their residence for month's altogether. It is much like Kasol but on a smaller scale. Don't let the word Hippie put you off though. It is a very scenic and calm place and a lot of people even prefer to stay at Dharamkot than Mcleodganj itself.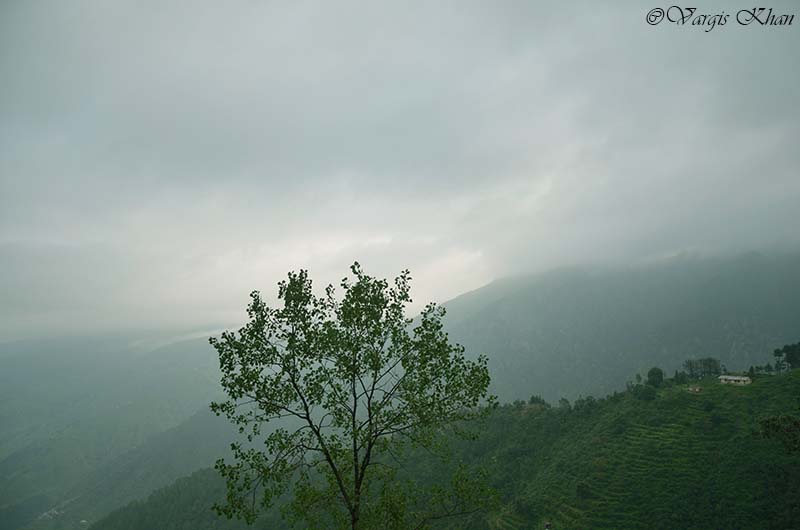 Below is a quick navigation menu of information that we will be covering in the post below; including details on where to stay, what to see and things to do in Dharamkot.
Dharamkot
---
Where is Dharamkot Located
Dharamkot is located about 3 kilometers from Mcleodganj and 8 kilometers from Dharamshala; at a height of 6,920 feet (2109 meters) on the crest of a hill above Mcleodganj. It falls on the way towards Triund Top before Gallu Devi Temple.
Why Visit Dharamkot
Should you visit Dharamkot? Well, it entirely will depends on what kind of trip are you looking for. There is actually nothing in Dharamkot, just a small village with few houses in it. There is just one road that leads here from Mcleodganj and rest are all narrow "galiyan" between houses. If you are someone who likes to stay among people, shop around, eat out and walk through crowded markets then Dharamkot is not for you. You are better off staying at Mcleodganj or Dharamshala only. If however, you are someone who likes his or her peace then you should head to Dharamkot.
Though located at a very short distance, the village is in complete contrast with Mcleodganj. It is mostly occupied Punjabi people where Mcleodganj is all Tibetan.  Visitors here though are all mostly foreigners and backpackers who prefer to stay here because it is away from the noisy and busy streets of main town.
It is also a good place if you are looking for a long term and cheaper accommodation. Many travelers working with different NGOs or Israeli tourists chose to stay in Dharamkot because it costs way less. Home-stays are available too and some of the hotels even offer an attached kitchen with the room.
Also Read: How to Plan a Trip to Dharamshala
How to reach Dharamkot
---
Now let us talk about how you can reach Dharamkot. Due to its location in the hills, the small village can only be approached by road. You can either travel by your own vehicle or by public transport. Both Dharamshala and Mcleodganj are major towns and very well connected so getting to Dharamkot as well will not be a problem at all.
How to reach Dharamkot from Delhi by Road
Let me first explain how you can reach Dharamshala by Road. For the sake of explaining the route, I will assume Delhi as your starting point. However, even if you were coming from a different city, the information below can still help you understand how you can drive from your respective town to Dharamkot. The route explained below will remain applicable for both cars and motorcycles.
Starting from Delhi, route to Dharamkot will be as mentioned below.
Delhi – Panipat – Karnal – Chandigarh – Rupnagar – Anandpur Sahib – Una – Amb – Kangra – Dharamshala – Mcleodganj – Dharamkot
There can, of course, be several alternate routes but this will be the best and the fastest way to travel. Total journey will be of about 480 to 500 kilometers depending on where you started from in Delhi. Travel time will be anywhere between 10 to 12 hours. Road condition for the entire journey will be a mix of good and average. I will highly recommend taking an early start from Delhi though so that you are able to reach Dharamkot well within time.
How to reach Dharamkot by Bus
If you were traveling by Bus, your first destination will be either Dharamshala or Mcleodganj. HRTC runs a regular Bus service to both these places from almost every major town nearby. The main Bus stand is located in Dharamshala but there are a few buses from Delhi and Pathankot that go all the way to Mcleodganj. Travel time from Delhi to Mcleodganj by Bus is about 12-14 hours. From Pathankot, it is about 4-5 hours and 6-7 hours from Chandigarh. If you could not find a bus for Mcleodganj then board the one for Dharamshala. From Dharamshala, there is a connecting Bus to Mcleodganj that takes about 15-20 minutes and costs Rs. 30 per person. If you weren't able to find a Bus then the second option will be a shared cab which too is available in plenty and costs about the same.
Apart from state transport buses, you can also easily find buses operated by private companies for Mcleodganj. It is much like Manali actually. Do a Google search and you will find several buses by tour operators that you can book on sites like RedBus. These are mostly all luxury buses that take about 13 to 14 hours to complete the journey and will cost between Rs. 500 to Rs. 1000 per person, depending on the type of Bus and place you were coming from. Tickets for HRTC Buses can be booked online at their online portal Himachal Roadways Bus Booking.
How to reach Dharamkot from Mcleodganj
After you reach Mcleodganj, you have two options to get to Dharamkot. First one is to start walking the last 3 kilometers. Ask anyone at the Bus stand to point you the way. You do not even actually have to walk the entire 3 kilometers. There is a shortcut from the Bus stand at Mcleodganj to Dharamshala. Walking on it, it will take you about 2-25 minutes at most to reach your destination.
If you are in no mood for walking, the next choice would be to hire a rickshaw. There is a rickshaw stand near the Bus stop where you can get one.
How to reach Dharamkot from Dharamshala
If your bus only brought you till Dharamshala, you will then first have to board either a Bus or shared cab for Mcleodganj and then continue to Dharamkot either by foot or rickshaw.
How to reach Dharamkot by Air
Gaggal Airport, also known as Dharamshala- Kangra Airport or Kangra Airport, is the nearest airport to Dharamkot; located about 20 kilometers away. Once you land at the airport, you can easily board a taxi from right outside which will drop you at Mcleodganj in about 30 minutes.
How to reach Dharamkot by Train
Pathankot is the nearest major railway station located about 100 kilometers from Mcleodganj. There are direct Buses from Pathankot for Mcleodganj throughout the day and it takes 4 hours to complete the journey. These are all operated by HRTC and fare per person is about Rs. 150. From Mcleodganj, you can then either walk or find a rickshaw for Dharamkot.
If you weren't in a mood to board a Bus, you can also hire a taxi from Pathankot Railway Station to drop you at Dharamkot. It would cost about Rs. 1200 for a drop and Rs. 2200 for a return journey and the journey will take 2-3 hours depending on the traffic.
Also Read: Chitkul Village – A Trip to Remember
Where to Stay in Dharamkot
Dharamkot has several hotels and guest houses which are also comparatively cheaper than Mcleodganj. This entire area, in fact, is a major tourist magnet in all of Himachal and hotels here are in ample. In Dharamkot, there are three types of accommodation choices; hotels/guest houses, wooden cottages and paying guest / home-stay. Hotels will cost you the highest and home-stay will be the cheapest. The accommodation rates are high right near the entrance of the village but it keeps getting cheaper as you go further up. From a budget standpoint, assume Rs. 800-1000 as a minimum cost for hotel and Rs. 600-800 for a home-stay.
Dharamkot Inn is a hotel here that comes highly recommended but it cannot be called a budget choice. It will cost you about Rs. 2000 per day for a stay here. It is a decent enough hotel but their biggest advantage is that a cab can drop you right at the hotel's doorstep and hence the price. This is actually a three star hotel so if you need a good luxurious hotel, Dharamkot Inn will be a good place.
There are a couple of hostels in Dharamkot with dormitory style accommodation and shared lounges which is a great choice for anyone traveling on Budget. Flugler in upper Dharamkot is one such hostel that can be a good place to stay.
My recommendation will be that if you are visiting during tourist season, like April, May, June or September, you should call and book in advance. Otherwise, just reach Dharamkot, find a hotel per your liking, negotiate a price on the spot and check in.
Camping in Dharamkot
I did not notice any campsites in Dharamkot the last I visited. There are however a lot of them near Mcleodganj and on the way to Dharamkot but none in the village. A possible reason could be that the terrain here is not flat and it would be hard to find a spot to set up camps. There is one campsite in Bhagsu which is closest to Dharamkot.
If you want to go self-camping, then I would recommend to try camping in the area near Gallu or Bhagsu. I do not think you will find a suitable place for camping in Dharamkot.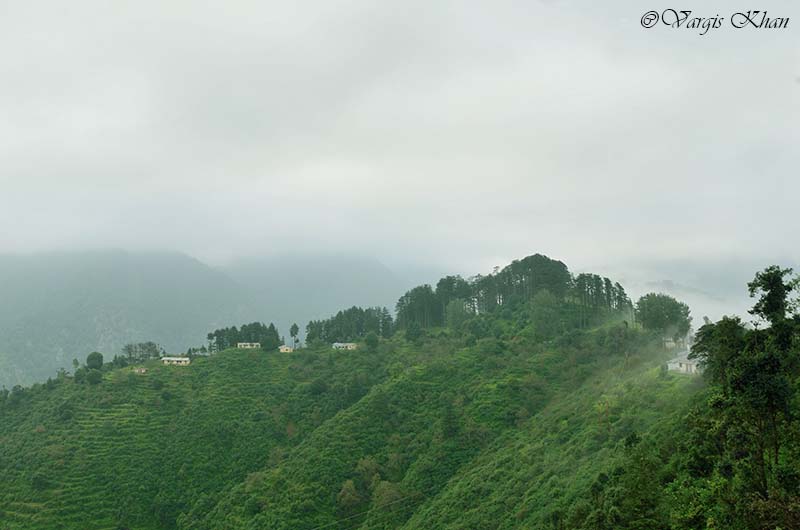 What to eat in Dharamkot
Because of the high number of European and Israeli tourist, and the local Tibetans, the specialization of the food in Dharamkot too is specific to these places. Many of the tourists and travelers that arrived in Dharamkot decided to stay here and open up their own restaurant. This is the reason why there are so many kinds of food choices available here.
Eat at any of the cafes here and you can have near perfect Pizza, pasta, lasagnes, pancake, and Israeli Shakshuka. Bhagsu Cake is one item that I will recommend for you to try as a sweet dish or even breakfast. It comes in white and black colors and you should try both. Both white and Black versions of the cake taste quite different. What's more? Every restaurant has their own way of making it and it actually tastes different at each of them. The common thing however is that would be delicious no matter where you eat it.
For a quick bite, try Yak cheese sandwich. In terms of beverages, try the herbal teas available at almost every cafe. And by Herbal tea, I mean Honey, lemon, ginger, and mint tea. Common Tibetan food like soup, noodles, momos are available pretty much everywhere. For alcoholic drinks, try Himalayan fruit wines and Apple cedar available at almost every grocery shop in the village.
Also Read: Dalhousie – How to Plan your Trip & What to See !
Where to Eat
There are several restaurants and eateries spread all over Dharamkot. However, if you are not too fond of non-Indian dishes then I got bad news for you. There aren't any good Indian restaurants here. I am not saying that you will not find Indian food but it will be just about OK. Nothing too great.
Trek & Dine
Trek & Dine is one of the more famous restaurants located in Dharamkot. It actually is the first one as you enter Dharamkot. The road pretty much ends at this restaurant and after this, it is just walking on narrow streets inside the village. I read a lot of positives reviews about this place hence decided to give it a try. After one meal at this place, I immediately knew why it was so famous.
The food here was delicious and I ended up returning several times over the next few days trying their different dishes. The overall ambiance of the place mixed with good music and mouth-watering food is just awesome. You must try having a pizza at this place. They serve a wood fried Pizza which is simply awesome. If not Pizza then try something Tibetan. There Momos too are quite delicious.
Morgan's Cafe
Quite close to Trek & Dine is another famous restaurant of Dharamkot, Morgan's Cafe. The food here too was quite delicious. They serve some delicious Pasta and Pizza that you must try. It is also a great place to try some herbal tea.
Moonlight Cafe
This is another great place in Dharamkot. I did not eat here so cannot comment on it but their coffee was excellent. Other than Trek & Dine, It was the only other place in Dharamkot where I would want to have some coffee.
There are several other Vegan restaurants as well in Dharamkot that are definitely worth giving a try. I personally have not eaten at any of them but have heard that Bodhi Gardens, Blue Caterpillar and Once in Nature are known for great food.
Also Read: Monasteries in Mcleodganj and Dharamshala
What to see & Things to Do
---
What to see in Dharamkot
The natural beauty and mesmerizing scenery of Dharamkot is the first thing that you would want to see here. Forget about the rushed city lives and spend time just walking around aimlessly. Trust me, you will enjoy this more than anything else. With that being said, there are a few places around Dharamkot that are definitely worth visiting.
Naddi Village
Naddi is located about 2 kilometers from Dharamkot and you can easily cover it on foot. The walk is not difficult or steep at all. Naddi is famous for being the best spot to catch both sunrise and sunsets. If you have even slightest of interest in photography, then Naddi is where you should go, to get some great sunrise or sunset shots. Sunset views are slightly better than sunrise. There is a tea stall by the name of Sunset / Sunrise Cafe where you can have some time or snacks while enjoying the stunning view in front of you.
Bhagsu Village
Located at another 2 kilometers of walking distance from Dharamkot is the small village of Bhagsu. There is a huge waterfall here by the same name which is also one of the major tourist attractions of Mcleodganj. There is also a temple before the waterfall by the name of Bhagsu Nag temple.
Also Read: Mashobra – A Complete Travel Guide & Itinerary
Gallu Village
The third village near Dharamkot worth visiting is of Gallu. There is a temple here of Gallu Devi where you can pay respect. There is also a tea shop here where you can sit and enjoy amazing views while sipping down some tea.
Gallu Waterfall
There is a beautiful waterfall a few kilometers ahead of Gallu which is mostly void of any people and is a great place to visit. Unlike Bhagsu Waterfall, which is always crowded, this waterfall has rarely anyone around. To get to the waterfall, you will first reach the tea shop in Naddi Village (the sunset point). The waterfall is about 2 kilometers ahead of this tea shop. From Dharamkot, it will easily take you an hour to reach the waterfall so please plan accordingly.
The trek towards this waterfall starts at the same spot as the Triund Trek near Gallu Devi temple. The broader trail goes towards Triund and the narrow one towards this waterfall. As you get closer to the waterfall, the path gets a little rough and very smooth and slippery in the end. Wear comfortable shoes and walk very carefully while trekking here.
Triund
Last but not the least, further ahead of Dharamkot is the trail that goes to Triund Top. I think about half of the tourists arrive in Mcleodganj planning to trek to Triund and camp there overnight. For more details on this, please read Triund Trek – A Complete Travel Guide. If you were planning to stay overnight at Triund, you can actually trek even further than Triund Trek until Snowline Cafe. It is a small tea shop hidden in the mountains but standing there, you will get magnificent views of Dhauladhar range, even better than what you get at Triund. If you are a serious trekker then you can go even further up till Indrahar Pass.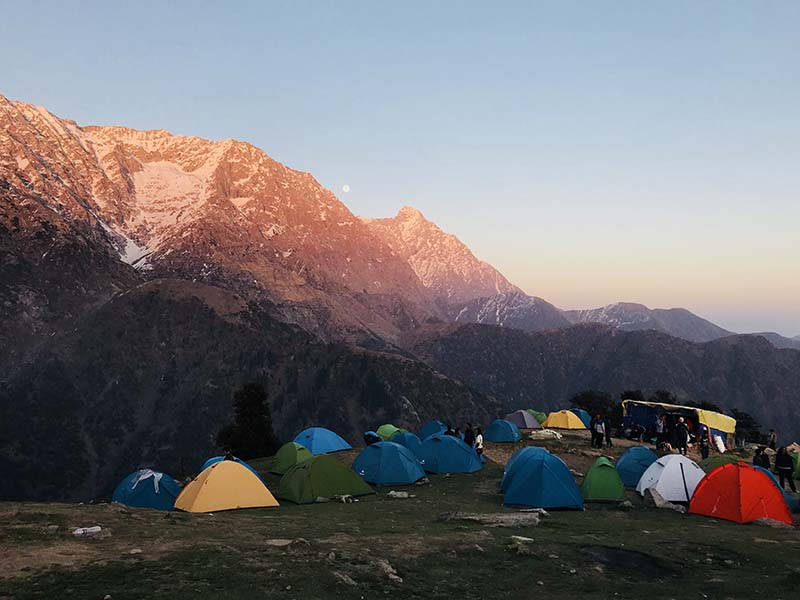 Please note that trekking to Indrahar will require you to know what you were doing, where you were headed. So it is better to do this trek with the help of a local guide. For more information, please read Triund and Snowline Trek Mcleodganj. If you just want to reach Triund Top and stay there overnight, then you can do so at any of the numerous campsites available at the top.
These are just some places that are located close to Dharamkot village. However, if you climb down to Mcleodganj or Dharamshala, the list of places to visit gets even bigger. So big that I actually had to dedicated an entire post to it separately. Please read What to see in Mcleodganj and Dharamshala for more details on the topic.
What to do in Dharamkot
The best thing to do in Dharamkot is to just spend in some time in peace and enjoy the natural beauty all around you. The tranquil of the place is really like none other. The very atmosphere here is a mix of state of peace, spirituality, calmness, and serenity. Nothing seems rushed out here and days pass by at their own pace. You will feel every hour of the day from morning till evening, like time was either standing still or crawling at a snail's pace. The singing of the birds, music of the air whistling through deodar trees, the distant calls of farm animals, sound of a woman yelling at her kids far away, occasional bark of a dog, awe-inspiring scenery all around; this is Dharamkot for you.
Trekking and camping are two other activities that people enjoy in Dharamkot. You can either just take a short walk to the villages of Bhagsu, Gallu, and Naddi; or you can spare a day and hike all the way to the top of Triund. If you want to get into more serious trekking, then you can continue further to Ilaaka and Indrahar Pass.
So to summarize it, apart from sightseeing, below are some of the things to do in Dharamkot.
Trekking
Camping
Photography
Shop for Souvenirs in Mcleodganj & Dharamshala
Try Tibetan, Israeli, European Food
Enjoy Cultural Shows in Mcleodganj & Dharamshala
Star Gazing
Take Yoga Sessions and Spa Therapies
Interact with people from different countries and cultures
Relax and Have Fun
For a more detailed version of this information, please read What to do in Mcleodganj & Dharamshala.
Take Sessions on Buddhism / Yoga / Meditation
This is not really for everyone but if it interests you, you can try taking a course on yoga and meditation. Dharamkot as some of the best meditation centers of which Tushita and Dhamma Shikhar Vipassana are the most famous ones. Depending on the time you have in hand, both these centers have long and short term courses. Accommodation is provided to the students in the center itself and you will find a lot of foreigners staying at these centers. Apart from these two, several other establishments provide courses and hold workshops on spiritual healing and alternative therapies as well.
When to go

---
Weather of Dharamshala
Owing to its high altitude, the weather of Dharamkot remains cool and pleasant for most of the year. Winters here can be a bit harsh though for some people. From December until February, the region receives moderate snowfall and the temperature remains close to zero at this time. Things start to warm up a bit in March and this is when the tourist season here begins. The months of April, May, and June bring moderately warm days and pleasant nights which attracts thousands of tourists in the nearby areas of Dharamshala and Mcleodganj. Days, in fact, can get a little hot here in June but nights mostly remain pleasant.
July and August is the time of monsoon and it can pretty much rain anywhere and anytime in these two months. Sometimes it can rain non-stop for several days, enough to cause landslides and block roads. Monsoon recedes in early September but leaves behind plenty of greenery making the region look like it has just been washed clean. Autumn arrives in October and all that was green now turns Orange, giving a golden magical touch to the valleys around.
Winter starts to settle in towards the end of October and temperature starts to dip down again. By Mid-December, a snowfall can happen anytime, covering the entire region under a sheet of white.
Also Read: Mcleodganj to Triund Trek – A Day of Adventure & Fun
Temperature in Dharamkot
Below is a breakdown of how the temperature trends in Dharamkot throughout the year. Please note though that these are just average numbers and temperature can go even higher and lower than this.
Dharamkot in January:  15°Maximum; 5° Minimum
Dharamkot in February: 20°Maximum; 5° Minimum
Dharamkot in March: 25°Maximum; 10° Minimum
Dharamkot in April: 30°Maximum; 15° Minimum
Dharamkot in May: 35°Maximum; 20° Minimum
Dharamkot in June: 35°Maximum; 20° Minimum
Dharamkot in July: 30°Maximum; 15° Minimum
Dharamkot in August: 25°Maximum; 15° Minimum
Dharamkot in September: 25°Maximum; 15° Minimum
Dharamkot in October: 20°Maximum; 10° Minimum
Dharamkot in November:  15°Maximum; 10° Minimum
Dharamkot in December:  10°Maximum; 5° Minimum
Best time to visit Dharamkot
Now keeping the above weather and temperature in mind, the months of April, May, and June are considered to be the best time to visit Mcleodganj. Weather at this time is pleasant with clear and sunny days. However, it does get a bit crowded in Mcleodganj and Dharamshala at this time so if you do not like too many tourists around, you should avoid visiting at this time.
If you want to see some snow and were hoping to catch a live snowfall, you should plan your trip in January. If you do not like cold weather, you must not visit between November until March. For the purpose of photography, the time of monsoon will be the best. The vistas and scenery are at their greatest in the months of July, August and September. If you do not want to risk the rain, then you should avoid visiting in these months. October too is a great time for photography.
For a budget trip, visiting in July, August, October, and November will be the best. Since there aren't many tourists around in these months, you stand a better chance of getting a good deal in terms of accommodation. For more details on this topic, please read Best time to Visit Mcleodganj and Dharamshala.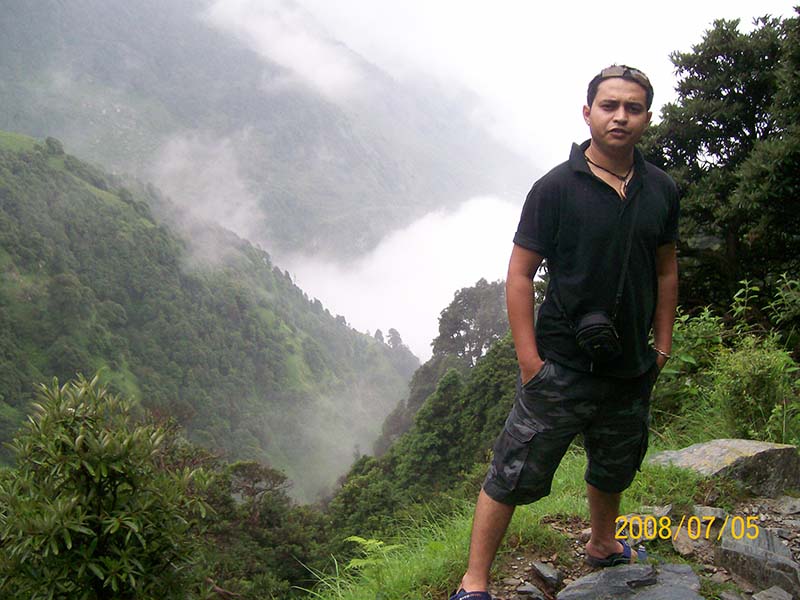 Clothes to Pack for Dharamkot
What clothes to pack will depend on the time of your trip. For traveling between November till February, you must bring in heavy woolens along with a windproof jacket. Ensure that your jacket has a hood to protect your head and neck. If not, then pack a cap as well. Gloves and woolens socks too will be needed in these months.
If you were visiting in April, May, June, and July, then just pack your regular cotton clothes along with a light jacket or sweater and it will suffice. It gets pretty hot here during these months so you may not even need a jacket or sweater at all but pack one just to be on a safer side. For visiting during the monsoon, pack clothes that dry faster, like polyester. For visiting in the months of March and October, pack some light woolens and a windproof jacket.
Sunscreen lotion, moisturizer, cold cream, lip balm are some of the other items that can come in real handy.
Know Dharamkot
---
Bank / ATMs
There is no Bank or ATM in Dharamkot but there are several in Mcleodganj and Dharamshala both.
Petrol Pumps/Mechanics
There is no petrol pump or mechanic in Dharamkot but you will easily find one in Mcleodganj.
Hospital / Medical Assistance
Hospitals are located in Mcleodganj and that is where you will need to get for any kind of medical assistance.
Mobile Network and Data Connectivity in Dharamkot

No matter which network you were on, your phone will work fine in Dharamkot and all the other nearby villages. The only time it will be off the network is when you go trekking towards Triund.
Also Read: Delhi to Mcleodganj – A Life Altering Journey
Electricity and other facilities
Electricity is available in Dharamkot. You will get all the facilities at the hotels here that you will need as a tourist.
Altitude of Dharamkot
Dharamkot is located at an altitude of 6,920 feet (2109 meters).
Shopping
Dharamkot is just a small village and there isn't much to buy here. There are only a handful of shops here selling groceries and other daily commodities. If you ware interested in shopping, you will have to come down to Mcleodganj and check in the market there. For a list of items that you can buy here, I will recommend you to read Mcleodganj Travel Guide.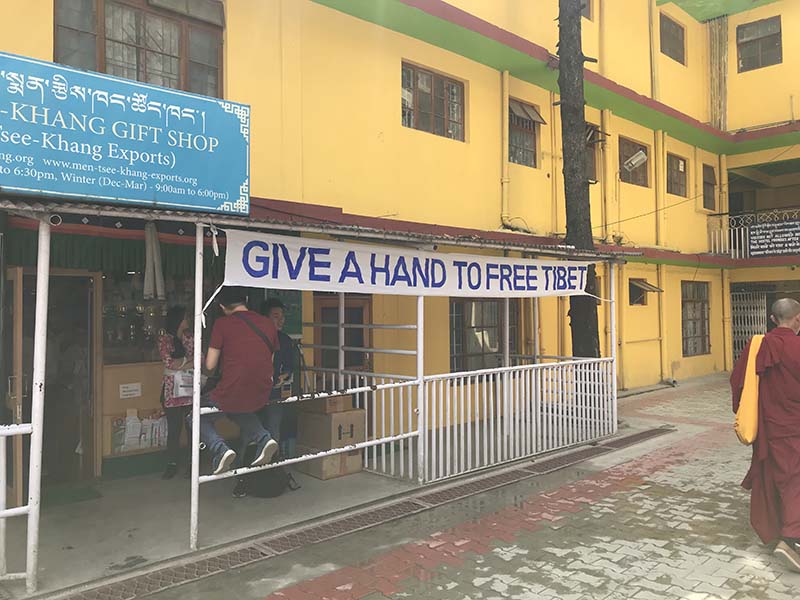 Best vehicle for visiting Dharamkot
There is no best vehicle for the trip really. You can visit here in a Hatchack, Sedan or even a 125 CC motorcycle provided that they are well serviced and in good condition. If coming by a smaller engine bike, it would be better to travel as light as possible and solo.
Itinerary for Dharamkot
---
Below is an example of an itinerary that you can follow for visiting Dharamkot. I am suggesting a plan starting from Delhi but even if you were coming from a different city, only the journey for first and last day will be different. Rest of the details will still apply.
Delhi to Dharamkot – Day 1
Relax in the village. Trek to Gallu Waterfall, enjoy the sunset at Naddi and taste delicious food in the restaurants – Day 2
Trek to Triund and return by evening – Day 3
Travel down to Mcleodganj and stay here for a day. Visit Bhagsu Nag Temple and Waterfall. Walk in the local market, do some shopping and spend time relaxing in the town – Day 4
Mcleodganj to Delhi – Day 5
Also Read: Dharamshala – A Complete Travel Guide & Itinerary
FAQs about Dharamkot
---
Below are some of the most commonly asked questions about Dharamkot.
1. Where is Dharamkot in India?
Dharamkot is located in the state of Himachal Pradesh in India near Dharamshala and Mcleodganj.
2. How far is Dharamkot from Mcleodganj?
Dharamkot is located at a distance of about 3 kilometers from Mcleodganj.
3. Is Dharamkot safe to visit?
Yes, Dharamkot is very safe to visit. But this also means that you do not take any unnecessary risks, stay safe, do not get into any tricky situations and do not put yourself in harm's way. Do not stay too far away from the main village and do not check into any hotels or guest houses until you are completely sure of it. Powercuts in Mcleodganj are very common. In upper parts near Bhagsu and Dharamkot, it gets very dark after sunset. The path and rocky steps can be a bit tricky so if you were heading that way after dark, make sure you are bringing a torch along. Better would be to not go wandering around after dark.
4. Does it snow in Dharamkot?
Yes it snows in Dharamkot in the months of January and February.
5. How much time is needed for visiting Dharamkot?
It will depend on the place you started from but assuming Delhi as the starting point, a minimum of 4-5 days should be given to explore the area properly.
6. When is Dharamkot open?
Dharamkot remains open for tourism throughout the year.
7. How are the road conditions in Dharamkot?
Road conditions in Mcleodganj, Dharamshala and almost all nearby villages are a mix of good and average. Even while traveling to these hill stations, the road is mostly good.
Conclusion
That covers most, if not all, of the details that you need to know about visiting. I hope the information above was of help. If you need any other details; or have any questions; please feel free to ask in the comments section below; or at our Community Forum; and I will be glad to answer.