In my last few articles, I talked in details about how you can plan a visit to Dharamshala & Mcleodganj; and other nearby areas like the Dharamkot Village; or the trekking destination of Triund. Continuing in the same series, in this post, I will provide a comprehensive travel guide for visiting another quaint little town located close to Dharamshala. Palampur, also known as the Tea Capital of North India, is located about 35 kilometers from Dharamshala and 45 kilometers from Mcleodganj. It is a small place famous for its mountain scenery and tea gardens which also earned this entire area its nickname of Green Valley of Himachal Pradesh. How you can plan a trip to Palampur and what to see here is what we will be discussing in this article.
For a brief introduction, Palampur is a hill station located in the Kangra Valley of Himachal Pradesh. Surrounded by pine forests and high mountain peaks of Dhauladhar ranges, it is best known for being home to the famous Kangra Tea. The town derives its name from the local word Palum, meaning lots of water; which comes from the fact that there are a lots of water streams flowing from the mountains around Palampur to the plains area. The tea plantation was introduced in the region in as early as 1849 and since then has been the very soul of Palampur.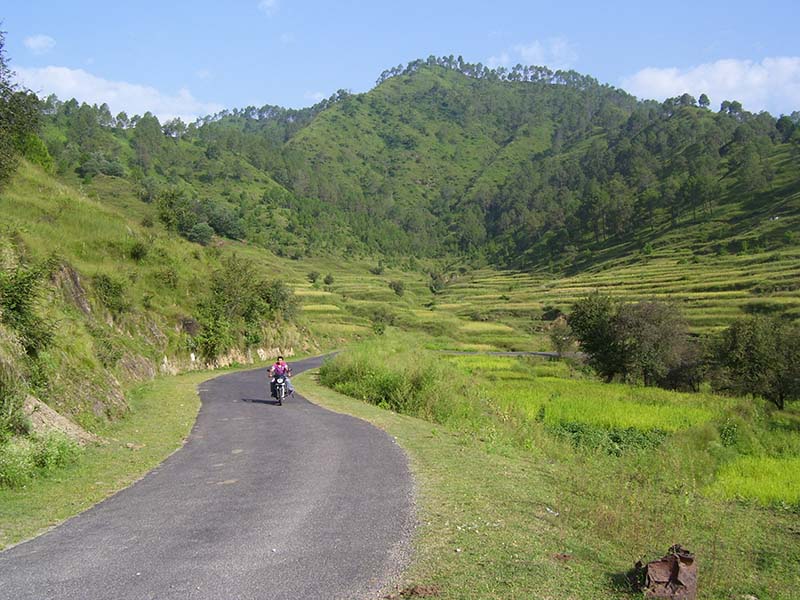 The post below includes information on how to reach Palampur, what to see, things to do, where to stay and some other general tips that can be of help for a tourist. If, after reading the post, you have any other questions, feel free to comment and ask towards the bottom of this page.
How to reach Palampur
---
Palampur is a very well connected town to almost all nearby cities of Himachal, Punjab and other states. Depending on your own preference, you can easily reach here either by road, train or flight.
Location
Palampur is located in Kangra district of Himachal Pradesh at a distance of 480 kilometers from Delhi, 250 kilometers from Chandigarh and 112 kilometers from Pathankot.
Also Read: Mashobra – A Complete Travel Guide & Itinerary
How to reach Palampur from Delhi by Road
Let me first explain how you can get to Palampur if you were traveling by road and your own vehicle. For the sake of explaining the route, I will assume Delhi as your starting point. However, even if you were coming from a different city, the information below should still be able to help you understand the route.
Starting from Delhi, the route to Palampur will be as mentioned below.
Delhi – Panipat – Karnal – Kurukshetra – Chandigarh – Rupnagar – Amb – Pragpur – Ranital – Kangra – Palampur
Traveling this way, the total journey will be of about 490 kilometers, doable in 10-11 hours depending on your speed and breaks. There can, of course, be several other ways to do this journey but the route I mentioned above is the quickest way to get to Palampur.
Palampur Road Condition
The condition of the road from Delhi to Palampur is a mix of good and average but mostly good. Delhi to Chandigarh is a super smooth highway and the road between Chandigarh and Palampur too remains good. Even if you were coming from Amritsar or Pathankot side, the road will still remain to be good.
Best Vehicle for Palampur
There is really no best vehicle as such required for visiting Palampur. Locals here drive around in Maruti 800 as well without any problem at all. So as long as your car or motorcycle is well maintained and well serviced, you can visit Palampur even in an Alto or a 125 CC motorcycle. If you were coming on a smaller engine bike though, it will be better to travel light and solo.
How to reach Palampur by Bus
There is a regular bus service to Palampur from every major city nearby like Delhi (480 km) and Chandigarh (250 km). Daily air-conditioned bus service from Delhi to Palampur is available by Himachal Roadways. Apart from the state transport buses, several private companies and tour operators also have luxury buses / Volvo plying on this route. HRTC, in my opinion, is the best way to travel from Delhi to Palampur or Vice-versa by Bus. Fare per person will be between Rs. 1000 to Rs. 1500 depending on the bus you chose to travel.
Online booking for HRTC can be done at their Online Portal. For buses by private companies, you can search availability and fare at websites like RedBus.
How to reach Palampur by Train
Nearest Railway Station to Palampur is located at Maranda which is also known as Palampur railway station. It is connected by a narrow-gauge line from Pathankot to Jogindernagar; the well known Kangra valley Toy Train. It is much similar to the Shimla Kalka Toy train and is a great way to travel if you had some leisure time. For someone looking forward to enjoying a relaxed journey through the mountains, rivers and green pastures, Kangra Valley Toy Train is the best choice.
The nearest broad gauge railway station is at Pathankot (112 km) from where the toy train starts and takes around 7 hours to complete the journey till Palampur (Maranda).
How to reach Palampur from Pathankot
The toy train, however, is for someone who can afford to spend 7-8 hours in a slow-moving train. If you wanted to complete the journey quicker, then the next best choice for you is an HRTC Bus. You can reach Pathankot by train and board a bus for Palampur from there which will take about 4 hours to complete the journey. You can also take a taxi from Pathankot for Rs. 3000 approximately for a drop to Palampur.
How to reach Palampur by Air
The nearest airport to Palampur is located at Gaggal, about 37 kilometers away from Palampur. It is also known as Kangra Airport or Dharamshala Airport and is well connected by multiple airlines to Delhi, Jaipur, Hyderabad, Mumbai, and Pune. There are regular flights available by Air India and Spice Jet. Once you land at the airport, you can rent a taxi for the last leg of your journey to Palampur.
Local Transport in Palampur
Palampur really is a small place and most of the sightseeing within the town can be done on foot. You can rent a private taxi for Rs. 1000 to show you around. Major tourist spots in Palampur that we will further talk about in the article are however located a bit out of town. A full day taxi tour can cost you between Rs. 1500 to Rs. 3000 depending on the places you wish to cover.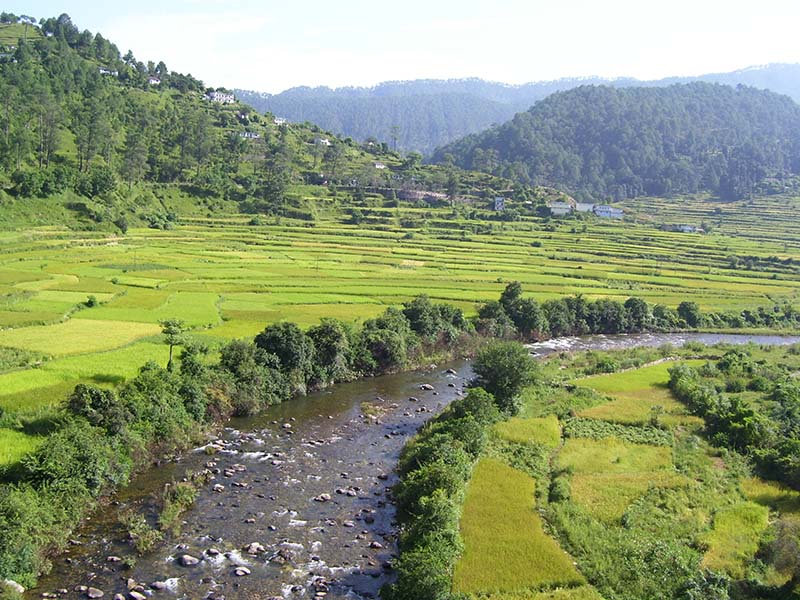 What to see & Things to Do
---
What to see in Palampur
Next, let us talk about the places to visit in Palampur once you get there. As I previously mentioned in the article; the majority of the tourist places in Palampur are a little out of the town; but there are a few within Palampur as well. How many you are able to cover will entirely depend on how many days you had in hand; but a minimum of 2-3 days is what I will recommend for visiting Palampur. If you had more time then you can even move towards the town of Mcleodganj or Bir Billing; and spend a couple of days there.
Listed below are some of the biggest tourist attractions in and around Palampur.
Also Read: Dharamkot – A Complete Travel Guide & Itinerary
Tea Gardens
This is probably the biggest tourist destination in Palampur. The whole town is covered in the scenic beauty of these tea gardens. Almost all the tea gardens allow visitors to access their premises and see the tea making process. Tea Plantation was introduced here in 1849 and since then, Kangra Valley has been growing both black and green tea. I will highly recommend visiting one of the tea gardens and see how India's favorite beverage is created before it is packed and sold.
Neugal Khad
Next in the list of tourist places in Palampur will be Neugal Khad. It is a wide stream of water located about 2 kilometers outside of Palampur. It is best known for an old suspension bridge; that takes you across the channel providing an excellent view of the mountains and scenic valley around. There is also a small cafe next to the parking lot; where you can get something to eat while visiting here. The best time to visit the stream would be post-monsoon; when it is completely filled with water and the valley around it is in full blossom.
Also Read: Dalhousie – How to Plan your Trip & What to See !
Saurabh Van Vihar
It is a beautiful garden/park located right next to the Neugal Khad; and was built in the memory of Captain Saurabh Kalia who laid his life in service of the nation during the Kargil war. It is more like a picnic spot now for both the locals and the tourists. There is also a small lake/pond in the park where you can enjoy boating as well. If not, then just sit in the serene and calm atmosphere of the park with a great view of Dhauldhars around.
Art Galleries

There are a couple of great art galleries located near Palampur that are worthy of a visit if it interests you. First one is Naam Art Gallery located in Dharamsala displaying works of a German painter, Elisabeth Buschmann. The second one is Sardar Sobha Singh's art gallery located around 12 km away from Palampur in Andretta Village.
The village Andretta overall is a great place for anyone with interest in different forms of art like painting and pottery. This village was established in 1920 and has been known as an artists' colony in Himachal Pradesh since then.
Also Read: Tourist Places in Narkanda, Himachal
Temples in and around Palampur
Palampur is home to several well-known temples that are visited regularly by locals and tourists. All these temples are beautifully built and known for their architecture. Below is a list.
Jakhni Mata Temple
It is located about 5 kilometers from the town after a steep climb. You can drive all the way to the temple which is built at a height. It is a must-visit for both devotees and people wanting to get an awesome view of the valley and small villages in it.
Baijnath Temple
It is a historic temple of Lord Shiva and is located about 16 kilometers from Palampur. As per the legend, it was built by Ravana himself to worship Lord Shiva. There is a Yagya Kund inside the temple which is said to be used by Ravana to perform Yagya to please Lord Shiva.
Chamunda Devi Temple
Another beautiful temple located next to a river about 17 kilometers out of Palampur. It is built on a spot where, as per the legend, Devi Chamuda killed two evils named Chand and Mund.
Bundla Mata Mandir
This temple is located about 4 kilometers from the town on the Neugal Road.
Tashi Jong
Tashi Jong is a Tibetan village located about 14 kilometers from Palampur. It is famous and known for being the first smoke- free village. Yes, smoking in this village is banned entirely and you could get in trouble for lighting a cigarette here. The Khampagar monastery in the village is a very beautiful one and a great place to visit.
Palampur also has several Buddhist monasteries that you can visit during your stay.
Also Read: Monasteries in Mcleodganj and Dharamshala
Gopalpur Zoo
This zoological park, officially known as Dhauladhar Nature Park, is located about 14 km from Palampur and is a good place for animal lovers and people with interest in wildlife photography. It is also a must-visit if you had kids accompanying you on the trip. The park has a wide range of animals such as lion, leopard, bear, etc.
What to do in Palampur
Apart from sightseeing at all the places, I listed above; there really isn't much else to do in Palampur. It is a quaint little town perfect for spending some time relaxing with your friends and family. While you do that, listed below are some of the most common things to do in Palampur.
Photography
Natural beauty of the place will give you ample opportunities to get some great shots.
Star Gazing
With almost no pollution and clean air, the view of the night skies from here is simply awesome. It is a great spot on sit on the roof of your hotel gazing at the stars above and also to click some star-trail shots.
Trying some Local food
While you are in Palampur, you must try drinking the local tea made by the locals here. It smells very nice and has a very good flavor; different than what we city people drink daily in our regular lives. Jhol is another drink made of preserved rice water that you can try here. There are also a good number of restaurants in the main market serving a variety of cuisines. The traditional Kangri Dham is a must try cuisine for anyone visiting here. Some hotels and dhabas serve this and you will just have to ask around.
Also Read: Triund Trek – How to Plan your Adventure
Trekking
There are several well-known trails, most famous of which is the Triund Trek in Mcleodganj. It is perfect for an absolute beginner as well. Another trek to Bundla Falls starts from Palampur itself. A few other treks are
Across Sanghar pass to Bharmaur via Holi
Thamsar Pass Trek from Billing to Manali via Bara Bhangal
Jalsu pass Trek from Baijnath to Bharmaur
Paragliding
Located about 28 kilometers from Palampur is the town of Billing where one can enjoy the adventure sport of Paragliding.
Camping
There are several campsites around Dharamshala and Mcleodganj where you can spend a night in tents. Triund again is one of the most popular spots to go camping overnight.
Shopping in Palampur
The local Kangra tea is the most common item that tourists in Palampur buy. It is available all over the town. There is a factory outlet right next to the bus stand where you can buy some at reasonable rates. Another popular item to buy would be Bamboo pickle. Apart from this, there is a huge market and shopping complexes in the town where you can buy most of the daily items.
Also Read: What to See in Shimla | Fun Things to do in Shimla
Attend a Local Festival in Palampur
Listed below are some of the major festivals that you can attend in Palampur to get a true taste of the local culture.
Sair is a local festival of Kangra district and is celebrated with great zeal by the people. This festival marks the offset of the rainy season and the black month. People worship the Shair deity offering new crop, fruits, and vegetables.
Lohri or Maghi is celebrated during mid-January with much zeal. It is marked by community bonfires, folk songs, and dancing. Children sing the local folk songs known as "Lukdiyan". A special type of sacrament called "Tilcholi" is made from roasted rice, sugar and peanuts during this festival.
Palampur Holi Fair is held at Capt. Vikram Batra Stadium each year and is marked by different types of cultural activities. Several local singers from Palampur and Kangra Valley arrive to perform during this festival.
Also Read: Sightseeing in Mcleodganj – A Natural & Cultural Paradise
Pottery at Andretta
If you did get some time to visit the Andretta village, you can even try learning and doing some pottery here. I agree that you won't become a master in a couple of hours but it is fun nonetheless.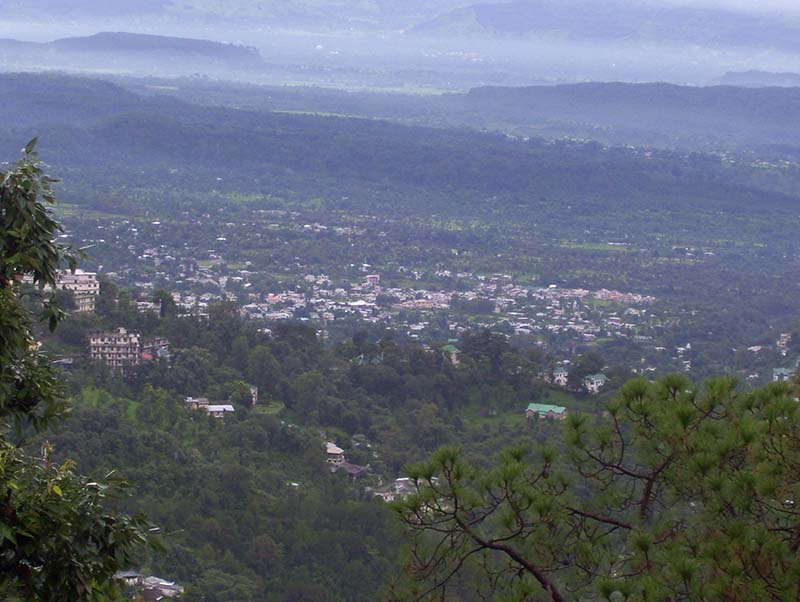 When to visit

---
Weather of Palampur
Due to its altitude, the weather of Palampur remains pleasant for most of the year. Winter here is harsh and it gets terribly cold in the months of January and February with the temperature dropping down close to 0-degree Celsius. Spring arrives towards the end of March and this is when the weather here is best with clear sunny skies, warm days and pleasantly cool nights. It remains so until April but things begin to heat up in May and June. The day temperature in these months can sometimes go as far as 35-40 degrees Celsius.
Monsoon arrives towards the end of June and it continues to rain here until early September. Dhauldhars are in fact one of the wettest regions of Himachal which means that it rains here quite a lot. September marks the end of monsoon season and is one of the most pleasant months of the year here. Autumn arrives in October; and everything that was green in September now turns to a golden orange; giving a magical touch to the valley. Winter again starts to settle in towards the end of October; and the following months of November and December are probably the driest and most dull time of the year here.
The average temperature during summers is around 20 to 35-degree Celsius from April to June. Monsoon season tends to get quite wet with heavy rainfall and winters are mild to chilly between October and February. The night temperature can sometimes fall even below 0-degree Celsius in the months of late December and January.
Best time to visit Palampur
Now based on the information above, I think it is safe to say that the months of March, April and September are the best time to visit Palampur. For a family trip too, these months will be the best. For photography, I will recommend visiting in July, August or September. Vistas at this time are greatest. If you do not enjoy cold weather, then you should avoid visiting from October till February. If you do not like rain, then avoid late June to early September. The months of November and December are an overall bad time to visit because the scenery at this time is very dull.
Also Read: Best time to Visit Mcleodganj and Dharamshala
Clothes to pack

What clothes to pack will entirely depend on your time of visit. For a trip between November to February, you must prepare for very cold weather and bring heavy woolens. Your regular cotton clothes with a few light woolens will be enough for October and March. For May, June, and September, your regular cotton clothes will be enough but you may want to bring along a light jacket as well. For July and August, pack clothes that can dry faster, like polyester.
Other Items to Pack
Some other items that you may want to pack are sunscreen lotion and sunglasses for visiting during the summer season. You should bring moisturizer, lip balm, and cold cream if visiting in winter. Though medical facilities are available in town, you may want to carry some basic medicines along like for fever, body ache, headache, upset stomach, etc.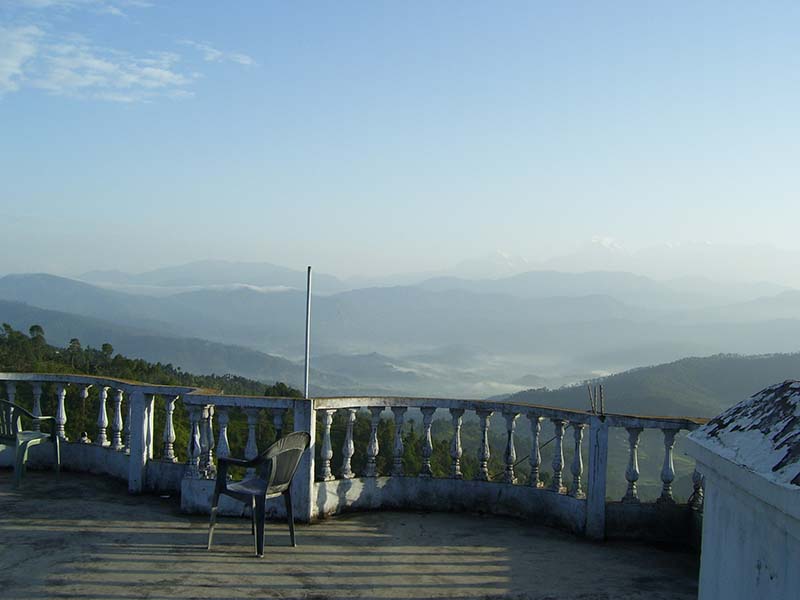 Where to Stay
---
Hotels in Palampur
There are several hotels, guest houses, and resorts in Palampur where you can stay for a night. The best place to stay would be at a tea estate. The Tea Bud, owned by HPTDC, is located next to a tea estate and is a great place to stay if within budget.
Camping
I did not notice any campsites in Palampur but there are quite a lot of them around Dharamshala and Mcleodganj. I would not really recommend Palampur if camping was on your mind.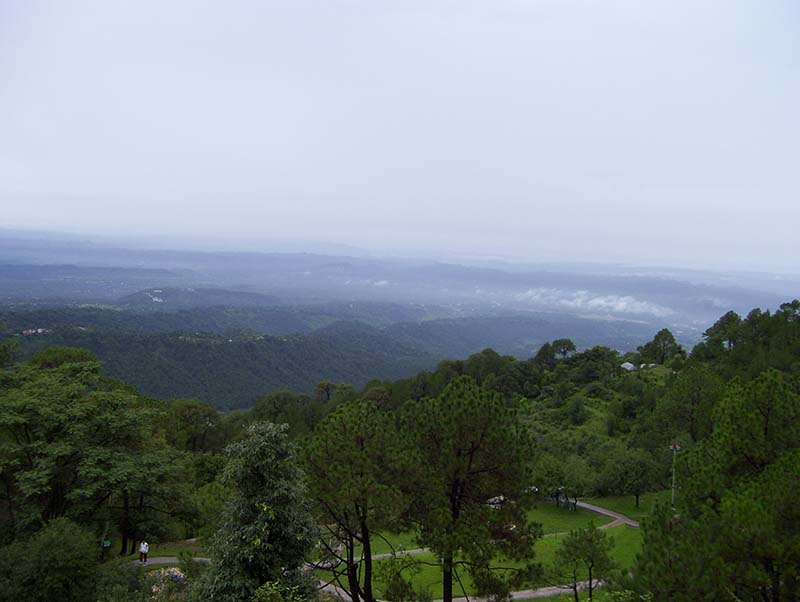 Know Palampur
---
Bank / ATMs in Palampur
There are several banks and ATMs in Palampur and even on the way.
Petrol Pumps / Mechanics
Petrol Pumps and Mechanics too are available in Palampur.
Hospital / Medical Assistance
There are a few hospitals, clinics and dispensaries located in Palampur. If you are in need of medical help, you will easily find it here.
Mobile Network and Data Connectivity
Palampur has great mobile connectivity. No matter which network you are on, you will get full service and good 4G data in Palampur.
Also Read: Jalori Pass – How to Plan your Trip & What to See
Itinerary

---
Time Needed
For the sake of suggesting the itinerary, I will assume Delhi as the starting point. However, even for someone coming from a different place, only the journey on first and last day will be different. Rest of the details will still apply. Assuming that you are coming from Delhi, a minimum of 5-6 days is what I will recommend exploring Palampur and the area around. However, if you were short on time, you can do away with 3-4 days as well.
Palampur Itinerary
Below is an example of an itinerary that you can follow for your trip to Palampur.
Delhi to Palampur – Day 1
Palampur – Day 2
Palampur to Mcleodganj – Day 3
Mcleodganj / Dharamshala sightseeing – Day 4
Mcleodganj to Delhi – Day 5
Also Read: Thanedar, Himachal – How to Plan your Trip & Explore
FAQs about Palampur
---
Below are some of the most frequently asked questions about Palampur.
1. What is the altitude of Palampur?
Palampur is located at an altitude of 1,220 m above sea level.
2. Does it snow in Palampur?
Palampur does not receive any snowfall in the town but the upper areas of Palampur experience heavy snowfall. It snows quite a bit in the nearby towns of Mcleodganj, Dharamshala, above Bundla hills, etc.
3. Is Palampur Safe?
Yes, Palampur is a very safe place to visit, provided that you do not put yourself in harm's way. Locals here are very humble and friendly people. So as long as you drive sensibly, act as a responsible tourist; and do not take any unnecessary risk, you will be fine visiting Palampur.
4. Where is Palampur located?
Palampur is located in Kangra district of Himachal Pradesh; at a distance of 480 kilometers from Delhi, 250 kilometers from Chandigarh and 112 kilometers from Pathankot.
5. Is Palampur Worth Visiting?
Yes, Palampur is a very beautiful town and definitely worth visiting. As I suggested in the itinerary above; you can take out 5-6 days and spend time visiting Palampur and the nearby towns of Dharamshala, Mcleodganj and Bir Billing, etc.
6. When is Palampur open for tourists?
Palampur remains open for tourism throughout the year.
Conclusion
That pretty much covers most, if not all, of the information you need to know for planning a visit to Palampur. If you have any questions or need any other details, please feel free to ask in the comments section below, or at our Community Forum, and I will be glad to answer. If you have been to Palampur and have tips that can be of help to others, please do suggest.