Dharamshala and Mcleodganj are among the top tourist destinations of our country. These are in fact places where the tourist season never really ends. Irrespective of the time of the year, you will always people visiting here and there are several reasons behind that. Easy accessibility, Scenic beauty of the area, road connectivity, and availability of facilities are to name a few; but the biggest one is of the religious importance this region holds. Mcleodganj is the official residence of the 14th Dalai Lama due to which it is a notable place for everyone belonging to Buddhist faith or with interest in Buddhist teachings. There are several monasteries in Mcleodganj and Dharamshala which remain to be a center of not only religious following but also receive thousands of tourists each year; people looking forward to learning about Buddhist and Tibetan culture and also to admire the beauty of the place.
Also Read: How to Plan a Trip to Mcleodganj
In my last few articles, I discussed in details about how a person can plan a trip to Dharamshala and Mcleodganj; when would be a good time to do so; places that you should visit and activities that you can enjoy as a tourist. Continuing in the same series, in this post, I will talk about the monasteries in Dharamshala and Mcleodganj. I will cover information including their location, how to reach, Dos and Don'ts to follow and key takeaways. While these monasteries are a prime tourist attraction here, we must, however, be respectful of the fact that these are places of worship and should follow some practices which I will discuss further in the article.
Image: By Bernard Gagnon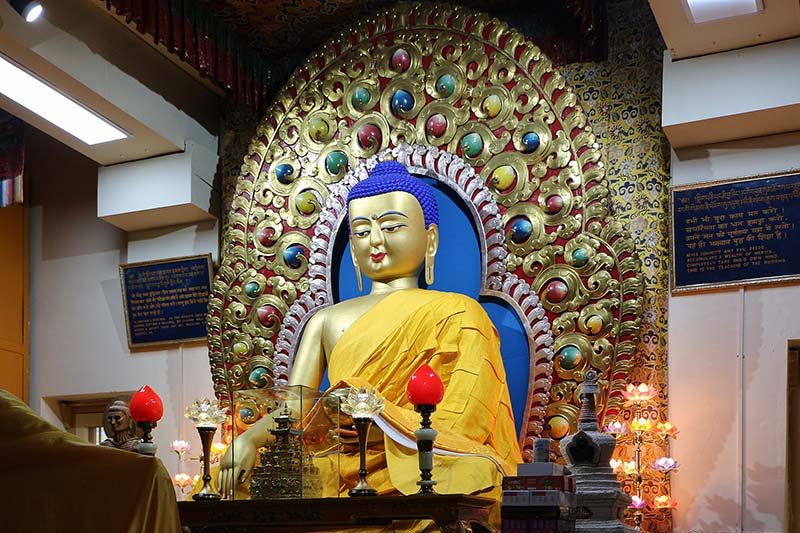 Why Visit Monasteries
A question I often get asked about Monasteries is whether or not to visit one; and this is not specific to just Dharamshala but also to other places like Ladakh and Spiti. If you are asking this question then I am assuming that you are not Buddhist by faith, have never been to a monastery before and are not sure what to expect from one. So should you visit a monastery? The answer is that you definitely should if you have the time.
Why you should visit can really have multiple answers but the most basic one would be for the cultural experience. A visit to any of the monasteries in Mcleodganj will give you an insight into the lives of the Lamas here and firsthand experience of Tibetan culture. There is just so much to learn really. You can talk to the monks, see Buddhist and Tibetan practices, learn about their history and if you were among the lucky ones, you may even catch a teaching session with the Dalai Lama himself.
Even if all that I stated above does not interest you, you should still visit the monasteries just to witness the grand architecture and beauty of the place. They are all magnificent and colorful in construction and are a delight to watch and observe. It is really a very peaceful feeling that you get while standing inside a monastery; a feeling that will last for several days to come.
Also Read: Best time to Visit Mcleodganj and Dharamshala
Monasteries in Dharamshala and Mcleodganj
Being home to the Dalai Lama himself and headquarters of the Tibetan government in exile, there are quite a few monasteries in and around Dharamshala and Mcleodganj. I will name the 5 which probably are the largest ones and also the most visited ones by tourists.
Namgyal Monastery
Gyuto Monastery
Tsuglagkhang Complex
Norbulingka Institute
Tsechokling Gompa
Below is a little more information on all these monasteries.
Namgyal Monastery
I will start with the Namgyan Monastery which is in fact Dalai Lama's personal monastery and is also referred to as "Dalai Lama's Temple". Another name for this temple-complex is Namgyal Tantric College. The original monastery was actually built in Lhasa, Tibet in either 1564 or 1565 by the second Dalai Lama. After the 14th Dalai Lama's exile from Tibet, the monastery too was moved to Mcleodganj in 1959. It is now home to nearly 200 monks representing all four main Tibetan monastic lineages.
The daily worshiping takes place inside the monastery under the supervision of His Holiness Dalai Lama and the other monks. The monks living here perform rituals for the welfare of Tibet and work as a center of learning and meditation on the profound Buddhist treatises. The grand Buddha statue inside the monastery and its beautifully painted walls are a feast for the eyes and have a soothing effect on one's mind. Spend some time in the monastery, listen to the chants, talk to the monks, observe their rituals and have a never like before experience. A visit to Namgyal Monastery is always among the top things to do in Mcleodganj. It is located in Mcleodganj near Dalai Lama's residence.
Also Read: Delhi to Mcleodganj – A Life Altering Journey
Gyuto Monastery
Like Namgyal, Gyuto Monastery too originated in Tibet in the 15th Century; and was later reestablished in India after the Chinese invasion of Tibet and Dalai Lama's exile. The monastery is known for the practice of tantric meditation; that includes several important Buddhist practices like the recital of Tantric texts such as Guhyasamaja and Chakrasamvara. There is a beautiful statue of Sakyamuni Buddha established in this monastery that shines and spreads a golden hue around when Sun shines upon it.
Gyuto is probably the most beautifully located monastery in Mcleodganj and Dharamshala. The entire complex is located on a hilltop offering a spectacular view of the valleys around with lush green mountains in its backdrop. It is also one of the most spacious monasteries here and is home to several monks. There are separate buildings, in fact, in its complex serving as the quarters for the monks. It is a must-visit place not only for people with interest in monasteries but photography enthusiasts as well.
The monastery is located about 16 kilometers from main Mcleodganj square and will take you 40 to 45 minutes to reach.
Tsuglagkhang Complex
Tsuglagkhang Complex is the official residence of Dalai Lama and is one of the most important Buddhist places of worship that attracts devotees from all over the world. Built inside the complex are a monastery, various stupas and temples, a museum, library, bookstore and a cafe. The entire complex is open for both tourists and devotees with the exception of the area where the Dalai Lama lives. There is a grand Buddha statue established in the complex as well as other statues of Chenrezig and Guru Rinpoche.
The museum inside the complex sells history documents, pottery, handicrafts, paintings, etc. and is a popular haunt among tourists. Even if you do not want to buy anything, a simple walk through the complex and visiting the museum is still highly recommended. They have a collection of over 30,000 photographs depicting Chinese occupation of Tibet, the whole issue around human rights abuses by Chinese forces in Tibet; and the series of events that led to Dalai Lama's exile. There is no entry fee to the museum and they also run a documentary on Tibet twice a day here.  It is located within the main town itself and would not take too long for you to get there.
Post lunch, at around At 1.30 pm every day (except Sundays), the monks gather in the courtyard and get into a lively and friendly debate. The debate is quite a spectacle to watch even though you may not understand a word of it.
Norbulingka Institute
This place is not really a monastery; but still, a must visit for anyone who wants to learn a little about Tibetan culture. As the name suggests, Norbulingka is indeed an institute created for the purpose of and dedicated to the preservation of the Tibetan culture in its literary and artistic forms. They have some workshop sessions but it will cost you Rs. 50 as an entry fee here (if you were not a Tibetan). For Tibetans, the entry fee is Rs. 20.
The institute is named after Norbulingka Palace in Lhasa, Tibet. The art studios here include Tibetan statue making, thangka painting, screen-printing, applique and tailoring, woodcarving, wood painting, papermaking, and wood and metal craft. There is a café inside the institute which serves delicious cuisine and a great place to have lunch while you visit here. It's Japanese styled gardens and water streams make this institute really look like a charming place and worthy enough of a short visit.
Also Read: How to Plan your Trek to Triund
Tsechokling Gompa
This monastery is located at Nowrojee Road. It was built in 1987 and Like Namgyal and Gyuto Monastery, this one too was named after the original monastery in Tibet which was destroyed in Tibetan uprising of 1959. There is a tall and gilt-edged Sakyamuni Buddha statue here in a magnificent jeweled headdress. The monastery also houses a statue of Padmasambhava and has some brilliantly crafted mandals.
Dos and Don'ts when visiting a Monastery
Now that we have talked about the monasteries that you must include in your Mcleodganj itinerary, let me now also list down a few things that you should take care of while visiting a monastery. We must not forget that these are all sacred religious places and houses of worship. All monasteries call for tourists to be respectful of its rules, culture, and practices. Listed below are a few details on how as a tourist you should be in a monastery.
Dress Appropriately
You must remember that you are visiting a monastery and not a beach or a club. You should avoid wearing skimpy or revealing clothes; or to dress in a manner that would seem respectful to the monastery and its monks. Chose clothes that are a little lose, simple, modest and cover your entire body including arms and legs.
Remove Shoes Where required
A lot of places in a monastery would require you to take your shoes off before entering. Such places are always marked with a board requesting you to remove your footwear. Please be careful of such areas and do not enter with your shoes on.
As a general rule though, shoes, hats, and bags are not allowed inside the monastery. You will be asked to deposit them at the locker area before entering the monastery and collect on your way back.
Don't Point your fingers and feet towards Buddha OR Monks
When you are in presence of a Buddha Statue, it is customary to bow your head irrespective of your own religious views. When you kneel, do so while your feet are pointed backward and head bowed. Avoid pointing your fingers either at Buddha or the monks. When leaving, walk a few steps backward before turning away.
Also Read: When is the Best time to visit Mcleodganj
Show Respect
By this, I mean that you should not go and start touching everything that you see. Keep at a respectable distance from the statues and platforms that they are established on. When in a monastery, you do not know what is religiously important and what is not; so it is best to observe with your eyes and not your hands. If you were visiting with children, please do not allow your child to run around or play with anything inside the monastery.
No Photography
Taking pictures of Buddha and the prayer hall is highly disrespectful and prohibited. Some monasteries actually do not even allow cameras in their premises because of it. Please be very careful about what or where you are pointing your camera at. Before you take a picture, just take a look around for any board prohibiting photography. Even if it is allowed, please do not use a flash inside a monastery. Seek permission if you are clicking a picture of a monk.
Turn Your Phone to Silent or Off
It is my own recommendation based on my own personal experience. Whenever I saw a phone going off in a monastery, I always noticed the person who was carrying it get frowned upon. A phone ringing in a monastery is a disturbance for the monks and you must not be the one causing it. I would highly suggest that you either switch off your phone for a while or at least switch it to silent or to vibrate.
Be Considerate of the monks
You got to remember that they are monks and not exotic animals in a zoo. Do not point your camera without permission and do nothing to disturb their daily prayers. When talking to a monk, sit at the same level that he is. Do not stand and talk if the monk is sitting. You must not point your feet at a monk and should fold your legs while sitting down with one. Do not try to force a conversation. Smile and seek permission before initiating a conversation. If the monk seems busy going about his daily chores, leave him be and do not cause disruption. If you want to get a picture clicked with a monk and he agreed to it, then keep at a respectable distance. Do not just throw your arm around his shoulder or try to get touchy.
Monks are prohibited from getting near or to touch a woman. Lady travelers should keep this in mind and be respectful of the fact. Maintain some distance while talking to or sitting with a monk. Some of the monks may not even accept something directly from you and would request that you pass it on to a male who would then give it to the monk. Do not feel offended by it and just respect their customs.
Also Read: Mcleodganj to Triund Trek – A Day of Adventure & Fun
What to do in Monastery
If this was going to be your first time in the monastery; and you were wondering what exactly is it that you should be looking to or doing in there, then below is the list. The activities below are purely from the point of view of a tourist; because a monk or devotee would, of course, have much more to do than this.
When you step inside a monastery, the first and most important thing is to let your worries go and soak yourself in the peace and tranquillity of the place. The sole purpose of your visit here is to learn and observe and that is what you should be doing. The monasteries in Mcleodganj are a perfect place to learn about Buddhism, Tibetan Culture and the simple lives of the monks here. Walk around and observe the absolute beauty and the grandeur of the monastery. Pay respect at the prayer halls and churn the prayer wheels while learning more about a faith other than yours (if you were not a Buddhist).
Strike up a conversation with a monk and learn about their day to day activities. Listen to their views about the world, life, and other worldly matters. While talking to a monk though, please ensure that you are not shooting personal questions at them.
Since the majority of the Buddhists and people here are Tibetan refugees, you will learn a lot about the culture and history of Tibet; their struggle, the Tibetan uprising of 1959 and what led the Dalai Lama to leave Tibet and move in India. The museum at Tsuglagkhang Complex is a great place to with lots of books, documents, and artefacts on Tibetan culture. They even play a documentary movie if you wanted to stay back and watch.
How to reach Dharamshala and Mcleodganj
The information above only covers the monasteries located in Dharamshala and Mcleodganj area. If you want to know about other tourist places that you can visit here, please read Tourist Attractions in Mcleodganj and Things to Do. If you are wondering about the route or public transport to get there, please read How to Plan a Trip to Dharamshala and Mcleodganj. In this article, I have covered in details; about how you can either drive to these places by your own vehicle; or plan your journey by public transport.
Conclusion
That pretty much is all that you need to know about monasteries in Mcleodganj and Dharamshala; and how you can plan a visit there. If you have any questions; or need any other details; please feel free to ask in the comments section below; or at our Community Area; and I will be glad to answer.