It was that time of the year when all the exams had ended and I was looking for a short trek. This Instagram advertisement of "Adventure Nation" of Triund and Snowline Trek Mcleodganj in the mighty Dhauladhar range of the Himalayas showed up on my screen and caught my attention. I did a bit of reading and research and by the end of it, had decided where I will be going to spend my next few days!
Triund and Snowline Trek Mcleodganj
So the journey started from Kashmiri gate at around 8 pm and the bus dropped us at Mcleodganj bus stop at around 7 am. Despite being a bit warm in the rest of the country, Mcleodganj welcomed us with a cooler climate like bearable with one full fleece.
We wanted to complete the trek as early as possible so we started on the same day.
I would, however, recommend everyone to stay at Mcleodganj for acclimatization purposes for at least a day and then start the trek.
What to do on Day 1?

There are a lot of things that you can do while staying in Mcleodganj. Of course, you can select from a numerous number of hostels and hotels available, but I would suggest you live at the lower side of Mcleodganj which is a hell lot cheaper than the hotels at the main market. On your first day, you can choose from the following activities.
Visit the Dalai Lama Monastery
This is the place where which you can find the actual seasonal home of Dalai Lama. He stays here for 3-4 months every year and lakhs of people come here to see the monastery which emphasizes saving Tibet.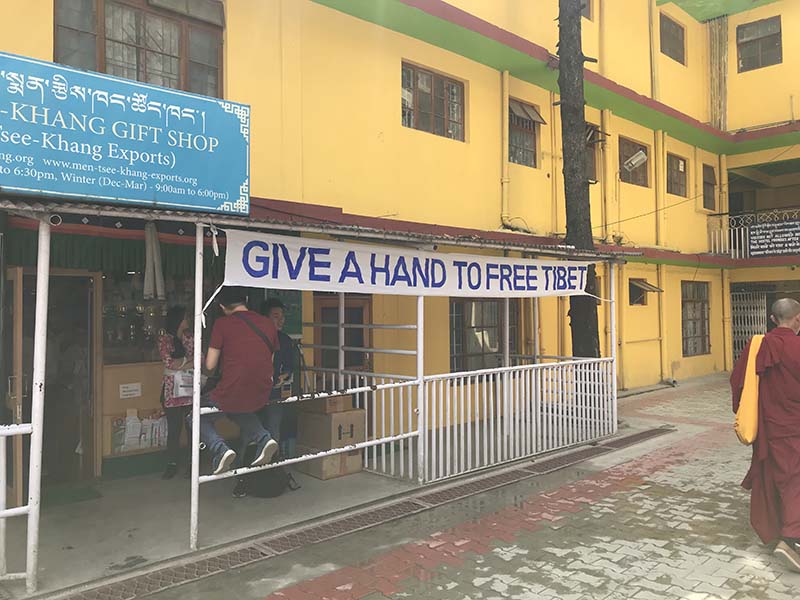 Visit the local market
Here you can find the first copies of almost every item possible. Ranging from electronics to clothes, everything can be found here at cheap rates. Also, don't forget to bargain a lot before purchasing anything.
Local restaurants
You can find authentic German bakeries and authentic Tibetan food here in many restaurants which are worth giving a try. The food is really tasty and you can also find budget-friendly restaurants in case you are on a budget trip.
Bhagsunag Waterfall
From the main square, you can hire a taxi which will take Rs. 150 – 200 and will drop you at the starting point of the Bhagsunag Waterfall Trek. From here you can do a 45-minute uphill walk and reach the Bhagsunag waterfall. The water levels are not that high now but the water is very clear. Also, you can find the very famous – Shiva Cafe here and you can enjoy Maggie coffee and other recreational things while sitting beside the mesmerizing waterfall.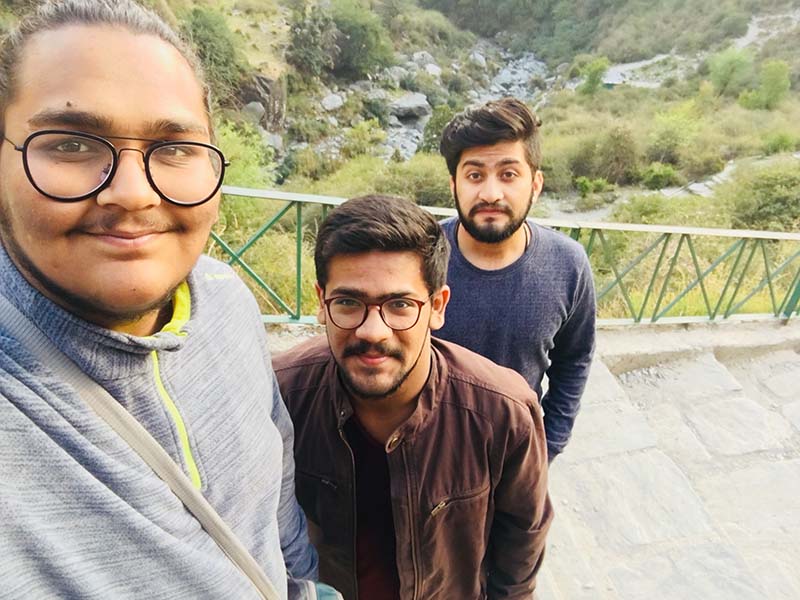 There are a few bars which have amazing ambiance a little different than the usual bars and pubs we see in the metros. But I will advise not to over drink or smoke because of the trekking that you would be doing the next day.
Triund Trek
So there are two ways of doing the trek. You can either start from Mcleodganj itself and trek to the Gallu Devi temple; which is like 4-4.5kms uphill on a motorable road. And then do the actual trek which is another 5.5 km. Or you can first hire a taxi to drop you at the temple and then start trekking from there. In total, if you do it on an average pace, you will take around 7 – 8 hours to reach Triund Top, so plan your trek accordingly.
I took a taxi which is easily available in the central square. It took Rs. 400 for 4 people and dropped us at Gallu Devi temple and we started our trek at around 8.30 am.
The trek is pretty simple and one doesn't require a guide. The entire path is well marked and you can find enough pointed arrows directing where to go.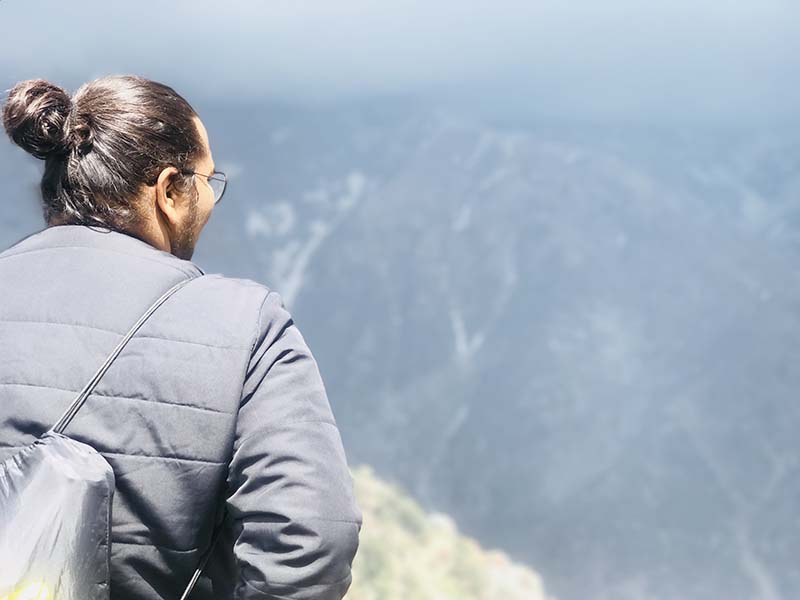 On the way uphill you can find many cafes and shops selling basic things like chocolate, water, biscuits, and Maggie. Remember one thing as you keep going up the price of water keeps increasing and will reach a maximum of 3 times the price at Triund top. So it is advisable to carry enough water and some quick refreshments which will save a lot of money during the trip.  I personally took 2 packets of bread, jam and a bottle of Nutella and it really helped a lot.
After roughly 5.5 km of trekking from Gallu Devi temple, you will reach a place with 3-4 big cafe cum shops and a Forest guest house of which booking has to be made at Dharamshala/Mcleodganj. That is when you know that you have reached the end point of your trek, the Triund Top.
Staying Options
If you don't mind spending Rs. 600/800 for a nights stay in a tent, you can ask any of the cafe owners and they will set up a camp for you wherever you tell them to.
Or one more option is to buy/rent a camp, for example from decathlon which provides a cheap range of camps, and you can yourself set up the camp. But be sure to see a YouTube tutorial before you go this adventurous.
Triund Top
So after reaching Triund top at 11.30 / 12, we spent the rest of the day clicking photographs, meeting new groups that were coming and also playing with a dog that is shown in the photos. (I still miss him)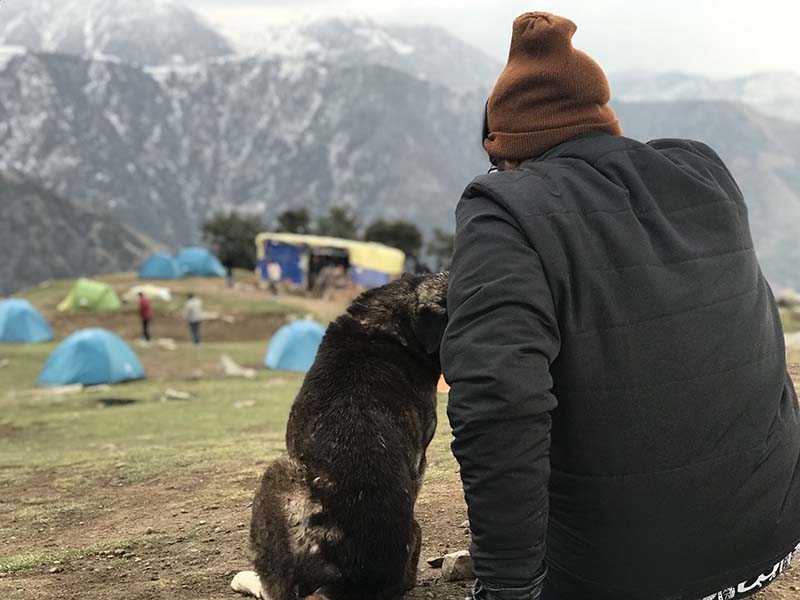 Lunch and dinner were pretty much the same. The cafes have very limited choices for main courses. For example, you can get fried rice, rajma-rice, aloo paratha, and some other basic dishes.
But believe me, everything was very delicious. That night we slept early because we had to trek upwards to reach the snowline point the next day. But due to heavy rains and snowfall, we could not sleep properly.

Tip, always carry a waterproof jacket and pants when you even enter Himachal. Believe me, this can save you from a lot of worst situations.
Snowline Trek
So the next morning after a night full of the waterfall, the sky was clear but still, we hired a local boy from one of the cafes to take us to snowline point. Because they have a better knowledge of shorter and safer paths. Because of him, we were also able to get a discount at the only shop at snowline point – The Snowling Cafe
So we started at 8.30 am and were at the snowline cafe by 11 am. Oh boy – what an incredible view of the Indrahar pass and ranges. We even saw some people mountaineering to the Indrahar pass.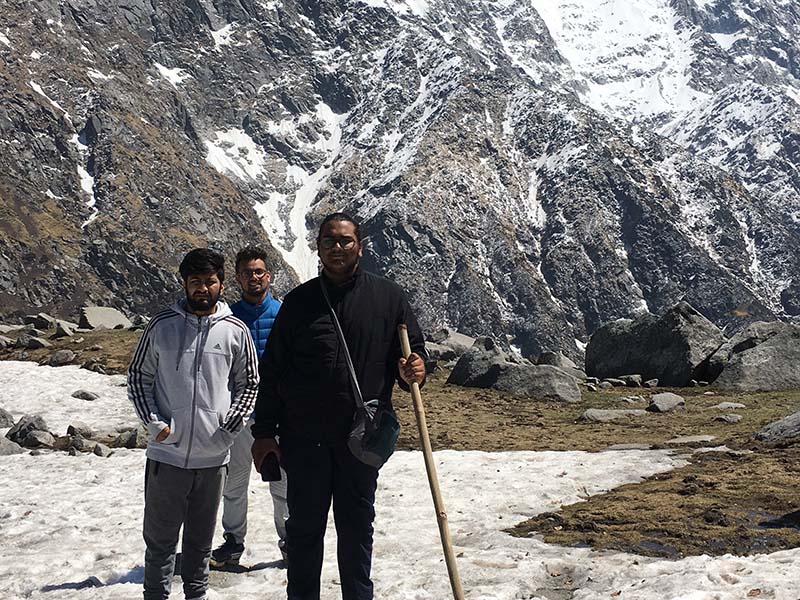 We saw a huge volume of snow because of the previous night. It was very cold up there. After a few snacks and playing cricket, we started our descent to the Triund top and reached there by 5 pm.

Back to Triund and Mcleodganj
It was a weekend – Sunday when we came down to Triund top. What we saw was that the number of camps was x10 times from the night before.So it is a personal suggestion to go there during weekdays for maximum peace and introspection. We had our dinner around 9 and then went to sleep.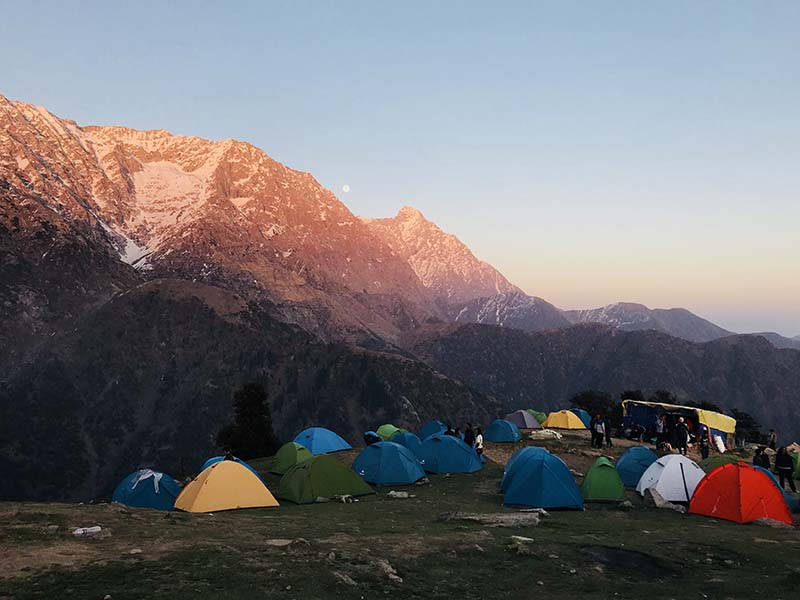 We began our final descent from Triund top to Gallu Devi Temple at 8 am next morning. The trek down was very easy and we were at the temple in merely 2.5 hours. Then we took a similar taxi for Rs. 400 till Mcleodganj main square. After this, we bid goodbye to our guide Mr. Anil who did everything for us from tent setting and arranging sleeping bags. You can contact him at this number – 09816107064, 09736302982 for any help.
The Triund Snowline trek finally came to an end and we boarded the bus to Delhi from Dharamshala the same evening.
Weather at Mcleodganj / Triund / Snowline
It is never too hot at these places. In Indian summer season that is from April to September, Mcleodganj is pleasant and not too cold. Triund and Snowline are comparatively cooler than Mcleodganj and may be a source of trouble if it rains or snow falls. In winters Mcleodganj is as cold as 4-5 degrees and Triund / Snowline may even go below 0.
Clothing Required
In the summer season, a normal warm jacket  (like that of a tracksuit ) will suffice. For safety one spare jacket and one rainproof jacket will be more than enough. But if you are visiting during winters, 3-4 layers of jackets may even feel less if you are sensitive to cold. So a big fat layer of jackets or fleeces may be required to survive the weather at Triund/Snowline during the Indian winter season.
Best time to visit Triund and Snowline Trek Mcleodganj

If you are not too much afraid of the winters; then I would suggest going in the winters because it is very adventurous climbing against the chilled breeze; and then the level of satisfaction that comes after reaching the Triund top cannot be described in words.
However, if you visit during summers, you can see more greenery and less problem in completing the trek. Also, you can even go to the Laka glacier in the Indrahar pass which is not advised during the winters. I hope the travelogue and  information above on Triund and Snowline trek Mcleodganj above was of help. If you have any questions, or need any other details, please feel free to ask in the comments section below; or at our Community Forum; and I will be glad to answer.