Trekking is something that I recently got into. So far, most of my trips were either by car or motorcycle and the trekking part was mostly limited to just a short walk of no more than a couple of hours. However, I recently went on a few trekking trips and realized that it is actually one of the best ways to experience natural beauty. Trekking will take you to places that very few people would have seen; untouched and unspoiled by local people and tourists alike. In this post, I want to address one question which was my biggest worry before heading out on all these treks. And I am sure everyone who don't have much experience on going out on treks wonders the same. The questions of necessary items to carry for trekking.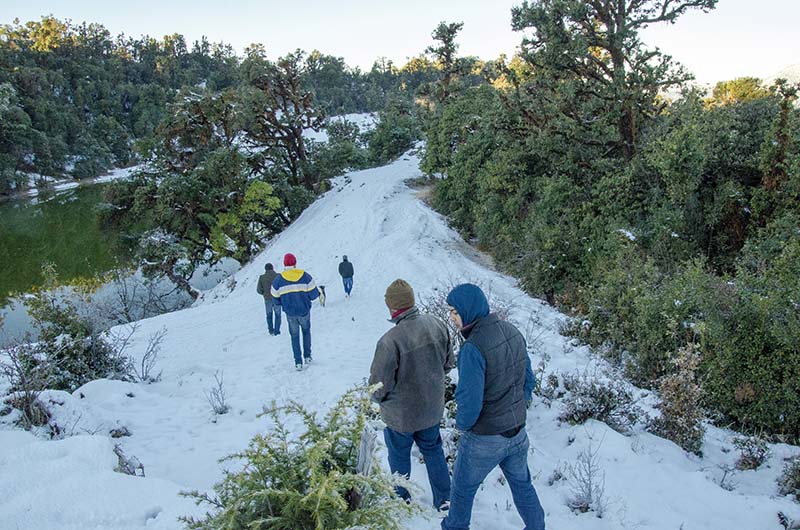 Before I go on writing this article, let me first clarify that trekking for me still is really a few hours of hike through a jungle, in snow or up in the hills. Or a couple of days of walk at most where we reached the spot, camped for the night and came back the same day. So when I put down this list of items to carry for trekking, I am really referring to the easy ones; short treks that you can do over the weekend that don't involve serious planning; and don't take you any place challenging. If that is the kind of trekking you are talking about then this article is really not for you. But if you are someone like me who would love to go on an easy and short trek as you next trip then the information below can be of help.
Easy Treks
What are some of the easy treks that you can venture upon? Well that is really a question for a different article but the Triund trek from Mcloedganj is the one that I just came back from; and can tell you that it was a great experience. It is not too challenging, not too easy either but is great in terms of scenic beauty. You can climb up to Triund on Day 1, stay there for the night and return to Mcloedganj on Day 2. If you are a complete beginner in terms of trekking then I will highly recommend it as your first trek.
I have listed some of the other treks that you can consider at the three articles below that you can take a look at.
Easy Treks in Uttarakhand : The Top 5
Top 5 Easy Winter Treks in Himachal
7 Short & Easy Winter Treks in Uttarakhand
Items to carry for trekking
Below is a list of some items that you must bring before heading out on a trek; whether easy or a difficult one.
Backpack
The first thing you need to do before any trek is to get yourself a good backpack if you didn't own one already. Three things that you will need to consider while buying a backpack. First and foremost is that it is a comfortable one and isn't putting too much stress or biting down your on shoulders. Second is that it is easy to manage and can hold several things in lesser space. Third and last is that it is capable of protecting your stuff if it started to rain anywhere on the track. Amazon has a good range of backpacks that you can review and buy if per your liking. Take a look at the link below.
Shoes
The second thing you should be worrying about is a good pair of shoes. If you can then buy a pair of waterproof trekking shoes with high ankle and good grip. These can be a bit expensive and it may sound like an additional expense right now; but trust me, you do not want to be trekking out there in uncomfortable shoes that keep slipping; hurting your feet or got wet. Buying a good quality and sturdy pair of trekking shoes can be your long term investment as well; one that will come in handy in all the treks you will venture upon in future.
Trek Pants
Can you go walking around on a trek in your fitting denims or capris? Maybe you can but it definitely is not recommended.  Shorts can sound like a good choice too but it actually is not. What you need to get are good quality and comfortable  trek pants for this purpose. I would recommend buying a synthetic one that can dry fast. If you can find a cargo styled one then all the pockets on it will definitely come in handy to carry things you need.
Water Bottle
This will probably be the most important thing to bring on a trek. You simply cannot miss bringing a water bottle along. There are two things you need to keep in mind in this aspect. The first is that your bottle can be refilled whenever you get a chance. Second is that it is not too heavy to carry otherwise it will just become additional weight. Definitely do not bring a flask if you were on a hike with nothing but a water bottle and a camera. A flask feels light for a while but then starts to feel heavy when you have to keep holding it for long. Simply buy a mineral water bottle and then keep refilling it whenever you come across a water source.
Snacks
When you are walking up a hill or through a jungle, you can assume that there is not going to be much eating involved between your breakfast and dinner. Energy will be however be draining out fast so you need to ensure that you carrying some snacks that can help you recharge quick. Energy bars, Chocolates, Dry fruits etc. will come in real handy. They don't take much space, are light in weight and very delicious of course.
Walking Stick  / Trekking Pole
Whether or not to get it is really a personal choice but I would recommend buying one if you were planning on a long trail with lots of stuff in your backpack; or if you are going to be trekking around in snow. These can come in real handy in providing stability and comfort when you start to tire, or go up steep climbs. These can also be used in clearing the path ahead sometimes.
Torch
You can either get a regular hand torch; or get a head torch that you can wrap around your forehead and keep your hands free; or get both. While on a trek, sometimes you may have to walk the last couple of kilometers in absolute dark and a torch can then come in real handy.
Basic Medicine Kit
Bring some basic medicines like for headache, fever, flu, upset stomach. Also pack a few Band-Aids, Dettol, antiseptic creams, bandages etc.
Sunglasses
Sunglasses would be greatly beneficial if you can bring one along. As a matter of fact, you would need one even more if you were planning a winter trek. Sun shining down on all the snow around definitely puts stress on your eyes. Sometimes so much that the a slight burning sensation will remain even when you try to go to sleep. Even if there wasn't any snow around, even on a bright sunny summer noon, having sunglasses on will be soothing for your eyes. Make sure you are bringing in dark sunglasses with U/V protection. People who wear spectacles should opt for contact lenses for a few days so they can put on the sunglasses as well.
Toiletries
These are some items of personal preference really so I will just list a few.
Sunblock Lotion
Moisturizer
Lip Balm
Mosquito Repellent
Toilet Paper
Paper Towels
These may sound like small items but will come in really handy. Try to bring sunblock lotion of highest SPF that you can find. Mosquito repellents I have found to be of extreme use if you were going to camp in the forest at night.
Hat Or Cap
This is another items that is extremely important. Walking for long hours with sun beating down on your head is not going to be a pleasant experience. At the least, it will tan you and at worst, can leave some serious sun burns that you must protect yourself against.
Swiss Knife
A Swiss knife tool set can be greatly handy while on treks. You don't really have to get a super expensive one if you don't want to. There are some cheaper options available online as well. A Swiss Knife will not take any space at all, will comfortably fit in your pocket and you will be surprised at how useful it will prove to be.
Necessary things to carry while trekking – Conclusion
This is really a beginners list and I am sure there are several other important items that I may have missed here. If you can think of one please do suggest. Feel free to comment and ask if case of any questions either at this page or at our Community Forum and I will be glad to answer.