This is a brief journal of our recent Kasol and Kheerganga Trip. We started at around 9 pm from Majnu Ka Tila in Delhi and the bus dropped us at the Bhuntar bus stand at 8 am the next morning. From Bhuntar, you can get lots of government buses from 7 in the morning to 5 in the evening. I personally took a cab that charged us Rs. 900 after half an hour of negotiation.
We reached Kasol by 12.30 pm and what we saw was this.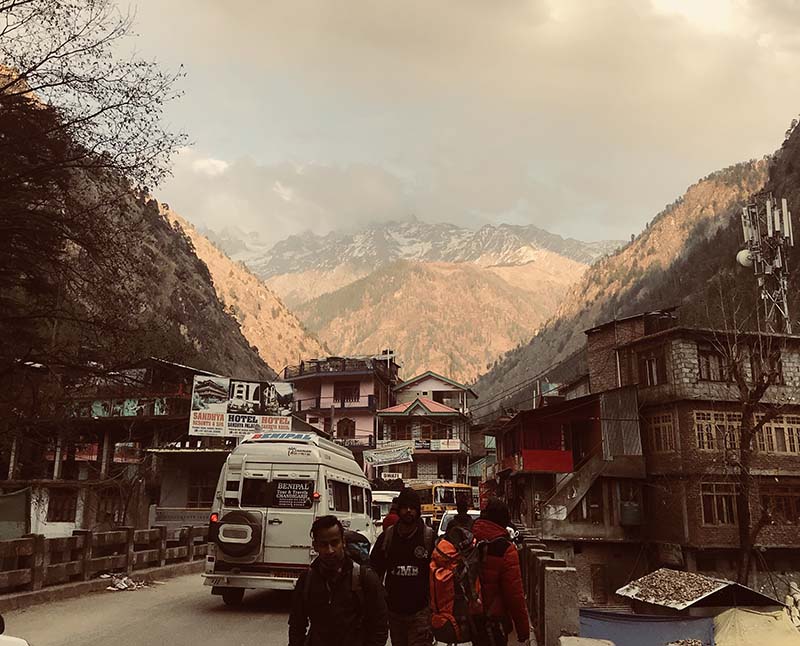 We were welcomed by the famous German bakery where we had our breakfast – delicious pancake and chocolate crepe. Because we went during peak season, all the hotels were charging a bit much then there usual and regular prices. After a bit of asking around, we found out about a great option of crossing the bridge across the mighty Parvati River and staying in the beautiful village of Chalal.
Also Read: Triund Trek – How to Plan your Adventure
So we booked our stay for the day at Shanti Cafe Chalal. The owner was a generous and kind gentleman who gave us the room with the river view. Their number is 070189 26066 in case you would like to call and book your stay.
The images above were the views on both sides of our room. In the evening we trekked back to Kasol, which took us little more than 15 minutes. We spent the evening there doing some cafe hopping and trying a lot of Israeli food.
We returned early because the next day we had to trek the mighty Kheerganga; so going to bed early sounded like a good idea.
Also Read: Jalori Pass – How to Plan your Trip & What to See
Trekking to Kheerganga
Just like from Bhuntar, you can take a government bus from Kasol as well to reach Barshaini; which is the last motorable area beside Parvati valley; and also the starting point for Kheerganga trek and Tosh. There is also the option of the private taxis available at Kasol in case you do not want to travel by Bus.
From Barshaini there are two ways to trek up to Kheerganga. One that I knew is by taking left from the bridge after Barshaini; and reaching the Nakthan village. The other one is by taking right from the bridge and reaching Kheerganga via Kalga village.
It is advisable to start the Kheerganga trek early and complete by 2-3pm. This will serve you two purposes. The first one is that you will get to enjoy a lovely evening at Kheerganga; else you won't be able to see much of the evening there in case you did not reach in time. Second is that if it got dark while you were on the trek, it will be really difficult to guess the correct paths; which can be very confusing after you reach the village of Rudranag.
Barshaini to Kheerganga
After crossing the Nakthan village (the path I chose), we walked for a few kilometers to reach Rudranag temple. There are two big cafes here which serve full meals as well as home stays. After Rudranag and another 30-45 minutes of trekking, you will reach a bridge on the holy Parvati River. After crossing this bridge a steep uphill climb begins; and believe me when I say this, that it is not easy for a first timer.
Also Read: How to Plan a Trip to Prashar Lake
So if you are not into trekking or used to walking long distances, please ensure that you do enough exercise a few days before you do the trek.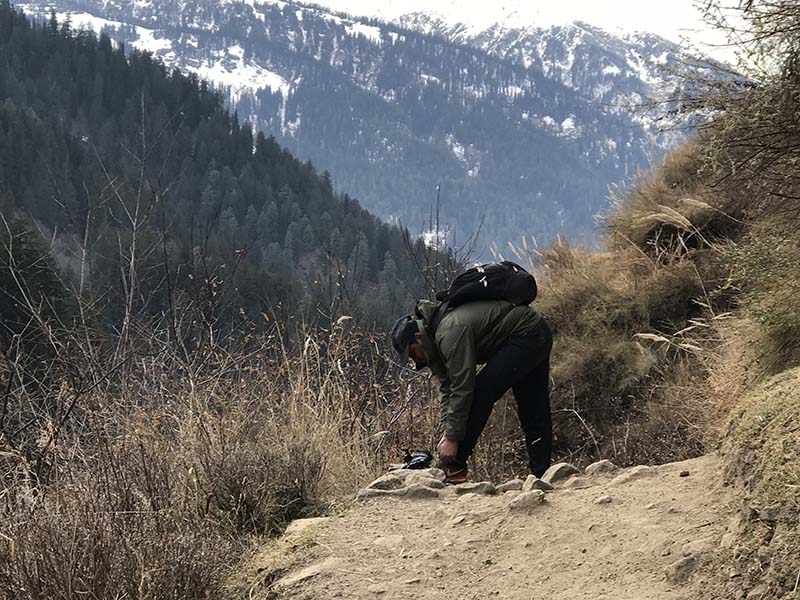 At this point, the second trail from Barshaini via Kalga merges with the one via Nakthan and from here on, it is just one trail all the way to Kheerganga. When I visited this place there were very nice indications and markings for the route to Kheerganga. I would also advise to stay on the main trek and not act foolishly by taking advice for shortcuts from anyone. The shortcuts can actually be very dangerous. I even saw a board where you can see details of a person who died while taking shortcuts on the trail.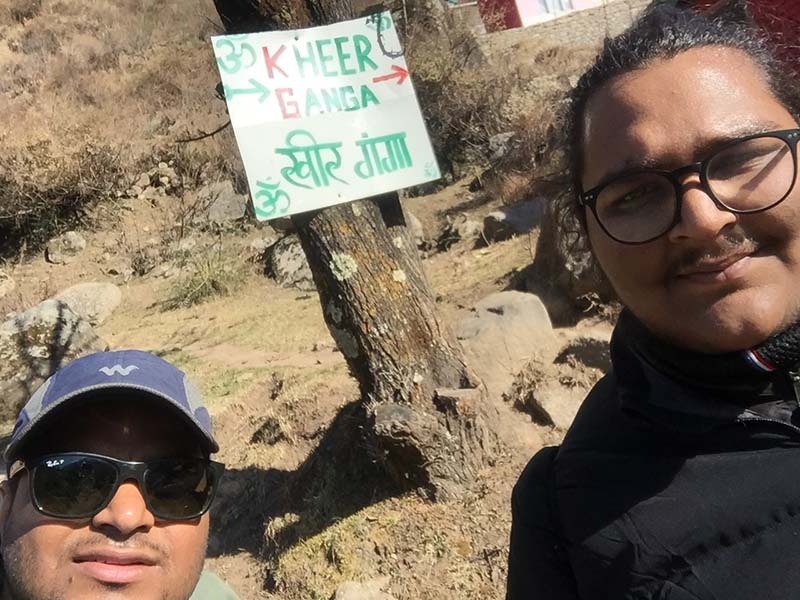 Proper signs and indications throughout the way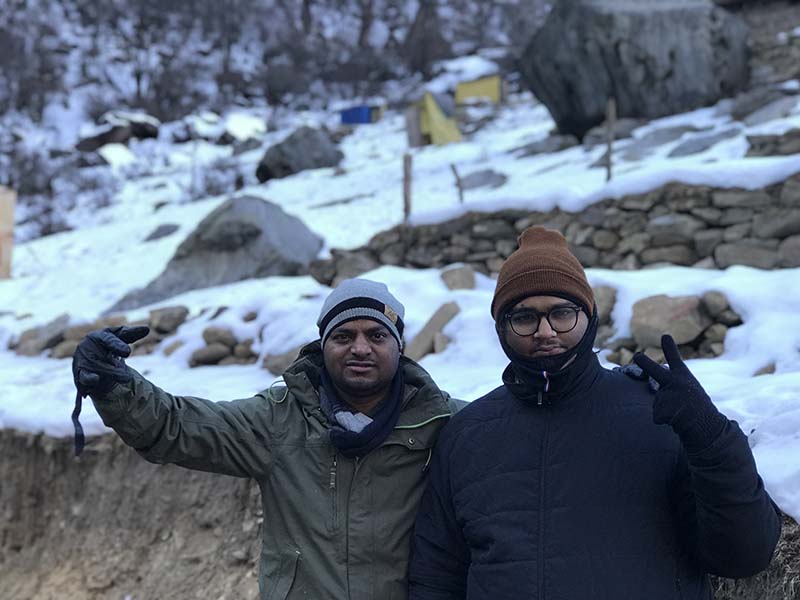 You can find enough snow if you go around December – February
Kheerganga Top
On the way uphill, you will find many cafes during the first half of the trek. Shalom cafe is probably the most famous one.  You must, however, remember to carry enough water with you. We spotted various waterfalls and water crossings on the way where you can even refill your water bottle. Please also ensure to wear good quality trekking shoes. Actually, I still wonder how those small Himachali kids run around in their flat 'chappals' there. But I suppose being a local does give you a certain advantage.
Also Read: List of Necessary Items to Carry for Trekking
After a while of trekking, when you start seeing a lot of homestays and cafes, Congratulations, you have completed the ascent of the trek.
In case you have reached early, you can see the hot water bath where out of nowhere hot water comes throughout the year.
Accommodation at Kheerganga
At Kheerganga you won't find any luxurious hotels and resorts, but you will find very good homestays with welcoming owners. Food will be quite expensive here. For example, the cafe at which we stayed was serving Maggie for Rs. 60 and Rajma Chawal for Rs. 180.
Another option for trekkers can be staying in the common rooms at the place called Ashram. It is maintained by the monks, pandits, and sadhus. Prices at the Ashram are 150 Rs per day per person including food. Meals include Daal, rice, and chapati.
Also Read: Gaumukh Trek from Gangotri – A Complete Travel Guide
Camping at Kheerganga
In case you want to experience some camping as well, you carry your own gear and pitch your tent at a suitable place at Kheerganga. There were several spots at the top where camping would be an awesome experience.
There are goods of basic necessities available at Kheerganga. I have even heard that they even have opened a shopping mart kind of thing uphill; crazy isn't?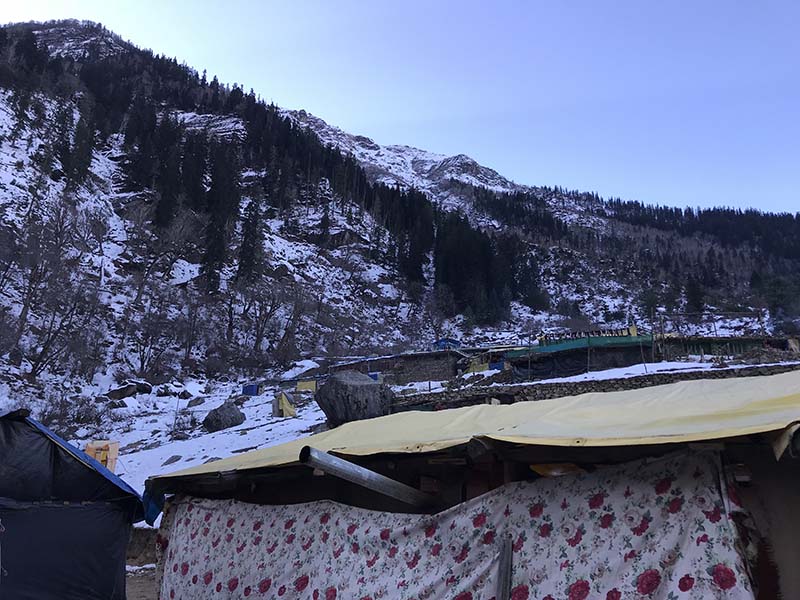 A typical homestay @ Rs. 500 per person and another Rs. 500 for food and water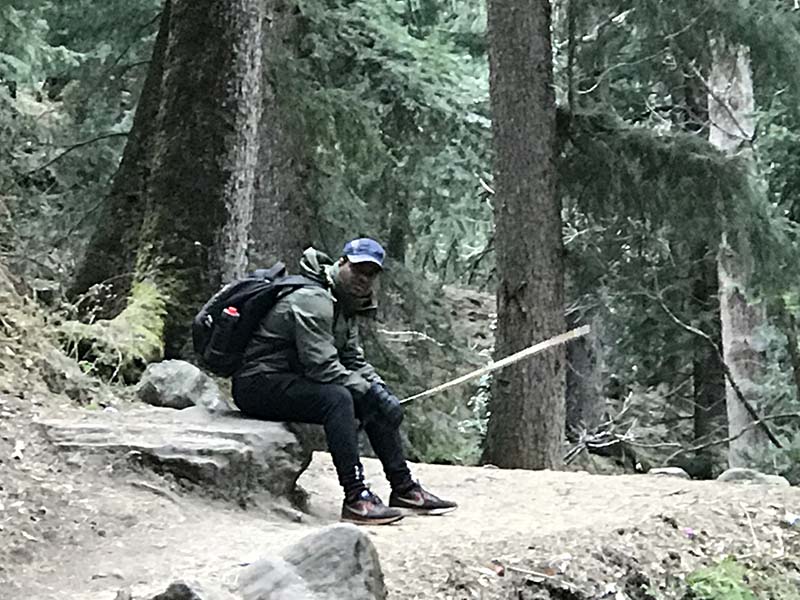 A tiring uphill after Rudranag
The Legend of Kheerganga
According to the locals, it was the time when Lord Shiva asked his sons Karthikey and Ganesh to travel around the world. Lord Ganesh, thinking that the whole world lies at his parent's feet, just walked in a circle around Shiva and Parvati. Whereas Lord Karthikey embarked on his journey of the world tour. Impressed by Ganesha's wit, Shiva made him the king. Years after Karthikey returned home, he saw that Ganesh was made the king and was enjoying all the powers and facilities he had expected being an elder brother.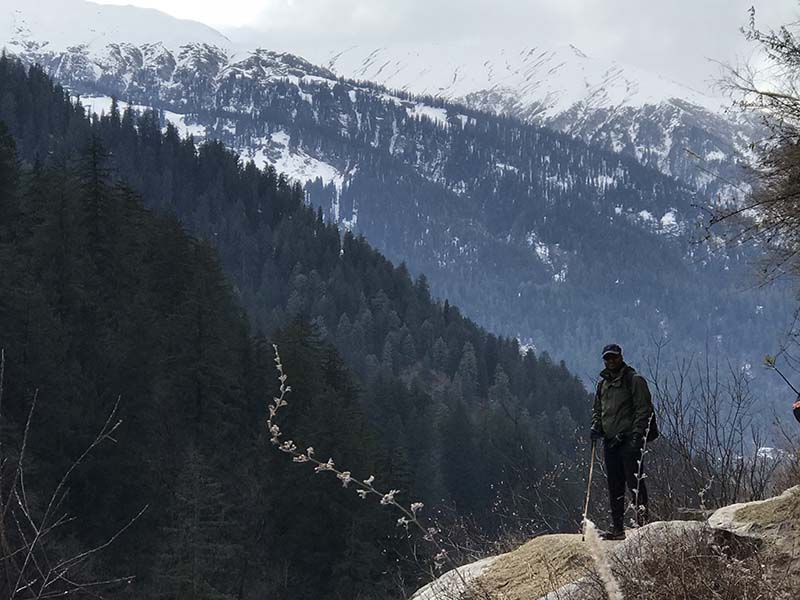 Mid way to Kheerganga
Frustrated and angry, He went to the cave (which is in Kheerganga) for deep meditation. Later, Shiva and Parvati came here to take Karthikey home. Out of love for her son, Goddess Parvati made the kheer (rice pudding) flow from the mountain (kheer-ki-ganga which literally translates to the river of rice pudding). Later lord Parshuram, on realizing the oncoming of kalyug and that there could be a fight amongst people, stopped the kheer and what remained is the hot water.
Even now, one can see the white rubber-like particles (malai) along with the hot flowing water. The water remains boiling hot throughout the year and is said to be rich in natural minerals and can cure stomach related disorders. Lord Shiva liked this place so much that he decided to stay here. It is said that Lord Shiva himself meditated here for thousands of years.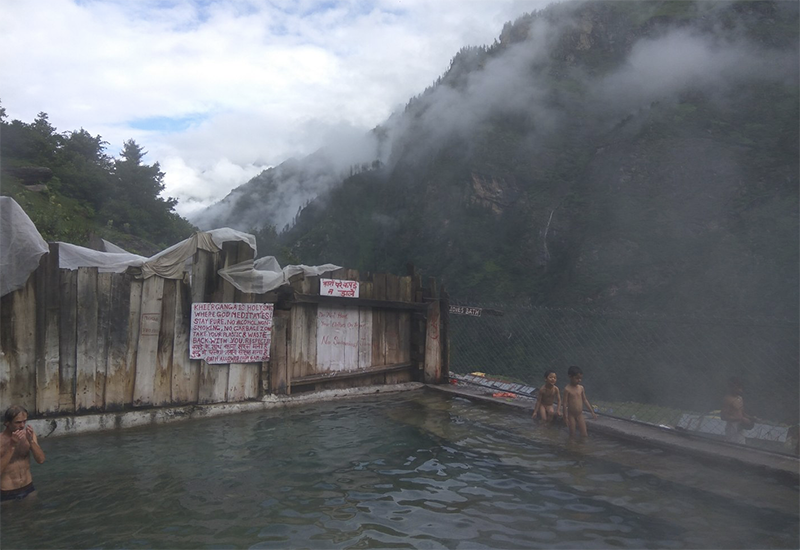 The famous hot water bath of Kheerganga
Other Tips
As such you won't feel any major oxygen change but still, I would suggest to keep smoking and drinking under control. Alcohol is strictly prohibited at Kheerganga but some cafe owners won't mind you drinking at their place.
If you were trekking during the rainy season or at the time when the snow melts, you will find the rocks to be very slippery. You must practice extra precaution while trekking during these seasons; and even more so during the descent which is more dangerous than the climb at these times.
While it is possible to trek to Kheerganga throughout the year, things may really get bad in winters when it snows heavily; and also during the heavy rains in Parvati valley.
Last year Kheerganga was shut down for a couple of days because of increasing water pollution and water usage but it was reopened in a few days of closure. So it's a humble request that you all carry a trash bag in which you collect all the garbage and not litter the place.
The way of the descent remains pretty much the same. But because while coming down your entire body weight comes towards the front, chances of slipping and falling down are very high. So it is advisable to be extra cautious.
Also after reaching Barshaini, you can even trek to the Tosh village which is merely 3-4 kilometers away from Barshaini.
There is not as such any requirement of a guide but if you have extra bucks in your pocket don't refrain from hiring one. Believe me, they make life very easy here; whether it is in terms of setting up the tent or guiding the way.
Clothes for Kheerganga Trek
If you visit Kheerganga during summers, you will experience pleasant weather. It will neither be too cold nor too warm, so carry plenty of your regular cottons and keep a sweater/jacket handy. But things can get freezing cold if you visit around November – February. You may even experience snowfall here. Like in the pictures above, you can clearly see us wearing 4+ layers of warm clothes by decathlon. We were still shivering while sleeping. So bring along a very warm and windproof pair of jackets.
Also Read: Tungnath Chandrashila Trek – How to Plan & Prepare
Best time to visit Kheerganga
The best time to visit, if you are not at all interested in snow, is June. But you have to be careful about the rains if traveling towards the end of the month. In case you want to see some snow, I will suggest that you go in November. The snow at this time is comparatively less which also means that it will be less risky, less cold and more enjoyable.
Kasol and Kheerganga Trip – Conclusion
I hope the information above on visiting Kasol and Kheerganga was of help. Overall, it was a great trip that I will highly recommend to even people who have never been on a trek all their life. If you have any questions; or need any other details; please feel free to ask in the comments section below; or at our Community Forum; and I will be glad to answer.