I remember when I was driving to Mcleodganj for the very first time a few years ago; I noticed a board by the road a few kilometers before the town. In a light shade of Blue and white, this board was actually a welcome sign that read "Welcome to Mcleodganj". But there was another line written there in a smaller font that caught my eye. That line read "Mcleodganj is where India meets Tibet". I read the board, continued driving to this small yet charmingly picturesque town of Himachal to realize how true that writing was. This place does seem like an amalgamation of Indian and Tibetan culture and it becomes hard to realize which one takes precedence.
For a brief introduction, Mcleodganj (also spelled McLeod Ganj) is a small hill station located in Himachal Pradesh. At a distance of about 7 kilometers from Dharamshala, it is also known as "Little Lhasa" or "Dhasa" by the locals because of its large population of Tibetans. His Holiness the 14th Dalai Lama resides in Mcleodganj and the Tibetan government-in-exile too is headquartered here. It is a popular tourist destination that attracts thousands of tourists each year, both Indian and foreign. You will, in fact, find more international visitors here taking courses in Buddhism, Yoga, and meditation; and volunteering with the Tibetan community. There are several trek routes originating from Mcleodganj including the 7 kilometers long Triund trail that is considered among the top and most popular ones in the country.
Image: Jpatokal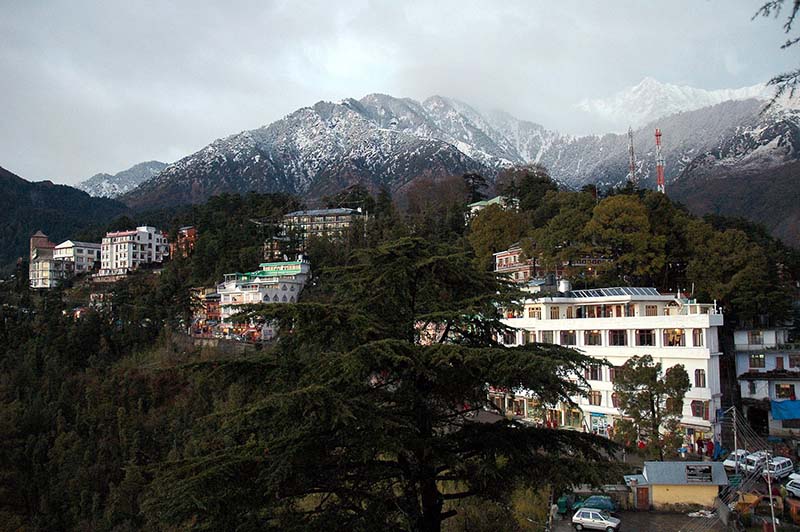 Below is a breakup of the information that I have covered in this article. You may click on the headings in the box below to jump straight to that particular section.
Know Mcleodganj
---
Where is Mcleodganj Located
Mcleodganj is located in Kangra District of Himachal Pradesh at a distance of 7 kilometers from Dharamshala, 250 kilometers from Chandigarh and 480 kilometers from Delhi.
History of Mcleodganj
McLeodganj is named such after Sir Donald Friell McLeod, a Lieutenant Governor of Punjab. Mcleod came from his name and the suffix ganj is a common Hindi word for "neighborhood". He made McLeodganj his official residence and set up the Government of Tibet in exile here in 1960. Along with him, Mcleodganj also became home to several Buddhist monasteries and thousands of Tibetan refugees.
Also Read: Triund Trek – How to Plan your Adventure
Why visit Dharamshala and Mcleodganj
There are several reasons to visit Dharamshala and Mcleodganj for your next trip. But the biggest one is that it is a perfect tourist destination that caters to a vast variety of visitors and has on plate a little bit for everyone. Natural beauty of the place is of course beyond comparison but you also get to see a perfect mix of Indian and Tibetan cultures. Families will have a great time visiting the local market, eateries and places like Bhagsu Waterfall. Adventure enthusiasts can venture upon the Triund trek and camp there at night to have their fill of the thrill. You can even take some short cooking lessons here and learn to make a few Tibetan dishes. Photography enthusiasts will have plenty to interest them and keep them occupied for days.
Mcleodganj is very well connected by road and you will have no problem getting here. There are ample amount of hotels to choose from in all budget ranges. Every phone network works well in Mcleodganj and you will always remain connected. In short, It is also a very popular and safe place for bringing your families and children along; but at the same time, also a fun place to hang out with friends and have a great time.
How to Reach Mcleodganj
---
A journey to Mcleodganj is only possible by road. Depending on your own preference, you can either drive on your own; or catch a means of public transport. Road connectivity to Mcleodganj is great and there is a regular bus service to the place that remains operational throughout the year. There is no railroad or airport here but it also is not too far away either.
How to reach Mcleodganj by Road
I will begin by first explaining how a person can reach Mcleodganj if they were traveling by their own vehicle. For the sake of explaining the route, I will assume Delhi as your starting point. However, even if you were coming from a different city, going through the information below will still at least give you an idea on how to reach Mcleodganj.  The route explained below will remain applicable for both cars and motorcycles.
Starting from Delhi, route to Mcleodganj  will be as mentioned below.
Delhi – Panipat – Karnal – Chandigarh – Rupnagar – Anandpur Sahib – Una – Amb – Kangra – Dharamshala – Mcleodganj
There can, of course, be several alternate routes but this will be the best and the fastest way to travel. Total journey will be of about 480 to 500 kilometers depending on where you started from in Delhi. Travel time will be anywhere between 10 to 12 hours. Road condition for the entire journey will be a mix of good and average. I will highly recommend taking an early start from Delhi though so that you are able to reach Mcleodganj well within time.
Mcleodganj Road Condition
Condition of the road to Mcleodganj is mostly a mix of good and average. There are a few bad patches in between but nothing too terrible. For the most part of it, your journey will be smooth.
Also Read: Best time to Visit Mcleodganj and Dharamshala
Best Vehicle for Mcleodganj Trip
There is no best vehicle as such. People arrive here in all kinds of cars and I have seen locals drive around even in Maruti 800 and Alto. The only thing you need to ensure is that your vehicle is well serviced; is in good condition and you know how to maneuver it around steep climbs and sharp turns.
How to reach Mcleodganj by Bus
Mcleodganj and its nearby town of Dharamshala are very well connected by public transport. There are regular bus services to both these places from almost every major town nearby. The main Bus terminal is actually in Dharamshala where most of the buses stop but a few from Delhi and Pathankot go all the way to Mcleodganj as well. If however, your bus dropped you at Dharamshala Bus stand, you will easily be able to find another mode of commute for your final stretch of the journey. There is a regular Bus service between both the places that costs about Rs. 20 per person and will drop you at Mcleodganj from Dharamshala in 15 to 20 minutes. If you weren't able to find a Bus then the second option will be a shared cab which too is available in plenty and costs about the same.
Apart from the state transport buses, several private companies and tour operators also ply their buses on the route. It is much like Manali in fact where you can easily get a Volvo for from cities like Delhi, Chandigarh, Pathankot or Dehradun. There is actually a direct bus between Manali and Mcleodganj as well. These are mostly all luxury buses that take about 13 to 14 hours to complete the journey and will cost between Rs. 500 to Rs. 1000 per person, depending on the type of Bus and place you were coming from.
How to reach Mcleodganj by Bus from Delhi
If you wanted to travel from Delhi to Mcleodganj by Bus, then you can board one from the Tibetan colony near Majnu ka Tila. These are mostly all overnight buses that start from Delhi by 5 or 6 PM and will drop you at Mcleodganj by morning. Fare would be around Rs. 500 for an ordinary Bus and around Rs. 1000 for a Luxury Volvo one. Word of caution, this journey can be very tiresome and uncomfortable for some people in an ordinary Bus.
Mcleodganj Bus Booking
Tickets for HRTC Buses can be booked online at the link below.
For private companies, you can either buy one via the travel agency itself or online sites like RedBus.
Buses from Mcleodganj for Return Journey
For your return journey, you can board a bus directly from Mcleodganj Bus stand. You can, in fact, even buy your tickets a day or two in advance from the HRTC ticket counter, near McLlo Restaurant on the central square.  Most of the Buses arrive and start from Dharamsala Bus stand only. There are however a few selective buses that reach Mcleodganj and begin their return journey from there. I am listing these buses below with their timings and fare per person. If your timings or destination did not match with either of these then you would have to travel back to Dharamshala Bus Stand and find a bus there.
Mcleodganj to Delhi Bus
Several buses throughout the day
Fare: Rs. 500 to Rs. 1000 per person
Travel Time: 12 to 14 Hours
Mcleodganj to Chandigarh Bus
Fare: Rs. 800 per person
Travel time: 6 hours
Departure: 6.30pm
Mcleodganj to Pathankot Bus
Fare: Rs. 138 per person
Travel Time: 4 to 5 hours
Departure: 10am, 11am, 1.20am, 2.30pm, 4pm
Mcleodganj to Dehradun Bus
Fare: Rs. 500 to 1100 per person
Travel Time: 10 to 12 hours
Departure: 2 pm (ordinary) and 7 pm (Volvo)
Mcleodganj to Rishikesh Bus
Fare: Rs. 500 to 1000 per person
Travel Time: 12 hours
Departure: 7.30 pm
Mcleodganj to Manali Bus
Fare: Rs. 400 to 600
Travel Time: 10 to 11 hours
Departure: 8.30pm and 9.30pm
Mcleodganj to Dalhousie Bus
Fare: Rs. 245 per person
Travel time: 7 hours
Departure: 6.30am
Mcleodganj to Manikaran via Kasol
Fare: Rs. 420 per person
Travel Time: 10 to 11 hours
Departure: 7 pm
How to reach Mcleodganj by Flight
Gaggal Airport, also known as Dharamshala- Kangra Airport or Kangra Airport, is the nearest airport to Mcleodganj located about 20 kilometers away. Once you land at the airport, you can easily board a taxi from right outside which will drop you at Mcleodganj in about 30 minutes. There are several flights operated by Air India and SpiceJet Airlines between Delhi and Kangra. But please note that the due to the location of the airport, the weather is a very big reason here for flight cancellations; especially during winter and monsoon.
Also Read: Monasteries in Mcleodganj and Dharamshala
How to reach Mcleodganj by Train
Pathankot is the nearest major railway station located about 100 kilometers from Mcleodganj. There is however another narrow gauge railway station at Kangra and is only about 30 kilometers away. The train that brings you at Kangra is actually a Toy Train (like the Kalka Shimla one) so unless you were hoping in to enjoy this train ride, better would be to board a train for Pathankot only.
How to reach Mcleodganj from Pathankot
There are direct Buses from Pathankot for Mcleodganj throughout the day and it takes 3 to 4 hours to complete the journey. These are all operated by HRTC and fare per person is about Rs. 150. If you were coming from Amritsar to Mcleodganj, then too you would have to reach Pathankot first and changes Buses. If you reached Pathankot by train then the Bus station is right next to the railway station where you can find a Bus for Dharamshala.
How to reach Mcleodganj by Taxi
If you hired a taxi from Pathankot, then it would cost you about Rs. 1200 for a drop and Rs. 2200 for a return journey. From Amritsar, a taxi to Mcleodganj will ask for Rs. 2500 for drop and Rs. 3500 for return. From Jalandhar or Chandigarh, it will cost you between Rs. 2000 to Rs. 300 for Mcleodganj.
Direct private taxis are available from Delhi as well for Mcleodganj. You can either book a cab through a travel agent or find one directly from Majnu Ka Tila Tibetan settlement in North Delhi on the ring road. A direct cab from Delhi will cost between Rs. 5,000 to Rs. 10,000 depending on the type of car you decide to rent.
Also Read: Places to visit in Mcleodganj and Things to Do
Local Transport in Mcleodganj
Mcleodganj is a very small town that you can easily cover on foot in less than half an hour. From the main square to Dharamkot will not take more than 20 minutes even though it involves some steep climbing as well. Walking to other parts too will not take long but there is local transport available. There are regular buses and shared cabs between Dharamshala and Mcleodganj; and other nearby villages like Bhagsu and Dharamkot. You can even hire auto-rickshaws for a day long sightseeing tour for about Rs. 500 and a taxi for about Rs. 800. They will take you to local places like Bhagsunag, Dal Lake, Naddi village, Church of St. John & Dalai Lama's Temple.
There are also several motorcycle rental agencies available as well. A lot of people hire automatic bikes like Activa to move around in the town. Usual charge is Rs. 1000 to Rs. 1500 per day for Enfield and Rs. 800 for scooters.
The auto-rickshaw stand in Mcleodganj is slightly north of the main square. Fares for an auto rickshaw are around Rs. 50 for Bhagsu and Rs. 70 for Dharamkot.
Taxi stand too is near auto rickshaw stand only. A private taxi would cost you Rs. 800 to Dharamshala airport, Rs. 4000 for Chamba and Rs. 5500 for Manali. Return day trips cost Rs. 2000 to Palampur and Rs. 2500 for a day trip to Kangra including a short trip to Masrur as well.
How to reach Mcleodganj in Winter
All of the above information remains applicable in both summer and winter. Mcleodganj remains open throughout the year and you should not have any problem reaching here irrespective of the month of your visit.
Tourist Attractions in Mcleodganj and Things to Do
---
What to see in Mcleodganj
Below is a list of all tourist places in Mcleodganj and its nearby areas. I have actually covered this topic in greater details in a different post Tourist Attractions and Activities in Mcleodganj. Please refer to this article for more details on all these places; like where they are located, how you can visit and how much time would be needed.
Bhagsu Falls
Bhagsu Nag Temple
Shiva Cafe
Triund
Sunset Point
Saint John in the Wilderness Church
Namgyal Monastery
Kangra Fort
Masroor Rock-Cut Temples
Tibet Museum
Norbulingka Institute
Dal Lake
Gunna Devi Temple
Kareri Lake
Indrahaar Pass and Minkiani Pass
Dharamkot
What to do in Mcleodganj
Trekking
Camping
Relax and Have Fun
Photography
Shop for Souvenirs
Try Tibetan Food
Enjoy Cultural Shows
Star Gazing
Take Yoga Sessions and Spa Therapies
Boat Ride in Dal Lake
Paragliding
Interact with people from different countries and cultures
Best time to visit Mcleodganj
---
Weather of Mcleodganj
Due to its high altitude, the weather of Mcleodganj remains pleasant throughout the year. It does, however, get very cold in the months of winter but summer here is very mild. From January to March, the region experiences frigid weather and frequent snowfall. The frequency of snowfall is more in January. The months of February and March are mostly when snow melts and weather starts to warm up a little towards the end. The temperature during the day time in these months hovers around 9°C, but after sundown, the mercury drops to about -1°C.
Spring arrives in April marking the beginning of tourist season in Mcleodganj. Weather from late March to June remains excellent with sunny days and clear skies. By June however, it can get a little hot up here as well with mercury going as high up as 32°C during the day. The average temperature in these months remains to be around 22°C. It starts to rain here by June and monsoon reigns throughout the months of July and August. This entire area experiences quite a bit of rain each year; sometimes enough to cause landslides and block roads. Incessant rains can even force you to remain indoors at the hotel for the entire duration of your trip and ruining all the fun.
Monsoon recedes by September but leaves behind plenty of green vistas to enjoy. Weather and vistas in September are the best throughout the year. Autumn season starts in October and everything that was green now turns to golden orange; giving the valleys a magical tough. Winter starts to settle by October end and temperature again drops down under 10°C. By December end, it can snow here anytime.
Best time to visit Mcleodganj
Now considering the weather description above, the months of April, May, June, and September are definitely the best months to plan a trip to Mcleodganj for the majority of the people. If you, however, wanted to enjoy snow and probably even catch a live snowfall, then you should plan your trip in either January or February. Chances of seeing a snowfall are however more in January than February. If you are someone who doesn't like crowded places and enjoys offbeat destinations more, then you should avoid visiting in April, May, and June. This is the time when most families plan a trip to Mcleodganj with summer vacations in the schools and the weather being excellent here. If you want to visit when there are fewer people around then plan in either July or August.
In terms of photography, April, September, and October will be the best time. For a budget trip, visit in July, August or September. If you do not like cold weather, then definitely avoid a trip between October to March. For someone who is not too fond of rain, July and August will be a bad time. If you are ready to risk the rain though, then these two months offer the best and most stunning views throughout the year. This is the time when monsoon brings the entire region to life with lush green views all around. November and December are generally a bad time to visit because the vistas at this time are very dull and dry. Weather is going to be extremely cold and there won't even be any snow around. For trekking, avoid January, February, July and August.
Also Read: Delhi to Mcleodganj – A Life Altering Journey
Clothes for Mcleodganj
What clothes to pack will entirely depend on the time of your visit. For a trip from November to March, you should pack heavy woolens, thermals, gloves, warm socks, and a heavy windproof jacket. Make sure that your jacket also has a hood to protect your head, face, and neck. If not, then you will also have to bring in a warm cap and muffler.
For a trip in April, May and June; just bring in your regular cottons, a couple of light woolens with a jacket and that will do. In May and June, it gets very warm here and you probably will not even need a jacket but pack one to just be on the safer side. If you are visiting during monsoon season, then it would be best to pack clothes that can dry faster; like polyester. Mcleodganj is best explored on foot, so sturdy, all terrain, all weather shoes are a basic requirement.
Things to pack for Mcleodganj
Some of the other items that you should pack for the trip are as mentioned below.
Documents (ID and address proof)
Hygiene and personal care
Sanitary products for ladies
Items of personal use
Warm Caps (for winter trip)
Sunglasses
Sunblock lotion with highest SPF that you can find
Toilet Paper
Pair of Waterproof Warm Gloves (for winter trip)
Thermals (for winter trip)
Personal Medical Kit
Prescribed medicines if you are on medication
Hard Cash as ATM's aren't really dependable
Head Phones/Earphones
Power Bank
Chargers for your electronic items
Umbrella or a Rain Poncho (if visiting during monsoon)
Torch
Trekking shoes (recommended for trekking) or Shoes with good grip.
Snow Boots if visiting in winter
Comfortable Lower if planning to go on a trek as jeans are not advisable for this purpose
Accommodation and Other Facilities
---
Hotels in Mcleodganj
Mcleodganj is a major tourist destination and hence, hotels here are in ample; and they are spread throughout the town. No matter what your budget or preference is, you will easily be able to find a place here to stay. Whether or not to book in advance is really a personal choice. I find it better to first reach the destination and negotiate an on the spot deal. But if it gives you peace of mind, then you can book your stay prior to your arrival as well. Most of the hotels and guest houses are located close to the main bus stop.
Bhagsu and Dharmakot are 2 smaller villages where a lot of people chose to stay because they are less crowded and quieter. Both of these places are within walking distance. If you want a quieter place within Mcleodganj itself then try finding a hotel on Jogiwara Road. If you want to stay for a longer duration, there are a few cheap places near Yongling School on Jogiwara Road. Just head down the steep set of stairs near the school and ask around.
Every year around March, the Dalai Lama holds a teaching session which lasts for about 10 days or so. At this time, the entire town gets very crowded and prices of hotels too get inflated. In this case, you should look around Dharamkot and Upper Bhagsu for cheaper accommodation.
Camping
Mcleodganj is really a small town so there are no campsites within Mcleodganj. You will find several of them on the outskirts though. If you do want to go camping then my advice would be to do so at Triund. That is where you will get the best views from; and majority of the people camp there only. If you were however not ready to trek up all the way then you can try to find a campsite near Bhagsu Waterfall or on the trail to Triund. Most of the campsites here are either Triund or on the trail or at Bhagsu. If you want to go camping on your own then you can do that too but my advice would be to not pitch your tent in the middle of nowhere.
Also Read: Sightseeing in Mcleodganj – A Natural & Cultural Paradise
Bank / ATMs
Almost every major Bank has its branch in Mcleodganj and provides ATM services. It is highly improbable that you will have trouble finding a working ATM in Mcleodganj. But I would still advise that you bring in enough cash from home only and not rely on the ATMs here.
Petrol Pumps and Mechanics
There is no petrol pump in Mcleodganj but there are several in Dharamshala and on the route. Mechanics too are available in Dharamshala but you may find a few in Mcleodganj as well for minor fixes like punctured tire etc.
Hospital / Medical Assistance
There are several hospitals, clinics, and pharmacies in both Dharamshala and Mcleodganj. Finding medical assistance here will not be a problem at all.
Mobile Network and Data Connectivity
No matter which network you were on; or if it was a prepaid or postpaid; your phone will work fine in Mcleodganj. All service providers have good connectivity here and they will all provide 4G data.
Once you start trekking towards Triund, your chances of remaining on the network are best with BSNL only.
Electricity and other facilities
There is electricity in the town and all the hotels. High-speed internet and Wifi too is available at restaurants, guest houses, and hotels. Mobile phones will get 4G data. As a tourist, you will get every facility that you may need.
Also Read: Mcleodganj to Triund Trek – A Day of Adventure & Fun
Food and Shopping
---
What to eat in Mcleodganj
When it comes to food, Mcleodganj practically is the world on a plate for you. Out here, you will find a variety of authentic Tibetan, Lebanese, Italian, and French cuisines. There are numerous bakeries selling delicious cakes, cookies, and other products at very reasonable prices. If you like your food Indian, then there are several places where you can get an amazing North-Indian meal.
Some of the simplest food that you would want to try out here is a variety of Momos, Thukpa, Tingmo andBakleb (a Tibetan version of 'Samosas'). Another specialty of Mcleodganj is honey ginger lemon tea, which is a very refreshing drink. For a quick takeaway, try veg momos on the upper part of Jogiwara road and outside the entrance to the Tsuglagkhang complex.
Please keep in mind that Wednesday is vegetarian day; and most of the restaurants will not serve any meat dishes.
Where to eat in Mcleodganj
Mcleodganj has numerous restaurants including cheap Punjabi dhabbas and mid-range Tibetan and Western establishments. Jogiwara and Bhagsu road have several local eateries where you can try fried sausages, stuffed omelets, rolls, soups, thukpas, and several other items at very reasonable rates. Nick's Italian kitchen and Jimmy's Italian kitchen are well known for great pizzas, lasagna, and gnocchi. Tibet Kitchen sells some great and authentic Bhutanese and Tibetan food. If you want to taste some Japanese food like sushi rolls, Mizo soup, and steamed fish then try Lung Ta. Namgyal Cafe, Shiva cafe and Mclio restaurant are some of the other good local restaurants.
Shopping in Mcleodganj
Listed below are some interesting items you can buy in Mcleodganj.
Singing Bowls: These Bowls produce a beautiful melody when rubbed with a wooden stick.
Buddha statues
Different types of tea like Kangra Tea, Tibetan Tea, and Green Tea
Prayer wheels
Prayer flags
Local Tibetan handicrafts
Decorative knickknacks
Bead necklaces
Metalwork jewelry
Silk and satin wall hangings
Fabric paintings
Woolen items like Sweaters, scarves, and socks
Table mats
Clothes and bedspreads with ethnic designs
Colorful Bags and Purses
Handcrafted diaries
Handmade paper
Books on Tibetan culture and Buddhism
Rugs and carpets
Mandala paintings
Thangkas
Where to go shopping in Mcleodganj
Jogibara Road, Kotwali Bazaar, Tibetan Mini Market and craft shops near the Dalai Lama temple are some great places to go shopping.  There is a shop at the Norbulingka Institute that sells some beautiful wall hangings and decorative pieces. 'Nowrojis' is known to be the oldest shop in Mcleodganj. It was opened in 1860 and they have a beautiful collection of metal crafts, wooden masks. The Green Shop is an outlet that sells handcrafted diaries and paper and other 'green' Items. Dharamshala Tea Company is where you can buy different kinds of tea.
Also Read: Mcleodganj to Delhi – The Return Journey Home
Itinerary for Mcleodganj
---
Below is an example of an itinerary of how you can plan your trip to Mcleodganj. Your final travel plan will, of course, depend on several factors like time in hand and mode of travel; but the information below will at least give you an idea on how to draft your own itinerary if you weren't able to follow the below mentioned one. On a minimum side, 4 to 5 days is what I will recommend as an ideal time to visit Mcleodganj.
For the sake of the itinerary, I will assume Delhi as the starting point. However, even, if you were coming from a different city, only the journey on 1st and last day will be different. Rest of the details will still apply. There are multiple ways that the trip can be done and I will suggest a few different itineraries as an example.
Itinerary # 1
Delhi to Mcleodganj. Start early from Delhi and visit Kangra Fort on the way – Day 1
Sightseeing in Mcleodganj. Visit Tsuglagkhang Complex, Namgyal Monastery, Dal Lake and Sunset Point – Day 2
Visit Bhagsu Nag Temple and Waterfall. Trek to Triund and camp there for the night – Day 3
Trek down to Mcleodganj from Triund. Visit the local market, do some shopping and spend time relaxing in the town – Day 4
This is an optional day but fun if you can add. On this day, you can either drive to Masrur temples and stay another day in Mcleodganj. Or you can drive from Mcleodganj to Bir Billing and enjoy Paragliding there – Day 5
Return to Delhi – Day 6
Itinerary # 2

Delhi to Mcleodganj – Day 1
Bhagsu Waterfall, Bhagsu Nag Temple & Shiva Cafe. See the market in the evening – Day 2
Triund Trek. Camp for the night – Day 3
Trek down to Mcleodganj and drive to Dharamshala. Stay for the night in Dharamshala – Day 4
Dharamshala to Delhi – Day 5
Also Read: Thanedar, Himachal – How to Plan your Trip & Explore
Itinerary # 3

If you were traveling by Public transport and thinking of making a short trip specially for Triund Trek then you can travel in the following manner.
Leave for Mcleodganj from Delhi ISBT by evening – Day 1
Arrive early morning at Mcleodganj. Rest for for a bit, eat something and leave for Triund. Reaching Triund should take about 5 hrs and you will be there by evening. camp for the night – Day 2
Leave from Triund and come down to McleodGanj. Explore Mcleodganj till evening and catch the 6pm bus to Delhi – Day 3
Reach Delhi early in the morning – Day 4
So in a way, you are actually just spending 2 days for the trip.
Itinerary # 4

Another way the journey can be made is like below. This is for people who have no interest in trekking to Triund.
Delhi to Mcleodganj & Night stay at Mcleodganj – Day 1
Mcleodganj Sightseeing. Visit Namgyal Monastery, Adishakti Temple Naddi, St. John In The Wilderness – Day 2
Visit Bhagsu Waterfall and come down from Mcleodganj to Dharamshala – Day 3
Dharamshala Sightseeing – Day 4
Dharamshala to Delhi – Day 5
Budget for a trip to Mcleodganj
---
Below is an estimate on how much staying in Mcleodganj may cost you on a daily basis. Amount mentioned below is in Indian Rupees.
If traveling on a Budget
Dorm bed: 400 to 600
Double bed room in budget hotel: Rs.700 – 1000
Meals: 100 – 300 per person / day
Bus/train tickets: 300 – 500 per person
For a trip that is not a strict budget
Double hotel room (mid-range): 1500 – 2500
Meal in mid-range restaurant: 600 – 1000 per day
Local taxi/auto-rickshaw: 500 – 2000 per day
Luxurious Trip
Deluxe hotel room: 5000 and above
Meal at superior restaurant: 2000 and above
Hire car and driver: 2000 and above per day
Also Read: Jalori Pass – How to Plan your Trip & What to See
Other Tips / Quick Facts
---
People and Culture of Mcleodganj
The Tibetan Buddhist Community is the majority in Mcleodganj. The 14th Dalai Lama has his residence here. Others include people of Gaddi Community and Christians. You will also find a lot of foreigners who have taken residence in Mcleodganj, especially in Dharamkot due to which it is also sometimes referred to as 'Hippie Village'.
Festivals
Buddha Purnima: Celebrated in the month of March or April
Losar: Celebrated for three days in the month of February or March
Halda: Celebrated for two days and commemorates the arrival of the New Year
Lohri: Celebrated in mid-January for fertility and prosperity
Himachal Winter Carnival: Organized in the month of February
Language
Tibetan, Hindi, and English are the main languages spoken and well understood in Mcleodganj. Locals also communicate Himachali languages like in Pahari or Kangri.
Quick Facts
Does it snow in Mcleodganj?: Yes, from late December to February
When is Mcleodganj open?: The place is accessible throughout the year
Mcleodganj Altitude: 2,082 metres (6,831 feet)
Mcleodganj Temperature: Average temperature of 22°C in summer and 5°C in winter
Time needed to visit Mcleodganj: 4 to 5 Days at least
Also Read: Tourist Places in Narkanda, Himachal
Other Tips
---
Mcleodganj is a very safe place to visit but it is advisable to take the usual precautions regarding money and belongings which you would do anywhere else as well. Be careful when alone at night and plan your itinerary well. Do not accept rides from strangers, especially if you were a solo woman traveler.
Powercuts in Mcleodganj are very common. In upper parts near Bhagsu and Dharamkot, it gets very dark after sunset. The path and rocky steps can be a bit tricky so if you were heading that way after dark, make sure you are bringing a torch along.
Places like the Triund trailhead get completely deserted after sunset so make sure you are making it back within the time.
There are a lot of Monkeys in the area and you should practice precaution around them. Do not offer them food or stare at them, and definitely, do not bare your teeth at one unless you want to get attacked. If a monkey tries to grab your food, let him have it and do not fight back.
Please avoid wearing tight, revealing or skimpy clothes. This may offend the local Buddhist population.
Make a note to remove your shoes before entering homes and places of worship like monasteries. A lot of people like to click pictures of Lamas. If you want to do so, please seek their permission first. Do not point the soles of your feet towards people, monks or deities (idols). You must avoid touching anyone with your feet.
Trip to Mcleodganj – Conclusion
---
And that covers most, if not all, that there is to know about making a trip to Mcleodganj. I hope the information above was of help. If you have any questions; or need any further details; please feel free to ask in the comments section below; or at our Community Forum; and I will be glad to answer.