Shimla is a beautiful city and no one can deny or question it. It is one of the most known tourist destinations in our country and thousands of people visit here each year. There are plenty of places to see in Shimla and several tourist activities to be a part of. I some time ago published an article on tourist attractions in Shimla City and the list indeed turned out to be quite a lengthy one; enough to keep a person occupied for several days, weeks even. Some of these tourist places are located within the town itself while a lot of others are on its outskirts or in close vicinity. One such place that I want to talk about in this article is the charming little town of Mashobra; a quiet and scenic town in Himachal that also becomes politically important at least once a year.
Also Read: How to Plan a Trip to Shimla
For a brief introduction, Mashobra is a small town located about 11 kilometers from Shimla that can easily be covered in about 30-40 minutes. It is a popular tourist like its nearby towns of Shimla and Kufri. Throughout history, Mashobra has been home to several important people and still continues to do so. At an average elevation of 2,146 meters (7,041 feet), it is surrounded with a dense forest of pine, oak, Himalayan Deodar, and rhododendron. In winter, it receives a significant amount of snow each year. Though it is in close proximity with Shimla, Mashobra does not really get crowded as much making it a perfect destination for someone looking to spend some time away from the crowd.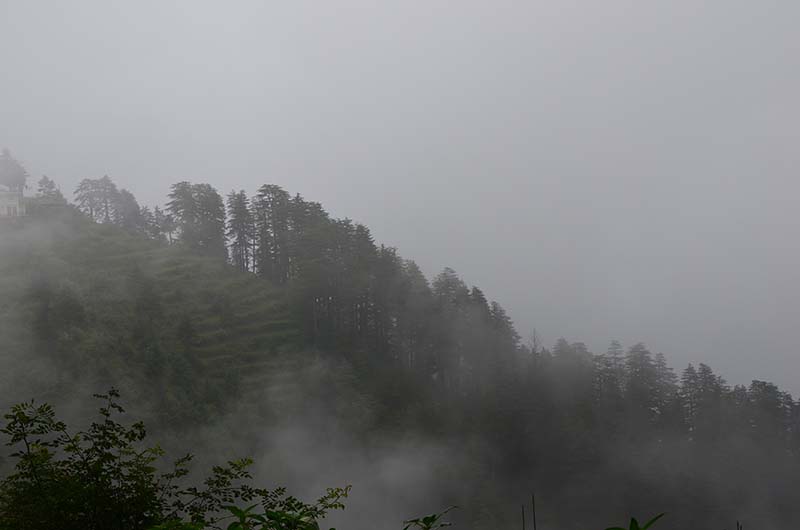 Below is a quick navigation of details that we will be covering in the post below.
Know Mashobra
---
Location of Mashobra
Mashobra is located in the state of Himachal Pradesh at a distance of 11 kilometers from Shimla, 355 kilometers from Delhi and 125 kilometers from Chandigarh.
History of Mashobra
Mashobra has been a favorite among important people through the course of time and still continue to remain so. As of today, it is one of the two Presidential retreats in India, the other one being Rashtrapati Nilayam in Secunderabad. Each year, the president of India visits Mashobra at least once and during this time, his entire office is shifted to Chharabra, in the vicinity of Mashobra. The building that houses the retreat was originally constructed in 1850 and was also once home to Lord Mountbatten and his wife Lady Edwina for a few weeks before their return to London in 1948.
Other than this, Wildflower Hall at Chharabra which now a property of Oberoi Hotels was once residence to Lord Kitchener as well as Lord Ripon during the British Raj. About 3 kilometers from Mashobra is Carignano, once a villa of Italian photographer of Chevalier Federico Peliti during the times of Queen Victoria.
Why Visit Mashobra?
I think the reason why Mashobra once housed so many important people is the fact that it was in the outskirts of Shimla and away from the hustle and bustle of the city. It was and still is a quiet little town hidden in the trees somewhere up in the hills. This also is the reason why you would want to give this place a visit. How beautiful and scenic Shimla may be, the fact is that it does get a lot crowded during peak tourist season. It would even feel like you just went from one city to another rather than a hill station.
In a case like this, Mashobra sounds like a perfect place to spend some time in. It is away from whatever goes on in Shimla and yet offers everything that Shimla has. If you want to avoid crowded places and spend some time in peace then Mashobra is where you should stay. Book a hotel in Mashobra and it will give you access to all the tourist spots Shimla but save you all the noise and the crowd.
Also Read: Best time to visit Shimla – When to go to Shimla
How to reach Mashobra
---
Mashobra is a very well connected town and you will have no difficulty getting here. Due to its location in the hills though, journey by road is mandatory. You can either drive all the way on your own if that was a possibility or book a train/flight to the nearest location and drive from there. Let me cover all of these options one by one.
How to reach Mashobra from Delhi by Road

I will begin by first explaining how the journey would be if you were traveling by your own vehicle. For the sake of mentioning the route, I will assume Delhi as your starting point. However, even if you were coming from a different city, the information below can still help understanding how you can travel to Mashobra by road. No matter where you started from, the journey to and from Chandigarh will mostly be the same.
Delhi – Panipat – Karnal – Ambala – Zirakpur – Panchkula – Kandaghat – Shimla – Mashobra
Traveling this way, the total journey will be of around 350 kilometers depending on where you started from in Delhi. Total travel time will be close to 8 hours but could be less; depending on your breaks and speed. Road conditions are all OK till Mashobra and there are no bad stretches as such. From Delhi to Chandigarh, you will follow NH1 which is a smooth run all the way. Just before Chandigarh and near Zirakpur, turn on the Himalayan Expressway to bypass Kalka and continue to Shimla via Kandaghat.
The only delay in the journey will be if you got stuck in the traffic before and within Shimla which can sometimes even be over an hour. In Shimla, ask any of the locals to point you in the direction of Mashobra. Once you cross Shimla, getting to Mashobra will hardly take another 30 minutes. You will have to drive 8 kilometers east from Shimla on the Chandigarh – Kalka road on NH22 to Dhalli and then take the left turn going downhill. Mashobra is 3 kilometers away on this road.
How to reach Mashobra by Bus
Shimla becomes your first destination for traveling to Mashobra by Bus. There are regular buses to Shimla from almost all major cities in North India. Chandigarh is at a distance of 117 kilometers from Shimla, Manali at 260 kilometers and Delhi at 343 kilometers and all these cities have both ordinary and luxury buses to Shimla on a daily basis. There are no direct buses that can get you all the way to Mashobra itself. You will first have to reach Shimla and then look for a mode of commute from there which I have covered further in the article.
For example, if you wanted to reach Mashobra from Delhi by Bus, you will first board a Bus for Shimla from ISBT Delhi. HRTC and HPTDC operate several buses throughout the day and even at night on this route. Several private tour operators provide this service as well. Depending on your own preference, you can either board a bus on the spot or book one in advance. HPTDC and HRTC have their own portals for online booking. For private buses, you can book through websites like RedBus.
How to reach Mashobra by Train
Shimla is the nearest railway station to Mashobra, about 11 km away. Yes, I am referring to the famous toy train that travels between Kalka and Shimla. You can reach Kalka by either a train from Delhi or Chandigarh and then board the Toy Train. The entire journey is on a narrow gauge rail track, covering a distance of 96 kilometers in about 7 hours. But for boarding this train, you will have to first reach Kalka or Chandigarh, which is the nearest major railway station closest to Mashobra. Once you reach Chandigarh, you can either board a taxi for Chandigarh to Mashobra direct; or take a cab to Kalka and then travel by the Toy train to Shimla.
Also Read: Dalhousie – How to Plan your Trip & What to See !
How to reach Mashobra by Flight
Shimla is again where you will reach if you were planning on catching a flight. Jubbarhatti, which is about 23 kilometers from Shimla, is the nearest airport. There are regular flights going from Jubbarhatti to Chandigarh and Delhi. The next best option is the Chandigarh airport, which is about 4-5 hours away. Both the Jubbarhatti and Chandigarh airports are well connected to major cities like Delhi, Jaipur, Mumbai, Chandigarh, etc and it will just depend on which flight was costing you less.
How to reach Mashobra from Shimla
Once you reach Shimla by Bus, Train or Flight, you can then either board a Bus for Mashobra or travel by private taxi. There is a bus service from the new bus stand in Shimla but its frequency is not that great. It charges about Rs. 20 per person though. If there wasn't a Bus matching your timings, you will have to look for a private cab which will cost you about Rs. 500 for a drop. Shared taxis too are available from the Bus stand itself and will cost about Rs. 50 per person.
Also Read: Taxi Rates in Shimla – Shimla Taxi Rates
How to reach Mashobra by Taxi
This will entirely depend on where you were coming from and what kind of taxi you opted for. A private cab from Delhi to Mashobra will cost you about Rs. 7000 – 10000; from Chandigarh, it will cost about Rs. 4000 – 6000 and the same from Manali as well. From Shimla airport, a drop to Mashobra will be about Rs. 1500.
Local Transport in Mashobra
Mashobra is a tiny village and you can cover it all on foot. You do not really need a mode of transport to move around within the town unless you were headed towards places like Shimla, Kufri, Narkanda, etc for which, booking a private taxi will be the best choice.
Also Read: Ghosts of Shimla and the Haunting Stories
What to see in Mashobra
---
Mashobra is a quiet little town and there are not really many tourist places here, to be honest. In fact, Mashobra itself is considered to be among the tourist places near Shimla. If you were thinking about a long list of places to visit with plenty of things to do, then Mashobra is really not your cup of tea. Then you would better stick to staying in Shimla itself. You go to Mashobra just to enjoy the natural beauty and calm of the place. With that being said, if you were planning to stay here for a day or two, there are a few tourist attractions in Mashobra that are worthy of note.
Places to visit in Mashobra
The Presidential Retreat
Reserve Forest Sanctuary
Wild Flower Hall
Craignano
The Presidential Retreat
I will begin with what really puts Mashobra on the tourist map in these days. The presidential Retreat is truly a magnificent building built over an area of over 10,000 square feet. There are a total of 16 rooms in it and 300 acres of dense forest surrounding on the outside. It was built in 1850 and was initially the property of the Viceroy of India. Lord Mountbatten and his wife Lady Edwina stayed here for a few weeks before their return to London in 1948 so in many ways, The retreat is also a witness to the last few days of the English rule in India.
Now, The President of India stays here for a period of two weeks every summer. At this time, the entire core president's office is shifted to this place. It is located about 6 kilometers from Mashobra, towards Kufri.
Reserve Forest Sanctuary
Also known as Shimla Water Catchmentanct Wildlife Sanctuary, this place is a heaven for anyone with interest in bird watching or photography. Some of the most common bird species one can spot here include Himalayan eagles, pheasants, partridges, and chukars. The park is also perfect for anyone with interest in trekking or camping. It is located near Chharabra and is open from 9 AM to 6 PM on all days. Please note that there is an entry fee of Rs. 700 and prior permission is required from the forest authorities to enter the sanctuary.
Wild Flower Hall
This actually now is a heritage hotel owned by Oberoi Group of Hotels but still is a tourist attraction for its grand history. It is located at the top of Mahasu Peak at an elevation of 2,500 meters; and was once a residence of Lord Kitchener as well as Lord Ripon during the British Raj. The Hall burned down in a fire in 1993 and then was rebuilt with joint efforts of Himachal Pradesh Government and Oberoi Hotels. It is located about 3.5 Kilometers from Mashobra towards Kufri.
Also Read: Chitkul Village – A Trip to Remember
Craignano
Craignano is a villa built in the Italian style by photographer Chevalier Federico Pelite. He is actually famed as a photographer but in fact was a baker, confectioner, hotelier, and manager who owned a hotel in Shimla and a restaurant in Calcutta. He was more of an amateur photographer but he did manage to build Craignano in a beautiful style that still attracts visitors.
It is made entirely of wood and is surrounded by cedar and pine trees on all its sides. It is actually known for several things like its neatly manicured lawns, century-old stone benches and vintage night lamps from the colonial times. There is also a water lift here which is claimed to be the highest in the world. It is located about 3.5 kilometers from Mashobra towards Naldehra (Naldhera). The official name of the place now is Craignano Nature Park and several other adventure activities like rappelling, rock climbing, and fishing are held here.
These are of course just a few places near Mashobra that are worthy of note but this entire belt is, in fact, a tourist destination in itself. Mashobra is one of the major tourist attraction of Shimla and there are a few others as well that I will mention below.
Tourist Places Near Mashobra
Kufri
Chharabra
Fagu
Theog
Naldehra
Kufri
Kufri is located about 20 kilometers from Shimla and is the highest point in the region. The name is derived from the word Kufr which means "lake" in the local language. It is one of the most sought after winter destinations due to the high amount of snow it receives each year making it popular for skiing. Kufri also has a Himalayan wildlife zoo which hosts rare antelopes, felines and birds including the Himalayan Monal.
Chharabra
Chharabra is a scenic little village and is the official summer retreat of President of India and summer residence of Governor of Punjab. It is located about 11 kilometers from Mashobra.
Fagu
A little ahead of Chharabra and at about the same distance from Mashobra is another popular tourist destination, Fagu. This is another cool destination for people looking to spend some time away from crowded Shimla. The entire region is full of apple orchards and potato fields making the landscape look stunning.
Theog
About 10 kilometers ahead of Fagu and 21 kilometers from Mashobra is the scenic village of Theog, another offbeat destination near Shimla.
Naldehra
On the other side of the town and about 13 kilometers from Mashobra is the picturesque Naldehra. Apart from its blue skies and lush green forests, Naldehra is most known for its 18 hole golf course which looks stunning even if you do not have any interest in playing golf. This is another lesser visited places near Shimla.
Also Read: Shimla Manali Trip Itinerary – How to Plan Your Journey
What to do in Mashobra
---
There are plenty of things you can do during your stay in Mashobra. As you can guess from the list above, you can actually spend days or even weeks exploring this entire region. It does not really matter what time of the year you arrive at Mashobra in, there will always be plenty of things you can try as a tourist. Listed below are a few.
Things to do in Mashobra
Enjoying the Natural Beauty
Photography
Star Gazing
Wildlife / Bird Watching
Trekking / Camping
Paragliding
Rafting
Skiing
Shopping in Mashobra
Foods to try in Mashobra
Enjoying the Natural Beauty
I think this one goes without saying. Spend some time in Mashobra, enjoy the calm of nature, listen to the birds, listen to your heart, listen to the wind and witness the beauty of Mother Nature at its best.
Photography
It does not matter what kind of photographer you are, or whether you own a huge DSLR or just a camera phone, Mashobra will present you with ample of opportunities to click as many pictures as you want.
Star Gazing
The clear skies present the perfect opportunity to gaze at the clear night skies and millions of stars above for anyone with interest in it.
Wildlife / Bird Watching
The wildlife sanctuary is a great place to catch a glimpse of some rare and beautiful birds, both local to the place and migratory ones. Even if you have no interest in wildlife, the sanctuary is still a calm and scenic drive.
Also Read: Kasol and Kheerganga Trip – A Mesmerizing Experience
Trekking / Camping
There is no better way to enjoy the beauty of lush green hills other than to go on a trail and stay in a camp overnight. I agree that this is not everyone's cup of tea but is still a great experience for nature lovers. The Shali Tibba, at an altitude of 9,423 ft, offers scope for trekking in Mashobra. You can also trek from Fagu to the village of Chharabra via Tattapani stream.
Paragliding
Manali and Bir Billing are usually the names that come to mind when one talks about Paragliding but those are definitely not the only places where you can enjoy the sport. Mashobra too is one of the Rafting lesser known but among best places for paragliding in Himachal.
Rafting
Similar to paragliding, when the name rafting is mentioned, the attention immediately turns towards either Rishikesh or Kullu. If you are looking for a different location to enjoy this fun activity, then head to the freshwater streams of Tattapani from Mashobra. Tattapani is about 50 kilometers from Mashbora so it will become an entire day activity.
Skiing
Last but not least, Sking is probably the best-known tourist activity in the region. Each year, Mashobra and the nearby areas of Kufri and Fagu receive huge amounts of snow and turn into a Skiing paradise for adventure sports lovers.
Shopping in Mashobra
Mashobra is really a tiny town and there aren't many shopping opportunities here. There is just a Tibetan Handicraft Market here where you can buy some colorful accessories and souvenirs. My recommendation, however, would be to go to Shimla and try shopping there for better deals.
Foods to try in Mashobra
Like Shopping, Shimla is again the place where you should go to if you want to try a variety of foods and eat out at different types of restaurants. Things in Mashobra are very basic but you will still get probably every north India dish on order. Depending on your choice, you can either eat at your hotel or any of the restaurants outside but there aren't many in Mashobra. I noticed a few dhabas and eating joints but nothing too fancy. Most of the eating joints in this area are located towards Shimla, Kufri or Naldehra.
Also Read: Shimla Manali Dharamshala Dalhousie Trip Itinerary
When to go to Mashobra
---
The best time to visit any place really depends on your reason to visit. When should you visit Mashobra will entirely depend on what exactly were you looking for out of your trip. Let us take a look at how the weather trends here.
Weather of Mashobra
Due to its high altitude, the weather of Mashobra remains pleasant for most of the year. The months of January and February are truly the months of white when the entire region remains buried under snow. The temperature in these months remains close to zero and it can snow anytime. Chances of snowfall are however greater in the month of January. Snow is mostly all gone in March from the lower areas and spring arrives in April marking the beginning of tourist season.
The month of April, May and June are usually considered the best season to visit Mashobra because the weather at this time is at its best. Days are moderately warm and nights pleasantly cold. It starts to rain here towards the end of June and monsoon dominates the months of July and August. Sometimes it can rain non-stop for days causing landslides and blocking roads. If you were visiting during the monsoon, you may even be forced to remain indoors because of the rain throughout your trip.
Monsoon recedes in early September but leaves plenty of lush green vistas behind making September the best month to visit Mashobra. Autumn starts in October and all that was green in September now turns orange, giving a magical golden look to the valleys. Winter stars to settle towards the end of October. November is mostly a dry month with temperatures falling further down by each passing day. Until December 15th is an overall bad time to go because the scenery at this time will be very dull and the weather very cold. After December 15th, it can again start to snow in the region anytime covering everything with a sheet of white.
Best time to visit Mashobra
Now based on the information above, the months of April, May, June, and September are the best time to visit Mashobra. If you want to catch a live snowfall, then you should visit in January. You may find snow in February as well but chances are more in January. If you just want to enjoy some good weather then April, May, and June will be best. This is also a great time for a family trip.
From a photography point of view, September and early October will be best. If you do not mind the rain then July and August are when the vistas and scenery are at their best. For a budget trip, try planning in late October, November or during monsoon. If you are not too fond of cold weather, then you should avoid visiting between October to March.
Also Read: Honeymoon Places in India – The Top 5
Temperature in Mashobra
Below is a month by month breakdown of average temperature in Mashobra.
Mashobra in January: Minimum 2; Maximum 15
Mashobra in February: Minimum 9; Maximum 20
Mashobra in March: Minimum 10; Maximum 25
Mashobra in April: Minimum 17; Maximum 28
Mashobra in May: Minimum 17; Maximum 35
Mashobra in June: Minimum 18; Maximum 35
Mashobra in July: Minimum 15; Maximum 30
Mashobra in August: Minimum 15; Maximum 30
Mashobra in September: Minimum 12; Maximum 25
Mashobra in October: Minimum 10; Maximum 20
Mashobra in November: Minimum 5; Maximum 20
Mashobra in December: Minimum 2; Maximum 15
Best Season to visit Mashobra: Spring and Summer
Best Month to visit Mashobra: April May, June; and September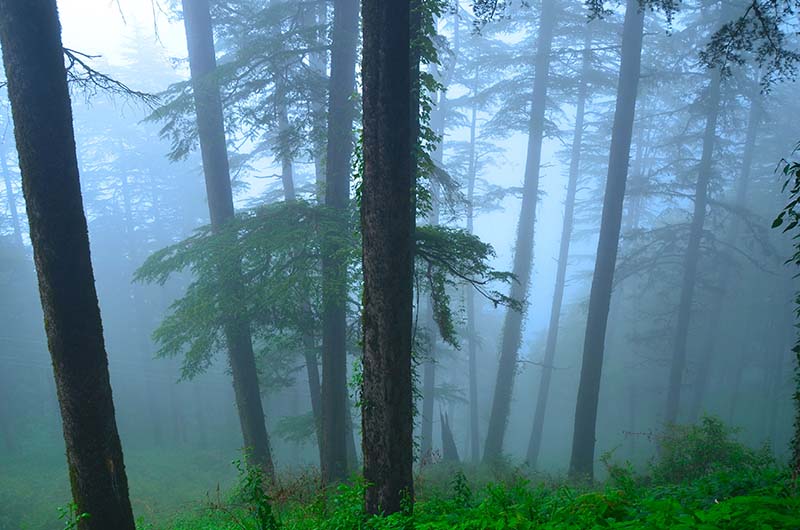 Where to Stay in Mashobra
Finding a hotel in Mashobra will not be difficult at all. There are plenty of hotels and resorts on this entire stretch between Kufri, Mashobra, and Naldehra. There are a lot of apartment buildings as well where you can even rent a flat for a few days if you were traveling with family or a group of friends. No matter what your budget is, you will easily find a fitting hotel. On the cost factor side; I will suggest keeping a minimum budget of Rs. 800 – Rs. 1000 for accommodation. It could cost you even a little more during tourist season. If your are loooking for a luxury stay than Wildflower Hall will be a great choice. Club Mahindra too has a resort here that you can check.
Camping in Mashobra
The Mashobra Greens is where I stayed during my trip here. I wouldn't really call it a campsite because these are actually wooden cottages but it gives the same feeling anyway. Their charges are around Rs. 2000 but could be a bit less as well during off-season. My experience was nothing too terrific but not terrible either. I also noticed a few other campsites by the name of Pine Hills and Shivpur Greens so you can try them too for a better price.
We were carrying our own camping gear as well but did not find a suitable spot to pitch our own tent. If you want to try self camping in Mashobra then you would really have to try a bit too much on the outskirts.
What to Pack
---
Clothes to pack for Mashobra
What clothes to pack will entirely depend on the time of your visit. For a trip from November to March, you should pack heavy woolens, thermals, gloves, warm socks, and a heavy windproof jacket. Make sure that your jacket also has a hood to protect your head, face, and neck. If not, then you will also have to bring in a warm cap and muffler. Snow boots may be required if you were traveling in January.
For a trip in April, May and June; just bring in your regular cotton clothes, a couple of light woolens with a jacket and that will do. In May and June, it gets very warm here and you probably will not even need a jacket but pack one to just be on the safer side. If you are visiting during monsoon season, then it would be best to pack clothes that can dry faster; like polyester. Mashobra is best explored on foot, so sturdy, all terrain, all weather shoes are a basic requirement.
Also Read: Dharamshala – A Complete Travel Guide & Itinerary
Other Necessary Items
Below is a list of some other items that can be helpful during the journey. You may use this as a check list while packing.
Documents (ID and address proof)
Hygiene and personal care
Sanitary products for ladies
Items of personal use
Warm Caps (for winter trip)
Sunglasses
Sunblock lotion with highest SPF that you can find
Toilet Paper
Pair of Waterproof Warm Gloves (for winter trip)
Thermals (for winter trip)
Personal Medical Kit
Prescribed medicines if you are on medication
Hard Cash as ATM's aren't really dependable
Head Phones/Earphones
Power Bank
Chargers for your electronic items
Umbrella or a Rain Poncho (if visiting during monsoon)
Torch
Trekking shoes (recommended for trekking) or Shoes with good grip.
Snow Boots if visiting in winter
Comfortable Lower if planning to go on a trek as jeans are not advisable for this purpose
Facilities Available

---
Bank / ATMs in Mashobra
Almost every major bank has a branch in the area around Mashobra. You will keep coming across ATMs on the way, in Shimla and there is one in Mashobra as well. If that was not working then there are 3 more ATMs in Kufri that you can try. If that did not work either, then you can drive down to Shimla and you will definitely get cash there.
Petrol Pumps in Mashobra
There is no petrol pump in Mashobra but there are several on the way and in Shimla.
Mechanics in Mashobra
There are no mechanics in Mashobra but you will easily find one in Shimla.
Hospital in Mashobra / Medical Assistance
There is a government hospital in Mashobra. Nearby Shimla has several other private and government-run hospitals.
Mobile Network and Data Connectivity
No matter which network you are on, your phone will work fine in Mashobra. If your service provider provides 4G connectivity, then you will get that speed as well.
Electricity and other facilities
Electricity is available in Mashobra. As a tourist, you will get all the necessary facilities in the hotels here.
Mashobra Road Conditions
Conditions of the road to and around Mashobra is good. For example, if we talk about Delhi to Mashobra road conditions, then it is about 70% good, 20% average and 10% bad.
Also Read: Thanedar, Himachal – How to Plan your Trip & Explore
Best Vehicle for the Trip

There is no best vehicle required for a trip here as such. Local drive around in Maruti Alto and automatic bikes as well. So no matter which car or bike you own, you can bring it to Mashobra as long as it is in good condition and well serviced. Please note that there are a few steep climbs as you get closer to Mashobra so you must also know how to maneuver your vehicle well.
Itinerary for Mashobra
---
Below is an example of an itinerary for visiting Mashobra and nearby areas of Shimla, Kufri, and Fagu. For the sake of the itinerary, I will assume Delhi as your starting point. However, even if you were coming from a different city, only the journey on first and last day will be different. Rest of the details will still apply.
I will explain a relaxed itinerary allowing you plenty of time to explore the area and see everything that is worth seeing. If you were short on time, you can remove any of the days and cut your trip short.
Delhi to Mashobra – Day 1
Sightseeing in Mashobra, visit Kufri and Fagu. If time allows, also cover Scandal Point and The Ridge – Day 2
Day-long drive to Narkanda, Hatu Peak, Sutlej View Point and return by Evening – Day 3
See Scandal Point, The Ridge, The Mall, Jakhoo Temple and Christ Church – Day 4
Mashobra to Delhi – Day 5
FAQs about Mashobra
---
1. What is the altitude of Mashobra?
Mashobra is located at an average elevation of 2,146 meters (7,041 feet).
2. Does it snow in Mashobra?
Yes, it snows in Mashobra between 15th December and 30th January. It can snow in February as well but the frequency will be a little less.
3. Where is Mashobra located?
Mashobra is located at a distance of about 11 kilometers from Shimla.
4. What is Mashobra famous for?
Mashobra is famous for its natural beauty and nearby ski slopes in Kufri.
5. What is special in Mashobra?
There is nothing special as such in Mashobra but it is a good place to visit with friends and family and spend some time in peace.
6. Is Mashobra Safe to visit?
Yes, Mashobra is safe to visit, provided that you act responsibly, drive sensibly, do not get into any altercations, avoid unnecessary risks and do not put yourself in harm's way.
7. How to reach Mashobra in winter?
All that I explained in terms of reaching Mashobra will remain applicable in the winter season as well. The only catch is that sometimes the road can get blocked in winter if it snowed too much.
8. When is Mashobra Open?
Mashobra remains open for tourism throughout the year.
9. How much time do you need to visit Mashobra?
Starting from Delhi, 4 to 5 days will be sufficient to explore Mashobra and nearby areas completely.
Conclusion
I hope the information above on visiting Mashobra was of help. If you have any other questions; or need any other details; please feel free to ask in the comments section below; or at our Community Forum; and I will be glad to answer. If you have been to Mashobra and have a few other tips that can be of help to others, please do comment and mention.