One of the best ways in my opinion to enjoy the scenic beauty and vistas of Himalayas is to go out trekking; and the state of Uttarakhand is blessed with numerous such trails. From easy to moderate to tough, there are over 250 trek routes here, both registered and unregistered. But it is true that trekking is not everyone's cup of tea. Even I was not much of a trekker myself until I recently went on my first few treks and totally fell in love with the experience. My first trek lasted just for a weekend but it was enough to get me started. The first thing that I did after coming back home was to prepare a list of some easy treks in Uttarakhand that I could venture upon.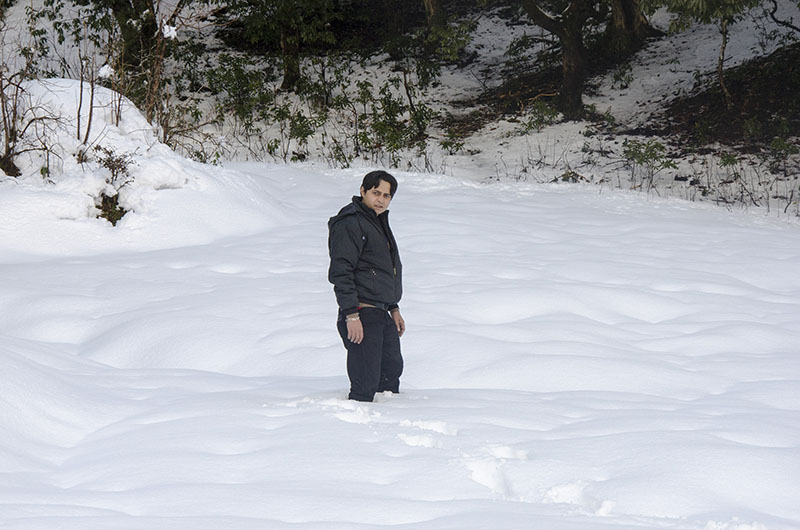 Why easy? Well I couldn't really have started walking towards Mount Everest after just a weekend of trekking, could I? LOL. Got to work my way up slowly. So if you are like me who has been giving trekking a serious thought but haven't done much of it; or have been discussing with friends if you all should try your hand at trekking for your next trip; then my first answer for you would that yes, you should. Going by your motorcycle or car is fun all right but trekking is fun at a whole another level. For the "where to go" question, listed below are 5 easy trek routes in Uttarakhand that you can consider.
Easy Treks in Uttarakhand
The treks I am mentioning below are a mix of routes that can be covered over a weekend; and some that will take a bit longer. But since we are talking about easy trek routes, I will not include trails that involve several days of steep climbing.
Nag Tibba Trek
This name will probably be in every easy treks list of Himalayas. It is short, not too tough and perfect even for a complete beginner. Literally translating to "Serpent's peak", this trek can be easily done over a weekend. The Nag Tibba summit is at the height of 9,915 feet, and there are three ways to reach the top. The trek begins from the villages of Devalsari or Pantwari which are about 80 kilometers from Dehradun. You will be walking through the densely forested areas and get a view of the Bandarpoonch peak, Gangotri group of peaks and panoramic view of Dehradun city.
Start Location: Devalsari / Pantwari
Difficulty Level: Easy
Altitude: 3004 Meters
Trek Length: 26 Kilometers round trip from Devalsari Village
Route: Delhi – Dehradun  – Devalsari Village / Pantwari Village
Best Time – October to April
Deoria Tal Trek
This is one of my favorite treks in all of Uttarakhand, especially in winters. The pic I posted above in fact is from my trek to Deoria Taal and Chopta in the month of February when it was all snowed out. The walk / climb is barely 3 kilometers from the nearby Saari village but once you reach the top, the views will take your breath away.
Deoria Tal is located in Rudraprayag district, at 8,000 feet and offers majestic views of the massifs such as Chaukhamba, Nilkantha, Bandarpunch, Kedar Range and Kalanag. Leave your car parked at the village, hire a porter or guide from there; walk up to Deoria Taal; spend the night there at a camp and trek down to Saari the next day. If you are short on time then you can start the trek early morning and climb down the very same day.
Start Location: Saari Village
Difficulty Level: Easy
Altitude: 2450 Mtrs at Deoria Taal
Trek Length (Round trip): 5 Kilometers round trip from Saari Village
Guide and Porters: Available at Chopta, Ukimath and Saari Village
Best Time to Visit: January and February for winter trek otherwise March till June
Route: Delhi – Haridwar – Rishikesh – Devprayag – Srinagar – Rudraprayag – Ukimath – Saari village – Deoria Taal
Har ki Doon Trek
Another trek to consider if you have 4 to 5 days in hand can be Har ki Doon. Offering mesmerizing views Swargrohini peaks and Jaundar Glacier, this trek will take you through some remote villages Doon Valley. The trek starts from Taluka village and you will wallk 27 kilometers, climbing up to a height of 11,700 feet. A round trip from Taluka village will be 54 kilometers. Guides and porters for the trip can either be booked online; or in person from Dehradun or Taluka village itself.
Start Location: Taluka Village
Difficulty Level: Easy
Altitude: 3500 Mtrs
Trek Length: 54 Kilometers round trip from Sankri Village
Best Time to Visit: December to March
Route: Delhi – Dehradun – Mussoorie – Naugaon – Purola – Mori – Sankri – Taluka – Trekking (27kms) to Har ki Doon
Chopta – Tungnath / Chandrashila Trek
This is one of the best places that you can consider as your first trek. The trail starts from the small village of Chopta in Uttarakhand, climbs up to Green Valley, then to Tungnath temple and finally ends at the top of Chandrashila peak. In winters however, it will be nearly impossible to go all the way to the top of Chandrashila or even Tungnath. For rest of the year, you can easily walk all the way to the top of the peak.
From Chopta, get an early start so that you have plenty of daylight to enjoy the trek and reach back in time. You will first climb up to Tungnath Temple and if time allows, can trek even further to the top of Chandrashila peak which will take you another hour at least.
Good to know fact, Tungnath temple is one of the Panch Kedars so this trek can also have a religious angle to it with a darshan at the temple.
Start Location: Chopta
Difficulty Level: Easy
Maximum Altitude: 2,680 Meters at Chopta and 3,680 Meters at Tungnath
Trek Length: 10-13 kilometers round trip from Chopta depending on how far you are able to go
Guide and Porters: Available at Chopta  and Ukimath
Best Time to Visit: December to March for winter trek; April to June for rest of the year
Route: Delhi > Haridwar – Devprayag – Rudraprayag – Ukimath – Chopta – Tungnath – Chandrashila
Valley of Flowers Trek
If there is a trek in Uttarakhand that is best enjoyed in or after Monsoon then it is the beautiful Valley of Flowers trail. It is probably the most famous trek in not just Uttarakhand but in the entire Himalayan region.
The Valley of Flowers is a part of Nanda Devi Biosphere, a UNESCO world heritage site and a protected area for its flora and fauna.  The trek starts from Govindghat and the total walking distance is about 16 kilometers to valley of flowers. It can be done anytime from June mid till September but the best time would probably be the months of July and August; when the entire valley comes alive after it starts to rain. From November till May, the valley remains inaccessible.
Start Location: Govindghat
Difficulty Level: Easy
Maximum Altitude: 12,000 feet
Trek Length: 30-32 kilometers round trip from Govindghat
Guide and Porters: Joshimath
Best Time to Visit: July and August
Route: Delhi – Haridwar – Joshimath – Govindghat – Ghangaria – Valley Of Flowers
Conclusion
I hope the list above of 5 easy treks in Uttarakhand was of help. If you know of any other treks that are easy enough for beginners; or have any questions on the ones I listed above; please feel free to ask in the comments section below; or at our Community Forum; and I will be glad to answer.