Dharamshala, located in the Indian state of Himachal Pradesh, is famous for being the seat of Tibet's government in exile. This outstandingly beautiful Himalayan town has had the pleasure and honor of being the residence of His Holiness, the Dalai Lama; the spiritual leader of the Tibetan people. Known as mini-Tibet, Dharamshala attracts people from all over the world. They flock here not only for a glimpse of His Holiness but also to bask in the clean crisp mountain air and abundant natural glory.
Dharamshala is the winter capital of Himachal Pradesh. It is perhaps the best place in India to learn about Tibetan culture and the Buddhist religion. It was initially a small town but its profile changed dramatically in the 1960s when the Dalai Lama settled here. Dharamshala is also famous for its endless tea gardens which produce some of the most in-demand varieties of tea worldwide – black tea, oolong tea, green tea, white tea, and the iconic Kangra tea.
Also Read: How to Plan a Trip to Mcleodganj
It is situated on the upper hilly stretch of land of Kangra Valley and just against the picturesque scene of Dhauladhar ranges. Being a Tibetan hub, Dharamshala is considered to be one of the best places to learn and explore Buddhism and Tibetan Culture.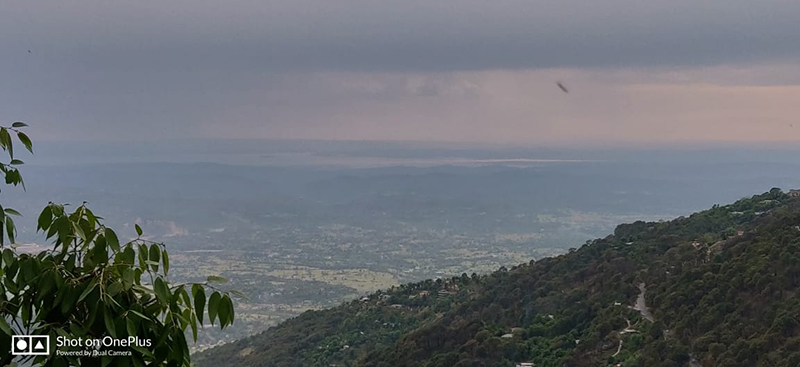 Below is an index of the information that I have covered later in the article. The headings in the box are all clickable links. So if you want to jump directly to a certain part of the article, you may do so by clicking on the header inside the box.
How to reach Dharamshala
---
Where is Dharamshala Located
Dharamshala is located in the Kangra district of Himachal Pradesh. It extends luxuriously in the upper hilly areas of the Kangra Valley. In fact, the town lifts into the upper mountains – the lower stretch is what is known as Dharamshala, while the upper stretch is called McLeodganj. The Dhauladhar range of the Himalayas forms a cupola around the town, adding to its serene natural beauty.
How to reach Dharamshala by Road
Dharamshala is well connected to both other towns within Himachal Pradesh as well as nearby states. In fact, a drive from New Delhi takes around 9 hours considering time for halts en route. Many private bus operators offer daily travel options to New Delhi as well as other cities and towns. You can choose from non AC, AC, Volvo or sleeper buses. Alternatively, you can opt for taxi service on these routes. If you are driving by yourself, make sure you are confident about tackling the mountain roads, which are steep and full of hairpin bends.
Tickets for HRTC Buses can be booked online at the link below.
For private companies, you can either buy one via the travel agency itself or online sites like RedBus.
How to reach Dharamshala by Flight
The nearest airport is Gaggal Airport, 15 kilometers away from Dharamshala. This airport operates commercial flights, private chartered flights and provides helicopter landing pads. A private taxi from Gaggal to McLeodganj will cost Rs. 800-900 in peak season.
How to reach Dharamshala by Train
Pathankot Railway Station is an overnight journey from New Delhi. From there, you can opt for the Kangra Valley Railway, a scenic six-hour journey. From Kangra, you can book a private taxi or share a cab to reach McLeodganj.
Local Transport in Dharamshala and Mcleodganj
Private taxis: These typically charge Rs. 2500 per person for the Pathankot-McLeodganj journey and Rs. 800-900 for the McLeodganj-Dharamshala journey. A share taxi would reduce the cost to Rs. 300-600 per person.
Self-driving: Of course, if you were traveling by your own vehicle, either a car or motorcycle, then things will get lots easier for you to move around.
Private Car: For a full day of sightseeing, it is wise to book a private car. The cost will be approximately Rs. 1800. At the day end, they will drop you where you wish.
Walk: Dharamshala is best explored on foot. Take your time and enjoy the picturesque beauty of this hill station on long walks.
There are also several motorcycle rental agencies available as well. A lot of people hire automatic bikes like Activa to move around in the town. Usual charge is Rs. 1000 to Rs. 1500 per day for Enfield and Rs. 800 for scooters.
Auto Rickshaws are available in the town and are probably the most commonly used way of commute from one place to another.
Travel possibilities during different Seasons
During peak tourist seasons, all forms of transport will be highly expensive. To get to Dharamshala you must plan at least 2-3 months in advance and pre-book travel tickets. Otherwise, not only will you find prices sky-high, you may not be able to book a ticket at all. During monsoon, prices drop, but travelling through the mountain roads is tricky as landslides are frequent and devastating.
Also Read: Best time to Visit Mcleodganj and Dharamshala
Sightseeing in Dharamshala & Things to Do

---
Below is a list of places to visit in Dharamshala and Mcleodganj.
Tsuglagkhang Complex
Namgyal Monastery
Kareri Dal Lake
Bhagsunag Temple
Bhagsunag Waterfalls
Gyuto Monastery
Kangra Fort
Kangra Art Museum
Masroor Rock Cut Temple
Naddi Village
St. John In The Wilderness Church
Dharamshala Cricket Stadium
Jwalamukhi Devi Temple
Tea Gardens
Mani Lhakhang Stupa
What to see in Dharamshala
Below is a little more information of the places I listed above including their history, location and how can you plan to visit there.
Tsuglagkhang Complex
This complex is the epicenter of Tibetan Buddhism in Dharamshala. An enormous, indescribably beautiful sculpture of Lord Buddha awes visitors. The temple is located on the eponymous Temple Road and was constructed in 1959 when the Dalai Lama visited India for the first time. Today, it is the residence of His Holiness. The temple complex comprises a monastery, bookstore, library, café, and a museum. Visitors and worshippers throng to Tsuglagkhang for a glimpse of the Dalai Lama, as well as his sermons along with Tibetan dance and music performances.
Namgyal Monastery
Namgyal Monastery has the distinction of being the largest Tibetan Buddhist monastery in the world, outside of Tibet. More than 200 monks reside here, spending their days in prayer, meditation, discourses, and learning. Not only is it huge, but it is also tremendously vibrant, with its bright, striking colors, intricate depictions of Tibetan mythology and of course the ubiquitous prayer wheels.
Kareri Dal Lake
The Kareri Dal Lake is a brilliantly beautiful body of pristine water, stretching over nearly an entire square kilometer. In was named in honor of its northern cousin, the Dal Lake in Srinagar. Located in a valley surrounded by majestic Deodar trees and even more the spellbinding Himalayas, it is a top tourist spot in Dharamshala.
Bhagsunag Temple
This temple is dedicated to Lord Shiva and is one of the most ancient surviving temples in the entire Himalayan region. It attracts worshippers by their thousands every year. Located amidst the lush hills, visitors have to climb up winding mountain paths to reach this temple. Take a refreshing dip in the nearby freshwater pool. If you are lucky enough to visit during March, don't miss the Shivaratri celebrations here!
Also Read: Triund Trek – How to Plan your Adventure
Bhagsunag Waterfall
Bhagsu Falls is located a few kilometers above the temple itself. The milky white cascade of fresh water from the slopes is a sight to see! Nearly 20 meters in height, its beauty reaches an apex during the monsoon.
Gyuto Monastery
This is the residence of the head of the Kagyu Tibetan Buddhism, known as Karmapa. It is a prime center of learning and research for Buddhist philosophy, Tantra meditation, and Tantric rituals. It was constructed in memory of the soldiers who fought and died in the Tibetan Freedom War. The complex is built in the classic Tibetan style of architecture. With its sculpture of the Sakyamuni Buddha and the backdrop of the majestic Dhauladhar range, it is one of the most mesmerizing attractions in Dharamshala.
Kangra Fort
The Kangra Fort dates back to nearly 1500 years. For centuries, this ancient structure was the abode and center of rule for the Kangra-Katoch royal dynasty. It is by far the largest Himalayan fort. Don't miss the many ancient temples inside the premises. Down below, the Banganga and Manjhi rivers flow past serenely. Also of note is the Maharaja Sansar Chand Katoch Museum which illustrates the noble history of this place.
Kangra Art Museum
This is an absolute visit for any history buff. This magnificent museum preserves relics of Kangra Valley's ancient as well as recent history. On display are paintings, fabrics, weapons, statues, temple figurines, utensils, rare coins, pottery, anthropological finds, tribal ornaments, and sculptures. It has one of the finest collections of Tibetan and Buddhist artifacts as well.
Masroor Rock Cut Temple
As its name indicates, these temples have been hewn into the rock. Built in the Indo Aryan style of architecture, these 15 monoliths date back nearly a thousand years. They depict tales from Hindu mythology, most notable scenes from the Ramayana. The intricate, painstakingly crafted sculptures are lovingly detailed. They remain the few examples of this style today.
Naddi Village
Naddi is located far above Dharamshala, and consequently far from the madding crowd. This remote village offers panoramic views of the surrounding snowy Dhauladhar Himalayas and the lush Kangra Valley below. With striking Deodar forests, this village is a great spot for mental rejuvenation.
Also Read: Monasteries in Mcleodganj and Dharamshala
St. John In The Wilderness Church
En route to McLeodganj is this neo-gothic church, with splendid Belgian stained glass windows. Built in the 1850s, this church is one of the most peaceful spots around Dharamshala.
Dharamshala Cricket Stadium
One of the highest cricket stadiums in the world, this cricket stadiums attracts diehard fans from all over India. Imagine playing cricket in the cradle of the mountains!
Jwalamukhi Devi Temple
This unique temple has existed since the time of the Mahabharata. Its current form was built by Raja Bhumi Chand Katoch. Located about 60 kilometers from Dharamshala, this temple has no deity inside. That's right, no idol, sculpture or painting inhabits the temple. Rather, the flames which arise from the fissures on the temple floor are worshipped as the Goddess of fire and power. It is one of the Shakti Peeths and attracts thousands of worshippers every year.
Tea Gardens
En route to McLeodganj are some incredible tea gardens. While not as expansive as their North East Indian counterparts, they nonetheless have a unique charm. A stroll through these tea gardens is a charming affair.
Mani Lhakhang Stupa
Five kilometers from Dharamshala, this stupa is a relatively recent addition, having been built in 2001. It was constructed by the Dalai Lama and was built to survive natural calamities. It houses a gold statue of the Buddha in the lotus position, along with lots and lots of prayer wheels. The best time to visit is in the evenings when the monks sing ancient hymns and offer prayers.
What to do in Dharamshala
Below is a list of tourist activities in Dharamshala that you can indulge yourself in. I am only listing below things that you can do in Dharamshala apart from visiting all of the above mentioned places.
Paragliding
Where: Several places around Dharamshala and McLeodganj
When: Summer
Cost: Depending on the duration of the flight, anywhere between Rs. 2000-8000 per person
Triund Trek
Where: Begin from Galu or alternatively from Bhagsu Nag
When: Summer
Cost: Begins from Rs. 3000 per person, depends on the number of days and nights in trek itinerary
Camping
Where: Between Dharamshala and McLeodganj
When: Summer
Cost: Begins from Rs. 12,000 per person
Kareri Lake Trek
Where: Take a bus from Dharamshala to Ghera to begin the trek
When: Summer
Cost: Begins form Rs. 6000 per person
Also Read: Places to visit in Mcleodganj and Things to Do
Weather of Dharamshala & When to Go
---
Climate and Weather of Dharamshala
Dharamshala retains a cool and pleasant climate throughout the year with misty mornings and evenings, bright sunny days and clear skies. Owing to its elevation, it is considerably cooler than the surrounding plains. Even in the spring, when Dharamshala attracts thousands of people who flock here for the Dalai Lama's teachings, the climate is downright chilly. The monsoon months, however, tend to be incredibly wet and humid. The skies remain cloudy and it may rain for days on end.
Winters in Dharamshala start in the month of November and last till early March; and are extremely cold. In the upper reaches of Dharamshala, near the areas of Mcleodganj, the night temperature can get close to 0 in these months. Spring arrives in the month of April and the weather remains to be on the pleasant side until June. July and August is the peak monsoon time and Dhauldhars happens to be one of the wettest Himalayan regions so until early September, it can rain anytime and anywhere. October is the month of autumn and this is when the valleys all around turn golden. By the end of October, winter starts to settle again. The weather continues to get colder throughout November and it starts to snow in the upper areas by Mid December.
Temperature of Dharamshala
Here is the month wise average temperature break up:
Dharamshala in January: 6 to 14 degree Celsius; heavy woolen and warm clothes needed for visiting in this month
Dharamshala in February: 8 to16 degree Celsius; heavy woolen and warm clothes needed for visiting in this month
Dharamshala in March: 12 to 21 degree Celsius; snow begins to melt and the weather turns warmer
Dharamshala in April: 16 to 26 degree Celsius; pleasant weather
Dharamshala in May: 20 to 30 degree Celsius; pleasant weather, plenty of cottons with a jacket is all that you need for visiting in this month
Dharamshala in June: 22 to 31 degree Celsius; pleasant weather, plenty of cottons with a jacket is all that you need for visiting in this month
Dharamshala in July: 21 to 27 degree Celsius; monsoon season, waterproof everything and carry umbrellas and raincoats
Dharamshala in August: 20 to 26 degree Celsius; monsoon season, waterproof everything and carry umbrellas and raincoats
Dharamshala in September: 19 to 26 degree Celsius; this is the best time to visit Dharamshala with lush vistas all around
Dharamshala in October: 15 to 25 degree Celsius; winter starts to settle in towards the end of the month
Dharamshala in November: 7 to 17 degree Celsius; extremely cold weather so heavy woolen and warm clothes will be needed
Dharamshala in December: 7 to 18 degree Celsius; extremely cold weather so heavy woolen and warm clothes will be needed
Also Read: Delhi to Mcleodganj – A Life Altering Journey
Best time to visit Dharamshala
As a premier hill station, Dharamshala enjoys pleasant temperature and weather year round. In winter months there is abundant snowfall in the upper reaches, so temperatures take a nosedive. With the right clothing and equipment, you can explore Dharamshala anytime you wish!
Dharamshala in Spring-Summer (March through mid-July): This is the best time to visit Dharamshala. All the tourist hotspots, sightseeing places, and adventure activities are open for business. The temperature ranges from 22 degree Celsius to 35 degree Celsius.
Dharamshala in Monsoon (mid-July through mid-September): The offseason, and prone to landslides. If you like solitude, this is the time to visit. Also brilliant for a romantic getaway. Be aware that most activities, scenic spots, and adventure sports will be closed during this time.
Dharamshala in Winters (October through February): Fresh snowfall and sub-zero temperatures. Incredible time for honeymooners. Great for winter sports.
To sum up, here are the best times to visit Dharamshala:
With family: March, April, May, and June
In winter: January and February
For photography: April, July, August, September, and October
On Budget: July, and August
For honeymoon: January, February, and March
For Snow: January and February
To see Snowfall: January
Also Read: Sightseeing in Mcleodganj – A Natural & Cultural Paradise
Eating & Shopping in Dharamshala
---
What to eat in Dharamshala
Dharamshala cuisine has an eclectic character. You will find dishes of Pahari, Nepali, Gurkha, Tibetan and English cuisines. No matter the origin, the food is usually simple, homely, nutritious and inexpensive. Much of the food is grown and consumed locally. In fact, if you ask for local dishes, it is likely that the rice, wheat, vegetables or fruits are freshly harvested from some local garden. The organic produce tastes more flavourful than anything you would find in a city grocery. Food imports are mostly made to satisfy tourist tastes.
Here are some typical dishes you will find here:
Chutagi
This dumpling and vegetable soup is an iconic Tibetan dish. The bow-shaped dumplings are cooked in a soup consisting of carrots, potatoes, and spinach. Simply delicious and very filling!
Skieu
This is a wildly popular soup based dish whose recipe has remained unaltered for centuries. Wheat flour and water are kneaded together to form thumb-sized pieces, which are then added to a stew comprising root vegetables such as turnips and carrots along with the meat. It is not uncommon to find momos added in as well.
Paba    
This staple food is the secret to surviving Tibet's extreme altitude. A traditional recipe, Roasted flours of peas, barley, wheat, buckwheat, and black beans are kneaded into the dough. This dough is then kneaded in a tiny bit of oil and eaten with sugar, buttermilk or freshly harvested vegetables.
Khambir
This is a perfect accompaniment to the Butter Tea, soups and broths. A pan-shaped, whole wheat bread, baked to perfection with a thick crust, it is incredibly filling. Dip into a brew or slap on Apricot jam, the options are endless!
Momo
No die-hard foodie can think of momos without salivating, and we are no exception! Of Tibetan origin, momos are today served in every corner of India and have a dedicated fan following. The dough is stuffed with minced meats, cheese, and vegetables and then steamed till cooked. They are then served with chutneys, chilli sauce or ketchup. Momos may also be served in a soup. Incredibly, this simple dish is so versatile that the combinations of stuffings are endless. Also, every stall and restaurant has its own secret momo recipe. This unique, flavourful dish has rightly earned its place in the Food Hall of Fame.
Thenktuk
A Thukpa variant, this soup noodle dish goes easy on the spices. Of Tibetan origin, the gravy consists of mutton, chicken, tomatoes, onions, spinach, potatoes, radish, garlic, ginger and cilantro. The noodles are of the pull-out variety and mixed with wheat dough chunks.
Also Read: Mcleodganj to Triund Trek – A Day of Adventure & Fun
Mokthuk
The answer is Mokthuk, a nutritious, filling version of the Thukpa. This delicious dish combines noodles, various vegetables, chicken and mutton, along with momos dunked in the gravy, topped off with spices. Perfect for the cold weather and your taste buds!
Thukpa
A Tibetan noodle soup, this is popular comfort food to warm you up, inside and out. In fact, the "Thuk" in the name means heart in Tibetan, since this spicy, hot dish is heartwarming. Into chicken, mutton or beef soup are added noodles, tomatoes, onions, garlic and seasonal vegetables and served with spicy chutney.
Some other items you can try here are:
Chicken curry – Mildly seasoned and served on the bone
Maggie – Cooked with vegetables, each shop and stall offers its own version
Egg dishes – Hot omelettes and eggrolls on chilly evenings, how can you resist?
Bhutta – Fresh sweet corn is boiled or roasted
Where to eat in Dharamshala
Dharamshala offers innumerable options to eat out – large restaurants in the Tibetan area, tiny hole in the wall shops, street stalls, roadside dhabas and Maggie points. You can eat a different dish every day at every meal! However, if you have the opportunity to befriend a local, try authentic homemade Pahari fare. Beats the market offerings any day!
What to Buy in Dharamshala
Don't leave Dharamshala without shopping to your heart's content. Here are the Dharamshala's most famous shopping choices:
Handcrafted woolens: Dresses, caps, pullovers, socks, scarves, shawls and mufflers. Special shout-out to Pashmina goodies
Brass and wooden knickknacks: Statues, walking sticks, boxes of various sizes and home decor pieces
Accessories: In the Tibetan section, you can find some very trendy, quirky and unique footwear, bags, purses, and jewelry
Souvenirs: Lampshades, prayer wheels, prayer flags, books and porcelain, singing bowls, Buddha statues, handmade diaries, rugs, carpets, and paintings
Tea: Tibetan tea, Green tea and Kangra tea
Books: On Tibetan Buddhism, mythology, spirituality and Tibetan History. Also, teachings of the Dalai Lama
Also Read: Mcleodganj to Delhi – The Return Journey Home
Where to Buy in Dharamshala
Kotwali Bazaar
This area has not only a bustling market, but also cafes, restaurants, banks, and administrative offices. It is located about half a kilometer from Dharamkot.
Timings – 9:00 AM to 7:00 PM
Come here for – Everything from everyday items to traditional woolen garments (shawls and cardigans) to textiles to handicrafts to wooden carvings and sculptures and souvenir items.
Jogibara Road
This is a great place to collect the perfect knickknack for your home or to take as souvenirs for loved ones back home. The sheer variety of bric-a-brac on display takes your breath away!
Timings – 9:00 AM to 7:00 PM
Come here for – Colorful and patterned scarves, mittens, shawls, sweaters, jackets, gloves, and caps all handcrafted and made of pure wool. Also Tibetan wall hangings, carvings, wooden sculptures, prayer flags, and other Buddhist paraphernalia.
McLeodganj Market
This market sits cheek by jowl with Jogibara Road. It is home to the oldest shop in the entire region – Nowrojee and Son (continually in business since 1860!)
Timings – 10:00 AM to 7:00 PM
Come here for – Thangka paintings, wooden carvings, tapestries, Tibetan carpets and handicrafts
Also Read: 11 Best Honeymoon Destinations in Himachal Pradesh
Accommodation & Other Facilities in Dharamshala
---
Hotels in Dharamshala
Dharamshala is a much in demand tourist hotspot, and you will find hotels of all sizes, amenities and price ranges in this town. Again, it is wiser to pre-book accommodations to get a good deal. Here's a tip – the state tourism body Himachal Pradesh Tourism Development Corporation (HPTDC) operates a chain of hotels throughout the region. They are located at prime spots, sometimes a stone's throw away from the best attractions. They are also clean and spacious with courteous and helpful staff.
Petrol Pumps / Mechanics in Dharamshala
Petrol Pumps and Mechanics in and around Dharamshala are in abundance. You will continue to come across gas stations throughout the route. Finding a good mechanics in upper areas like Dharamkot could be challenging however so if your vehicle broke down there, you may have to bring it down to Dharamshala. The good news, however, is that since it is all downhill, you can just roll it down all the way.
Here are some petrol pumps and repair stops in and around Dharamshala:
Mann Filling Station
Contact – +91 1892 226093, 98160 45608
Pyaare Lal & Sons Petrol Pump
Contact – +91 1892 224818, 98167 49553
Ms. Dev Bhoomi Filling Station
Contact – +91 94598 51780, 70180 50962
Mobile network and Data Connectivity in Dharamshala
All major mobile networks in India offer connectivity within and near Dharamshala. However, the farther you venture into remote areas, the lesser the chances of mobile connectivity, except BSNL network. Triund is the area where you will definitely go off the network. I was carrying a BSNL and Airtel cellphone and it was only at a couple of spots and times on the trail when I was able to get a signal.
Also, always carry a dumb-phone that you can use in case of emergencies. Dumb-phone charge lasts for weeks and they are hardy in chilly weather. Any smartphone you carry should be kept close to the skin. Extreme cold can cause a smartphone battery to zonk out.
Some free wi-fi spots in Dharamshala are HPPWD Division, Café Budan and Pink House 1.
Electricity in Dharamshala
Electricity is available at all the hotels, guest houses and throughout the town; though the region does face some power-cut issues. You should carry a high power torch and extra batteries if you plan on traveling to remote areas.
Also Read: Best time to visit Manali – When to go to Manali
Banks and ATMs in Dharamshala
All the commercial banks of India have branches and ATMs in various parts of Dharamshala. Here are the major banks and their locations:
Bank of India – Sudher
ICICI Bank – Complex, near the Municipality Office
State Bank of India – Kotwali Bazaar Road, Sudher
Canara Bank – Sudher
HDFC Bank – Center Point
Yes Bank – Hotel Sansar, Civil Line opposite Centre Point
Axis Bank – Civil Station
Punjab National Bank – Kotwali Bazaar Road
Allahabad Bank – McLeodganj
The Indian National Rupee (INR) is accepted everywhere. If you need to exchange foreign currency, you will fund a number of money changers on Mall Road and in Bara Bazaar. It is essential that you carry adequate INR because no other currency is accepted.
Also Read: Best time to visit Shimla – When to go to Shimla
Health & Safety
---
Hospitals in Dharamshala
There are several clinics, hospitals, and dispensaries available in Dharamshala; and you will have no problem finding one even during the night. Below are the names and numbers of a few best-known hospitals in the area.
Is Dharamshala Safe to Visit
It is very safe to be in Dharamshala throughout the year. However, visitors are advised to stay cautious during monsoon season. The only thing visitors have to consider is to stay indoors as it may rain continuously during the rainy season.
The standard rules of safety like being alert with strangers and not to hang out in strange places will apply to everyone. If you are traveling alone then it is advisable to stay in a hotel in Dharamshala or Mcleodganj itself and not in a remote area. Safety lies in your own hands and will depend on the choices you make and the actions you take. Do not take any unnecessary risks, stay safe, behave responsibly and you will be OK.
Travel with family
Dharamshala is a child-friendly place and there are plenty of attractions to keep the young ones occupied and happy. However, since they will be unfamiliar with the terrain, it is important to keep an eye on them at all times, especially in the wilderness areas like forests, viewpoints, and picnic spots.
Travel with partner
Dharamshala is perfect for a romantic getaway, whether for a week or even just a weekend!
Also Read: Thanedar, Himachal – How to Plan your Trip & Explore
Things to Carry for a Trip to Dharamshala
---
Clothes to Pack for Dharamshala Trip

Carry warm clothes no matter what time of year you are traveling. Also, dress in layers so that you can put on or take off a layer when the temperature changes suddenly. In winter especially, thermal wear and heavy jackets are a must. Carry extra pairs of clean socks at all times. All mountain areas can experience sudden or continuous downpours at all times of the year, so carry an umbrella, poncho or windcheater. Dharamshala is best explored on foot, so sturdy, all terrain, all weather shoes are a basic requirement. Remember, respect the sentiments of the local people and do not wear clothes which are revealing, especially when visiting a holy place such as a Monastery.
Documents Needed

Carry both the original and a few copies of your Identification proof and Address proofs along with the original documentation. Passport and Aadhar Card are the accepted ones. Also, carry several passport size photographs. It is also advised to carry a list of emergency contact numbers on your person at all times.
Hygiene and personal care
A basic first aid kit should be carried on a priority basis which includes not just bandages and gauze but also medication for fever, diarrhoea, indigestion, cold etc. If you take prescription drugs, carry the adequate dosage of the same to cover the duration of your trip. Many areas are very sparsely populated such that finding a medical store or a doctor is a miracle. If you plan to visit high altitude areas carry a small oxygen cylinder and medicine for altitude sickness. Carry your own toilet paper and tissues. Also, for women, carry sanitary products.
Electronics
Carry at least two fully charged power banks at all times for your mobile phone or laptop along with extra batteries for torches. Photography enthusiasts should carry extra memory cards.
Food and medicines
Carry all the toiletries you usually require since you might not find them in the local markets. Hand sanitizer, mosquito repellent cream, and detergent soap sachets are essential. Carry a sunscreen of at least 30+ SPF and a good pair of sunglasses. Carry extra garbage bags to store laundry. Most of the trip will be covered by road and it can take more time than estimated to reach the destination. Also, for vegetarians, in particular, some areas may not offer much in the way of food. So, carry dry fruits and snacks for emergency food requirement.
Cash
ATMs are few and far between outside Dharamshala, and the ones which exist may not have adequate cash at all times. So, it is wise to carry a decent sum of cash. Don't rely on payment through card as most hotels and nearly all shopkeepers only accept cash. Distribute cash through all your belongings for safety.
Do not forget:
Warm Caps
Pair of warm, waterproof gloves
Sunglasses
Sunblock lotion with highest SPF that you can find (if visiting in Summer)
Toilet paper
Prescribed medicines if you are on medication
Head Phones/Earphones
Power Bank
Chargers for your electronic items
Umbrella or a Rain Poncho (if visiting during monsoon)
Torch
Snow boots if visiting in winter
Comfortable pants if planning to go on a trek as a pair of jeans is not advisable for this purpose
Also Read: Jalori Pass – How to Plan your Trip & What to See
Itinerary for Dharamshala Trip
---
Sample Itinerary for Dharamshala and Mcleodganj



Covers: Dal Lake, Dalai Lama Temple Complex, War Memorial, McLeodganj and Palampur
Day 1: Drive up from New Delhi, begin preferably very early in the morning. Reach Dharamshala in about 9 hours and check in to the hotel. Relax for a bit. Alternatively, arrive at Pathankot Railway Station and drive up.
Day 2: Sightseeing around Dharamshala – Dal Lake, Dalai Lama Temple Complex and the War Memorial. In the evening, go shopping at the Tibetan markets.
Day 3: Sightseeing in McLeodganj – Visit Bhagsu Nag Temple and waterfall, St. John's Church in the wilderness and Lord Shiva's Temple. Take in the sunset at Talho Sunset Point. You can also trek up to Naddi Village in the Kangra Valley.
Day 4: Day trip to Palampur – Chamunda Devi Temple, Gopalpur Zoo; and Palampur Tea Gardens.
Day 5: Breakfast followed by departure to New Delhi
Also Read: Tirthan Valley – A Complete Travel Guide & Itinerary
Other Tips for Dharamshala Trip
---
Permits
Sightseeing in and around Dharamshala does not require any permits.
Fast Facts
Nearby Town(s) – McLeodganj, Kangra, Dalhousie, Palampur, Bharmour, Kugti
Dharamshala Altitude: About 4700 feet above sea level
Languages Spoken in Dharamshala : The non-Tibetan locals speak "Kangri/Pahari" which at its core is a distinct variation of Hindi that has evolved over centuries of isolation. The Tibetans speak their native Tibetan. However, almost everyone communicates readily in Hindi. Most people even have a basic understanding of English, courtesy of British Era influence.
Other Tips



It is highly inappropriate to touch a person of the opposite sex, even in conversation, even in a friendly manner, especially if you have just met
If you visit places of worship, then look around carefully. If others are removing their shoes or covering their heads, do the same
In monasteries and Buddhist temples always be silent
Emergency numbers
Police – 100
McLeodganj police post – 01892-224883
Dharamshala police station – 01892-224883
Fire – 101
Ambulance/Medical – 102
Women's helpline – 1091
Child helpline – 1098
Disaster management control room – 0177-2812344
Kangra (Gaggal) Airport – 0189 223 2374
Pathankot Railway Station – 0186-2251594
Also Read: Best Time to Visit Prashar Lake, Himachal
People, Culture & Festivals of Dharamshala
---
People of Dharamshala
The Kangra Valley has been inhabited as far back as 20,000 years in the past. The original native Hindu inhabitants were hunter-gatherers, shepherds and herdsmen, who wandered around these holy, picturesque mountains and valleys with their flocks. These tribes still exist today, and heir way of life has remained virtually unchanged.
With the passing of the centuries, the arrival of other settlers, most notably the Brahmins and Rajputs from the plains, Gurkhas from Nepal, the British and of course the Tibetans has contributed to a unique, melting pot of culture, tradition and peaceful coexistence.
Festivals Celebrated in Dharamshala
Below is of festivals celebrated in Dharamshala with happiness and fanfare:
January: Haldi – Celebrates the beginning of winter's end. Expect bonfires and folk music and much dancing
February: Basant Panchami and Samvastar Pareva – Saraswati Puja
March: Losar – Tibetan New Year
October: Sharadotsav and Dussehra – This is the year's busiest and most spectacular festivals and draws both domestic and foreign tourists. Lasting for nine days, these festivals involve pujas, melas, processions and street food galore!
December: International Himalayan Festival – Three days of performances and celebrations in Honor of His Holiness, the Dalai Lama.
Also Read: Kinnaur in Winter – How to Plan your Journey ?
History, Mythology & Legends
---
History of Dharamshala
The entire region has roots back to the time of the Mahabharata. The Kangra valley has been inhabited since ancient times. In fact, one single royal dynasty, the Katochs ruled it for nearly 2000 years. They fell under the control of the Sikh Empire and then the British Empire. Surprisingly, the Katoch rulers still exist today and are highly influential in the area. The original Hindu inhabitants are mostly shepherds and huntsmen.
Dharamshala is the place where the legends of the Gurkhas – the bravest of the brave. The first Gurkha regiment was established here in 1860. As they made their name fighting wars for the British Empire, more and more Gurkha platoons were established. Eventually, distinct settlements arose which are still in existence today. Many places in and around Dharamshala are named for Gurkhas, their villages or their military encampments.
Kunal Pathri
It is one of the 51 Shaktipeeths of India. Legend has it that Devi Parvati's head fell to the earth here as it was being carried around by Lord Shiva. Inside the ancient temple, a trickle of water drips down from the ceiling, which the priests collect in a saucer. No one can explain where this water originates from!
Also Read: Kinnaur Valley – A Comprehensive Travel Guide
Indrunath Temple
This ancient temple is located near the take-off point for paragliders. Nearby is a sparkling stream. The waters of this stream were essential for cultivation in the nearby villages. In the past, however, this stream would dry up during the summer months. The villagers believed a sacrifice to the Gods would keep the stream from drying up. A village headman then reportedly chucked his wife in the water, and since then, there hasn't been a dry day!
Aghanjar Mahadev Temple
This is a centuries-old temple. Legend has it that the Shiv Ling inside was not brought here, rather, it manifested itself. Also of note is a fire that has been burning continuously for half a millennia. No one knows who began this practice, but the locals ensure that the fire is never allowed to die.
Baijnath Temple
This hugely significant temple has an interesting back story. It is said that Raavan prayed to Lord Shiva, asking him to reside in Lanka forever. Lord Shiva didn't want to leave his beloved mountains, and so he handed Raavan a stone statue of himself, with a catch – Raavan would have to carry it Lanka by himself and that he should never put it on the ground. All too soon, Raavan wanted to attend a call of nature. He requested Lord Ganesh to hold on to the statue. However, the mischievous Lord Ganesh swiftly placed the statue on the ground! This spot is where the Baijnath Temple stands today.
Also Read: Shimla Manali Dharamshala Dalhousie Trip Itinerary
Conclusion
---
Why to visit Dharamshala
To sum up, Dharamshala is your destination if:
You want to visit the prime centre of Tibetan Buddhism in the world; second only to Tibet itself
You want to relax in a soothing, calm; and above all, cool temperature
You want peace and quiet from din and drama of city life; and want to spend some time away in peace.
You want to explore the upper Indian Himalayas
Last but not least, you want to catch a glimpse of His Holiness, the Dalai Lama!
I hope the information above on planning a trip to Dharamshala was of help. If you have any questions; or need any other details; please feel free to ask in the comments section below; or at our Community Forum; and I will be glad to answer.