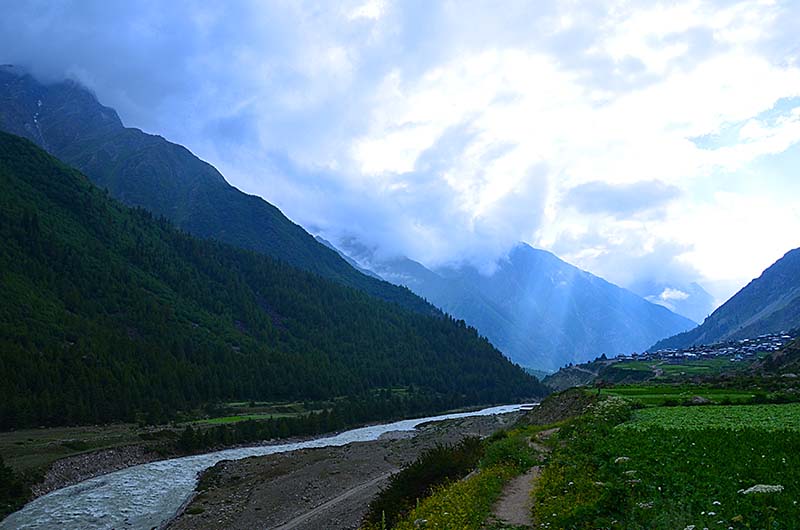 In this article, I will provide a list of top offbeat places in Himachal Pradesh that you can consider visiting for your next trip. These places are all easy to reach, safe to visit even with your families, are amazingly scenic, and never get crowded.
Everyone knows places like Shimla and Manali and almost everyone has been there. Whether it's peak summer or winter, these places get so crowded that going there doesn't even feel like a vacation. There are several other known places as well where if you go, it just feels like you went from one city to another, not really to a hill station.
If you too are tired of the same overcrowded places; and would rather enjoy the peace and tranquility of a lesser-visited place, then you can pick either one of the below-mentioned destinations.
Top Offbeat Places in Himachal
The fact actually is that the entire Himachal in itself is a tourist destination. There are some places that got famous as compared to others. But if you want to go remote or want to get away from civilization for a while, then any village or human settlement here will about do.
The list can really be endless and it all depends on how many days you have in hand and what your preference is. The places that I will include in these articles are mostly based on three factors.
First and the most important is that these destinations do not see so much tourist footfall even during peak season. The second is that even though offbeat, there is road connectivity and reaching here is not troublesome at all. The third factor I have considered is that there is decent accommodation available here either in form of a hotel or guest house.
With the above being said, mentioned below are a few offbeat destinations in Himachal Pradesh that are definitely worth a visit.
Chitkul
Ever seen a poster, picture, or postcard of a place nestled up in the hills, with high peaks on three sides and a road leading from the fourth, a small river flowing down from one of the hills, and the sun rising up? If you want to see a live version of that picture then you must visit Chitkul.
It has been my favorite hill station ever since I went there first and this is the reason I am putting it on top of the list. Very few people visit here and the ones that do, are mostly people attempting the Spiti Circuit.
For a brief overview, Chitkul is the last village on the Indo-China border. It lies on the banks of the Baspa River and also is the last point in India that a person can visit without needing to obtain a permit.
In order to get here, you will reach Shimla and continue towards Rampur from there. After Rampur, follow the road till Karchham. A small road bifurcates at Karchham towards Sangla valley which is the one you will take. Chitkul is about 40 odd kilometers from this point.
There is no major tourist attraction in Chitkul, except for the natural beauty of the place. Visit here for a couple of days and you will fall in love with it. The stammeringly scenic and virgin beauty of this tiny hamlet is like no other. In Winter the entire village gets buried under deep snow and can even become inaccessible for a couple of months. To know more, please take a look at How to Plan a Trip to Chitkul.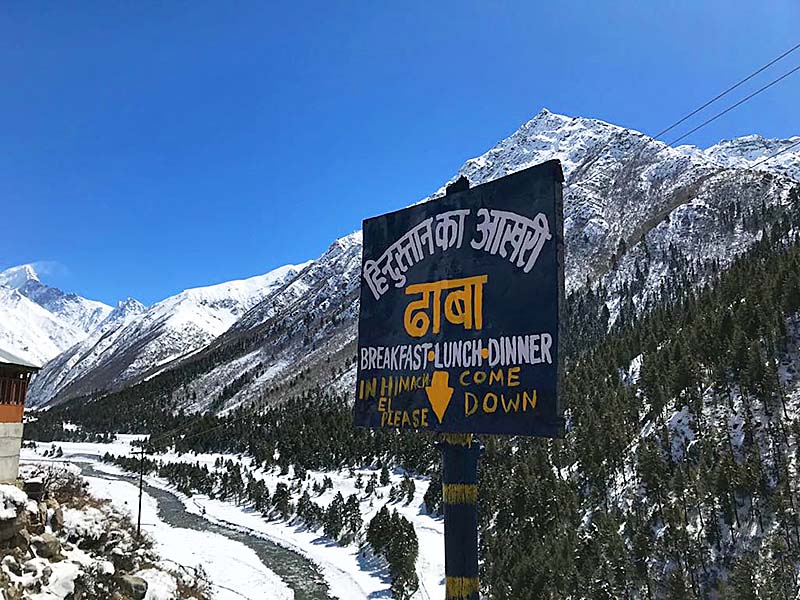 Narkanda
Narkanda is probably one of the easiest offbeat destinations in Himachal. It is merely about 62 kilometers from the busy town of Shimla. This distance can easily be covered in a couple of hours on a super smooth road however the town does not see so many tourists.
It remains accessible throughout the year which makes it perfect for a winter trip as well. It is at a height of 8,100 feet, slightly higher than Shimla, and gives an amazing view of the snowy peaks all around.
The entire drive from Shimla to Narkanda is quite scenic and a couple of days of stay in the silence of the valley here is highly recommended. You can use this time to visit the Satluj river viewpoint and the nearby Hatu Peak.
During peak winter, Narkanda sees a lot of snow and turns into a Ski resort. Even during this time, however, the road remains open and you can reach here without any trouble at all. For more details, please take a look at How to Plan a Trip to Narkanda.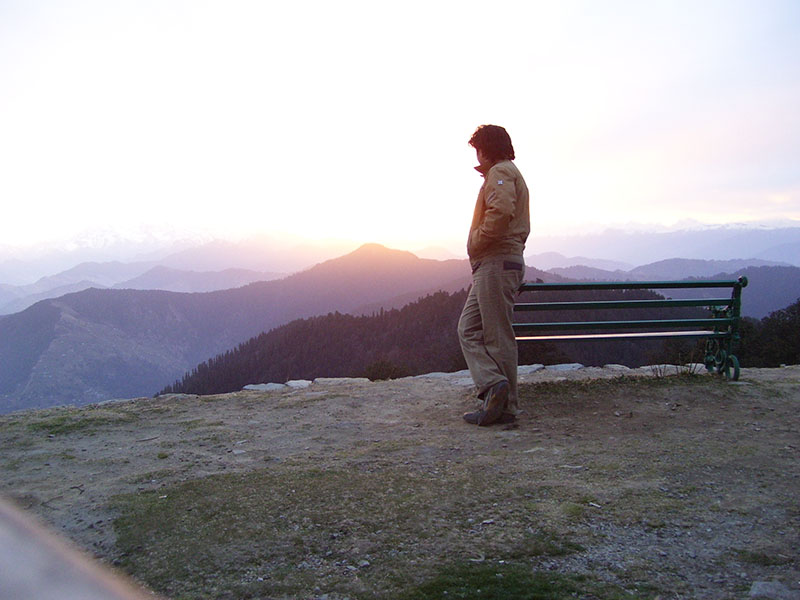 Sarahan
What makes Sarahan worthy of a visit? There are several reasons actually. Apart from its apple orchards, small water streams, pine forests, and scenic beauty, this small village has a bit of religious touch to it as well.
The famous Bhimakali temple located here is considered to be one of Fifty One sacred Shaktipeethhs. There is also a bird sanctuary here which makes it a perfect destination for anyone with even the slightest interest in wildlife, bird gazing or photography.
Sarahan is at a distance of 160 odd kilometers from Shimla. You will continue on the road towards Rampur via Narkanda, reach Jeori, and take the 15 kilometers small uphill road to reach Sarahan. For more details, please take a look at How to Plan a trip to Sarahan.
Chandratal
If staying at a camp right next to a lake in the middle of nowhere is what you seek then there is no better place to head to other than Chandratal. This small lake lies in the lap of the mighty peaks of Spiti Valley and is a sight to behold.
Often considered as a paradise for campers and trekkers, Chandratal is one of the most beautiful of all high altitudes lakes. It derives its name "Lake of the moon" from its crescent shape and remains opens for tourists for only about 4 months a year. The lake is considered holy and is also the origin point of the Chandrabhaga river. For more information, take a look at How to Plan a Trip to Chandratal.
You can approach from either Shimla or Manali. From Shimla, you will travel via Reckong Peo, Pooh, Nako Tabo, and Kaza which will easily take about three days.
The quickest way however is to go via Manali and the journey can easily be completed in 6-8 hours. From Manali, you will cross Rohtang Pass and take the bifurcation towards Batal from Gramphoo. After Batal, you will climb up Kunzum La and then take the 14 kilometers long narrow road just before reaching Kunzum top.
What makes a trip to Chandratal really worth it is a mix of all that you get. The scenic beauty of the place is out of the world and captivating. Every night, you get to see brightly lit skies filled with stars are a perfect opportunity for nighttime photography and stargazing. Staying at a camp here is an experience one of its kind and the rough road from Manali to Chandratal will give you every bit of a taste of adventure.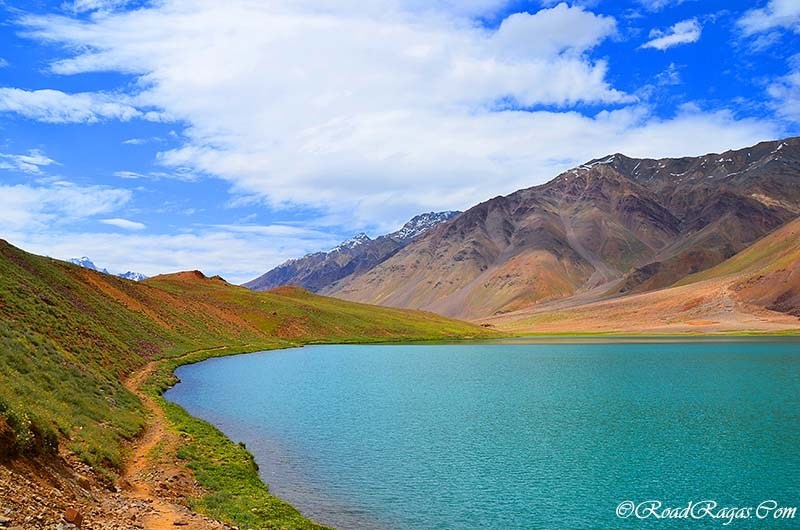 Beral
Located about 100 kilometers from Shimla is the small village of Beral, a place where time literally stands still. A charming little village in the middle of tall pine forests and apple orchards where not much happens, and that is what makes this place worth a visit.
A few days here will give you a true taste of tranquillity, take you away from the noisy city life into the lap of mother nature. In order to get here, the quickest route is Kotkhai and Kharapatthar from Shimla. The only drawback however is that the road after Shimla and around Kharapatthar can be quite a nightmare for some.
Malana
Do you want to experience something different? Do you want to go to a place that is a bit strange in its own ways? Think no further and head to Malana. The small village is about 80 odd kilometers from Manali and can be reached in about 3 hours. For more details, take a look at How to Plan a Trip to Malana.
There are numerous stories about this tiny hamlet. People here are believed to be direct descendants of Alexander the Great. They claim to be the oldest standing democracies in the world, have their own lifestyle, social culture, own set of administrative laws and are very strict with following their customs. It is like an entirely different culture right in the heart of the Himachal.
There are several things that this village has been known for and one of the most prominent ones is its Charas. They do not eat food cooked by a non-native, have strong faith in Lord Shiva and Jamlu Rishi. The sage is believed to have resided here and laid the foundation of democracy.
Gushaini
Gushaini is a small village located in Tirthan Valley. In order to get here, you can reach Mandi near Manali. Then head towards Aur from where Gushaini is about 30 odd kilometers. It is a perfect setting for nature lovers and the ultimate destination if you are looking to spend some time in complete silence.
About 10 kilometers from Gushaini is the Great Himalayan National Park which is a world heritage site and a known location among trekkers, mountaineers, and travel enthusiasts from across the globe. Tirthan river flows right next to the village and makes it a great place for camping as well.
Due to the high number of Trout fishes found in the Tirthan River, Gushanini has also been nicknamed as Trout Country. If you want to spend some time fishing in the hills, Gushaini is the destination you should head towards
Kheerganga
If you wouldn't mind a bit of trekking, then Kheerganga can prove to be an amazing destination. It is near Kasol from where you will have to reach Barshaini, the closest village reachable by road. The 12-kilometer long trek starts from Barshaini, passes through deep enchanting forest and beautiful vistas. There are several waterfalls on the way of which the serpent-shaped waterfall of Rudra Nag is quite eye-catching.
The trail ends at the hot springs of Kheer Ganga where you can camp for the night. The views from the top here are spell-bounding. A dip in the warm waters of Kheer Ganga is highly recommended. For more details, please take a look at How to Plan a Trip to Kheerganga.
Prashar Lake
Prashar Lake is another offbeat destination in Himachal which can also be considered for a quick getaway. Depending on the time of the year you are traveling, this can either be a complete journey by the road or can involve a little bit of trekking as well.
The lake is located on a hilltop, about 50 kilometers from Mandi. Not many people visit here and it offers solitude in abundance. The lake is open throughout the year which makes it a great trek for winters as well. For more details, please take a look at How to Plan a Trip to Prashar Lake.
Shoja
Shoja, also called Sohja or Sojha, is a small village at the height of 8,500 feet. It is located about 5 kilometers from Jalori Pass. This tiny hamlet is one of the most beautiful places in all of Himachal; and is a perfect place for some nature walks, short treks, camping, and bird watching.
The area around Shoja is an enchanting forest that is a part of the Great Himalayan National Park. It offers an excellent view of the nearby peaks. You can also view and get some excellent captures of several beautiful birds Monal, White-throated tit, Indian blue robin, nutcracker, ultramarine flycatcher.
Dharamkot
Dharamkot in recent times has come up as an alternate to Mcleod itself. However, unlike the main town, these villages are not so crowded; and perfect for someone looking to spend some time in peace.  Also referred to as a hippie Village, Dharamkot mostly attracts budget and long-stay travelers with inexpensive styles.
Dharamkot is located about 3 kilometers from Mcleodganj and 8 kilometers from Dharamshala; at a height of 6,920 feet (2109 meters) on the crest of a hill above Mcleodganj. It falls on the way towards Triund Top before Gallu Devi Temple. For more details, please take a look at How to Plan a Trip to Dharamkot.
Jispa Village in Lahaul Valley
If you were wanting to visit an unexplored and offbeat destination for your trip, Jispa is a name that I will highly recommend. You do not even have to be going to Leh to visit Jispa as a matter of fact. Even if you were in Manali for a couple of days, you can still make a trip to Jispa and witness some of the best views of your trip. The recent opening of the Atal Tunnel has made things much easier and the distance shorter.
Jispa is a name that only a few would know of. It is a quiet little village located on the Manali Leh route; and mostly acts as a stopover for people traveling to Ladakh. But that is not all that it is limited to. In and around Jispa Village are some of the best views that you can get on the Leh highway as well as in the Lahaul Valley. For more details, please read How to Plan a Trip to Jispa.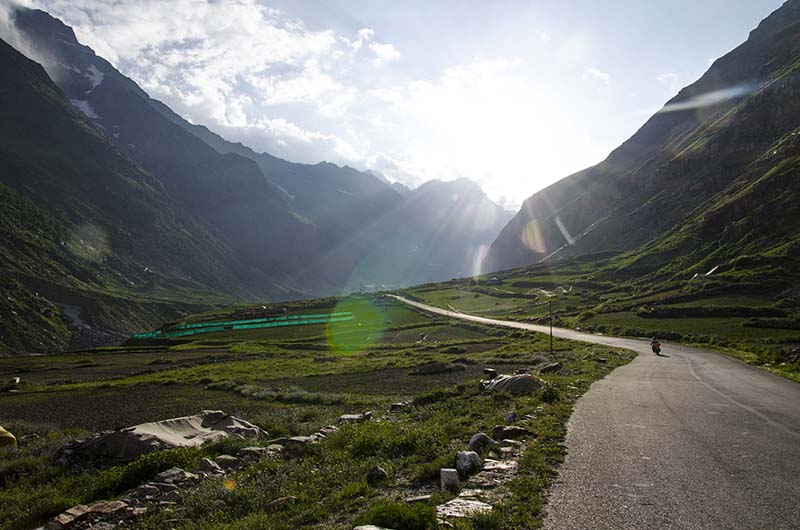 Chail
When you talk about a weekend getaway from places like Delhi and Chandigarh, Chail is a name that will often come up. It's easy accessibility and proximity to the plains make it perfect for a short trip to the Himalayas.
On the other hand, it is also not too far away from Shimla; and is connected to the capital city by a good motorable road. This also puts Chail in a sightseeing itinerary covering Shimla and places in its vicinity.
Sitting on the edge of the Chail wildlife sanctuary, the entire village is surrounded by a thick forest and remains pleasant throughout the year. In the winter season, it gets covered by snow and turns into a winter wonderland. Kali ka Tibba and the Royal Palace are some of the other must-visit places in Chail. For further details, please read How to Plan a Trip to Chail.
Kalpa
The name Kalpa in Kinnaur Valley would probably be known only to people who have done a bit of traveling in the Himalayas. People who have been to Himachal more than a few times or have been on the Spiti circuit at least once. It is a beautiful little town that is blessed with unparalleled scenic beauty and a majestic view.
It however is still not known to many people and never gets crowded. So if you were planning a trip in near future; and wanted to travel to a lesser-known place that offers peace and tranquility as well as stunning vistas all around, then Kalpa could prove to be an ideal destination. For more details, please read How to Plan a Trip to Kalpa.
Shangarh in Sainj Valley
I have visited Sainj Valley twice, once in winters and again in the monsoon season (crazy, I know). This is one place that I will highly recommend to anyone who wants to really 'explore' Himachal and add some unknown and unseen places.
My friend aptly described it as a place where you go remote without going remote. It is one of the last few regions of Himachal that are easier to reach but still largely unexplored. Still untouched by tourism mania and clenching on to its simplicity, the valleys and meadows of Sainj will charm you off your feet. For more details, please take a look at How to Plan a Trip to Sainj Valley.
Miyar Valley
Located in Pattan valley (a sub-valley of Lahaul valley), Miyar valley remains completely devoid of tourism influx; and is one of the true hidden gems of Himachal Pradesh. One of the main reasons why this place is still unaffected by tourism is due to the fact that it completely remains disconnected from the outside world for 6 months (during winters).
Although this region is a haven for trekking enthusiasts, I see no reason why people who cannot trek or don't want to trek cannot visit this place. This place is a perfect one if you want to get isolated from the world; and run away from your daily routine for a few days or weeks. For more details, please take a look at How to Plan a Trip to Miyar Valley.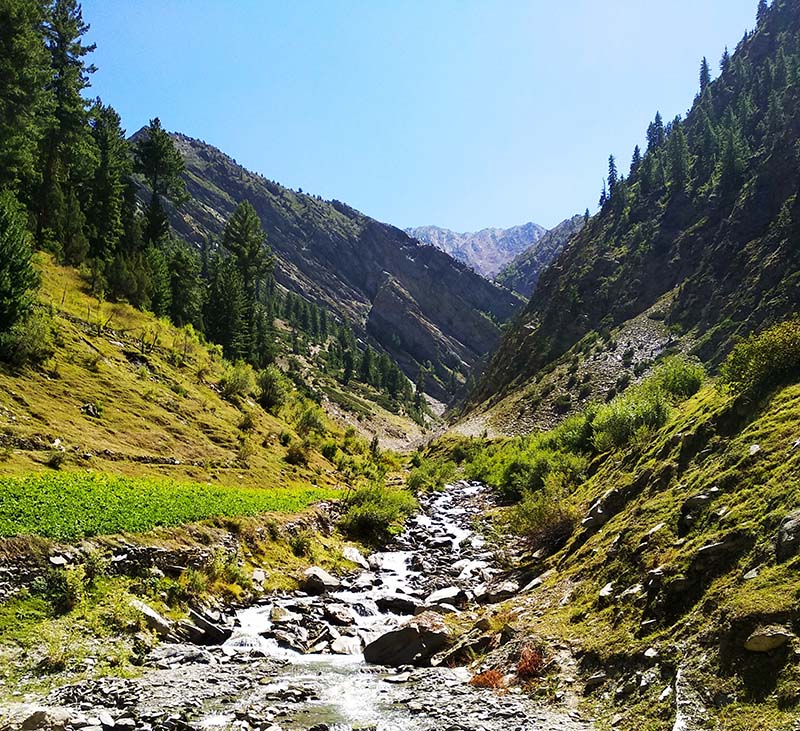 Jibhi in Tirthan Valley
Jibhi is a very small town located in Banjar Valley of Himachal Pradesh. Actually, even calling it a town will be a bit of an exaggeration. It is, in fact, a small village, just a group of few houses, tucked up in the hills and hidden from the outside world. It is located at a distance of about 160 kilometers from Shimla, 100 kilometers from Manali, and 70 kilometers from Mandi.
If you are the kind of person who likes to visit offbeat destinations; spend some time in peaceful locations; have an interest in photography; would like to stay away from the crowd and explore some unknown places then Jibhi will suit you just fine.
There is no commercialization here. That is what makes it a great place to come and stay at a local homestay for a few days. Just sit ideally in the lap of nature, do some trekking, see a couple of waterfalls and lakes, go to a high altitude pass, talk to the locals, and listen to the sounds of the birds and water flowing down a stream. For more details, please read How to Plan a Trip to Jibhi.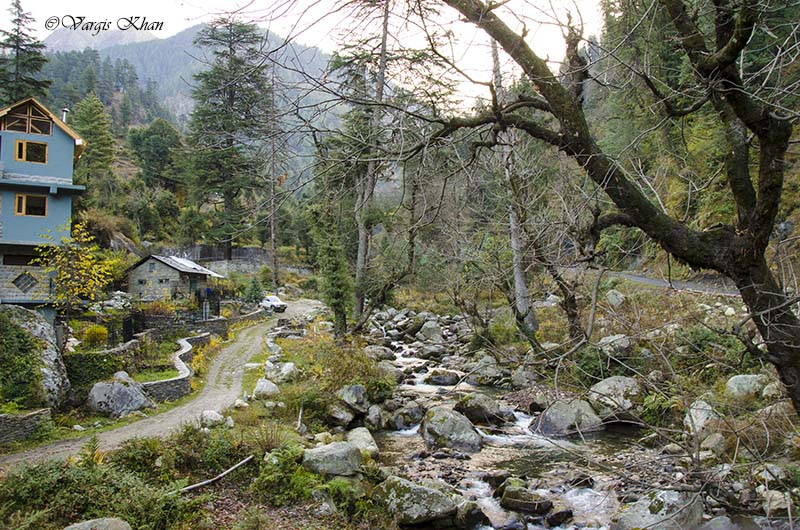 Offbeat Places in Himachal – Conclusion
I hope the information above on offbeat places in Himachal was of help. If you have any questions; or would like to name another place; please feel free to ask or add in the comments section below, or at our Community Forum; and I will be happy to answer.