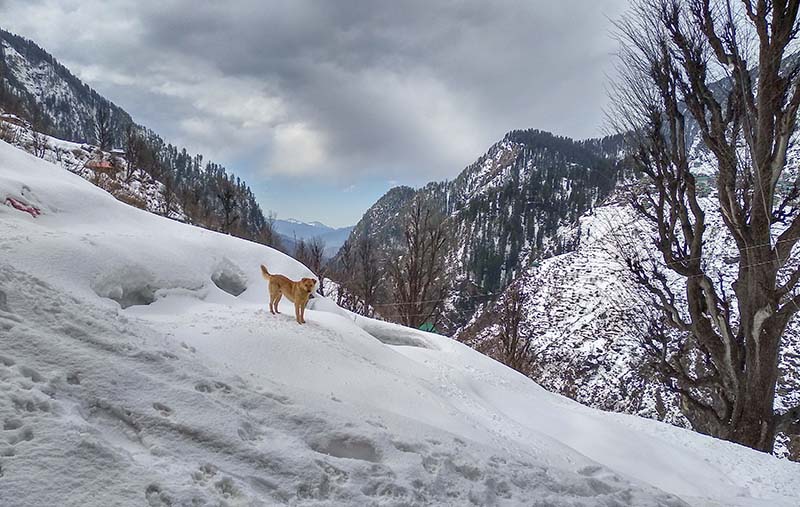 Malana is an ancient Himalayan hamlet perched at around 8700 ft. and claimed to be one of the oldest living democracies. Situated in now-famous Parvati valley, the tourist footfall here has exponentially increased over the years owing to three primary reasons; better road connectivity, unblemished trekking trails and natural beauty, and high-quality hashish. (Please note that it is illegal to possess and consume hash in India so avoid indulging in such illicit practices as one can be even arrested for it.) In this article, I will provide a detailed travel guide on planning a trip to Malana Village.
The ancient village of Malana came into limelight due to high-quality hashish known as "Malana Cream". It became extremely prominent due to it along with its strange rules. The area around Malana is very conducive for the Cannabis plant to grow which is why it became a cash crop for the villagers as any other type of crops does not grow due to geography of the region.
The road connectivity till the Malana gate made it even more accessible which otherwise would take days to reach the village. This eventually led to more and more people visiting this remote village primarily in search of good-quality Hashish, others for its natural scenic vistas and beautiful unexplored trails, and its novel but shocking history and rules pertaining to the village.
But let not all the infamous stereotypes about Malana you read on the internet mask the fact that the region around Malana is one of the best places you can hike and trek in the country. Yes, most of them are kind of true, but the natural beauty of the region is also second to none.
About Malana
Malana is an ancient village located in the state of Himachal Pradesh. The village is at a distance of about 85 kilometers from Manali, 238 kilometers from Shimla, and 520 kilometers from Delhi. At an altitude of 2,652 meters (8,701 ft), it is one of the most talked-about villages of Himachal and has been the subject of several documentaries due to its customs and traditions. Read on to find out more.
History of Malana Village
Malana is claimed to be one of the oldest democracies in the world by its residents. The villagers believe themselves to be the descendants of the Soldiers of Alexander the Great and are the only pure ones from the Aryan race.
Jamlu Devta is the supreme deity of this village and no decisions or rules and regulations are made without his permission. According to mythology, Jamlu rishi dwelled in this village and devised the rules and regulations for this ancient village.
They do not speak the common mountain dialect spoken in Kullu. They have their own dialect known as Kanashi and almost nobody understands the dialect in Kullu valley. Outsiders are not allowed to speak their dialect, only people of Malana can communicate in Kanashi.
The village had very little contact with the outside world before the hydroelectric project brought development in the form of roads. The newly built roads certainly eased the lives of the villagers but also lured in a whopping number of tourists and visitors in search of the infamous Malana cream. The word was out about the Hashish long before even roads came in; as the region is very conducive for cannabis plant growth which led to it becoming world-famous.
Rules of Malana Village
One of the very reasons why Malana is on the list of every traveler's visit to Parvati valley is due to its eccentric rules. I recommend everyone to strictly adhere to the rules to avoid disturbing tranquility and maintain the sanctity of this village.
Do not touch the inhabitants or anything else in the village. As strange as it might sound you, cannot touch the residents of this village. Violating this rule will lead you to pay a hefty fine of INR 3000.
Outsiders cannot visit the temple. Forget getting a sneak-peak inside the temple, you can't even touch anything in the village.
Entry to Jamlu Devta temple is strictly prohibited from outsiders. Failing to abide by this rule while again cost you a sum of INR 3000.
You cannot stay in the village.  Nowadays you can just make a day trip to Malana.
There cannot be any police intervention. The villagers do not entertain police officials as Malana has its own set of rules. If there is some kind of situation that needs to be sorted out, then villagers seek advice from Jamlu Devta and he has the final say in all the village matters.
You must strictly ask for permission before pointing your camera at anything in the village, or anyone.
Since the Police are not allowed to enter, you also cannot seek their help or bring them along. If you do, you will be fined. If there is anything that you need help with, you need to speak to the village council.
Hunting wild animals is not allowed without the permission of the village council.
You cannot burn wood in and around the village.
You are also not allowed to fix nails on trees.
Also Read: How to Plan a Trip to Tosh Village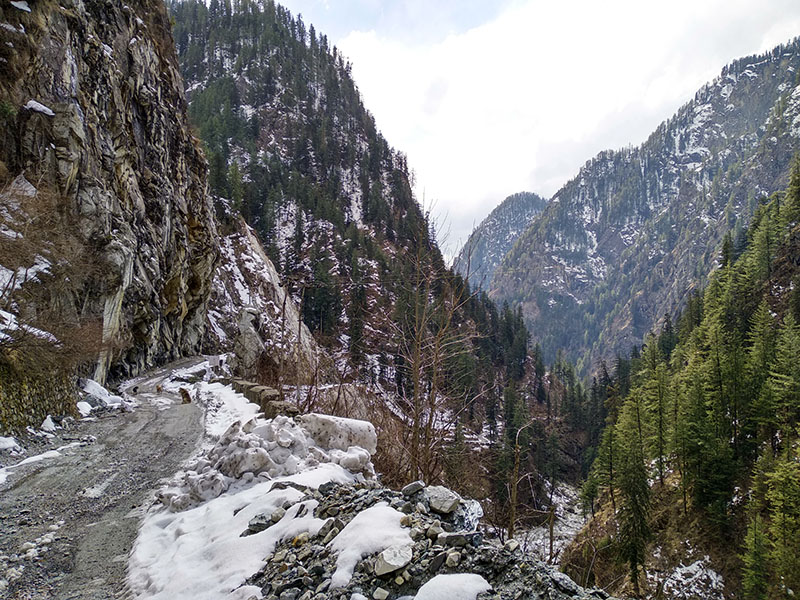 How to reach Malana
Reaching Malana has become quite straightforward now as compared to the previous years when there were no roads and one had to trek for hours and days to get to the village. However, despite the road connectivity, Malana can still be only reached by foot. The only difference is that now the trek time has been limited to just a few hours.
For the sake of explaining the route, I will assume that you are coming from Delhi. Even if you were coming from a different city though, the information below can still help you understand the best way to reach Malana village.
Irrespective of your mode of travel, by road, you will only be able to get to Malana Gate. From there, you will have to walk the last leg of your journey uphill to Malana Village.
How to reach Malana from Delhi by Road
Reaching Malana by self-driven car or motorcycle from Delhi and Chandigarh is quite straight forward. While most of the journey is on the Chandigarh-Manali national highway, the road to Parvati valley diverts from Bhuntar. From Bhuntar you reach Jari where the road bifurcates again; one goes to Kasol while the other one goes to Malana gate.
The route of the journey will be as mentioned below.
Delhi – Karnal – Ambala – Chandigarh – Bilaspur – Sundernagar – Mandi – Aut – Bhuntar – Jari – Malana Gate
Delhi to Malana gate distance is around 525 Km while Chandigarh to Malana gate is at a distance of around 293 km. While Kasol to Malana gate is some 22 km and Manali to Malana is around 84 km.
The journey from Delhi to Malana cannot be done in a single due to the trekking involved. You also need to keep in mind that you will be walking down on the same day. So an ideal way for the trip is to reach either Kasol or Tosh and stay there for the night. The next day, you can plan a day trip to Malana.
There are also a few hotels near Malana Gate where you can stay if you do not want to stay in Kasol or Tosh.
How to reach Malana by Bus
To reach Malana, one needs to get to Bhuntar first which can be easily reached from Delhi or Chandigarh. To reach Bhuntar you need to board buses that go towards Manali. There are a lot of HRTC and private Volvo and ordinary buses which commence from ISBT Kashmere gate in the evening so you can board one of these and get down at Bhuntar the next morning.
From Bhuntar you need to get to Jari which can be easily reached by boarding local buses which ply frequently between Bhuntar and Kasol and vice versa. In case you don't want to travel by buses then you can hire a private taxi which is a good option if you are traveling in a group as you can directly reach Malana. But for all the solo and budget travelers you can board a local bus, then get down at Jari from when the road to Malana diverts.
As I mentioned earlier, Malana can be only reached by foot so the Malana gate is the point where the trek for Malana village starts. From Jari, the only option to reach the Malana gate is to hire a cab that has a fixed rate of INR 700. You can get local buses from both Bhuntar and Kasol throughout the Day to reach Jari. There are no buses from Jari to Malana gate so it's better to you find other people to share the cab with, otherwise, it's going to be a tad bit expensive to reach the gate.
Private Taxi
If you are in a big group, then I would suggest you to directly hire a private taxi to Malana from Bhuntar. It will be considerably cheap. Of course not as cheap as if you travel to Jari by local bus and then take a cab to the Malana gate but it will be way more convenient and save you the hassle of a Bus.
Also Read: Best time to visit Manali – When to go to Manali
Malana Gate to Malana Village
From the Malana gate, you have to hike for around 3-4 km to reach the Malana village. The hike takes around 1.5 hours to complete as there are some ascents to deal with, but nothing too difficult. The hike should be fine even for beginners as well.
Nearest Airport to Malana
Bhuntar Airport is the closet airport to Malana. Usually, there are only a handful of flights that operate out of this airport and that too only domestic. Apart from that, the prices are going to be ridiculously high due to a smaller number of aircraft being in operation. So, a better option would be to travel by road. But if you don't have any budget constraint and are short on time then, by all means, this can be a viable option.
How to reach Malana from Bhuntar
From Bhuntar, you can either hire a private taxi directly till the Malana gate or follow the details mentioned above in case you want to use public transport.
Other than Bhuntar, the next nearest airport is in Chandigarh which is a major airfield. There are several flights available from Chandigarh to almost every city nearby. If you must travel by Air, then I will recommend that you book a flight to Chandigarh rather than Bhuntar.
How to reach Malana from Chandigarh
From Chandigarh, in order to get to Malana, you can either book a taxi from right outside the airport. Or you can board any Bus going towards Manali and get down at Bhuntar. From Bhuntar, you can then get to Malana as I explained above.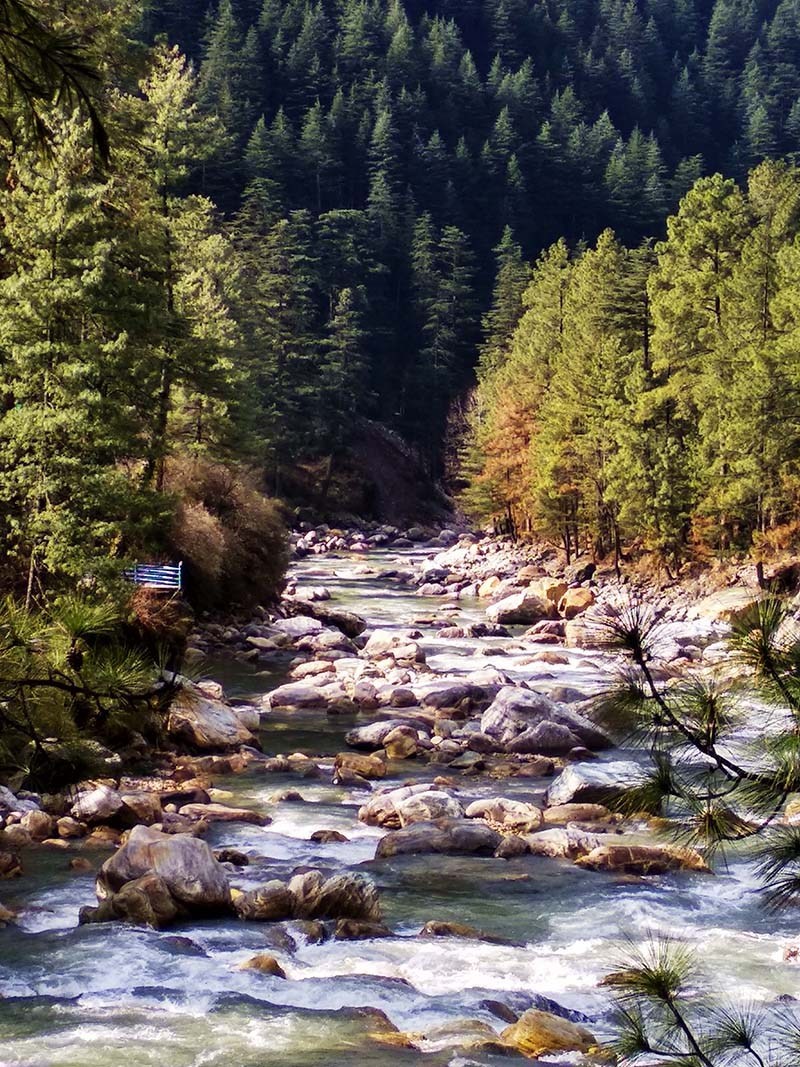 How to Reach Malana from Delhi by Train
The nearest railway station to Malana is in Joginder Nagar, at a distance of 135 kilometers. From the railway station itself, you can hire a private Cab for Kasol, Tosh, or Malana Gate; or look for a shared cab or Bus. The journey will take you about 5 hours.
Please note though that Joginder Nagar is connected to Pathankot by a narrow-gauge track, much like the Kalka Shimla Toy Train. So in this case, you will first have to get to Pathankot by train; then catch the Toy Train to Joginder Nagar, and then find a bus for Tosh from Joginder Nagar which is not going to be easy.
Other than Joginder Nagar, the next major railway station is in Chandigarh which is actually an easier way to travel. I will strongly recommend that for a journey by train, you catch a train for Chandigarh and not Pathankot / Joginder Nagar.
You can take the early morning Shatabdi from Delhi to Chandigarh (12011), which will cost you about Rs. 700 and will get you to Chandigarh before 11 AM. From Chandigarh to Malana, you can travel by taxi/bus/self-drive as mentioned above.
Also Read: Unexplored Places in Himachal Pradesh Near Delhi
Reaching Malana Village in Winter
In peak winters, only 4X4 vehicles can reach the Malana gate area due to several feet of snow. So reaching Malana in winter can be a little bit tricky, though most of the aforementioned details would remain the same. The only thing that would change is that during the winter season if it has snowed around Malana then it becomes difficult for the smaller cars to reach the Malana Gate from Jari.
Hence they tend to drop you about 4 kilometers before the gate (there is a bridge from where Malana gate is just 4 kilometers). Now from here, you can either hike or you can hire 4X4 which are available from the place. But let me warn you that it is going to be an expensive affair as they tend to charge around INR 1200 just for those last 4 kilometers.
You should bring your own car only if it is a 4X4 drive, otherwise, your vehicle getting stuck can be a very likely outcome. If you must bring your 2X4 vehicle then you might have to leave it a few kilometers before Malana Gate, near the bridge.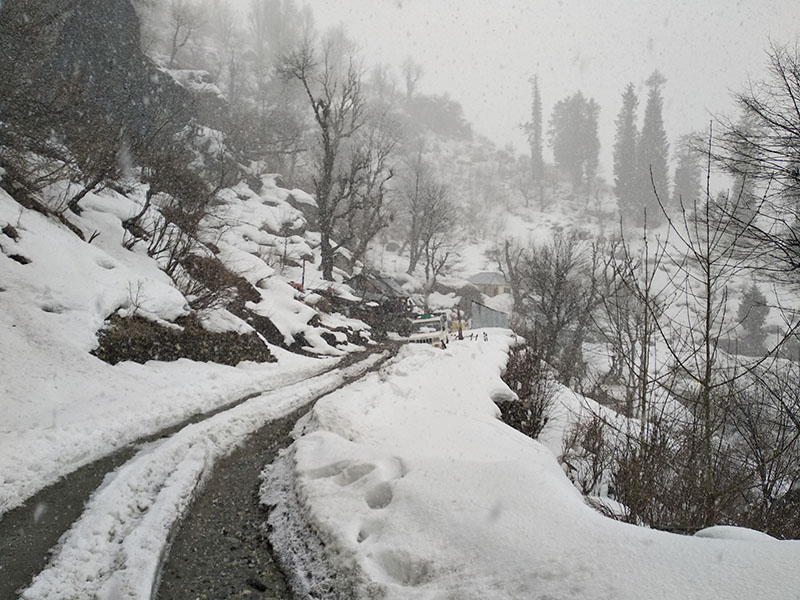 Where to stay in Malana
Due to a tremendous surge in people visiting Malana after the construction of roads, the villagers believed that the main deity of the village conspicuously became quite upset. As a result, they announced a ban on the construction of any hotels or guest houses in the village and stopped allowing tourists to stay overnight. Therefore, you won't find any accommodation in Malana and will have to look for it outside the village.
Where to stay near Malana
Even though one can't stay in the village, there is nothing to worry about as there are plenty of budget accommodation options near the Malana gate. As the hike to Malana village is just about 2 hours from here, this is the closest that you can stay near Malana.
There are plenty of guesthouses and hotels priced at around INR 500 – INR 1000 near the Malana gate. Don't expect a lot of fancy options like in Kasol though. I stayed at Himalayan Heritage Homestay which had very basic rooms offered at INR 600, with food being a bit expensive. You have to hike for a bit to reach this place from the Malana gate, but the views are worth it.
Also Read: Bike Trip to Chitkul in Winter – Delhi to Chitkul Bike Trip
Ayoya Malana hotel is another decent option if you plan to spend a night at Malana. They offer rooms around INR 1200. They also have dorms priced at around INR 500. Marizane homestay can also be considered as it offers rooms priced at INR 300-400 per person. Dragon guesthouse is another accommodation option located near the Malana dam which is located 3km further away from the Malana gate.
Other than Malana Gate, the nearest accommodation available is around Jari, Tosh, or Kasol.
Homestay in Malana Village
There are no homestays in Malana Village. You cannot stay here after sunset and will have to get back to the Malana gate before it got dark.
Camping in Malana
Waichin valley, in my opinion, would be the perfect place to camp around Malana. Since it is one of the popular short hikes around the village, you'll find a lot of campsites here except for peak winters. If you prefer to camp on your own then you can also carry your own gear and pitch your tent at a suitable spot.
If you don't want to hike up to Waichin valley, then some guesthouses have tents set up near the Malana gate as well. You can even ask them if you could pitch your own tents closer to theirs. You can pay them a little to give you a spot and can also opt for some services like food or using their washrooms.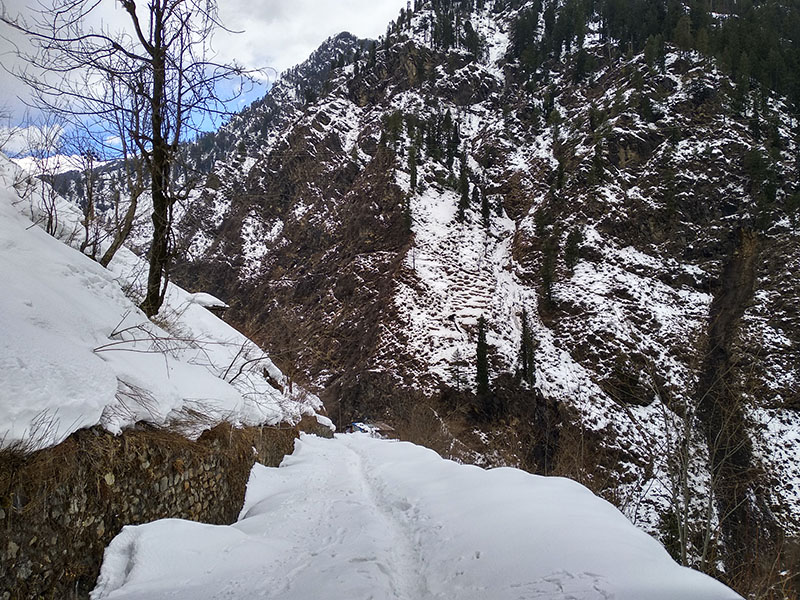 What to do in Malana
Listed below are a few things of interest for tourists visiting the Malana Village.
Hike to Malana village
The main and the first attraction around the Malana area is obviously the hike to the village. It takes around 1.5 to 2 hours to reach the actual village. Even though the village is just around 4 kilometers from the Gate, it involves quite a bit of an uphill hike.
In winters due to extreme temperatures, there is always a risk of hard ice and snow. Due to this, there are chances that the trail might be slippery and risky. At this time, it would be wise to hike with proper winter gear and not take unnecessary risks.
Walk around the village
I believe that any place can be best explored on foot. Malana is such a place where you have no other option but to walk. Explore a traditional Himalayan hamlet in its full glory. As you walk around the village, try interacting with locals. The people of the village are very amiable. But do keep in mind the rules of Malana and don't try to touch anybody or any structure in the village.
Also Read: What to see in Tosh | Things to do in Tosh Village
Hike to Waichin/Magic valley
Waichin valley is one of the most popular excursions in Parvati Valley. It is one of the best areas to camp around Malana and is only reachable on foot. The trek to Waichin valley starts from the Malana dam area, which is further away from the Malana gate. It is approximately 4 kilometers from the Malana dam and is not an easy hike as it involves a strenuous uphill hike.
But if you are somebody who loves to hike and trek, then the beauty of the place is surely going to leave you spellbound. For beginners who just commenced their trekking journey and done a few treks like Triund, this is a perfect trek to take things up a notch.
Since the place is not easy to reach, you won't find any guesthouses here. Your only option for accommodation would be tents. You can either pitch your own tent or stay at one of the campsites. In the winter season, you can neither get here and even if you did, there won't be any campsites open. These are only operational in the summer season.
Trekking in Malana
So here I am listing down a few multi-day treks which either start at Malana or end at Malana. Since all these are high-altitude treks, a decent fitness level is imperative to complete these treks.
Chanderkhani Pass Trek
This is one of the most popular treks in the Kullu valley. It starts at Rumsu and ends at Malana village. The trek involves crossing the Chanderkhani pass which is located at around 3,600 meters and offers an excellent panoramic view of several mountain ranges.
This is an easy to moderate trek and takes around 4-5 days to complete. Beginners can undertake this trek provided they are fit enough. A lot of trekking companies including local guides operate on this route as this is one of the more famous treks in Himachal (Kullu).
Chanderkhani Pass can be only attempted from May to October. In winters, the trek remains closed and only opens again in Summers. Even if you attempt this during early May, chances are that you will find a lot of snow on the route.
Dev Roopa
This is one of the less frequented places around Malana and is a true gem. Even those who frequently visit Parvati valley might not have heard about it. Even I got to know about this place for the very first time a few days back when I stumbled upon a YouTube video while searching for Waichin valley.
This trek starts from Waichin valley and the last point of the trek, Dev Roopa, is considered very sacred by the locals. It is located at an altitude of 4,000 meters.
It is a moderate trek so your fitness levels should be on point otherwise you are bound to struggle. In total, it takes around 4 days to complete. Since this trek starts from Waichin valley, Malana can be considered as the starting point. In winters, the trail remains buried in deep snow and cannot be attempted.
Also Read: Parvati Valley Trip Itinerary – The Best Way to Plan your Trip
Rashol Pass
Much before the hydroelectric project brought Malana within a touching distance, reaching Malana was not an easy task. Rashol pass route was one of the routes which would lead you to the village. It is now seldom used due to the newly built roads. As the name suggests, Rashol pass, perched at an altitude of around 3200 meters, is located above Rashol village popularly, known as Magic Rashol.
The trek would start from Kasol and would require exactly two days to complete. On the first day, you would reach Rashol from Kasol in about 4 to 5 hours. You will spend a night in Rashol and then the next day you would cross the pass and reach Malana.
It should be noted that Kasol to Rashol trail is well-marked since it is frequently used for commute by the villagers and the tourists. But the trail from Rashol to Rashol pass and Malana may not be well-marked. It is always difficult to find a way in the mountains for lesser mortals like us who are not from the mountains. So, I would recommend you to hire a guide from Rashol village if you want to attempt this one.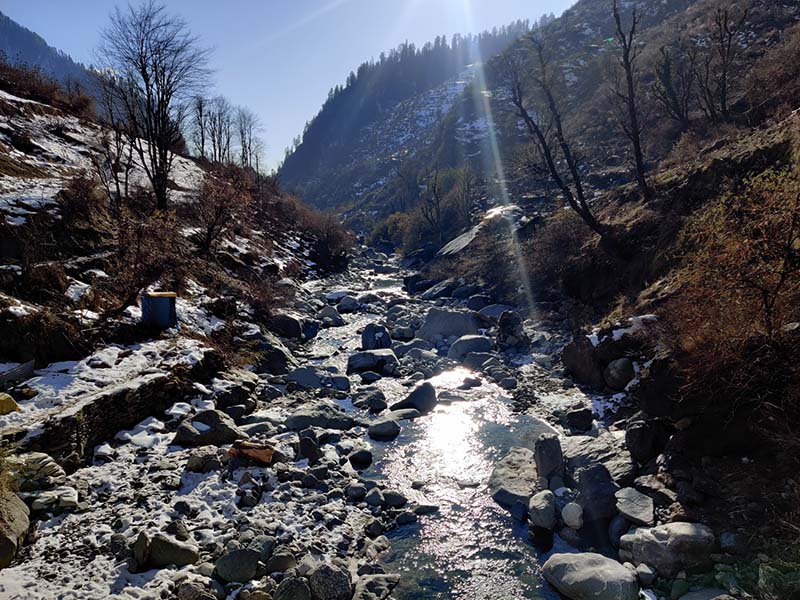 Weather of Malana Village
Malana experiences five seasons; Spring, Summer, monsoon, autumn, and winter. The landscapes differ from season to season and each one has its own charm.
May – June (Summers)
Summer months are one of the best times to visit this region for those who revel in hiking amidst the mountains. Temperatures at this time are very benevolent and the entire valley gets vibrant and lush, making it perfect for trekking. Though in May, there might a bit of snow in the higher reaches.
Since it is the peak season, a lot of people travel to the valley in order to escape the relentless summer heat of the plains. As a result, the prices of the guesthouses go up a little bit. But then summertime is usually dry, resulting in surreal views of the peaks and one of the best times to hike around in the valley.
Also Read: Trekking in Parvati Valley – A COMPLETE Travel Guide
July – August (Monsoon)
It rains heavily in Malana during monsoons. So ideally it is not the best time for trekking as the trails might be slippery. But the entire valley becomes lush at this time after all the rain. Also, monsoons can be considered off-season so you might get accommodation at cheaper rates.
But one should be wary of landslides that can happen during monsoons. Since the region receives considerable rainfall in July and August, chances of such unfortunate events are very probable. It is better to check the weather conditions before you plan your trip.
September – October (Autumn)
September and October months are considered as Autumn months. Monsoon withdraws from the valley in September. This can be a perfect time to hike around the region as the trails are no more slippery and skies are very clear. The perfect blue skies can result in surreal vistas with an impeccable view of the peaks.
Towards the end of October, temperatures start plummeting towards subzero, at least in the mornings and nights. Due to this, the landscape of the valley too starts changing. The lush green color starts getting replaced with the golden-brown color as the winters get just around the corner.
November – December – January – February (Winter)
Owing to the altitude of Malana, winter sets in a bit early here than the lower areas like Kasol. If the weather turned bad, it can start to snow anytime from mid-November. Malana turns into a white wonderland during peak winter months so if experiencing snow was on your mind, these months would be perfect for your trip.
I would like to mention that it is not easy to reach Malana village during winters. In January and February, the place can get buried under several feet of snow at this time. The trail leading to the village becomes a bit difficult to navigate. Sometimes even the road to the Malana gate can get blocked.
The temperatures remain mostly sub-zero in these months. So be adequately prepared while heading to Malana during winters. A good winter jacket and winter boots are quintessential for a trip at this time.
Also Read: Best Time to Visit Malana – When to Visit Malana and Kasol
March – April (Spring)
Spring season can be one of the best times to visit the valley. The weather still remains very cold though and it can even snow during early spring. But this is the time when the landscape starts becoming vibrant. Flowers bloom as the onset of the spring approaches. Hiking around also will be a wonderful experience.
Even though snow starts to melt, there is enough snow on the peaks surrounding Malana to make the landscapes impeccably celestial.
All the major high-altitude treks will still be not manageable due to a whopping amount of snow. So if trekking was on your mind, you should plan towards May end or early June. Short treks and hikes should not pose a challenge from April onward as most of the snow would have melted from the lower reaches of the valley.
What clothes to Pack for Malana Village
Malana can be cold even in summers due to its higher altitude. So irrespective of the season that you are visiting in, warm clothes have to be packed on your trip to the Parvati valley. At least 2-3 warm layers are needed in case you are visiting in the winter, between October to April.
Make sure you have a good winter jacket in case you are visiting in peak winter months. It tends to get extremely cold with temperatures mostly being sub-zero at this time.
Autumn months are very pleasant with clear blue skies, but mornings and nights tend to be extremely chilly so packing warm clothes is a must.
For those looking to trek in the valley, having a poncho is necessary especially in monsoon. It can rain anytime here and it is extremely important to keep yourself dry. You don't want to get wet in these areas.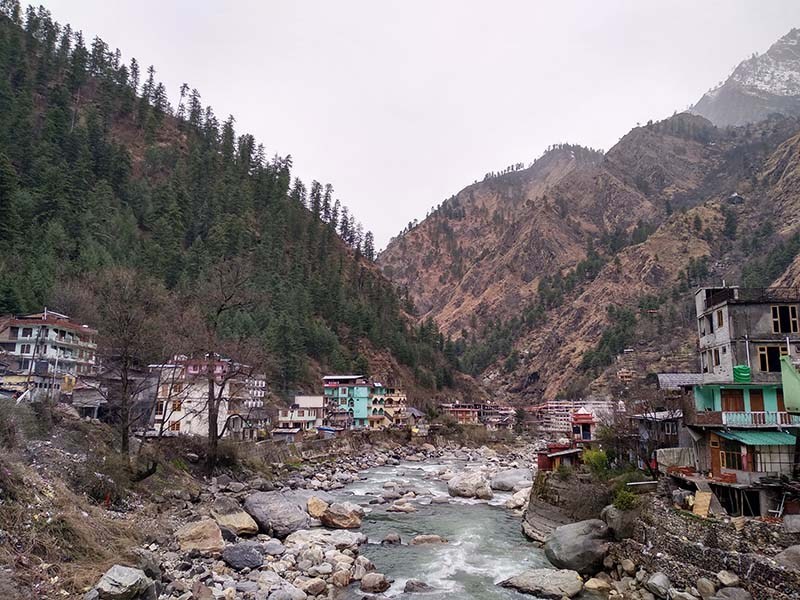 Road conditions
The road leading to the Malana gate and Malana dam area from Bhuntar is a mix of good and average. What you should know however is that the roads across Parvati valley are all quite narrow and steep at several places.
Most of the road from Bhuntar to Malana gate is narrow but good. The only exception is the last 4 kilometers that is in absolute shambles.
Perils of landslides in Parvati Valley always loom large during monsoons and winters. Utmost care should be taken while driving on these roads during monsoons.
In recent years, incessant rains in July and August have led to broken roads, swollen streams, and a lot of fatalities. Please check weather conditions before-hand if you are venturing out before potentially risking your life.
During winters, the last 4 kilometers patch gets in extremely poor condition; and can be only be covered by 4×4 vehicles due to a high amount of snow. Small cars will surely be stuck in the snow; and you will be left in a desperate situation with the help hard to come.
Other Details
Mentioned below are a few other details that can be of help while planning a trip to Malana Village.
ATM
There is no ATM near the Malana area. The nearest ATM is in Jari and Kasol. Even in both these places, there is a possibility that ATMs would not have sufficient cash. Therefore, it is always better to carry enough cash to last for a few days. Either carry it from home only or withdraw in places like Chandigarh or Mandi.
Mobile Network in Malana
In terms of Internet and data connectivity, apart from Jio 4G, none of the other networks work near the Malana area. Vodafone, Airtel, Idea work but with 2g speed so the chances of getting high-speed internet are not very bright.
If you have Jio then you should be able to make calls and browse the internet without any difficulties. But if the internet is not your priority, then all the other networks work well enough to make calls.
What & Where to Eat
A trip to Malana village is going to be a day-long hike. You can get something to eat on the way to the Malana gate but not after that. It is very important that you carry your own food/snacks and water for the trek.
Other than Malana, Parvati Valley as a region is famous for Israeli food. Kasol is the heart of the valley and there are numerous cafes here where you can enjoy a few mouth-watering dishes. For more information on this, please read What to eat in Parvati Valley and Where.
Shopping in Malana Village
I think we all know the answer to this one. The only thing that people want to buy from Malana is Malana cream. In fact, there is a huge demand for it in nearby places like Kasol and Manali. Once again, I must reiterate that possessing Malana cream is illegal and a punishable act.
Other than Malana cream, there is nothing that you would want to buy from here really. If you do want to get some souvenirs for your trip, try the local market in Kasol.
Facts about Malana
Mentioned below are some of the centuries-old customs and traditions that the people of Malana do not want to lose; and hence, they try to limit their interaction with the outside world to a bare minimum.
As the number of people visiting the village increased, villagers saw the tourism potential in it and began relentless construction of guesthouses. This is said to have angered Jamlu Devta as the sanctity of the village was disturbed (as outsiders started to stay in the village). This eventually led to a ban on tourists spending a night at the village.
A popular tale is around Emperor Akbar who visited here trying to find a cure to an ailment he was suffering from. The people of Malana cured him and Akbar was so happy that he freed Malana from any form of tax.
Malana is home to the best Hashish in the world, known as 'Malana Cream'. It has won awards internationally and people from all over the world come here to experience the hashish.
It is believed that the village Deity, Jamlu Rishi, possesses the body of the Gur (spokesperson or the village council). He then makes all the important decisions on behalf of the entire village.
A strange custom is around how people here resolve their conflicts. Police are not allowed to enter the village and people here settle their disputes on their own in a rather strange (some may call it cruel) manner. Both the parties involved in the conflict bring a lamb of their own. A deep cut is made in the forelegs of both the lambs and poison is inserted inside the cut. The party whose lamb dies first loses the case.
Fairs & Festivals in Malana
There are two festivals celebrated in Malana village. The first one is Malana Fagli, celebrated in February. The second one is Malana Shaun, celebrated in August.
Malana Fagli Festival
As peculiar as Manala is, their festivals are quite different as well. Malana Fagli celebrated in the month of February and is marked by masked dances. A group of villagers dressed in nothing but cannabis leaves and masks dances around the village houses, spreading cow dung on them. This is followed by a procession of Mughal Emperor Akbar that is taken out by the villagers.
Malana Shaun Festival
Also known as Shaun Jach Festival, it is celebrated on the 15th of August every year. On this day, the villagers perform their local dance, Nati, and offer their fresh grown crops to the god as a gift.
Also Read: Best Places to Visit in Malana Village – What to do in Malana
FAQs
Mentioned below are a few commonly asked questions about Malana Village.
1. Is Malana Safe?
Yes, Malana is a very safe place as long as you follow their rules and traditions that I listed above.
2. Is Malana open for Tourists?
Yes, Malana remains open for tourists for all 12 months; except for peak winters when heavy snowfall may block the route to the village.
3. Is Malana worth it?
Is Manila worth visiting? Yes, definitely. The place is both scenic and mysterious in its own ways. The trek is perfect for absolute beginners and will offer you some of the best views in all of Parvati Valley.
4. How to reach Malana village from Kasol?
From Kasol, in order to get to Malana, you can either hire a private taxi or board a Bus. A taxi can drop you all the way to Malana gate but if you boarded a bus, it will only go as far as Jari. You can get local buses from both Bhuntar and Kasol throughout the Day to reach Jari.
5. How to reach Malana Village from Jari?
From Jari, the only option to reach the Malana gate is to either walk or hire a cab. If you hired a cab, it will cost you Rs. 700.
6. How to reach Malana from Manali?
From Manali, you will have to drive to Bhuntar and then to Kasol. After Kasol, you can drive to the Malana gate via Jari. If you were traveling by public transport, you will first have to catch a Bus from Manali to Bhuntar or Kasol and then a second bus for Jari.
Conclusion
That is mostly all that you need to know about traveling to Malana. I hope the information above was of help. If you have any questions, or need any other details, please feel free to ask in the comments section below, or at our Community Forum, and I will be glad to answer.