A lot of scenic hamlets in Himachal Pradesh have experienced rapid growth in tourism in recent years. There is an exponential increase in the number of hotels, homestays, etc. when there is a surge in tourism which in turn is very great for the local economy. But there are consequences due to which tranquility and beauty of the place are compromised. However, there is no dearth of offbeat and less explored places in Himachal if you are looking to escape the crowd and want to witness the untouched beauty of Himalayas and the harsh lives of the Locals in remote valleys. One such place is Miyar valley in Himachal Pradesh.
Located in Pattan valley (a sub-valley of Lahaul valley), Miyar valley remains completely devoid of tourism influx and is one of the true hidden gems of Himachal Pradesh. One of the main reasons why this place is still unaffected by tourism is due to the fact that it completely remains disconnected from the outside world for 6 months (during winters). Although this region is a haven for trekking enthusiasts, I see no reason why people who cannot trek or don't want to trek cannot visit this place. This place is a perfect one if you want to get isolated from the world and run away from your daily routine for a few days or weeks.
Also Read: How to Plan a Trip to Lahaul Valley
Where is Miyar Valley?
Miyar valley is landlocked between Pir Panjal and Zanskar Ranges. Miyar River flows through the entire valley as a lifeline of its residents; before it merges with river Chandrabhaga. Miyar valley starts from the quaint town of Udaipur in Lahaul; and extends till Kang La pass. The landscape of this valley is pretty unique. As soon as you as enter the valley you are surrounded by beautiful pine and deodar trees on huge mountains.
But as you venture deep into the valley to the last motorable point, the terrain starts resembling Zanskar and Ladakh. If you can manage to venture even further, you will find high altitude meadows at around 4000 meters which is one of the main attractions of this pristine valley. The average altitude of the Miyar valley is quite high. The villages at the far end of the valley are perched at around 3000 meters.
Sometimes you feel that places like these deserve attention due to impeccably beautiful vistas, pristine Valley, and unique landscapes. But seeing the current state of the so-called popular places in terms of the environment, I am glad that places like Miyar remain completely untouched by tourism. I don't think this place will ever be as popular as Spiti or Ladakh which can be a blessing in disguise. Though the locals have realized its tourism potential and homestays have started to come up in quaint villages like Urgos and Shukto, it still is nowhere near Spiti or Ladakh.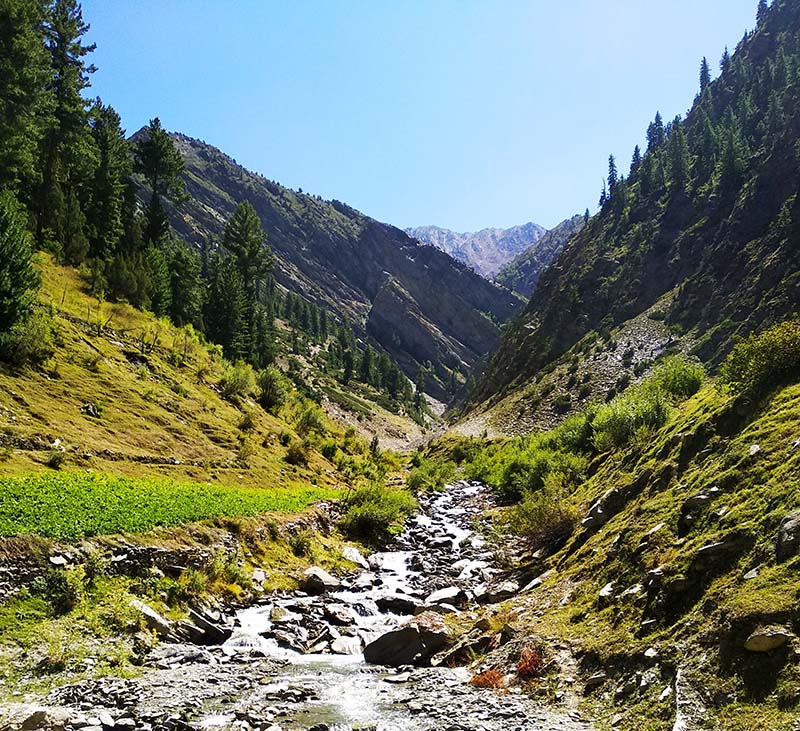 How to Reach Miyar Valley
Miyar valley can be only reached by road. You can get here either from Lahaul Valley or via Dalhousie and Chamba. I have further explained both these routes in greater detail.
From Lahaul
To reach Lahaul, first and foremost you will have to reach Manali. From Manali, you need to continue on Leh- Manali highway which passes through the mighty Rohtang La and the beautiful villages of Khoksar and Sissu. Once you reach the Tandi Bridge you need to take a diversion towards Udaipur and from Udaipur, you take a diversion on Tandi-Kisthwar road. You will then head to Miyar road which would take you to Shukto which is the Last Motorable point in the Village. So, if you are using self-driven cars or have hired a cab, then reaching Shukto from Manali is quite straight forward.
For solo travelers, backpackers and budget travelers, as always, HRTC comes to the rescue. From Keylong, there is a bus that leaves at 8.00 AM for Shukto/Khanjar. This bus first goes to Udaipur via Trilokinath, then reaches Udaipur and stops there for some time. The bus leaves for Shukto at 12.00 pm no matter at what time it reaches Udaipur. Finally, the bus takes around 2.5 hours to reach Shukto. So, overall it takes around 6 hours from Keylong.
The road leading to Shukto is in bad shape and is not metaled, so be ready for a bumpy ride. Udaipur is around 55kms from Keylong and Shukto is around 29kms from Udaipur.
So, this would be the route if you are using private vehicles and self-driven cars.
Manali – Rohtang – Khoksar – Sissu – Tandi – Jahalma- Udaipur -Shukto
From Chamba (Killar)
The second way to get to Miyar Valley is via Dalhousie, Chamba and Killar. To reach Killar, first and foremost you will have to cross the mighty Sach Pass. Once you reach Killar, you will be in Pangi Valley, which is the most remote and offbeat yet extremely beautiful in the entire of Himachal.
From Killar, you need to drive to Udaipur and then finally to Shukto. Again, if you are using self – driven cars or have hired a private cab then it shouldn't be that difficult from Killar, though crossing Sach pass is a bit a taxing due to the terrible roads. Assuming that you started from Delhi, the route will be as mentioned below.
Delhi – Pathankot – Chamba – Bairagarh – Sach Pass – Killar – Udaipur – Shukto
If you are using HRTC buses, then there are buses that go towards Udaipur from Killar at regular intervals. From Udaipur, there is a bus that leaves for Shukto at noon and then there is one more in the evening at around 4-5 pm. If you are using public transport, then crossing Sach Pass and reaching Killar can be difficult as no buses are plying on Chamba – Sach Pass route. Your best bet in this case would be shared cabs from Chamba.
Also Read: How to Plan a Trip to Chamba
Bus timings to Miyar Valley from Keylong and Udaipur
There is only one bus that leaves at 8.00 AM daily from Keylong to Miyar Valley (Shukto/Khanjar). This bus stops at Udaipur first via Trilokinath and reaches Udaipur between 11.00 AM to 11.30 AM. Then this same bus leaves for Shukto/Khanjar at noon.
The road to Miyar valley is in bad shape hence it takes around 2.5 hours to reach the last motorable point which would be around 2.00 to 3.00 pm. The very same bus returns to Udaipur almost immediately after it reaches Shukto; which would take another 2.5 hours to reach Udaipur. So those looking to exit Miyar valley can board this bus which comes in the afternoon.
Once the bus reaches Udaipur, it will then again leave for Miyar valley depending on what time it reached Udaipur. Finally, it reaches the Miyar valley late in the evening. The same bus will leave for Udaipur at 6.00 AM from Shukto.
To summarize, if you are at Keylong, there is only one bus that leaves for Shukto/Khanjar at 8.00 AM. If you are in Udaipur, then the bus leaving for Miyar is twice a day, one at noon and the other one in the evening. If you want to exit Miyar valley, then the bus leaves twice a day from Shukto/Khanjar one in the morning at 6.00 AM and other in the afternoon at around 2-3 PM. Please note that as the roads are in terrible condition, the availability of buses can get affected due to mechanical issues or bad weather. All the timings mentioned here are assuming that there are no breakdowns.
Also Read: Keylong Bus Stand Timings | Buses to & from Keylong
Villages in Miyar Valley
Listed below are the villages of Miyar Valley and trust me when I say this, all of them are at very scenic locations and definitely worth visiting.
Urgos
This is one of the bigger villages in the valley located at an altitude of 3250 meters. You can spot fecund fields from the village which consists of Green peas, Potato, Cauliflower; which is common in the whole of the valley. The views here are surreal with amazing vistas and beautiful mountains in the backdrop of the village. There is also a Gompa in the village which can be reached very easily, and you can ask locals for directions.
I believe there are homestays in the village, though I did not stay here. Urgos Village acts as a base for mountaineers looking to climb the Menthosa peak. This peak is at an altitude of around 6443m and is the second-highest peak of the Lahaul valley.
I met a local guide asking me if I was interested in going to Menthosa, which I am assuming would be some kind of Menthosa viewpoint. According to him, it would be just a day trek to reach the viewpoint, but I am not sure about the distance nor the difficulty. So, if you are looking to trek a bit around Urgos, then locals will help you out.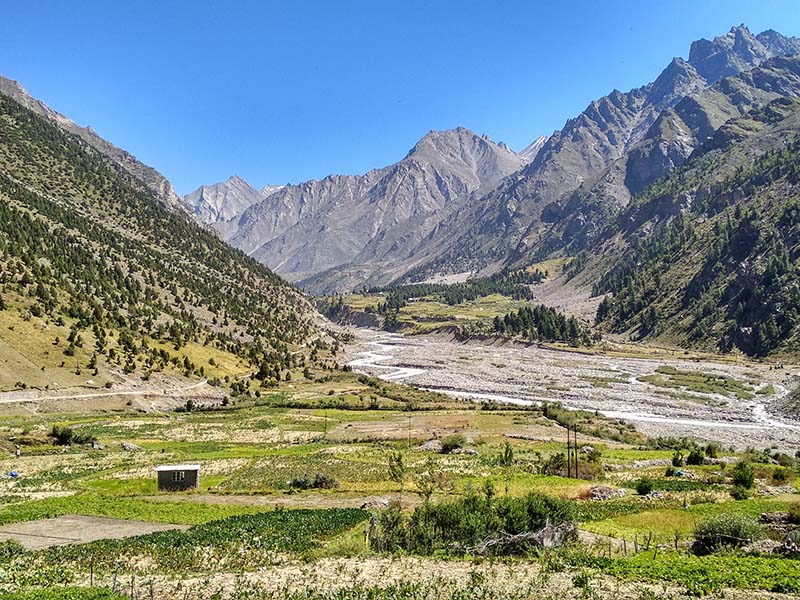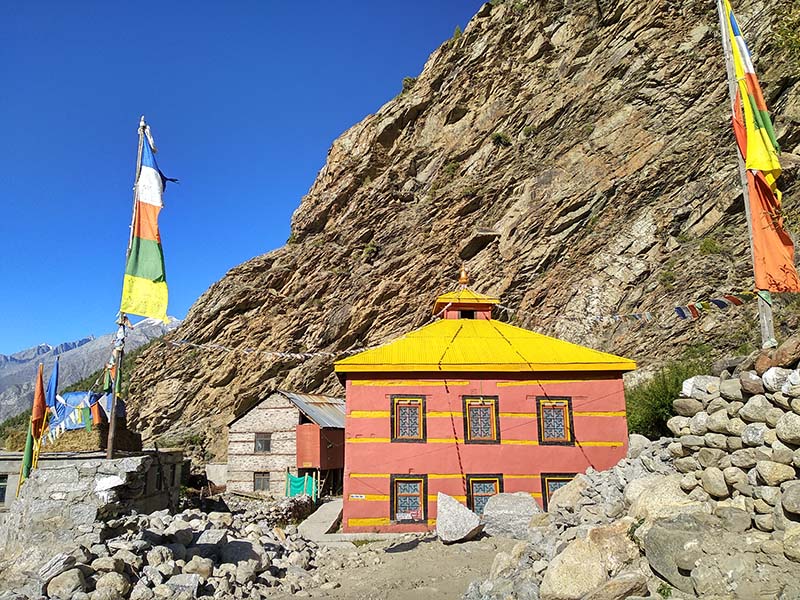 Shukto
This quaint Village is the last motorable point in the Valley. It also acts as the starting point of the Multi-day trek to Zanskar or even if you want to trek high altitude meadows. The landscape here is similar to Ladakh and Zanskar with huge barren mountains in the backdrop and sparse vegetation here and there. The village itself consists of just 4-5 households but there are a couple of homestays here. It is around 29 km from the Udaipur.
Also Read: How to Plan a Trip to Zanskar Valley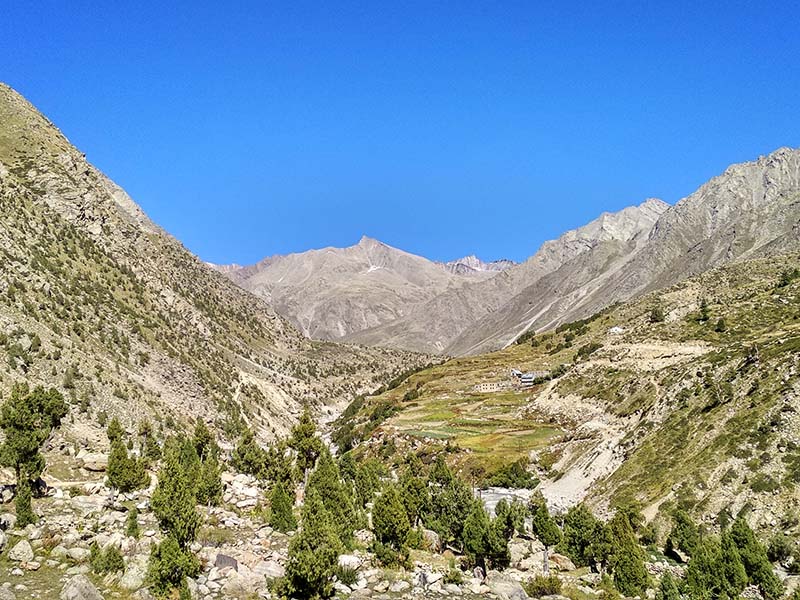 Khanjar
This tiny hamlet village offers a bird's eye view of the fertile fields, magnificent mountains in the backdrop along with the Miyar River flowing below. This is the last village in the valley and is about 30-45 minutes hike from Shukto. To reach here you must cross a shaky bridge with Miyar River flowing violently below. From the bridge, you need to take a right and ascend through the beautiful fields of the village. Just before the bridge you can reach the bank of river Miyar and witness the tumultuous waters of Miyar River.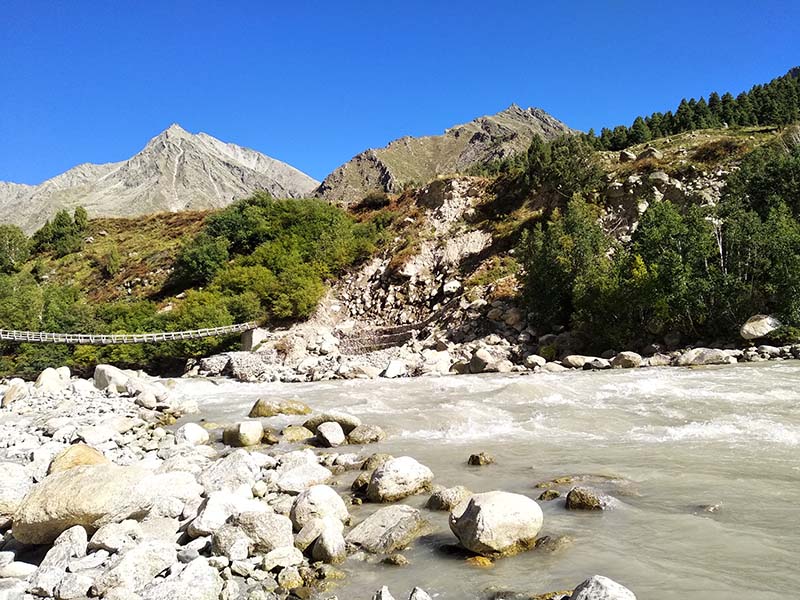 Where to stay in Miyar Valley
Accommodation is not easily available in Miyar valley. Since very few people visit here, except for those looking to hike and trek, accommodation options are very less. There are homestay options available in Urgos and Shukto. The prices are very reasonable; around Rs 500-800 with basic rooms.
There are a couple of homestays in Shukto. I stayed at Tashi homestay here which was priced at Rs 700. The food was priced at Rs 80 per person. The room was decent but basic.
Homestay options are also available Urgos and Tingret. Though I didn't stay in Urgos; but upon inquiring, I was apprised that homestays are indeed available here too.
If you are looking to trek to High altitude meadows or looking to go beyond the meadows to Zanskar, then staying at Shukto is the best option as it is the last motorable village in the valley. If you do want to trek, then staying in Urgos or Shukto can be a wonderful experience.
Don't expect any fancy hotels or guesthouses here as the region is very remote. Even homestays have started to appear recently, so the rooms are very basic. You'll get basic food items like Roti Sabzi and Daal Rice etc. That being said, vegetables are grown organically which makes the food is extremely delicious. But do not expect any big restaurants with a lengthy menu here.
Also Read: How to Plan a Trip to Dalhousie
When to visit Miyar Valley
Miyar valley is one of the remotest regions and remains completely cut off from the outside world for 6 brutally cold winter months. So, you only get around 5 months to visit Miyar. The valley is only accessible from May end to mid – October.
June (Summers)
In my opinion, June is the best time to visit. Most of the snow melts away by this time and roads become accessible again. Though this depends on when the snow gets cleared from the Rohtang Pass and Sach pass respectively. This year since it snowed a lot in Himachal, Rohtang pass was thrown open only in the last week of May and Sach pass was opened up almost at the end of June. So, coming from Rohtang makes much more sense as it is opened earlier than Sach Pass.
July – August (Monsoon)
Snow is mostly all gone by this time and can only be spotted on glaciers and high mountains. It doesn't rain here that much during monsoons as it falls in the rain shadow region. But the lower hills in Himachal experience landslides in July and August. The entire area around Manali, Rohtang, Killar, Sach Pass receives a heavy amount of rain each year and becomes landslide-prone. But the valley remains lush green at this time and is a feast for the eyes.
Also Read: Exploring Sach Pass and Pangi Valley
September October (Autumn)
After monsoons, autumn months of September and the first week of October is one of the best times to visit as monsoons give way to clear skies perfect for spotting milky way. During mid-October, temperatures plunge and start to hover around freezing point. November marks the advent of brutally cold winter for 6 months during which the roads get blocked after the first heavy snowfall of the season.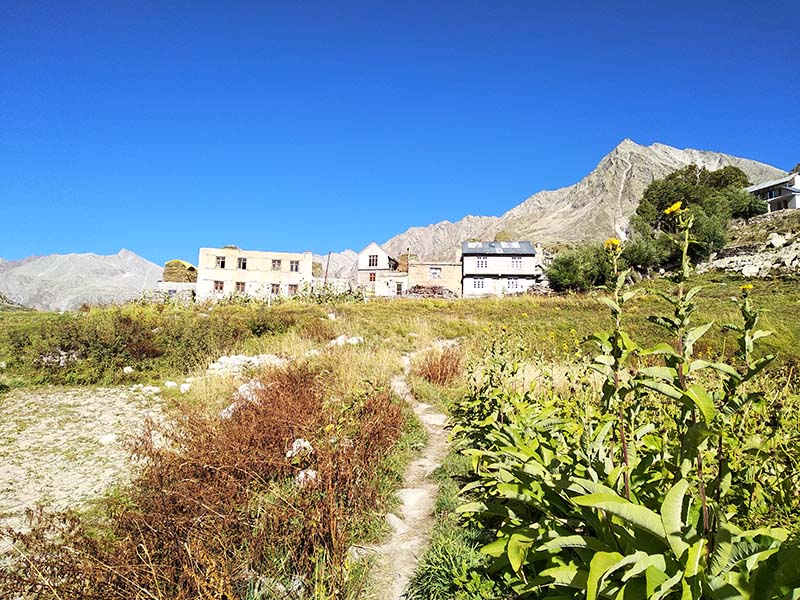 What to do in Miyar valley
Those who visit the valley are mainly seasoned trekkers or adventure lovers looking to hike to the high-altitude meadows; or go beyond Kang la pass to Zanskar. If you are someone who doesn't like to trek or cannot trek, then you can just relax and stay in quaint villages like Urgos and Shukto. The vistas and mountains here are unique and you will be completely left awestruck by its sheer beauty. I did not trek much, except for a short hike to Khanjar village from Shukto which takes around 30 to 45 minutes.
Also Read: How to Plan a Trip to Manali
Trek to High altitude Meadows
This is one of the main attractions of the Miyar valley. The terrain is unlike any other with vast stretches of green meadows at around 4000 meters being the highlight of this trek. Lots of wildflowers can be spotted in these meadows.
This is one of the most beautiful trails in the country with almost no crowd at all expect the avid trekkers. I am not sure about the actual name of the meadow, but you can confirm this with the locals. Since this region is a bit secluded and off the tourist map due to harsh conditions, the trail has managed to evade the dangers of mass tourism.
The trail starts from Khanjar village which is the last village of the valley. It takes around 13 km to reach the alpine meadows from Khanjar village; which is just a short hike from Shukto. Though it is possible to complete this trek in a day; you will end up covering around 30 km (from Shukto to meadows and back to Shukto) on the same day which can be very taxing considering the altitude. People usually camp at the meadows and stay overnight which then becomes a 2-day affair.
The hike is not that difficult and can be attempted by first-timers, but it is always better to take guides if you do not have enough trekking experience in the Himalayas. If you need a guide just ask the locals and somebody will surely turn up.
Also Read: How to Plan a Trip to Shimla
Trek to Zanskar Valley
Popularly known as the Miyar valley Trek, it is perfect for seasoned trekkers who want to add a high altitude pass to their resume. This is one of the most isolated, beautiful trails in the Himalayas; with high-altitude meadows and numerous small glacial lakes en route to the mighty Kang la pass. During the latter part of the trek, you will have to walk and camp on the glacier. Shukto is the base village for this trek and it follows the same route as the one which is to be taken for the meadows.
This multi-day trek requires very high fitness levels to cross the mighty Kang La pass and reach Zanskar. Kang La pass is situated at around 5000 meters. A proper guide would be needed to complete this trek as this is really a difficult one.
Life of the Locals in Miyar Valley
Local inhabitants of Miyar valley are predominantly Buddhists, as most of the other people of Lahaul Valley. Life here is extremely harsh due to brutally cold winters and the valley is completely cut off from the rest of the world for 6 long months.
Most of the locals here are engaged in agriculture and grow vegetables like potato, peas, cauliflower, etc. which are organically grown. Since vegetables grown here are mostly organic, there is a huge demand for vegetables from Lahaul in north Indian cities. Therefore, the locals have been able to make a fortune out of it. Some of them also own lands in lower reaches of Himachal like Kullu.
Sowing season starts around April and May and then harvesting takes place in September as winter starts to set in around October. November is when the winter sets in and locals start making provisions for storing food and other necessary items. A lot of locals migrate to the lower reaches of Himachal like Kullu in winter; but there are a lot of them who stay there during the winters as well; unlike in Uttarakhand where in some regions the entire village moves to the lower reaches or plains during the harsh winters.
The locals here are extremely amiable and easily approachable. I was invited for tea by one of the locals in the Urgos village while waiting for my bus to Udaipur. We had a long chat about their harsh lives especially during winters since the family stayed in Urgos even during winters. I was quite overwhelmed by the goodness of the locals and their amazing hospitality. Please approach locals if you are stuck in any problem, and I am sure you will get the help required.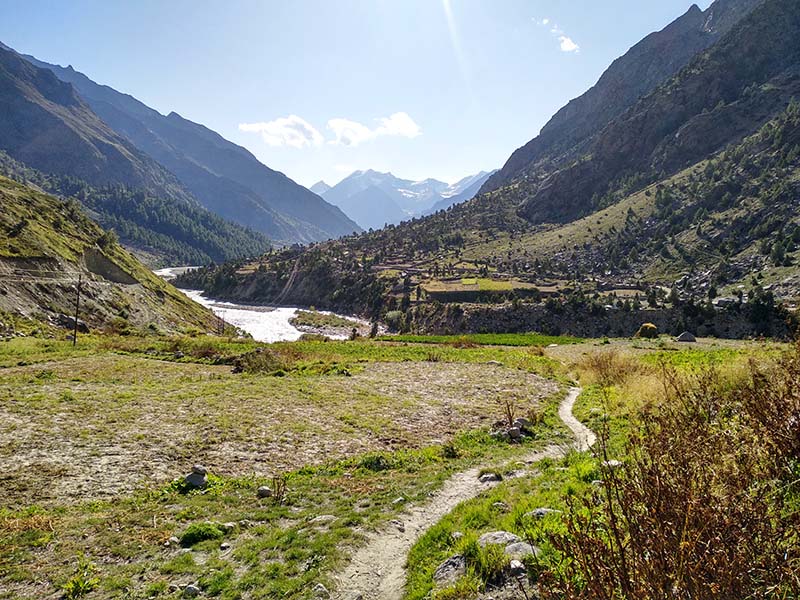 Travel Responsibly
Please do not litter around and dirty the places you visit. Though Miyar valley was clean as compared to some other popular places I have visited in Himachal; I could still find a few plastics lying around here and there. If possible, please bring your own bottles instead of buying plastic water bottles everywhere; and just refill them in the homestays. Travel responsibly, do not litter around and keep the environment clean.
Phone network in the valley
BSNL is the only network that works in the Miyar valley. The BSNL connectivity is also very intermittent here, but making a few calls is possible. None of the other network providers work in this region. In case, you do not have a BSNL Sim, then your best bet would be to get it from the Bsnl office at Keylong.
The Internet does not work even with the BSNL Sim; and even the homestays do not have wifi due to remote location and harsh weather conditions. There have been talks of Jio being operational soon, so better connectivity and high speed can be expected very soon.
Conclusion
I hope the information above on visiting Miyar Valley was of help. If you have any questions; or need any other details; please feel free to ask in the comments section below; or at our Community Forum; and I will be glad to answer.