This post is in continuation of a previous one and a part of my Sach Pass to Spiti Valley Travelogue. In the first four days of the trip, I traveled from Delhi to Killar via Banikhet, Khajjiar, and Sach Pass. On the 5th day, I moved on from Killar to Spiti Keylong and further into Spiti Valley. Please click on the link below to read the previous part of the travelogue.
My fourth day of the trip was spent in Killar doing nothing. I just relaxed and walk around the town. Though it added an entire day to my itinerary, it also helped me prepare for the tough journey ahead. Traveling from Sach Pass to Spiti Valley means that you are just moving from bad roads to bad roads and you must be ready for what is to come.
Sach Pass to Spiti Valley
After rejuvenating myself (and also giving some time to my bike to relax), I was ready to move on. This was going to be my second trip to Spiti Valley and the memories of the first one weren't that great. I had a nasty fall in that one and ended up with broken ribs. I was keeping my fingers crossed this time. One benefit of traveling from Sach Pass to Spiti Valley was that I have had enough experience of bad roads in the last three days by now.
Day 5 – Killar to Keylong
Day 5 again started early. I was out of the Chamunda hotel by 7 after paying my dues. I started my journey towards Udaipur and for the first time saw the road that I had come through the other night from Sach pass.
After the first 2 km out of Killar, the tarmac again disappeared and I was welcomed by slushy and muddy road. By this time I had become used to no roads, so took that in my stride and rode on. A few kilometers after that, the scenery changed to the rugged yet beautiful vistas of Pangi valley. It was an exhilarating feeling to ride alongside the Chandrabhaga River.
I had been riding for nearly 3 hours without seeing a single soul on the road when I felt a little bit hungry. I saw a tin shack on the way and decided to inquire about food. It was a dilapidated old shack from inside and there were 3 men sitting inside.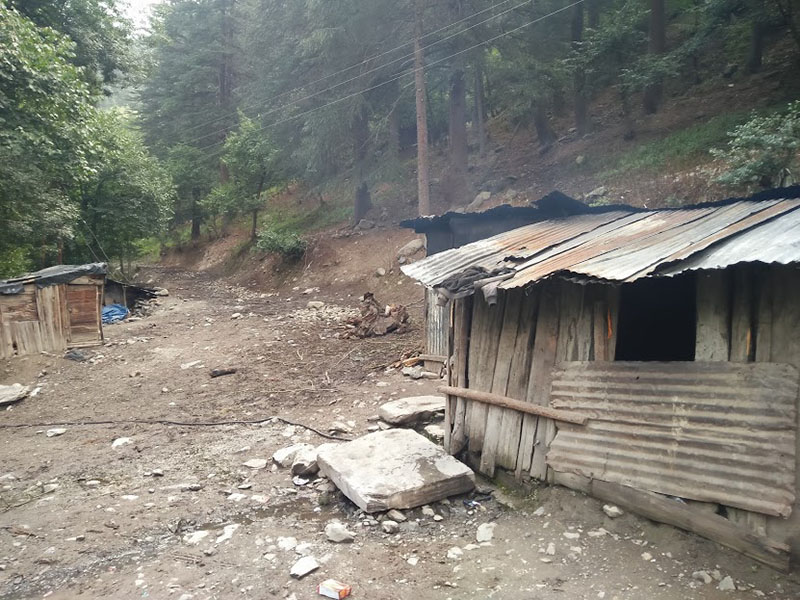 I ordered tea but did not feel very comfortable in that setting and decide to look for a better place to eat further down the road. This was the place where I saw a human presence for the first time in nearly 3 hours.
Also Read: How to Plan your Trip to Sach Pass – Himachal
Welcome to Lahaul & Spiti
I moved ahead and after an hour came across a bridge which I think was the border between Pangi valley and Lahaul & Spiti.
After crossing this bridge, I had officially entered from Sach Pass to Spiti Valley but the roads were bad as ever. Some landslides were still being cleared, which I was able to cross only because I was riding a bike, if I had a 4 wheeler, I would have had to stop at a lot of places. There were a lot of buses and other vehicles stranded because the landslides blocked their way.
Shortly after, I came down to a much plain area, and Udaipur town was just a few kilometers away. I found a dhaba run by an elderly couple. I inquired if they had anything to eat. They said it was not yet time for lunch and breakfast was over. They could only offer me biscuits.
Also Read: How to Prepare Your Sach Pass Itinerary
I was famished at this point. So I bought two packets of biscuits with tea, which I ate in 5 minutes! I asked them if I would find food at Udaipur and they said yes. I would reach there by lunchtime so yes, food would be available. Relieved upon hearing that, I got up, paid them, and left right away for Udaipur.
Some nice views just before Udaipur. The Chandrabhaga river was nearly at level with the road at some points here.
Udaipur
I reached Udaipur, the heart of Lahaul Valley, around 2:30 and the first thing I did was to find a decent place to eat. They only had kadi-rice for lunch and swallowed that with much relish.
I now had to decide if I wanted to stay here or move to Keylong. Udaipur is just another small town in the Himalayas. The only thing unique about it is the famed Trilokinath temple, which is about 8 km from here. As I have mentioned, I was running short on time and decided to skip it.
The distance to Keylong was only about 60 km from here and I was told the road had decent tarmac which would help me cover the distance in about 2 hours. I decided to leave for Keylong.
On the way, I saw the board to Trilokinath temple, which I had heard a lot about but because I did not want to take any chances with my schedule (I had already lost 2 days) I decided to skip it. There's always a next time, and thus I consoled myself.
Keylong
By 4:45 I was near Keylong. I decided to go to Tandi first to fill the belly of my beloved 220. I had not filled her since the ascent to Sach Pass. Standing at the Tandi Petrol pump, I got reminded of my last year's trip to Ladakh. How some places can trigger instant memories, good or bad.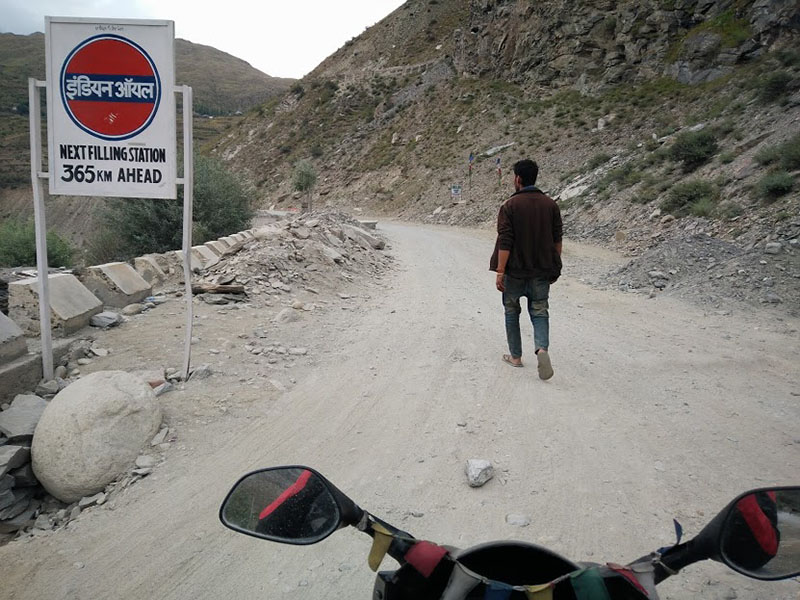 I went to the old Keylong town and again bargained for a cheap room, which I got after a little haggling at Rs.400. I was finally getting a signal on my mobile after 2 days so I spoke with Family and friends and assured them I was still alive!
After having dinner, I called it a day. Tomorrow I was going to Chandratal, or so I had planned.
Also Read: Batal Gramphu Kaza Road – Adventure Unlimited
Day 6 – Keylong to Batal
The next day I woke up early and started getting ready. The destination for today was going to be Chandratal.
This was supposed to be a tough day. I knew because I had done this stretch two years ago and I was prepared for what this day was going to bring my way, or so I thought.
I started around 9 am. The sun had come out and it was sunny, the blue skies looked inviting and I set out in high hopes of reaching Chandratal by evening.
The journey till Gramphu was uneventful. The only hiccups were the road work happening on the highway because of which I had to slow down sometimes on a wonderful tarred highway. I think most people take good roads for granted. I did too but realized how grateful I am that I have good roads to ride on only when I rode on bad roads, worse roads, and no roads at all.
My first break for the day for breakfast was at Sissu, where I had an opulent breakfast of omelet, sliced bread, and a cup of tea for rupees 90!
I'm not really sure what prompted the lady to bill me so generously. I was on a motorcycle, I was wearing my riding gear, I had a cam, wait!
It must be the action cam attached to my helmet, which she must've mistaken to be a GoPro and automatically assumed that I must be loaded, not realizing it's a cheap Chinese copy.
Damn you GoPro, you cost me money even when I don't have you! Anyway, I gave her the money, half-heartedly, and moved on.
This is the Lahaul side of the Manali tunnel.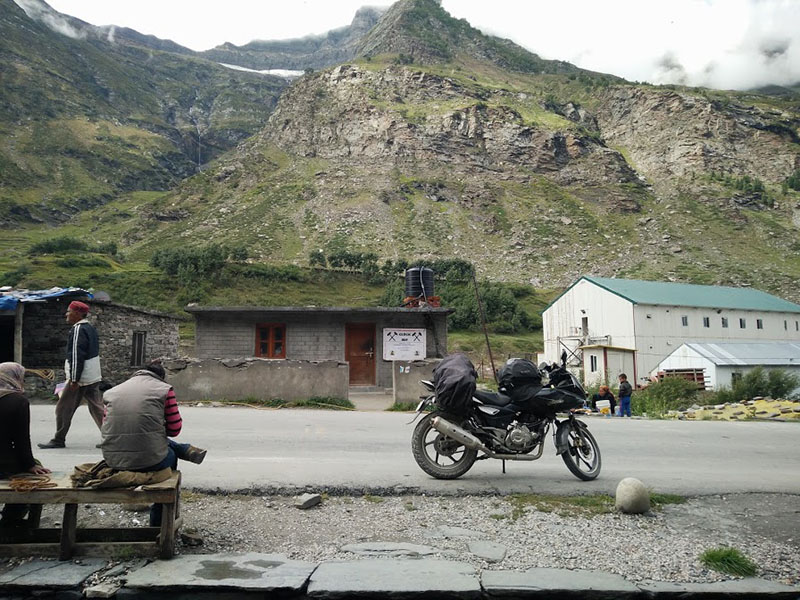 The heart-stopping moments started when I crossed Khoksar. Why? Let me explain.
Wrong Turn
The trucks had started to race with me starting from Gramphu and I was in a cat-mouse game with them. While we were doing this, I lost sight of my goal and ended up past Rohtang pass top. I realized where I was only when I saw the board pointing down towards Marhi!
What the hell! How did I reach here? Wasn't I supposed to go to Chandrataal and not Manali?! I asked a worker working on the side about the exit to Kaza. He told me that I had left it 14 kilometers behind at Khoksar!
I was devastated! I didn't want to go back to the same rocky roads, slush, and crazy truckers. For a second, I even thought about going to Manali instead and spending my days eating in German bakeries and lounging in cafés and riverside restaurants. But then my conscience intervened.
Also Read: How to Plan Trip to Rohtang Pass
I had not come here all the way to have an easy time. If I wanted that, I would've stayed back home instead. Okay, I'm going back to find the way back to Spiti. With a new determination, I took a U-turn and went 14 kilometers back only to find the signboard to Kaza staring in my face.
How could I have missed this? By now I had wasted at least 2 important hours of my day and was in a hurry to make up for the lost time.
Some pictures at Rohtang top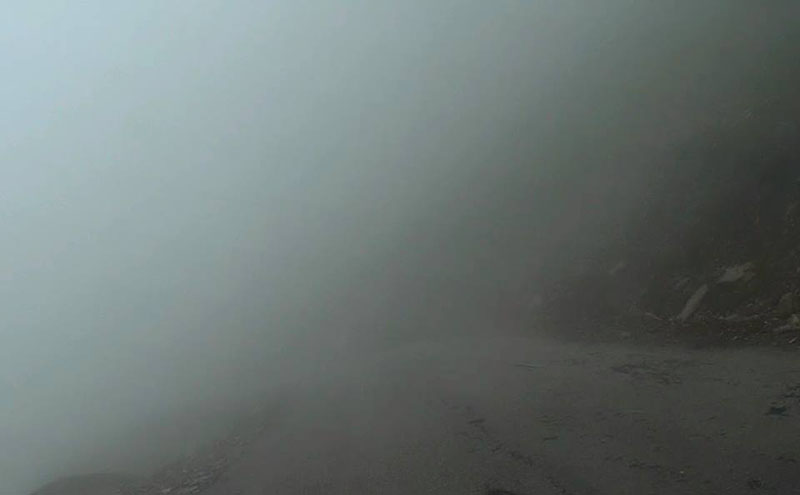 I saw this man dancing away merrily at the top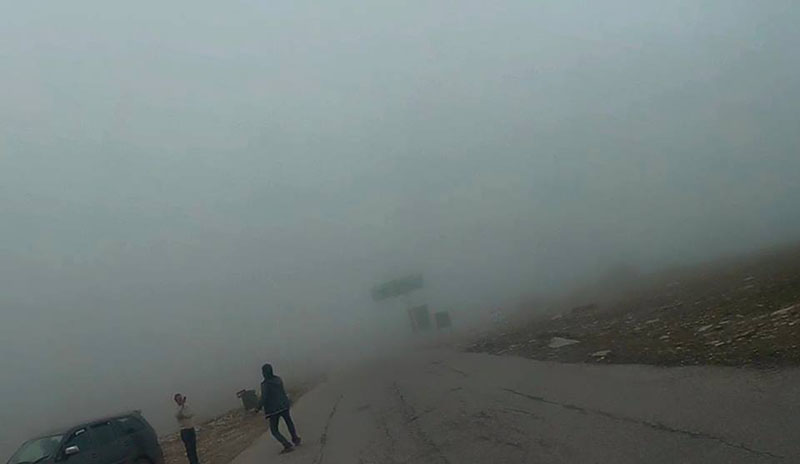 Gramphu to Chhatru
When I saw the distance to Chatru, I was happy because it said 15 kilometers. That's not going to take more than an hour, I said to myself and moved ahead. I had hardly gone 4-5 kilometers when it started to rain and I saw the famous 'Pagal Nallah' staring at me. It was overflowing ferociously, even though it was just past the afternoon.
I managed to get stuck in it and would have been stuck for a long time, had it not been for a good Samaritan, who again, like the ones before, appeared on the scene and helped me cross. I also helped him cross the nallah and we exchanged high fives from a distance after getting across.
Stuck at Pagal Nallah
I encountered three more large water crossings but made it through and when I reached Chattru, I looked at my watch to see it was 2 pm! and I still had to cover 100 odd kilometers.
There is no way in hell I'm going to be able to make it to Chandrataal today. I decided to bide my time at Chattru. Sitting there, I ordered several cups of tea, Maggi, squeeze dried my shoes and socks. I must have spent close to an hour when it started to drizzle heavily.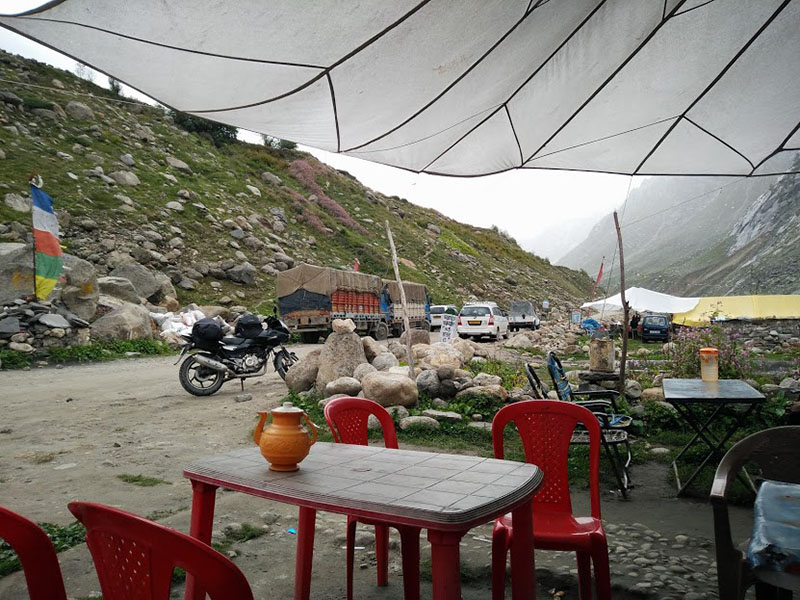 I was in two minds now; whether to move ahead regardless of the rain or to stay back at Chattru for the day. Sometimes, my brain thinks I haven't had many adventures for the day and makes stupid decisions. It decided I must move on. So move on I did, in the pouring rain.
Also Read: How to Plan  a Trip to Chandratal
Chhatru to Batal
Needless to say, I was thoroughly exhausted when I reached Batal. I had encountered some of the worst terrains in my life on the way which I guess was the highlight of the entire journey from Sach Pass to Spiti Valley. To be honest, I lost count of the water crossings I crossed on the way. I was just riding on like a Zombie, over rocks, boulders, slush, water, which thankfully was not so deep.
The road seemed never-ending. I only stopped when I saw the board for 'Kangri Dhaba' and realized I must be in Batal. It was already close to 6 pm and I had been riding on a back-breaking terrain nonstop for nearly 3 hours.
The rain was showing no sign of stopping, and it was getting teeth-chattering cold. I decided to end the day at Kangri dhaba and took a dorm bed for 100 rupees.
Also Read: When is the Best Time to Visit Sach Pass?
It doesn't really rain heavily in Spiti the way it rains at other places. It always drizzles, sometimes heavy, sometimes light. Though I must admit the experience of riding through low lying, misty clouds would be something else; but not when you're faced with a hostile path, literally riding on top of sharp rocks, rubble, slushy road, and overflowing water streams.
I think it may even be fun to go through this terrain in a 4×4 but that's not what was I on!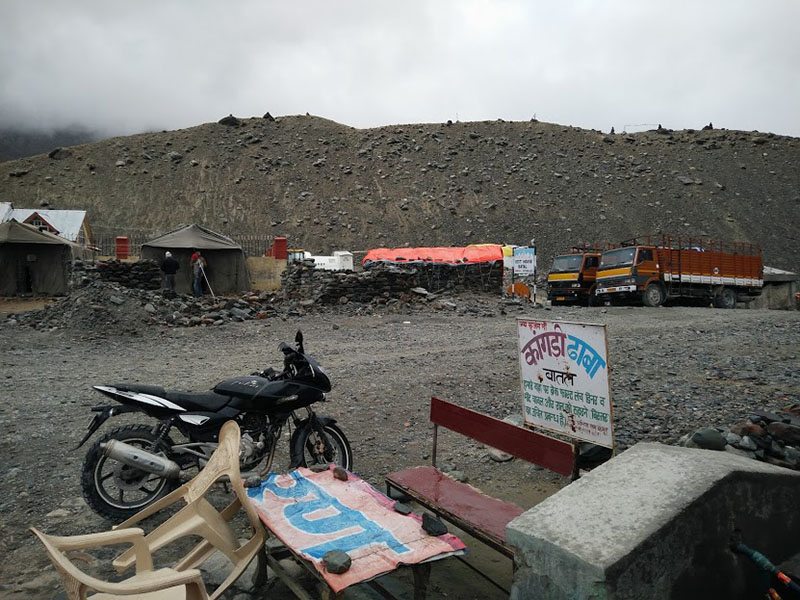 Day 7 – Batal to Kaza
After an eventful day, I didn't want to take any more chances. I left Batal early the next day, as soon as the rain stopped. The sky was still laden with heavy clouds so I decided to abandon the plan to visit Chandrataal and started to move towards Kaza.
I had originally planned to halt at Chandrataal for a day and visit Samudri tapu. I had been to Chandataal the last time I was here but did not know about Samudri Tapu. Hence that was the reason to visit Chandrataal again.
But then the last time was a little tough. I had missed seeing a lot of places in Spiti because I had a bad fall, on the 3rd day and had fractured my ribs. The entire journey was very painful and I rested wherever I could. This time I had resolved to cover all the places around Kaza that I missed the last time and that was where my main focus was.
The cloudy weather was not helping either and I wasn't sure if going all the way and coming back with nothing (no pictures) would be worth it. Not going to Chandrataal was a tough decision I had to make. When you're solo, you have to make certain decisions that are made on the spur of the moment. You don't have anyone to take a second opinion from, no one to trust with your decision but yourself. Solo travel teaches you to prioritize, and I did that.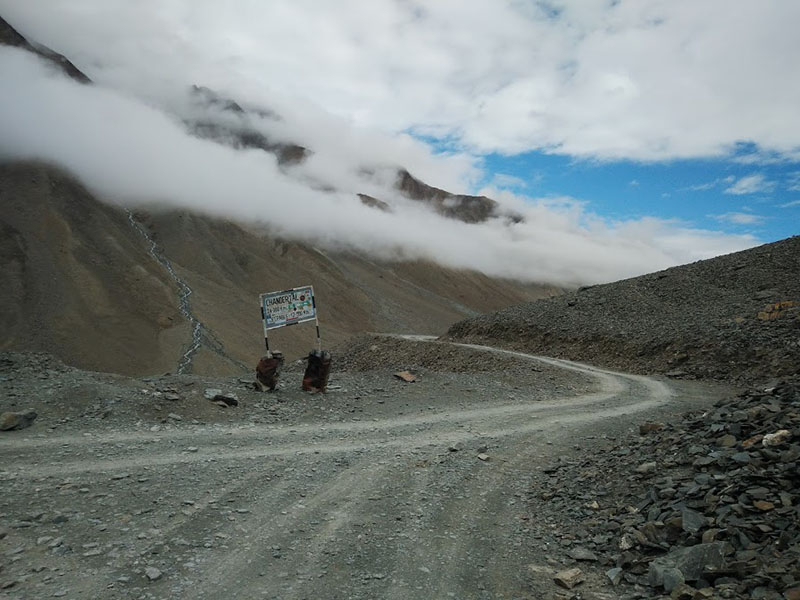 I looked woefully at the signboard. My heart wasn't ready to accept my decision but my brain overruled my heart. This was the hardest thing I had to do in my entire journey from Sach Pass to Spiti Valley.
Kunzum Pass
The ascent to Kunzum pass was not that tough but the heavy cloud cover made it difficult to pick up speed. When I reached the top, nothing was visible except the temple. It had changed a lot from two years ago, there was a proper boundary and a lot more flags around. Last time around it looked almost bare. I made the mandatory circle around the temple and after paying my obeisance to the goddess, proceeded further towards Losar, the gateway to the Spiti valley.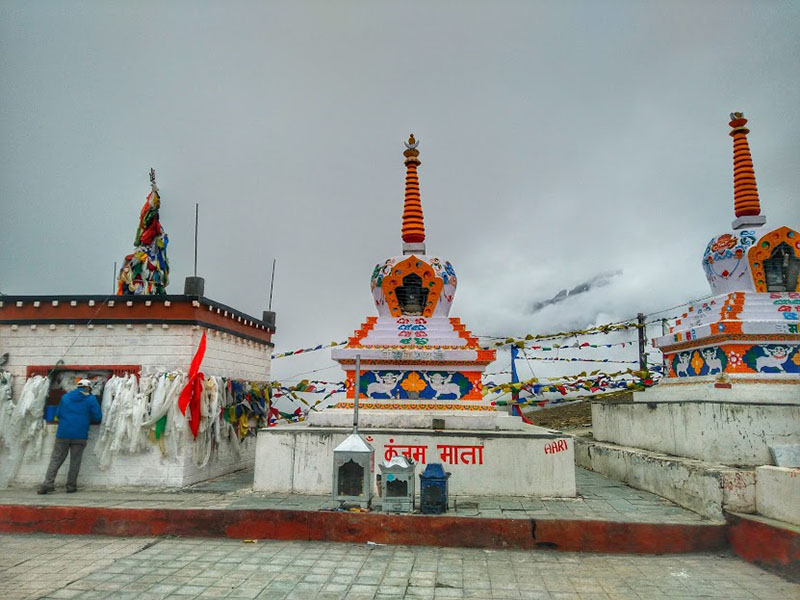 From Kunzum pass it took me only an hour to reach Losar. Lovely vistas welcome the decent from Kunzum. The clouds were still there but it was beautiful all around. Finally, I completed the journey from Sach Pass to Spiti Valley and was officially in Spiti now. I always wanted to see the 'Most Welcome to Spiti Valley' gate. I missed it last time because we exited to Chandrataal from this gate. The signage is only visible on one side.
Also Read: How to Plan a Trip to Kunzum Pass
There were a few changes here too. The police registration/check post had moved next to the welcome gate, earlier it used to be pretty far in, at the end of the Losar market. The small water stream that used to run on the road was gone too. I rested a bit at a tea stall and relived my memories from two years ago when there were three of us on this trip.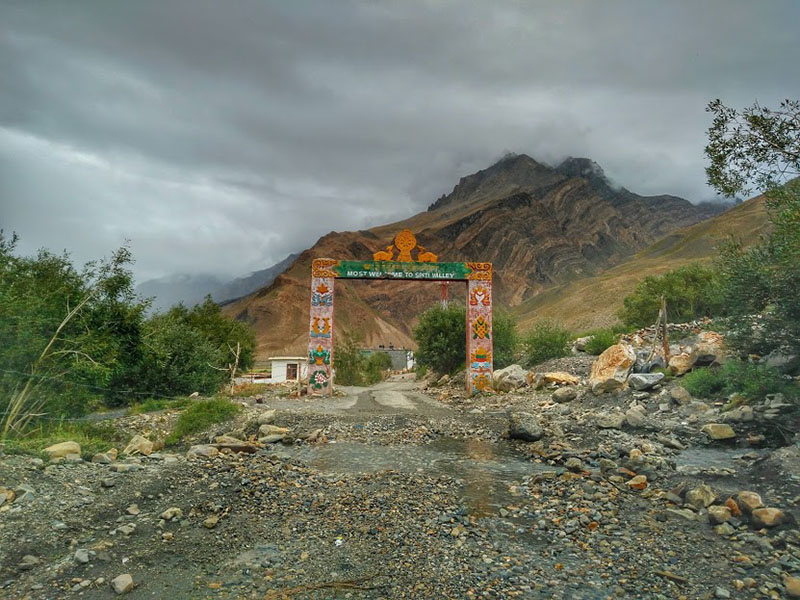 Welcome to Spiti Valley
It felt nice to see some green around the water streams after seeing bare mountains from the last two days. The rain again accompanied me all the way to Kaza, starting just past Losar. It was a light drizzle, kind of stop and go rain, which allowed me to take some pictures along the way.
The Spiti valley landscape is astonishingly barren and beautiful at the same time. It is said that it was once the bottom of the Tethys Sea millions of years ago. But can you imagine looking at vistas like this under the sea?
The journey towards Kaza was a visual delight with magnificent views all around.
Something funny happened on the way. When I was about half an hour away from Kaza, the rain intensified and I took shelter under an overhanging cliff on the road. I saw two other bikers parked there, wearing full hooded raincoats.
Also Read: How to Plan a Trip to Spiti Valley
I went up to them to inquire if they needed any help. One of them took out a bunch of playing cards and said, "Want to join us in a game?" in an Israeli accent. I actually thought about it for a second and politely declined! To be honest, I wasn't in a mood to play cards with strangers on the side of the road and I also had to reach Kaza. I bid them goodbye after asking them to enjoy their game 🙂
Kaza
I reached Kaza by 4:30 pm and straight away went to the main market and knocked on the door of Shambhala guest house, the same place we had stayed last time. The caretaker of the place, KP told me that there was only one room left and I took that without any negotiation.
We had a very nice experience at Shambhala guest house the last time and I was keen on staying there. With luck, I had gotten a room for myself. I unloaded my stuff in the room and decided to snooze a little bit.
After I woke up, I ordered a lemon tea and went out to revisit my favorite German bakery. A lot of new establishments had opened up since I was here last but the bakery was the same.
I ordered some coffee and a cinnamon roll to go with it. I kind of feel at home while I'm in Kaza. I'm not sure why but that is a strong feeling. I called home via the only available satellite phone in the town and reassured my folks that I was still alive and well.
I stayed up late watching TV. This is something I never do; watch TV when I'm traveling, or even otherwise. But in Kaza at that time, I liked surfing the channels after a long time.
I had supper of plain veg thali and Jalebi at Sharma sweet shop. Those who have been to Kaza would know that it's the only sweet shop there, and not too bad.
Tomorrow was going to be a lazy day, as I planned to visit the Kibber village and Ki monastery, which would take only a few hours.
Day 8 – Kaza to Kye Monastery to Kibber to Chicham to Kaza
The next day, I visited Kibber, Chicham, and Ki, key, or Kye monastery. These are the three ways I have seen it spelled as.
Kye monastery, perched high above a mountain. It is a thousand-year-old monastery with a history of foreign attacks, plunders, and wars destroying it several times. Each time it was restored and continues to be under renovation by the ASI.
Kibber is a village situated about 20km from Kaza. At 4200 feet, it was called the highest village in the world, until the mistake was rectified and Komic took its place.
The Kibber wildlife sanctuary spans an area of more than 2000 square kilometers and is said to be home various high altitude wild animals including Ibex, wild fox, and the very elusive and rare snow Leopard. It is also home to rare medicinal plants and herbs.
Day 9 – Kaza to Langza to Hikkim to Komic to Kaza
The next day when I started for Komic Village, I was intrigued by this majestic mountain peak, which started to be visible early on in the ascent. I later came to know that it was called 'Chow Chow Kang Nilda' peak or the 'Princess Peak'. It rises more than 20k feet and forms a beautiful backdrop to the Langza village.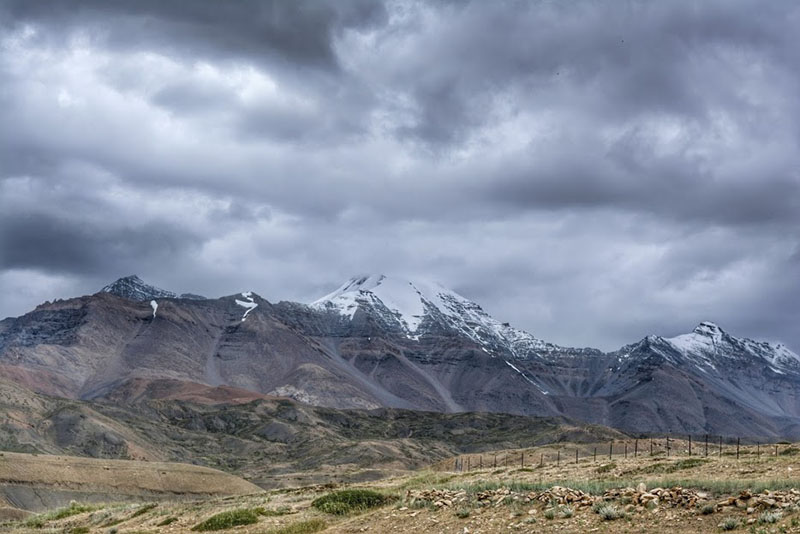 Langza village against the backdrop of the Princess peak.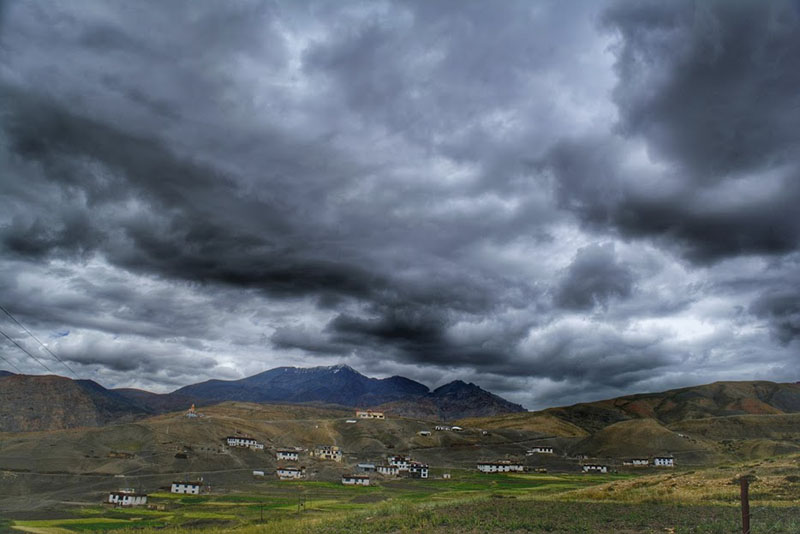 It is also known as the fossil village because fossils abound around this village. I did not know this fact when I went there or else I would have gotten some for myself.
The monastery and the statue are established high above the village. The Buddha is said to be watching over the village from a thousand years.
I met two locals on my way, walking to Komic, about 15 Kms away. They told me that they know of a shortcut which reduces the distance to only 10 Kms but it does not have a road. I took the road.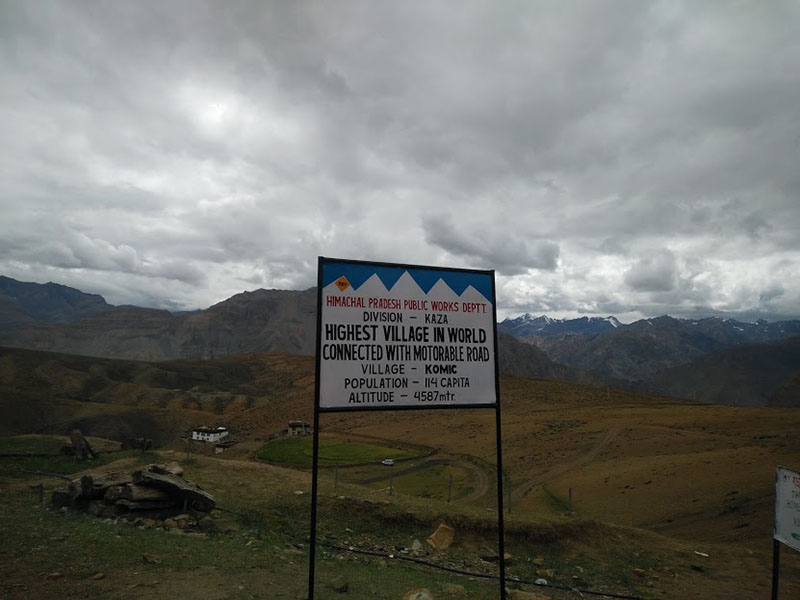 The official proclamation of Komic is the highest village in the world. But there's a catch, it also says, "connected with the motorable road", which could turn the fact into an assumption.
The Komic monastery.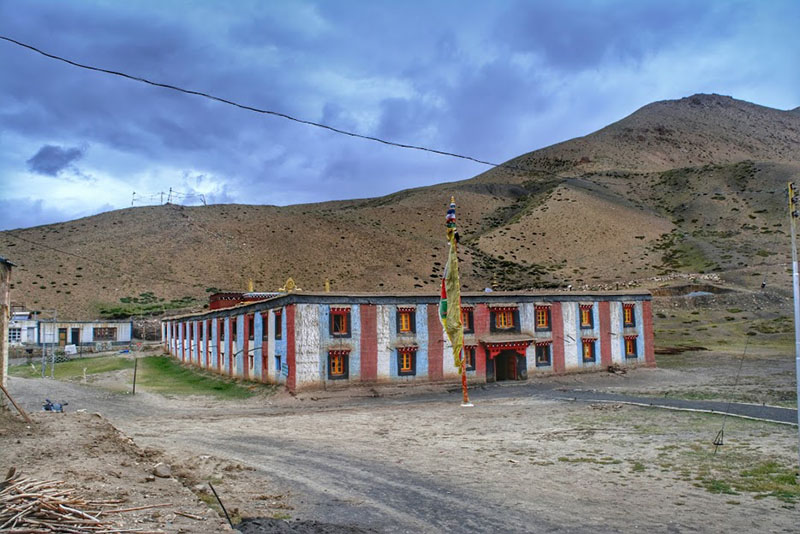 The way down to Kaza from Hikkim. This road is different than the one I came from. It started raining on the way back, making the steep road more dangerous.
Kaza from the top.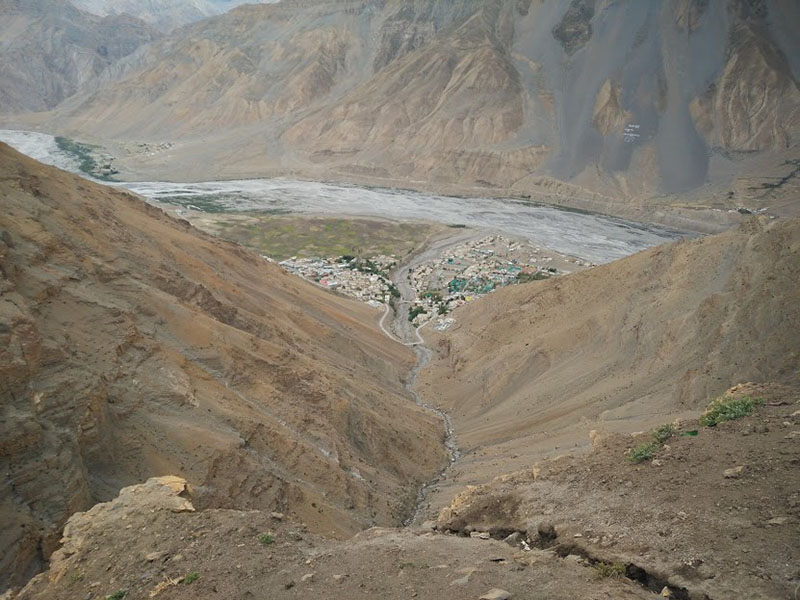 Day 10 – Kaza to Dhankar
Day 10 started late. I said goodbye to KP, after promising to meet him soon next time. I started my journey towards Pin Valley at 9 am. Around 10, I was at the diversion on the main highway, which goes towards Pin valley from Kaza. The vistas in Pin valley were even more enchanting than what I'd see before. It was a very sunny day with only white fluffy clouds floating in the azure blue sky. A perfect day!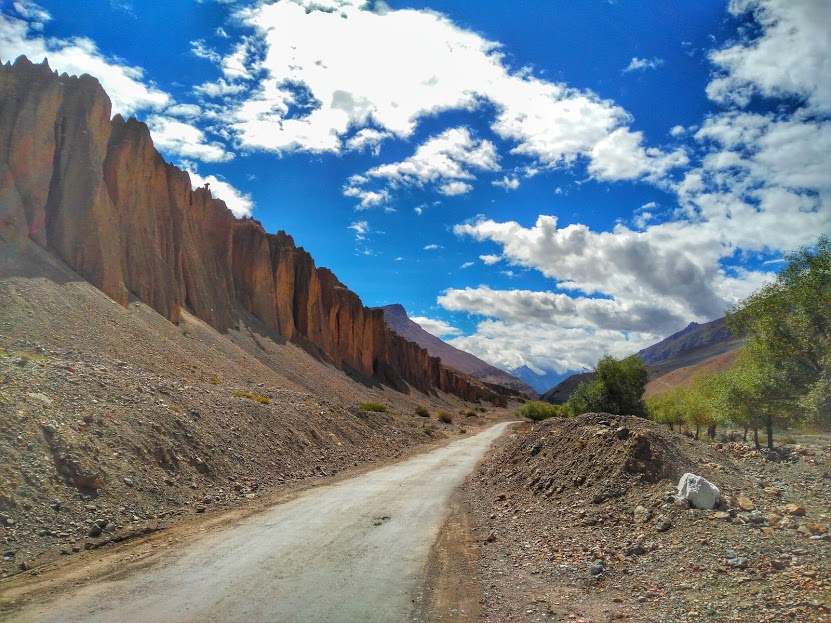 Mikkim, the first village of Pin valley. Population 30.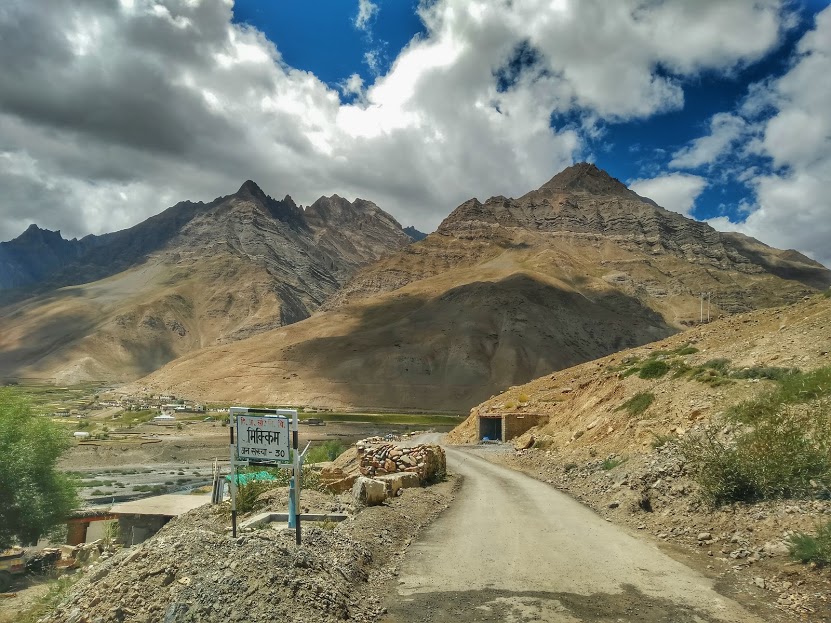 Sagnam, the largest village in Pin valley. I would have stayed here, it looked very inviting but I had planned to stay at Dhankar, so had to give this a miss.
The last village of Pin valley, Mudh. The road ends here and trekking begins. The famous Pin-Parvati Pass and Bhabha Pass treks start/end here.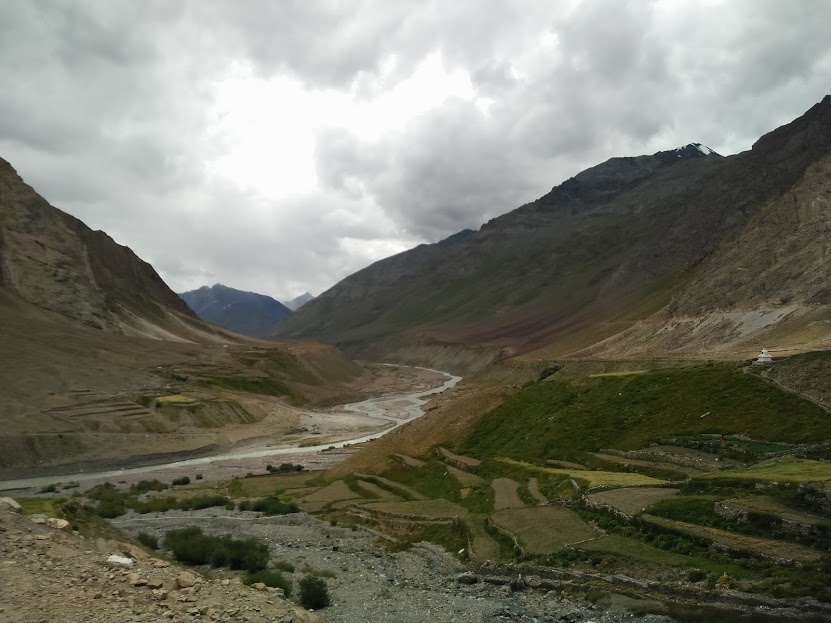 The return journey back to Dhankar.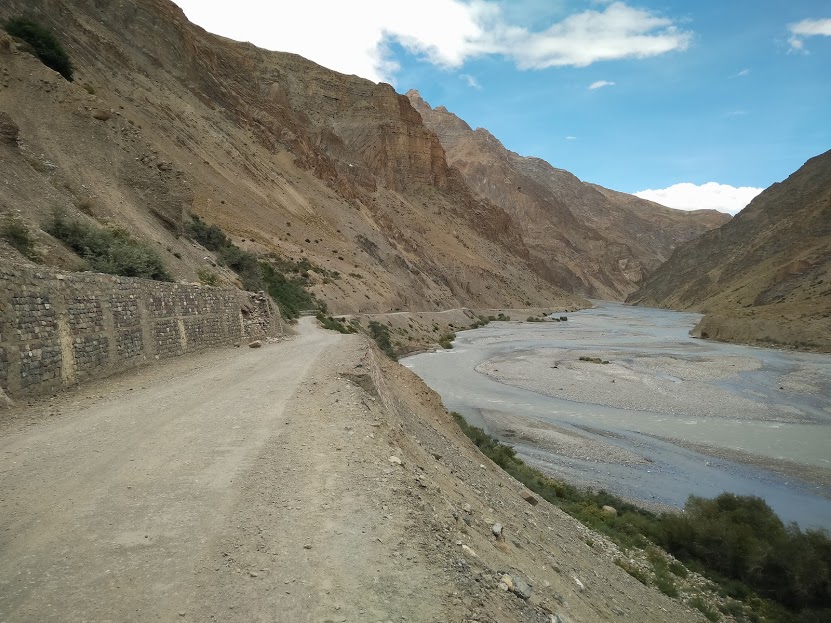 Dhankar Village
I found a homestay option near the monastery and checked in. After a short walk around Dhankar village visiting both the monasteries and Dhankar fort, it was time to call it a day.
Sach Pass to Spiti Valley – Conclusion
I hope the travelogue and information above on traveling on Sach Pass to Spiti valley was of help. Please click on the link above to continue reading the next part of this travelogue. If you have any questions or need any other details, please feel free to ask in the comments section below or at our Community Forum and I will be glad to answer.