A trip to Spiti in my opinion is incomplete without spending a night at Chandratal. Camping here, either on your own or at a campsite, is a memorable experience. But the total cost of this experience sometimes can be a little too high for some people. There are however a few ways that this cost can be reduced. In this article, I will share a few tips on how to plan a budget trip to Chandratal.
Let us first understand why does it cost more to visit and stay at Chandratal. The biggest reason is that the per person charge at the campsites here cannot really be called budget-friendly. There is no direct bus or shared taxi available that takes you all the way to the lake. Walking 14 kilometers is not really everyone's cup of tea and a private taxi would cost several thousand.
If you are traveling by your own vehicle and budget is not a problem, then a night stay at Chandratal will be easy. However, things become a little tricky if you are traveling by public transport and within a budget. What do you do then? Read on to find out.
Please note that in this article, I am only discussing visiting Chandratal on a budget. If you want to know the same about all of Spiti, please read How to Plan a Budget Trip to Spiti Valley.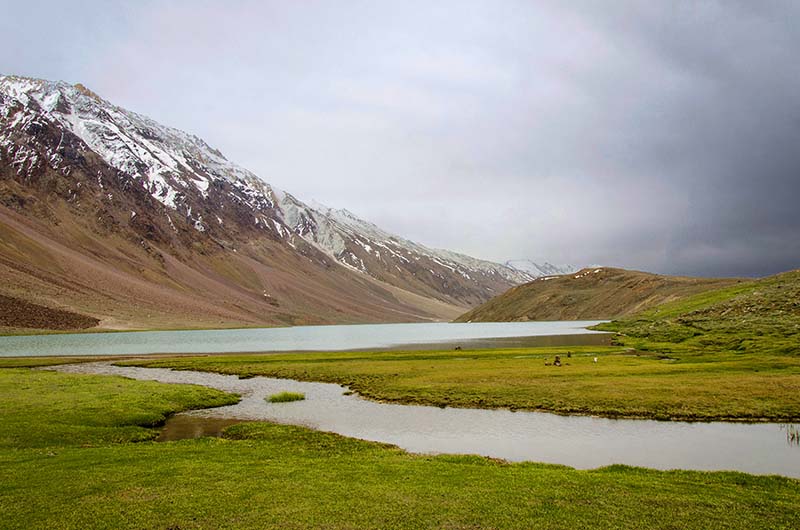 How to Plan a Budget Trip to Chandratal Lake
There are three problems here really that need to be tackled with. The first one is how to commute. The second one is of where to stay and third is how to tackle the first two problems without burning a hole in your pocket.
Let me first talk about how things will be if you were traveling by your own vehicle because that will be the shortest. After that, I will explain how to travel by public transport without spending too much.
Chandratal Trip by Car or Motorcycle
To be honest, I do not think the budget for Chandratal will be an issue if you were in your own car or even a motorcycle. The only expense that you will need to worry about then will be of the accommodation at Chandratal.
At an average, it will cost you Rs. 1500 – 2000 per person to stay at a campsite. I know this is a bit on the higher side but if managed the trip expense well, you will easily be able to accommodate this.
However, if you weren't able to, then you have two options.
Make a Day Trip to Chandratal and stay at Losar or Batal
Cover Chandratal while traveling to Manali or Kaza
Day Trip to Chandratal
The two nearest settlements near the lake are Losar and Batal. Of these, Losar is a small village and has a few guest houses where you can easily get a room for Rs. 1000 per day. This, if shared with a friend, will cost you Rs. 500 per person.
Batal is a temporary tent establishment that serves as a rest stop on Manali Kaza Highway. There is a Dhaba at Batal where you can get cheap accommodation for around Rs. 400-500 per person.
If these numbers fit well in your budget, then you should stay at Batal or Losar. For example, from Manali, arrive at Batal and stay there on Day 1. On Day 2, drive to Chandratal, spend some time and return to Batal. On Day 3, you will drive back to Manali.
Visiting Chandratal on the Way
This will be applicable for someone who is traveling from either Kaza to Manali or vice versa. Not just cost, but even if you were short on time, this can be a good option for you. All that you need to do is start really early from Kaza, possibly by 6 AM. Drive to Losar, then Kunzum Pass, and turn on the road towards Chandratal. Spend time at the lake, return to Kunzum Pass, and be on your way to Manali.
Doing this, you will not have to pay for campsites and do not need to add another day to your itinerary either. Kunzum Pass to Chandratal and back will easily be about 3 hours at least so manage your travel accordingly.
Now let us talk about an actual budget traveler, someone traveling by bus and other means of public transport. This is where our second question comes into the picture. How to reach Chandratal by Public transport
Manali to Chandratal Lake by Bus/Shared Taxi
There are two ways that Chandratal can be accessed. One is from Manali and the other from Kaza (Shimla).
If you were coming from Manali, there are two daily HRTC buses that you can board. Both of these buses start early in the morning at 4 to 5 AM. So you will have to be there at the bus stop on time.
The bus will follow the Manali – Rohtang – Gramphu – Batal – Kunzum Pass – Losar – Kaza route and fare per person for Kaza is around Rs. 200 – Rs. 250.
Once this bus reaches Batal, you have two choices. You can either get down at Batal or get down at Chandratal diversion; a little before Kunzum Pass top. No matter where you get down though, your options to reach Chandratal from here are limited to three.
Walk 14 kilometers to the lake
Wait for a shared taxi going that way
Hitchhike
In my opinion, getting down at Batal will be a much better choice. Almost everyone traveling on Manali Kaza Highway stops at Batal for a quick break. If you were hoping to get a ride for Chandratal, this is where you will find it; in the form of a shared cab which is mostly either a Bolero or a Tata Sumo.
Batal to Chandratal Trek
In tourist season, you will find several people going to Chandratal, so hitchhiking will also not be a problem. If you could not find a way to travel at Batal, my advice will be to just start walking towards the lake. If someone passes you by on the way, ask them to give you a ride.
I have done the Batal to Chandratal Trek myself. One side of the walk to the lake comes out to be about 17 kilometers. Considering the high altitude, low oxygen levels, and harsh sun, it took us well over 4 hours to complete it. So please plan your day accordingly.
Also Read: What Clothes should you Pack for Spiti Valley
If you were walking all the way, there is no way that you can go to the lake and come back to Batal the same day. It is just way too difficult and exhausting. It will be almost 8 hours of walking and unless you were a serious trekker, I do not think you will be up for this.
Kaza to Chandratal Lake by Bus / Shared Taxi
If you are traveling from Kaza to Chandratal, there is an early morning bus that you can board for Manali. This bus follows the same route that I mentioned above for Manali to Kaza bus; just the other way around. Traveling by this bus, once again choices will be pretty much the same. You will get down at either Chandratal diversion near Kunzum Pass top or at Batal.
A better choice will be to get down at Batal and look for a mode of commute there. The fare per person for Kaza to Manali bus as well is between Rs. 200 – 250. For Batal, it will cost you about Rs. 100-150.
Accommodation at Chandratal
There is no cemented hotel at Chandratal. It is a lake in the middle of nowhere and your only choice of accommodation is the campsites. It depends on your negotiation skills but their charges per person charge including meals will at least be Rs. 1500. No campsite will charge lesser than this because it then creates problem among them.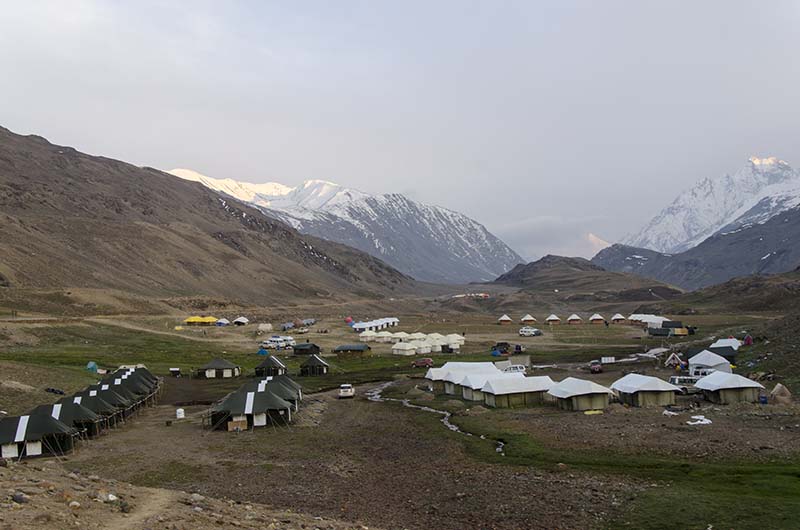 The only concrete hotel available nearby is the PWD guest house at Batal. If you are able to find the caretaker and get him to agree in letting you stay, you can stay at the guest house and eat at the Dhabas which are right next to it. I have been to Chandratal numerous times and never have I found this guest house open or caretaker available.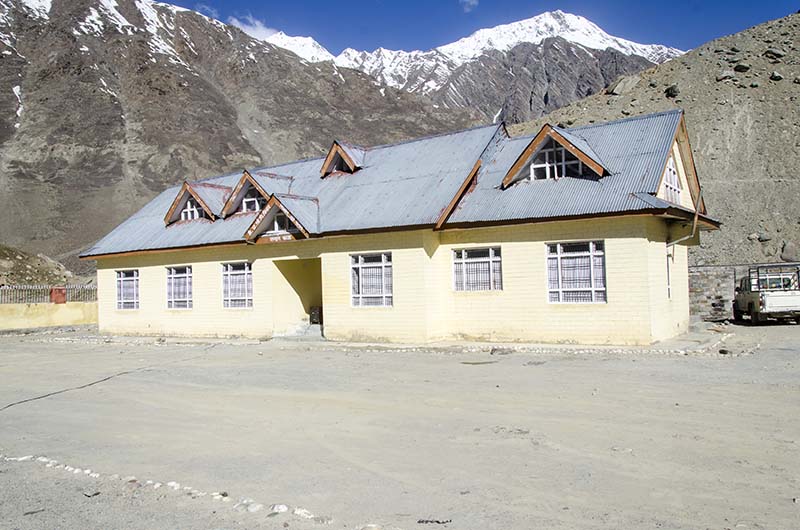 Even if he was there, I do not think he will let you stay and will ask you to talk to the Dhaba owner and find accommodation there. The only way you can stay here is that you have an advance booking and know someone in HPPWD who can arrange it for you. At the guest house, it will cost you around Rs. 500 per day.
Last but not least, Dhaba is the cheapest form of accommodation available. A friend of mine got a bed here for a night and paid only Rs. 200 for it. You can try your luck and see if you can find something cheap here. They also have a satellite phone if you want to call in advance and inquire. Their number is 08991722020.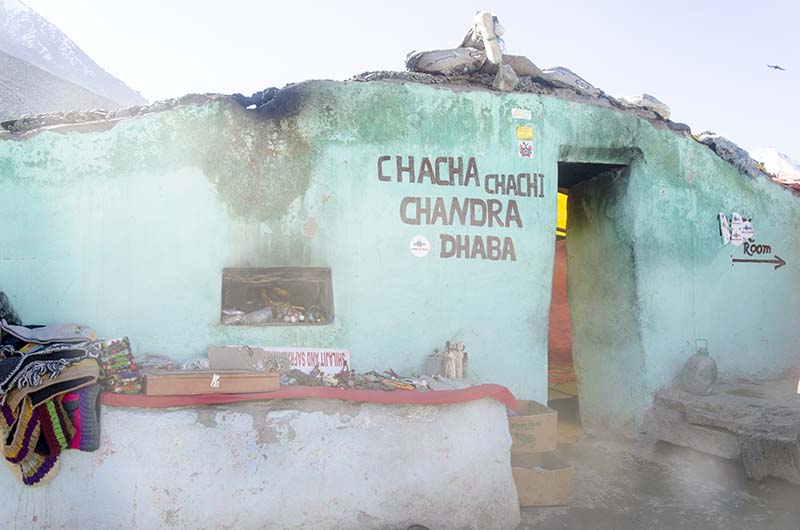 Rented Bike from Manali or Kaza
Another cost-effective way to travel is to rent a bike from either Manali or Kaza. This is for someone who does not wish to travel by Bus but will also not shed several thousand on a private taxi.
Motorcycles are easily available for rent in Manali and will approximately cost you between Rs. 1000 to Rs. 2000 depending on which one you choose.
A bike like Pulsar would cost around Rs. 1000, RE 350CC will cost 1500, and RE Himalayan or 500CC will cost around Rs. 2000 per day. This is a great choice also for people who would like to add a little bit of adventure to their journey. Travel on Manali Kaza road is a thrill in itself and it is best experienced on a motorcycle.
Also Read: How to rent a Motorcycle in Manali
If you were coming from Shimla or Kaza, you can rent a bike from Kaza as well. This will actually cost a little less than what you would otherwise pay in Manali. From Kaza, rent a bike, start early and you will reach Chandratal in 3-4 hours easily. Spend some time at the lake and be back in Kaza by evening.
The benefit of traveling this way is that you can catch a direct bus from Kaza Bus stand for Manali. You will not have to worry about getting down somewhere in between and then look for another mode of transport.
Chandratal in One Day
Can you travel between Manali and Kaza by Bus and cover Chandratal as well in one day? The answer is no you cannot. It is not possible to travel from Manali to Batal or Chandratal diversion, visit the lake, be back, and continue to Kaza. There are a few reasons for it.
The road between Manali and Kaza is extremely bad and even though the bus from Manali starts early in the morning, it may take some time to reach Kunzum Pass. For example, if you reached Kunzum around noon, there is no guarantee of how long it will take you to reach Chandratal. My estimate is that the earliest you will get to the lake is by 2 or 3 in the afternoon.
Also Read: Spiti Valley Bus Timings
Then there is also the question of returning back on the same day and find a ride back to Kaza or Batal. This is something you do not know when you will find or if you will find it at all.
The same thing applies to the Kaza side as well. You cannot travel to the lake by public transport and then hope to reach Manali on the same day. My best advice would be to plan this trip for at least 2 days.
The bus from Manali to Kaza is the one that returns from Kaza to Manali the next day. Other than writing down the timings of the bus, it will also be in your favor to have a word with the conductor. Tell him to pick you up from Batal the next day. You can also pay him a little tip so that he waits for you a little in case you got late the next day.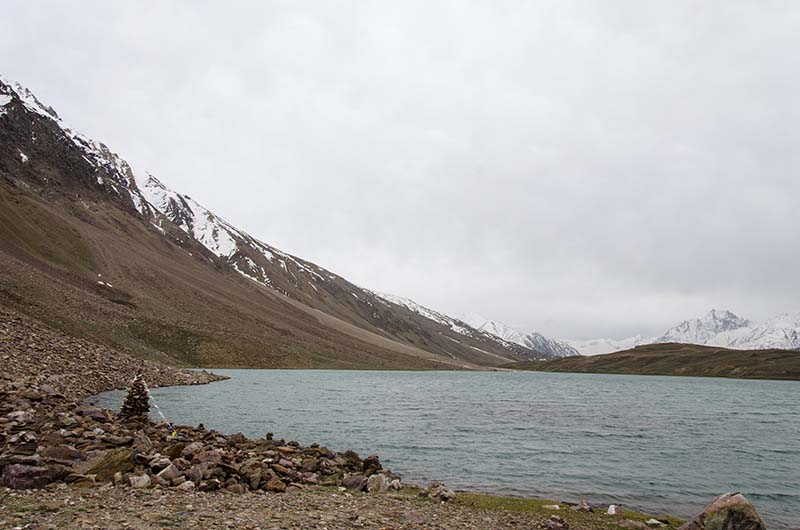 Private Taxi for Chandratal
A private taxi from Manali to Chandratal will cost you anywhere between Rs. 15000 to Rs. 20000, depending on the time of your travel and your negotiation skills. These charges are for a drop at the lake. If you wanted to make a 2 days round trip, it will cost anywhere between Rs. 25000 to Rs. 30000. A private taxi from Kaza to Chandratal will cost around Rs. 4000 for a drop and Rs. 6000 for a round trip. This can significantly increase your cost of Chandratal trip.
Other Tips
If you were coming from Manali and will go to Kaza the next day; then make a note of the time the bus arrived at Batal or Chandratal diversion. Because you will have to get back here at the same time the next day to board this bus again to continue to Kaza.
If you were coming from Manali and intend on returning Manali itself, then you will have to reach Batal from Chandratal as early as you can. The bus from Kaza starts early in the morning and it will reach Batal at around 10. So you will have to be present at either Chandratal diversion or at Batal to board it.
If you end up missing this bus, your other option would be to either board a shared taxi or hitchhike all the way to Manali.
One important thing you need to consider here is the high altitude acclimatization. Chandratal is at a very high altitude and you may end up suffering from altitude sickness. You will have to keep a close check on how you were feeling. If there were any signs of restlessness, headache, body ache, or if you felt like you were suffering from fever, please do not stay for the night at the lake.
In this case, you should immediately return to Kaza. This is the closest town where medical help is available. If you stayed at the lake and your conditioned worsened at night, you will have nowhere to go.
If you were trekking, I will recommend starting early in the morning and stay on the road. You do not want to wander on dirt trails and get lost in the mountains here.
Shared taxi from Batal to Chandratal will not cost you more than Rs. 50 – Rs. 100 per person.
Budget Trip to Chandratal – Conclusion
I hope this information on planning a budget trip to Chandratal was helpful. If you have any further questions, please feel free to ask in the comments section below or at our Community Forum and I will be glad to answer.