This post is in continuation with a previous one and a part of my Ladakh bike trip log. We traveled from Delhi to Manali on Day 1 by Bike after a long journey of over 14 hours. Fortunately, we were able to arrange our Rohtang Permits even that late right at the entry point of Manali. On Day 2, we went from Manali to Jispa, riding through the beautiful Lahaul Valley. To read the previous part of this travelogue, please click on the link below.
Even though we all slept late last night, I was still wide awake at 6 in the morning. The other three were still sound asleep and there were a few things needing to be taken care of before we could be on our way to Rohtang.
The top item on the list was to get the flat wheel on my motorcycle fixed. Even though we had the necessary tools on us to fix it, I was still in no mood of doing the job myself. Leaving the trio in their respective dreamlands, I stepped out of the hotel, hoping to find a mechanic shop open.
Day 2 – Manali to Jispa via Rohtang Pass
I roamed around in Manali for an hour on foot. But there was no mechanic shop open that early. I gave up after looking at every possible place and asking a few locals. Luck favored while on my way back to the hotel. I finally found a mechanic shop just opening up.
It was quite close to the hotel and I wanted the guy to come to the hotel. But he insisted that I get the motorcycle to his shop. I was hesitant to drag a 350 CC Royal Enfield on a flat wheel, fearing that it might do some damage to the Tire itself but had no choice. I walked back to the hotel, woke everyone up, and brought the motorcycle to the repair shop.
A couple of hours later, the motorcycle was fixed and we were all up and ready to continue our journey to Rohtang. The clock showed slightly past 10 AM when we checked out of the hotel. Just like the day before, we were again late by 5 hours on our plan.
We had the passes arranged the previous night so that part was taken care of already. The only thing that was worrying me at the moment was the risk of getting stuck in a Traffic Jam near Rohtang top. That would further delay our ride from Manali to Jispa. Hoping for the best, we started on our way from Manali to Jispa.
Confusion & More Delay
I was riding ahead of the group. After a few kilometers, I noticed that I was not being followed by anyone. I slowed down a bit but the others still didn't catch up so I came to a complete halt.
After waiting for about 15 minutes, there was still no sign of the other three. I decided to backtrack a bit fearing some trouble. I went all the way back to Manali but still couldn't find either of them. None of them was answering his phone either.
After a moment's thought, the best possible idea I could come up with was to go back to the hotel and find out if they are still there but they weren't. So there I was, standing at the hotel again and continuously calling their cells with no idea about where they went.
After what seemed like forever, Rohit answered his phone and the mystery of their disappearance was resolved. The trio had noticed a gas station near the entrance of Manali last night and went back that way to fill up their tanks, in the exact opposite direction of the way we were supposed to be going.
This sounded silly. There were other gas stations on our way towards Rohtang and there was absolutely no need to go back towards the Manali entrance for it.
I waited and waited and finally, they reappeared on the road. After giving all three of them an earful, we started again and this time I kept checking to ensure that they were still on my tail.
Manali to Rohtang Pass
The ride to Rohtang is pretty scenic. It really has some dramatic views consisting of lush green hills, several waterfalls, grazing horses, and views of snow-capped mountains. Even for people like me who had been here several times before, it is still awe-inspiring.
Para-gliding from Rohtang Top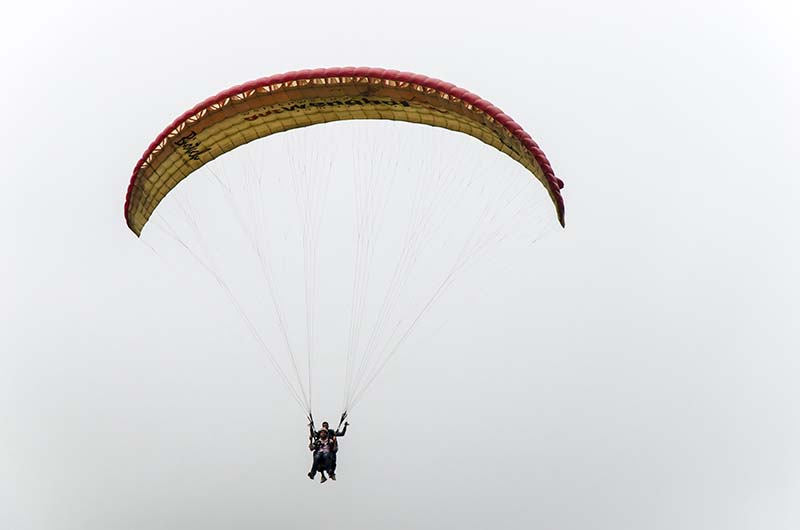 We took our first break at Kothi, at a Dhaba that we stop at every time we pass by here because of the delicious Aaloo paranthas it offers.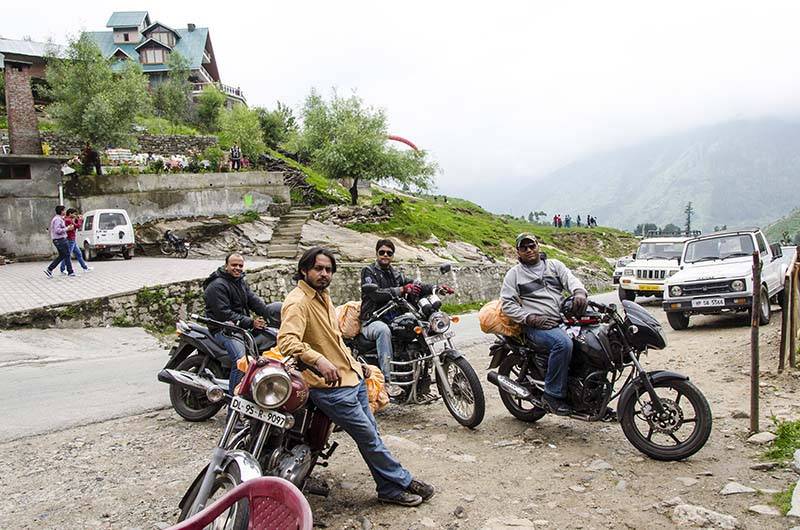 Traffic at Rohtang
Ironically, I was waiting for a barrier to appear on the road with cops asking for Rohtang permits but it just wasn't there anywhere.
We kept riding up and there was no sign of any barrier or cops or anyone for that matter. After a couple of hours of a relaxed ride, near Rohtang, my worst fears for the day came true, in form of a huge traffic Jam.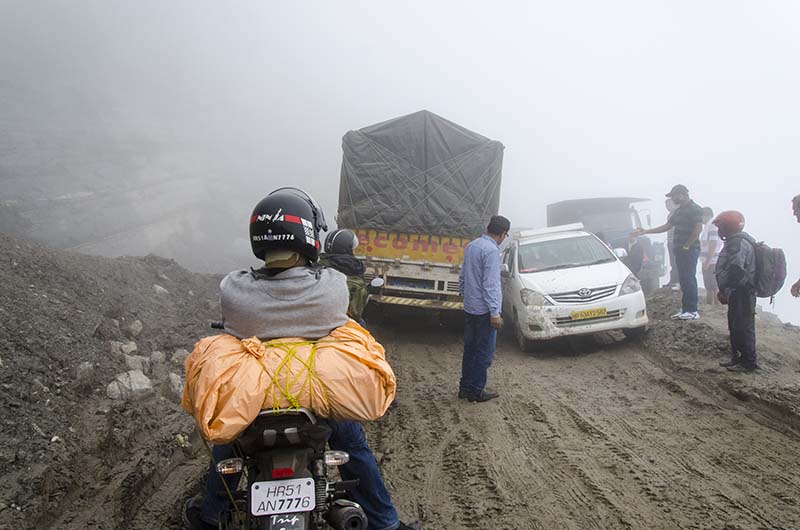 The road was narrow and muddy. There was no other choice but to stand in the line and wait for the traffic to clear. It could very well have taken more than an hour but Shoaib came to the rescue.
He noticed some space on the left where one could manage to squeeze a motorcycle. But because of the mud, no one was attempting it. Brave Sir Shoaib took on the task and successfully completed it.
The rest of us followed and pretty soon every motorcyclist was using the same narrow space to overtake the traffic and avoid the unnecessary wait time.
Rohtang Top to Kokhsar
Fortunately, we did not encounter another traffic Jam. After a quick photo session at Rohtang top, our 1st high altitude pass of the trip, we were descending on our way to Gramphoo.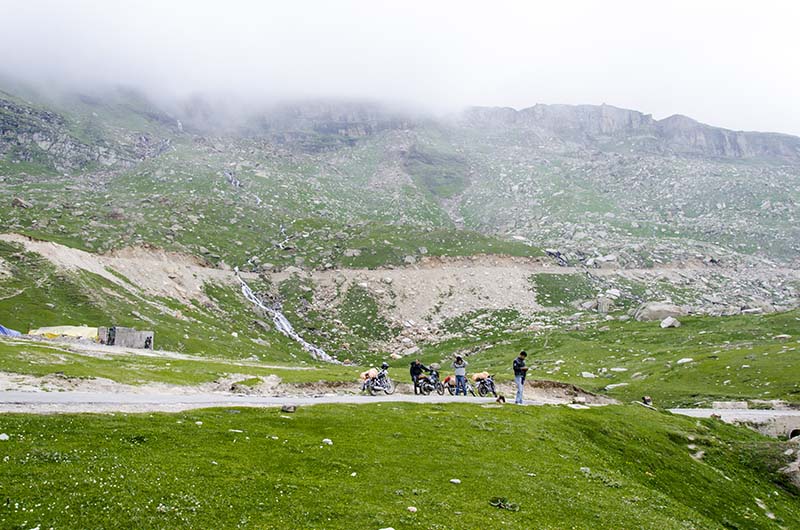 We stopped at a tea shop at Gramphoo. while we were sipping down tea, an Israeli guy asked if we noticed a Bus coming down from Rohtang.
I told him that we noticed none and that there was a huge traffic Jam at the top. It turned out that the guy had been waiting there for the last couple of hours; for some sort of public transport to arrive. He was going to Keylong and since we were all traveling solo on 4 motorcycles, we offered him a ride which he readily accepted and hopped on with Sunny on his CBZ.
Breakdown
We registered ourselves at the check-post before Kokhsar and continued but not for long. I was riding ahead of the group and about a kilometer after crossing Kokhsar, my motorcycle's rear tire went flat again. It was the first one of the day and 3rd of the journey.
But it wasn't just me. A few minutes later Sunny arrived and he too had a flat tire. This was 2nd of the day and 4th overall.
We had just crossed a puncture repair shop in Kokhsar. So Sunny and I backtracked to the village while Rohit, Shoaib, and the Israeli guy decided to stay there and wait for us.
The Delay
We reached the puncture repair shop but annoyingly enough, the owner was busy repairing a Truck's punctured tire. We had no other option but to wait which dragged on for almost an hour. Rohit arrived after a while, wondering what was taking us so long and he too joined us in the wait.
Finally, after what must have been at least an hour, the owner finished with the Truck and turned his attention towards us. It took the idiot another one hour to change the tubes on our motorcycles. By the time we were done there, it was already 6 PM.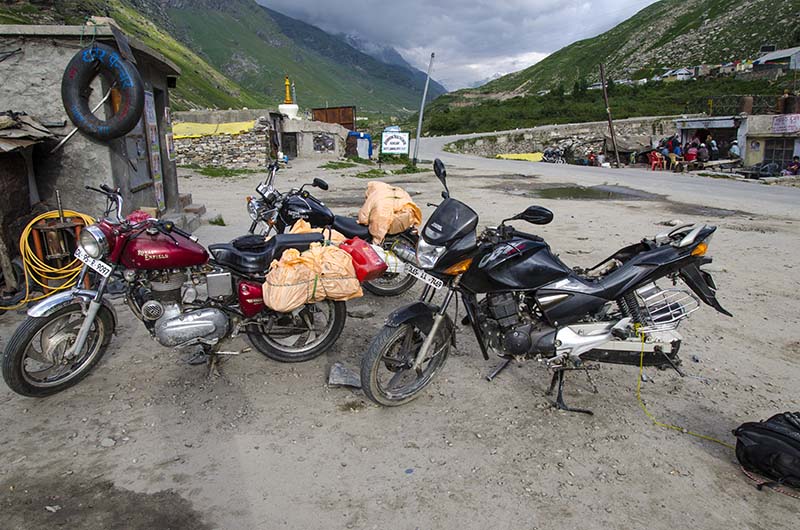 We came back to the spot where Shoaib was waiting but the Israeli guy was gone. He was finally able to board a bus that he had been waiting for so long but forgot something of his behind, a colorful umbrella.
Jispa
Now the big confusion was where to halt for the night. Shoaib and I wanted to stay at a camping site in Jispa. But the way the sun was setting down fast. It was going to be dark soon and we doubted if we will make it to Jispa while sunlight remains.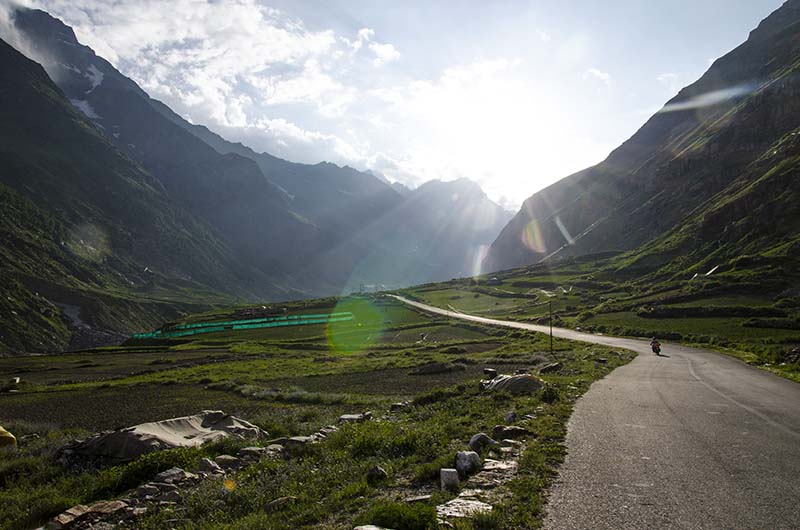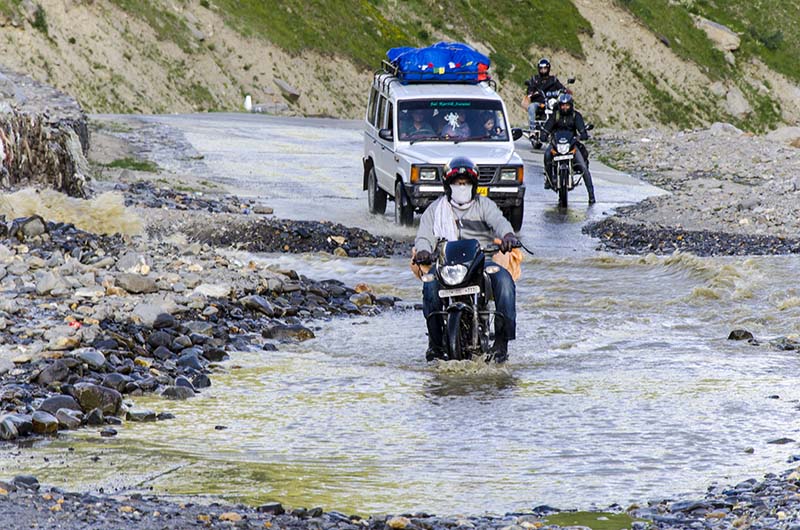 Rohit was not too confident about riding in the dark. He initially urged us to check into a hotel at Keylong, but then changed his mind and agreed to carry on towards Jispa. The plan for Manali to Jispa was back in place.
Saw these guys. They were not too happy about posing for a couple of shots. They were gone out of sight in a matter of seconds but I still managed to click a few.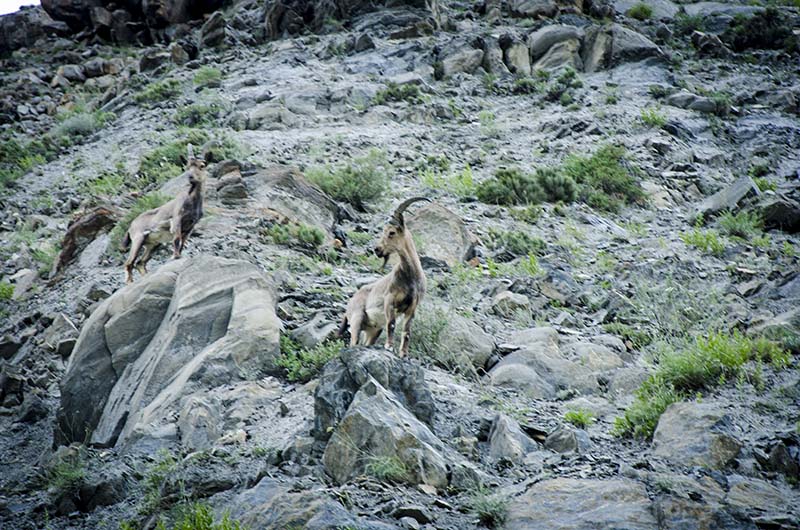 It was already pitch black when we crossed Keylong. So the last 30 km of Manali to Jispa were ridden in total dark. I was hoping to find the same camping site that we last stayed in at Jispa but was surprised to see it replaced with wooden huts.
Camping at Jispa
There was another camping site at Jispa which Rohit found. Charges were almost the same but we chose to stay in the huts. Primarily because we were the only guests there as opposed to the other camping site, which had quite a few people staying for the night.
Being the only guests means peace and sole attention of our hosts. The second reason was that the huts were right next to the river whereas the tenting accommodation site was on the other side of the road.
I don't know why the river even mattered at that time because it was dark already and we were going to be gone early in the morning. But for some reason it did and we wanted to be as close to the river as we could.
A Peaceful Night in Lahaul Valley
While Rohit and I were finalizing our stay at the huts, I wondered what was taking Shoaib and Sunny so long. There was still no sign of them. They arrived sometime later and the reason for the delay was revealed. Sunny had a flat tire again. 3rd of the day and 5th of the journey.
We checked ourselves in and soon it was time to sit around a bonfire. We were enjoying the cold breeze and the silence of the valley. The peace was only interrupted by the sound of the wood cracking in the bonfire and of the water flowing in the river.
It was a blackout at Jispa that night and there was no electricity anywhere. Back then it was a little annoying. We had to eat in candlelights and had to carry a flashlight around every time we moved away from the fire. But now when I think about it, it only added to the beauty of that night.
Sitting near a bonfire, next to a river, under a clear sky filled with countless stars, sipping down hot tea while the entire village was covered with a thick sheet of pitch-black, what an amazing experience it was.
Manali to Jispa by Bike – Conclusion
Please click on the link above to continue reading the next part of the travelogue. I hope the trip details, pictures, and information on traveling from Manali to Jispa were of help. If you have any questions or need any other details, please feel free to ask in the comments section below or at our Community Forum, and I will be happy to answer.