This post is in continuation of a previous one and a part of my Sach Pass and Spiti Valley travelogue. In the first 10 days, I traveled to Sach pass via Banikhet and Bairagarh and arrived in Killar in Pangi Valley. From Killar, I moved on to Spiti Valley via Keylong. After spending a couple of days in Kaza, I then moved on to Pin Valley and Dhankar.  On Day 11, I went on to a trek to Dhankar Lake and then continued to Nako Village. Please click on the links below to read previous parts of this travelogue.
Journey So Far
Dhankar Lake was not something that happened at the last minute as it does with a lot of people. It was a part of my itinerary right from the start. I did not cover it the last time I visited Spiti and was not going to miss it this time.
Day 11 – Dhankar to Dhankar Lake to Nako
Day 11 started early because it also involved a few hours of trekking. The plan for today was to first trek to Dhankar lake, come back to the village and then continue my ride to Nako Village.
Dhankar Monastery to Dhankar Lake
I got up at 6:30 am and left for the trek to Dhankar Lake at 7; after having a cup of tea made by the lady in the homestay. She told me if you're fit, it should only take you an hour and a half to get there.
I was alone so I asked her about the path to take. She said just keep going to the top and you'll see the footprints of other trekkers and she was not wrong. It took me one hour and 15 minutes to get there. I spent 15 mins taking pictures and came back to the homestay by 9 am.
I'm not too sure of the distance but it was an uphill climb of 2-3 kilometers and it left me out of breath at several points on the trek, but it was all worth it.
Dhankar Lake
The lake was beautiful, mesmerizing in the early morning sunshine, utterly breathtaking. Turquoise water, religious artifacts, and fulfilling emptiness. This high altitude lake, in addition to being spiritually revered, is a source of water for the Dhankar village. For more details, take a look at How to Plan a Trip to Dhankar Lake.
Bathing, washing, fishing, camping, and littering around the lake is prohibited. Still, filthy tourists leave empty bottles, plastic bags, and wrappers around the lake.
What made me a little upset was I found an empty cigarette packet and an empty water bottle thrown carelessly on the lakeshore. I don't understand why people do this. If you came here with something which you bought, why can't you take it back?
Do these people think the Dhankar lake committee has employed sweepers to clean the area! I took that bottle and the packet back with me and disposed of it properly in a dustbin. I hope everyone does that. Other people's moronic actions should not be ignored.
Dhankar to Tabo
The trek to Dhankar Lake was a refreshing experience and now it was time to move on. I made my way out of Dhankar around 10 after having a fulfilling breakfast of Paratha, achar, and tea. The total sum for the night stay, 2 meals, and on-demand tea was a paltry Rs. 500.
The only downside, there was no attached toilet. If you felt nature's urge, you had to go outside the house, in a separate toilet room, which had a hole in the center, and do your duties there. I paid the amount and left for my next destination, Nako.
A beautiful sunny day again, with cotton candy clouds floating on the horizon. Sweet!
Chanced upon a few fellow riders going towards Kaza. Waving and thumbs-up is a sign of brotherhood and respect for one another, no matter what motorcycle you ride.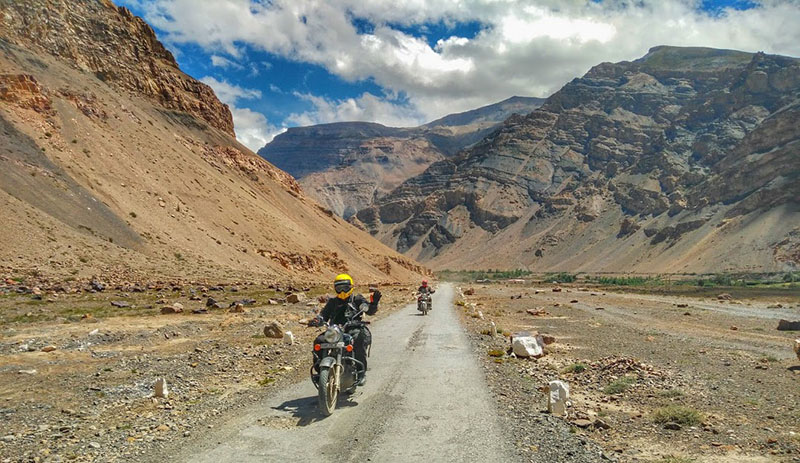 One thing that surprised me in Spiti was how the local taxis do 80+ on these roads. They love their speed and will irritate you with incessant honking until you move out of their way. Himalayan Donkeys is the mildest form of abuse I would choose for them publicly.
Tabo to Nako
Carefully fenced Apple orchids line both sides of the Tabo village road. This village is a joy to pass through, with its apple orchards and little streams flowing through them. It is enough to make you forget for a moment that you're Spiti. This place reminded me a little of Turtuk in Ladakh.
Spiti apples are one of the well-known varieties of apples but they take longer to mature, owing to the high altitude. They are the last variety of apples to reach the markets, usually by the end of October/November.
Also Read: How to Plan a Trip to Tabo Village
I gave a miss to the Gue monastery this time. This is something I really regret because the last time the monastery was under construction and I had no status on it. After coming back I found out that the construction was over last year and it had a beautiful building now. I wish I hadn't skipped it!
A fresh landslide on the way. This one kept me stranded for an hour.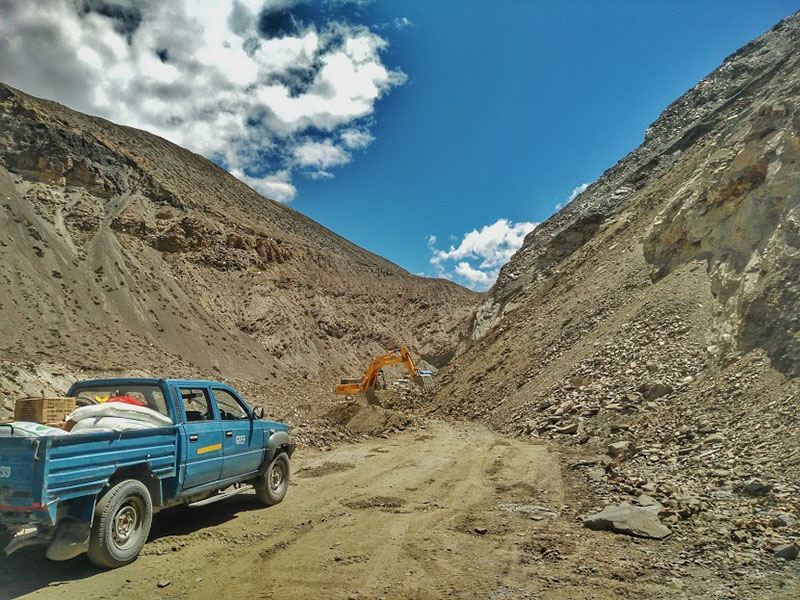 I Finally reached Nako. There were a lot of trucks parked on the helipad outside the village as if they were all waiting in line to take off from the helipad. My black beauty too could not resist. She wanted to take off too. Had spent too many days crawling on the "roads" of Spiti.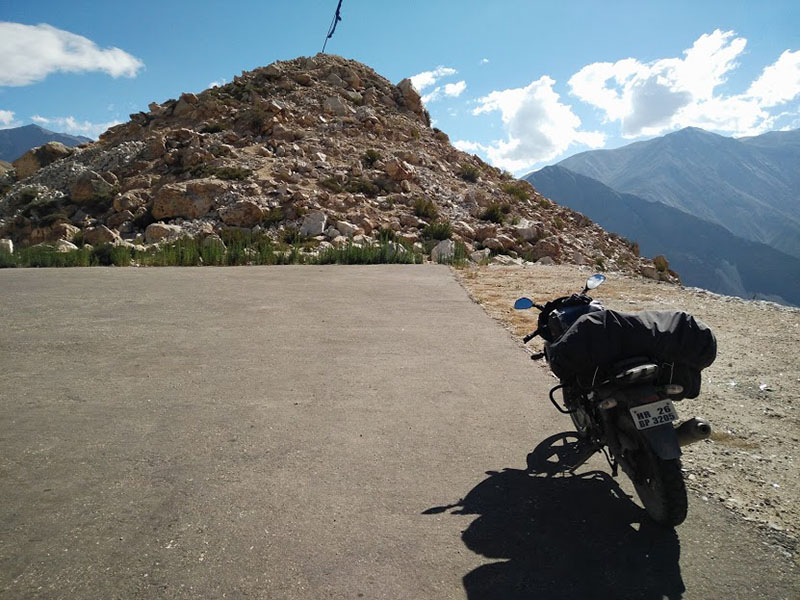 This is a Buddhist penance place, right next to the helipad. It is said that going around in a circle about it absolves all your sins. There is a beautiful mural painted inside on the inner ceiling; weathered, fading, disintegrating. I did take a walk around it in a circle.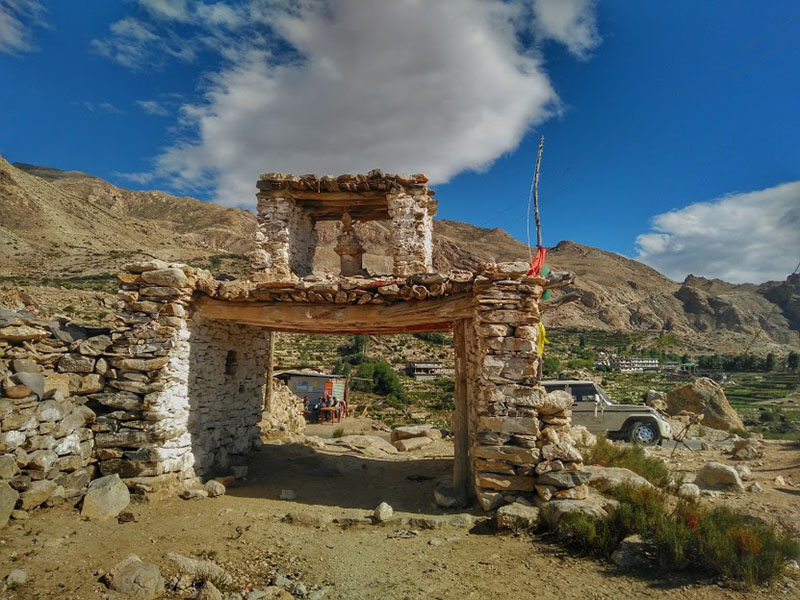 Nako Village
Fields of Nako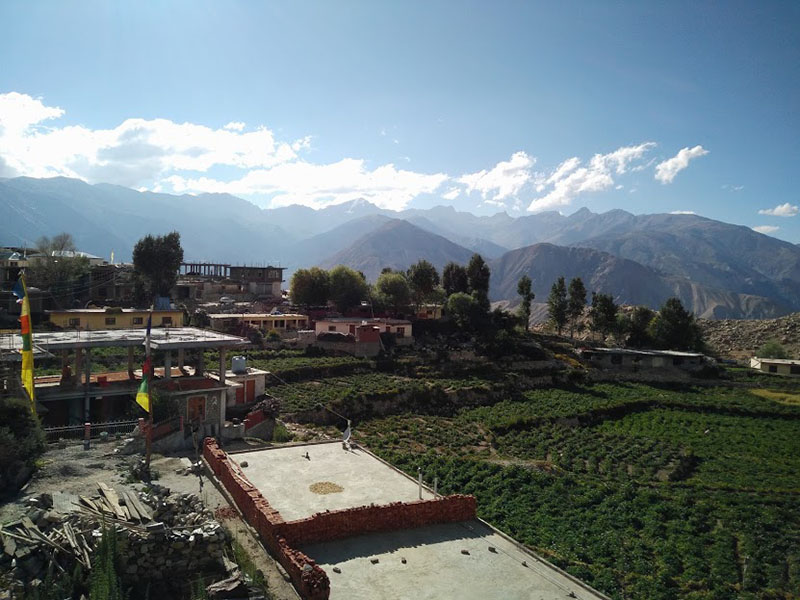 It came as a surprise to me that Potatoes and Peas can be grown at such high altitudes. Well, another surprise was to know that Peas are, in botanical terms, a fruit! I already knew that Potatoes are tubers.
These are the main, or the only, cash crops grown in Nako, or anything at all for that matter. They don't grow anything else here!  Apples? No.
Did I gorge on aloo-matar ki sabzi? No again. The poor guy at the homestay/guesthouse didn't know how to make it and his wife was away!
Also Read: How to Plan a Trip to Nako Village
Galaxy guest house on the road opposite to the Nako lake. The last time we were here, it was good. so I chose to stay here again. The caretaker/owner, Raju, said he did not have food. I asked him to make for me whatever he was eating. Had a nice meal of dal chapati with Raju. It was nice to stay in the same room as 2 years ago, bought back a flood of memories.
Another thing that surprised me and made me a bit concerned this time was all the construction taking place in this little village. Last time we were here there were only about 2-3 guesthouses and a couple of homestays.
This time the entire village looked as it was under construction. Every house is turning into a homestay and people are building floors upon floors for accommodation. The old-world charm of Spiti is getting lost, not slowly but at a rapid pace!
Nako Lake
It was bright and sunny when I reached Nako. I decided to rest for a while and go to the lake a bit later, closer to sunset. When I woke up after an hour, I saw dark clouds waving at me and poking fun at my sunset plan. My plan went aghast and killed itself.
Nako village with it's colorful, toy-like houses. I have never seen so many prayer flags in a single village.
The destination for tomorrow was Kalpa, the heart of Kinnaur Valley. But for now, it was time to call it a day and get some rest.
Trek to Dhankar Lake and Ride to Nako – Conclusion
I hope the travelogue and information above on the trek to Dhankar Lake and how to reach from Dhankar to Nako was of help. Please click on the link above to continue reading the next part of this travelogue. If you have any questions or need any other details, please feel free to ask in the comments section below, or at our Community Forum, and I will be glad to answer.