Recently I did a solo trip to Sach Pass, Spiti Valley, and Kinnaur in the month of August. This was my first solo trip to Spiti. The first one was with a couple of friends and only covered Spiti. But on this solo bike ride, I covered Sach Pass and Spiti Circuit both. It certainly was also my longest ride ever.
It accidentally became a solo trip when one friend who was supposed to go with me backed out at the last moment. I was committed to going anyhow so I went. Starting from Delhi, I went through Pathankot, Sach Pass, Killar, Udaipur, Keylong, Rohtang Pass (by mistake), Batal, Kaza, Dhankar, Tabo, Nako, Kalpa, Chitkul, Sarahan, and back to Delhi in 15 days.
Sach Pass and Spiti Circuit
In this article, I will detail a day by day log of this trip. If you were planning to visit either Sach Pass or Spiti Valley yourself, hopefully, the details below can be of help in planning your trip as well.
Day 1 – Delhi to Banikhet
Day 1 started at 4 am as the destination for today was Dalhousie. It was a long ride and I was ready to rip the road ASAP. The previous night, my friend who was supposed to go with me, informed me that he would not be able to join. He was recently married and his family was totally opposed to the trip on a bike.
He offered me the option of going in his car, which was rejected by me without a second thought. After all, I had been dreaming about attempting Sach pass and Spiti Circuit for the past few months. In fact, I had planned a solo trip in September but moved it to August on his instance, as he was getting leave only in August.
Oh well, I was ready to go without him and that's what I conveyed to him. He insisted that I at least meet him before I go as his house was on the way to the Karnal bypass.
I got up, tied my stuff on my bike, and set out to his place. We met and discussed the plan, places where I would go, the route, etc. After taking a few pictures, I bid him goodbye and went on my way. My destination for the day was Dalhousie.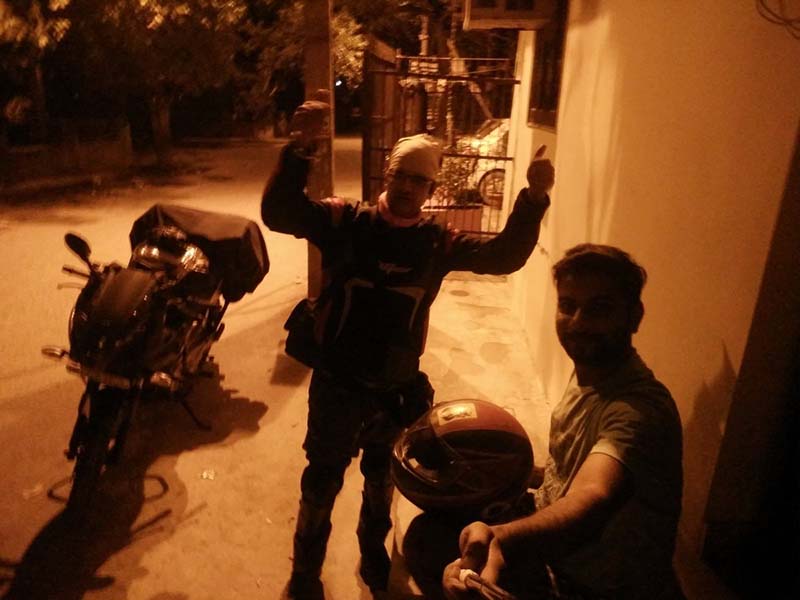 It was cloudy when I started and just before Panipat, the heavens opened up, and out came the rain gear. It rained for about 20 minutes and I had to take shelter under a flyover just before Panipat. I moved ahead after the rain stopped and took a well-deserved break at the Panipat toll. After the tea break, the next break was at Zilmil dhaba at Karnal for Paranthas I and had a fulfilling meal.
Rain, Rain, and Rain
My plan was to reach Pathankot and take a break there, but the rain had something else in mind. Right after I crossed the Jalandhar bypass, it started to rain again and this time it was in full flow. For most of my trip to Sach Pass and Spiti Circuit, I continued encountering the rain but then I did plan it in the monsoon season.
I waited for about half an hour and when it looked like it would not stop raining, I decided to ride in the rain. It was already 11:30 and waiting anymore would mean that I would reach Dalhousie late in the evening. As I had no prior bookings for hotels, I still had to find a shelter for the night.
So keeping those things in mind, I made a move in the pouring rain. The entire stretch from Jalandhar to Pathankot was covered in heavy rain. Thankfully, I was able to keep a moderate pace and reached Pathankot by 3 pm. From there I took the bypass going towards Dalhousie. The rain had halted by then and I was only slightly wet, thanks to the rain gear.
Banikhet
As I got closer to Dalhousie, the cover of green around was a much soothing sight. It took my breath away and all the troubles, the fatigue just melted away at the sight of green all around. Soon I reached Dalhousie, or so I thought (to be explained later) and looked around for a room for the night.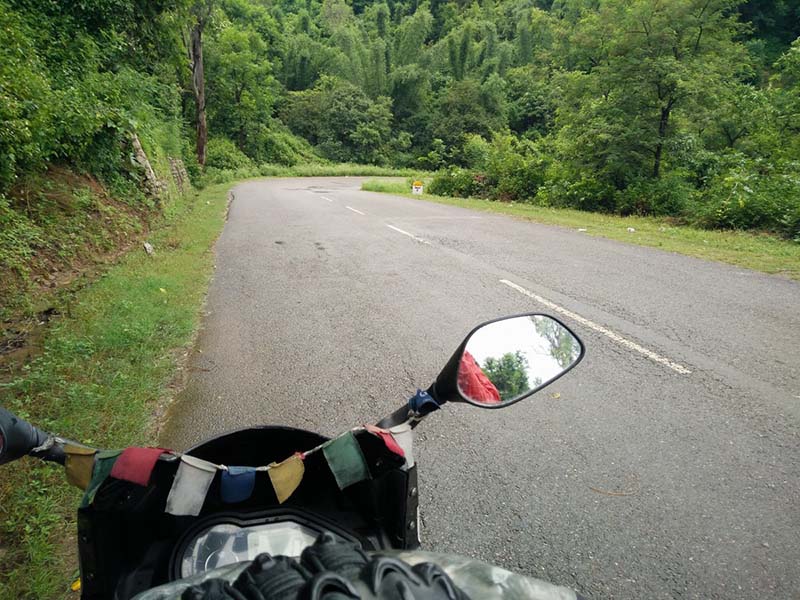 I got a bargain with the room below available for Rs.400 only and with covered parking. I dumped all my stuff in the room and took a well-deserved rest for the day. The plan was to start early the next day for Sach Pass but yet again, heavens had other plans.
Also Read: Sach Pass in October – The White Wonder
Day 2 – Banikhet to Khajjiar to Banikhet
The second day started very early. At precisely 3 am, I heard a loud bang which woke me up with a startle. I went to the window right away and saw thunder and lightning in the dark sky.
My heart sank. It was a sign of how my day would proceed. Right after it started raining, first a little and within half an hour, it had developed into a vicious torrent. I had planned to wake up at 5 and proceed towards Sach pass. All my stuff was packed away last night itself. Little did I know my plans were to be laid to rest for the day.
I fervently hoped the rain would peter out in some time. I went back to sleep hoping for the best. But it wasn't supposed to be my day. I woke up at 5 to find it was still raining cats and dogs. I  went back to sleep hoping a miracle would stop the rain.
The situation however remained the same. I again woke up at 6:30 to more rain. This time I woke up good and went outside in the balcony to see it raining just like it was an hour and a half ago. I ordered tea and sipped it while watching the rain crumble my dream.
At 8 it was still raining. I ordered breakfast while fully suited up in my riding gear. Hope is a very addictive drug. It keeps you prepped up with beautiful, dreamy possibilities when there are none.
Also Read: Shimla Manali Dharamshala Dalhousie Trip Itinerary
Day Trip to Khajjiar
The rain finally stopped to a drizzle, but it was already 10:30 am by then. All my hopes of reaching Sach Pass and Killar were completely dashed, at least for the day. I inquired from the caretaker of the hotel and he told me as it had rained heavily in the night, it would be very unsafe to try to proceed towards Sach Pass in these circumstances.
Fear of getting stuck in a landslide zone loomed largely and everyone I spoke to advised me against proceeding to Sach today. With a heavy heart, I postponed my plan to the next day. This meant an addition of an entire day in my Sach Pass and Spiti Circuit itinerary but there was nothing I could do.
I still had the entire day to myself. The caretaker suggested that I visit Khajjiar instead, as it was only a few kilometers from Banikhet.
Ah! So I was in Banikhet, and not Dalhousie as I had imagined! Anyhow, I agreed to their advice and set out for Khajjiar at 12 pm. I wasn't in a hurry and took my own time to reach Khajjiar. The way from Banikhet was beautiful, esp. the area around Dalhousie Public school. Misty clouds accompanied me everywhere, which made up a little for a hugely disappointing day.
I had been there as a kid and this was the first time I was there as an adult. It was a very small place in reality and not a vast grassland I had memories of as a kid. I took a few pictures and returned to my hotel.
Also Read: Exploring Sach Pass and Pangi Valley
The Fall
While returning I had my first fall. The forest department check-post just before the Y fork towards Khajjiar has a low set chain as a barrier. While coming back, I was so engrossed in the scenery around that I realized too late that the barrier chain was not all down all the way on the road, and I applied brakes in panic.
The next moment I was kissing the road in the most awkward fashion. People around came running to lift me up, funnily I heard one of them say, "Isme to disc break hai, gir kaise gaya!" another one added, "Haan peeche bhi hai"
Anyhow, I escaped with minimum damage to myself and my beloved 220, but my Quechua rain pant was torn to shreds. I got up, got back on the saddle, and sped up again after giving a nasty stare to the post keeper, who was looking at me with puzzled eyes.
After getting back, I passed the rest of the evening gossiping with the security guard of the hotel, who was a retired army person, a local, and discussed the route, weather conditions, and politics! I had an early dinner and went back to bed hoping for the best.
A few pictures from the uneventful day.
Day 3 – Banikhet to Sach Pass to Killar
Day 3 had me wake up at 6 am. I went out and saw a beautiful sight. The clouds were all gone, the sky was clear and the sun was about to be out any minute. At that moment, it felt like a dream come true.
Also Read: What to see in Dalhousie | Fun Things to do in Dalhousie
Banikhet to Bairagarh
I started getting ready and by 7:30 am, I was on the road. A beautiful sunny day had me smiling all the way to the Chamera dam. The approach to Chamera dam was through beautiful twisties, a real pleasure to ride in the late morning. The green all around was soothing my weary eyes that had looked at concrete jungles for too long.
I took a pit stop there at a dhaba for a leisurely breakfast. After breakfast, I made up my mind to stop only at Bhairagarh. On the way, I encountered beautiful sights which forced me to stop and click every few kilometers.
Chamera Dam
Beautiful Chamba Valley. You will find water crossings like this at several places on Sach Pass and Spiti Circuit.
Bairagarh to Satrundi
At Bairagarh I asked about the status of the road ahead and was told that there had been a landslide just before Tissa but it had been cleared now. I was beaming ear to ear. After all, Sach pass had been on my bucket list since I had heard about it a couple of years ago, and now I was going to see it with my own eyes!
I proceeded towards the pass, the scenery got more enchanting and the road got more difficult. Instead of smooth tarmac, I had to navigate on narrow gravel roads, which slowed me down considerably. As I began to gain height, the gravel road turned to the rocky road and then deteriorated to just large pebbles and sharp stones.
My motorcycle got stuck in one of those rocky roads, and with no one in sight, I had a moment of panic. It took a while to convince myself that if no one passes along this road, I was going to be stuck here for a while. I gathered all my courage and somehow pulled my bike out of the rocks.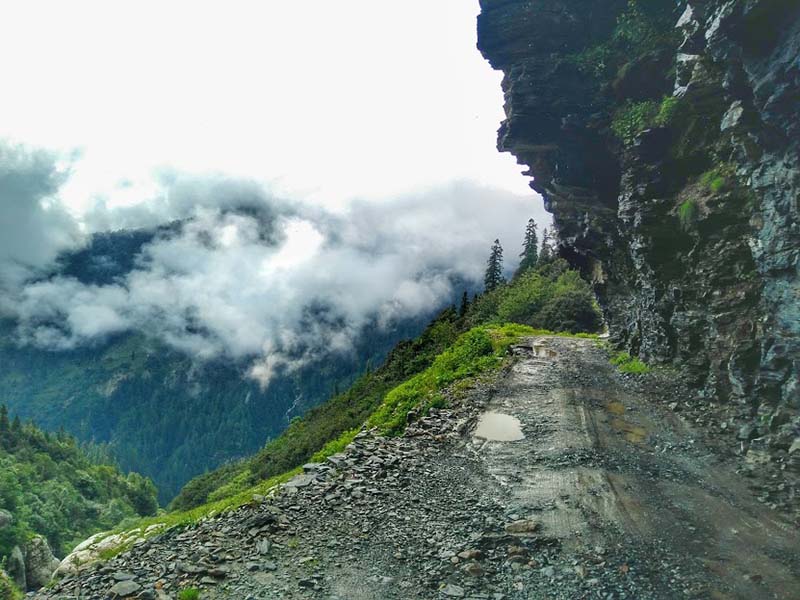 Moving on the lonely stretch, I heard a sumo driver honking loudly behind me. Normally, I would have been very annoyed, but this time I was glad that there was someone else here besides me. I gladly gave him the way and asked how far was Sach pass from here. He said it was not very far and sped away! He didn't even stop to answer me properly. Oh well, its okay, I thought.
Also Read: Trip to Spiti Valley and Sach Pass in XUV, Safari and ISuzu
Satrundi Check Post
I started moving towards Satrundi, and suddenly clouds began to appear. What were sunny skies just a while ago turned to cloudy, misty skies. I reached Satrundi around 3:30. It had started to get cold, and I was shivering in my riding jacket. I decided to reattach the inner liner to the jacket to get some respite from the cold.
As I had nothing to eat since breakfast at Chamera dam, I decided to eat something. Maggie and tea it was, the staple food in the mountains. I did my registration and also got my video made by the police. Thankfully there were a couple of vehicles coming from the other side and they confirmed that Sach was open.
Satrundi to Sach Pass
All this took me nearly an hour, and by the time I got ready to move ahead, it was already 4:30. I asked the police personnel and they told me Sach top was 12 km from here. Killar was 46 km from the top. I still had to travel 58 km
I tried to move as fast as possible but the treacherous road meant that I could not do more than 10-12 kmph. On the way to the top, I met a cyclist from Slovakia, who was repairing a puncture on his cycle, and he was almost done. I asked him if he needed any help, but secretly wished he would say no, which he did.
After exchanging pleasantries, I bid him goodbye. It took me another hour to reach the top. The cold was finger-numbing and a cold wind meant I did not have much time to spare at the top. I quickly took a few pictures and hurried down.
Satrundi Checkpost
Finally on Sach Pass top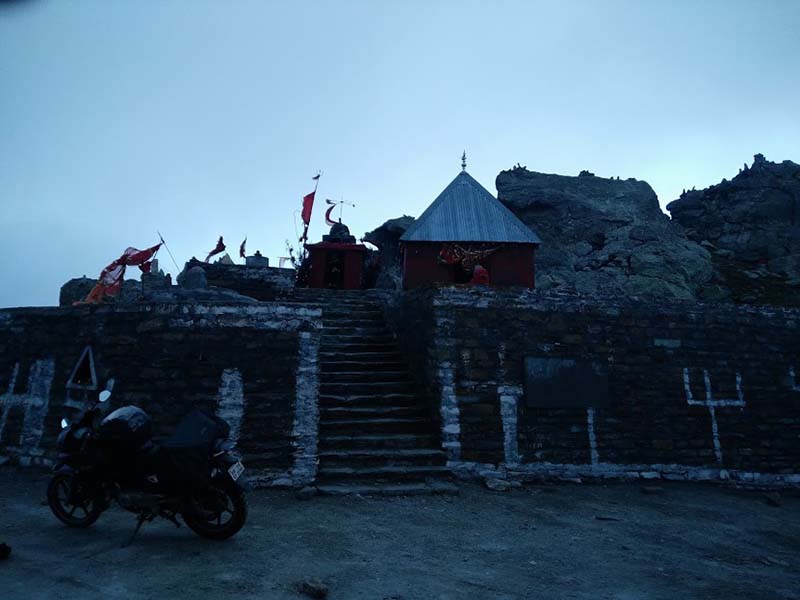 Feeling good on the top 🙂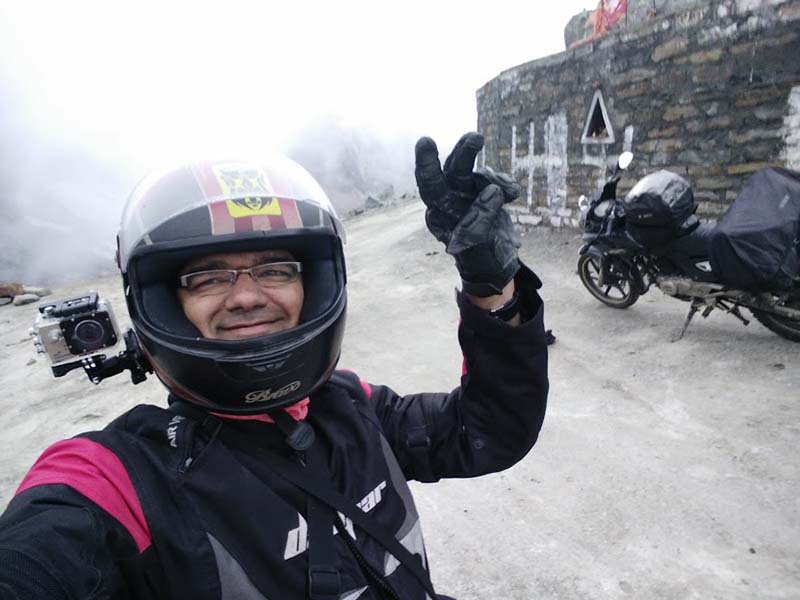 Sach Pass to Killar
Sach Pass and Spiti Circuit, that was my plan. Of this, Sach Pass conquered, spirit circuit was next.
The view down was better, and the sun came back on the other side. I was expecting the descent to be a bit better which it was, a little. But the decent was also down a sloping, winding road, which was again nothing but rocks.
I had no idea how much distance I had to cover and weather I would reach Killar before it got dark. The thought of riding on this road in pitch dark was, to say the least, very intimidating, especially when I had no one to cover my back. Anyhow, the best option was to cover the road and keep moving, and that's what I did.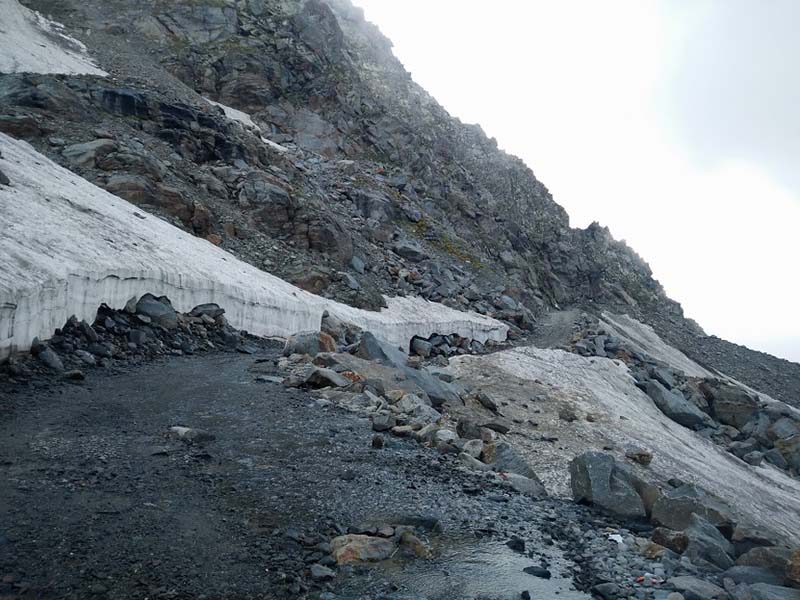 A few kilometers down from the top, I came across a medium-sized nallah, I'm not sure what it was called but It was greatly overflowing with water. I stopped to evaluate my options for crossing it. From a distance, it did not look like it would be very deep. It had a fairly steady flow from where I could see it but the middle part was uncertain because that was where the entire flow was gushing towards.
Also Read: How to Prepare Your Sach Pass Itinerary
Bagotu Nallah
Well, I had no other option but to cross it anyhow. I had crossed fairly large water crossings in Zanskar last year so I was not intimidated too much by it. I decided to go in. The first few meters were easy, but when I reached the middle, I realized there were large rocks in the water and I was slipping. Somehow I managed to balance myself and the bike but when I reached close to the end, I got stuck.
No matter how hard I tried, the bike would not budge. I was literally huffing and puffing from the effort. On top of all, the water flow was getting faster with every passing minute. I was in bone-chilling water up to my knees and needless to say, freezing. I even thought about abandoning my bike and getting out of the water.
As I was contemplating my options, I saw a truck heading towards me from behind. I saw it and began to shout, "Bhaiyya, main fas gaya hu. Please dhakka laga do!" The poor driver and his cleaner stopped the truck and came rushing towards me. They helped me push my bike out of the raging water stream. I got out and thanked them profusely. They told me to get some rest at a dhaba which was just a couple of kilometers down and they would follow me.
Also Read: How to Plan your Trip to Sach Pass – Himachal
The Final Push
I got on my bike and rushed towards it as fast as possible. The fear of hypothermia loomed large on my mind because I had been in ice-cold water for more than 10 minutes and my feet were still in a puddle of water which had collected in my shoes. As soon as I reached the dhaba, I removed my shoes right away, and believe it or not, at least a half a liter of water was wrung out of both shoes.
I asked for a glass of tea to warm my hands while trying to wring water out the shoes. The Quechua Forclaz is good at waterproofing but if water gets in, it can't get out. In the meantime, the truckers also arrived. They sat with me and I again thanked them for saving me.
While talking to them, I mentioned to them that I was aiming to reach Killar today. They gave each other "What the Hell!" looks and then told me that I should hurry if I wanted to get there by nightfall.
It was already 6 pm and the sun was setting. I probably had an hour of light at most and Killar was still about 40 Kms from there. In mountains, that is a long distance. I drank another cup of tea to warm myself and left the dhaba at 6:10 pm.
I again was in a hurry but my speed was reduced by the steep descent and on top of that, I encountered animal traffic blocking the road. The shepherds were moving with hundreds of goats and sheep on the road.
A Nightmare in Pangi Valley
Oh well, there nothing you can do but move on. It became dark by 7 and I had to switch on my headlights. Now there was no one around and I was riding alone in the dark. My worst nightmare had come true!
I still moved ahead slowly while praying for the road to end soon. But it just seemed to be getting longer and never-ending. After riding for some time which seemed like an eternity, the trees and the forest started appearing in place of stark mountains which gave me some hope.
I looked at my watch and it was 8:30 pm. I was a little dejected but I could see some lights shining at a distance, which again filled me with hope. Then this happened. While negotiating a steep U-turn, I could not balance my bike and I fell again. Thankfully, it was from an almost standstill position so no damage at all but I had no energy left to pick up my bike again.
I stood there for a few seconds. My mind was completely blank. I looked at the sky and brilliant stars shining. Well, what has to be done, has to be done. I mustered all my remaining strength and picked it up again with much difficulty. I got back on and rode wherever the road would take me. But I wasn't stopping before I got to Killar.
Also Read: Best Time to Visit Dalhousie | When to go to Dalhousie
Killar Finally!
After riding for some time, I saw a bridge and filled with renewed vigor. I sped towards it. When I saw the milestone which told me Killar was only 6 km from there, I felt ecstatic. The remaining distance was covered in a jiffy. I would only realize that it was full of broken roads and slush when I was on my way to Udaipur. Nothing mattered to me more than reaching Killar tonight.
When I finally reached Killar, I was surprised to see that it was dark all around. Not even street lights were on. I negotiated my way to the main market and saw a lone car parked with someone in it. Someone had recommended Chamunda hotel in Killar, so I asked about it and was told that it was just a few meters ahead.
I found the hotel and went to the reception. The person sitting at the reception told me that they did not have any rooms. I looked at the time and it was 9:30. I again told him that I just need to spend the night, and any kind of room would do. He showed me a room that was like a storeroom, with a dirty bed and quilt.
Also Read: Dalhousie – How to Plan your Trip & What to See !
Hotel Chamunda
I was desperate at that point and agreed to take the room. The problem started when he demanded Rs.500 for it. There was no way I was going to pay 500 for a dirty and shabby room. I told him my budget is fixed and I cannot afford more than Rs.300 for a room. He then looked at my condition and asked me if I had anything to eat.
I said no and I remembered I hadn't had anything to eat since Maggie at Satrundi. He told me that his kitchen was closed but there was a dhaba outside which was still open but it would close soon. So he asked me to go and eat something first and come back after having my meal and we would negotiate.
I agreed as I suddenly realized that I was hungry! I went to Dhaba, which was nearby, and had a simple meal of Dal-Roti. When I came back he agreed to charge me Rs.300 for the night. I dumped my stuff in the room and went to sleep right away. It was almost 11 and I was in dreamland as soon as I hit the bed. Thus ended an eventful day.
Day 4 – A Day in Killar
The next day when I woke up, I realized it was almost 11 am. I had planned to go to Kishtwar through the famed Killar-Kishtwar road, but I knew I could not do that today. I was still very exhausted from yesterday's journey and in no mood to travel. This again meant an addition of another day in my Sach Pass and Spiti Circuit itinerary but I did not care to be honest.
Oh well, I should leave something for next time and thus I consoled myself. I finally got up at 2 pm, had something to eat at the same dhaba, and roamed around the town for a while. There were many other hotels around which looked better than the godforsaken hotel I was in, but I decided to stay in the same room another night. I would now head towards Udaipur and Keylong the next day.
Sach Pass and Spiti Circuit – Conclusion
I hope the travelogue and information above on completing Sach Pass and Spiti Circuit was of help. Please click on the link above to continue reading the next part of this travelogue as I moved from Killar to Keylong and then to Spiti Valley. If you have any questions or need any other details, please feel free to ask in the comments section below or at our Community Forum and I will be glad to answer.