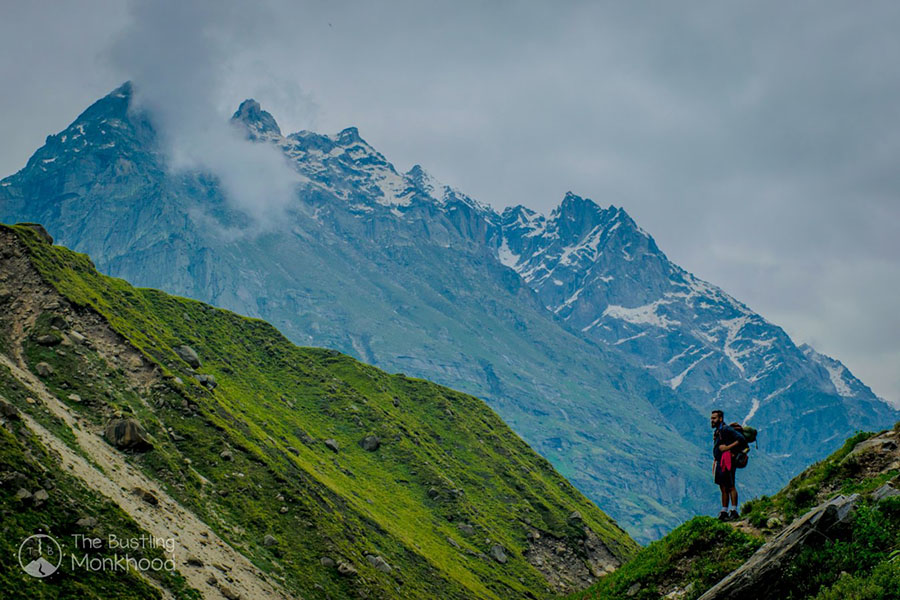 This happened before I went on the Pin Parvati Trek. I was sitting with a less interested friend in some outdated tavern when he asked me a question about my passion for traveling as we sipped from our mugs.
'So, tell me, why do you like traveling to incommodious, unusual places?'  The tone of the argument was defamatory, and I surely wanted to come out all guns blazing with the perfect answer, but, did I really have one?
I have always known there's something about travel that I like, and this little something made me feel good about life. The definite answer, however, was what I lacked, until very recently when I came to know what the wild basically means and what wandering is all about. This piece accommodates all the answers I never had, and the rest of my story on one of the most challenging trails in India, the Pin Parvati Trail.
About Pin Parvati Trek
Located in the Kullu district of Himachal Pradesh, Parvati Valley has nowadays become the hotshot destination for backpackers in India. A lush green setting and some of the country's finest footslogs make it worth a visit. Apparently, it was during one of these visits to Kullu, that I came to know about the Pin Parvati trek, and ever since, I had been intrigued by the idea of isolation that this one had on offer.
Pin Parvati trail marks the shortest route between Kullu and Spiti. It traverses the extents of Parvati Valley before crossing into the colorfully deserted Pin Valley, over a massive Pin Parvati Pass (5319mts).
The Idea
The more I investigated about the trail, the more compulsive I became to explore the mystical valley to its depths. Pin Parvati Pass found a place on the bottom of my to-do list, a list lengthier than the Indian Constitution. All thanks to a silly miscalculation, though, that I forced myself to give priority status to Pin Parvati.
In June 2016, while on a motorbike ride to Pangi & Spiti Valley, I had plans to traverse all accessible terminals of both. However, due to the loss of time on some severely damaged terrains in Pangi, and my inability to keep up with the itinerary, I had to skip visiting certain corners of Spiti. Pin valley was one of such corners.
This abdication did not go well with me. I felt stifled by my corporate responsibilities of returning to work. All I could think of was the one, single advice that each of my Royal Enfield cowboys had for me, 'Dude, you do not want to miss Pin Valley.' This abdication did not go well with me at all!
Hence, coming to grips with the fear of screwing-up the rest of my Spiti ride, I made myself a promise. I told myself, 'Does it matter much if I couldn't take the road to Pin valley? It does not! I'm going to gather all the balls that I can and I'm going to walk up to this place in a year's time starting now.' Evidently, the pep talk came good. I found a new adventure to look forward to, and here I am, writing about the finest of all my quests.
The Mindset
Now, that the foundation was laid, I spent the next few months contemplating how best I could prepare for a trail this big. I leafed through article after article, blog after blog, just to realize how limited the available content was. All of these pieces had the need of physical stamina written all over them, but none did mention how important psychological preparedness is.
Sorry guys, for writing you off, but, I don't see a 5 km daily run getting me through an expedition like this, I need more than that. Above all, I need to have basic levels of respect for nature, and isn't that the whole point of doing such a trek?
So, hybridizing all that is making rounds on the internet and all that I think is important for a hike of such magnitude, hope for the best and prepare for the worst. You are going to walk on some of the highest reaches of the highest mountain range on this planet, do you really expect it to be easy? With all this in mind, I moved on to level 2 of my groundwork, which was to find a suitable trek operator.
The Prerequisite
Having a little bit of trek experience to go with, I knew what sort of trek operator would suit me the best. More than anything else, I wanted an operator who could offer me a small group size (which is always the best practice) and a spare day on my itinerary.
This spare day would eventually aggrandize my team's chances of successfully completing the expedition, even if we get hit by a bad weather day or any other likely to happen incident. Conspicuously, calling off the climb was the last thing that we wanted.
So, after month-long research and dozens of interviews with numerous operators, I finally struck a deal I was hoping for. Kailash Rath, as a trek operator, were humble and diligent right from the onset. These guys had answers to all my silly problems; the load was finally off my back. It was about time to start gathering the supplies and load the frigging rucksacks.
The Essentials
Apparently, I have been an inactive, perfunctory sloth for most parts of my life. As my mum would put it, many of the things I do, I just do, without any fire in my belly. Thankfully, structuring my rucksack is not one of those things; I prefer investing a lot of time in planning the weights on my shoulders. This particular part of the column might just be the deal for those planning their first big hike.
Here's all that you need to do! First up, save a Microsoft Excel file somewhere in the secluded corner of your desktop display. Then, start jotting down all of the most essential commodities that you shall / might need to survive the trek; no fancy items please, none at all.
Now, as you start realizing that everything you need for survival is there on the excel spreadsheet, call it a wrap! Trust me, there is no room for even a few grams of non-essential crap on your rucksack, and this I learned the hard way. Being a rookie, I was foolish enough to carry all sorts of space-occupying weights on my first trek. Novels, note-pads, stationery to name a few. I ended up cursing myself almost every single time I opened my baggage.
From then on, I'd made it a point not to waste important space on a never-to-be-read book, or something similar. Days, in the high Himalayas, are spent negotiating harsh terrains, and the evenings are mostly about getting along with the team and the support staff. It becomes hard to find time for any other hobby.
How to Pack your Backpack
So, summing it up, this is how a weight effective rucksack should be organized: Picture your rucksack as a bundle of four, vertical compartments. The top compartment should hold everything that you might need in case of emergency (rain covers, medicine kit, etc.). The second layer should hold the heaviest of all commodities in the baggage (jackets, woolen lowers, etc.); it certainly becomes easy to manage a rucksack, when all of its heavy chunks is concentrated at the back of the rib cage.
Subsequently, the third compartment should be used to stuff-up all the rest of the things; except for a fresh pair of clothes. This fresh pair, which will come in handy towards the end of the hike, should constitute the forth and the lowermost compartment of the rucksack. These four compartments, with balanced weights on either side, make a formidable rucksack.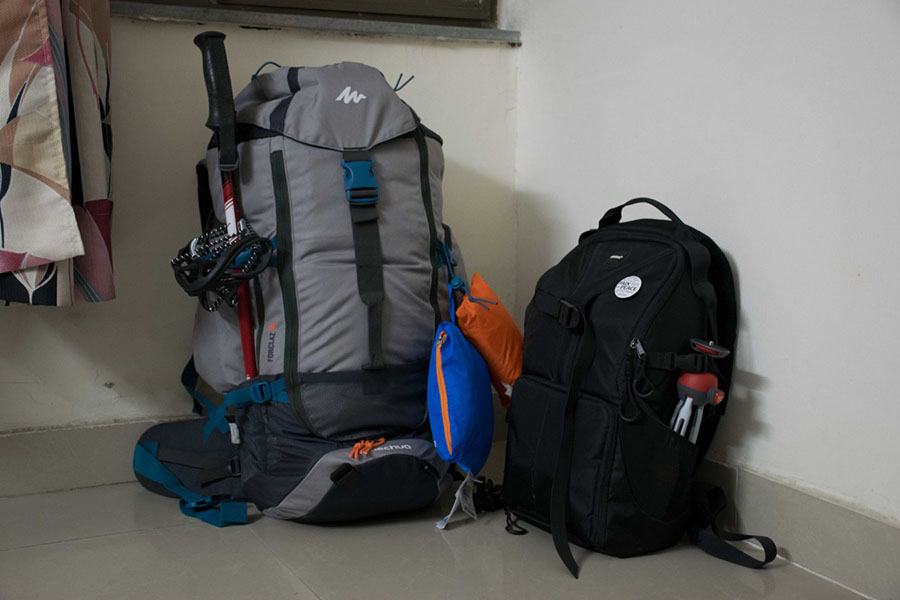 Pin Parvati Trek Itinerary
From failing to complete my bike ride a year ago, to planning the most audacious of all non-technical climbs in India, I surely had come a long way. And even though I was applauding myself, I had no idea of the magnitude of the mess I was about to get into. My team was going to be among the first few to attempt Pin Parvati Pass in the annual season. All gunned-up for the mammoth hike, we made way to Kullu on the 23rd of June.
This is how our final plan for the trek unfolded.
Delhi to Rumsu – Day 1
Rumsu to Barshaini to Kheerganga – Day 2
Kheerganga to Tunda Bhuj – Day 3
Tunda Bhuj to Pandu Pul – Day 4
Pandu Pul to Mantalai Lake – Day 5
Mantalai Lake to Base Camp 1 – Day 6
Base Camp 1 to Pin Parvati Pass to Base Camp 2 – Day 7
Base Camp 2 to Mud Village – Day 8
Day 1: Delhi to Rumsu – The Elementary Education of What Lies Beyond
After an overnight drive from Delhi, we checked into the trek operator's basecamp. Located in a small Himachali village named Rumsu, the basecamp was an impressive setting deep into the woods. On entering the premises, we were given a brief on what the day's chronology is going to be, and what regulations need to be followed in the camp.
We felt like being back to school, but notably, this time we were sloshed with a hangover. We soon found ourselves in the midst of an adventure we didn't prepare for.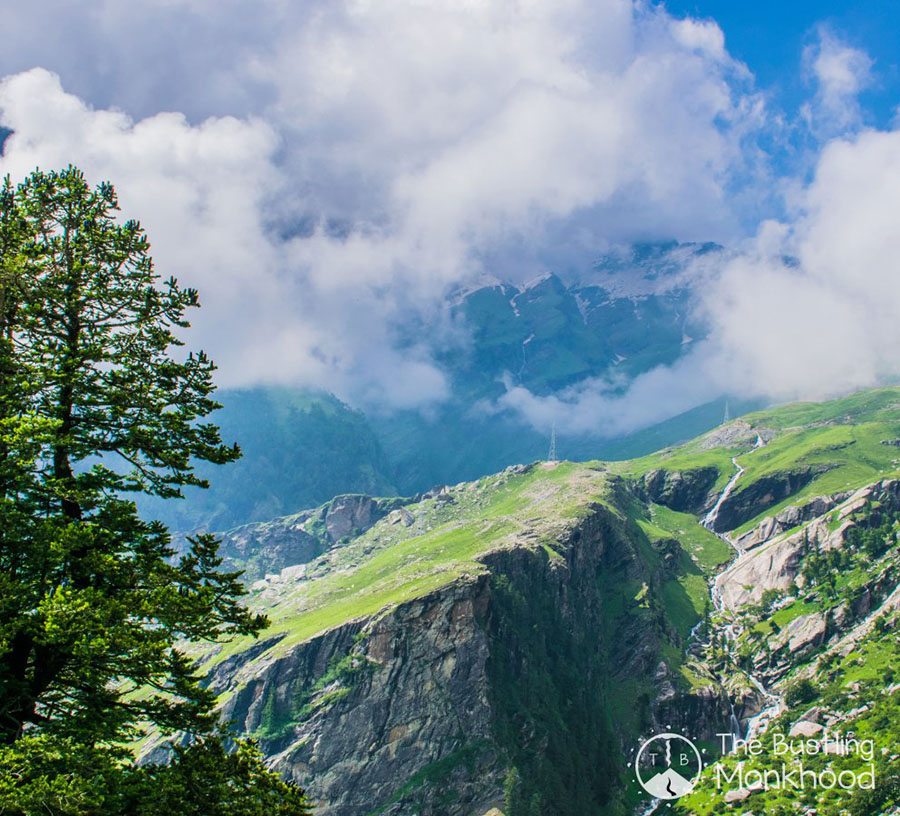 As the day progressed and we sobered up, things started to get much interesting. We had an hour-long session with one of the founding members, who told us everything we didn't know about mountain sickness. We came to terms with the deadly HAPO and HAKO, and ways to survive such catastrophes.
It, most certainly, was like being back to school. By the time we were done with the lecture, supper was served and soon we slipped into our beds. We were glad to have come this far. Finally, it was time to call curtains on the planning stage, and chalk-down the most fascinating chapter of this story.
Day 2: Kheerganga – Waking Up On a Vacation Day
A lot of things we do in life, involuntarily trigger a vivid, unique emotion. A vibe so positive, that it's hard to be surrogated. Waking up on a vacation day has always been one of such feelings for me. Even as a child, nothing was more stimulating than getting ready for a picnic or a school trip. Apparently, things were not much different this time.
Woken up by our psychological alarms at 3 in the morning, we got some added time to freshen up; and more importantly, to get last-minute-assurances of everything being in place. The plan was to depart from the basecamp by daybreak. Soon, the rucksacks were loaded on the roof-rack of our transport vehicle, and a hot cup of farewell tea was served before we finally made way to Barshaini.
After a three-hour drive from the basecamp, we hopped off at Barshaini (2200 meters). This small Himalayan village on the confluence of Tosh and Parvati rivers marks the starting point of the Pin Parvati trail. Here, we got the chance to formally meet our support staff for the trek, and with them, we began the long walk.
Barshaini to Kheerganga
The itinerary for the day was a moderate 12 km hike to the picturesque Kheerganga (2800 meters). Initial stretches were a fine walk through boundless apple orchards before we arrived in Nakthan village; the last village along the course of the trail. Nakthan, surrounded by some staggering landscapes, is a perfect place to cool off and get a breather.
Moving on, the trail gradually transmogrifies into a dense jungle of long-standing Deodar trees, as we make our way to the spiritually acclaimed Rudra Nag. Now comes the sole grueling part of the day's hike! Plentiful water crossings and a steep, yet spectacular climb through the woods, guide us to the Mecca of hippies in India, Kheerganga.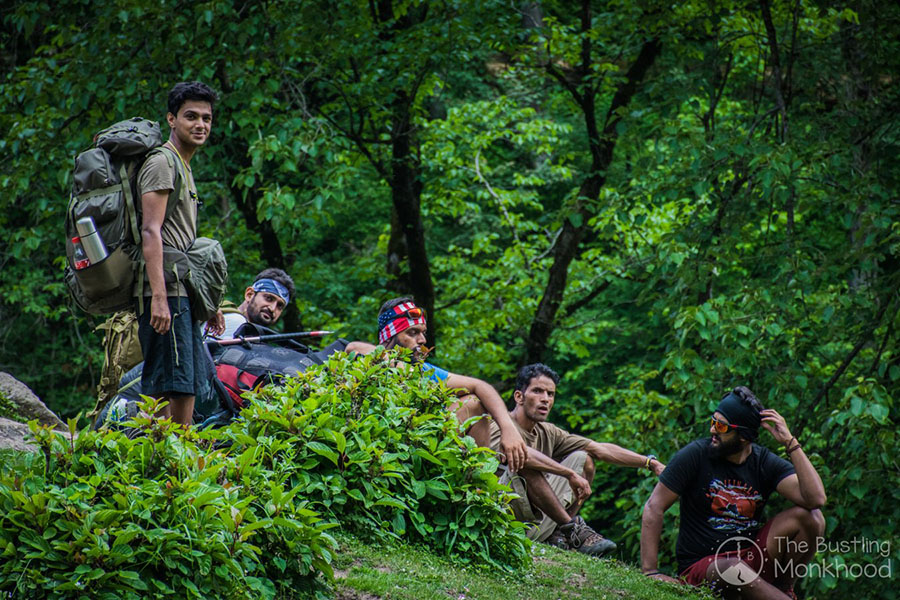 Kheerganga, as I have known from my previous visit, is a serene setting deep into the mountains. However, today was a different story, the long weekend story! I was flabbergasted to see thousands of people running around, whining over the unavailability of accommodation. Thankfully, we had tents of our own.
As soon as the tents were up, we dumped our baggage and moved out for a walk in the area. It was time to pay the mandatory homage to Lord Shiva, and to cram-down some Nutella pan-cakes (No prices for guessing what I mean).
By the time we returned to our crew, dinner was almost ready. We had our bit and soon retired in our tents.
Day 3: Tunda Bhuj – Beyond the Crowds
Day two began with an early morning dip in the famous hot water spring. This Sulphur spring is the primary reason why Kheerganga has lately become one of the most sought after trails in India. Undoubtedly a distinguished experience!
The Sulphur bath was then followed by a trudge to the neighboring Shiv temple for some handy blessings. All been done, we finally made way back to our camps, where breakfast was waiting.
This was a special day, the day we walk past the crowds, and into unexplored territories. However glad we may have been, none of us had the slightest estimate of how remarkably the trail was about to surprise us from here on.
Beyond Kheerganga, lies the finest valley walk there could ever be; a trail traversing through 12 km of unparalleled natural beauty. This, to me, is the most relaxing day of the expedition, where one can enjoy the magical walk in the wild without paying much heed to the not-so-narrow, well-defined tracks. A perfect opportunity, perhaps, to enjoy a bit of music, and get the cameras clicking!
After five hours of hiking, we reached the campsite for Day Two, Tunda Bhuj (3330 meters). Home to almost every natural element, Tunda Bhuj is as complete a campsite as any can ever be. A perfect blend of mountains, rivers, waterfalls, rainbows, flora & wildlife makes it a treat to nature lovers. We were happy to have finished the day's hike in broad daylight, giving ourselves sufficient time to absorb the surreal view, and for some out-of-the-world banter.
Day 4: Pandu Pul – The Grind Begins
Precipitation, in the high Himalayas, is a vitalizing phenomenon. Here, most of the resident species of plants and animals thrive in the rainy season. Most humans, however, are not too blessed with the art of survival in never-ending rain. And this was the first of many lessons, we learned over the next few days.
When we started our climb on day three, little did we know of how the clouds were about to pour havoc on us. Today, the trail gets dangerously narrow, with intermittent stretches of remarkably steep and slippery mountains. We experience hiking past the natural tree line, a visible line along altitudes above which trees cease to grow.
Now, I am not sure about how many of the readers have experienced this, but walking past the tree line is like the beginning of a magic show. From here on, each step is accompanied by a series of landscape transformations, something I had never seen before.
I was flabbergasted to see magic unfurl in such isolation; I instantly understood why, of all trails in India, Pin Parvati is such a highly regarded experience. However, like any other magic show, this one came at a price too.
As we rose above the natural tree line, we became further exposed to the mayhem of the omnipresent rain. We struggled our way through to the first sizeable obstacle along the trek, the legendary Pandu Pul. A sequence of two natural rock-bridges over Parvati river, Pandu Pul is believed to be created and used by powerful Hindu deities, The Pandavas. Must have been a cakewalk for them, I believe. For us, however, it was terrifying!
The Bridge
Surfing through photographs of Pandu Pul on the internet, while preparing for the trek, I wondered why hikers call it such a challenge. I was deceived; we all were! I eventually ended up strangled, in the middle of an almost-upright, slippery rock, having no clue where to land the next step. I survived the episode, but the memory of a murderous Parvati river flowing right beneath me will never stop terrifying me.
Thanks to the experience of our crew members, we were finally helped across to the other side of the river. It was a cheerful team reunion, as all of us had one common thing to agree to: come what may, we are not going back to Pandu Pul!
Soon, the rain was gone and we were welcomed to our campsite by bright, rejuvenating sunshine. Here, we spent the next few hours absorbing the sun and the spellbinding view of snow-capped mountains. A perfect end to a rather long day!
Day 5: Mantalai Lake – I Am a Wild Flower
Waking up to the sound of rain, striking hard on the flysheets of our tent, was undoubtedly discouraging. The first challenge was to lift our spirits and start the day's trek on a high. Nonetheless, even meeting this challenge couldn't ensure a smooth-sailing day.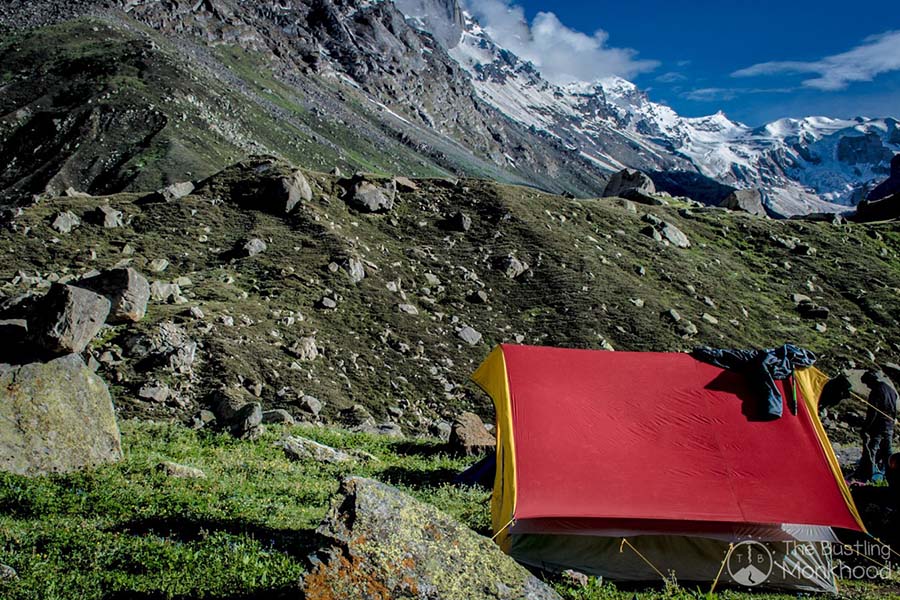 The hike from Pandu Pul (3850 meters) to Mantalai Lake (4100 meters) is, otherwise, a gentle 15km walk in the meadows; with just one steep climb before Mantalai. For us, however, this turned out to be the longest day on the trek. We were caught struggling against speedy winds and hard-hitting rainfall; as we crumbled our way through the wild-flowers of Odi Thatch.
Moreover, we soon realized that even the water-proof packing could not save our baggage from the rain, all of it was now drenched, including the sleeping bags. Perhaps, it was one of those days where everyone needed to find their own motivation to keep pushing forward.
I, for instance, found my peace in the little of everything that I saw around me. Never in my life, had I been so exposed to the powers of nature. Yet, I managed to shun all my trepidations and walk on. I thought of how everything fell in place to get me here, so far from all worldly problems; I thought of how, in such isolation, I can finally stop giving the usual attention to life's most trivial issues.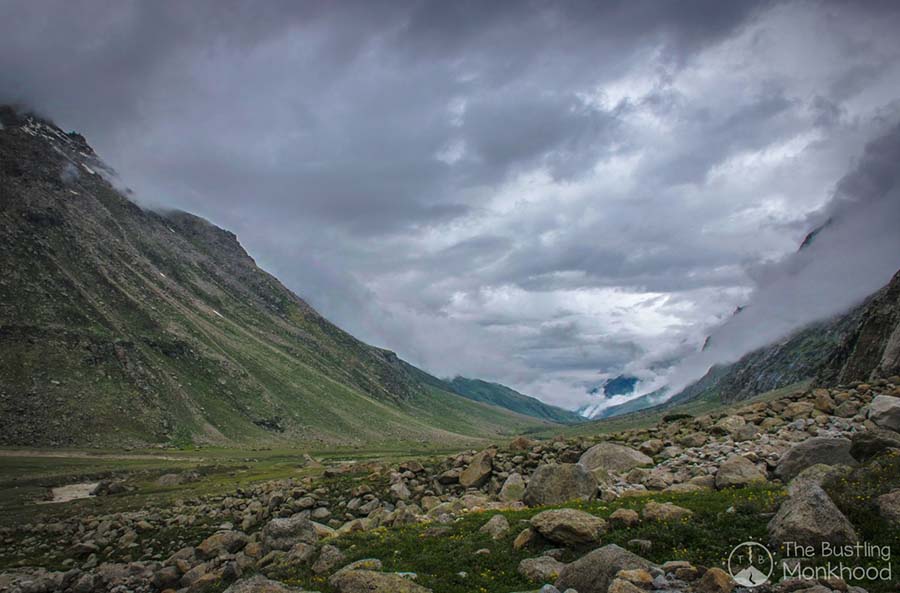 For the first time since owning a wallet in my life, I did not know how much money do I have with me. I did not want to know either! All I wanted to know was how possibly can I make the most out of this moment.
Mantalai Lake
The rain did not bother me anymore! I was now dancing my way through a place where all of nature's children are treated indifferently, a place where life is all the more challenging, yet meaningful!
Finally, after eight hours of hiking in continuous rain, we reached our campsite for the day, Mantalai Lake.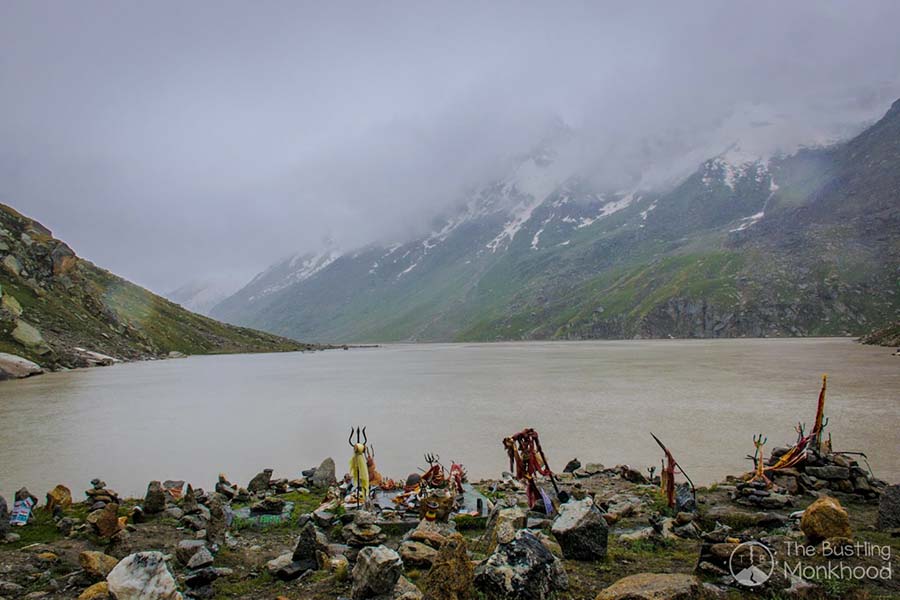 Sitting right beneath the glacier, Mantalai is the main source of the Parvati river. Here, it majestically takes the form of a lake. It had been a cold and tiring day! As soon as the tents were up, we changed to a comparatively less wet attire and slipped in our drenched sleeping bags.
Day 6: Base Camp
4 days, 60 kilometers, a nightmarish Pandu Pul, and lots of rain! We surely had come a long way. Parvati valley had been a hostile mess of some of the most beautiful landscapes. Now, it was about time to part ways with the mystical valley. Now it was time to begin the colossal cross-over to the other side. The day started with a brief stretch of gradual terrain before we were thwarted by a huge water-crossing along our course.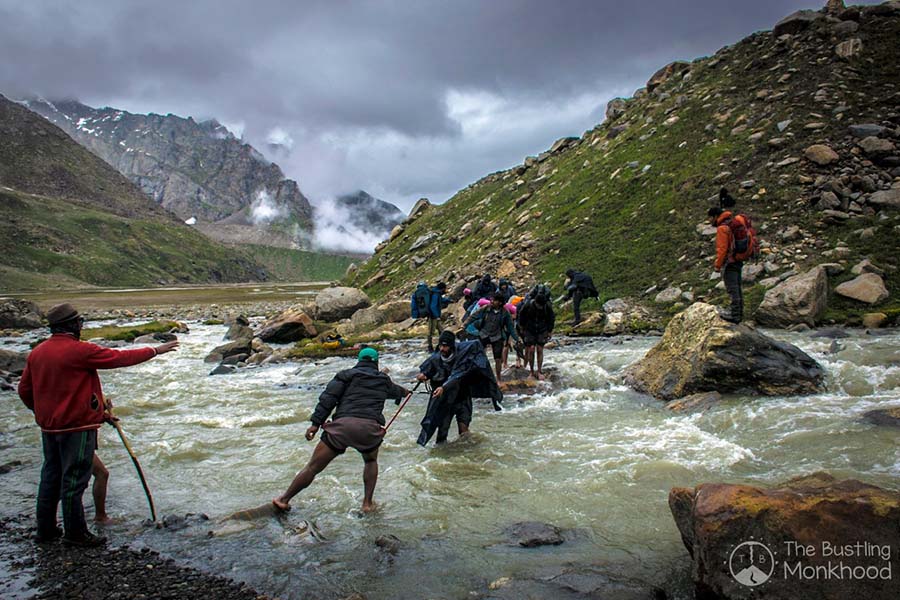 Our days of clumsily walking in the valley were over. Waiting just around the corner, was a steep ascend to the 4960 meters high Base Camp – 1 (Parvati side Base Camp). This had to be the most strenuous climb of the trek. On top of it, the rain was persistent as ever.
As we battled our way up the mountain, we witnessed some staggering transformation in the landscape. The green of the grass gradually made way to silvery-snow fields, and we found ourselves engulfed in the white territory of the Himalayas. Soon, the rain also transmogrified into flakes of snow falling from the sky. We were approaching the highest campsite on the trail.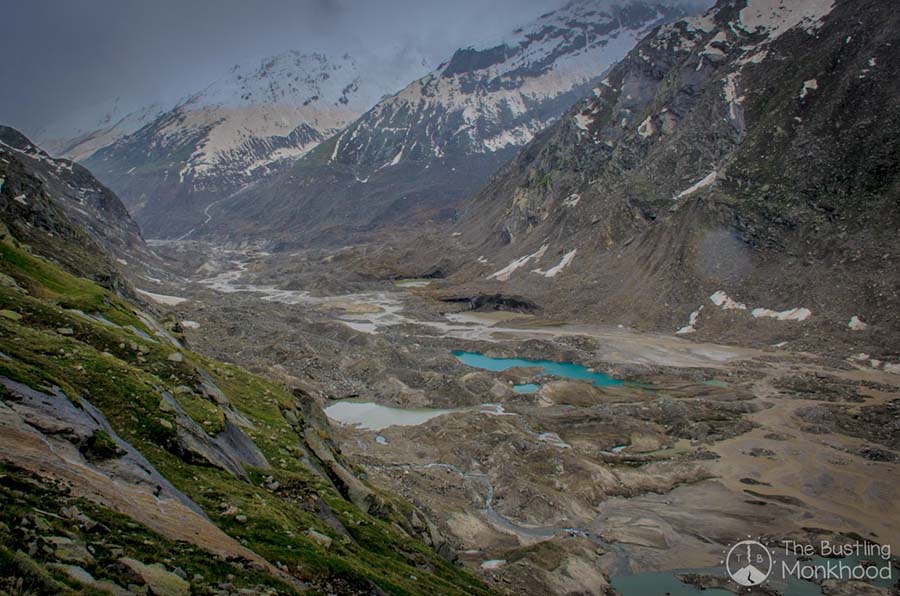 Base Camp – 1, set up in the midst of snow-clad peaks, is one of the most thrilling campsites there could ever be. It was incredibly cold. We lodged ourselves in our tents as soon as they were up.
By sundown, the winds picked up, and what earlier was a gentle snowfall, now turned into a ravaging storm. For hours we feared that the blizzard might sweep our tents off. Eventually, we ended up panicking ourselves to sleep, until we heard a familiar voice coming from outside the tent.
Day 7: The Mighty Parvati Pass
"Bhai Ji (brother), the weather condition is not good at all. If in case it gets any worse, we will have to descend to a lower altitude. Kindly make sure all your baggage is packed beforehand!" our team guide blatantly said all of this in one go.
Conspicuously, it took a few minutes for the scenario to sink in. As soon as it did, I jumped out of my sleeping bag and dashed out of the tent, to assess the situation for myself. The world outside the tent, to say the least, was boreal beyond imagination. I somehow managed to hold on against the wind and reach the kitchen tent where our crew had been putting up.
Now, the Himalayas are no place for tomfoolery, and this I thoroughly comprehend. Sitting at 5000 meters above MSL, no one can afford to be casual about such adverse conditions. Nature was testing us in its own backyard.
There, I sat with my crew in the kitchen tent and told them how willing everyone was to pursue the summit. We anxiously waited for the storm to pass, and even though the condition did not get any better, it did not deteriorate either.
Seeing this, I could barely hide my excitement over the possibility of a summit push. But, my excitement alone did not necessarily mean that we'd eventually end up attempting the Pass. I still remember the words of our trek guide, how mountaineering is more of a mental game than physical. How it is so important for everyone in the team to be on the same page, positive and energetic.
Chasing the Dream
Gladly, everyone on the team was on the same page. I was proud of my 'fearless' bunch of mountain mongers, who were just 'a little afraid' of descending from the same side and revisiting the Pandu Pul. Unanimously, we decided to start the hike by daybreak.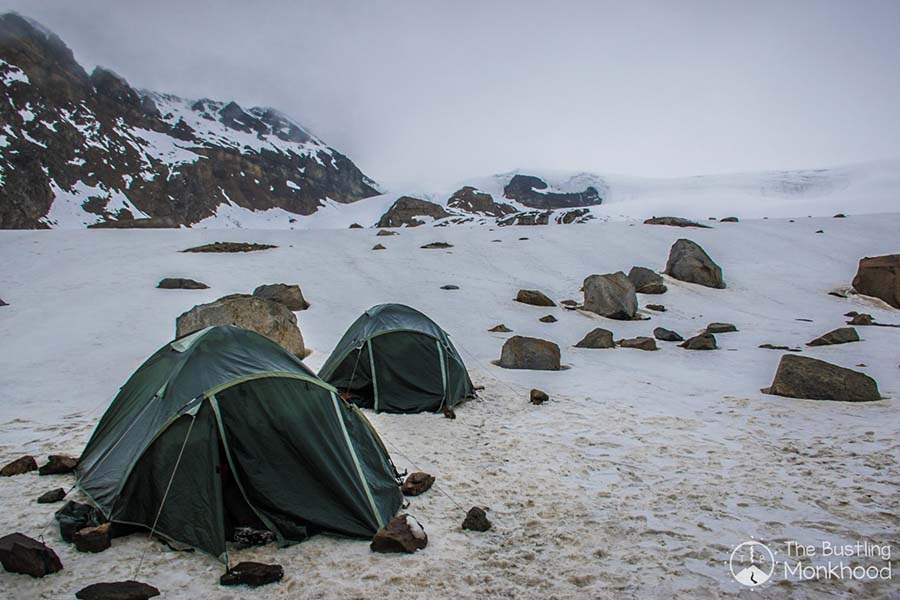 It was summit day! Soon after we set foot on the ultimate climb, the winds too began to fractionally calm down. This could not have come at a better time. We thanked the Gods and moved on to what was a challenging last push to the summit.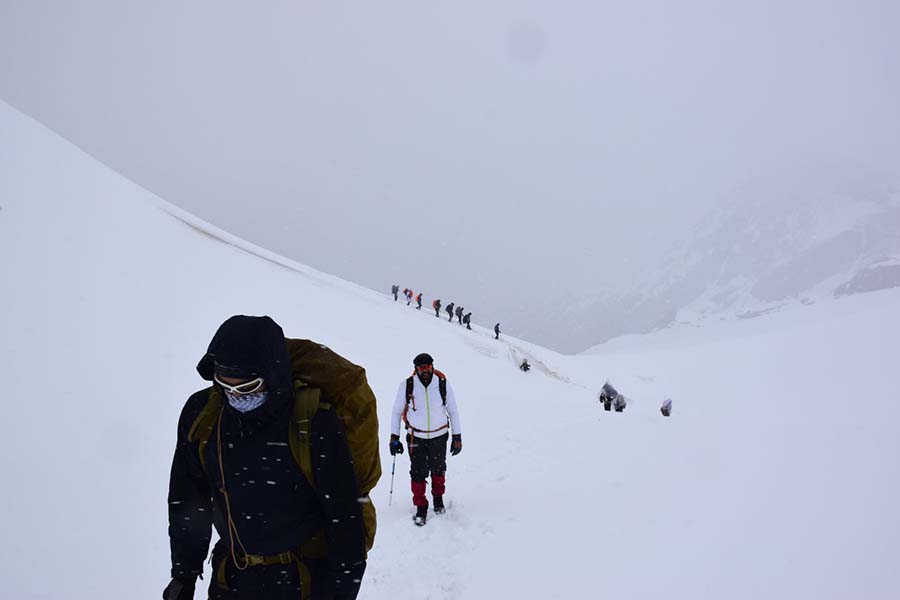 The Pass is just a few hundred meters in altitude from the base camp. But negotiating these few hundred meters is a real test of stamina. We literally had to lift our way up, through an almost vertical wall of fresh-falling snow. Once on the Pass, the first few minutes were spent catching the lost, elusive breath. Then came the moment of actualization!
There was so much more to be felt than what actually can be written about the feeling of standing on the mighty Pin Parvati Pass. Perhaps, it was my biggest accomplishment; perhaps, my moment of epiphany. I quickly reminded myself of every little thing that this journey had taught me.
Making my way back home, I now have a hundred more reasons to be happy and thankful for everything around me. I was glad to have made it here, so was the rest of my team. We spent some time in the mandatory photo session and then began the long descend on the other side of the mountain.
Base Camp 2
After a strenuous summit day in an oxygen-deprived environment, a downhill walk to the Pin Valley National Park was an experience to savor. We disembarked from the mountain range right next to the Pin glacier, where, waiting for us was the infamous Pin Nala.
Much hype was built around how this water stream. Spurting out of a muddy glacier, it is one of the coldest of its kind and exceedingly difficult to negotiate. We, however, had been looking forwards to this last, major obstacle right from the time we set foot on the Pin Parvati trail. And for all that we had seen in the last few days, Pin Nala turned up to be a walk in the park.
All the sizeable challenges were now surmounted. Soon, we reached the final campsite on the trail, the picturesque Base Camp – 2 (Pin side Base Camp, 4280mt).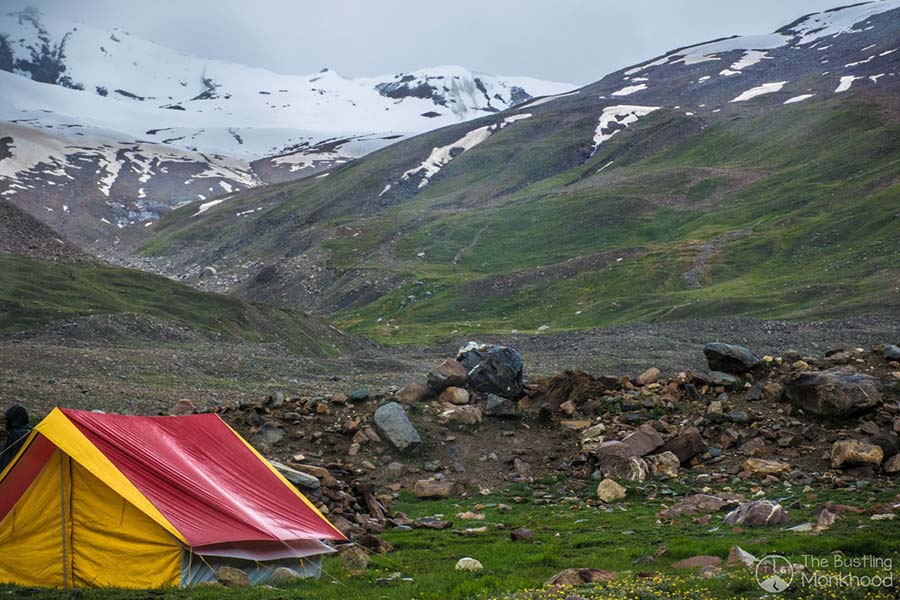 Day 8: A Dream Is Realized!
Getting up on day seven of the expedition was the sweetest of all experiences. Today was significantly the closing day to this remarkable journey; a journey which not just includes the last 7 days, but dates back to the missed opportunity of visiting Pin Valley in 2016.
A fine, 30 km stroll in the colorful desert autonomically bought back the memory of everything that contributed to this outstanding quest. It was like a victory walk in paradise, with no one being in a hurry of reaching the destination. We made frequent pit stops to get a grip of the astounding scenery surrounding us; to secure some of it in the camera too.
Just before sundown, we arrived in the legendry Mud village. Having sauntered in the wild for as much as 130kms, it was a good feeling to be back amongst humans and habitation. I instantly realized why this Buddhist village is regarded as one of the most beautiful settlements in the Himalayas; a perfect finish line to a perfect trek!
The Testimony
'So, tell me, why do you like traveling to incommodious, unusual places?' I remember being asked this question from a friend, and how I fumbled with the reply. Apparently, I wasn't so uneducated anymore. I buried my ignorance somewhere while walking in the rain, from Pandu Pul to Mantalai.
Nature had taught me the lesson to life's most important questions. It reminded me of how naked and exposed we all are, as naked as we were when we came into existence. It reminded me of how short life is, too short to be wasted on inconsequential issues.
I was happy to have survived a place where nothing mattered more than the fluctuant next breath; a place which taught me that building a bank balance is not the sole purpose of life, but happiness is!
And here's one for my amazing team. Without these guys, I wouldn't be writing about any of this. Cheers fellas!
Conclusion
I hope this piece was worth a read. Be kind to give your feedback and connect with me on Facebook or Instagram. If you need my help in planning for Pin Parvati Trek; or have any questions, please feel free to ask and I will be happy to assist.