Chandratal is mostly included in an itinerary for a trip to Spiti valley. But if you had only 4-5 days in hand and were living at a place like Delhi or closer, then you can also plan a trip to only Chandratal and camp here for the night. On the same trip, you will also be able to cover Manali, Rohtang Pass, Kunzum Pass, and see some amazing vistas. Read on to find out how you can plan this all from Delhi to Chandratal Lake in the best possible manner.
Please note that in this post, I am only discussing traveling to Chandratal. If you wanted to cover the entire Spiti Circuit, I will recommend reading How to Plan a Trip to Spiti Valley.
The Himalayas are home to several lakes. Some of them are quite large and some very small. But one thing that is common among all of them is the scenic beauty. No matter the size, all of these lakes are equally and stunningly beautiful. Cushioned against the mighty peaks and cuddled high up in Spiti valley, Chandratal is one such verdant gem.
This beautiful body of water is a must visit destination and spending a night here at the camps is highly recommended.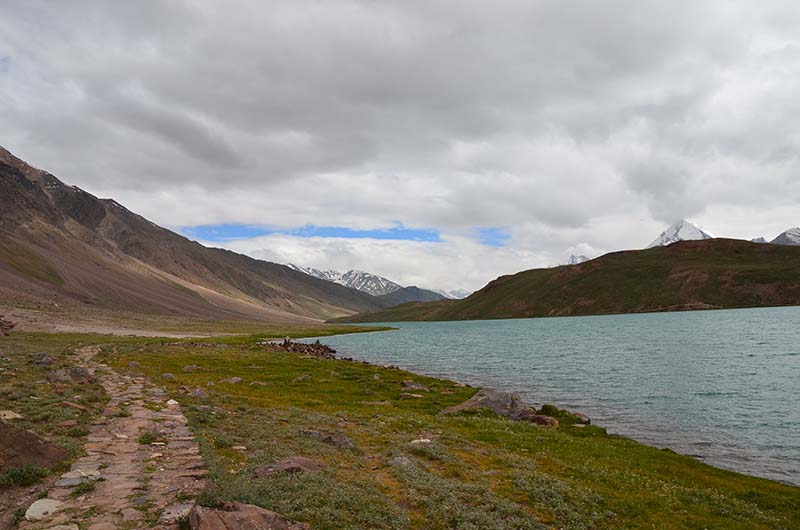 How to reach Chandratal Lake from Delhi
If you have more days in hand then, by all means, you can continue traveling from Chandratal to Spiti valley. Or you can start your trip from Shimla and exit via Manali while covering Chandratal on the way. In this article, however, I will focus more on how you can reach from Delhi to Chandratal Lake; spend a night there, and travel back home. This can be the case when you are short on time or have already done the entire Spiti Circuit.
I am using Delhi as a reference here but if you are traveling from any other place; then the details for Day 1 about reaching Manali will change. The rest will remain the same.
Chandratal Lake
For a brief introduction, Chandratal is a high altitude lake situated in the Spiti district of Himachal Pradesh. The literal meaning of the name is Moon Lake (Chandra – Moon, Tal – Lake). It is at an altitude of 4,250 meters. The name derives from its crescent moon-like shape but there is also folklore associated with it. Read The Legend Of Chandratal for an interesting love story that goes with Chandratal.
Delhi to Chandratal Lake by road
The shortest way to reach Chandratal Lake from Delhi is via Manali. It will be a 2 days journey. On Day 1 you will reach Manali and spend the night there. On Day 2 you will travel from Manali to Chandratal.
For the return journey, it will be the same route. Start early in the morning from Chandratal to reach Manali by late afternoon. From here, you can either spend another night in Manali or you can also catch an evening Volvo or HRTC Bus to Delhi on the same day. The bus will drop you back at ISBT Delhi by the morning of the next day, making the entire trip a 3 days affair only.
If only Chandratal is on your mind, then a trip via Shimla is not recommended at all. While you can make it to the lake from Delhi via Manali in 2 days; from Shimla, it will take you 4 days at the least. If you are short on time and still attempt the lake from Shimla, all of your time will be spent on the road. The journey will become too hectic and tiring and will not be the ideal vacation that you came looking for.
Chandratal Lake from Shimla should only be attempted if you are covering the entire Spiti Valley and have at least 7-8 days for it.
Also Read: What Clothes should you pack for Spiti Valley
Delhi to Chandratal Route
The route for the journey from both Shimla and Manali will be as mentioned below.
From Manali: Delhi – Manali – Rohtang Pass – Gramphoo – Batal – Kumzum Pass – Chandratal
From Shimla: Delhi – Shimla – Reckong Peo – Puh – Nako – Tabo – Kaza – Losar – Kunzum Pass – Chandratal
The 14 kilometers long road to Chandratal bifurcates from near Kunzum Pass top. If you are traveling from Manali, this road is about 2 kilometers after you cross the Batal bridge and start driving up to Kunzum Top.
If coming from Kaza, you will have to cross Kunzum Pass and will divert on this road as you start on your descent towards Batal.
Delhi to Chandratal Lake Itinerary
As I mentioned above, the quickest way to reach from Delhi to Chandratal Lake is via Manali. The Itinerary followed will be Delhi to Manali on Day 1 followed by Manali to Chandratal on Day 2.
However, from Shimla, the Itinerary will be longer. Day 1 will see you in Shimla from Delhi. You will reach Reckong Peo or Puh on Day 2, Kaza on Day 3, and finally at Chandratal on Day 4.
Delhi to Chandratal Road Conditions
Spiti is notorious for the bad condition of its road. You will be on a smooth tarred road with a few bad patches from Delhi all the way until Manali. However, after Manali, it will continue to deteriorate until it becomes nightmarish.
The road across Rohtang Pass is a mix of good bad and average till Gramphu. The stretch between Gramphu and Batal however is completely broken with several water streams on the way.
From Batal, it is a narrow dirt trail all the way to Chandratal and it is full of loose rocks, water streams, huge stones, and slush. Take a look at some pictures of the road posted in Spiti valley road conditions and you will get an idea.
How to reach Chandratal from Delhi by Car
If you were traveling in your own car, you will follow the same route that I mentioned above. But a bigger question is of which car to bring. This trip is best suited for an SUV. It doesn't necessarily have to be a 4X4 but good ground clearance is a must.
I would strongly advise against bringing a hatchback or Sedan or any car with low ground clearance. On this route, I have seen even Innova or a Mahindra Bolero getting stuck so you can imagine what it would do to a car with low GC. Below is a picture to give you an idea.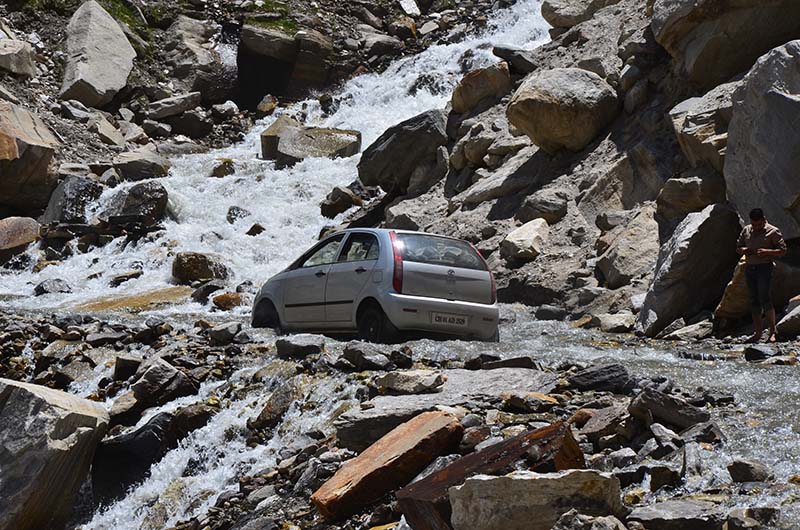 If you are on a motorcycle, ride slow and carefully. Some of the water streams on the way are quite deep and furious so before you cross, stop for a minute and inspect carefully. If you were traveling on a small engine bike, like 100CC or 150CC, it would be best to ride solo and as light as possible. If you were with a pillion, bring a bike that is at least 250CC or above.
Also Read: Mobile Network in Spiti Valley and Data Connectivity
Delhi to Chandratal Lake by Bus
If however, you intend on traveling by public transport; things become a little tricky. There is no direct bus that takes you to Chandratal the journey will have to be broken in parts.
Your first destination will be Manali. From Delhi, there are several HRTC and HPTDC buses available from ISBT. Most of these buses make the journey overnight; starting from Delhi by late evening and reaching Manali early in the morning.
From Manali, you will need to board the morning bus going towards Kaza. The bus starts from Manali at around 7 AM from the main bus stand.
Once this bus reaches Batal, you have two options; either get down at Batal or at the Chandratal diversion. There is no bus that goes towards Chandratal and no regular shared taxis as well. Options are pretty much limited to three.
Get down at Batal or Chandratal diversion and wait for a shared taxi to arrive.
Start walking towards the lake
Hitchhike
In peak tourist season, there is a lot of tourist movement towards the lake so hitchhiking will not be that difficult.
For returning from Chandratal to Manali, you will again have to wait for someone to give you a lift, or find a shared taxi or walk 14 kilometers from the lake to the diversion at Kunzum Pass. A morning Bus from Kaza runs to Manali every day. Once you reach the diversion, wait for this bus to arrive and board it.
How to reach Chandratal from Delhi by Train
Traveling by train will just prove to be more hectic and is not advised at all. The nearest railway station to Chandratal is at Chandigarh and there are several trains available between Delhi and Chandigarh daily.
Once you get to Chandigarh, you can rent a taxi to drop you at the lake from right outside the railway station. But this will be a costly affair and will cost you anywhere between 10k to 20k.
If you did not want to rent at tax, you will then have to board a bus from Chandigarh for Manali. From Manali, you will then reach Chandratal by Bus.
Also Read: How to reach Spiti Valley by Road, Air, Train & Bus
Accommodation at Chandratal
The only accommodation choice at Chandratal is of campsites. Charges per person will be above Rs. 1500 (including meals), depending on the camp. Please read Accommodation at Chandratal – The Best Place to Stay for more details.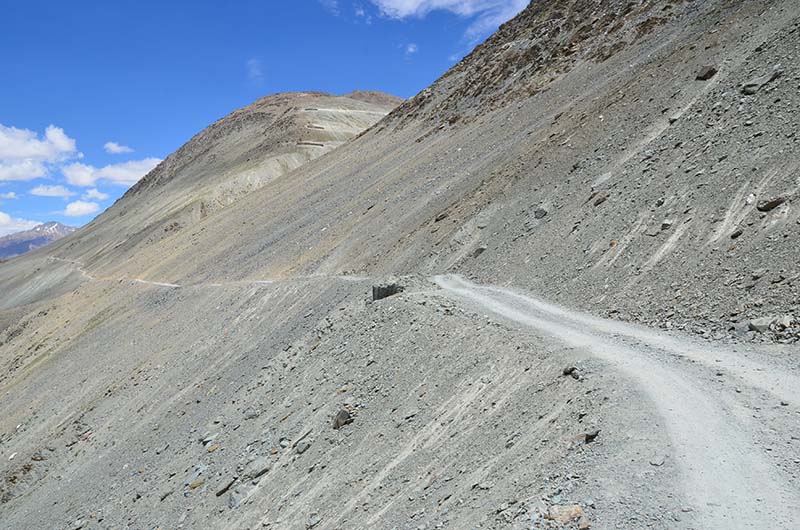 Hotels at Chandratal
The only concrete hotel available nearby is the PWD guest house at Batal. If you are able to find the caretaker and get him to agree in letting you stay, you can stay at the guest house and eat at the Dhabas which are right next to it.
Batal also has the facility of a satellite phone, the number of which is 08991722020. If you want to call in advance and inquire about booking the PWD guest house, you can do so at this number. It belongs to the Dhaba owner at Batal.
Losar has a few small guesthouses and homestays. The problem is that it is on the other side of Kunzum Pass and about 35 kilometers away from the lake. I have provided details on both these options at Accommodation at Chandratal – The Best Place to Stay.
Self Camping at Chandratal
If however, you are camping on your own; please ensure that you do not pitch your tent right next to the lake. This is not permitted by the law. The nearest campsite at the lake is about 3 kilometers away and that is where you should also camp.
The best way to camp on your own is to talk to any of the campsites and pay them a little to give you a spot for camping. In return; they will also allow you to use their washrooms. If you are not in a mood to cook, you can also order your meals at the campsite.
Please also note that there is wildlife around Chandratal; so camping in the middle of nowhere can be dangerous as well.
Rohtang Permits
The biggest problem while traveling to Chandratal via Manali is Rohtang Permits. In order to get to the other side of the pass from Manali; you will need to arrange for a permit issued by SDM Office Manali. You can get this permit online as well as in person. Read Complete details on Rohtang Pass Permits for more information.
Why I said this is a problem is because it is a cumbersome process. Passes for Rohtang are severely limited and getting one sometimes can become a battle in itself. If you could not get the pass on time, you will have to wait for another entire day in Manali.
Acute Mountain Sickness in Spiti
Another problem that occurs while traveling from Delhi to Chandratal Lake via Manali is of acute mountain sickness. From plains, you will get to an altitude of over 2000 meters at Manali in one single day.
Then on Day 2, this altitude will again double to 4,250 meters at Chandratal; so there is a high chance that you will suffer from AMS during your night stay at the lake. The best way to handle altitude sickness is to gradually increase the altitude which in this case is not happening since you are short on time. Read How to Deal with Acute Mountain Sickness in Spiti for more details.
Phone services at Chandratal
There is no mobile connectivity at Chandratal; no matter which network you are on. The nearest phone available is the satellite phone at Batal Dhaba that I provided details of earlier in the article.
Best time to visit Chandratal
Chandratal is only accessible after Kunzum Pass has been cleared of the snow. The visiting window is limited from June till September and out of these months, June, early July, or September is the best time to visit Chandratal.
In late July and August, Monsoon plays havoc in hilly regions and there remains a high chance of landslides around Manali and Rohtang Pass. Add to this the fact that while it rains, there will also be a lot of slush on the way; and even the water streams will be furious. It is best to avoid going this way in the months of July and August.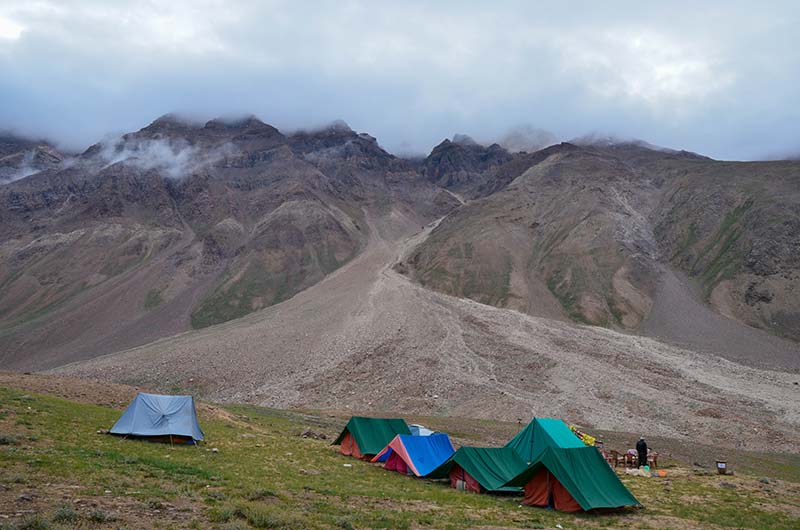 FAQs
Below are some most commonly asked questions about traveling to Chandratal.
How to reach Chandratal Lake from Kaza
In order to get to the lake from Kaza, you will start driving towards Losar. It is pretty much a straight drive of about 58 kilometers but it will surely take you at least 2 hours due to the extremely bad condition of the road.
From Losar, you will then start driving up 19 kilometers to Kunzum Top. There is a temple at the top of the pass where you should take a break and pay a visit. The views from the temple too are absolutely astounding.
After spending some time at the pass, start driving down towards Batal. After about 9 kilometers of downhill, you will notice the road to Chandratal to your right.
How to reach Chandratal Lake from Manali
From Manali, in order to get to Chandratal, you will first need to cross Rohtang Pass. Start early in the morning and drive for about 55 kilometers to Rohtang Top. Take a break here, click some pictures and then continue driving downhill towards Keylong.
After 15 kilometers, you will reach Gramphu. Here, a road to your right will bifurcate towards Batal. This is the one you will need to turn on. This is an extremely bad and dangerous road of about 60 kilometers till Batal.
From Batal, cross the bridge, drive uphill for about 2 kilometers and turn left on the road towards Chandratal.
How far is Chandratal Lake from Manali
Chandratal is at a distance of 125 kilometers from Manali.
Distance Chart
Kaza to Chandratal Road Distance: 89 kilometers
Manali to Chandratal Road Distance: 123 kilometers
Delhi to Chandratal Road Distance: 660 kilometers
Kunzum Pass to Chandratal Road Distance: 14 kilometers
Shimla to Chandratal Road Distance: 370 kilometers
Chandratal Lake Altitude: 4,250 meters
Chandratal Lake Weather: Cold and windy during the day, extremely cold during nights.
Conclusion
I hope the above information on how to plan a trip from Delhi to Chandratal Lake was helpful. If you have any further questions, please feel free to ask in the comments section below or at our Community Forum; and I will be glad to answer.