This post is in continuation with a previous one and a part of my Spiti Valley Travelogue. We traveled from Delhi to Kaza in 6 days, with stops at Narkanda, Sarahan, Chitkul, Kalpa, and Nako on the way. We stayed in Kaza on Day 7 and used the day to explore the town and the villages around it. On Day 8, we went on a bike trip to Chandratal Lake and stayed there overnight at a campsite before moving on to Manali on Day 9.
Overall, it was an amazing day of non-stop fun and adventure; details of which are provided in the article below.  If you want to read the previous parts of the travelogue, please click on the link below.
Journey so Far: Sightseeing in Kaza – Kibber, Komic, Hikkim, Langza
Other than providing a detailed log of our journey, in this article, I will also talk about several necessary details that can be of help in planning a bike ride to Chandratal lake. First I will detail our journey from Kaza to Chandratal; and then discuss several important things you should remember while planning a bike trip to Chandratal.
Bike Trip to Chandratal
My feelings on this day were a mix of excitement and a heavy heart. Excited because we were finally approaching the part that I was most excited about, camping at Chandratal. But my heart was also heavy because I knew that this was pretty much our last destination for the trip. After Chandratal, it was only going to be a return journey home. We were going to stay at the lake for the night, then move to Manali and from there, it was a straight run home.
I lay in my bed thinking about all this that morning while my friend Narender snore heavily in his bed right next to mine. But I think that is how all trips and vacations are. They start with excitement and end on a little depressing note.
I looked out of the window and it was daylight all around. The town of Kaza was just starting to wake up to a pleasantly cold and beautiful morning. Our plan was to move on as early as possible so it was time for us to leave our beds. I woke Narender up and we started packing.
Kaza to Chandratal Lake
The total distance between Kaza and Chandratal is approximately 100 kilometers and there are two ways that you can go about it. The first one is to drive straight to Losar from Kaza, then climb up to Kunzum Pass top and then take the road towards Chandratal.
The second way is to first go to Kibber from Kaza, then drive to Chicham and then drive down from Chicham to Kiato, back on the highway, just before Losar. This second route will add another 20-30 kilometers to the journey.
But this is the situation now. Back when we made this trip, Chicham Bridge was still not completed so there was no road between Kibber and Chicham. Out only option thus was to travel from Kaza to Losar and then to Chandratal.
How to Plan a Bike Trip to Chandratal Lake
Chandratal is mostly a part of a Spiti valley trip. An ideal way to do this journey is to start from Shimla and then exit at Manali while spending a night at the lake, like the way we did during this trip.
You can also start from Manali and do the entire circuit the other way around, ending at Shimla. This is however not advised because then you are putting yourself at the risk of Acute Mountain Sickness. Chandratal is at the highest altitude in all of the tourist places in Spiti Valley. If you arrived here on Day 1 or 2 of your trip, then chances are that you will definitely suffer from AMS.
But recently, Chandratal is also gaining popularity as a standalone tourist attraction. Due to limited time, a lot of people only travel to Chandratal and return, not covering any other place in Spiti.
If you were also thinking about doing the same, below is a little information that can help.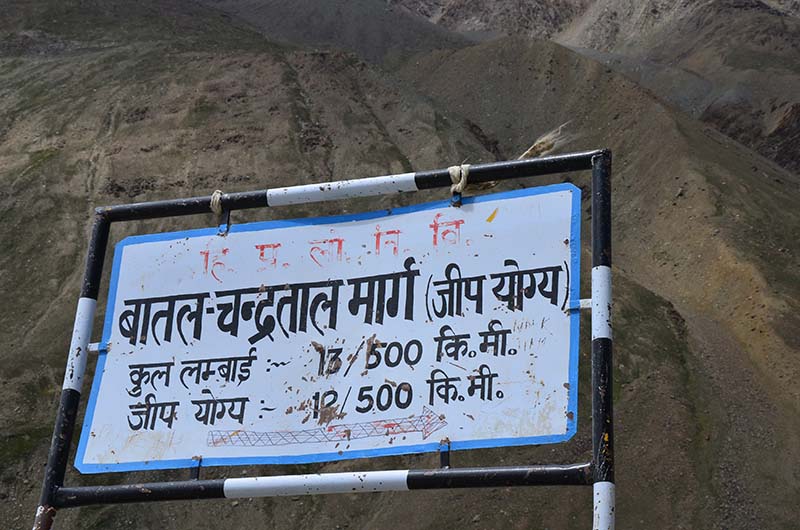 Route to Chandratal
The first route to Chandratal is via Shimla. If you were coming from a place like Delhi or Chandigarh, you will first reach Shimla and then drive to Chandratal via Rampur, Nako, Tabo and Kaza. This however will then become a usual trip to Spiti Valley and must be done in at least 8-9 days.
The second route to the lake is via Manali and is much shorter in distance. Manali to Chandratal distance by road is about 175 kilometers total and can be done easily in 6-7 hours.
So if you were only thinking about visiting Chandratal and had only a limited number of days, this is the route you should take. If you were coming from Delhi, for example, you can travel to Manali on Day 1 and then reach Chandratal on Day 2. The third day can be spent at the lake and then you can return home on Day 4 and 5.
But before you decide on doing this, there are a few things you should remember.
Best Time for Bike Trip to Chandratal Lake
Chandratal remains open only from early June to Mid October. So this is actually the only time when you can plan your trip. The lake may sometimes open a little early by Mid to Late May if there wasn't a lot of snow to clear. But usually, it is only by early June that the road is open and the campsites are operational.
During this time as well, Monsoon arrives here by late June and remains well until early September. During these two months, landslides caused by incessant rains are a common sight. Even Rohtang can sometimes get closed if it was deemed unsafe to travel. It can rain anytime anywhere and sometimes it rains all day long. If you were planning to travel in July or August, make sure you are ready to face the rain and everything that comes along with it.
Fore more details, please read When is the Best time to Visit Spiti Valley.
Camping at Chandratal
There are campsites available at the lake but they are now all at least 2 kilometers away. Camping on the shores of the lake is forbidden by law. These days, at an average, it costs about 1500-2500 per person to stay but this will also depend on your negotiation skills. There are no budget camps available here anymore.
If you were bringing your gear, you can pitch your own tent as well but I will strongly recommend not doing it just about anywhere. You must remember that Chandratal is in a wildlife reserve and several wild animals drink water from this lake. A better way would be to talk to an existing campsite, pay them a little amount and ask them to give you a spot to camp.
This way, if you want to, you can also eat at that campsite and save yourself the hassle of cooking. For washrooms as well, you can use that campsite's facilities.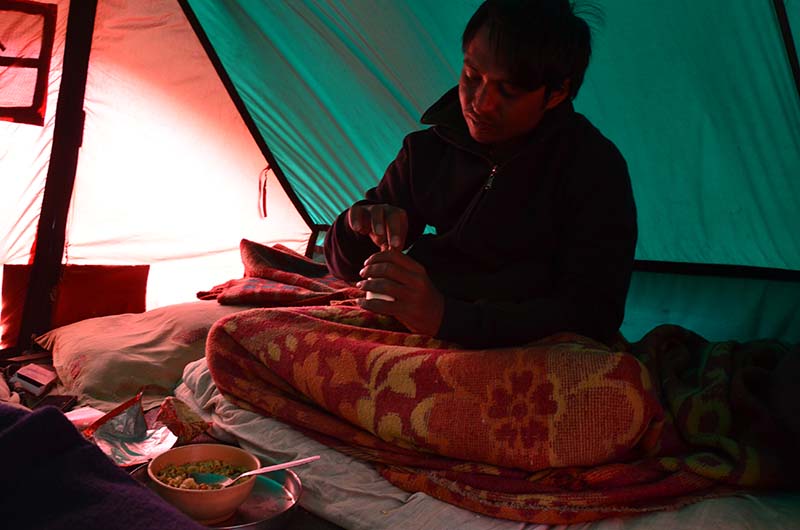 Best Bike for Chandratal
There is really no best bike as such for Chandratal. As long as your bike is well maintained and serviced, you can easily bring any engine size bike to the lake, even the 100 CC ones. The only thing to remember is that if you were traveling on a smaller engine bike, travel solo and as light as possible. If you had a pillion, better to opt for a larger engine bike like RE 350 or 500 CC. Fore more information, please read Which is the Best Bike for Spiti Valley.
Chandratal Road Conditions
The road to Chandratal is a badly broken and narrow dirt trail. There is no tarmac anywhere and this is one road that will have your heart jump to your mouth at several places. A journey to Chandratal by road means that you will climb steep ascents, cross mud and slush, find huge rocks and boulders on the road and face an endless series of water crossings. Your feet will remain wet all day.
If this was your first bike trip in the hills, Chandratal is not the place you want to go to. First, try visiting some other easier hill stations and then travel this way.
Fore more information on this topic, please take a look at How to Plan a Trip to Chandratal Lake. Let us now get back to our journey on this day from Kaza to Chandratal.
Kaza to Losar
So, our destination for today, and also kind of the last destination for the trip, was Chandratal. After checking out of the guest house in Kaza, we started mounting our bags on the motorcycle. It was early morning and there weren't any hotels or dhabas open yet. There was no breakfast option at the guest house as well.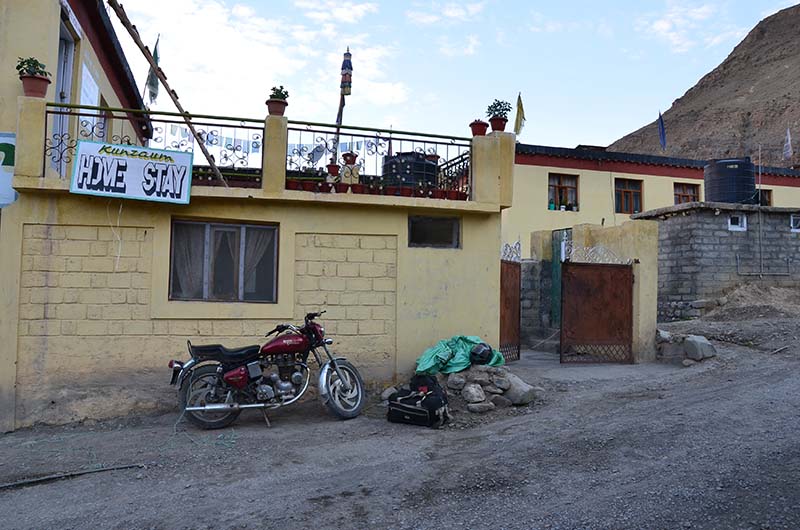 The wife of the guest house owner asked if we would like to have some tea before we leave. It was pretty early in the morning and I knew it will be a while before we find any restaurants open so we agreed.
She came back after a while with tea in 2 steel glasses and informed us that unfortunately there was no milk available in the house. And since it was so early, there weren't any shops open either so she made us black tea.
Tea White or black, I appreciated the gesture and thanked her for the hospitality. I think whoever had black tea in his life would agree with me that tea has to be really sweet if its black or it becomes difficult to drink it. The moment we had our first sip of that tea, I realized that there was almost no sugar in it and we were just kind of sipping down black boiled water with a sour taste.
Now both of us were standing there with tea in our hands that we didn't want to drink but also did not want to disappoint the lady. Somehow we managed to gulp it down, thanked the lady again for her hospitality, and started on our bike trip to Chandratal, with a sour taste in our mouths.
Losar to Kunzum Pass
Just before Losar, we found this entire herd of Yaks on the road. They made us jump off our bike and get to a safe point while they crossed.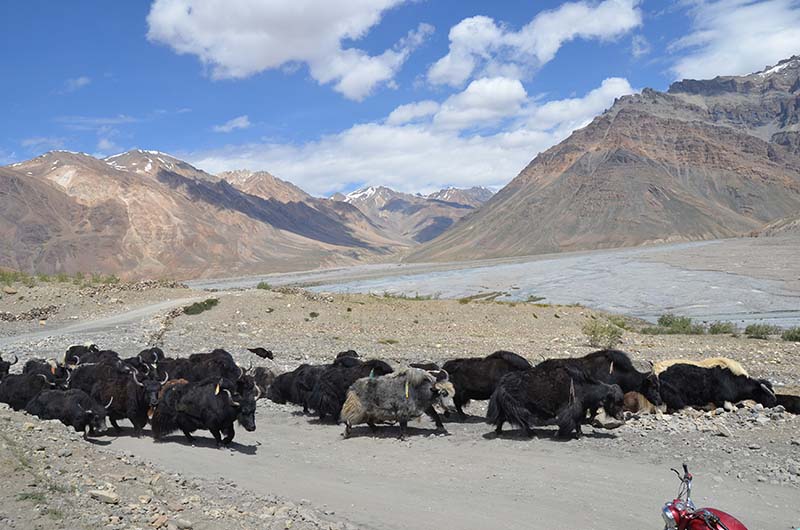 We reached Losar after a while to have some tea at a small restaurant. While we were there, we looked at their menu and decided to get something to eat as well since we haven't had any breakfast. Narender got this idea of trying something local. We looked through the list of items available and decided on trying Thukpa, something that neither of us has had before.
After a long wait of almost 45 minutes, we were both served a bowl of Thukpa each. Trust me, it is possibly one of the worst tasting food I ever had. I am not saying Thukpa in general but Thukpa in that particular place. Just out of courtesy, because we did not want to look bad in from of the restaurant owner, we somehow gulped the entire bowl down.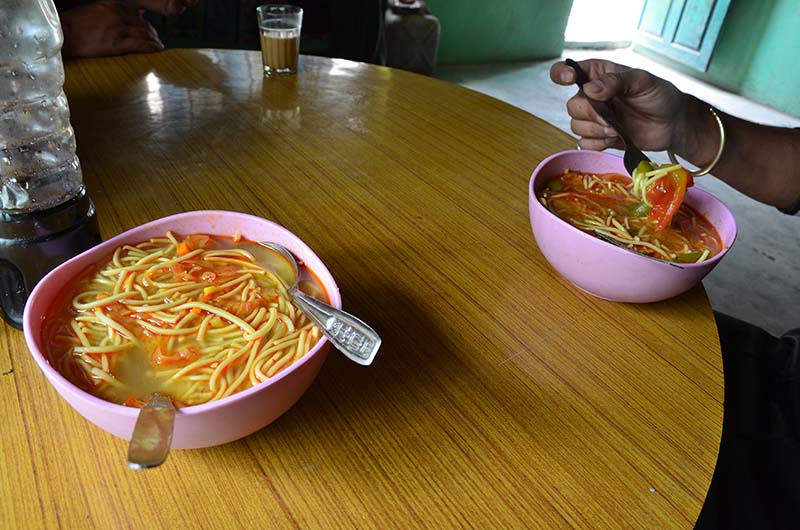 After spending almost an hour in Losar, we continued on the ascent towards Kunzum Pass. Unlike other high altitude passes in this region, Kunzum Pass has no road; just a dirt track leading up to the top of the hill. But the views are so magnificent that you won't mind the road at all.
A little after Kunzum top, we noticed the narrow road that goes towards Chandra Taal and turned on it.
Kunzum Pass to Chandratal
This is probably one of the scariest roads I had been on until then. The road is barely wide enough for one car and also has some scary water crossings on it. It really made me wonder what would happen if there were two cars coming on it from opposite directions.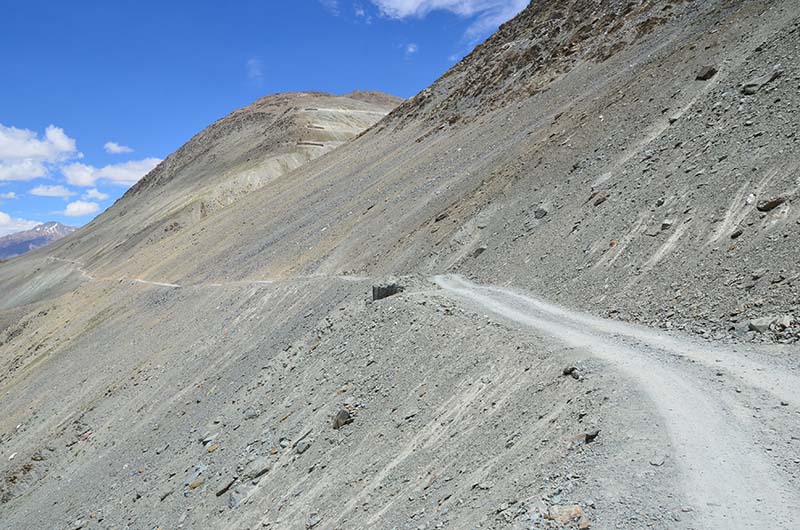 Somewhere on this road, we stopped to click a few pictures. A Mahindra Bolero, that was also going towards Chandratal came close to us and stopped as well. We had taken over this Bolero just a while ago and I thought he stopped to ask us for directions. To my surprise, a woman, in her late 30s or early 40s, peeked out of the window and asked,
"Ruk kyun gaye, chalna nahi hai?"
For a moment, I didn't know what to say but replied, "Haan bas chal rahe hain. Kuchh photos leni thi"
"Chalo phir"
"Haan chaliye" I said and looked at Narender who was equally surprised.
"Chal Bhai" I said to him.
And that is when I noticed that that Bolero was packed with women, all in their late 30s or early 40s. There were so many of them in there that I couldn't even count at one glance.
So now we started again towards Chandratal Lake with Bolero following us. We crossed a few campsites on the way but I wanted to continue till the end of the road before we decide on a place to stay. Finally, the road ended and we reached what looked like a parking area.
Chandratal
There were 3 campsites around the lake. The first one asked us for Rs. 2500 per person and this one was also the farthest. The 2nd one asked for 1800 per person. The last one, which was also the closest to the lake asked for Rs. 500 for one tent which we could both fit in easily. We decided to stay at the third one.
That Bolero also followed us to the same stop, gates opened, and one by one, 10 women stepped out of that car, and 1 driver. I don't even know how they all fit in there. Fortunately, they did not camp there, just visited the lake and left for Kaza. I am saying fortunately because as long as they were there, the peace of the place continued to remain disrupted. Man, they were loud.
After leaving our bags at the camp, it was time to go see the beautiful lake.
Bonfire at Chandratal Camp Site
We came back to the camp when it started to get dark, had dinner, and lit a bonfire with some other guys staying there.
While sitting and talking around the fire, we heard a loud weird howling sound. We all shushed and then heard it again. We all looked in the same direction that the sound came from. It was dark all around but all of us could clearly see 2 glowing eyes in the dark, staring at us from the bottom of a nearby hill.
Flashlights were immediately pointed in that direction, camera flashes went off but all that we saw was a pair of eyes which after a while slowly climbed up the hill and vanished. None of us could get a good enough look to determine what it actually was.
Scared and thrilled, at around 12 in the night, it was time for all of us to crawl back into our tents and call it a day.
Conclusion
I hope the travelogue and information above on planning a bike trip to Chandratal was of help. Please read Chandratal to Manali – The Adventures of Gramphu Batal Road to continue reading the next part of this travelogue.
If you have any questions, or need any other details, please feel free to ask in the comments section below, or at our Community Forum, and I will be glad to answer.