This post is in continuation with a previous one and part of my Leh Ladakh Travelogue. The post below talks about our 7th day of the journey; when we traveled from Pangong to Hanle and then to Tso Moriri before finally making it back to Leh. To read the previous parts of the travelogue, please click on the links below.
The journey so Far:
We completed this trip successfully in a 13-year-old Wagon R, as hard as it may sound to believe. In previous chapters, I explained how we got the car ready for the trip ahead and traveled from Dharamshala to Ladakh. There was just one time when we faced some problem on the way and except for that one instance, our entire journey was a smooth one.
We stayed at the Merak Village on Day 6. The room in the guest house at Merak was a small one and felt a little cramped for space with the 3 of us. Nevertheless, we had a nice comfortable night and a sound sleep.
Pangong Tso to Hanle
I got up early at around 6 in the morning. The owner of the guest house was already awake and I joined him for a cup of tea. It was quite windy & cloudy. The temperature must have been around 2-3 degrees at that time I think. The view from the guest house was awesome though. Pangong was just within a walking distance. I decided to brave the morning Chill and reach the lake.
Also Read: How to Plan a Trip to Leh Ladakh – A Complete Travel Guide
This is what I got in return. Have a look. Pictures came out a little dull for this day as it was cloudy with very little light and do not do justice to the actual beauty that I witnessed.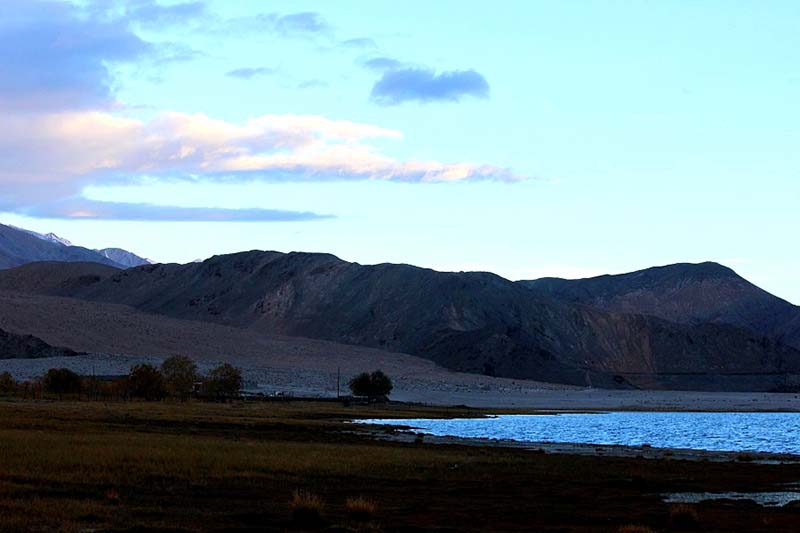 Another set of Three Musketeers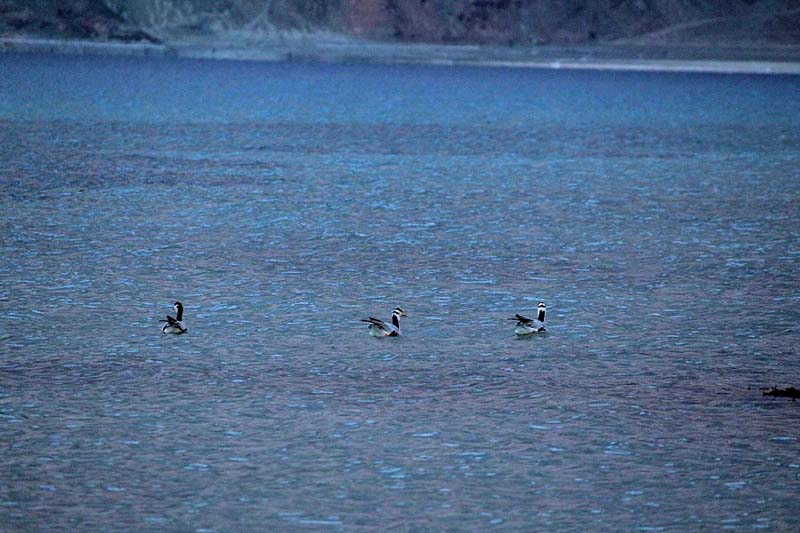 Sunit soon followed me behind and took this shot. Hope you can see me standing at the lake.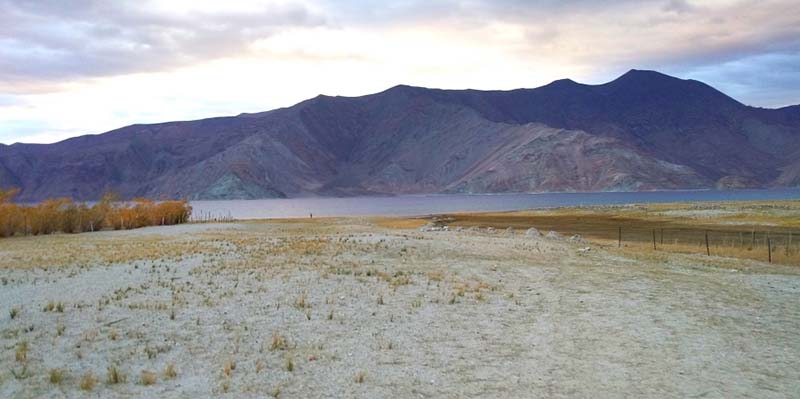 In the above shots, you cannot see many clouds and can also see the morning sun shining on the mountain tops.
Well, let us turn the camera around. On the extreme right is our guest house.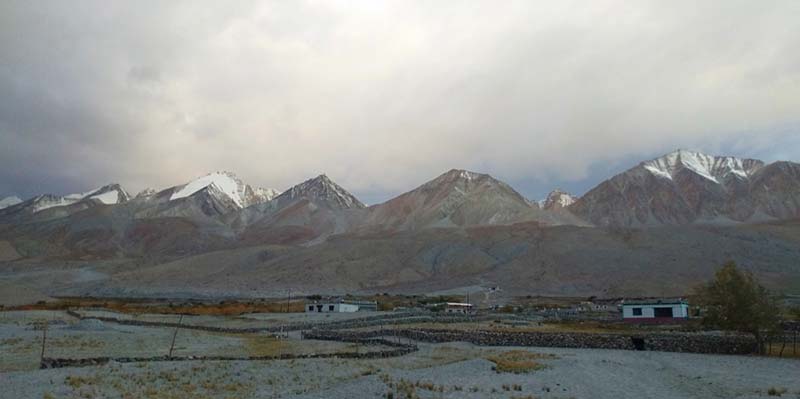 After spending about an hour at the lake we decided to return. Got a hot water bucket to get ourselves free from the morning chores.
Breakfast was served in the Ladakhi style kitchen. We had a delicious breakfast and were ready to leave around 9 AM for the next part of our journey, from Pangong to Hanle.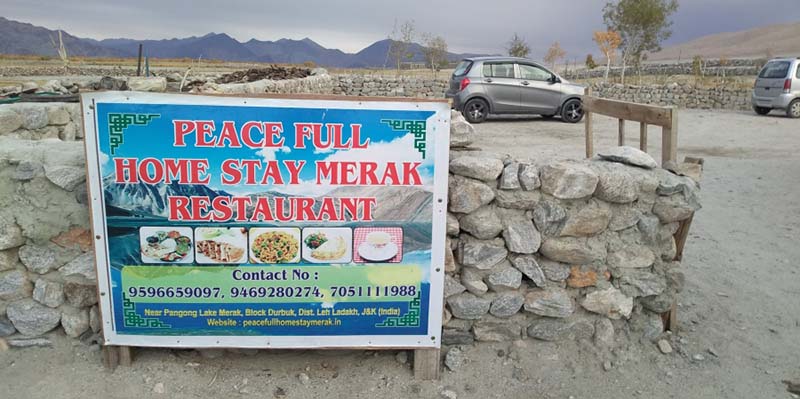 Plan for the Day
Our target for the day was Tso Moriri Lake which is around 185 kilometers from Hanle. We were under the assumption that it should be an easy ride and had a target of around 4 -5 PM to reach Karzok.
This will give you a rough idea of the road conditions from here on, which remained almost the same till we crossed Tsaga La.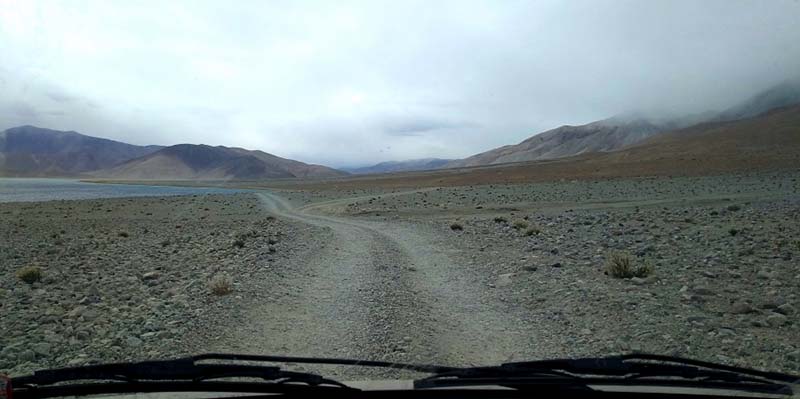 Merak to Chushul
A lot has been written and discussed on the road from Merak to Chushul. It's a total dirt track and sometimes you end up seeing multiple tracks ahead of you.
The guest house owner gave us a thumb rule. Drive along the lake for the next 10 kilometers. Thereafter you will see a small bridge to your left side. Do not cross that bridge as it goes to an Army settlement.
Keep to your right and follow the poles. At that point, I remembered reading in Vargis Khan's Blog in this post "It is advised to follow the electricity wires that connect these villages to ensure that you do not take a wrong turn somewhere and end up in trouble with the Indian Army."
The information was bang on true. Also, I would request everyone to download offline Google maps as they have 95% accuracy.
The weather started to get worse as it started snowing on the hills.
The poles we followed.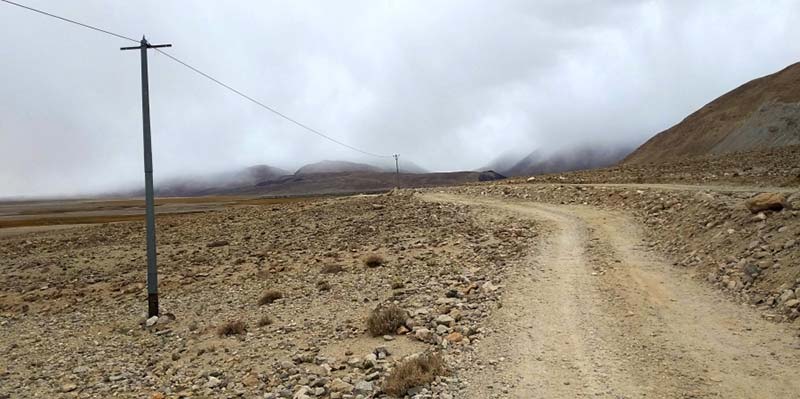 We followed the instructions given to us and drove with the lake with a couple of photo stops in between. Although the weather was gloomy, we still managed some close shots.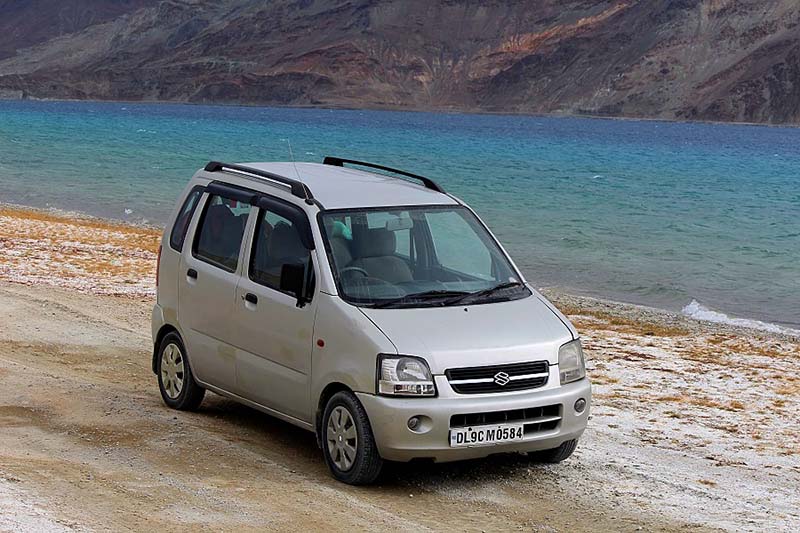 The Road we drove on.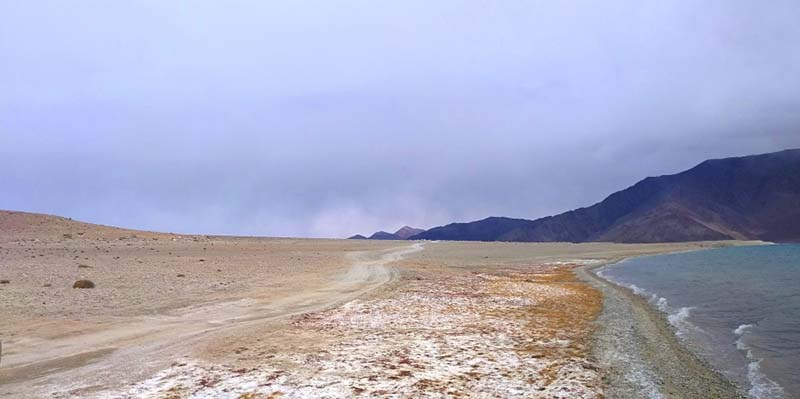 It was time to say Goodbye to Pangong and move right towards Chushul.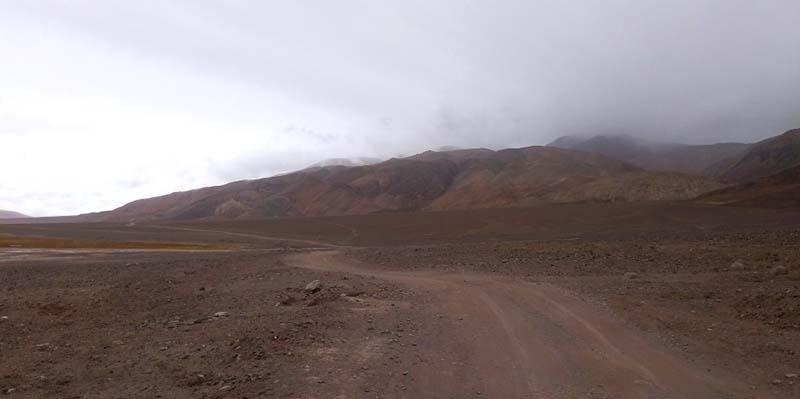 Surprisingly the sky did open a little bit when we reached Chushul but only for about 10 minutes. I was amazed at how quickly the weather changes here.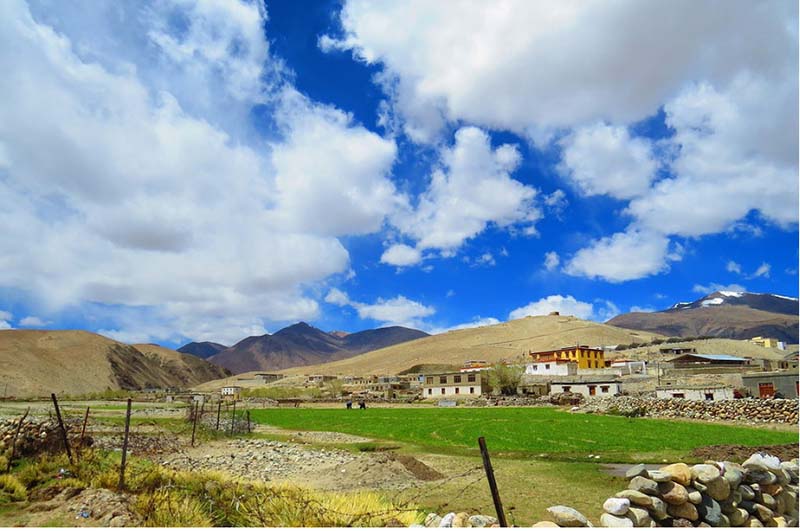 Chushul to Hanle
Chushul looked like a ghost town and could not find anyone to ask for directions as there were many tracks going through the village.
Finally, after some time we managed to find a couple of people. They directed us to a road. However, we did not find any Army check post on it as informed in most of the Blogs. I think the track we were directed to must have bypassed the check post.
Also Read: What Clothes should you pack for Ladakh Trip?
The road conditions remained the same and the weather got bad again as it started to rain.
The road we traveled on after crossing Chushul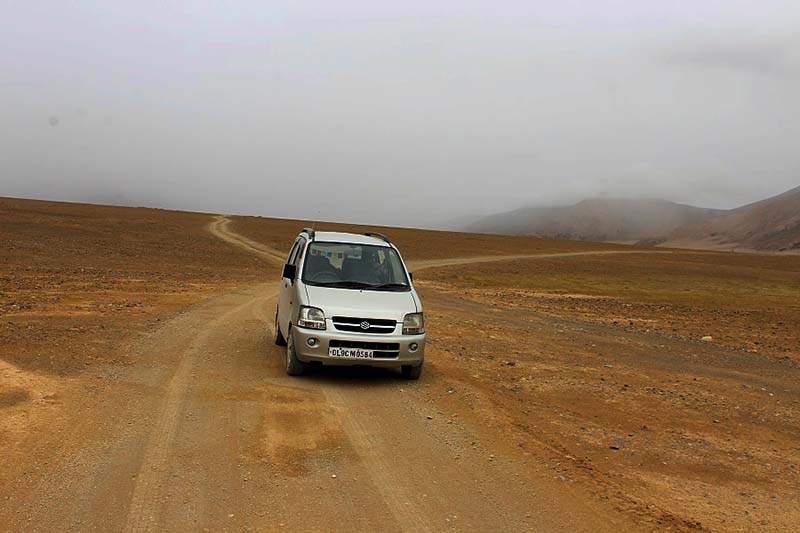 Rezang La
It took us another hour to reach Rezang La Memorial which was created in remembrance of the brave soldiers of 13 Battalion of Kumaon Regiment, deployed under the leadership of Major Shaitan Singh, during the 1962 Indo-China War. You can read more about this in Vargis Khan's article, The Battle of Rezang La.
The road from Rezang La till Tsaga La seemed like an endless journey traveling on loose gravel & stones.
I think the bad weather outside made it more difficult and monotonous for us. I have heard a lot from everyone about the scenic beauty of this drive but we were deprived of it due to clouds blocking the view.
We did not meet anyone traveling on this stretch as the conditions were not favorable to travel.
The date on this day was 22nd Sep. This was the same day when Leh – Manali road was closed due to bad weather and many tourists got stuck in Pang, Sarchu, and other places who were later airlifted to safety after 4-5 days. 22nd night also saw widespread rainfall in Himachal Pradesh resulting in landslides and the cloud burst in Manali where Volvo buses were swept away.
Also Read: When is the Best time to visit Ladakh?
We did meet some locals on the way. The very famous Kiangs.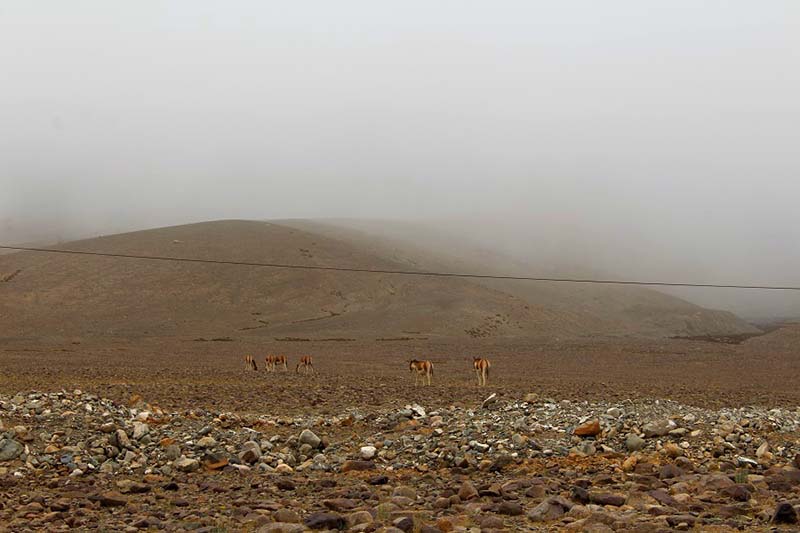 The so-called road was in a bad shape and for the first time, we witnessed an actual water crossing just before Tsaga La.
Tsaga La
Soon we approached the 14,500 ft pass Tsaga la with China on the left. You would find a lot of army outposts at your left on top of the mountains which are Indian Army check posts.
It had started to snow when we reached the pass, so we decided to descend to the other side of it. Just about 2 kilometers down the pass we saw a small tea shop run by a local in a tent.
It was time for the much-needed Tea Break. The time was around 12.30 PM.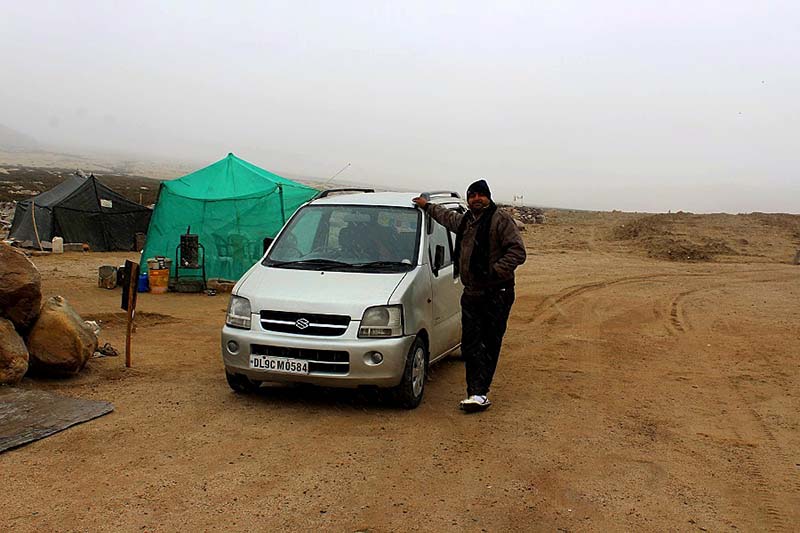 This guy seems to be enjoying his lunch in this weather. You can see the snowflakes still falling but the intensity was a little less.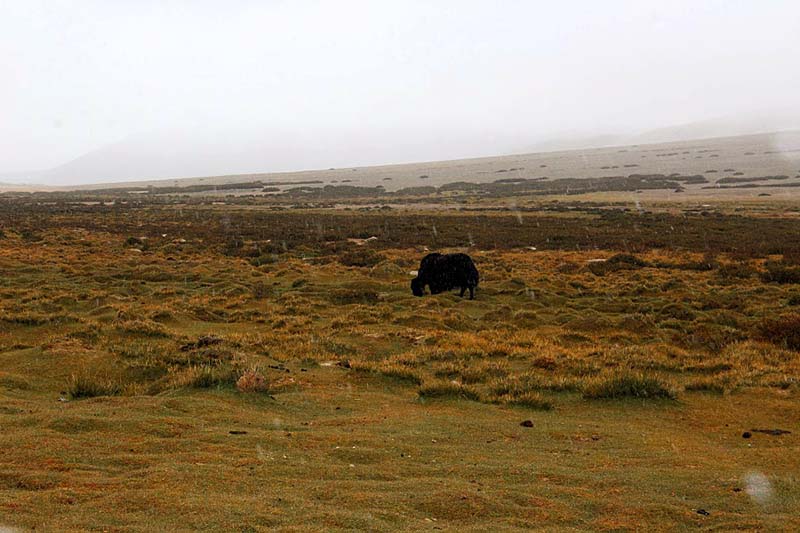 After Tsaga, you would start finding more greenery. You will now be approaching Loma bend where you will witness the mighty Indus River which is also the reason for all the greenery in this area.
Finally, we found a tarred road between Tsaga and Loma for the first time after Pangong.
Loma Bend
In about an hour we reached Loma Bend where the road to Hanley bifurcates. Loma is another place where permits were checked. It was a welcome surprise to see a lady officer heading the post there.
I had a word with her and inquired if we could go to Hanle. She said it was up to us to decide if we wanted to go as we had the permits. But looking at the overcast sky, I informed her that we will skip Hanle and will go to Tso Moriri instead. All she said " I think you have made a correct decision"
Also Read: How to Handle Acute Mountain Sickness in Ladakh?
Hanle to Tso Moriri
I kept Hanle on my wish list to do it next time and headed towards Nyoma.
After crossing Loma, we saw different colors of soil and red-colored mountains all around.  It was a magnificent view of that region near Nyoma. Had another stop in Nyoma for a lunch and continued our journey towards Mahe Bridge where we needed to turn Left for Tso Moriri.
This is the point where things went out of control. The ITBP and J&K police had barricaded the road going towards Tso Moriri. On inquiring, we learned that there were orders from the DC Leh and the Army not to let anyone venture towards Leh – Manali road as heavy snowfall has blocked the traffic, and weather predictions were not good for the coming night.
This came as a shocker to us as we had skipped Hanle for Tso Moriri. We tried to outsmart them stating that we had no intentions to go towards Debring and will come back this route after visiting Tso Moriri tomorrow. But they were in no mood to listen and showed us the way to Leh.
Tso Moriri to Leh
After arguing for some time, we realized that it was of no use. With heavy heart,  we kept driving straight and took the Leh – Chumathang Road.
We were informed that the road via Chumathang was in good condition. Well, what to say. 90% of the road from Mahe Bridge to Upshi was under construction and in a very bad state.
The only one shot we clicked on the way was of the hot water springs in Chumathang.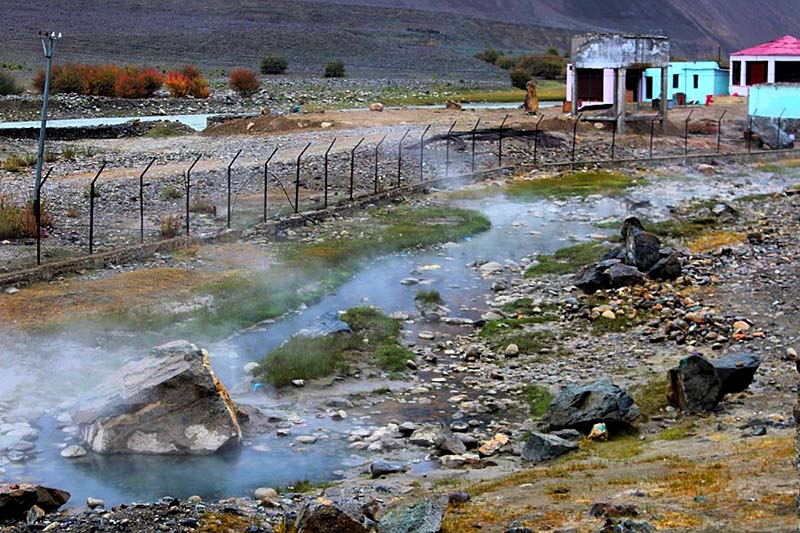 We started from Mahe Bridge at around 3.00 PM and reached Upshi around 8.00 PM, covering just around 120 kilometers. It was a back-breaking journey for all of us. The morale too was very low.
My Wagon R also suffered the first setback on this stretch. By the time we reached Upshi, the person on the driver's seat could easily judge that the wheel alignment was out of shape. Before this track, we had driven on bad roads for the last 2 days without any trouble.
After reaching Upshi we first made some phone calls back home to inform about our well-being. They all were really worried due to the news of bad weather.
After a cup of tea, it was time to figure out where to stay for the night; because the road from Upshi to Manali was also blocked by ITBP.
Also Read: Mobile Network in Ladakh and Data Connectivity
The Turn of Events
After some discussion, we decided to once again seek help from Mr. Karma and called him. He too was worried about us and informed us to reach Choglamsar, where his sister runs a guest house named Potala Palace. It was raining heavily and we started to drive towards Choglamsar. The 45 kilometers drive took us another one and a half hours.
By the time we reached the guest house, it was already 10.00 PM.
Thankfully Karma's Sister, the owner of the guest house was eagerly waiting for us. She gave us the room which had a geyser that was already switched on for us.
After refreshing, the dinner was served to us in no time as it was already late. As per the owner she had never seen such heavy rains in the month of Sep for the last 16 years.
It was time to sleep as we all were dead tired, both physically and mentally due to the unexpected turn of events. As we were to realize the next morning, it continued to rain all night long.
Pangong to Hanle Route
There are two ways that you can reach from Pangong Lake to Hanle but it will entirely depend on where you were staying. Take a look at this Road Map of the Entire Leh Ladakh Region to better understand what I am talking about here.
If you were staying at Spangmik, which is where most people stay and all the campsites are, then you can either reach Hanle by the metaled road via Harong and Erath or take the more scenic route via Man and Merak but on a dirt trail; as we did in the travelogue. By both the road, however, you will exit at Chushul and then will take the road via Tsaga to get to Hanle.
There is a third route as well that can be taken. By this route, after Chushul, you will take the road via Kaksang La and Horla to exit at Mahe and then reach Hanle via Loma. But this is the most difficult of all and really needs a high GC SUV with possibly a 4×4 drive.
Pangong Lake to Hanle Distance
If you take the Spangmik – Man- Merak – Chushul – Tsaga – Loma route; then the total Pangong to Hanle distance would be about 160 kilometers; doable in about 6 – 7 hours.
If you took the Spangmik – Tangtse – Harong – Chushul – Tsaga – Loma route, then the distance would increase to about 220 kilometers; but the travel time would come down to about 5-6 hours due to the good road.
If you took the road via Kaksang La, then add another 50 kilometers to both the distances I mentioned above.
Also Read: How to Plan a Trip to Hanle and What to See
Pangong to Hanle Itinerary
Pangong to Hanle is necessarily a one-day journey. An ideal itinerary is that you reach Hanle, stay here for the night and then continue to Tso Moriri the next day. From Tso Moriri, you can then either circle back to Leh via Chumathang; or exit on the Manali Leh route near Tso Kar and continue straight to Manali.
Hanle to Tso Moriri Route
There are two routes from Hanle to Tso Moriri. The first one is via Loma – Nyoma – Mahe, and Sumdo. This is the most common route and the one that tourists are allowed on.
From Hanle, you will travel 50 kilometers back to Loma and then take the road to Sumdo via Nyoma and Mahe. From Sumdo, you will then cross Namshang La to arrive at Karzok.
Hanle to Tso Moriri via Chumur
The second road from Hanle to Korzok (Tso Moriri) runs via the Chumur route. From Hanle, you will drive to Punguk and then take the road via Salsal La to reach Chumur. After Chumur, you will cross the Charchagan La pass and reach Karzok.
Please note that Chumur is where most Chinese incursions happen and it is right next to the border. Due to security reasons, tourists are not permitted to travel on this road. This is a complete dirt track in most places, suitable only for 4×4 vehicles.
Hanle to Tso Moriri Distance
By the conventional Nyoma – Mahe -Sumdo road, the distance between Hanle and Tso Moriri is about 150 kilometers. Via Chumur, this distance increases to about 180 kilometers.
Tso Moriri to Leh Route
There are two routes that you can take to travel back to Leh from Tso Moriri. The shorter one is via Chumathang and the longer one via Tso Kar.
Chumathang Route
Karzok (Tso Kar) – Namashang La – Sumdo – Mahe – Chumathang – Kiari – Upshi – Karu – Leh
Traveling this way, the total distance will be about 215 kilometers. The road between Karzok and Sumdo is bad, majorly a dirt trail. The entire stretch via Chumathang at our time of travel was under construction and in a very bad state.
Tso Kar Route
The second route that can be taken from Tso Moriri Lake to Leh is via Tso Kar, as mentioned below.
Karzok (Tso Kar) – Namashang La – Sumdo – Polo Kongka La – Tso Kar – Debring – Tanglang La – Rumtse – Upshi – Karu – Leh
By this route, the total distance will increase to about 235 kilometers but the travel time can easily be around 8 hours, due to bad roads.
Karzok to Sumdo will be bad, Sumdo to Polo Kongka La will be extremely bad. Polo Kongka La to Tso Kar and then to Leh will be a mix of good and bad. You will be crossing three high altitude passes traveling this way of which, Tanglang La will be the highest.
Tso Moriri to Leh Itinerary
Tso Moriri to Leh is a few hours journey unless you were planning to break at Tso Kar for the night. An ideal itinerary, as I also previously mentioned, would be to travel to Nubra from Leh.
Then you can continue to Pangong from Nubra via Shyok road, continue to Hanle and then arrive at Karzok. From Karzok then, you either can travel back to Leh or exit at Manali Highway near Tso Kar and travel back to Manali. This will be a total of 5-6 days of journey to complete the entire circuit.
Tso Moriri to Leh Distance
Distance between Tso Moriri to Leh will be between 200 to 235 kilometers; depending upon which route you chose to take. If you, however, traveled the other way around, that is to reach Karzok first and then cover Pangong on the way back to Leh; then the distance will increase to about 370 kilometers.
Conclusion
Please click on the link above to continue reading the next part of this travelogue. I hope the travelogue and the details on Pangong to Hanle and Tso Moriri were of help. If you have any questions, please feel free to ask in the comments section below or at our Community Forum, and I will be glad to answer.