This post is in continuation with a previous one and part of my Leh Ladakh Travelogue. We completed this trip successfully in a 13-year-old Wagon R. The post below talks about our 8th day of the journey, when we traveled from Leh to Kargil and Dras, after exploring Nubra Valley, Pangong Lake, and the Chushul route.
To read the previous parts of the travelogue, please click on the link below.
The journey so Far:
In previous chapters, I explained how we got the car ready for the trip ahead and traveled from Dharamshala to Leh. After spending a day in Leh arranging our permits and some local sightseeing, we then moved on to Nubra Valley and stayed at Hunder.
The next stop was Pangong Tso where we reached via the infamous Shyok Road. This is where the plans turned unexpectedly and we ended up reaching back to Leh on Day 7, completing the entire Hanle and Tso Moriri route on a single day.
On Day 8, we got up at around 7 am only to find that it had rained all night long. The Manali Leh Road was closed due to bad weather forcing us to change our plans.
Leh to Kargil Drass
So it was time for a round of discussion about what to do next; which we did over a cup of tea. We had an option to sit tight in Leh for a couple of days more and wait for the weather to clear. But we were not sure as to when the Leh Manali road would open for traffic. Another option was to call it a day and return via Srinagar.
A call from home sealed the deal. We were ordered to come back via Srinagar as Himachal Pradesh was witnessing high rainfall and as per reports, the Leh Manali road would take at least 3-4 days to reopen.
Leh to Srinagar via Kargil is easily over 400 kilometers in a day and we knew that we will have to break the journey in between. So we decided to call & take the help of our friend posted in Dras War Memorial again.
He booked a guest house exactly opposite the War Memorial. Although the guest house has closed for the season, he convinced the owner to reopen one room for us.
Also Read: How to Plan a Trip to Leh Ladakh – A Complete Travel Guide
With Dras as a target in mind for the day, we had our breakfast. In the meanwhile, the guest house owner helped us to find a mechanic to do the wheel alignment by the old traditional thread method.
Kargil to Leh via Lamayuru or Different route?
While coming to Leh a few days ago, we had traveled from Kargil to Leh via Lamayuru. Now since we were going to be traveling back on the same road, for a minute I thought if we could do something different and add a little spice to our Kargil to Leh road journey by exploring a lesser-explored area.
Now there are two routes between Kargil and Leh. One is via Mulbekh and Lamayuru whereas the second one is via the Batalik sector. I seriously considered taking the Batalik route for our return journey but then gave up for two reasons.
First was that the weather was turning really bad since yesterday and in conditions like this, it was better to be on a known road than an unknown one.
The second reason was that I wasn't sure if there was a permit required to go via Batalik and we did not really have time to arrange or enquire about one.
By the time we got ready to move by 9 AM, it had stopped raining but the sky was highly overcast. We thanked the owner for her hospitality and started the long journey back home. The first part of the journey was the drive from Leh to Kargil.
Hotel Potala, Choglamsar 097965 83119
The refueling was done with the leftover petrol we had filled extra in Diskit. The journey went smoothly until the time we reached Lamayuru, thanks to the smooth condition of Leh to Kargil Road.
As it was quite cold we decided to stop for a hot cup of tea and opted for the same guest house we had stayed at when going towards Leh a few days ago.
Lamayuru to Kargil
The owner was surprised to see us again as he knew we wanted to go back via Manali. On hearing the turn of events, he agreed we took the right decision.
Also Read: What Clothes to Pack for Ladakh Trip?
The route from Leh to Kargil is one of the most scenic ones and I wanted to spend some time clicking pictures but the weather did not allow us to do so. As soon as we finished our tea, he looked outside and said we should hurry if we want to leave.
We also were in no mood to stop for long, but still wondered why he wanted us to leave in a hurry. We thought that maybe he had to go somewhere. But we were wrong.
We started again and got the reply to our answer in the next 20 minutes about why our friend in Lamayuru was urging us to leave.
It had already started snowing on the high hills and we still had to cross the Fatula & Namik La passes.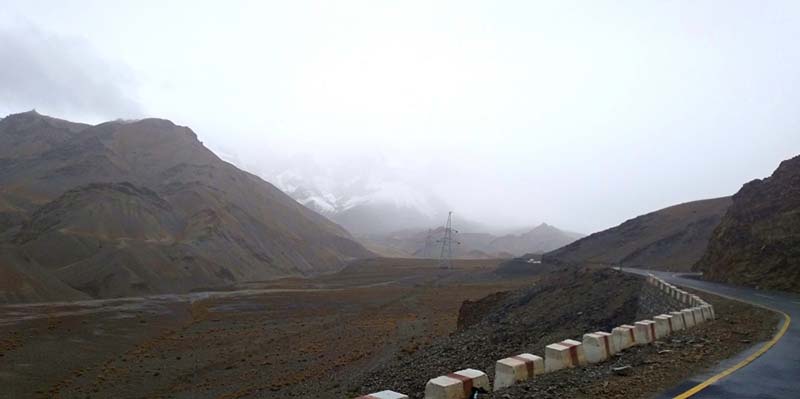 Fotu La
We were just halfway on the ascent of Fotu La when it started to snow.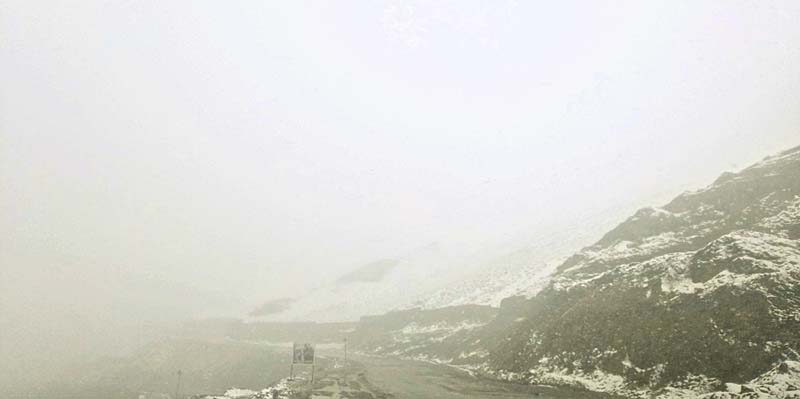 But as it was fresh snow it did not pose any problem and we reached Fotu La pass easily; this time in broad daylight and in the middle of a snowfall.
The intensity of snow increased as we made our descent towards the other side of the pass.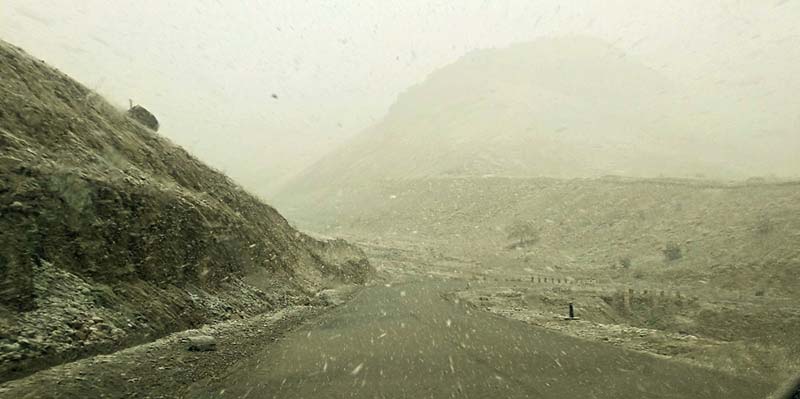 We still had to cross the second pass of the day. In the below picture Sunit is clicking a selfie with me at the steering wheel. You might wonder what Rakesh Ji is up to at the back. Well, the snow started accumulating on the road he decided to lower the Tyre pressure from 35 psi to about 25 psi to get more traction on the road.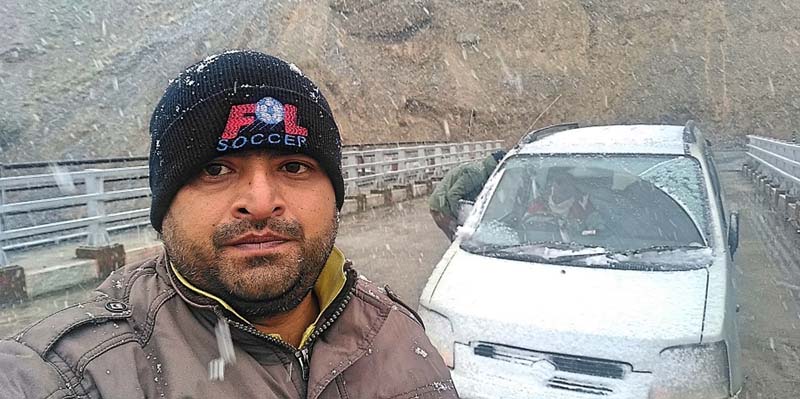 Namika La
Soon we started to scale the second pass of the day, Namika La.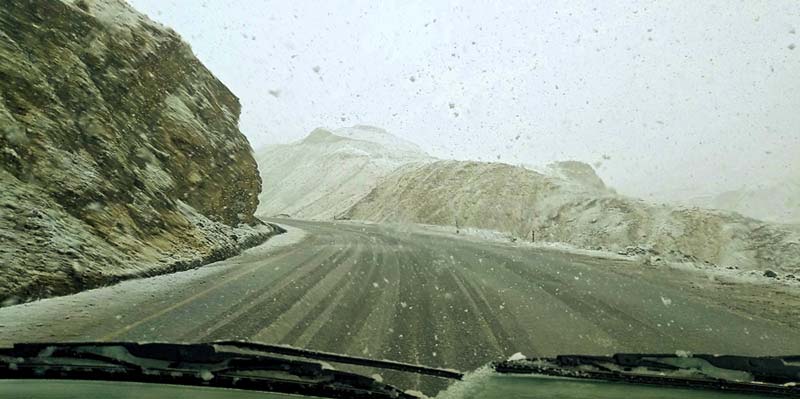 The further up we went the layer of snow on the road increased making it difficult to drive on it.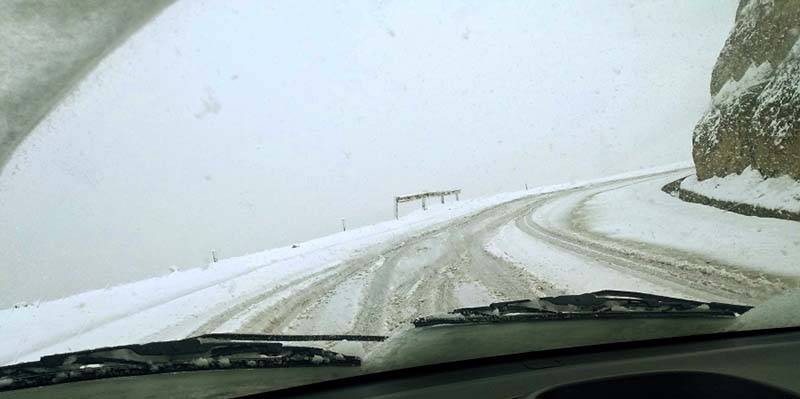 About 2 kilometers before the pass the intensity of snowfall increased; making it almost impossible to drive on the incline with sharp turns.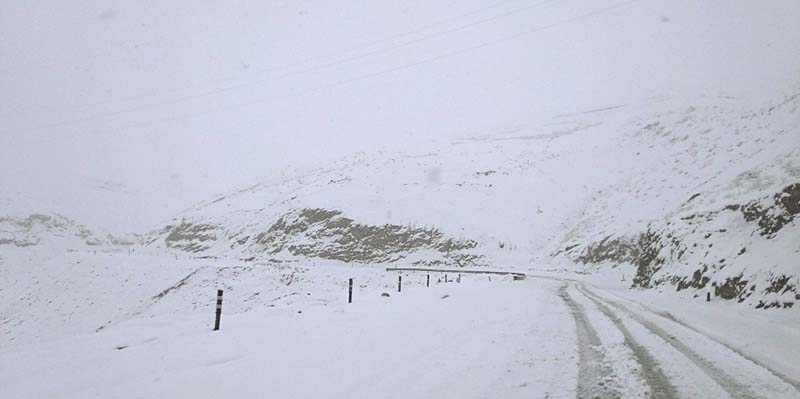 Below is the last picture we could manage. Just after this bend, there were almost 10 -12 vehicles stuck, struggling to move ahead. In an attempt to do so they were sliding downwards towards the roadsides. Some were trying to put on snow chains.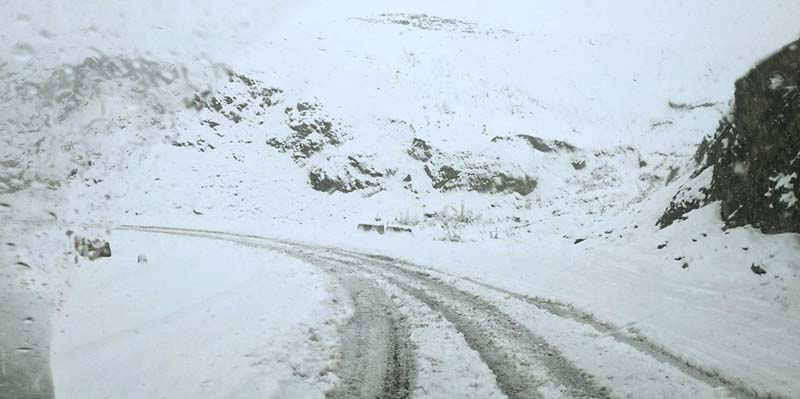 Well, my Cutie Pie, the Wagon R, was no exception and she also gave up on the middle of the road. It looked to me as if it was impossible to cross as there were no tire marks ahead as everyone was stuck in the blizzard.
Well, Rakesh Ji, being in the transport line for more than 15 years and driven in the snow at many places had other ideas in mind. All he did was to take out a pin and reduced the Tyre pressure of all the tires further to approximately 15 psi. He took control of the steering wheel and asked us to push the car.
To my surprise, just a push and the Wagon R starting moving slowly up the road. Rakesh Ji ordered us both to run fast and sit in the moving car, both of us on the front seat to put pressure on the front tires. In the next 1.5 kilometers to the top, both Sunit and I had to get down push and sit again in the moving car about a dozen times, at every turn.
Also Read: Leh Ladakh Driving Tips & Tricks
Namika La to Kargil
But all this hard work paid off and we finally reached Namika La. But the intense snowfall made it impossible for us to get down and we hurriedly moved towards the other side.
On the other side, while descending, we saw many vehicles struggling to climb up. They all were pretty surprised to see us coming down. They asked if the road is OK on the other side of the pass. All we did was give thumbs up. I think nobody actually guessed the reason why we could make it to the top.
We stopped at the next tire shop to get the air refilled and were on our way to Dras. We had a feeling like we had won a battle. Well, a battle it was, almost.
Kargil to Drass
Our entire journey from Leh to Kargil by road took us almost 7 hours, thanks to the bad weather. By the time we reached Kargil the weather had opened up a little bit.
We stopped for a lunch break and continued on our way to Dras where we managed to reach by 6 pm. The room arranged was a decent one with hot water available. We had a couple of complimentary drinks of Army Rum, courtesy of our friend posted there. The dinner was delivered from a nearby restaurant.
Also Read: Is Ladakh Safe for Tourists?
Our Leh to Kargil drive was an adventurous one and the way the weather was trending, it seemed like we were in for a bit more. We made another round of calls back home to update them regarding our adventure today. Finally, it was time to say Good Night.
Mentioned below are some other details on how to go from Leh to Kargil and Dras that can be of help to everyone.
Bus service from Leh to Kargil
There are actually no dedicated buses from Leh to Kargil. When I say this, what I mean is that there are no buses that travel from Leh to Kargil and then back.
There is a daily bus that travels from Leh to Srinagar that passes through Kargil. This is the one that you will have to board. There was actually another bus from Leh to Kargil that traveled further to Padum in Zanskar Valley.
This, however, was a weekly Bus and was not available this year so I wouldn't recommend relying on it.
Leh to Kargil Bus Fare: It will cost you Rs. 604 per person.
Leh to Kargil Bus Timing: The Bus starts from Leh at 2 PM and arrives at Kargil between 7 to 8 PM.
Distance between Leh to Kargil
The total distance between Leh to Kargil by road is 220 kilometers via Lamayuru and Mulbekh. If you, however, took the Batalik route, the distance will then increase to about 265 kilometers.
Same way, the distance between Srinagar to Leh via Kargil is 420 kilometers. If you take the Batalik route, then the distance will be about 465 kilometers.
Distance between Kargil to Drass
Kargil and Dras are at a distance of 65 kilometers from each other.
Leh to Kargil Travel Time
The journey from Leh to Kargil will take you about 6 hours depending on your breaks and speed. If you went via Batalik, then the travel time will increase to about 8 hours.
Leh to Kargil Road Map
Please take a look at Route Map for Leh, Lamayuru, and Kargil Route to review and download a comprehensive map of not just the Srinagar Leh route but of the entire Ladakh region. This also includes the Leh to Kargil via the Batalik route.
Leh to Kargil Road Condition
The road from Leh to Kargil always remains smooth. There are a few bad patches in between but nothing too worrisome. Overall, it is a very good stretch of road.
Srinagar to Leh via Kargil Taxi Fare
There are two types of taxis available on this route. The first one is a private taxi and the second one a shared cab. If you rent a private cab, then the total fare would come out to be Rs. 16,200. A shared taxi, on the other hand, will cost you about Rs. 2,500 per person.
Also Read: How to Obtain Inner Line Permit for Ladakh
Leh to Kargil Taxi Fare
A private taxi from Leh to Kargil will cost you Rs. 9000 for drop and Rs. 12,000 for return journey via Lamayuru. If you, however, went via the Batalik route then the charges will be Rs. 12,600 for drop and Rs. 16,400 for a return journey.
Leh to Kargil Shared Taxi
A shared taxi to Kargil will cost about Rs. 800 – 1,000 per person.
Leh to Kargil war memorial Distance
Kargil war memorial is actually located in Dras and not in Kargil. People get confused by the name and assume that it is named as Kargil War Memorial because it is located in Kargil.
The fact is that it is in Dras and is named so after the "Kargil War". It is actually also known as Dras War Memorial. If you want to travel from Leh to Kargil war memorial, you will actually travel all the way to Dras, a total of 275 kilometers in about 8-9 hours.
Kargil to Leh Car Rental
There are no car rentals available either in Kargil, Leh, or Srinagar. If you want to rent a taxi, it will come with the driver. You can rent a car and hope to drive it around on your own.
Leh to Kargil in One Day
The entire journey from Leh to Kargil can be easily completed in a day. In fact, a friend of mine started from Leh by the first light of the day, at around 6 AM. He traveled all the way to Kargil while places the tourist places on the way and made it back to Leh by around 7 PM.
Leh to Kargil Itinerary
There is really no Itinerary required here as such. The drive is pretty much a straightforward one and thanks to the good roads, it gives you sufficient time for sightseeing.
The entire route is a very scenic one but the highlights are Indus-Zanskar Confluence, Magnetic Hill, Gurudwara Pathar Sahib, the Hangro Loops, Fotu La, Namika La, Mulbekh Maitreya, and Lunar Landscape.
Also Read: Best Itinerary for Leh Ladakh
Leh to Kargil Permit
There is no permit required for traveling from Leh to Kargil. The regular Inner Line Permit is required for sightseeing in Ladakh; to visit places like Pangong Tso or Nubra Valley. But you do not ILP for traveling anywhere on Srinagar Leh Highway.
Leh airport to Kargil Distance
Leh is a small town and the airport is not too far away. It is right on the edge of Leh town. The total distance from Leh airport to Kargil is about 215 kilometers.
Kargil Drass Map
Please refer to the same map that I provided the link above for a map of Kargil Drass Road as well.
Leh to Kargil sightseeing
The topic of tourist attractions on the Kargil Leh route has been covered in more detail in another article that I would recommend you to take a look at. Please read Leh to Kargil Places to Visit for a complete list.
Leh to Kargil Bike Trip
If you reached Leh by flight, then the best way for sightseeing on this route is by traveling from Leh to Kargil by Bike. Motorcycles and Scooters like Activa are easily available on rent in Leh.
The road conditions too on this stretch are great so you can rent a bike and cruise around happily while visiting all the places en route.
Do it in the first couple of days of landing in Leh and this will also help you to acclimatize better before heading towards other high altitude places like Khardung La and Pangong Tso.
Conclusion
I hope the travelogue and information above on how to travel from Leh to Kargil was of help. Please click on the link above to continue reading the next part of this travelogue. If you have any questions, please feel free to ask in the comments section below or at our Community Forum, and I will be glad to answer.