Not too long ago, Shyok road was probably the worst stretch of road in all of Ladakh. It was one stretch that was actually considered to be dangerous to travel on. Even the local drivers used to avoid traveling from Nubra Valley to Pangong Lake via Shyok because of the extremely bad condition that it was in.
But still, a lot of people wanted to travel from Nubra Valley to Pangong Lake directly. This way, they would not have to go back to Leh and it would save one day in the itinerary. For a few years, this road remained in a terrible state and only the adventurous kind dared to venture in its directions.
Much however has now changed, all thanks to the increase in tourism in Ladakh. What once was a badly broken dirt trail full of stones is now a super smooth stretch of tarmac. So if you were planning to travel from Nubra Valley to Pangong Tso directly (or vice versa) but weren't sure how good the road was, maybe the pictures below can help you decide.
For other details on visiting Ladakh including the best time to reach, how to travel, where to stay, what to see, things to do, itinerary planning, and safety tips, please take a look at How to Plan a Trip to Ladakh – A Complete Travel Guide.
Nubra Valley to Pangong Lake via Shyok Road
Depending on where you stayed in Nubra Valley, in order to take the Shyok road, you will first have to drive back all the way to Khalsar Village.
The road will bifurcate near Khalsar. You need to take the road towards Village Agham, leaving the upper route going towards Khardung La.
At some spots, the road is still bad and you will find boulders on the road actually. You may even have to step out of the car to clear the road ahead. Such stretches however are only a few and very short ones.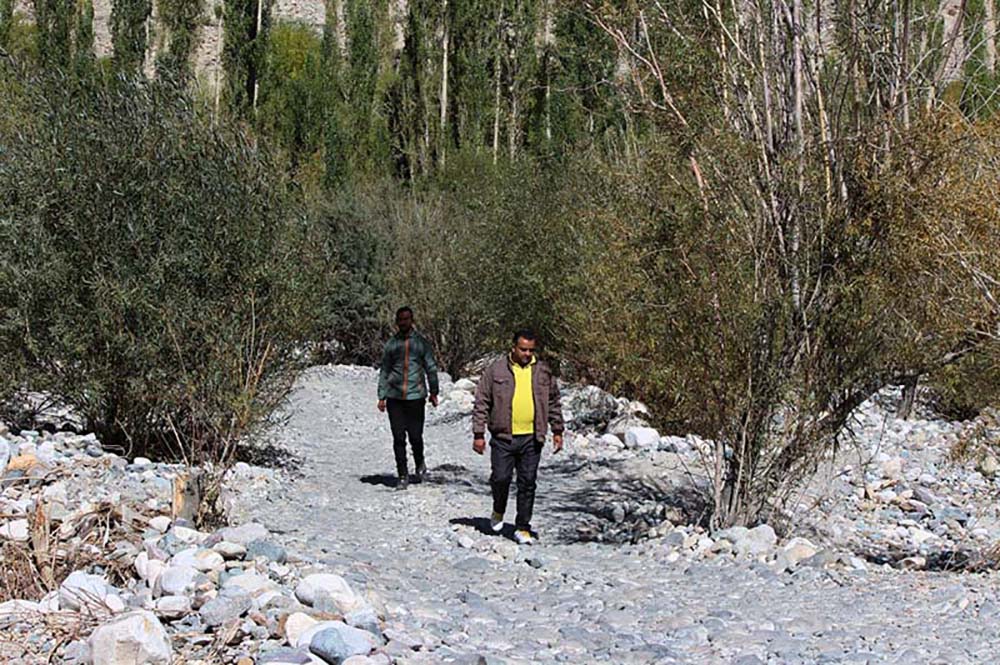 Shyok river will accompany you for the most part of your journey.
Once you reach Agham village, you will be at a bifurcation where the road left would take you to Shyok village; and the one towards the right is going towards Wari La. The road towards the left is the one you need to take.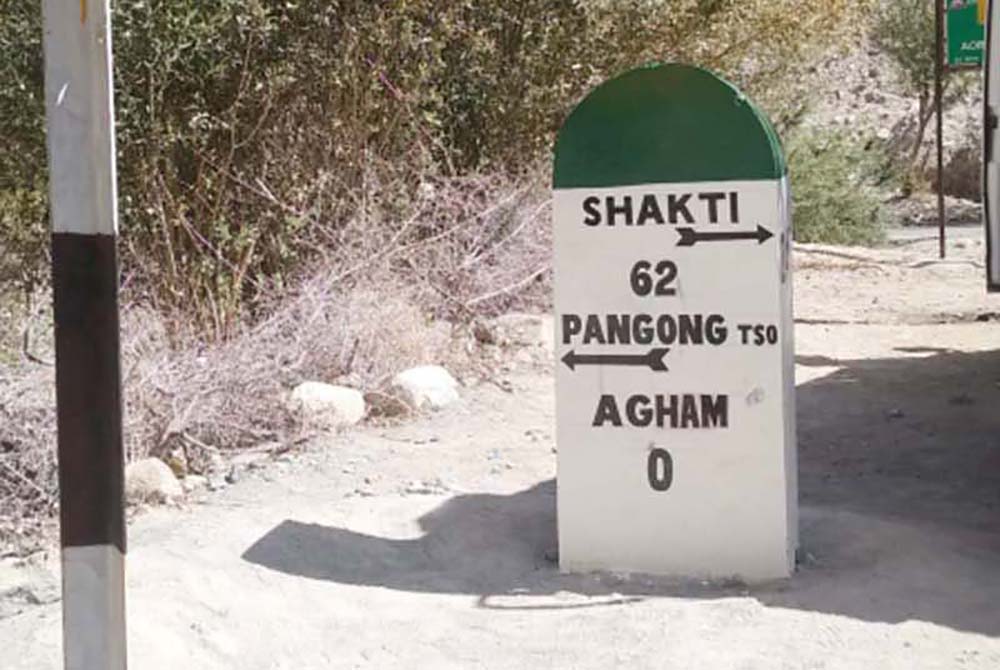 After this, the road will remain smooth all the way and you will arrive at Durbuk village.
After Durbuk, you will exit on the Leh Pangong road. Continue driving to Tangtse and from there, it is a straight run to Pangong Lake.
Nubra Valley to Pangong Lake via Shyok Distance
The total distance on this road between Khalsar to Pangong Tso is approximately 140 km. The total travel time is about 6 hours. This is about 80 to 90 km and 4-5 hours less than the Wari La route.
Best Vehicle
Earlier, this road was doable only in a 4×4 vehicle with high ground clearance. But now, since the road is smooth all the way, even a WagonR completed the journey with no problem at all.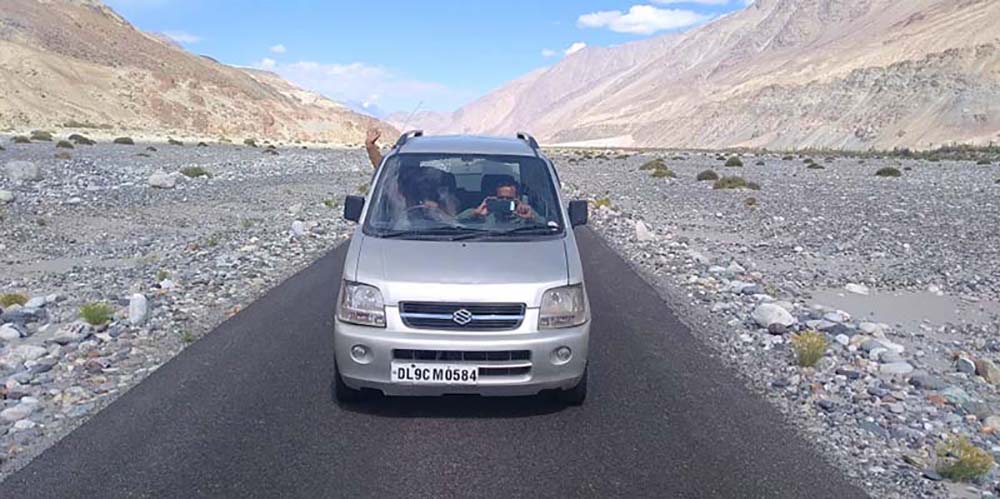 Nubra Valley to Pangong Lake Bus
There are no direct buses available from Nubra Valley to Pangong Lake. In fact, there is no public transport available on the Shyok route at all, not even shared cabs.
So if you were traveling by bus and shared cabs, the only thing you can do is to look for a shared cab from Diskit. If you were lucky, you may find one. If not, you can also try to hitchhike with other tourists heading to Pangong. In peak tourist season, you will find a lot of people who will be willing to drop you at the lake.
If nothing worked, you have no other choice but to return to Leh and go to Pangong the next day.
Conclusion
Should you take this road? Yes, definitely. It will save you a day and the hassle of going back to Leh and then to Pangong the next day. You will also get to see some new areas and explore more.
I hope the information on Nubra Valley to Pangong Lake via Shyok road and the pictures were of help. If you have any questions, please feel free to ask in the comments section below or at our Community Forum, and I will be happy to answer.