This post is in continuation with a previous one and part of my Leh Ladakh Travelogue. The post below talks about our 6th day of the journey; when we traveled from Hunder to Pangong Tso, the beautiful lake that has, over the years, become the very symbol of Ladakh. To read the previous parts of the travelogue, please click on the links below.
The journey so Far:
It may sound a little hard to believe but we completed this trip in a 13-year-old Wagon R. In the previous posts, I explained how we got the car ready for the trip ahead and traveled from Dharamshala to Leh. After staying for a day in Leh and getting our permits ready, we then traveled to Nubra Valley and stayed in the small village of Hunder.
We got up early around 7 in the morning only to find that couple of other guests traveling towards Pangong had already left. On discussion with the guest house owner and some other guests, we got to know that the distance between Hunder to Pangong is only about 160 kilometers via the Agham Shyok route and is easily doable in 5 – 6 hours.
Mostly, those people start early who have to travel back to Leh after visiting Pangong. This information came as a relief to us and we finally decided to leave around 9.30 AM after breakfast.
Hunder to Pangong Tso
As per our calculations, we would reach the lake latest by 3.30 pm. But this was a big miscalculation as our destination for the day was Merak, which is another 35 kilometers away and is a complete dirt track that does take some time to cross. Let us see how the journey progresses.
Also Read: How to Plan a Trip to Leh Ladakh – A Complete Travel Guide
Recap of the sand dunes on our way back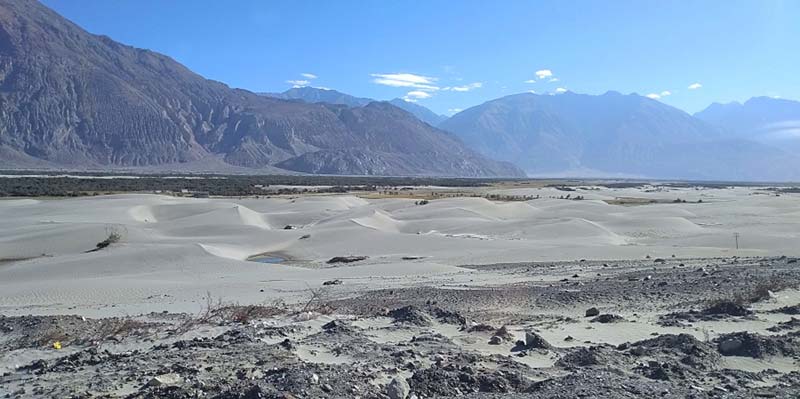 Looks like we need to show our permits again. Took a lot of effort to get this Sir off the road.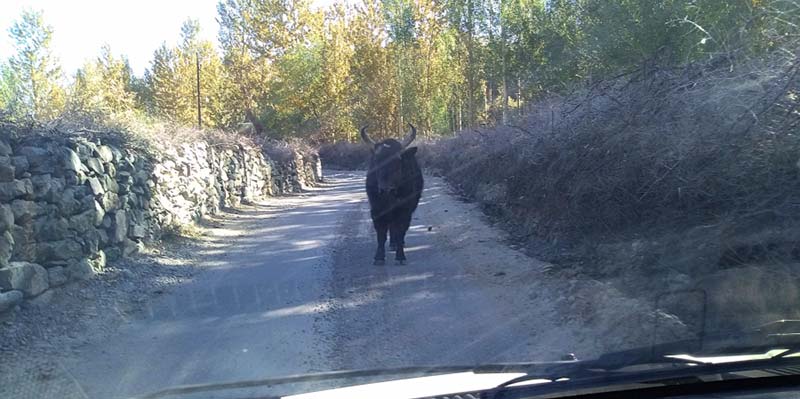 Shyok River stayed with us for most of the journey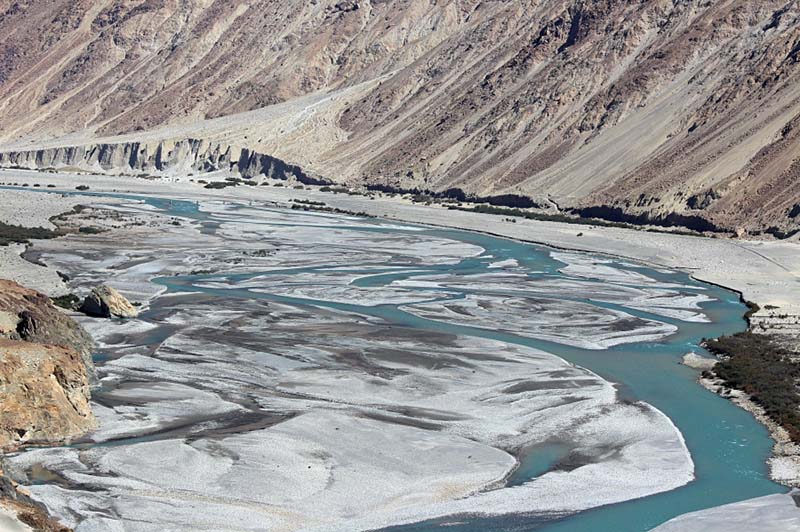 Time for some road inspection to manage smooth Clearance for Cutie Pie (my Wagon R).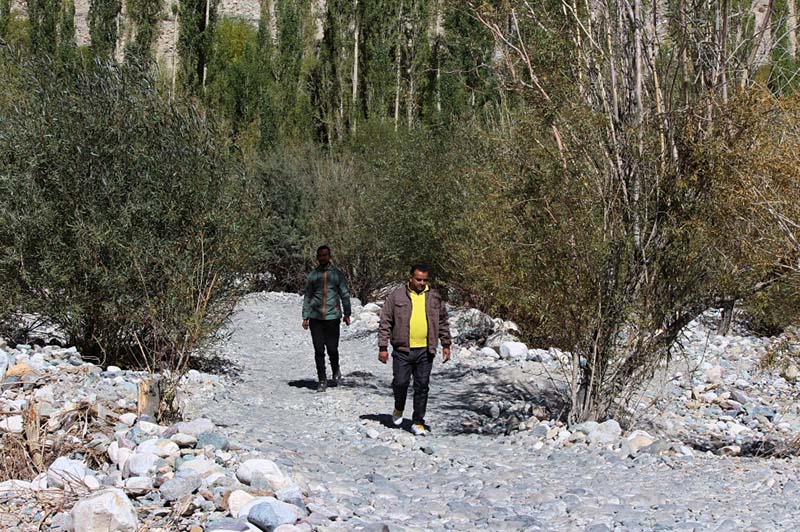 The Road conditions after this were mostly very good with some small bad patches in between. Have a look.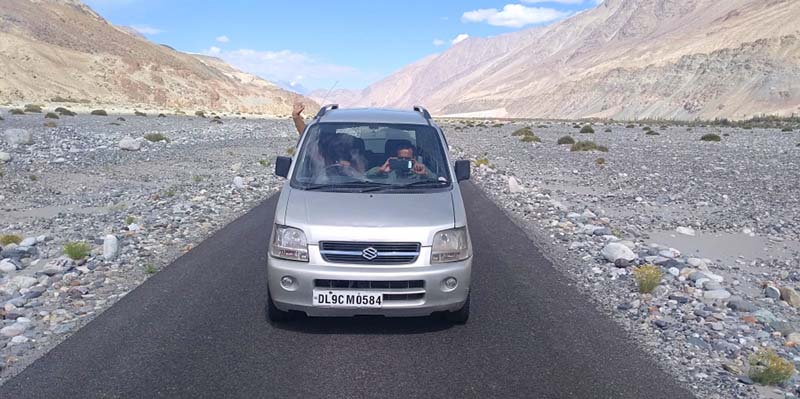 The journey continued with the vistas of the Agham Shyok Road. One of the most scenic drives we had.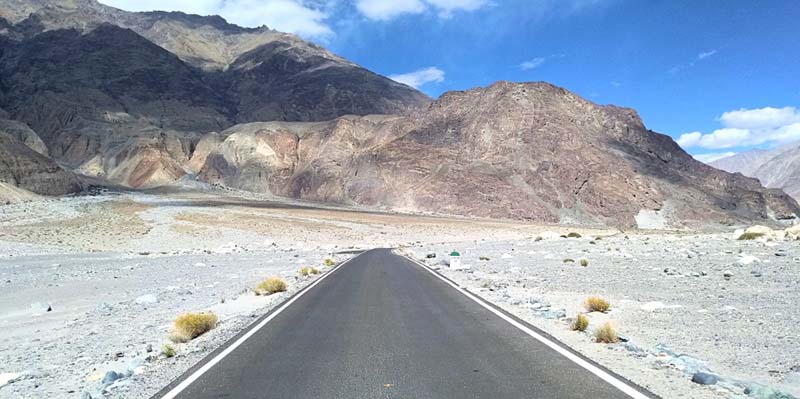 Diversion point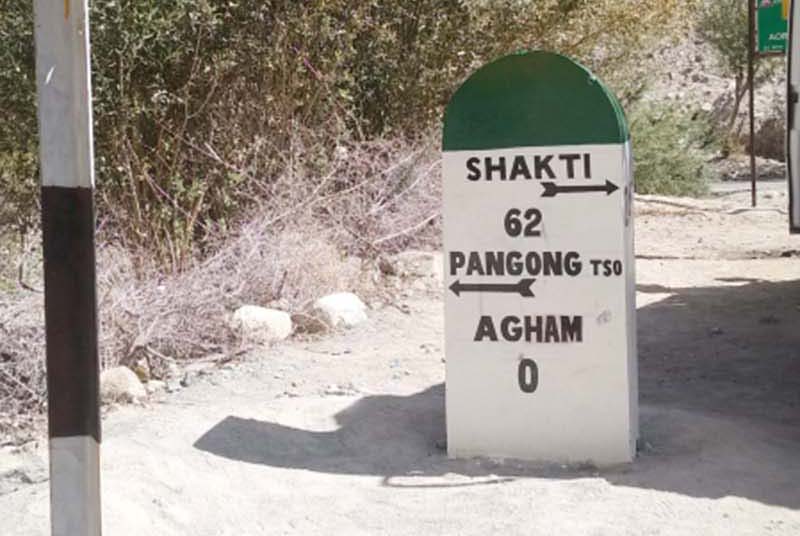 Agham Shyok Road
It is really difficult to choose which pictures to share when you have close to 5000 stored in your pen drive.
Below is the next picture before we finally reached the Pangong Tso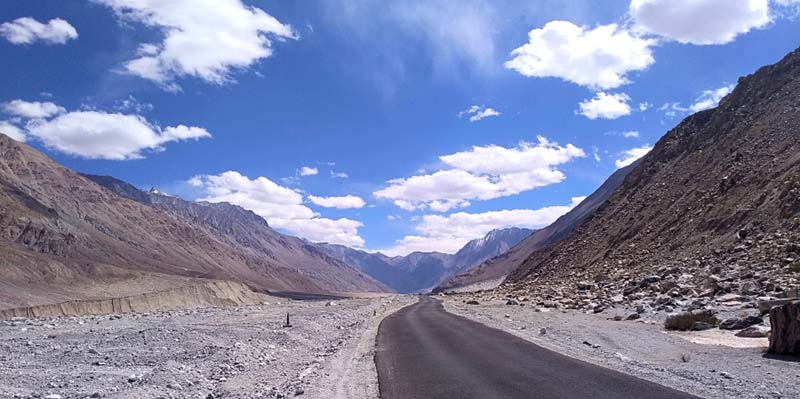 This looks like one of the water crossings when the glaciers are melting. Thankfully it was completely dry now.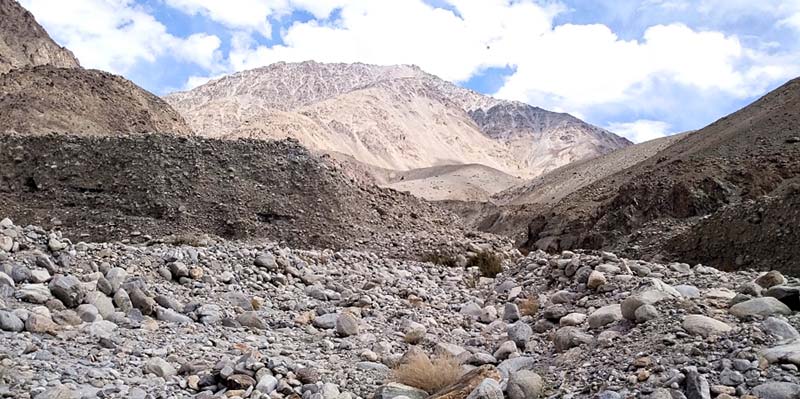 Last view of the Shyok River. Looks like some Army settlement in there.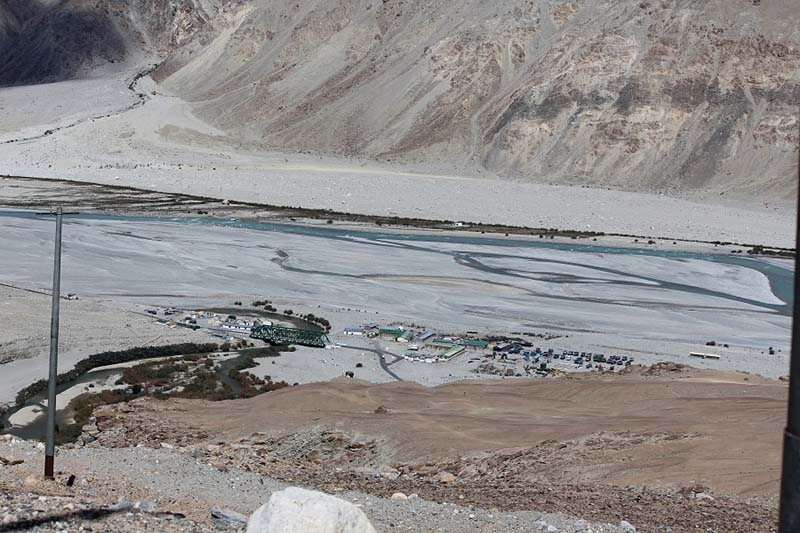 I loved the rock formations and colors in the Ladakh region.
Drive in a Valley and a small breather for the little one.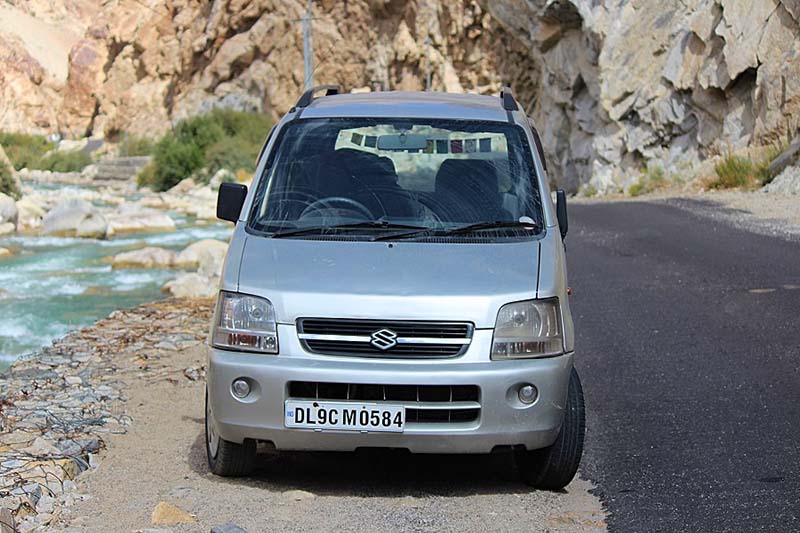 Next pitstop, Durbuk, where the road from Leh to Pangong via Chang La meets.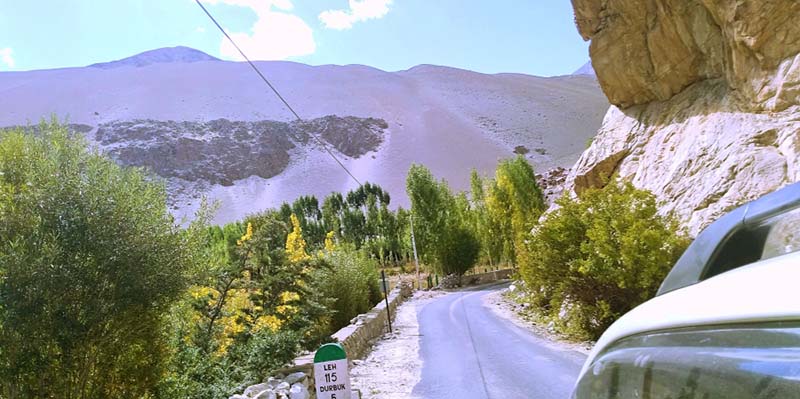 Stopped in Durbuk for a Maggie lunch and some Tea. Chang La is somewhere up in the mountains in the background.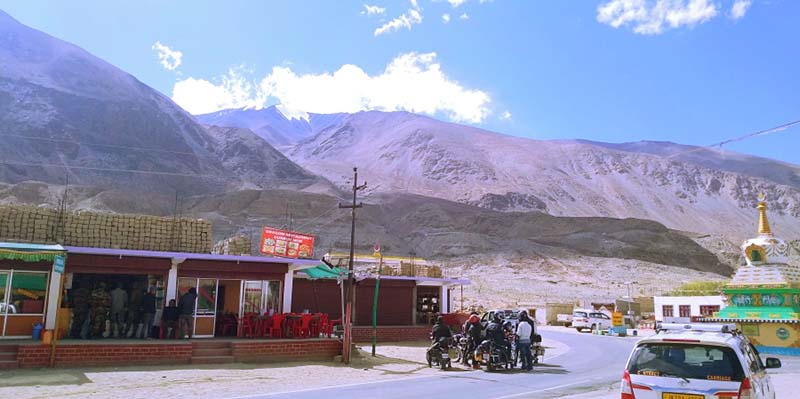 On the way to Pangong Lake. Finally the first view of the lake.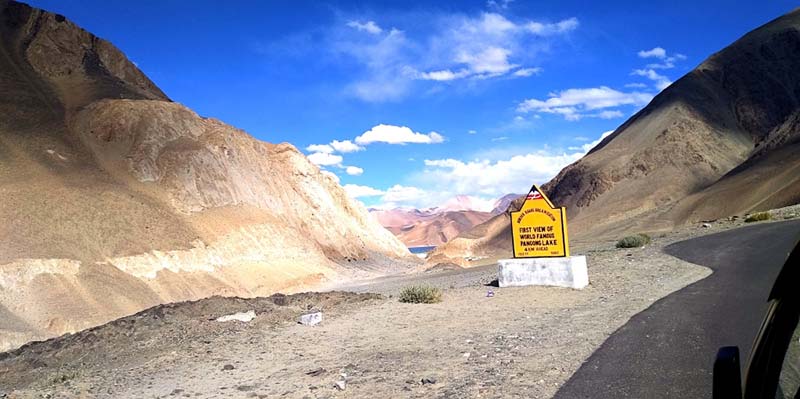 Pangong Tso
Finally, the time arrived we all had been dreaming of for the last year. It was one of the best views I had seen in my life.
You get the first small glimpse of Pangong about 4 kilometers before you actually reach it. We reached this spot around 3 pm, and the sky was scattered with white clouds.
We were finally about to witness this "eighth" wonder, something that we had meticulously planned.
Pangong is a brackish water lake, and a large part of it is under Chinese territory. It is surrounded by barren mountains, but the beauty of the lake lies in the play of light.
You can literally see the waters turn from light blue to emerald green to purplish to azure in a matter of hours and even the mountains go from brown to red to grey in the various shades of light. The off-season is the best time to visit (like we did), with virtually no crowds, no litter, and lots of peace and tranquility.
Pangong at its best.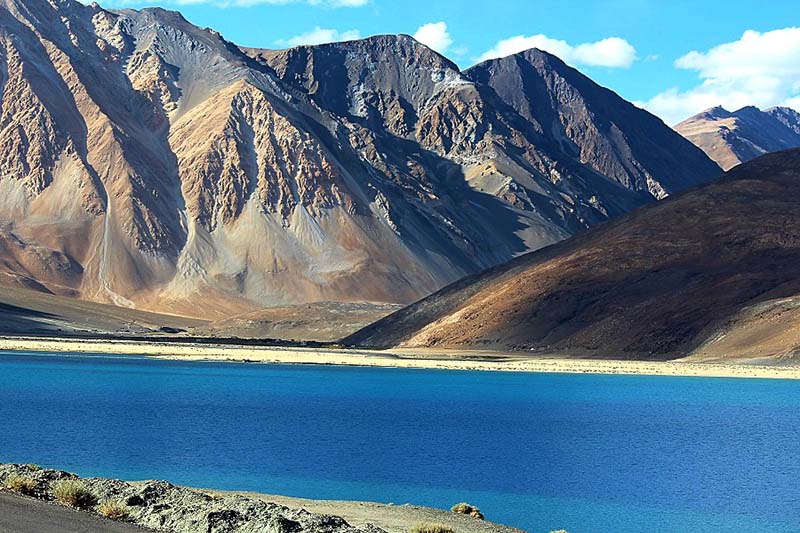 Time to pose with the little one. She has performed much more than our expectations. We are at the Pangong with a 13 years young car, without a single hiccup.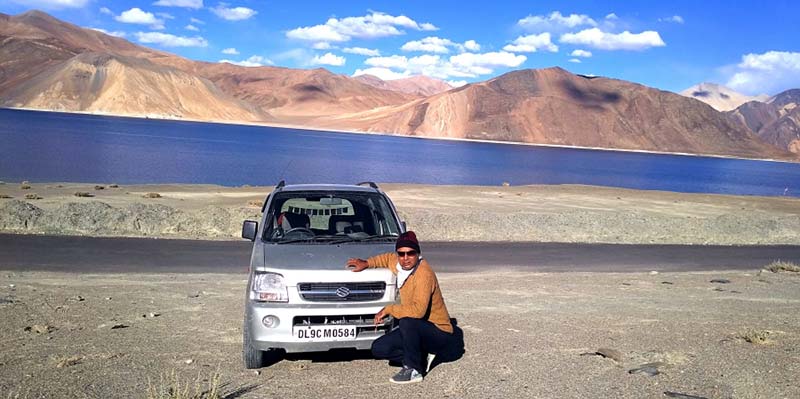 Spangmik to Merak
It was such a wonderful feeling to be there that by the time we realized we have to move ahead it was already 5.00 pm. We quickly decided to move ahead and crossed Spangmik.
Another view on the way. As informed earlier, the road from Pangong onward is a total dirt track. The below pic will give you some idea.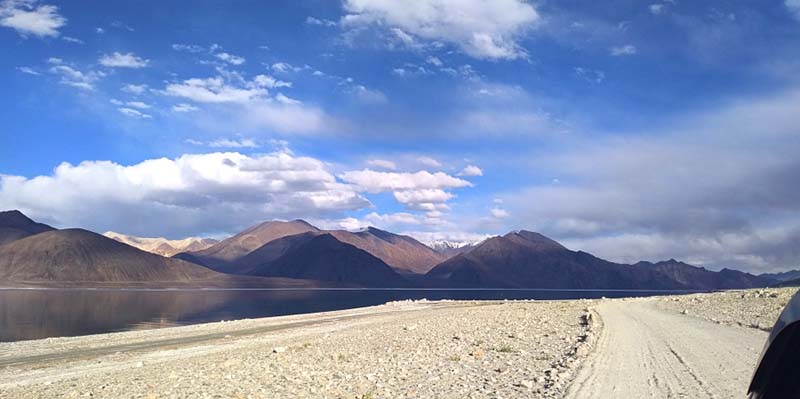 By the time we crossed Man village it was already past 6.00 pm and trust me we had not met a single soul on road for the past one hour.
We were not even sure if we are on the right track as we could see another road a little higher on the mountainside. But as per the information, we had gathered, we had to stay on the track which runs along the Lake.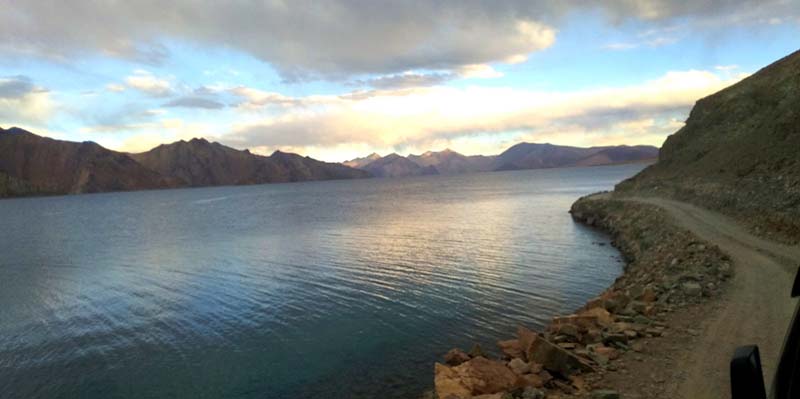 We saw a biker coming from the other side. We stopped him thinking we might get some information. His reply was "I was going to Merak as well. But could not get a glimpse of any village for the next 10 kilometers. So returning back to Man. "He advised us to do the same and left.
We were in a total fix and lost another 10 minutes in discussion. This was the time we panicked a little bit. It was almost dark. Finally, we decided that no way we are turning back. It was decided to trust Google offline maps that we had downloaded especially for this stretch.
We continued our journey in complete darkness and isolation for the next 45 minutes. There was no sign of any village exactly as the biker had told.
Also Read: How to Plan a Trip to Pangong Tso
Man Merak Ladakh
But suddenly after a curve, we could see lights at a distance. We all cheered to it and increased our speed to finally reach our destination around 7.30 pm.
The clue is Merak village is located behind a big mountain curve. So you don't see it till the last kilometer.
Surprisingly the GH owner had still not received our WhatsApp message for booking as there was no Network. But it was our lucky day so we managed to get a cozy room with an extra bed + Dinner and Breakfast @ Rs 2200/-.
We had a finger-licking dinner and some hot coffee afterward to end our long and adventurous day.
Tip: Please start early from Nubra valley if you are planning to travel ahead to Pangong in a single day as photo breaks will take a lot of time. Night driving is not advisable at all.
How to go from Hunder to Pangong
There are three ways to travel from Hunder to Pangong Tso. The first and the most common way is that you go back to Leh from Hunder via Khardung La and then travel to Pangong the next day via Chang La.
The second route is across the mighty Wari La Pass which is also the toughest one.
The third route which has now become the most popular one is by traveling on the Shyok road, the one that I described in the travelogue above.
Distance from Hunder to Pangong
Distance from Hunder to Pangong by road is about 165 kilometers via Shyok Road. The journey can easily be completed in less than 6 hours.
The distance via Wari La increases to about 235 kilometers and will take you 9-10 hours at least.
Hunder to Pangong via Shyok
To travel via Shyok road, you will first have to backtrack from Hunder all the way back to Khalsar. Here, one road will go towards Khardung La and the second towards the village of Agham. Ask any of the locals if you weren't sure and continue on the road to Agham, which is about 25 kilometers from Khalsar.
At Agham, the road will again divide in two. The one to your right goes towards Wari La and the one to your left towards Shyok. You will turn left, drive for about 47 kilometers and arrive at Shyok Village.
From here, the road continues for another 16 kilometers to merge with the Chang La road at Durbuk. After Durbuk, it is a straight run of 35 kilometers to Spangmik (Pangong Tso). For more details, you can see this map A Comprehensive Map of Roads in Leh Ladakh.
Hunder to Pangong via Shyok Distance
By this route, you will travel for approximately 165 kilometers. The road is a smooth one all the way with a few bad patches in between. But mostly, it is a pleasant and enjoyable drive.
Hunder to Pangong Route via Wari La
Now let us talk about the route from Hunder to Pangong Lake via Wari La Pass. This one is necessarily a road recommended for an SUV or a large engine motorcycle, like RE 350. From Hunder, you will drive to Agham as I explained above.
You will then turn right and climb up the Wari La Pass after a very steep and tough climb on a road that will turn really bad at some places. From Agham, the Wari La top is about 35 kilometers. After you have crossed the pass, you will drive down to arrive at the village of Sakti after 26 kilometers.
From Sakti, it is the regular Leh Pangong route via Chang La Pass. For more details, please read Nubra Valley to Pangong Tso via Wari La.
Hunder to Spangmik
If you searched in Google as Hunder to Pangong, the distance it will show is not right because it takes you to the other side of the lake which is actually a restricted area; not sure why it does that.
Spangmik is the village that you should actually search to get an exact idea of Hunder to Pangong Lake distance by road. Man is 9 kilometers from Spangmik and then Merak is a further 11 kilometers ahead so if you were staying at either of these places, then you can add it to the total distance.
Conclusion
I hope the travelogue and information above on traveling from Hunder to Pangong was of help. Please click on the link above to take you to the next part of this travelogue. If you have any questions, please feel free to ask in the comments section below or at our Community Forum, and I will be happy to answer.