Tso Moriri is one of the two lakes that can definitely be termed as the crown jewels of Ladakh; the other being Pangong Tso of course. For anyone visiting Ladakh, making Tso Moriri a part of your itinerary; and dedicating a couple of days to visit here is a must. It is not only Tso Moriri that is a sight to behold; but the entire drive from Leh to Karzok is an experience in itself. Up until a few years ago, the best and probably the only way to get to Karzok from Leh was to either hire a private taxi; or a motorcycle if taxi was out of budget. Unfortunately, the frequency of Leh to Tso Moriri bus service has not improved still but with the recent boost in tourism in Ladakh, several other options to reach Moriri have come up which I will cover in this article.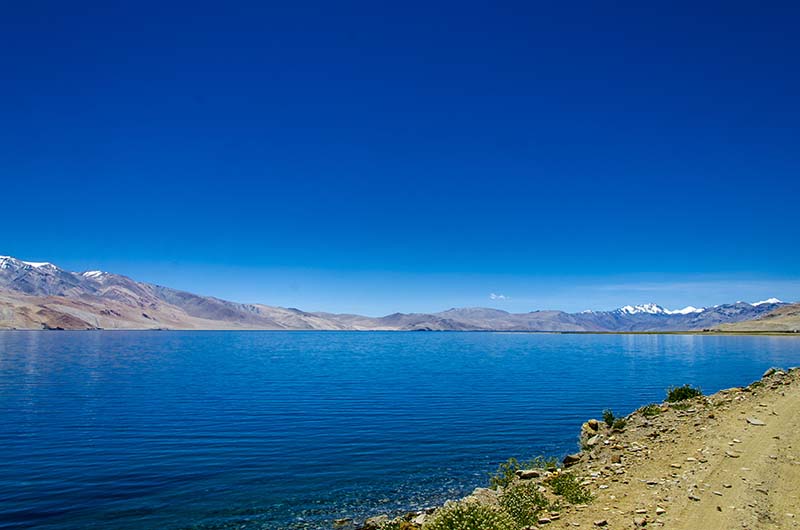 One of the frequent questions I get asked is whether Tso Moriri is really worth a visit. People often tend to compare Pangong and Tso Moriri and decide which one should they visit. Let me tell you that in terms of scenic beauty; Tso Moriri lake is an equal match for Pangong. The fact however is that it has always been overshadowed like it is even now. Pangong has always been considered as the more beautiful lake of the two; and even the connectivity between Leh and Pangong is better than that with Karzok.
Also read: Hotels and Guest Houses at Tso Moriri
This however is the one of the greatest reason why you should give Tso Moriri a visit. In peak tourist season, Pangong Tso has really started to get crowded because of all the recent fame it received. Everyone who comes to Ladakh definitely goes to Pangong and it is getting way too commercialized to be honest. Tso Moriri on the other hand still remains one of the lesser visited and hardly crowded. If you want to witness the same beauty as that of Pangong but with lesser number of people then you should head straight to Karzok.
Leh to Tso Moriri Bus Service
There are a total of 3 buses in a month from Leh to Tso Moriri; on 10th, 20th and 30th of each month. All these buses start from 6.30 AM in the morning from Leh and arrive at Karzok in the afternoon.
Leh to Tso Moriri Bus Fare
Fare per person for traveling from Leh to Tso Moriri by bus is Rs. 370.
Tso Moriri to Leh Bus
The bus that arrives from Leh travels back to Leh the next day. So a total of 3 buses are available from Tso Moriri to Leh; on 11th, 21st and 31st or 1st of each month. Fare for this journey too is Rs. 370 per person.
I am not sure why even after all the recent boost in tourism in Ladakh, the frequency of this bus service has not improved. These 3 dates of course do not fit into everyone's schedule which makes a trip to Karzok difficult for someone traveling by public transport. Fortunately enough, there are other way that you can travel by.
Also read: How to Travel to Ladakh on Budget by Public Transport
Leh to Tso Moriri Taxi
There are two types of taxi services available between Leh and Karzok; the private and shared cabs. A private taxi is of course when you have the entire cab all to yourself and you can travel as per your own itinerary and convenience. Thing with a private cab however is that it can be way too expensive and cannot be called an option for someone traveling on a budget.
Second choice is to travel with shared taxis. These are available from main Leh bus stand every morning and is a great budget choice to travel to Karzok.
Leh to Tso Moriri Taxi Fare
A private taxi to Tso Moriri from Leh will cost you around Rs. 10,000 for a two days trip. A shared taxi however will only cost you around Rs. 400 per person for a drop to Karzok from Leh city.
Rented Bikes
This is another great choice if you know how to ride a bike around in hilly areas. Depending on which bike you chose, a motorcycle on rent in Ladakh will cost you around Rs. 1200 to Rs. 2000 per day. There are plenty of rental agencies and mechanics these days offering bikes on rent. Just take a stroll around the city, test a few bikes and rent the one that seems most reliable.
Also read: How to Plan a Trip to Leh Ladakh – Complete Travel Guide
Conclusion
I hope the information above was of help. If you have any further questions; or need any help with your Ladakh trip; please feel free to ask in the comments section below; or at our Community Forum; and I will be glad to answer.