Rezang La, the name doesn't ring a bell for many. A few who have traveled to Ladakh by road would know that it must be a high altitude pass; because of the word "La". Some who have been fortunate enough to travel through the Changthang region in Ladakh would know of its exact location; but only a handful know of the acts of heroism that went down here. This hilltop and the nearby village of Chushul once became a matter of national honor; a place where 114 of brave Indian soldiers laid down their lives in the Sino – Indian War of 1962.
Rezang La is a pass on the south-eastern approach to Chushul Valley in Ladakh. Due to its length of 2.74 kilometers and width of 1.8 kilometers, it does not even seem like a pass. The ascent is not steep at all and you will cross the pass without even realizing it that you just crossed one. At the height of 16000 ft, sits the Rezang La war memorial which is probably the only landmark that will tell you that you are on a high altitude pass.
Also read: How to Plan a Trip to Ladakh – A Complete Travel Guide
Rezang La connects the Chushul Valley with rest of the country; and due to its close proximity with India-China border; it is a highly sensitive area. Civilians [except for the locals] are not allowed to enter the region without an Inner Line Permit that one has to obtain from the District Magistrate's office in Leh. Foreign nationals are not permitted to visit the area at all.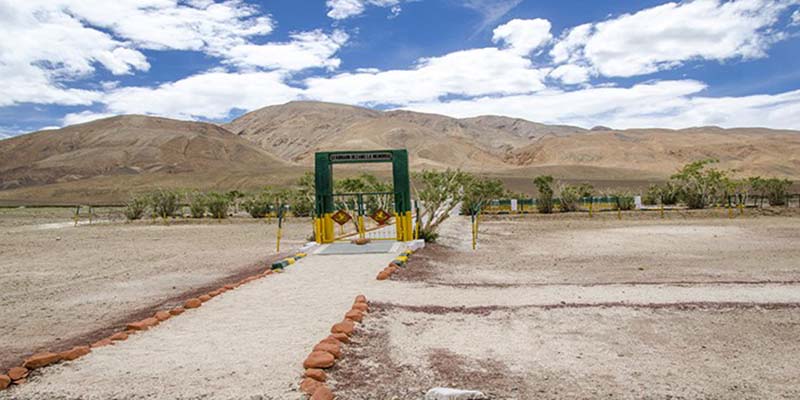 It all began with the 1959 Tibetan uprising after which India granted asylum to the Dalai Lama; and initiated a forward policy in which it placed outposts on the border along the McMahon Line; which was agreed upon as the actual border between India and China in 1914 treaty. Chinese however dishonored the treaty in 1959 and came up with "Line of Actual Control" making the entire region of Aksai chin as Chinese territory. India, having freshly acquired independence, tried to gain the control back and placed several posts along the McMahon line, claiming Aksai Chin as part of India. This triggered simultaneous Chinese offensives in Ladakh and across the McMahon Line on 20 October 1962.
Also read: Tourist Attractions in Ladakh – A Comprehensive List
Chinese troops advanced over Indian forces in both territories, capturing Rezang la in Chushul in the western territory, as well as Tawang in eastern. The war ended when the Chinese declared a ceasefire on 20 November 1962, and retreated beyond what they agreed upon as the actual border of India and China. The end result of the war, which was considered as a major blunder and failure of Jawaharlal Nehru, was the entire Western region of Aksai Chin [equal to Switzerland in size] falling out of India's hands into Chinese. The most ironic part of this was when Nehru tried to make up for the failure by calling the lost area as barren wasteland where "not even a blade of grass grows".
That morning of November 18th was a very cold one with icy winds howling through Rezang La, biting and benumbing. A total of 120 men of Charlie Company, of a battalion called 13 Kumaon, under the command of Major Shaitan Singh were posted atop Rezang La. The Company was divided in several platoons on one ridge of two kilometers, protecting the airstrip of Chushul which was vital if India was to hold Ladakh.
The Attack
A crest behind this ridge prevented Indian artillery from being able to support these jawans. Platoon 9 was posted at front in order to stop Chinese advance from Tsaga La while Platoon 7 and 8 were posted on either sides of the ridge to stop them from flanking Indian post. Major Shaitan Singh and his men were the last line of defense that stood in the way of Chinese Troops; keeping them from taking over Chushul Valley which would further have weakened India's grasp on entire Ladakh. It has been snowing for the last few days and entire Chushul Valley; and the pass of Rezang La were under a thick layer of snow.
That night was particularly very cold because of a snow storm that lasted for over 2 hours and none of the men could sleep, trying hard to stay warm and awake. In the dark of the night, the Chinese were seen advancing through nullahs to attack No.7 and No.8 platoon positions. The Indian troops fell on their prepared positions to face the enemy offensive.
Also read: How to Plan a Trip to Umling La
The attack started at 3.30 AM at the section of Naik Gulab Singh (Vir Chakra) of Platoon 8. Chinese soldiers were trying to climb up the ridge to Rezang La but the LMG of Hukam Chand (Vir Chakra) failed their attempts for a while. The command post was immediately informed and after 10 mins Surja Ram (Vir Chakra) of Platoon 7 also reported to be under attack.
The Strong Chinese Offense
It was a regiment of 400 Chinese soldiers that came face to face with only a handful of Indian soldiers at both Platoon 7 and 8. They were trying to climb up from 14,000 ft to 18,000 ft but the first attack was repulsed. It is said that the total strength of Chinese troops that morning was in thousands with heavy artillery support and hence the attacks never stopped. Wave after wave, the Chinese soldiers kept trying to climb up the two kilometer ridge. Platoon 9 was posted at front but was initially not attacked. Chinese plan, as it would seem so, was to climb up from both sides and isolate Platoon 9 but their first few attempts were wasted by Platoon 7 and 8.
At 0500 hours when the visibility improved both platoons opened up heavily on the advancing enemy with rifles, light machine guns, grenades and mortars. The nullahs were soon littered with dead bodies of Chinese soldiers. There were a high number of casualties on the Chinese side with hundreds of dead bodies lying around. The legend has it that so many of them died that morning that the surviving Chinese soldiers could easily took cover behind the dead bodies.
Indian soldiers were subjected to intense artillery & mortar fire at about 0540 hours.  All the first four attempts of the Chinese Army were in vain and this is when they changed their strategy. This time they attacked with full force from the front at Platoon 9 while another group circled and attacked from behind. This time, No.9 Platoon, which held fire till the enemy was within 90 meters opened up with all weapons in their possession. Within minutes, the nullahs were again full of dead bodies.
The Battle Continues
However, the 450 soldiers strong group of Chinese troops that attacked from the rear of the company position is what proved fatal. At this time, Platoon 7 was over-run and all their communication with command post stopped. At first, it was thought the advancing soldiers from behind were Indian backup but soon the soldiers realized that the Chinese have surrounded them from all sides.  Indians tried to use 3-inch mortar in order to break the attack but the Chinese responded to it by heavy artillery and mortar shelling. They simultaneously opened intense MMG (medium machine gun) fire on the No.8 Platoon. Soon the barbed wire fencing of the post was breached and hence a hand to hand combat started.
Also read: Why you should NEVER visit Ladakh
Each of the Indian soldiers was a hero that day. Naik Ram Sign (Vir Chakra) was reported to have been seen as holding heads of Chinese soldiers in his hands and smashing them together. He was a large man, a pehalwan, who killed so many that day that he earned respect of even the Chinese. After he finally fell, the enemy sank a bayonet in the ground near his head and put a helmet on top; paying respect to the brave man they just fought and killed.
Indian positions were by now very clear to the Chinese troops; and they attacked the post of commanding officer Major Shaitan Singh with all might. Indian soldiers had no options but to either shoot them; or to strangle them with bare hands as the thick parkas Chinese wore made it impossible for the bayonets to penetrate. Platoon 8 too was soon lost and Major Shaitan Singh was seriously wounded.
Major Shaitan Singh
It was chaos all around and this is when Company Havaldar Major Harphool Singh decided that they would not let their Major fall in enemy's hands. Captain Ramchander Yadav [now—Honorary] was assigned to carry the Major on his back to the nearest rations base in order to get him medical attention and also to tell the story of the battle that took place that day. Captain Yadav opened the sling of his rifle, tied Major Shaitan Singh to himself with the belt, joining their bodies together at the waist and then, slowly, he started to roll downhill.
There was very little life left in the major and after rolling for several hundred yards; he stopped near a boulder to catch his breath. It was 8.15 in the morning and by his watch, Captain Yadav noticed that the Major was no longer alive; because his watch ran by his pulse, and when the pulse stopped, the watch stopped as well.
Also read: Clothes for Ladakh Trip – What to Pack?
Yadav took off the Major's gloves, and slid his body between boulders to hide it, so that it remained safe until someone could come to fetch it. Then he made his way down and after coming down about a kilometer, to the point from where their rations were supplied to the post at Rezang La, he saw that the quarter master's depot was in flames. They had already left after setting the depot on fire and just when Yadav was wondering what to do; he noticed an Army vehicle heading back towards Indian base and boarded it.
The Heroes of Rezang La
Irony of the incident is that when Yadav returned to the headquarters and told everyone what had happened at Rezang La, no one believed him saying that it was impossible for the 120 men to have killed thousands of soldiers all alone. He was even threatened with court-martial if he kept on telling a tale that was claimed as imaginary.
After the battle was over, out of the 120 Indian soldiers 114 were dead. The bodies were all frozen, with their bayonets still in their hands; in a crouching position, bullets in their chest, dead, holding the naked bayonet in a fighting stance. The ones that were throwing grenades were found dead with a grenade still in their hands. Wounded soldiers disassembled their LMG and threw it before they died so that the enemy could not use it.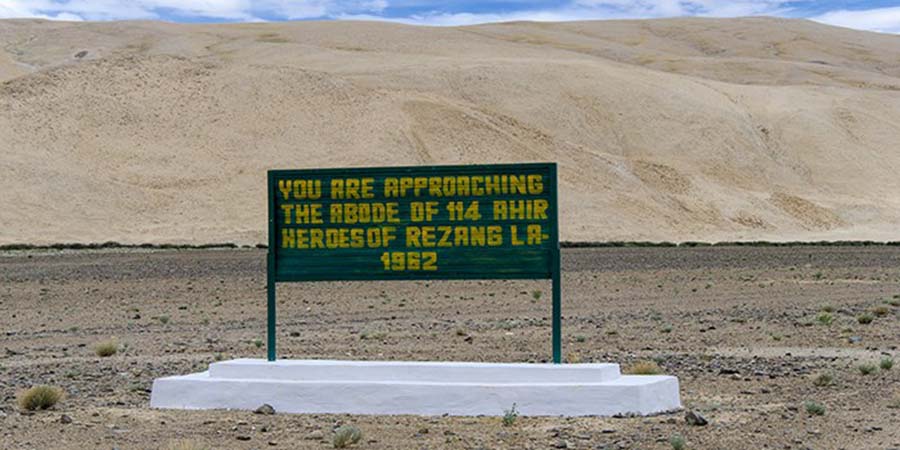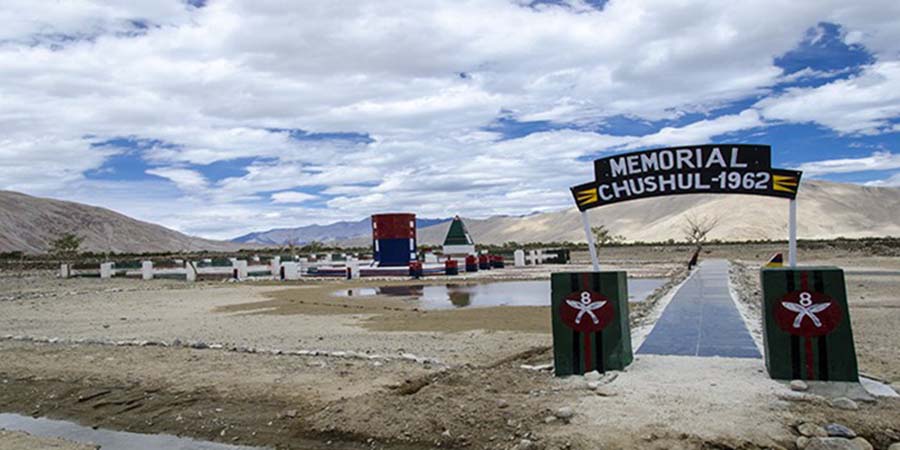 Indian Army suffered heavy losses in Bomdila and NEFA; but the courage of men posted at Rezang La is what made up for it. It was this very battle that broke the back of Chinese advances; and they called for a cease fire immediately after. The heavy casualties suffered by Chinese slowed their advance; and provided ample time to Indian Army to fortify defenses at Chushul. Indians lost at Bomdila, NEFA but Rezang La is where we fought back. It brought about a strategic turnaround in the war of 1962 because it broke the enemy momentum.
Close to 1300 Chinese soldiers died that morning at the hands of 120 Indian men; a number that was far too great for them to continue the war any further. As expected, they never acknowledged the heavy losses they suffered; and as per the Chinese records, the battle at Rezang La was over within 10 minutes.
The Negligence & The Blunders
There were several blunders before the war, mostly by Nehru. While the Indians died at their freezing posts, Nehru kept singing the same song; that there is no war going on and there won't be any. In May, 1962 the Indian Air Force was told not to plan for close air support; although it was assessed as being a feasible way to counter the unfavorable ratio of Chinese to Indian troops.
Also read: How to Handle Acute Mountain Sickness in Ladakh
The Indian Intelligence Bureau received information about a Chinese buildup along the border; which could be a precursor to war but this warning was completely ignored. Considered as the first major incident that led to the Sino – Indian war; On 10 July 1962, a Battalion of 350 Chinese soldiers crossed over the border into Indian Territory; and surrounded an Indian post in Chushul. There was however no exchange of fire; and they retreated after a heated argument via loudspeaker. This incident too however was neglected and Nehru still said that there will be no war.
The Glory
It has been 50 years now and the tales are long forgotten. It's a war that this country ideally would love to forget; but cannot because it's etched in our memories; as one of the saddest chapters of our independent history. A war that we lost because of one politician; who failed to either foresee it or to handle it. Of the 120 men and officers of this Company, 114 died, five were taken prisoners as wounded; and one was sent back to tell the story of the battle to the rest of the world. All 5 of the war prisoners managed to escape captivity in another heroic attempt.
These men were of an Ahir Company from Rewari in Haryana. This one Company had one Param Vir Chakra, five Vir Chakras, and four Sena medals; yet in the 1964 movie Haqeeat which was based on the events of this day; the soldiers were shown of Sikh regiment. The Ahir Company and its survivors of war were never acknowledged. Even the initial credentials of the movie entitle accredited Nehru for his guidance to the country in times of war. Ironically enough, it is that politician who is celebrated now; but the heroes are long forgotten; except for their names on a wall of a war memorial at the top of Rezang La; and another in the small village of Chushul.
It is the birthday of that politician that is observed on November 14th as a national holiday; but no one remembers the 120 brave men who died fighting for this country on November 18th.
If you have any views or information to share on Rezang La; please feel free to do so either at our Community Forum; or in the comments section below.