This post is in continuation with a previous one and part of my Leh Ladakh Travelogue. This is a trip that we made in a 13-year-old Wagon R. In previous chapters, I explained how we got the car ready for the trip ahead and traveled from Dharamshala to Lamayuru. The post below talks about our third day of the journey, from Lamayuru to Leh.
To read the previous parts of the travelogue, please click on the links below.
The journey so Far:
Although I knew that it will be an easy and short ride for us today, I still made it a point to get up early and visit the Lamayuru monastery before we moved further.
The first rays of the sun had just started kissing the mountain tops. It was just 6.30 in the morning and I was up to get the feel of the morning fresh air which was a bit chilly. It took around 15 minutes to reach the monastery on foot.
Lamayuru Monastery Leh
Lamayuru is one of the largest and the most ancient monasteries of Ladakh. Legend has it that the region, where Yungdrung Tharpaling (Lamayuru) is situated today, approximately 120 km to the west of Leh, the capital of Ladakh, was under a big lake at the time of Buddha Shakyamuni (historical Buddha).
Even I was surprised to know this, but this could be the secret of the famous Moonland of Lamayuru.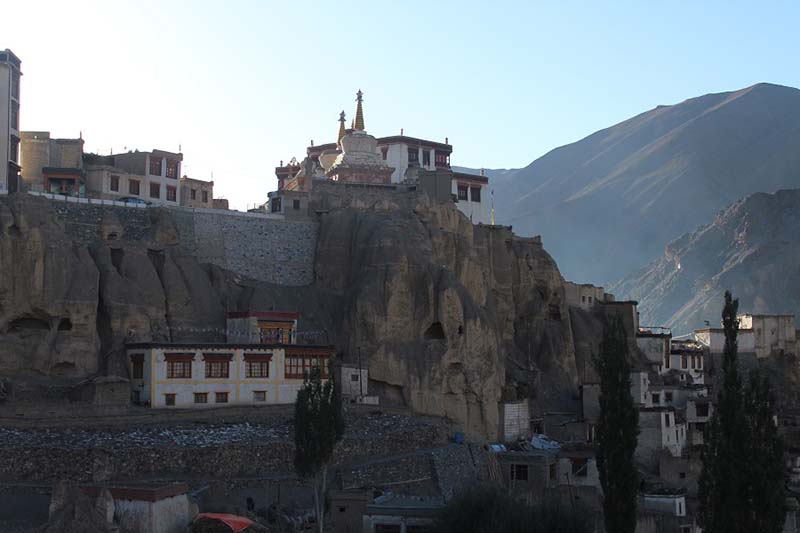 The doors of the monastery were still closed so I got some time to roam around and capture morning shots.
Bird's Eye view of Lamayuru town from the monastery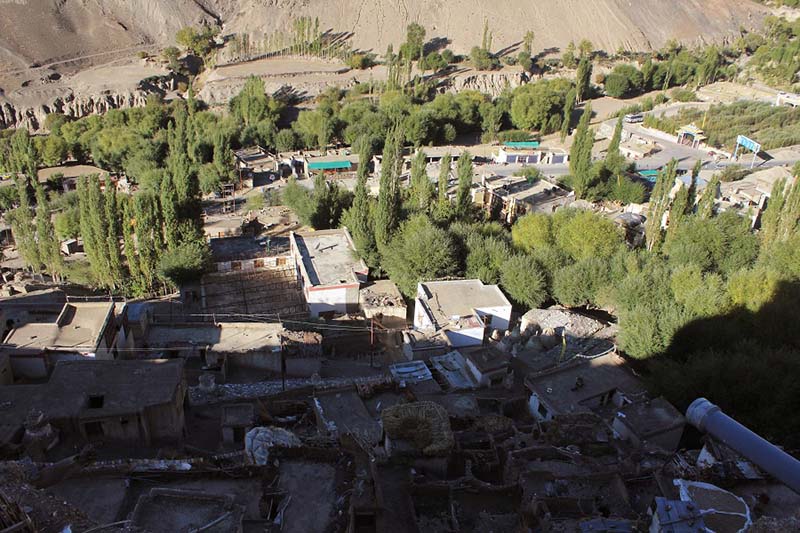 Lamayuru Moonland
Photography was not allowed inside the Monastery, so we listened to the morning prayers for a while before returning to our Guest House. After a quick shower and a heavy breakfast, we were ready to explore the road further towards Leh.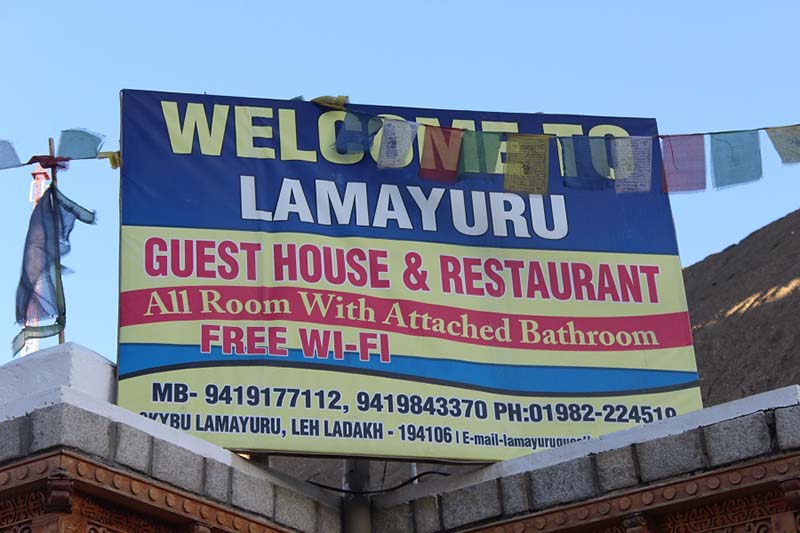 Lamayuru Monastery to Leh
As we moved further the true vibrant colors of Ladakh started to emerge. It was beauty at its best. We continued to move at a steady pace with small breaks in between.
Also Read: How to Plan a Trip to Leh Ladakh – A Complete Travel Guide
The first stop was at the viewpoint of the confluence of Indus & Zanskar Rivers.
Our next stop was at Magnetic Hill, although we felt nothing magnetic there. There could be some phenomena that were there in old times but with the increase in traffic & tourists and construction activity in the area, we could no longer feel that phenomenon. Nevertheless, a photo stop is a must here.
The next stop was the famous Gurudwara Patthar Saheb
But the highlight of today's drive was this stretch of Road.
We reached Leh around 3.30 in the afternoon and were greeted by a very close friend of RakeshG named Mr. Karma, who runs a restaurant near the Bus Stand.
Leh, Finally !!!
He had already booked accommodation for us nearby in a guest house named Laga Guest House. We paid Rs. 1500 per night there. The stay was comfortable with hot water available 24 hrs, room heaters, and the market at walking distance.
We all rested for while before heading to Mr. Karma's restaurant for a round of drinks to celebrate completing the first part of the journey. Phone calls were made back to the family to inform our well-being. Thankfully Airtel postpaid was working fine in Leh at least. Tomorrow was a day to arrange the permits with some local sightseeing on the cards.
By the time we finished with dinner, it was already 10 pm. As it was getting cold outside it was time to hit the bed. Below is a little more information on the route between Lamayuru and Leh.
Also Read: How to Plan a Journey on Srinagar Leh Highway
Leh to Lamayuru Road Condition
The condition of the road between Lamayuru and Leh is super smooth. In fact, I think this is the best stretch of the road that you will encounter in your entire journey to and in Ladakh.
Leh to Lamayuru Map
For a road map of the route between Lamayuru and Leh, and in fact the entire Ladakh region, please read A Comprehensive Leh Ladakh Road Map.
Leh to Lamayuru Taxi
A private taxi from Leh to Lamayuru or vice versa will cost anywhere between Rs. 4000 to Rs. 6000, depending on your negotiation skills. A ride in a shared cab will cost under Rs. 1000.
Leh to Lamayuru Drive
The drive on this 115 kilometers long stretch is a very pleasant one and has a ton of sightseeing places en route. Sham Valley as well falls on the same stretch. In total, it will not take you more than 4-5 hours at most to get to Leh from Lamayuru.
Kargil to Leh via Lamayuru
If you, however, stayed for the night in Kargil, then the travel time to Leh via Lamayuru will easily be between 6 to 7 hours, or even more. The total distance then would increase to about 220 kilometers.
Lamayuru to Leh bus
There is no direct bus between Leh and Lamayuru only. You will have to either board the bus coming from Kargil or Srinagar (both these buses travel through Lamayuru) or look for a shared cab.
Leh to Lamayuru Itinerary
If you were traveling to Leh from Srinagar side, like we did, you can easily cover Lamayuru and all of the places en route while on the way.
If you, however, flew into Leh or reached there via Manali and had no intention of traveling on Leh Srinagar Highway, then a trip to Lamayuru from Leh can easily be made in a day.
Take an early start from Leh, possibly by 6 AM, and drive all the way to Lamayuru. On the way, you can visit Magnetic Hill, Gurudwara Pathar Sahib, and Indus Zanskar Confluence. Reach Lamayuru before noon, visit the monastery here, and start driving back to Leh. If you had time, you can also visit the Alchi, Likir, and Phyang Monasteries on the way.
How do I get to Lamayuru Monastery?
The best way to reach the monastery from Leh would be a self-drive vehicle. If not, then you can board the daily bus to Srinagar and get down at Lamayuru. A third option would be to rent a motorcycle in Leh and ride to Lamayuru. If within budget, hiring a private taxi for a day tour is a great option as well.
Which is the oldest monastery in Ladakh?
There is really no certain way of telling this but Lamayuru monastery is considered to be the oldest monastery in Ladakh.
Which is the largest monastery in Ladakh?
Diskit Monastery is considered to be the largest monastery in Ladakh.
Lamayuru to Leh – Conclusion
I hope the travelogue and information provided were of help. Please click on the link above to take you to the next part of this travelogue. If you have any questions or need any other details, please feel free to ask in the comments section below or at our Community Forum, and I will be happy to answer.