This post is in continuation with Day 7 of the travelogue of one of my Ladakh rides. We traveled from Pangong Tso to Tso Moriri on Day 7 and from Tso Moriri to Pang on Day 8. Please click at the link below to read previous part of this travelogue.
Journey So Far: Day 7 – Pangong Tso to Tso Moriri
---
Night at Karzok was as long and difficult as the day to get there was. Even though we were completely exhausted by the time we hit our beds, I could barely sleep. Primarily because we all just had one blanket each to cover ourselves with; and it was barely enough to keep the cold out. To make matters worse, I slept right next to a window which had a small crack somewhere between the panes, allowing the cold air inside. I kept tossing and tumbling for 5 hours, trying to keep myself warm and get some sleep but in vain. Finally, I gave up in the morning at 7 AM and stepped out.
Right in front of me was the beautiful sight that we missed the night before; because we arrived here after dark. The beautiful Tso Moriri; our 8th high altitude lake of the trip.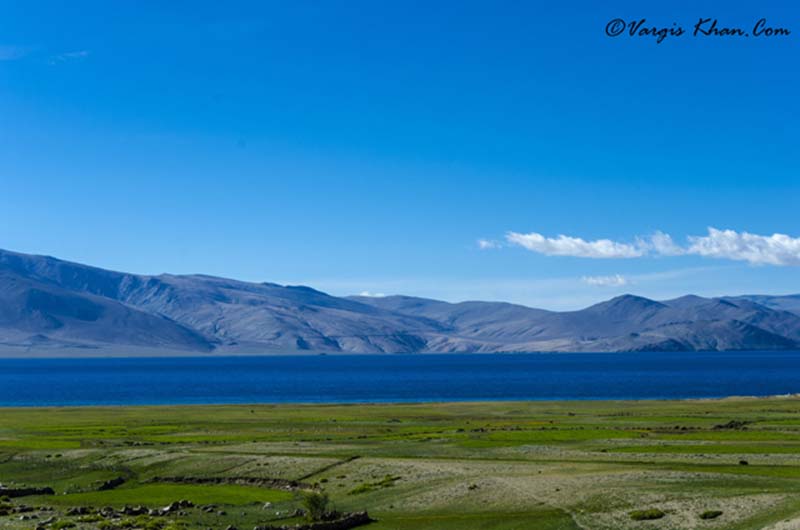 After walking by the lake for a while and clicking some shots; I headed back, had a cup of tea at the tea stall and stepped in to find others still asleep. Considering the fact that I had so much trouble sleeping; I couldn't but envy these guys for how like babies they were sleeping.
After a while we were all awake and got to the first most important task of the day, fixing the flat wheel on my Enfield.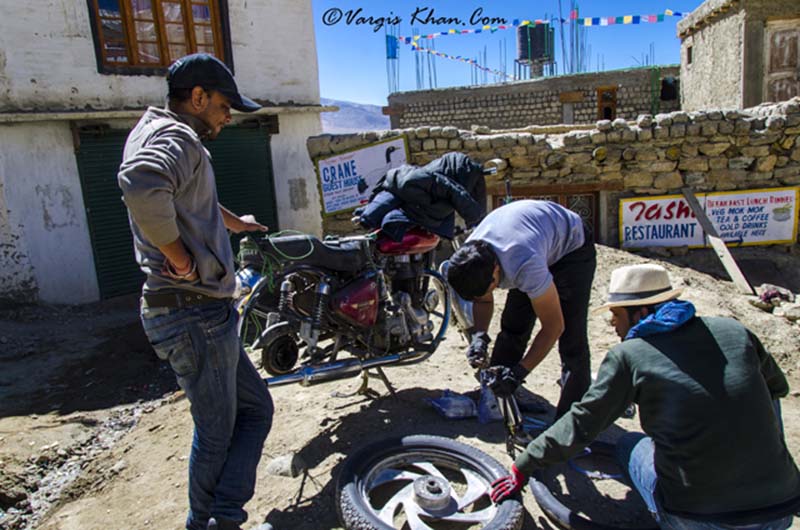 For a moment I thought of spending a day in Karzok; considering all the trouble we went through to get here but surprisingly; none of the hotels or camping sites could accommodate us even today. There was just no vacancy anywhere at Karzok. Disappointed, we packed our luggage; had breakfast; and with our bellies full, were ready to be on our way by 10 in the morning; but not before we attended the festival at the monastery.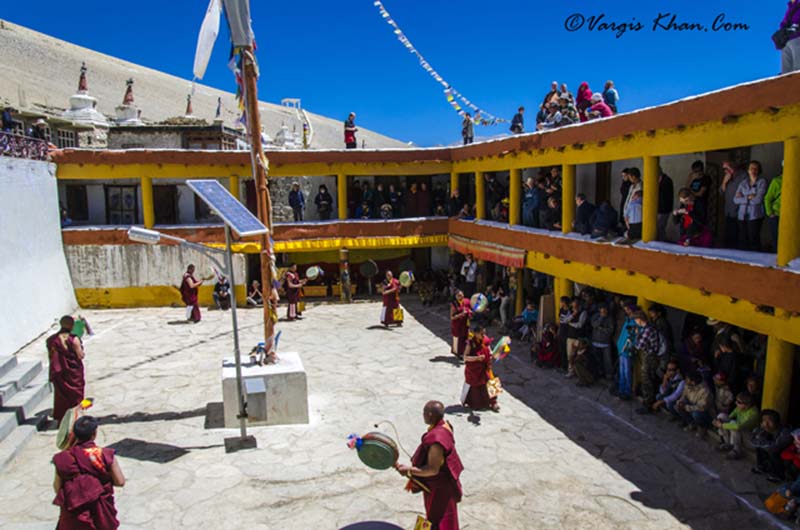 After watching the festival and prayers for a while, It was time to travel 55 kms back to Sumdo from where we were to continue towards Pang.
This is where were suppose to go straight last night but instead turned left and went 40 kms in the wrong direction, towards Chumur.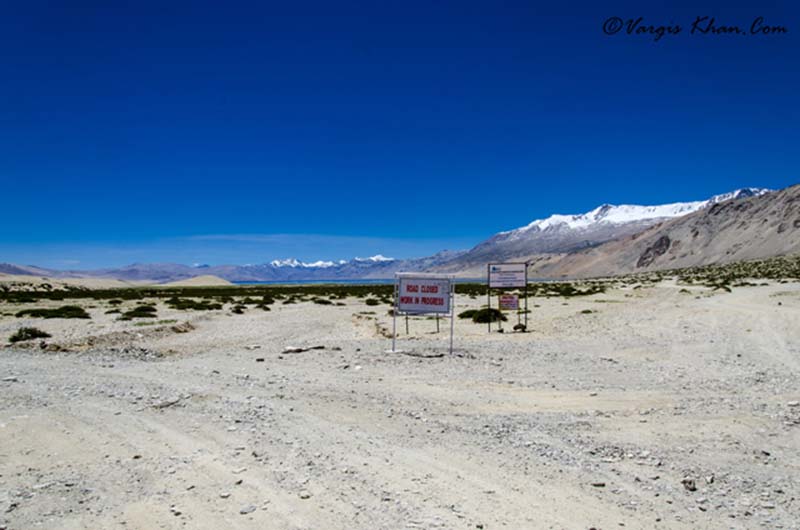 Then came our 9th high altitude lake, the beautiful Kiagar Tso. We crossed it last night as well but didn't see it in the dark.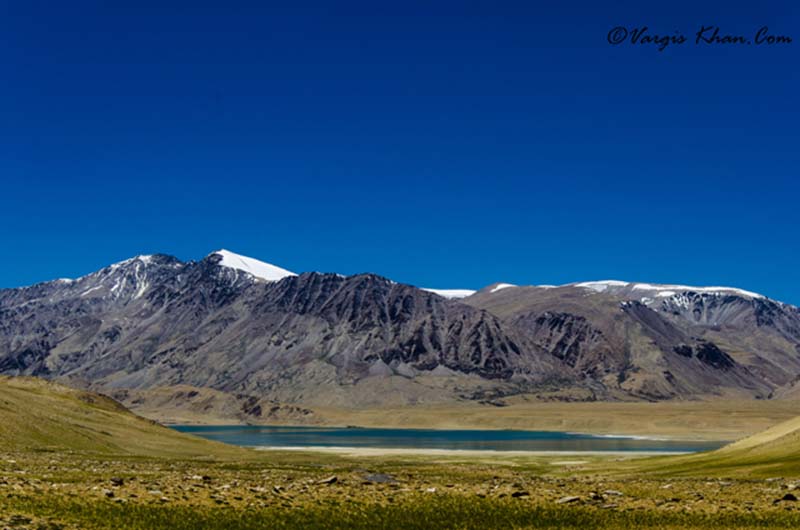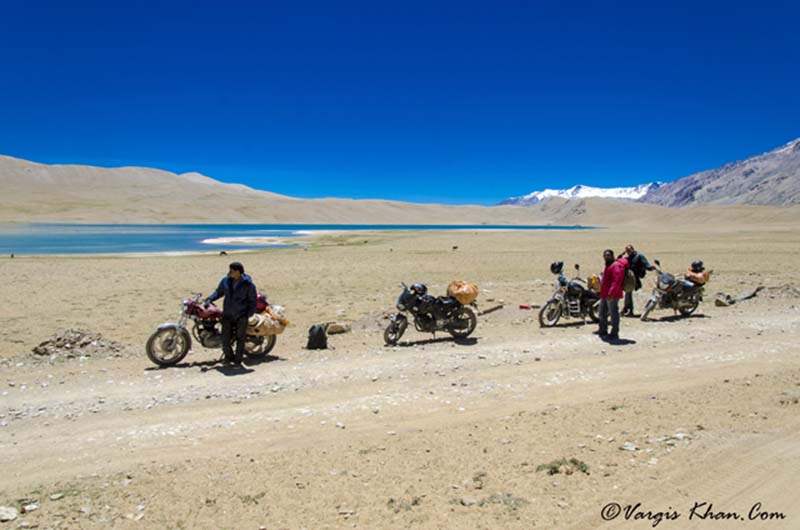 After a while we were again standing on top of Namashang La, for a 2nd time. This time it was our 13th high altitude pass.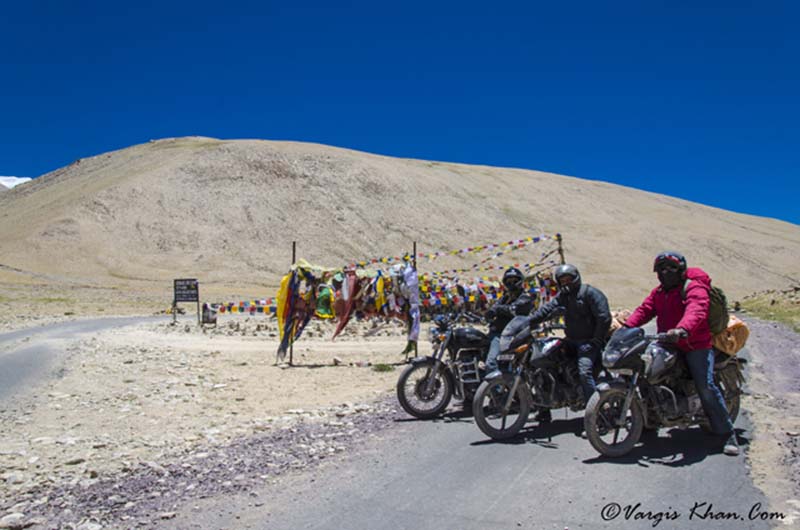 We reached back at the same tea shop in Sumdo where we had the tea last evening. For a moment, I thought to give an earful to the tea stall owner; to not tell anyone else that the road till Karzok was awesome as he told us; but then I just decided to keep mum. He asked us about last night and we only told him that it was OK and we made it in time; for which he couldn't resist patting himself on the back saying, "Didn't I tell you?"
After a few cups of tea, just when we started to get ready leave came our 9th breakdown of the journey.
I was trying to tighten the ropes around the luggage on my motorcycle when all of a sudden it came of the stand and fell to its left. There was a stone right underneath and as the motorcycle fell the battery cover hit on the stone. As a result, the battery cover lock broke and both the cover and battery came off the motorcycle.
"Oh God !!!!" Is all I could say, holding the battery and the cover in my hands.
We did what we could at that moment. Somehow managed to wrap the electric wires on the battery points; get a small piece of rope and tied the battery and the cover in one place. With this arrangement done, we continued the journey and turned towards Puga from Sumdo.
Road again turned into a dirt track the moment we crossed the village of Puga.
After 15 kms and we were standing on top of Polo Kongka La, our 14th high altitude pass.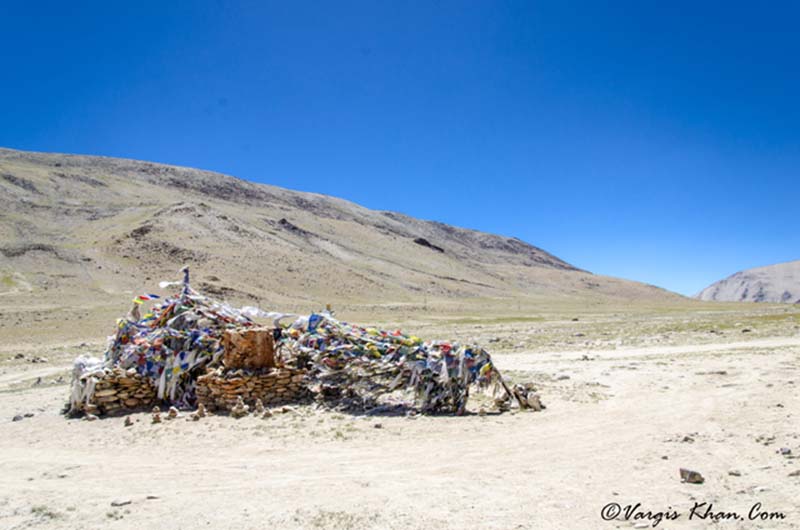 Another 15 kms and came our 10th high altitude lake, Startsapuk Tso.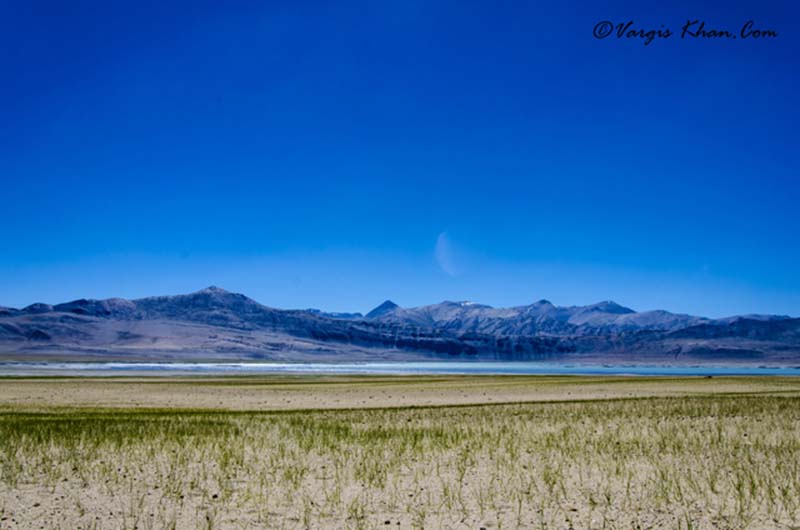 A little ahead was Tso Kar, our 11th high altitude lake.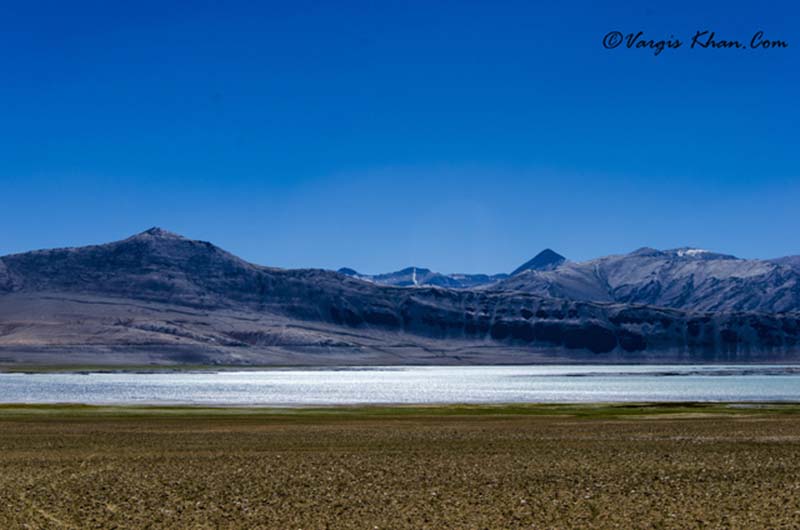 Little after Tso Kar, I came across a Royal Enfield parked on the side of the road with no one in sight. What surprised me the most was the only luggage on the motorcycle; two full 10 liters cans of petrol. I could not see anyone around at all except for the four of us. For a moment I thought to pause and check if someone was in trouble or in need of help; in case the motorcycle had broken down; but then changed my mind thinking that the owner must have stopped here to click photos of Tso Kar.
A little ahead, I saw an elderly foreigner lady walking alongside the road. I slowed down a bit, thinking that motorcycle could be hers; but she did not waive for me to stop or help so I kept going. After continuing for a while, I found Shoaib talking to a foreigner, a french guy. It turned out that the motorcycle was his; and it broke down so the guy was walking towards the few dhabas near Tso Kar looking for help. He also told us that he had been standing there since morning. I agreed to take a look and rode back to the parked motorcycle.
On the way, I noticed a group of motorcyclists at a camping site and it seemed they had a mechanic with them as well. We reached the spot where the french guy had left his motorcycle; and after spending 15-20 minutes with his Enfield, I was unable to find out what was wrong with it. So I asked Shoaib to ride back to where that group was staying; and see if they can help since they had a mechanic with them. Fortunately they agreed and within 15 minutes Shoaib arrived back with a mechanic. Soon the motorcycle was fixed and we sent the french guy on his way. What happened before and after this was somewhat interesting.
The mechanic wanted to charge the french guy for fixing the Enfield. I told the same to the French who could barely speak English. In return, he took out his wallet and showed me that he didn't even have a penny on him. What he told us was that all his luggage was with his group and he got left behind which did sound a little odd; that why the group would leave him behind; and not turn back to find out what happened. Nevertheless, I still asked the Mechanic to fix the motorcycle and agreed to pay out of my own pocket. Mechanic on the other hand, upon finding out that the french guy was broke, did not take any money from me either.
As soon as the motorcycle was fixed, the french guy sped off like he has seen a ghost. I thought maybe he is in a hurry to catch up with his group but was proven wrong. We stopped at a dhaba near Tso Kar, just a little ahead of where the broken down motorcycle was; and the owner told us that the french guy had been sitting there since morning; eating, sipping down tea and smoking. After we got his motorcycle fixed, he sped off without paying a penny to the dhaba owner.
We entered More plains and headed towards the Manali Leh highway which was roughly around 22 kms from Tso Kar. The other three were again riding ahead of me because of my frequent photography breaks. I also had to ride a little slow ; because I was only managing the wheel with one hand. My left hand was continuously holding the battery cover as the road was a lot bumpy and I was afraid that the battery may come off again. Somewhere along the road, a little ahead, I noticed what seemed like a couple of dogs running towards the road from a distance. From the looks it of, It was pretty clear that they were approaching the three guys riding ahead of me. Distance must have been at least a kilometer but in Moore plains you can see the straight road ahead for several kilometers.
This is where it happened.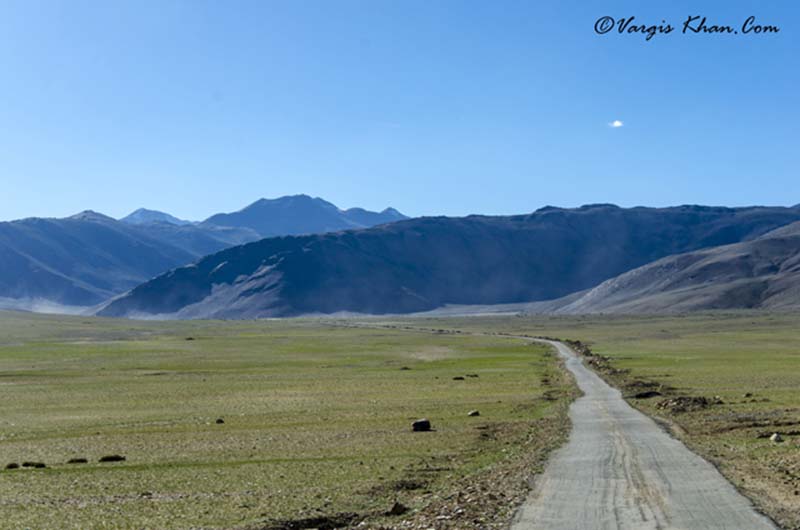 Considering the distance, I was pretty sure that the dogs would not be able to make it to the road to catch up with my friends; but it also meant that they will then target me who was riding alone a kilometer behind. To make matters worse, road was a lot bumpy; I was managing wheel with one hand; and my battery could come off with a slight jerk which meant that I could not speed up. Fearing the worst, I increased my speed to whatever I could manage and started to get ready mentally to encounter the dogs but thankfully, I was worrying in vain. The dogs just kept running, reached the road, crossed it and continued to run on the other side. Either they were chasing something or were being chased by something. Whatever it was, I was just thankful that they had no interest in us.
Breathing a sigh of relief, I slowed down and soon we reached the Manali Leh Highway.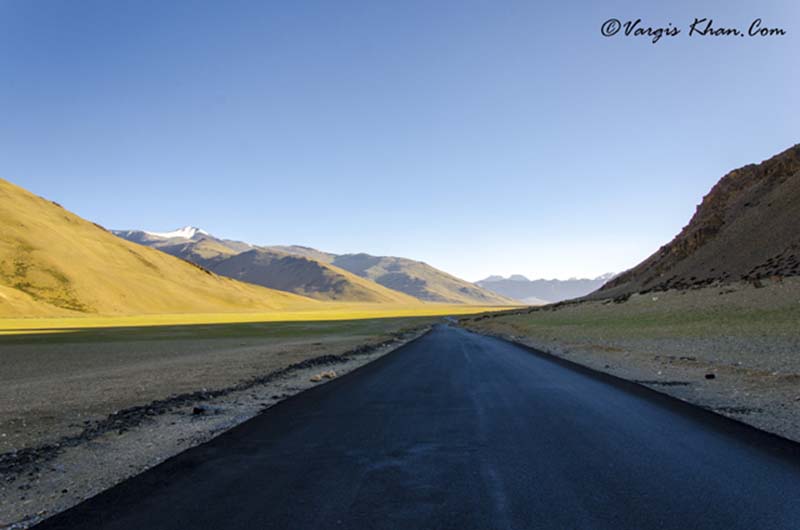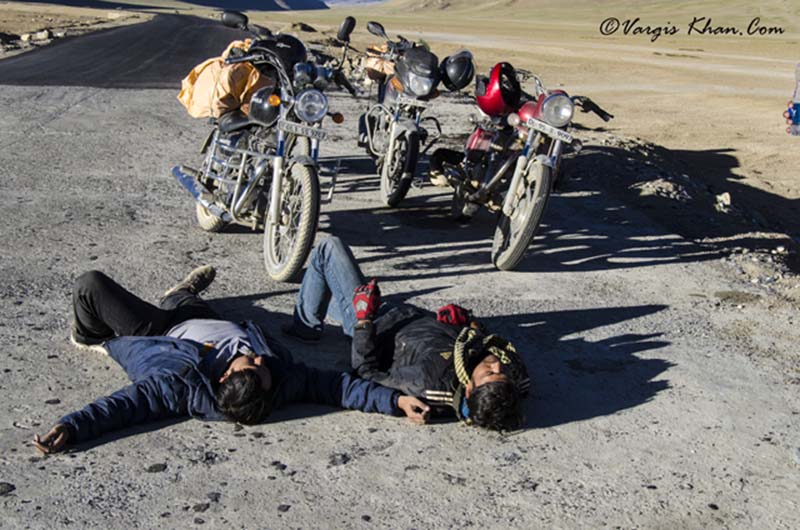 We reached Pang and checked into the same camp that we stayed at last week while on our way to Leh. This time there were a few other guests as well. A group of guys from Mizoram; and the amazing part was that they travelled all the way from Mizoram to Leh on their Enfields. I couldn't help but envy them for the awesome journey.
Night sky as seen from Pang.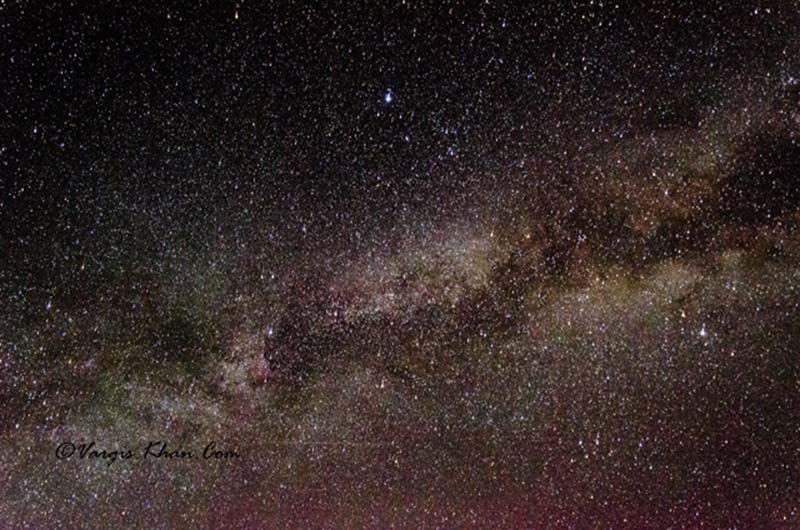 Considering that we had travelled long distances on bad roads in last couple of days, we decided to continue the trend and head straight to Manali from Pang. With that decision made, we decided to get up early and hit our respective beds after a delicious dinner.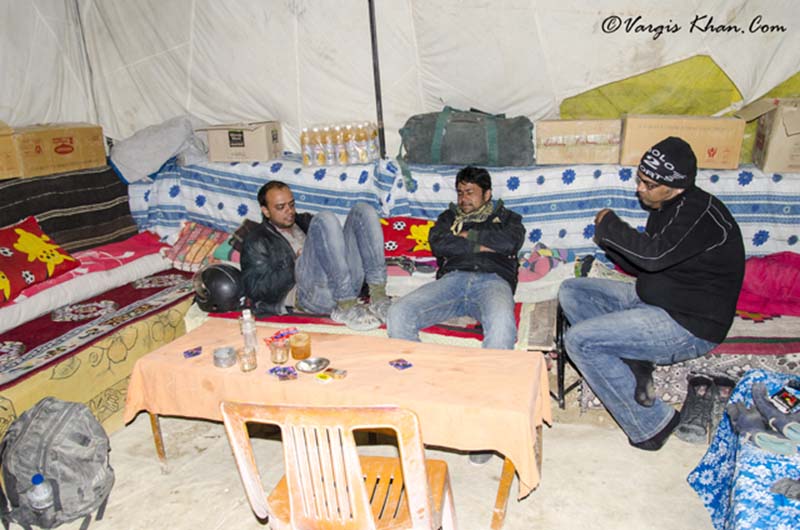 Tso Moriri to Pang
And this ended about 7 hours of riding through beautiful terrain of Ladakh witnessing the beauty of Tso Moriri, Kiagar Tso, Starstruck Tso and Tso Kar. After the troublesome day of reaching Tso Moriri from Pangong, we were just thankful that this day was all event-less; and we could just focus on enjoying the scenic beauty all around us.
Tso Moriri to Pang Distance
Total distance between Tso Moriri and Pang via Polo Kongka La and Tso Kar is approximately 143 kilometers. Road is a mix of good, bad and ugly. Ugly part is mostly between Sumdo and Karzok and around Polo Kongka La. Though the distance is not that great, this journey will easily take you about 6-7 hours due to bad section of roads; and frequent breaks that you are bound to take, thanks to the beautiful vistas on the route.
Please click on the link below to read next part of this travelogue.
Journey Ahead: Day 9 – Pang to Manali
---
Planning a trip to Ladakh? Need help with any of your questions? Please feel free to ask in the comments section below; or at our Community Forum; and I will be glad to answer.