This post is in continuation with a previous one and part of my Leh Ladakh Travelogue. The post below talks about our 5th day of the journey, when we traveled from Leh to Hunder, one of the most beautiful towns of Nubra Valley which also happens to be one of the most visited places in all of Ladakh.
To read the previous parts of the travelogue, please click on the link below.
The journey so Far:
The Morning of the 5th day came with a little bad news for us. Rakesh Ji was feeling light fever and an upset stomach. Thankfully though, as he is a regular trekker and a guide, he was carrying his own set of medicines.
We had a cup of hot tea and checked out by 7.00 AM. We wanted to reach Khardung La early as this will be the first test of Cutie Pie (my Wagon R) in the high passes. So we wanted to keep some extra time on our hands if required.
It was a pleasant day with a clear sky. We packed the stuff and after some medication, for Rakesh Ji, we started our charge for mighty Khardung La.
Also Read: How to Plan a Trip to Leh Ladakh – A Complete Travel Guide
Hotel in Hunder
A friend of mine (Gaurav Tomar) who is a member of another travel forum, had just reached Manali a day before. He had done the same itinerary as mine. So after discussion with him regarding accommodation in Nubra Valley, we opted for the places where he stayed both in Hunder & Merak.
We managed to book Hunder guest house on a phone call but could not get through to the Merak guest house as network coverage is very poor in that area.
Nevertheless, we dropped a WhatsApp message to the owner of Merak's guest house and prayed he will receive it before we reach there. In Merak as well, we were to be without a proper network for the next 4 – 5 days.
Leh to Hunder
Leh to Hunder road distance is about 125 kilometers in total so we knew that we can travel at an easy and relaxed pace. Let's start the journey with some morning shots on the way to Khardung La Top.
Very famous Khardung La frog. Looks like the medication had its effect as Rakesh Ji was out to click the frog.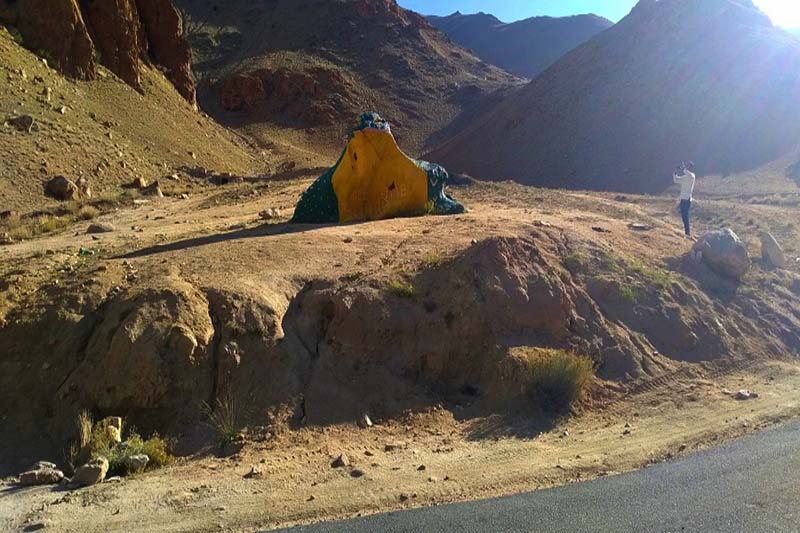 We were followed closely by an Army convoy. So we decided to speed up and not get caught behind them if they overtook us. The road turned into a dirt track after we crossed South Pullu. This is where you need to submit a copy of the permits.
The temperature outside can be imagined from the below picture.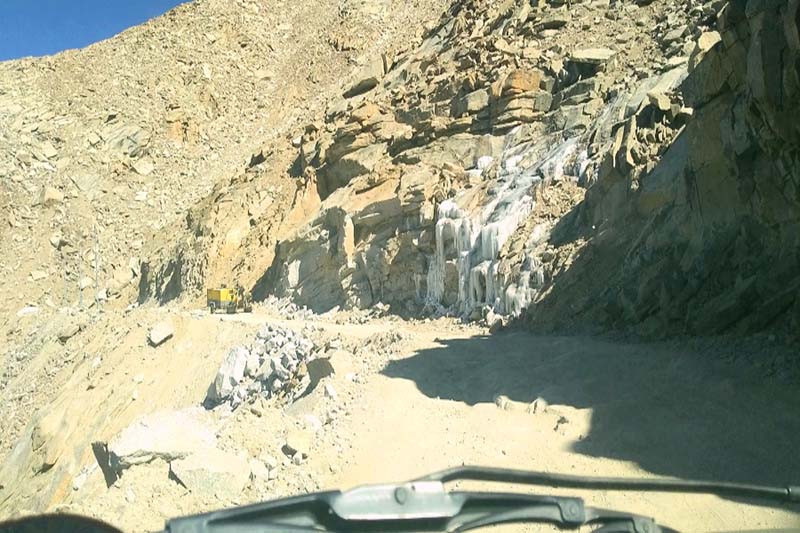 Let's have a closer look
Khardung La Top
The last couple of kilometers before Khardung La top were really bad and we had a tough time driving to avoid any underbelly hits. Thankfully the Waggy R did not show any signs of Altitude sickness. Finally, at around 10 AM we reached the Khardung La Top.
There were still traces of fresh snow as it has snowed a couple of days earlier. The journey from here on has a spellbinding effect. It's mother nature at its best. The view changes at every turn.
The rugged terrain of the mountains provides a picturesque view of the landscape that can truly be considered an abode of serenity. So from here on it will be more of Pictures and less of content.
Let us start with some customary shots at Khardung La.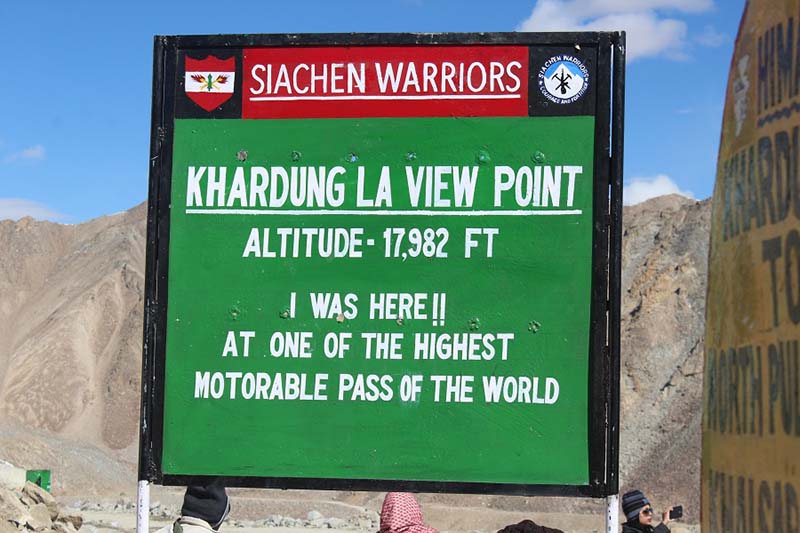 My Wagg R looks calm and composed while posing at the top with other Big SUVs.
The first view of the road we follow on the way to Nubra Valley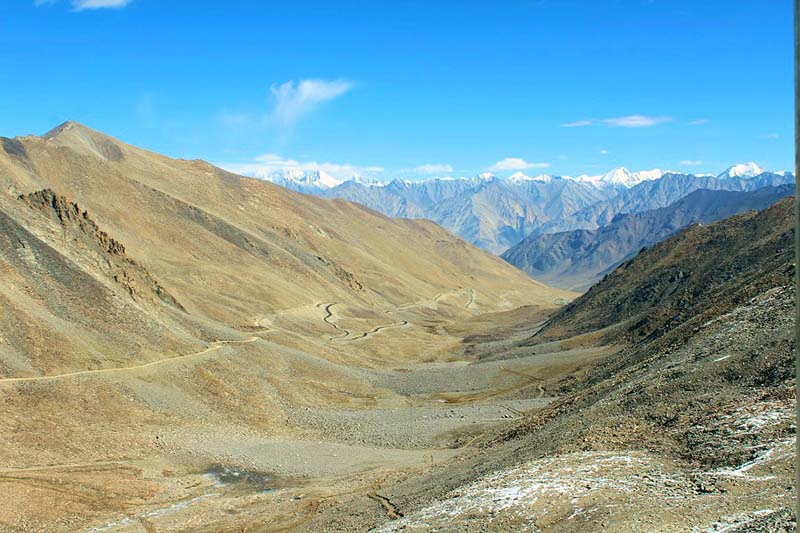 Khardung La to Hunder
While descending from K-Top, we had to stop again at North Pullu to show our permits for Nubra valley. In the above picture, you can actually see North Pullu where the road ends down in the valley. There are some roadside restaurants there and we opted for brunch as it was already 11.30 AM.
 After half an hour break we continued our journey towards Hunder; the destination for the day.
Finally, we managed to reach our guest house accommodation in Hunder around 2.30 PM
We paid Rs 2400/- for a room with extra Bed + Breakfast & Dinner. Contact Number +91 94698 44843.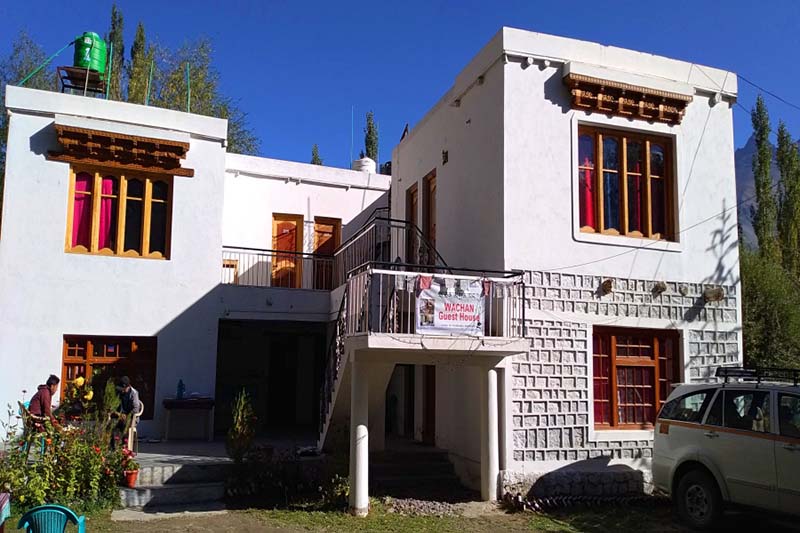 Hunder Sand Dunes
After a dose of Maggie and some tea, we quickly headed to the much-talked-about sand dunes for Nubra Valley with the very famous Double Humped Camels. We spent around 2 hours near the sand dunes. It started to get windy in the late evening. So we decided to return to the guest house.
Also Read: How to Plan a Trip to Nubra Valley?
As this area only has electricity from 7 – 11 PM for 4 hours, so had to take a timely dinner which was complete veg ( No Non-Veg options in most of the guesthouses). Before going to bed, a call back home was made from the phone of the guest house owner as he had a BSNL mobile and only BSNL works here.
I leave you with the below pictures of the Sand Dunes area and Double Humped camels.
Double Hump Camel Ladakh
Overall, it was a great day of great fun. We were excited about having traveled to one of the most beautiful valleys of India; and were much looking forward to the journey ahead. Below are some other useful details about traveling from Leh to Hunder.
Distance from Leh to Hunder
The total distance between Leh to Hunder is about 125 kilometers. The journey will take you about 6 to 7 hours to complete depending upon your speed and breaks.
Leh to Hunder Bus
There is a bus for Turtuk from Leh Bus stand at 6 AM every Saturday. This bus will travels across Khardung La; and through the villages of Khardung, Khalsar, Hunder, Diskit, and Sasoma.
This is the one that you will need to board to reach Hunder by Bus. Fare per person is Rs. 316 for Turtuk so assume it to be around Rs. 250 per person for Hunder.
This bus is only available on Saturday so for traveling on any other day, you will have to catch a shared cab from Leh Bus stand which is easily available every morning.
These shared taxis are usually available for Diskit only but if you paid a little extra, you can travel the entire Leh to Hunder distance by it. For more details, please read the Latest Schedule of Bus Service in Leh Ladakh.
Leh to Hunder Taxi Fare
A private taxi to Hunder will cost you about Rs. 6000 for a drop to Hunder and Rs. 9000 for a return journey. For a shared taxi from Leh Bus stand, you will pay about Rs. 450 per person for a drop. For more details, please read the Latest Taxi Rates in Leh Ladakh.
Leh to Hunder Sand Dunes
A lot of people make a day trip from Leh to Hunder or Diskit. It is doable but you will have to make sure that you start early in the morning from Leh, possibly by 6 AM, and keep your break shorts.
Starting early will also give you the benefit of avoiding traffic at Khardung La. Reach Diskit before noon, spend some time sightseeing, and be on your way back latest by 2 PM to reach Leh by late evening.
Journey Ahead: Hunder to Pangong Lake via Shyok Road
Conclusion
I hope the travelogue and information above on traveling from Leh to Hunder was of help. Please click on the link above to take you to the next part of this travelogue. If you have any questions, please feel free to ask in the comments section below or at our Community Forum, and I will be glad to answer.