This post is in continuation with a previous one and a part of my Leh Ladakh Travelogue. The first post talks about how this entire plan came into existence and how it took us almost a year to finally turn this into a reality. This post provides details on our preparation for Leh Ladakh car trip. Please click on the link below to read the previous part.
This chapter gives an account of our preparation for the Ladakh trip; especially of a 13-year-old car with a ground clearance of just 165mm. I did have an option to travel in a Renault Duster but my Cutie Pie (Wagon R) was in full mood to fight it out.
"What's new in doing it in Duster? A lot of people have done it. Complete the trip with 13 years old Wagon R and then you would have done something different. That is the real challenge" Sunit, my cousin, said.
Although my Wagon R has never let me down till now, she still needed to get the medical certificate to prove that she is fit and fine to take a trip to the land of high passes. So she was taken to the hospital to get a full-body check-up done.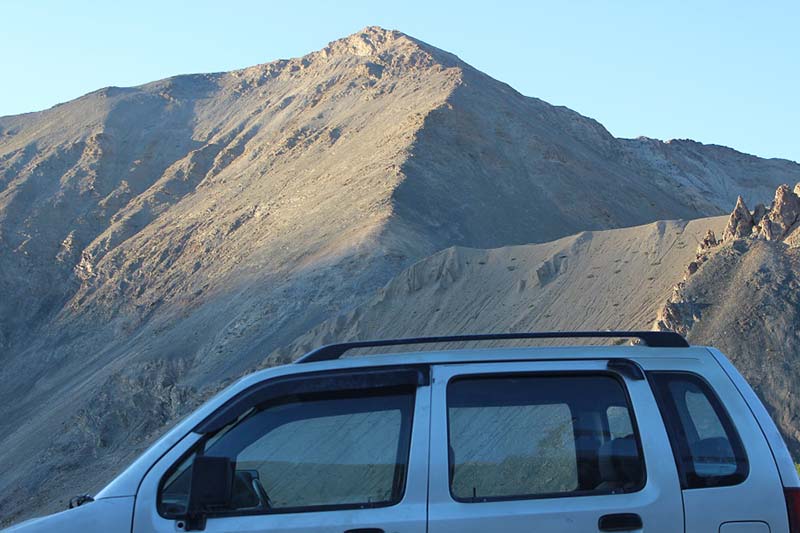 Preparation for Leh Ladakh Car Trip
Below is a long list of checks undertaken. I am sharing the full list so that it can be useful to readers in the future as well. The below list is as per the requirement for a 13-year-old car.
It may not apply to every vehicle depending on the condition. But you should check all the items below to ensure that your trip remains hassle-free and you do not face any problems on the way.
Also Read: How to Plan a Trip to Leh Ladakh –  A Complete Travel Guide
Service
If it has been over 6000 kilometers or close to a year since the last service, it would be best to get a full service of your vehicle done. If not, then at least get a full health check-up done.
Make sure all the nuts and bolts are screwed in properly. Also check fan belts, timing, etc. Ensure that nothing is loose and there are no rattling noises anywhere.
For my Wagon R, I got it serviced and inspected carefully.
Oil Change
Check engine, brake, and gear oils. If the last change was over 5000 kilometers ago, then you need another change. If under 5000, get them all topped up. To be on the safer side, my recommendation would be that you get it changed completely to get the best performance from your car engine.
Filter Change
Check your vehicle's oil filter, air, and fuel filter for replacement. I got all of them changed. Ladakh has quite a dusty environment and an old air filter may get clogged up. I planned to get the air filter cleaned again after we reached Leh. The fuel filter of my car was changed too.
Also Read: Which is the Best car for Leh Ladakh Trip?
Tires & Wheel Alignment

I had already changed the tires about 5,000 kilometers before this trip so did not need another change. But you should look closely at the tread left on your tires, including the spare.
If tires are getting close to the end of their lives or have cuts and cracks in them, it would be best to get a new set.  Other than the tread, also check the wheel alignment and get it corrected if required.
Suspensions
I got all the shockers of my Wagon R changed since it was an old car. You may not need to change but should get the shock absorbents checked and leaf springs tightened.
Clutch Plate set Changed
I got the clutch plates changed as well. This is extremely important and you should get this checked irrespective of the age of your car. You will be crossing several passes and steep climbs on the way and it is best to ensure that your car's clutch plates have enough life left in them to see you through the trip comfortably.
Brakes Changed
I had to get the brakes changed entirely to be on a safer side. You should too get the brake pads and shoes checked for how much life is left in them.
While driving in Ladakh, you will constantly be using the brakes so if needed, get them changed completely. Also, get the brake oil level checked before you set out. A good practice before starting on the trip would be to bleed the brakes to ensure that they are working at their best.
Also Read: Necessary Items to Pack for a Ladakh Trip – Ladakh Checklist
Wiper Set New
I got the wiper set changed as well and kept a new one as a spare to be on a safer side. As I was to realize later in this trip, this proved to be a great decision. The wiper motor was checked as well.
Coolant Changed
I got the coolant changed and had an inspection done on the entire cooling system. All the hoses, hose clips were checked and properly tightened. You should get it checked as well and replace it if there is any wear or tear.
Also, I got the radiator tubes and fins washed and cleaned with a high-pressure water jet.
Electrics
All the wires and connections were checked to ensure that the electrical system was working fine with no worn-out wires anywhere. Bulbs were changed. The alternator and starter were inspected carefully and connectors were cleaned.
I did not have the need to change the battery but you should check yours. It must be in good condition and if over a couple of years old, make sure that the terminals are corrosion-free. Top up the battery water.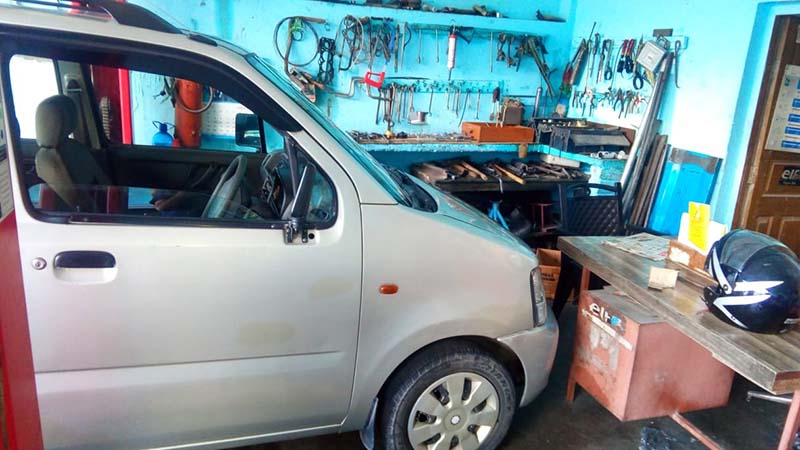 Necessary Spares to Carry for Ladakh

Below is a list of some spares that we carried to complete our car preparation for a Leh Trip.
2 Jacks
Towing Rod – 2
Headlight bulbs extra were kept
Engine Oil – 2 Ltrs extra kept
Gear Oil – 1 Ltrs extra kept
Brake Oil – – 1 bottle extra kept
Fuses – Kept 10 extra fuses
Set of wrenches
Wheel spanner
M-Seal – 3
Cello Tape
Small Hammer
Elfy – 3
Plier + Screwdriver with some nut bolts
Petrol Jerry Can 10 liters + Bottles 3-5 (2 Liters Each)
Knife
Some rope
Tyre puncture kit
Portable Air Pump- We had the electronic one
Also Read: Petrol Pumps in Ladakh
Other Items to Carry for Ladakh

Below is the list of some other items that we took care of as a part of the preparations
Water bottles 2-3
Power Banks – 2 Nos
Camera
Map
Torch
Dry Fruits
Leather gloves
Deo – VERY IMP
2-3 blankets
3 Sleeping bags
1 Foldable Tent for emergency
Medicine and first aid kit including Diamox
Once the complete list was checked, and the preparation for Leh Ladakh car trip was over, the wait for the D – Day started.
Although I got a lot of help from online Blogs but still had butterflies in my stomach. This article by Vargis Khan How to Prepare your Car for Ladakh Trip talks in detail about getting your vehicle ready. But due to my excitement, a lot of questions were still in my mind.
Hope we Have not left out anything.
My Wagon R will be jam-packed with the list above. Will she be able to take it?
Hope She performs well.
Hope there will be no underbelly hits.
As per recommendations did not book any accommodations in advance. Hope that will not be a problem.
I hope we will not face any tire problems.
All I could do at that time was to HOPE. Yes, it is a big word that makes ordinary people do extraordinary feats.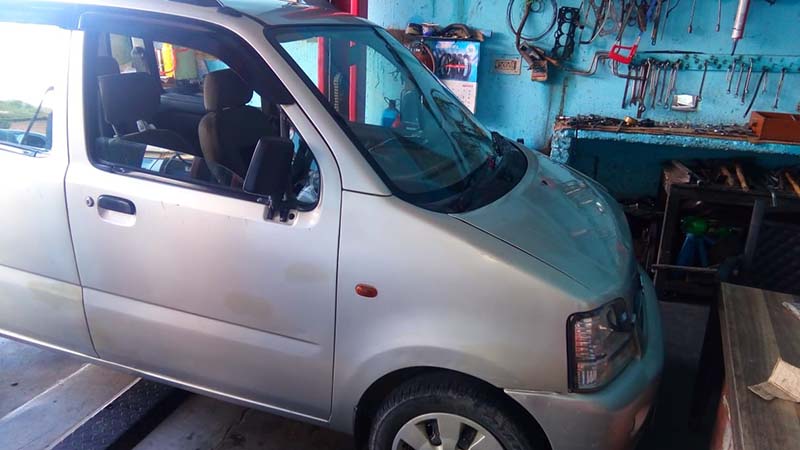 11 Days Itinerary for Ladakh
With this hope, we were off to sleep as we had fixed 6 AM as the departure time. I leave you with the below-finalized itinerary for our trip.
16 Sep – Dharamshala – Srinagar – Day 1
17 Sep – Srinagar – Kargil/Lamayuru –  Day 2
18 Sep – Kargil/Lamayuru – Leh – Day 3
19 Sep – Leh Local with Permits – Day 4
20 Sep – Leh – Hunder Via Khardung La – Day 5
21 Sep – Hunder – Pangong (Via Agham – Shyok) – Merak – Day 6
22 Sep – Merak – Tso Moriri/ Hanle via Chushul, Rezang La – Day 7
23 Sep – Tso Moriri/ Hanle – Pang – Day 8
24 Sep – Pang – Jispa – Day 9
25 Sep – Jispa – Manali – Day 10
26 Sep – Manali – Dharamshala – Day 11
Hmm, well that seems simple enough. Not exactly. As it later turned out, this was just the initial plan, a rough draft of how our journey was going to be.
But trips like this have a way of their own sometimes and this is what happened with us exactly. We were hoping for a smooth journey with 0 surprises but did that happen? I have covered this in the next part of this travelogue.
Also Read: Driving Tips for Traveling to Leh Ladakh
Ladakh by Car – Preparation Cost
In total, all the repairs and replacements on Wagon R came out to be slightly over Rs. 15,000. This includes Regular service + Shock Absorbers + Brake disc + Wiper Set + Clutch Set.
The suspension was found to be OK. Rest, I had taken Oil and other things with me for an emergency however all the spares were returned later. We came back without any problem. Not even a tire puncture.
Also Read: How to Calculate Budget for Ladakh Trip
Other Tips
Below are some other tips on how to prepare your car for Ladakh.
If you were wondering which car is best for the Leh Ladakh trip then a standard answer would be the one with a good GC. But as you can see, I completed the trip in a Wagon R so yes, you can do it in a low GC car as well.
All that is needed is that you prepare well and drive carefully. Any car can act as the best car for the Leh Ladakh trip as long as you know what you are doing.
Keep a regular tab on tire pressure. When you drive to a high altitude, the air pressure in the tires may increase because of the low atmospheric pressure there.
It would be good if you knew or learned some minor repairing. This would include fixing punctures, changing tires and tubes, replacing bulbs and fuses, and checking and topping up battery water, coolant, engine oil, etc.
Make sure that you have packed the necessary documents as well; like your driving license, registration papers of your car, insurance certificate, and pollution under control certificate.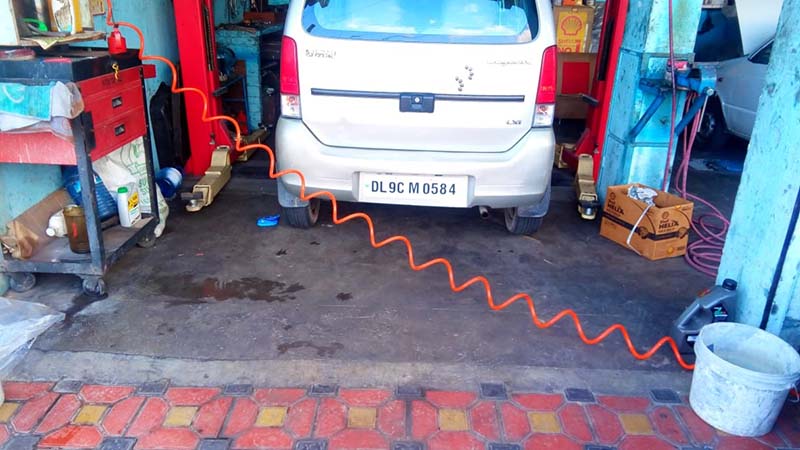 Final Check

All the repairs and replacements should be done at least a week or 10 days in advance. After that, drive around the vehicle to ensure that everything is working up to the expectation.
A day before the trip, do a final check. Start the engine and let it idle while listening carefully for any unusual sound. Check the underbelly of your car for any leakages. Inspect your car, including the cabin, for any loose nuts and bolts.
In the end, do a final check on all lights, horn and indicators, engine oil, brake oil, coolant, battery water, air pressure, and any signs of puncture.
Preparation for Leh Ladakh Car Trip – Conclusion
And this is pretty much it. I did all of the above and my car did not face any problem on the trip anywhere. I hope the information above on preparation for the Leh Ladakh car trip was of help. Please click on the link above to continue reading the next part of the travelogue.
If you have any questions or need any other details, please feel free to ask in the comments section below, or at our Community Forum, and I will be happy to answer.