This post is in continuation with a previous one and part of my Leh Ladakh Travelogue. In the earlier posts, I talked about how I got my 13 years old Wagon R prepared for a trip to Ladakh and provided details on our journey from Dharamshala to Srinagar. On the second day of our trip, we traveled from Srinagar to Lamayuru, details of which are in the post below.
To read the previous parts of this travelogue, please click on the links below.
The journey so Far:
As our guesthouse accommodation in Srinagar was a budgeted one, so there was no option of breakfast. We got up early and were ready to check out at 7.00 AM.
We were greeted by an overcast sky in the morning. The drive along the Dal Lake on Boulevard road was a peaceful one as there were very fewer people due to the early morning.
I tried to click some pictures but could not get the desired results due to low light. Moreover, we were the first time users of a DSLR. I am sure a professional guy can still take some good shots irrespective of the weather outside.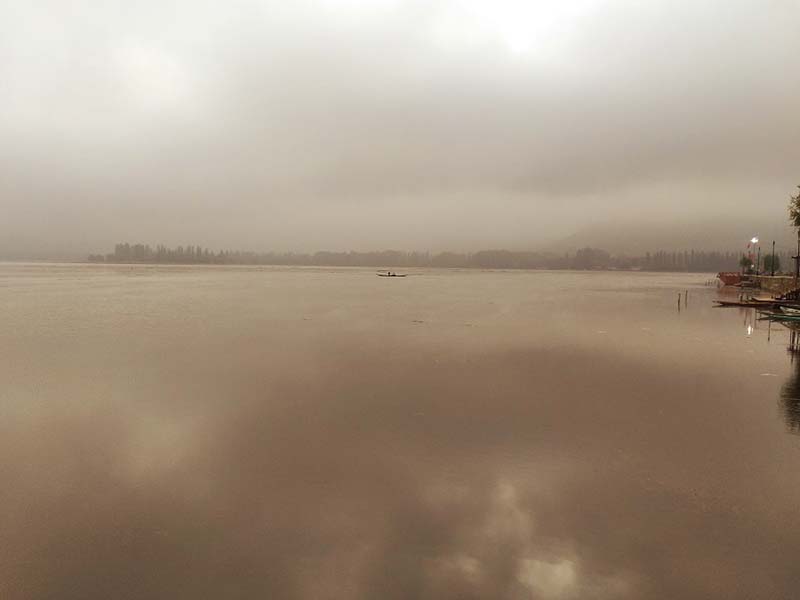 Srinagar to Lamayuru
Soon we joined the NH1 and started our journey to Sonamarg. Stopped at a tea shop around Ganderbal. We were carrying some Biscuits, cookies & Mathi's which were lapped up happily with a double dose of tea.
Also Read: How to Plan a Trip to Leh Ladakh – A Complete Travel Guide
Feeling refreshed and refueled, we increased our momentum as we were aware of the roadblocks that can show up on the mighty Zojila pass.
Looks like a harvest season in Kashmir Valley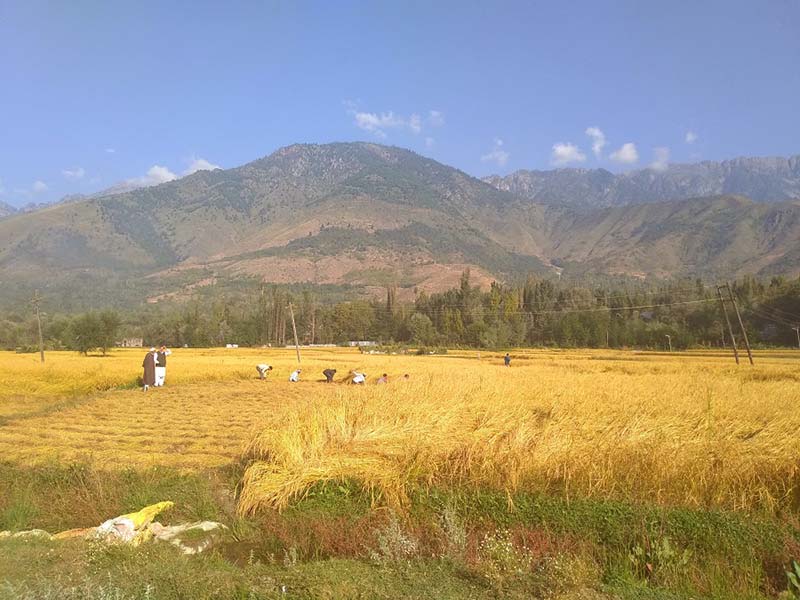 We were already carrying a 10 liters plastic can to fill extra fuel when required. But I had a feeling this might not be enough looking at the itinerary we had planned. So we purchased another 10 liters can at Gund. We reached Sonamarg around 10 AM.
Sonamarg to Zoji La Pass
The weather had cleared up so it was time for some pictures on the way to the Zojila Pass.
Some more pictures on the way to Zojila Pass.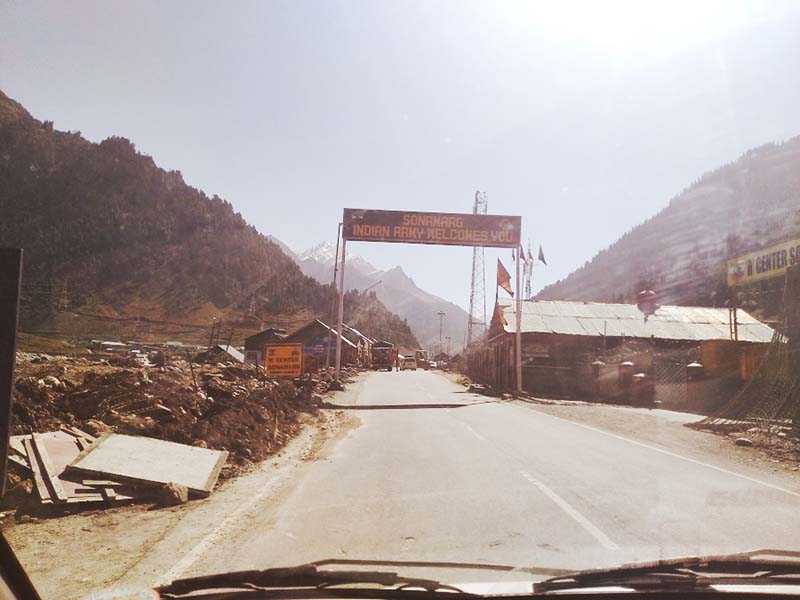 You can see some base camps at Baltal (Bottom Right). This is the starting point of Amarnath Yatra.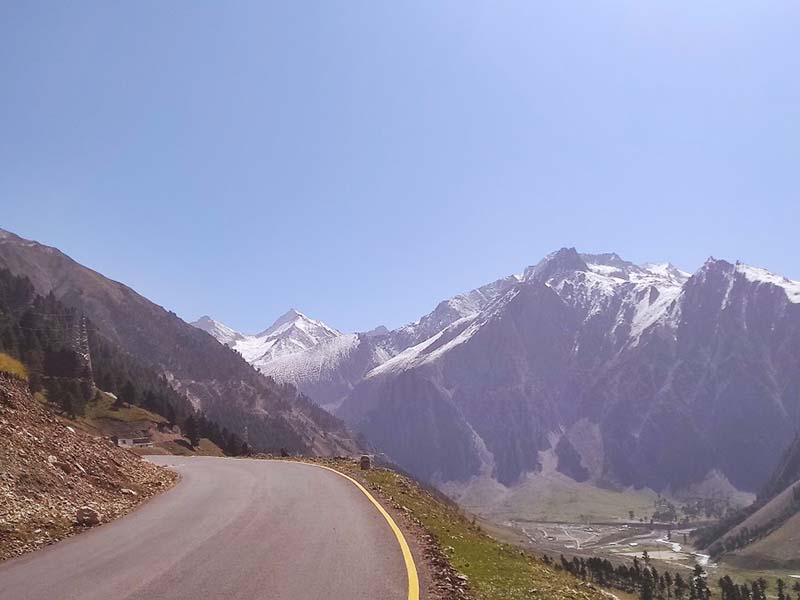 The road to Zojila was full of trucks mostly filled with supplies as the winter season was close by. It was slow but smooth sailing towards the pass, thankfully there was no Army convoy crossing at that time.
As we neared the pass, the last 10 – 12 kilometers was totally a dirt track. I have seen many videos of people getting stuck due to water crossings and landslides in this area.
The time we choose to travel is considered the safest with almost no rain and landslides. Hence it was just a matter of time when we reached the Pass around noon.
Also Read: Safety Tips for Self Driving in Ladakh
Zoji La Pass
It was a great feeling to cross the first high-altitude pass of the trip. Zojila might not be the highest of the passes but certainly can be considered one of the toughest.
After 15 minutes of photo break, it was time to move ahead as we had a target to reach Lamayuru today which was still 200 kilometers away. As soon as we cross Zojila the landscape changed to high barren mountains with a little greenery in the valley areas.
Zoji La to Drass
The Road till Zoji La Pass to Drass was in good condition barring a few bad patches. It took us about 1.5 hours to reach Drass, known as the Gateway to Ladakh.
First View of the Tiger Hill as we approached Drass.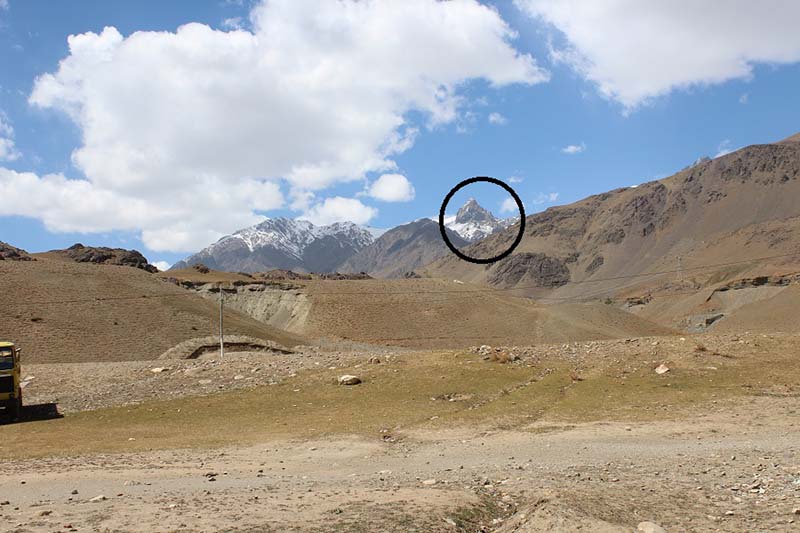 Kargil War Memorial
The next pit stop was the famous Kargil War Memorial in Drass; built in the memory of the brave souls who sacrificed their lives during the Kargil war in 1999. For more details, please take a look at Kargil War Memorial Travel Guide.
Surprisingly we met a close friend of Sunit who was posted at the memorial. Thus we got a VIP treatment and were given a private tour to the complete memorial followed by some mouth-watering Samosas & Jalebi made in a local canteen run by the Army.
It was a very patriotic experience at the memorial, but this stop got extended a bit more than what we expected.
By the time we started the next leg of the journey, it was already 3.30 in the afternoon. Being short on time, we decided to move ahead with very fewer stops.
Thankfully the roads after Drass were in excellent conditions accompanied by some amazing views.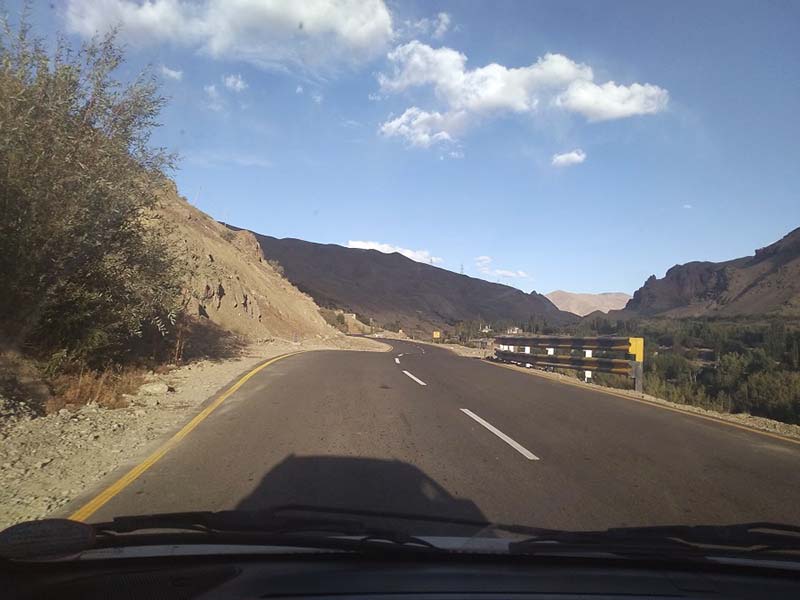 Mulbekh
Around 5.30 in the evening we reached Mulbekh which is famous for its rock-cut image of Maitreya Buddha.
After a quick tea break, it was time to move ahead as we were already behind schedule and still had to cross Namika La and Fatu la Passes
Maitreya Buddha at Mulbekh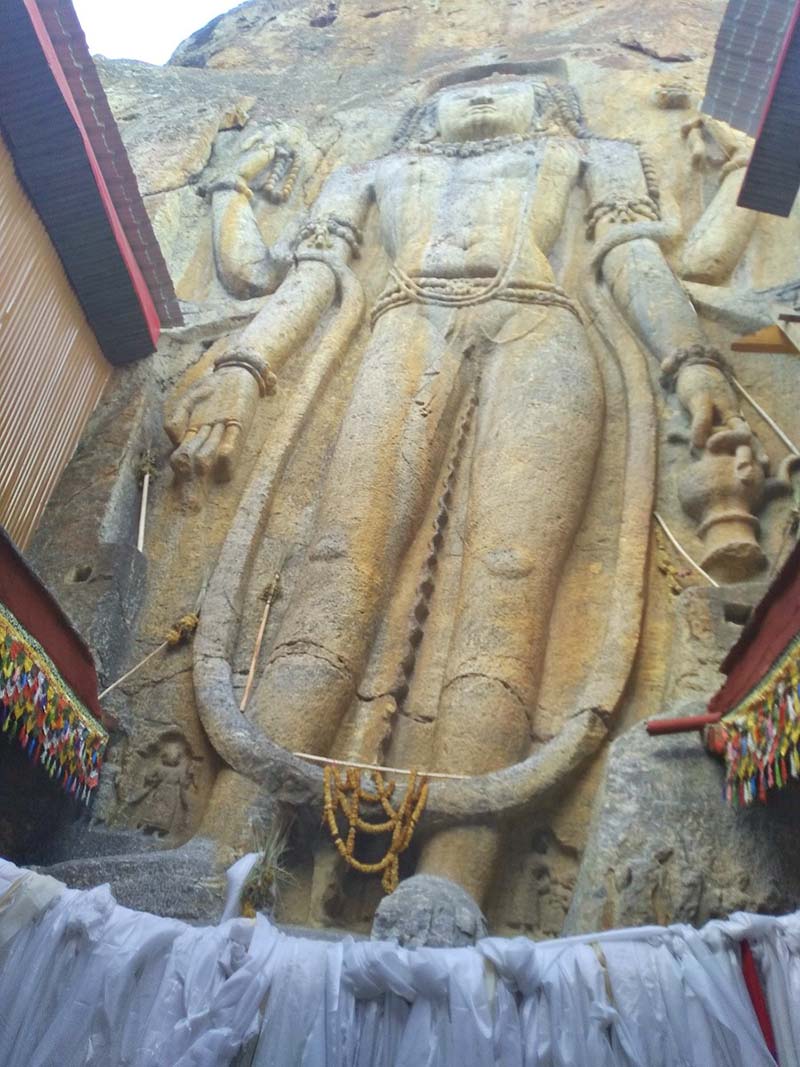 Namika La
Starting the ascent to Namika La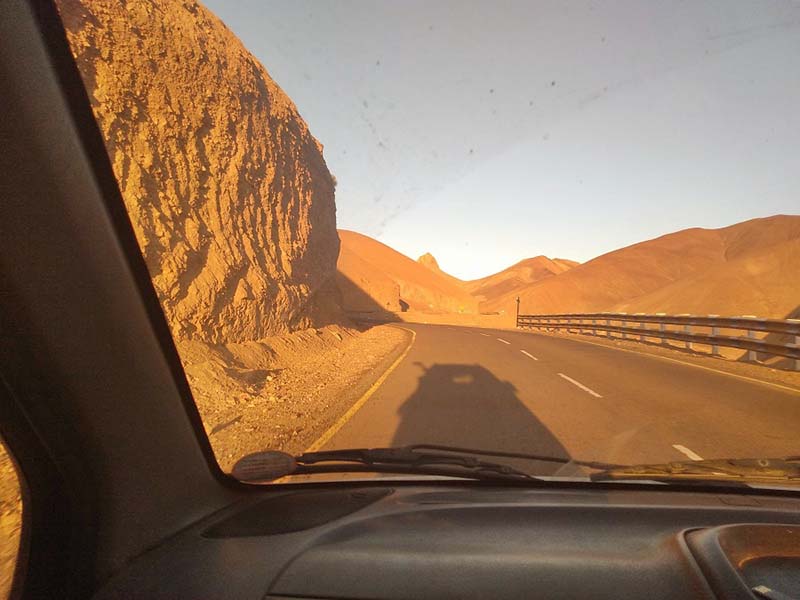 Sunset on the way to Namika La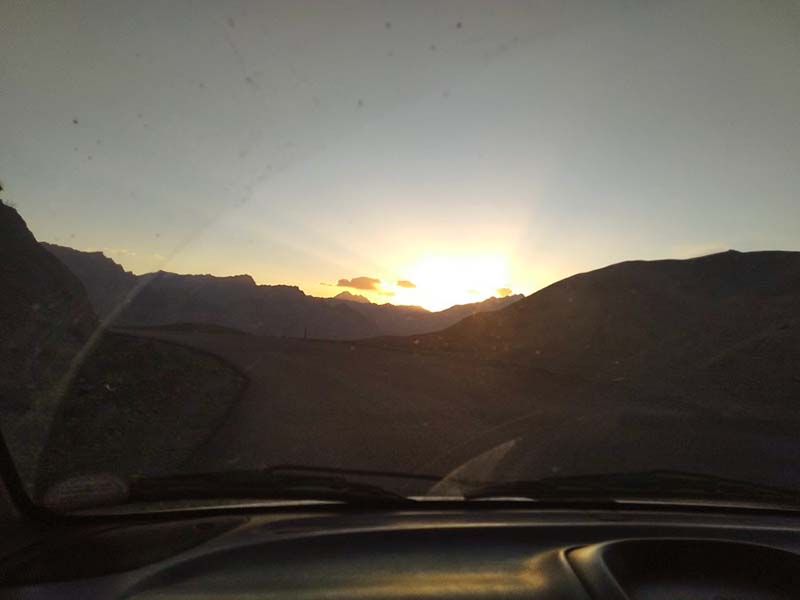 Finally! the second pass of the day Namika La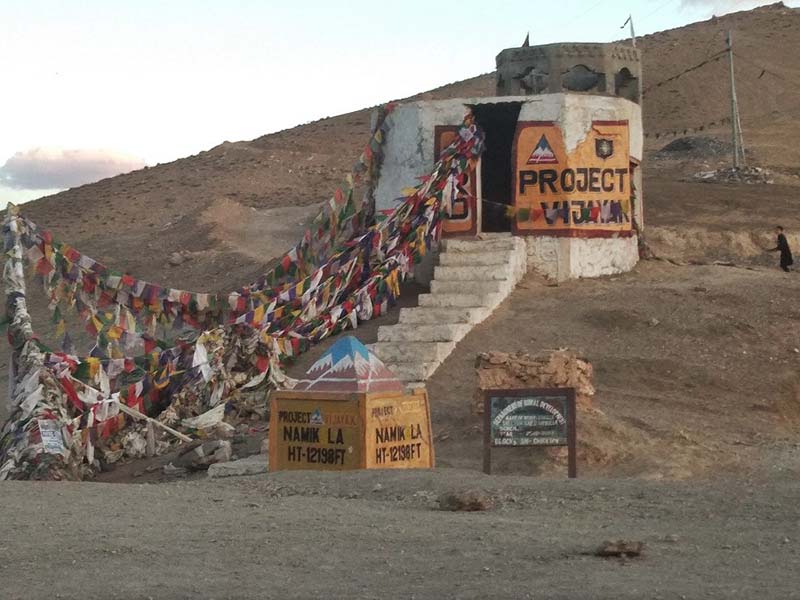 Fatula Top
It was dark soon after sunset. We crossed Fatu la, the third pass of the day in complete darkness.
The temperature outside had dropped considerably. So opted to stay in the car and managed just one click.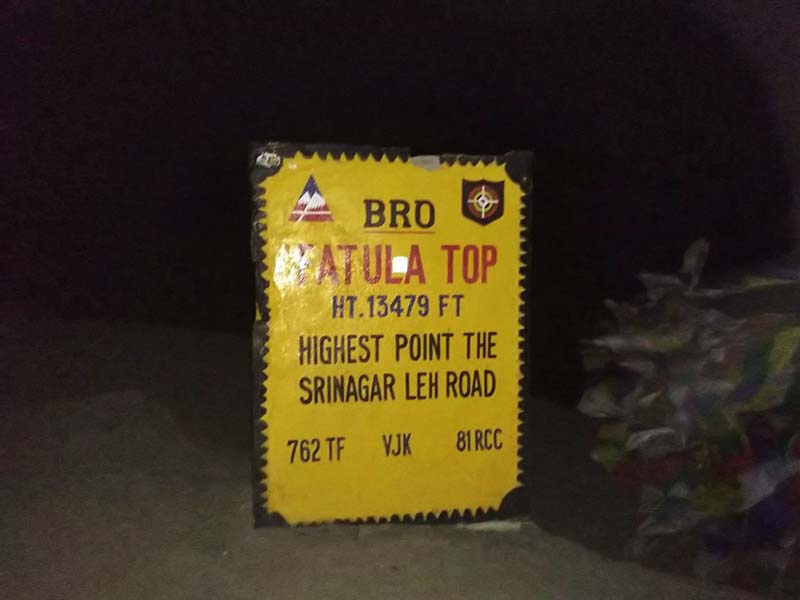 Hotels in Lamayuru
We managed to reach Lamayuru around 8.00 PM. Surprisingly the complete town of Lamayuru was in pitch darkness. It was hard to get a clue of a guesthouse or a hotel. The only thing we could hear was the noise of a Generator. As we moved towards the sound, got a glimpse of a guesthouse with some lights on.
We were too tired and not in a mood to bargain. So we settled in for Rs. 2500/- for a room with an extra bed + dinner + breakfast. It did not seem like a bad deal.
Later at the dinner table, we were informed by the GH owner that Lamayuru is without electricity for the last 3 days due to some technical problem. It was really sad to see a situation like this. The dinner was served right away and we all ate to our heart's content as this was the only proper meal we had today.
Tomorrow was going to be an easy day for us as Leh was just 120 kilometers. With these thoughts in mind, we called it a day. We were looking forward to getting up early tomorrow to visit the Monastery.
Also Read: Travel Guide for Lakes in Leh Ladakh
Fotu La
To cross Fotu La in the night was a challenge indeed with almost zero traffic. Although we had driven close to 700 kilometers but still had that weird question in my subconscious mind of what happens if we get stuck in no-man's land.
But then we had peace of mind as we were carrying a tent and 3 sleeping bags, a small LPG cylinder with some Maggie. We were ready to face any surprises that could be in store for us.
It was very windy up there so had to bid Fotu La Goodbye while being seated in the warmth of the car. But was Fotula ready to bid us final goodbye for the trip? This is another story that will come up soon.
To continue reading the next part of this travelogue, please read Day 3 – Lamayuru to Leh.
Srinagar to Lamayuru Distance
Srinagar to Lamayuru is at a total distance of about 310 kilometers from Srinagar. This journey can take you anywhere between 9 to 12 hours depending upon your speed, breaks, and the traffic at Zoji La.
We traveled late in the season due to which we did not get stuck at Zoji La Pass. But usually, in the early season (in the months from May to July / August), traffic at Zoji La is one way. This means that the vehicles from Srinagar to Kargil are allowed within certain and hours and then for rest of the day, traffic from Kargil side is allowed.
So please ensure that you confirm the traffic timings before you start the journey.
Also Read: Festivals of Leh Ladakh
Srinagar to Lamayuru Road Conditions
As you can guess from the post above, the road conditions were mostly smooth all the way except for a small bad stretch around Zoji La.
Srinagar to Lamayuru Bus
There is no bus dedicated for Srinagar to Lamayuru only. You will have to board the bus that is going towards Leh and get down at Lamayuru.
Srinagar to Lamayuru Taxi Fare
Yes, you can get a taxi as well from Srinagar to drop you at Lamayuru. For a private taxi, expect this fare to be around Rs. 8000. For shared taxis, this can be anywhere between Rs. 2000 – 2500 per person.
Conclusion
I hope the travelogue and information above on traveling from Srinagar to Lamayuru was of help. Please click on the link above to continue reading the next part of this travelogue. If you have any questions, please feel free to ask in the comments section below or at our Community Forum, and I will be happy to answer.