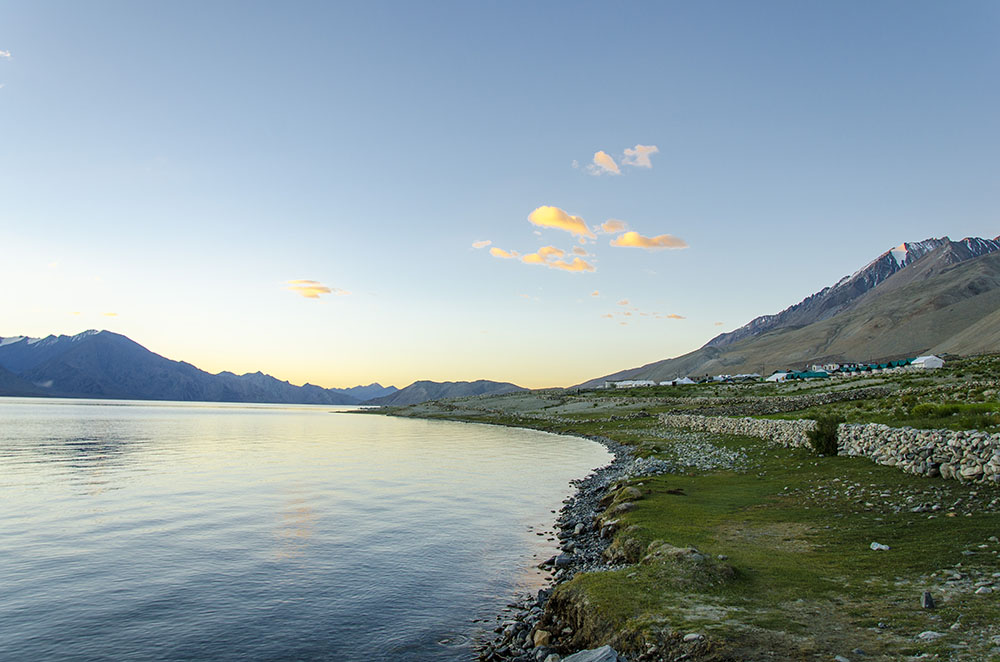 Where to stay at Pangong Lake? This may have been a question of concern a decade ago but not anymore. In recent years, Ladakh has seen a great boost in tourism, and finding a place to stay is not difficult at all. Accommodation at Pangong Tso now is available in all forms. As per your convenience, you can pick from a long list of hotels, guesthouses, campsites, and homestays.
In the article below, I will talk about the different choices of accommodation available near Pangong Lake and list down a few names that I know of. I will also provide their contact information if you wish to call ahead and book in advance.
Please note that in this post, I will only talk about where to stay near Pangong Lake. For other details like how to reach, the best time to visit, public transport, and sightseeing, please take a look at How to Plan a Trip from Leh to Pangong Tso.
Where to Stay at Pangong Lake
The first time I visited Pangong was over a decade ago. It was an entirely different scenario than it is today. At that time, I and a friend of mine were the only tourists at Pangong that day. It was just the two of us standing there with not a single living soul in sight.
Accommodation at Pangong Tso back then was limited to just one government-run hotel which was always highly overpriced and booked months in advance. Finding a room on the spot there was next to impossible.
The only other choice was a single poorly maintained room that the villagers had put up near the lake. They would charge Rs. 100 per person, give you a blanket and a mattress to sleep on the ground in that room. If they got 10 tourists, then all 10 will be sleeping on the ground in that same small room. That is how we spent our night there.
Much has changed in the last few years ever since the movie '3 Idiots' was released. Now right from the point where the lake starts also starts a series of Chadar tents which is later followed by a never-ending line of campsites. Now accommodation at Pangong Tso is not a challenge anymore.
You neither are required to book your stay months in advance after paying a hefty price nor sleep on the floor of a broken room wrapped in a thin blanket (this was kind of fun actually now when I think about it). Now no matter what your budget is, no matter when you arrive, no matter how long your stay is, you will easily find a place to stay for the night.
Also read: How to Plan a Trip to Leh Ladakh – A Complete Travel Guide
Places to Stay Near Pangong Lake
As a matter of fact, it is not just the village of Spangmik where you can stay now. A little further after Spangmik, also on the banks of Pangong Tso are the small villages of Man and Merak.
Until a few years ago, no one had any idea about these tiny hamlets. People will just arrive until Spangmik and be back on their way to Leh from there. In recent years, a lot of tourists have now started visiting Man and Merak as well. As a result, a few guesthouses and homestays have come up in both these villages as well.
So in total, there are 4 places near Pangong that you can stay at.
Tangtse
Spangmik
Man
Merak
Of these, Tangtse is located 45 kilometers before the lake. The distance may discourage people from staying here but there are a few decent guesthouses here in the village.
The villages of Spangmik, Man, and Merak are located right along the lake and have guesthouses, campsites, and homestays available.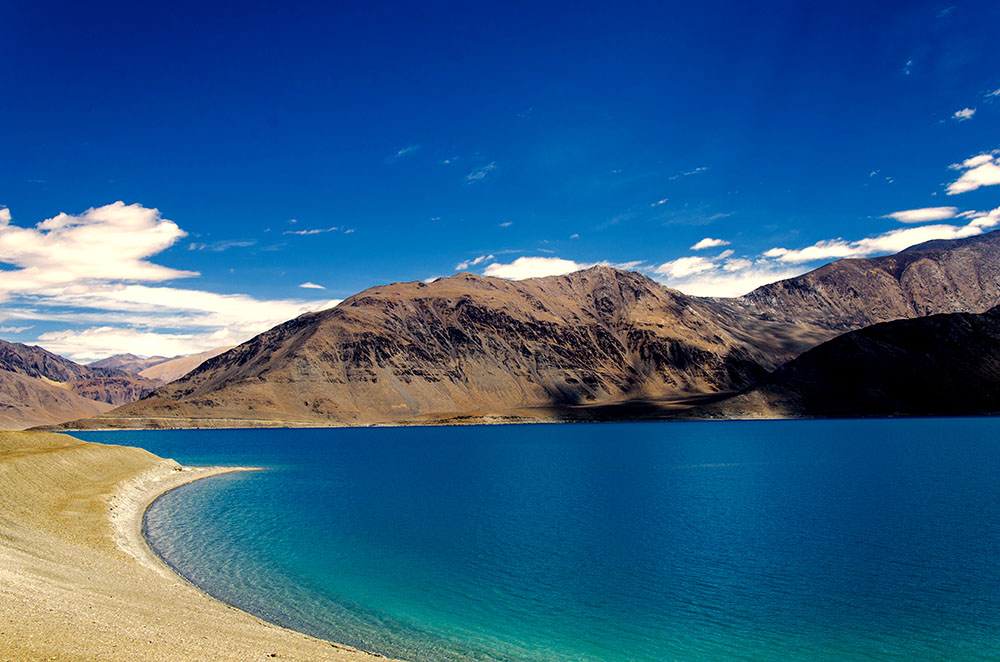 Accommodation at Pangong Tso Lake
There are 5 options available in terms of accommodation at Pangong Tso – hotels, guest houses, campsites, chadar tents, and paying guests.
Hotels near Pangong Lake
Hotels at Pangong Lake are a rare breed. In fact, there are none but one. Pangong Camp Resort is the only cemented hotel at the lake and the oldest staying option.
It is a government-run hotel, maintained by JKTDC, and a pretty good one too. Rooms are quite comfortable with hot water provided in buckets. Food is the best at this hotel and the service is quite satisfying.
Expect the price to start from at least Rs. 3000 / 4000 for a double bedroom and inclusive of meals. It is the preferred and probably the best option to stay if you are visiting with family.
The only downside however is that this hotel is booked months in advance and mostly by foreign tourists. It is within a walking distance of the lake and provides an amazing view of Pangong, especially from its roof. It is however definitely not a choice if you are on a budget trip.
Pangong Camp Resort JKTDC
Location: Spangmik
Phone: 0191 254 9065
Hotel Pangong Residency
It is a cemented hotel and a good option to stay if you do not want to stay in the camp, could not get a booking at Hotel Pangong Camp Resort, and do not mind staying a little far from the lake.

Location: Tangtse
Phone: 094192 43495
Are you traveling to Ladakh with your kids accompanying you? Please read How to Plan a Trip to Ladakh with Infants or Children for a few tips on preparations and precautions you must observe in order to ensure a hassle-free trip.
Guest House at Pangong Lake
The logic that I am using to differentiate between a hotel and a guest house here is that a hotel is a large establishment, like the one I mentioned above. Guesthouses at Pangong Lake however are merely an extension of the houses of the villagers. They have built a couple of rooms and rent those out.
This is a great choice of stay, both comfortable and not that costly as well.  Rooms at these guest houses are quite spacious and clean, and the food quality is decent.
Please do know however that in peak tourist season, the guest houses at Man and Merak too will charge you quite high; almost as much as the campsites. If you were traveling on a budget, you will have to look for either a guesthouse in Tangtse or a homestay in Spangmik.
Below are the names and numbers of a few guest houses that I know of.
Pangong Tso Kongma Resort
Location: Spangmik
Phone: 094695 30962
Dorjay Delbu Guest House
It is a great place to stay that has been highly recommended by a few friends. To reach here, continue driving after Spangmik until the village of Merak. The location of the guest house is amazing, close to the lake. Rooms are quite comfortable and the food is simple but delicious.
Location: Merak
Phone: 099069 93462
Yakmik Changla Guest House
Location: Tangste
Price Range: Rs 1500 for a double bedroom
Phone: 9469567990, 9469726902
Dothguling Guesthouse
Location: Tangste
Price Range: Rs 1500 for a double bedroom
Phone: 01981-201156, 09469726914, 09469188966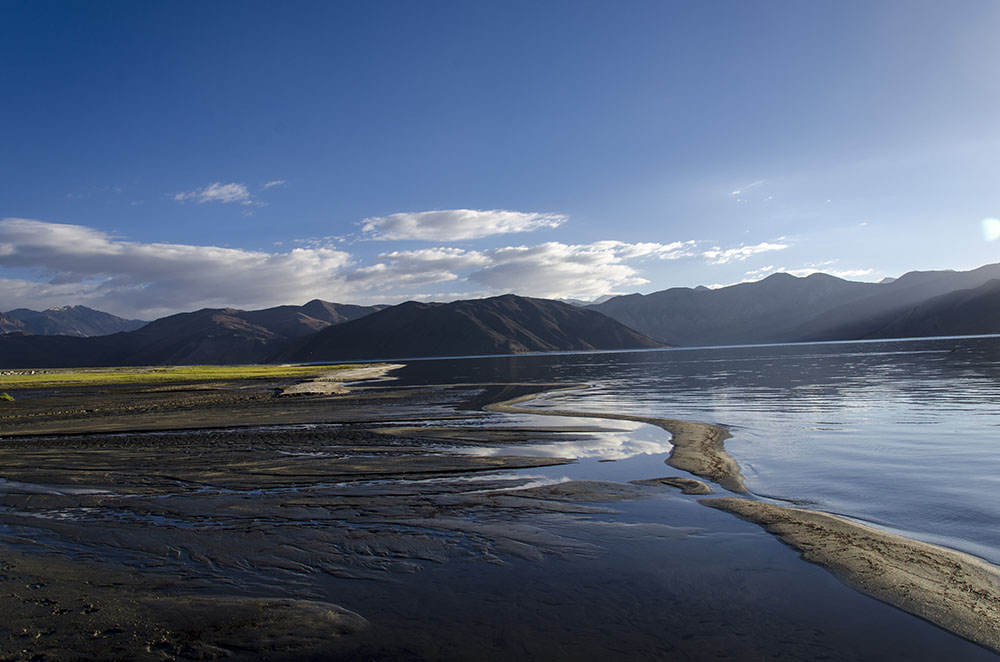 Homestay at Pangong Lake
Now, this is again where the difference between a guesthouse and a homestay in these villages turns a little thin. They may sound like more or less the same thing because the room you are renting will anyway be a part of the owner's house or he will be living somewhere close.
As a matter of fact, almost every villager's house in Spangmik serves as a homestay. You can talk to any villager and they may allow you a stay for the night in return for a nominal charge. The catch is that there will be no electricity and limited hot water provided in buckets.
Also read: Recommended and Budget Hotels in Leh City
Another thing that could be a drawback for some people is that the homestays in Spangmik are at a little distance from the lake. The village is an uphill walk on a small mountain. So if sitting at the banks of Pangong is on your mind, you would have to walk down to the lake.
But you will also get an amazing landscape view of the lake. If you need a homestay closer to Pangong then try driving all the way until Man and Merak and talk to the villagers there. Their guesthouses and homestays are right next to the lake but they charge a little too much.
Below are the names and numbers of a few homestays that I know of.
Gongma Homestay
Gongma Homestay is a name that gets talked about the most in Spangmik but I have not really heard good feedback about it recently. I stayed there once a few years ago and they actually treated me nice. The rooms were quite comfortable and spacious.
I recommended them to a few other travelers and everyone came back saying that the host was acting rude. I do not recommend it anymore but you can check it out.
Location: Spangmik
Phone: 094695 34270
Marzee Home Stay
This is in the village of Merak. I noticed it the last time I was there but haven't stayed with them.
Location: Merak
Phone: 099069 93462
Peace Full Home Stay
This is another good place to stay in Merak Village and has been my preferred place of accommodation in my last 2 trips to Ladakh. The last time I was there, I managed to get a cozy room with an extra bed + Dinner and Breakfast @ Rs 2200. The dinner was finger-licking good followed by some delicious hot coffee.
Location: Merak
Phone: 070511 11988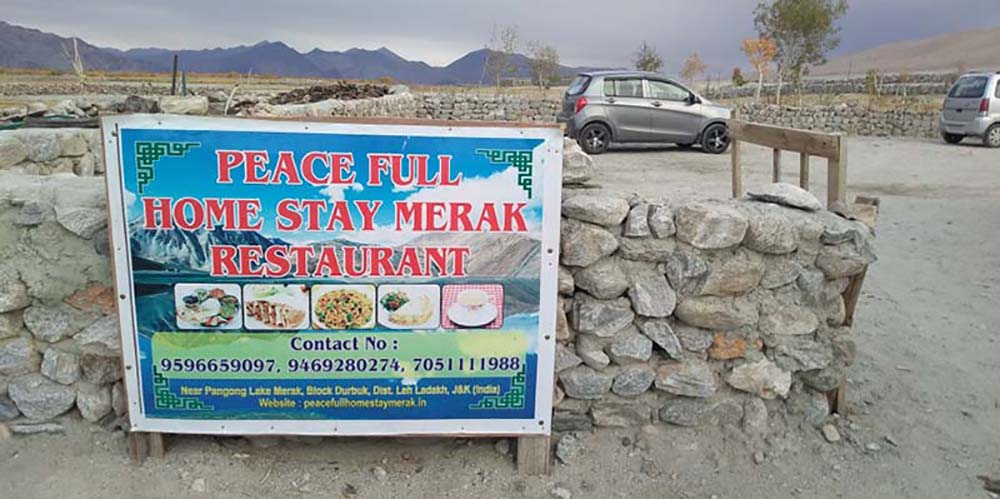 Camping at Pangong Lake
Let us now talk about the largest accommodation choice available at Pangong Tso, the campsites. They are probably the most popular accommodation choice, though may not be a budget option.
It's a typical campsite with a sleeping capacity of 2 to 4 people per tent. Expect the charges to start from Rs.2000 per person inclusive of meals and then it can go as far as Rs. 4000, depending on the camp.
Also Read: Accommodation in Nubra Valley
Usually, they will tell you that it's a fixed price but you can always negotiate. The trick is to find a camp that has few or no guests at all because that person will be more prone to negotiating the price.
Tents are quite comfortable with attached washroom facilities. Quality of food will differ with each camp but mostly it is OK, neither too good nor too bad.
Below are the names and numbers of a few campsites that I know of.
Camp Martsemik La
Location: Spangmik
Phone: 075030 33585
Wonderland Camp
This camp I have heard is open during winters as well but it is not confirmed. If you are planning a winter trip and want to stay at the lake, you can give them a call and inquire.
Location: Spangmik
Phone: 094191 77723
Pangong Delight Camp
Location: Spangmik
Phone: 095968 11649
The Kora Pangong Camp
Location: Spangmik
Phone: 094192 15066
Camp Redstart
Location: Spangmik
Phone: 094191 77245
Highland Camps
Location: Spangmik
Phone: 094198 19078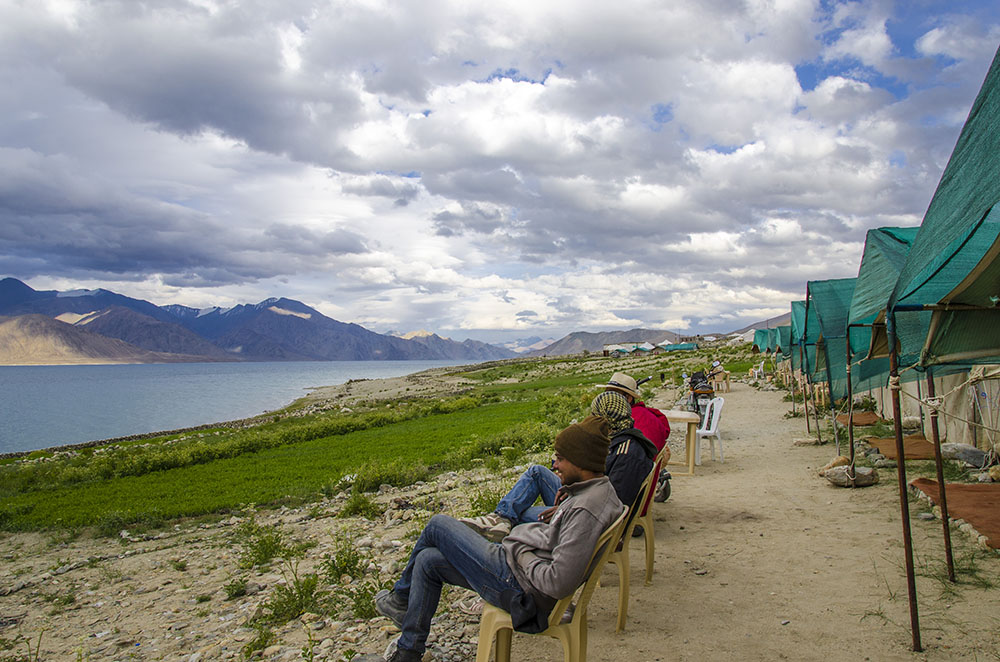 Chadar Tents at Pangong Tso
After campsites, Chadar tents are probably the second most popular choice of accommodation at Pangong Tso Lake, especially for people who are on a budget trip.
So what is a Chadar tent? It is a dormitory-style huge tent with a dhaba at the front and a series of beds towards the back. These are in plenty in Ladakh and quite popular too mostly because they are cheap. Staying here makes a lot of sense when you know that all you need is a bed to crash on for the night because you will be on your way in the morning.
They usually charge between Rs. 200 to Rs. 300 per person, depending on your negotiation skills, excluding meals. You just take your luggage in and sleep on the bed assigned which is quite comfortable considering the money you paid for it.
Though cheap, it is in my opinion a choice only when it is a bunch of guys traveling. You will pay less but will make a huge compromise on privacy which is a big concern when traveling with family or when you have women in your group.
Washroom too is a big problem with these Chadar tents. You will be doing your thing at a place that god only knows how many people have gone to before you.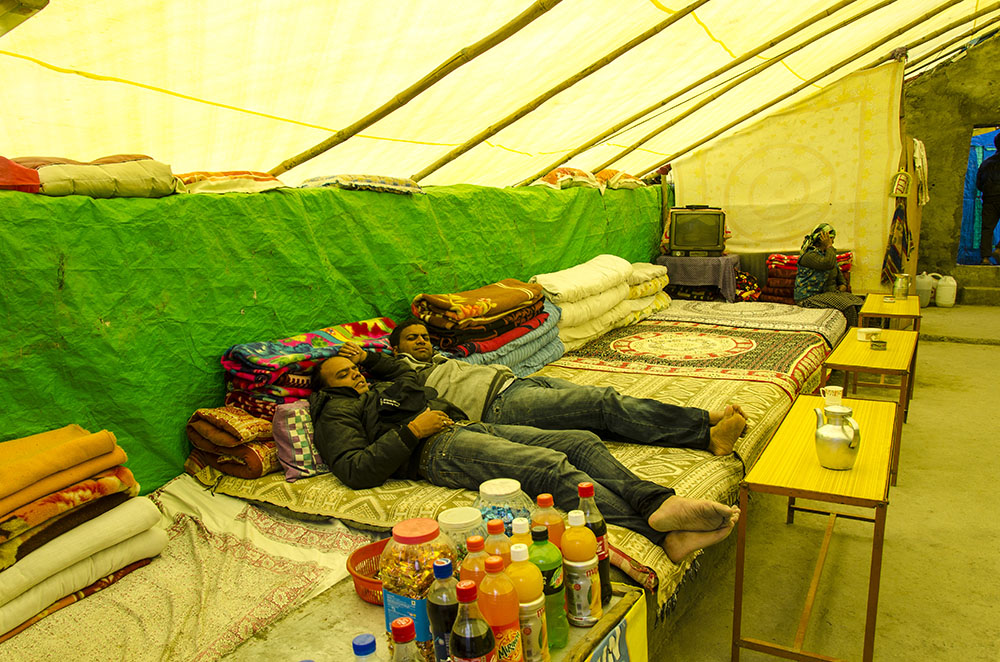 Self Camping at Pangong Tso
A lot of people chose to pitch their own tents. This is also a great choice for an overnight stay at Pangong lake. Up until a few years ago, places for self camping were far too many but these days, finding a good spot could be a bit of a challenge.
There are Chadar tents and campsites one after another, claiming those grounds, and may not let individuals set up their own gear.
The best way for self camping would be to talk to either of these site owners. Pay them a little and in exchange, they will give you a spot to camp. You can also use the washrooms for that campsite for the same amount which is a great additional benefit. For more detail on self camping in Ladakh, please take a look at Camping in Ladakh: Self-Camping & Campsites.
My preferred choice would be to go to Man or Merak for self camping. Pay any of the villagers over there to give you a spot on their land. You can ask them to arrange food for you as well.
Also read: Accommodation at Tso Moriri
Wooden Huts / Cottages
A lot of new temporary structures like wooden huts or even cemented rooms were constructed by the locals near the lakes. These were illegal constructions and were later demolished by the authorities but got rebuilt later next year.
If you want to stay somewhere closer to the lake but not in a tent, you can check these cottages out. They can be a good choice of accommodation at Pangong Tso.
The last time I was there, I noticed a place by the name of 'Mesmerik' that had cemented rooms by the lake which they were offering for Rs. 1000 per day. Apart from these rooms, there were a few other wooden cottages by the name of 'Himalayan Wooden Cottages' that you can check out.
Himalayan Wooden Cottages
Location: Spangmik
Phone: 09716507246
Price Range: Around Rs. 4000 for a double-bed cottage with two meals included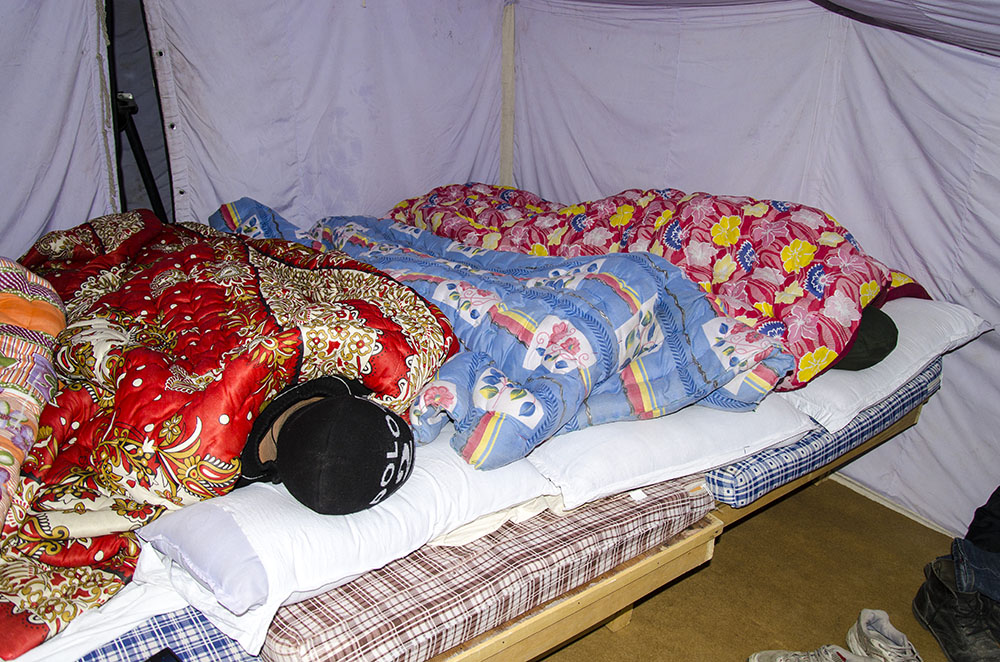 Other Tips
I have not of course stayed at all the places mentioned above. These are just names and numbers that I gathered when I was at Pangong myself or from friends.
Please note that an Inner Line permit is required in order to visit Pangong Tso from Leh. You can either obtain this permit online or from the DM office in Leh. Read How to Obtain Inner Line Permit for Ladakh for more details.
Pangong is at one of the highest altitudes in Ladakh. You may suffer from high altitude sickness while staying for the night here. Please read How to Handle Acute Mountain Sickness in Ladakh for more details.
The only network that may get a signal here is BSNL or MTNL. The reception however for both would be extremely poor. Please read Mobile Phone Services in Ladakh for further details on where your cell may or may not work.
Let me once again go back to the experience that I shared of my first visit to Pangong Lake. While finding a place to stay was a challenge, there was also an upside to being the only two people at Pangong that day. The Indian Army used to allow boating in the lake those days; in their own patrol boats of course.
Since we were the only two tourists around, we spoke to them and got a chance to go boating in one of the most beautiful lakes in the world. An experience that is no longer available.
Where to Stay at Pangong Lake – Conclusion
If I was to be asked, the best choice among the ones listed above would be the campsites. You get your own tent, not highly overpriced, have attached washrooms, hot water, food is OK and they are right next to the lake.
You can squeeze them into your budget too if you have some negotiation skills. During our last visit, I on purpose searched for a campsite where there were no other guests except for us because that campsite was more prone to dropping the charges.
If this doesn't fit into the budget then the guesthouses and homestays at Spangmik, Man, and Merak will be the next best option. If you are on a strict budget and need the cheapest option available, then you need to go for Chadar tents.
I hope this information on accommodation at Pangong Tso was of help. If you have any other questions, please feel free to ask in the comments section below, or at our Community Forum and I will be happy to answer.