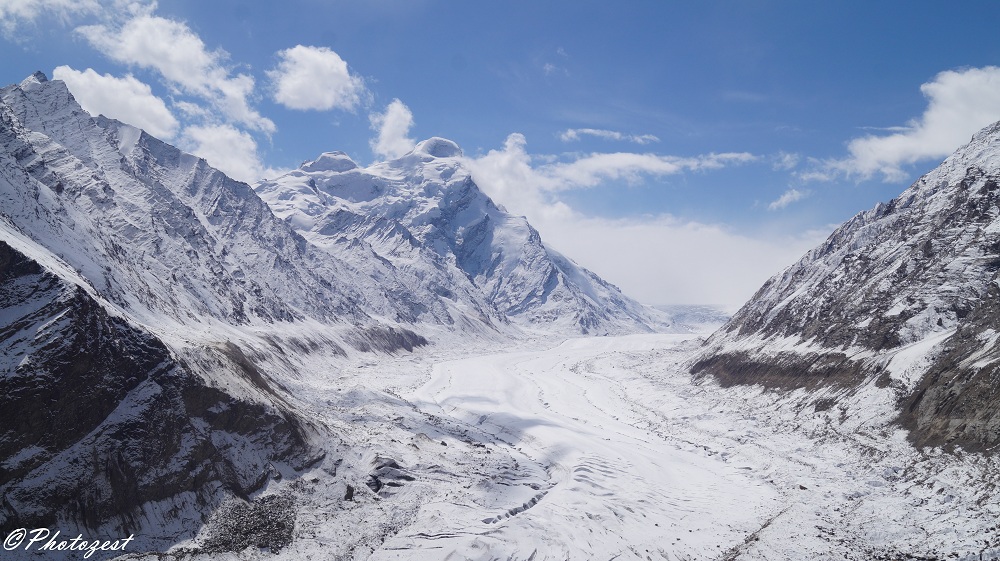 Can we visit Leh Ladakh in March? This question may have sounded a little strange about a decade ago but not anymore. With the increase in tourism in Ladakh, people continue to visit here all year long.
The window of tourist season is getting broader each year and now, if you were in Ladakh in March, you will find that you were not the only tourist in the town. With that being said, March is still the winter season in Ladakh.
Life at this time of the year here is harsh and there are several things that you will have to be prepared for. This is the time of snow and snow is all around in plenty. Roads can get blocked, electricity can go missing for several days and the temperature will fall below 0 degrees Celsius.
If the weather turned severe, it may force you to remain indoors for several days. You may get stuck in one place until things become a bit easier for you to move around.
How can you plan a trip to Leh Ladakh in March is what I will be talking about in this article. For other details on visiting Ladakh outside of the month of March, you can take a look at How to Plan a Trip to Ladakh –  A Complete Travel Guide.
To organize your trip to Ladakh, book a taxi, rent a bike, or get the best hotel rates, you can contact Kunal @ 9910402252. From luxurious hotels to budget stays, he can help get you the best rates possible.
How to Plan a Trip to Leh Ladakh in March
I will break the information into three parts. I will begin by sharing a few important tips that will be helpful in planning your trip overall. Then I will share an example of an itinerary that you can follow in Ladakh followed by a few advantages and disadvantages of being in Ladakh in the month of March.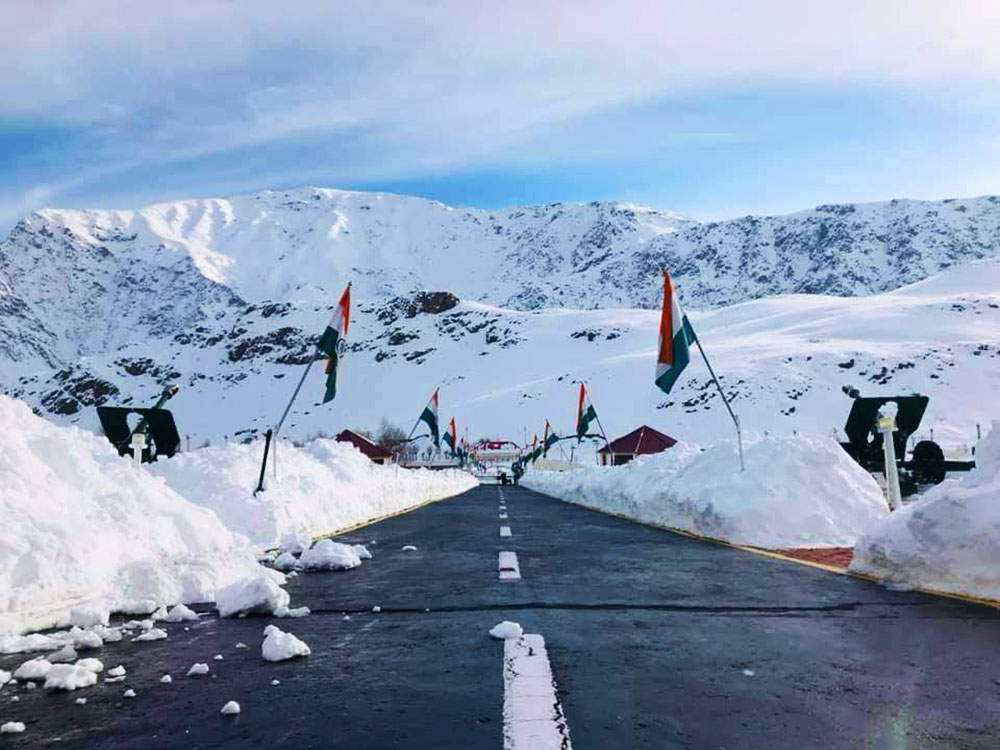 How to reach Ladakh in March
Let us first talk about how you can get to Ladakh in March. Your options are none but one. You will have to fly in and out of Leh City. Both of the roads leading to Ladakh from Manali and Srinagar remain closed this month and cannot be traveled.
Srinagar Leh Highway in March
It has happened in the past that the Srinagar Leh highway was declared open in March itself when it did not snow much anywhere across the Himalayas. As a result, BRO was able to clear the highway much sooner than expected.
But it is a rare occurrence and doesn't happen each year. Historically, the Srinagar Leh route never opens in March. Even if it did, it will only be towards the end of March and not before that.
So as a tourist, and for your own safety, you must not plan to ply from Srinagar to Leh by road in March. Zojila Pass receives snowfall throughout the month.
Even if the road was opened in the last week, it will be highly unstable with chances of avalanches all along the route. Chances of closure again will also be high as BRO will continue the restoration work.
Manali Leh Highway in March
Is Manali Leh Highway open in March? No, it never is, not even in the latter part of the month. Even Rohtang Pass remains buried deep under snow at this time of the year. From Manali, the farthest you will be able to go is the Gulaba check post, not beyond that.
If you traveled by the Rohtang Tunnel, you can only go as far as Jispa. Baralacha La remains buried deep under the snow in March and there is absolutely no way that you can cross it this time. The earliest that Manali Leh highway opens is only in the month of May, not any sooner than that.
By Flight
This then brings us to the last choice, reaching Ladakh by flight. Leh remains connected by air for all 12 months and if you booked a few months in advance, you may even get a good deal.
The only catch is that the flights to Leh get canceled often in the winter season. It has happened to me a couple of times as well. I was all packed and ready to go and received a message from the airline a day before that my flight was canceled.
This usually happens if the weather is really bad in Ladakh or if there weren't enough passengers. The chances of flight cancellation however are much less in March and more in December, January, and February.
By Public Transport /

Local Commute
This I think is an obvious one now. Since the roads are all closed, there will be no public transport available to reach Leh. But you can find a bus and shared cabs to move around in Ladakh.
My recommendation is that you rent a private taxi for the trip. With such cold weather and freezing winds, it is more practical to be traveling sitting inside a car.
Other modes of travel will be very hard to find. You may get shared cabs and even a bus but the frequency of these will be very rare.
With all the recent boost in tourism, even some of the motorcycle rentals have started to remain open in winter. This is also a choice but only if you know how to maneuver a motorcycle with snow and ice beneath its wheels and cold winds on your face.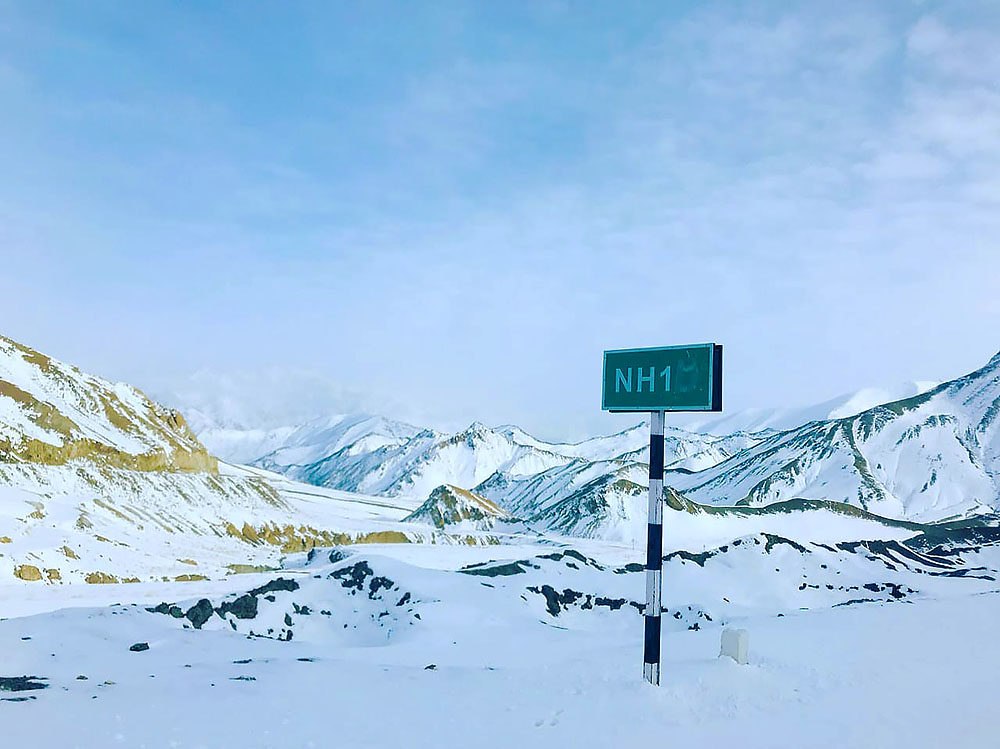 Where to Stay
Once you reach Leh, your next concern would be accommodation in Leh city as well as in the other areas in Ladakh. Most of the hotels here close their doors in the winter season and only a few remain operational.
Locals who remain in Ladakh even during winter are the ones that can accommodate you in their hotels or guesthouses for a few days, but you must notify them well in advance.
They will have to prepare for your arrival, get the room ready, and make other necessary arrangements. So for a winter trip, it is of utmost importance that you book a hotel well in advance to avoid any last-minute hassles.
It doesn't mean though that you will not get a hotel without booking. Ladakh doesn't completely get deserted in winter. Some grocery shops selling day-to-day stuff, government offices, a few hotels, and restaurants remain open in March.
So you can get accommodation without booking as well. Hotel Tso Kar in Leh is where I stayed during my winter trip. They have central heating and WiFi as well and I will recommend it.
Finding a hotel in Leh will be much easier and you may even be able to book one in Nubra Valley on the phone. The other areas do not have a stable phone network and that is where it will get a little tricky. Continue reading further for information on accommodation choices in these places.
Also Read: A Complete List of Tourists Attractions in Ladakh
Places to Visit in Leh Ladakh in March
Almost all of the internal areas in Ladakh remain open in the month of March. You will easily be able to plan a trip to places like Nubra Valley, Pangong Tso, Kargil, Tso Moriri, etc after you land in Leh City.
The only exception is that if there was a recent snowfall and the roads across any of the passes like Khardung La or Chang La were blocked. But even if that happened, it will be a temporary closure lasting a few hours or a couple of days.
Nubra Valley in March
Nubra Valley remains open and accessible in the month of March. You will easily be able to reach here from Leh, find a place to stay, and go sightseeing. The only reason you may not be able to reach Nubra Valley in winter is if it snowed heavily at Khardung La.
Diskit Monastery, Maitreya Buddha, Panamik Hot water springs, Hunder sand dunes, Bactrian camels, and Turtuk Village are some of the prime attractions of the valley. For a complete list, please take a look at Places to Visit in Nubra Valley and Things to Do.
Where to stay is entirely up to you. You can easily find a guesthouse in Diskit, Hunder, Panamik, Sumur, and Turtuk Village. If you were in the valley just for a day, I will recommend staying in Diskit or Hunder. If you were planning to spend 2 or 3 days here, a trip to Turtuk Village comes highly recommended.
A few places that I have stayed in Nubra Valley are Habib Guesthouse, Olgok Guesthouse, and Wachan Guesthouse. All of them remain open in March and are equally good.
Pangong Lake in March
Like Nubra Valley, Pangong Lake also remains open unless Chang La was snowed out temporarily. If you were however thinking about a completely frozen Pangong then you must plan for the first week of March.
The lake starts to melt in March and is mostly all blue by the end of the month. In terms of accommodation, there will not be any campsites available and you will have to stay as a paying guest at Spangmik.
You can also stay at Tangste, about 30 kilometers from the lake. There is a guest house here by the name of Changla Yakmik Guest House that remains open in winter as well.
If you want to stay closer to the lake, then try Peace Full guesthouse in Merak Village. Or you can look for a homestay in Spangmik Village as well.
If you were planning to go further towards Changthang Valley then Padma Guest House in Hanle Village is the only accommodation available.
The direct road from Nubra Valley to Pangong Lake via Shyok remains closed in March and chances are that you will not be able to travel on it.
But ask around when you were in Nubra Valley. If the locals told you that it was open, you will not have to go back to Leh and save a day by going straight to Pangong. For more details on this route, please take a look at Nubra Valley to Pangong Lake direct route.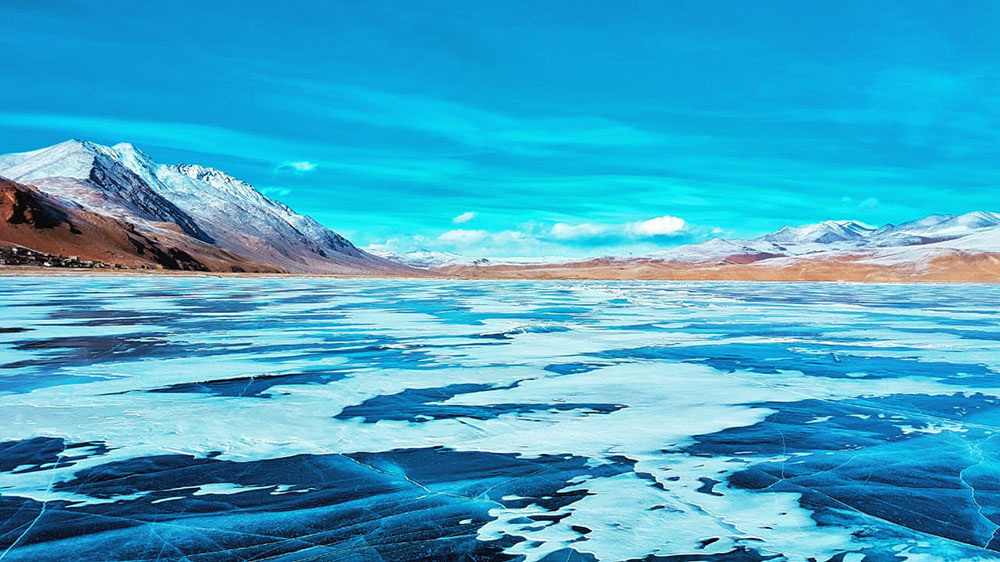 Tso Moriri in March
Tso Moriri remains open in March like Nubra and Pangong. The lake will not be frozen completely if that is what you were expecting to find. For that, you will have to visit in either January or February. In March, depending on the weather, the water starts to melt and it will be more blue than white.
For accommodation, you will have to ask around in Karzok Village. There is a guest house here by the name of Goose Homestay where I stayed and would recommend it.
Another place that remains open in winter is Lake View Guest House. The last known number I had for them is 01982 – 264867 in case you want to call and book in advance.
Apart from this, the Hot Spring Resort at Chumathang is on the way and is also a great choice for a stay. It is built just above the hot springs which kind of works as a natural heater and keeps the place warm throughout the winter. They all remain open in March.
For more details on Tso Moriri Lake, you can also take a look at How to Plan a Trip to Tso Moriri.
Chushul Route & Hanle
This is the road that you can take to reach Tso Moriri from Pangong Lake directly. It will take you through the villages of Man, Merak, Chushul, Tsaga, Loma, Nyoma, and Mahe. If you had some time in hand, you can even go to Hanle and spend a night here.
This entire region is known as Changthang Valley. The road remains open in the winter season but sometimes you may not be allowed to travel this way.
The road for the most part of the journey is bad and near Rezang La, it is completely a dirt road. So if there was a recent snowfall, it will be very difficult to drive on it.
Umling La
You will not be able to reach Umling La Pass in March. Due to its altitude, the pass gets buried under the snow in the winter season. You may be able to get to Hanle but will have to keep Umling La out of your itinerary.
Leh to Kargil Road – Sham Valley Tour
The road from Leh to Kargil remains open in March. Depending on the time you have in hand, you can even go to Kargil and spend a day there before coming back to Leh.
Otherwise, you can take a day-long trip and drive as far as the time allows. You will see places like the confluence of the Indus and Zanskar rivers, Gurudwara Patthar Sahib, and Magnetic Hill.
The same road can take you to Sham Valley as well and you can visit Likir Monastery, Alchi Monastery, or even go to the village of Hemis Shukpachan.
Zaskar Valley in March
Zanskar Valley cannot be reached by road in March. The farthest you can go after Kargil is Rangdum and sometimes you may not even be able to get there. For more details, please take a look at How to Plan a Trip to Zanskar Valley.
Leh in March
Last but not least, let us talk about Leh town. As you can guess, it remains open in March including the market, offices, and hotels. I will let the picture below do the talking.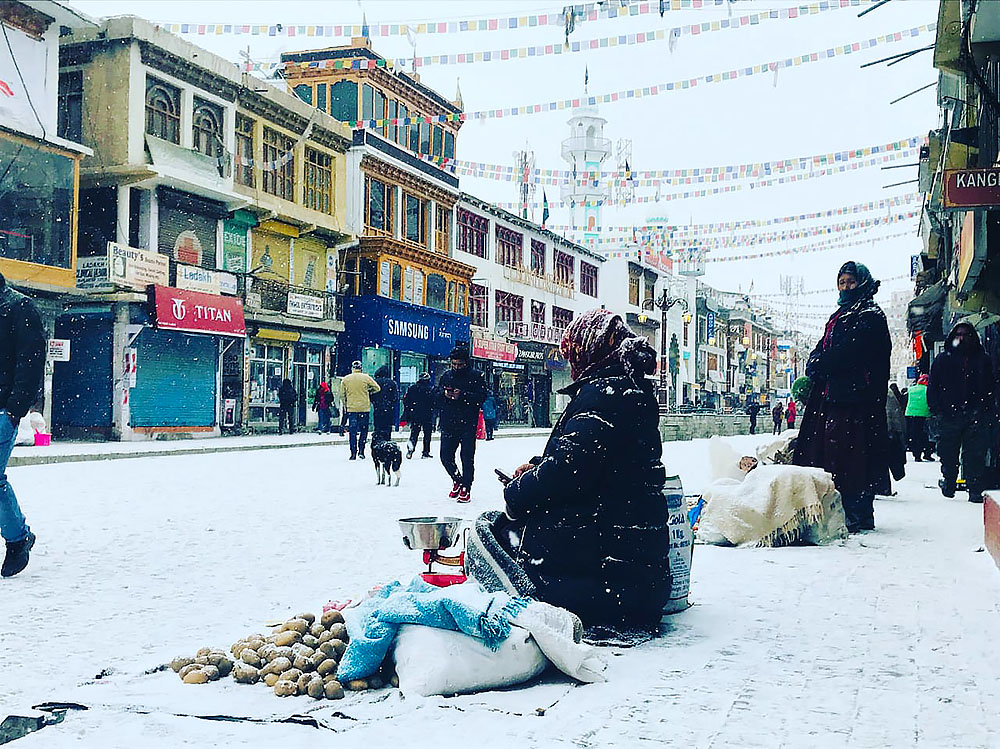 Snow in Ladakh in March
There can be two questions here really. First, will you get to see a live snowfall? Chances are that yes you may, but try to plan in early March for it.
The second question is that will you get to see completely white Ladakh with snow everywhere? The answer is no. Snow on the ground in March will be limited to high-altitude passes and on the way there. It is not going to be a complete whiteout unless a heavy snowfall covered everything with snow for a couple of days.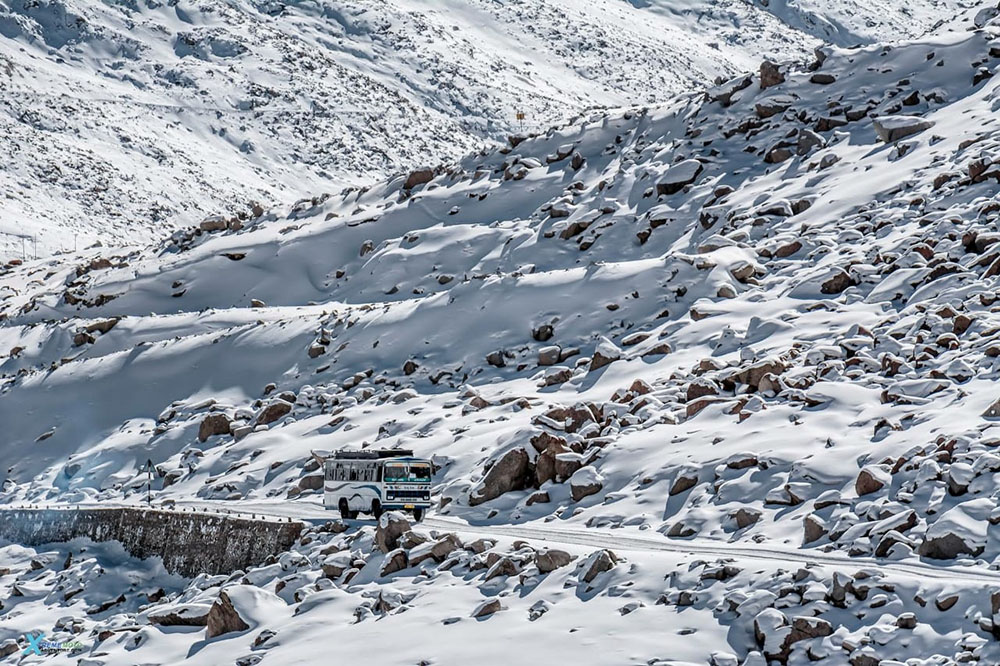 Leh Ladakh Weather in March
The weather can be well summarized in three words, cold, harsh, and unforgiving. When I say cold, I mean the kind of extreme weather that can make you wish you never came here in the first place.
The temperature at night can fall below zero degrees and the sun can go missing for several days. With that kind of cold weather and freezing temperatures, it is quite normal for water to freeze everywhere, even in the pipes.
What it means is that you will be provided hot water in buckets, and in limited quantity that you will have to use a bit conservatively. This also means that you may even have to go without taking a shower for a few days.
So if you are someone who can't bear that kind of cold, or can't go without a shower even a single day, a winter trip to Ladakh is not really your thing.
If you were planning to stay at places like Nubra Valley, Karzok, Chumathang, Hanle, etc then there may not be any running water in the toilets as well. In this case, you will have to do your morning business squatting over a dry pit.
This is the strange time when you can get frostbite if you weren't careful and can even get sunburnt. Even though it is winter the sun can still give you some serious tan when it is there in the sky shining bright.
Also Read: How Safe is Ladakh for Tourists?
Ladakh Temperature in March
On average, temperatures in Ladakh in March will hover between 6°C during the day and -5°C at night. This is just a historical average though and the temperature will depend on the time of the day and the place you were at.
The temperature at the high altitude passes will remain around 0 or several degrees below at all times. At Pangong and Tso Moriri, it may get as cold as -15 degrees Celsius at night. There will be a chill in the wind and you will have to keep yourself covered at all times.
Clothes to Pack
You need to bring in all your heavy woolen clothes. A pair of good-quality thermals will come in really handy. When I say good quality, I mean the kind that can keep you warm and you can also comfortably wear it at night.
You will have to pack a heavy, warm, and windproof jacket that also has a hood to protect your head, neck, and ears. Good quality gloves, woolen socks, cold cream, lip balm, and moisturizer, are some of the other things you must put in your bags.
If possible, find a pair of gloves that is also waterproof. For more details on this topic, please take a look at Clothes for Ladakh Trip – What to Pack.
Mobile Network & Data Connectivity
BSNL has the largest network in Ladakh and works even in the remotest areas. The problem however is that the voice clarity may or may not be that good. The network is intermittent and will come and go as it pleases. Data connectivity would either be slow or not available at all.
Airtel and Jio work very well in Leh and Nubra Valley with 4G data speed. You will get reception even on Leh Kargil Road with these networks.
All other networks including Vodafone and Idea only work in Leh City. You will not get any service on these networks anywhere else in Ladakh.
The most important thing to remember is that only a postpaid phone works in Ladakh. If you have a prepaid connection, it will stop working the moment you land in Leh. For more details, please take a look at Mobile Network & Data Connectivity in Ladakh.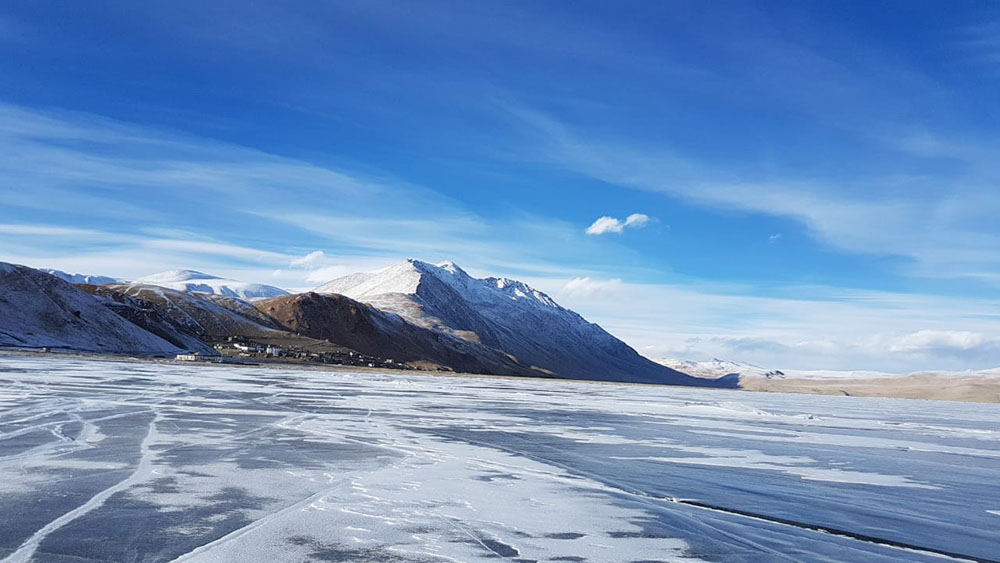 Where to Eat
You will mostly be eating at your guesthouse or homestay only. Fresh vegetables at this time of the year are scarce and locals here usually stock up for a few weeks. So the menu of what you can eat will be limited almost everywhere in Ladakh.
There are a few restaurants and Dhabas in Leh city where you can eat but the food will be very basic, nothing fancy. Neha Sweets in the main market in Leh remains open in the winter months as well where I mostly ate. For information on some of the local foods, you can try, please read What to Where to Eat in Ladakh.
Acute Mountain Sickness
The risk of altitude sickness is always there with a trip to Ladakh. It increases, even more, when you catch a flight to Leh. Cold weather and winds can also make the situation worse.
How serious it is? Several tourists have died in Ladakh (including a friend of mine) due to altitude sickness so it is very serious. A slow gain in altitude is the best prevention against AMS which does not really happen in the case of a flight.
The best thing you can do is to take plenty of rest on the first couple of days of your trip. Do not run around or exhaust yourself and you should be Ok by Day 2. For more details on altitude sickness, and tips on avoiding it, please read How to Handle Acute Mountain Sickness in Ladakh.
Medical Assistance
My first advice here would be to not make this trip if there is any kind of medical history involved that can turn serious. You are going to a high-altitude place and that too when it's freezing up there. Doing so with a serious kind of ailment is not really the best of ideas.
With that being said, there are hospitals in Leh City that remain open in the winter season as well. Apart from the hospitals, you can also approach the Indian Army as well for medical assistance. Hospitals however are only limited to Leh and Kargil only. There is no medical assistance available at Nubra, Pangong, or Tso Moriri.
I will strongly recommend that you prepare a medical kit of your own before coming to Ladakh in March. Pack some medicines for fever, headache, body ache, upset stomach, and cold. Also include a pain relief spray, nasal spray, crepe bandage, antiseptic lotion, and a few Band-Aids.
A cold cream, moisturizer, lip balm, and sunblock lotion with the highest SPF will also come in very handy so pack that as well.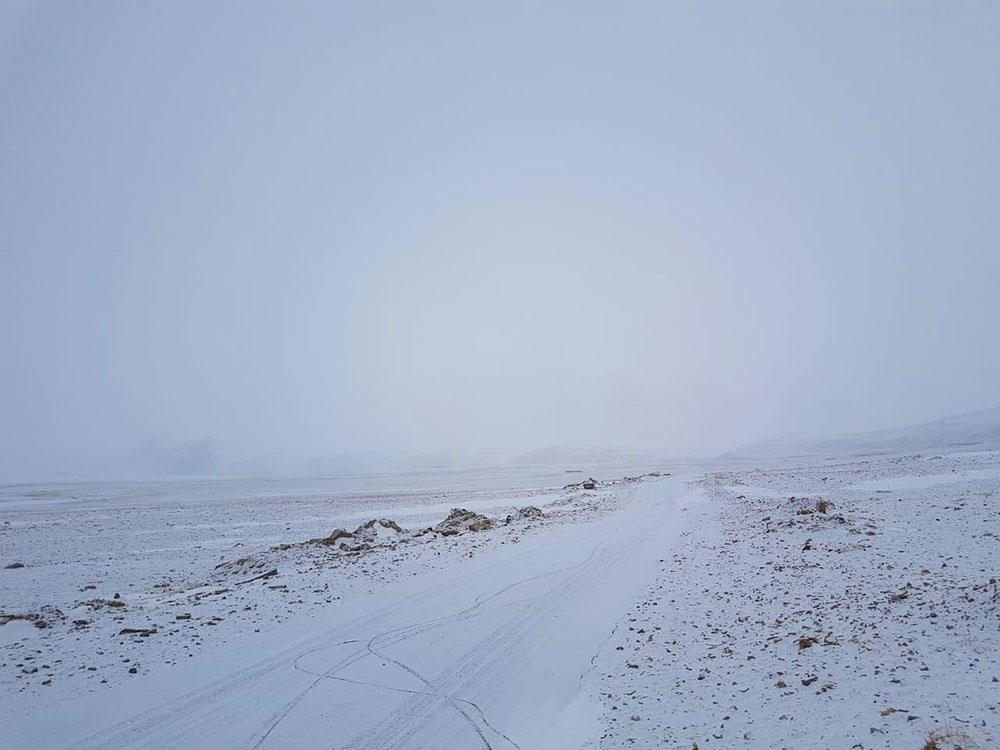 Itinerary for visiting Leh Ladakh in March
My first recommendation for an itinerary is to keep it simple. You should only include areas that are major tourist destinations. Do not plan on wandering towards places like Marsimik La, or another closer to border areas, or some internal routes like Shyok Road.
Arrival In Leh. Rest and Arrange Permits – Day 1
Leh to Kargil – Day 2
Kargil to Leh – Day 3
Leh to Nubra Valley – Day 4
Nura Valley to Leh – Day 5
Leh to Pangong Tso – Day 6
Pangong Tso to Leh – Day 7
Leh to Tso Moriri – Day 8
Tso Moriri to Leh – Day 9
Fly Out – Day 10
This is just a sample itinerary that you can tweak as per your own requirement, and the time you have in hand. If you were short on time, you can remove days and places from this plan.
Also Read: How to Plan a Solo Trip to Ladakh?
You must keep a few days as a buffer over and above your decided plan. There is a high chance that you may get stuck in any of the local places due to extreme weather for a couple of days.
Sometimes even the flights can get canceled due to bad weather. Plan in a way that you are able to afford to stay back in Ladakh for a few more days due to unforeseen circumstances if you had to.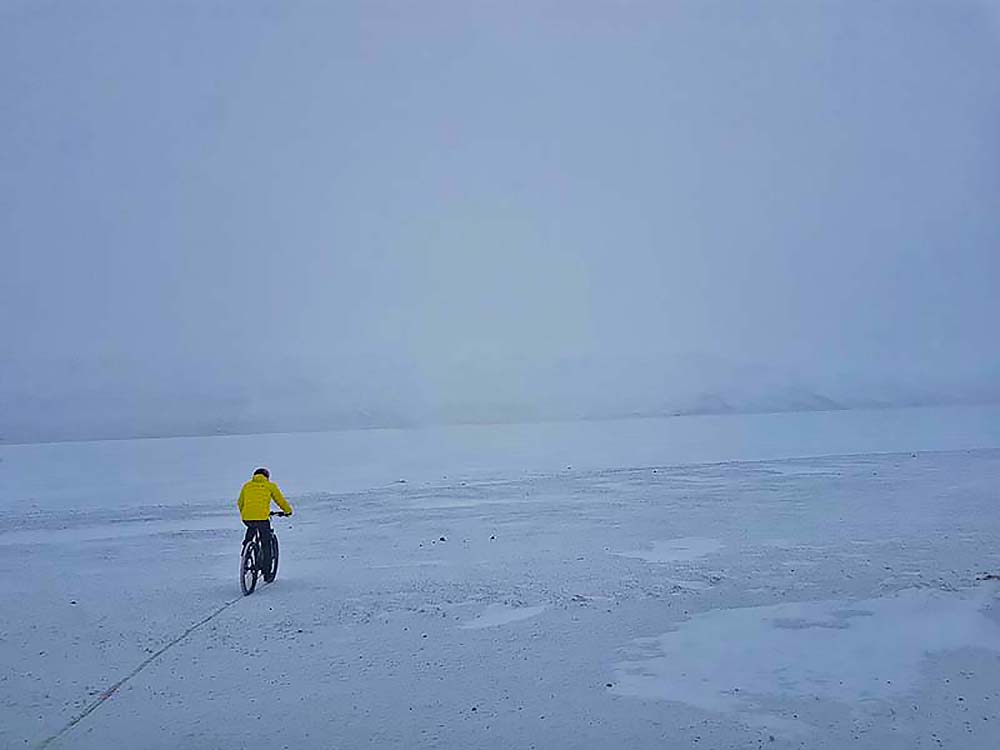 Other Tips for Visiting Leh Ladakh in March
Mentioned below are a few other tips on visiting Leh Ladakh in March that can be of help.
Inner Line Permit
The requirement for obtaining an Inner Line Permit remains applicable in the winter season as well. Without it, you will not be allowed to go to Nubra Valley, Pangong Lake, or Tso Moriri.
The permit can either be applied for online or you can get it in person from the DM office in Leh after your arrival. For more details, please take a look at How to Get an Inner Line Permit for Ladakh.
Camping in Ladakh in March
I think the answer to this question is an obvious one but I will mention it nonetheless. Camping in the winter season is not at all recommended, and you should opt for staying indoors in a cemented hotel.
But if you do want to go camping then make sure you bring in the best quality sleeping bag to keep you warm in below 0 degrees temperatures.  You can also rent camping gear and sleeping bags in Leh City.
Campsites at Tso Moriri and Pangong Lake do not remain open in March. Self-Camping in Ladakh is the only choice you have if you are ready to bear the cold.
Festivals in Ladakh in March
Monastic Festivals and Winter Games are organized in Ladakh during winter but most of them are in January and February. There is no major festival in March that I am aware of but there could be one in any of the small village monasteries. For more information on festivals in Ladakh and their dates, please read Festivals of Ladakh: A Colorful Celebration of Life.
Leh Ladakh Bike Trip in March
The roads to Ladakh will be both closed and you cannot bring your own motorcycle along. So the only chance you have of making this a bike trip is to fly into Ladakh and rent a bike in Leh City for local sightseeing.
This however is a very risky thing to do and you should only do this if you have plenty of experience riding a bike in the snow. Wet roads, frost, snow, and most of all, the risk of black ice can result in a disaster if you did not know what you were doing.
Honeymoon in Leh Ladakh in March
Visiting Ladakh for a honeymoon in March is a great idea but plan towards the end of the month. There will not be many people around and the weather will be pleasantly cold.
Hire a private taxi for the entire tour though and do not depend on public transport. Hiring a motorcycle too is not the best thing to do. All the areas as I mentioned above will remain open so you can do all the sightseeing but without the usual crowd that Ladakh has started to receive these days.
Keep Your Expectations Low
In Leh City you may be able to find a good hotel but not in any of the other places. At places like Nubra, Pangong, or Hanle, you will be staying at either simple guest houses or paying guests. Your stay will definitely be comfortable and warm but please do not expect a five-star hotel treatment.
Do not Make this your First Trip to Ladakh
A trip to Ladakh in March is best when you have already visited here once in summer. A winter trip here is best as your 2nd or 3rd Ladakh trip. Making it the first one is not really the best of ideas.
If this will be your first time in Leh Ladakh, then my sincere advice would be to delay it by a few months, visit Ladakh first between June to September; and then plan for winter next year. This way you would have already familiarized yourself with the terrain and climate when it is not so harsh as it would be in March.
Leh Ladakh in March – Conclusion
I believe that covers most if not all that you should know about visiting Ladakh in March. If you have any questions, please feel free to ask in the comments section below. You can also contact me on Instagram to chat with me live or subscribe to my YouTube channel and ask a question there.