When you talk about visiting Leh Ladakh in March, you already know that it is not going to be just another regular vacation. As a matter of fact, it can't even be a regular Ladakh trip. This is the time of peak winter season and things are far from being "regular".
Life in Ladakh at this time of the year is harsh; so harsh that even locals move to other warmer places for a few months and only return once winter has passed. This is the time of snow and snow is all around in plenty. Electricity can go missing for several days and temperature will fall below zero at times. Water will freeze in the pipes making running water a luxury you simply can't have.  If weather turned severe, it may force you to remain indoors for several days; stuck in one place until things become a bit easier for you to move around.
Also Read: How to Plan a Trip to Ladakh –  A Complete Travel Guide
So with all of the above being said, question is can and should you plan a trip to Leh Ladakh in March? While the "should" part of this question is really a personal choice; the answer to the "Can" part is a definite yes. How can you plan this trip and what are some of the things you should keep in mind is what I will be talking about in this article.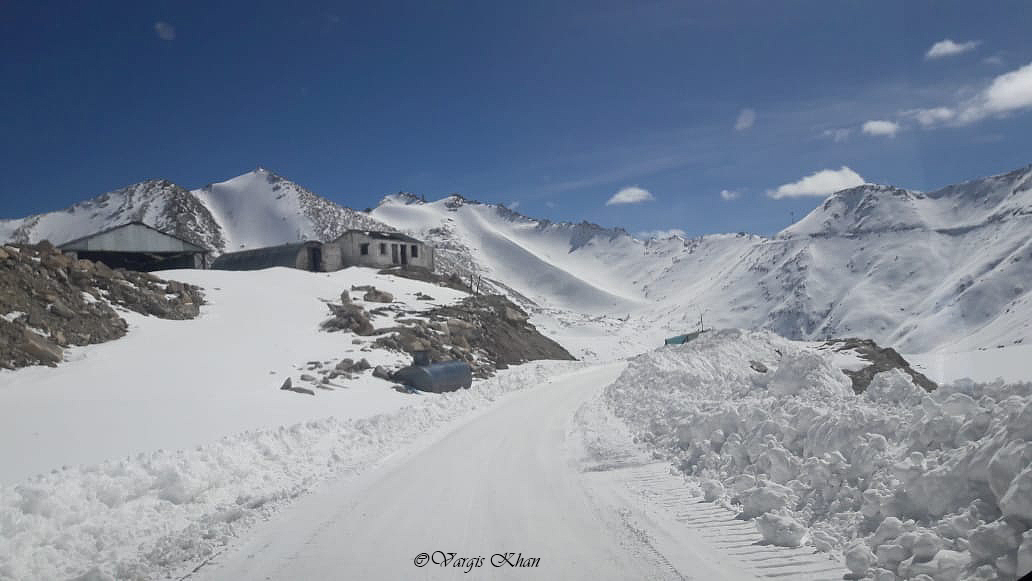 I will break this article in three parts. I will begin with sharing a few important tips that will be helpful in planning your trip overall. Then I will share an example of an itinerary that you can follow in Ladakh; followed by a few advantages and disadvantages of being in Ladakh in the month of March.
Visit Leh Ladakh in March
Why would anyone want to visit Ladakh in March? There can just be two reasons to it in my opinion. First of course is of finding snow. If you want to be in a place that is buried under a thick sheet of snow; then you will definitely not be disappointed in Ladakh. I agree that it can be done in several other hill stations as well; but the number of those is severely limited in late winter months like March.
Take Shimla or Manali for example. It does snow here but it is mostly all gone by March. There is absolutely no snow on the ground and chances of a snowfall too are rare. With Ladakh however, you can rest assured that you will be witnessing plenty of snow; and if lucky, you may even catch a live snowfall while you were there. Second reason if of being adventurous. Due to its tough climate and challenging terrain, a trip to Ladakh always has an angle of adventure to it; irrespective of the month you reach here in. Adventure increases even more if you plan a winter trip to Ladakh.
Both of these reasons are however in my opinion best applied when you have already visited Ladakh once in summer. A winter trip here is best as your 2nd or 3rd Ladakh trip; making it the first one is not really the best of ideas. If this will be your first time in Leh Ladakh, then my sincere advice would be to delay it by a few months, visit Ladakh first between June to September; and then plan for winter next year. This way you would have already familiarized yourself with the terrain and climate when it is not so harsh as it would be in March.
Leh Ladakh Road Trip in March
Road trip to Ladakh in March? The answer is that no you cannot do it. In terms of reaching Ladakh, the only choice you have is to catch a flight there. There is absolutely no way that you can make this a road trip. Both the roads connecting Ladakh to rest of the country remain blocked completely in the month of March. For this trip, you will have to catch a flight in and out of Leh. The only "road" you will hit in this trip are the ones that you travel on locally in Ladakh.
Also Read: How to Plan a Solo Trip to Ladakh?
Srinagar to Leh by Road in March
It has happened in the past that Srinagar Leh highway was declared open in March itself. Most recent was in the year of 2018 when it did not snow much anywhere across Himalayas. As a result, BRO was able to clear the highway much sooner than expected and vehicles started to ply in last week of March itself. This however is extremely rare. Even in 2018, authorities declared the road closed again soon after; and then it was reopened only in the month of April.
So as a tourist, and for your own safety, you must not plan plying from Srinagar to Leh by road in March. Even if the road was opened in the last week, it will be highly unstable with chances of avalanches all along the route. Chances of closure again will also be high as BRO will continue the restoration work.
Also Read: Srinagar Leh Highway Travel Guide
Manali Leh Highway in March
Manali to Leh in March as I mentioned above is not really a choice; even in later part of the month. Even Rohtang pass remains buried deep under snow at this time of the year so you will not be able to even start from Manali. The earliest that this road opens is only in the month of May; not any sooner than that.
Also Read: How to Plan a Journey on Manali Leh Highway?
Hotels in Leh in Winter
Once you reach Leh, your next concern would be of accommodation in Leh city as well the other areas in Ladakh. Most of the hotels here close their doors in winter season and only a few remain operational. Life gets so harsh that these hotel owners too move to other parts of the country for a few months; and only return once winter has passed. A few locals who remain in Ladakh even during winter are the ones that can accommodate you in their hotel or guest house for a few days; but you must notify them well in advance. They will have to prepare for your arrival, get the room ready and make other necessary arrangements.
So for a winter trip, it is of utmost importance that you book a hotel well in advance to avoid any last minute hassles. It doesn't mean though that you will not get a hotel without booking. Ladakh doesn't completely get deserted in winter. Some grocery shops selling day to day stuff, government offices, few hotels, restaurants remain open in March so you can get accommodation without booking as well. Hotel Tso Kar in Leh is where I stayed during my winter trip. They have central heating and WiFi as well and I will recommend it.
Below is a view of Leh city in early January. Notice the empty street, closed shops, and not a person in sight. This is how it remains for the entire winter.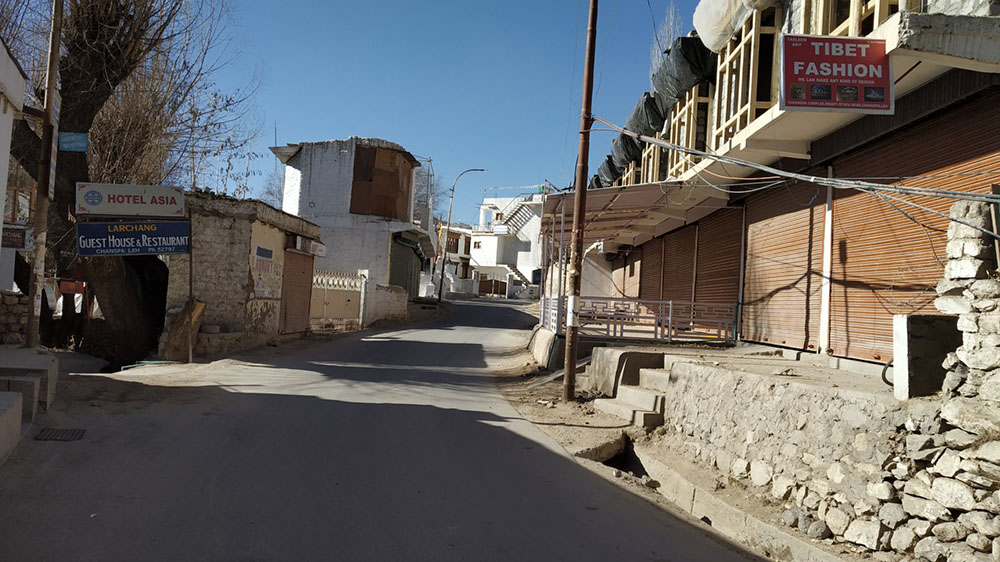 Leh Ladakh Weather in March
Now that you have arrived in Leh and checked into a hotel; let me talk a little about what you should be expecting. First let us discuss the weather which can be well summarized in three words; cold, harsh and unforgiving. When I say cold, I do not mean the kind that people like you and I witness in plains. No, I mean the kind of extreme weather that can make you wish you never came here in the first place. Temperature at night can fall below zero degrees and sun can go missing for several days. This is the strange time when you can get frostbite if you weren't careful; and can even get sunburnt. Yes, even though it is winter but the sun can still give you some serious tan when it is there in the sky shining  bright.
Also Read: How Safe is Ladakh for Tourists?
Ladakh Temperature in March
At an average, temperatures in Ladakh in March will hover between 6°C during day and -5°C at night.
No Running Water
So with that kind of cold weather and freezing temperatures, it is quite normal for water to freeze everywhere; even in the pipes. What it necessarily means is that you will be provided hot water in buckets; and in limited quantity that you will have to use a bit conservatively. This also means that you may even have to go without taking a shower for a few days. So if you are someone who can't bear that kind of cold; or can't go without a shower even a single day, a winter trip to Ladakh is not really your thing.
Dry Pits
If you were planning to stay at places like Nubra valley, Karzok, Chumathang, Hanle etc then there may not be any running water in the toilets as well. In this case, you will have to do your morning business squatting over a dry pit. Another thing to consider before you plan on being in Ladakh in winter.
Places to Visit in Leh Ladakh in March
Almost all of the areas in Ladakh remain open in the month of March. You will easily be able to plan a trip to places like Nubra Valley, Pangong Tso, Kargil, Tso Moriri etc after you land in Leh city.
Also Read: A Complete List of Tourists Attractions in Ladakh
Nubra Valley in March
The only reason you may not be able to reach Nubra Valley in winter is if it snowed heavily at Khardung La. If the pass was open then you can either plan a day trip here or can even stay for the night. I stayed at Habib Guest House in Hunder and will highly recommend it.
Also Read: How to Plan a Trip to Nubra Valley?
Pangong Lake in March
Like Nubra Valley, Pangong too will remain open unless Chang La was snowed out temporarily. If you were however thinking about a completely frozen Pangong then you must plan in first week of March. The lake starts to melt in March and is mostly all blue by end of the month.  In terms of accommodation, there will not be any camp sites available and you will have to stay as a paying guest at Spangmik. Or you can stay at Tangste, about 30 kilometers before the lake. There is a guest house here by the name of Changla Yakmik Guest House that remains open in winter as well.
If you were planning to go further towards Changthang Valley then Padma Guest House in Hanle is the only accommodation available.
Also Read: How to Plan a Trip to Pangong Tso?
Tso Moriri in March
Tso Moriri too remains open in March like Nubra and Pangong. There is a guest house here by the name of Goose Homestay where I stayed and would recommend it. Another place that remains open in winter is Lake view Guest House. The last known number I had for them is 01982 – 264867 in case you want to call and book in advance. Apart from this, the Hot Spring Resort at Chumathang which is on the way is also a great choice of stay. It is built just above the hot springs which kind of works as a natural heater; and keeps the place warm throughout the winter.
Also Read: How to Plan a Trip to Tso Moriri?
Rent a Private Taxi
My recommendation is that you rent a private taxi for the trip. With such cold weather and freezing winds, it is more practical to be traveling sitting inside a car. Other modes of travel will be very hard to find. You may get shared cabs and even a bus but the frequency of these will be very rare. With all the recent boost in tourism, even some of the motorcycle rentals have started to remain open in winter. This is also a choice but only if you know how to maneuver a motorcycle with snow and ice beneath its wheels and cold winds on your face.
Keep your Expectations Low
Fresh vegetables at this time of the year are scare and locals here usually stock up for a few weeks. So the menu of what you can eat will be limited at almost everywhere in Ladakh. There are a few restaurants and Dhabas in Leh city where you can eat but the food will be very basic, nothing fancy. Neha Sweets in main market in Leh remains open in winter months as well where I mostly ate.
Snow in Ladakh in March
There can be two questions here really. First is that will you get to see a live snowfall? Chances are that yes you may, but try to plan in early March for it. Second question is that will you get to see completely white Ladakh with snow everywhere? The answer is no. Snow on the ground in March will be limited to high altitude passes and on the way there. It is not going to be a complete whiteout, unless a heavy snowfall covered everything with snow for a couple of days.
Also Read: How to Calculate Minimum Budget for Ladakh Trip?
Medical Assistance
My first advice here would be to not make this trip if there is any kind of medical history involved that can turn serious. You are going to a high altitude place and that too when its freezing up there. Doing so with a serious kind of ailment is not really best of the ideas.
With that being said, there are hospitals in Leh city that remain open in winter season as well. Apart from the hospitals, you can also approach Indian Army as well for medical assistance. Hospitals however are only limited to Leh and Kargil only. There is no medical assistance available at Nubra, Pangong or Tso Moriri.
Shopping in Ladakh
There won't be much shopping involved while visiting in winter season. Most of the shops at this time are closed and the only ones open are the ones selling groceries. You may however be able to buy some winter clothing and gear like shawls, mufflers, caps etc.
Camping in Ladakh in March
I think the answer to this question is an obvious no but I will mention it nonetheless. Camping in winter season is not at all recommended; and you should opt for staying indoors in a cemented hotel. But if you do want to go camping then make sure you bring in the best quality sleeping bag to keep you warm in below 0 degrees temperatures.  You can also rent the camping gear and sleeping bags in Leh city.
Festivals in Ladakh in March
Monastic Festivals and Winter Games are organized in Ladakh during winter. For more information on festivals in Ladakh and their dates, please read Festivals of Ladakh : A Colorful Celebration of Life and Ladakh Festival Dates
Keep Buffer Days
You must keep a few days as buffer over and above your decided plan. There is a high chance that you may get stuck in any of the locals places due to extreme weather for a couple of days. Sometimes even the flights can get cancelled due to bad weather. Plan in a way that you are able to afford staying back in Ladakh for a few more days due to unforeseen circumstances if you had to.
Leh Ladakh Bike Trip in March
The roads to Ladakh will be both closed and you cannot bring your own motorcycle along. So the only chance you have of making this a bike trip is to fly in to Ladakh and rent a bike in Leh city for local sightseeing.
Keep Your Itinerary Simple
What I mean by this is to only include areas that are major tourist destinations. Do not plan on wandering towards places like Marsimik La, or other closer to border areas, or some internal routes like Shyok road. My advice would actually be to not even plan a night stay anywhere other than Leh City. An itinerary that I will recommend is as below.
Arrival In Leh. Rest and Arrange Permits – Day 1
Leh to Kargil – Day 2
Kargil to Leh – Day 3
Leh to Nubra Valley to Leh – Day 4
Day Trip to Pangong Tso and back to Leh – Day 5
Leh to Tso Moriri to Leh – Day 6
Leh – Buffer Day – Day 7
Fly Out – Day 8
This is just a sample itinerary that you can tweak as per your own requirement; and time you have in hand. If you need my inputs to your own travel plan, you may ask in the comments section at the bottom of this page.
What Clothes to Pack
As I am sure you would already have guessed by now, you need to bring in all your woolens. A pair of good quality thermals will come in really handy. When I say good quality, I mean the kind that can keep you warm and you can also comfortably wear at night. You will have to bring in a heavy, warm and windproof jacket that also has a hood to protect your head, neck and ears. Good quality gloves, woolen socks, cold cream, lip balm, moisturizer, are some of the other things you must put in your bags.
Also Read: Clothes for Ladakh Trip – What to Pack?
Honeymoon in Leh Ladakh in March
Visiting Ladakh for Honeymoon in March is a great idea but plan towards end of the month. There will not be many people around and the weather will be pleasantly cold. Hire a private taxi for the entire tour though and do not depend on public transport. Hiring a motorcycle too is not the best thing to do. All the areas as I mentioned above will remain open so you can do all the sightseeing but without the usual crowd that Ladakh has started to receive these days.
Travel to Ladakh in March – Why?
In the end, let me talk about about why you would want to visit Leh Ladakh in such cold weather. With all the recent boost in tourism, Ladakh has pretty much turned into second Manali with huge tourist crowd everywhere. This will not be the case in March and you will see Ladakh the way you have heard about it; a land far away standing still in time with only a handful of people around. Second reason is of snow which you will definitely find towards the high altitude passes if not in the lower areas.
Feeling of adventure but is the greatest reason of all. Ladakh is anyways a challenging a terrain but it becomes more so in winter season which makes it a perfect place to plan an adventure outing with your friends.
Ladakh in March – Why Not?
Let me also talk about situation when you should not make this trip. Medical history as I mentioned above will be on top of the list. If you have any sort of illness then please do not take this chance. Or do not do it unless you have spoken to a doctor first. If you are someone who is not fond of cold then also you should give up the idea of this trip.
Everything about this trip will be very basic with no fancy or five star hotel treatment. It is not your regular vacation but rather an adventurous trip so if that doesn't sound like you, then don't go. No running water, no shower for a couple of days, using a dry pit in the morning, harsh weather, cold wind on your face are some of the things that you will have to face and must prepare yourself for. If you can't stand either of it, then please don't go.
Can we visit Ladakh in March
Yes. You definitely visit Ladakh in March and have a fun trip as long as you keep the above mentioned things in mind. I hope the information above was of help. If you have any questions; or need any further details; please feel free to ask in the comments section below; or at our Community Forum; and I will be glad to answer.