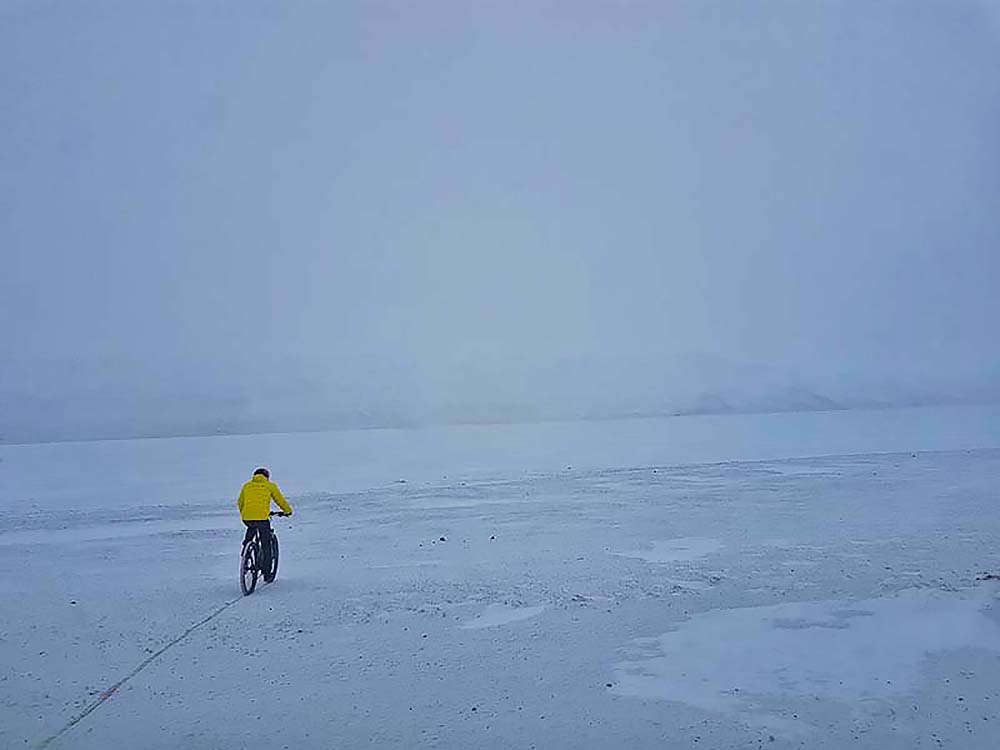 When you think about a trip to Leh Ladakh in January, you already know that this can never be a regular or just another vacation that you went on. This is the time of peak winter season and winters in Ladakh are always tough. Life here around this time gets harsh – so harsh that even some locals move out to other areas for a few months.
Basic amenities like electricity can go missing for days altogether. Due to temperatures dipping several degrees below zero, hot water becomes a luxury. In the village,  there may not be any running water at all as even the water in the pipes freezes.
So can and should you actually plan a trip to Ladakh in January? While the answer to 'should' will be a personal choice, the answer to the "can" part of the question is a definite yes.
How can you plan your trip to Leh Ladakh in January is what I will provide details on in this article. If you have any other questions,  you can contact me on Instagram and I will be happy to answer. You can also consider subscribing to my YouTube channel and asking a question there.
To organize your trip to Ladakh, book a taxi, rent a bike, or get the best hotel rates, you can contact Kunal @ 9910402252. From luxurious hotels to budget stays, he can help get you the best rates possible.
How to Plan a Trip to Leh Ladakh in January
There are several things and aspects of the trip that you should seriously consider before finalizing a trip to Ladakh in the Winter Season. First of all, you need to think about what you are exactly expecting out of the trip so that it does not become a disappointment later on.
Next, you need to plan well so that the trip is not a troublesome one. You cannot just pack your bags and go. Every part of your trip would have to be thought over seriously and planned meticulously.
For visiting Ladakh in any other month, you can also take a look at How to Plan a Trip to Leh Ladakh –  A Complete Travel Guide.
How to reach Leh Ladakh in January?
Can we visit Ladakh in January? The answer is that yes we can. But how do we get there in the first place? Let us first talk about that. The most common way to reach Ladakh is by road from either Manali or Srinagar but it is not an option in the month of January.
Manali to Leh in January
Traveling from Manali to Leh in January by road cannot be done. The highway starts to receive snow by September end or early October and then is declared closed for vehicles. In the months of January, the passes en route would be buried under as much as 50 ft of snow.
Starting from Manali, you can only make it to Gulaba on Rohtang Road. By Rohtang Tunnel, you can only get as far as Jispa but not beyond that.
Srinagar Leh Highway in January
The road from Srinagar to Leh gets closed sometime in November and remains so until April. Traveling on this highway as well is not an option in the month of January.
Starting from Srinagar, you will only get as far as Gagangir. You will actually not even be able to reach Sonamarg at this time. After the work of the Sonamarg tunnel is completed, the farthest you will be able to reach is Sonamarg but not beyond that.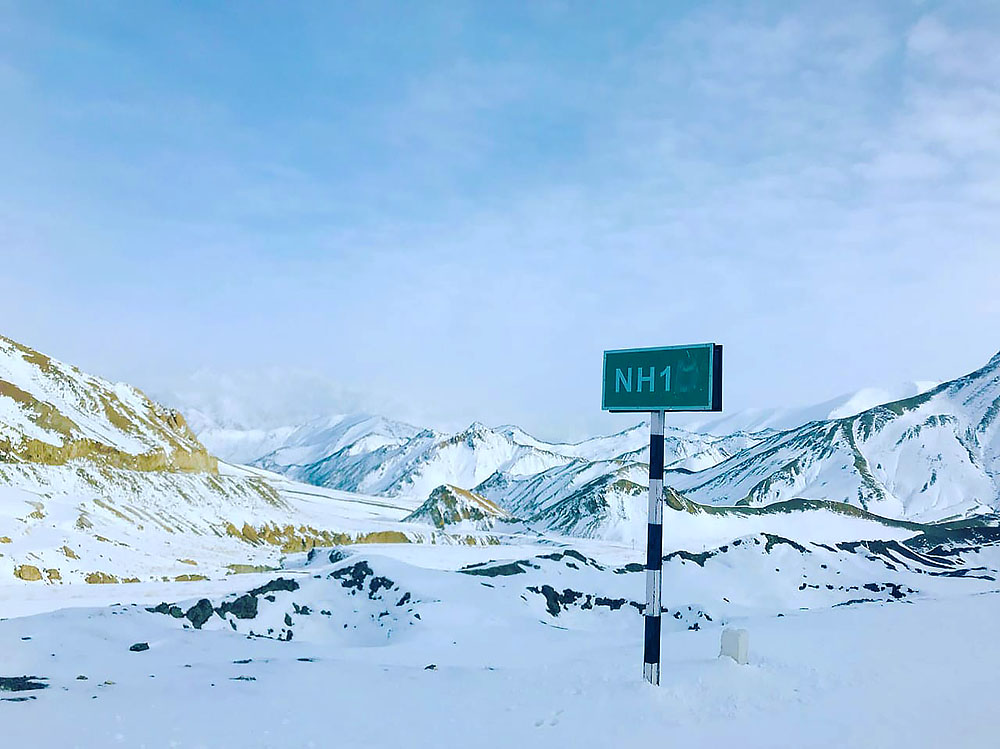 By Flight
So yes, in the end, the only choice you have is to book a flight to Leh. This is the only way you can get to Ladakh in the winter season. If you booked your flight a few months in advance, it will not even cost you that much.
Do keep in mind though that flights to Ladakh in winter often get canceled, either due to bad weather or there just weren't any other or enough passengers. You will be all packed to go and will receive a text from the Airline a day before that your flight has been canceled. It has happened to me twice.
Also Read: Leh Ladakh Itinerary by Flight
Public Transport / Local Commute
Once you have arrived in Ladakh, you will have to rent a private taxi to show you around. This is pretty much the only option available considering the weather and the risky roads.
In recent years, a few bike rentals remain open in the winter season as well. I will strongly advise you to not take the risk of renting a bike. You should definitely hire a cab to ensure that your trip remains a safe and hassle-free one.
Cold winds, freezing temperatures, slippery roads, and snow are not ideal conditions for a bike ride in Ladakh. Black ice would be the biggest threat at this time.
Buses from Leh to other parts of the valley are not available in January, due to all the snow and risks on the road. If the weather was favorable, there could be a bus available but the frequency will be way too less.
So the best way to plan a trip to Ladakh in January is to book a flight and then hire a cab there to show you around. You will be protected from the cold weather and will be in the hands of a local driver who would know how to handle the roads.
If you were planning a budget trip by public transport, better cancel the plan for now and think of doing it next year in Summer.
Where to Stay
Finding accommodation at this time in Leh and other areas of Ladakh will be a challenge. Most hotels and guest houses do not operate during the winter season.
There are however a few hotels in Leh that entertain guests in winter as well and remain open for all 12 months. But you must call in advance and book your stay.
January is not tourist season in Ladakh and your hosts will have to be prepared for your arrival. You also do not want to run into a situation when you arrive at a hotel and find it to be closed.
One thing I would like to add here is that you should keep your expectations a little low. Unless you were able to book a luxurious hotel that remains operational even in winter, chances are that your stay will be at a very basic guesthouse or homestay.
The hotel of course will be limited just to Leh City. Elsewhere in Ladakh, it will be either a simple guest house or a homestay.
You will be provided with everything required to keep you warm and comfortable but do not expect a highly luxurious treatment. For a list of some recommended hotels and their numbers, please take a look at Budget Hotels in Leh with Tariff.
Places to Visit in Ladakh in January
As long as the weather was clear and there was no heavy snowfall blocking the roads, you will be able to visit all of the sightseeing spots in Ladakh in January.
A common thought is that roads in Ladakh get completely blocked during winter. This however is not really true. While the connecting roads from Manali and Srinagar do get closed, internal roads in Ladakh leading towards places like Nubra Valley or Pangong remain open even in the month of January.
There could be a temporary roadblock due to heavy snowfall at any of the passes but BRO clears it as soon as they are able to.  The city of Leh remains connected to all the other areas of Ladakh so local sightseeing will not be a problem at all.
Leh in January
All tourist attractions in and near Leh city, like Shanti Stupa, Leh Palace, Magneti Hill, Gurudwara Patthar Sahib, Sangam Point, and all the monasteries remain accessible in the month of January and you will be able to include those in your itinerary.
If there was a recent snowfall, even the city of Leh looks very pretty. The bright colors of the Leh market against the white of the snow present a beautiful sight. Take a look at the picture below.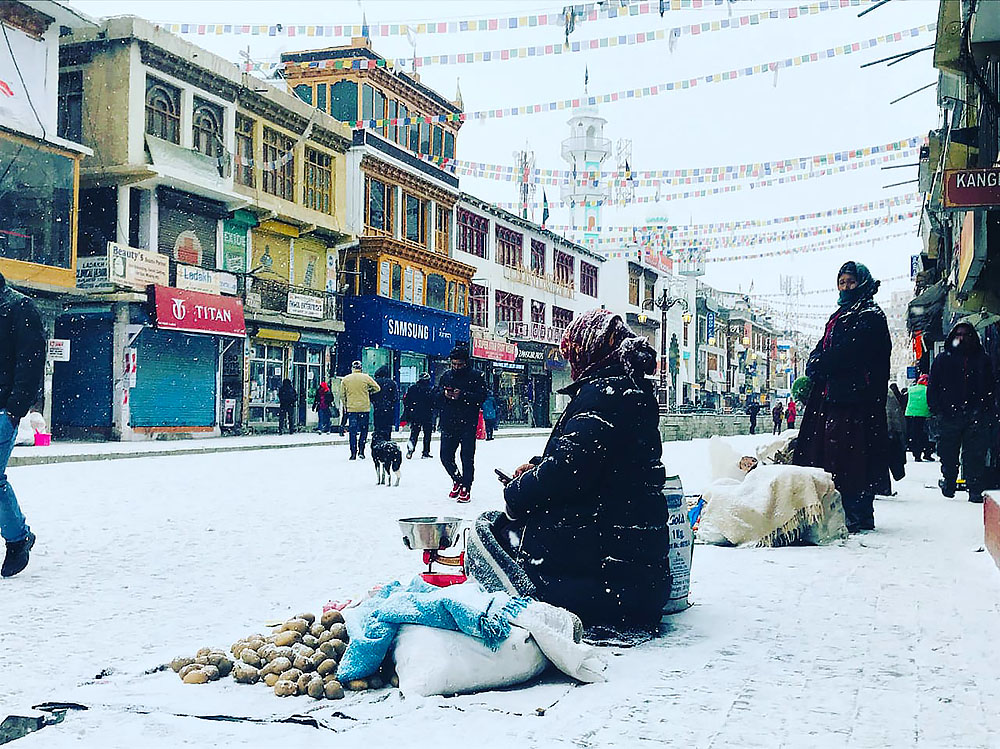 Nubra Valley in January
The only challenge between Leh and Nubra Valley at this time is Khardung La pass. In the month of January, the pass remains buried under the snow. Though it remains open for most of the months, there could be temporary closures for a few hours or even a couple of days.
If that wasn't the case and the route was open, you will be able to get to Nubra Valley and visit the tourist places. Guesthouses and Homestays belonging to the local villagers remain open at this time.
You can stay at either Diskit, Panamik, Sumur, Hunder, or Turtuk. For a list of a few guesthouses, please take a look at Accommodation in Nubra Valley.
The bus service from Leh to Nubra Valley gets discontinued this month. You may be able to find a shared cab but chances of boarding a bus will be rare.
The direct road from Nubra Valley to Pangong Lake via Shyok gets closed in the winter season. You will have to come back to Leh and then go to Pangong the next day. You can ask around in Nubra Valley though if the road was open or not.
Pangong Lake in January
Pangong Lake turns into a marvel this month. The picture below should be able to give you an idea. By the end of the month, the entire lake freezes completely and remains so until February.
The challenge on this road is the Chang La Pass. If it wasn't blocked, you will be able to get to the lake from Leh in 6-8 hours.
You can either plan to make it a day trip or look for accommodation at Spangmik, Man, Merak, or even Tangtse. For a list of some guesthouses and homestays, please take a look at Accommodation at Pangong Lake.
Campsites do not remain open in the winter season. You will have to stay at a homestay in either of the above-mentioned villages. The bus service also gets either discontinued or reduced to just two or three times a month.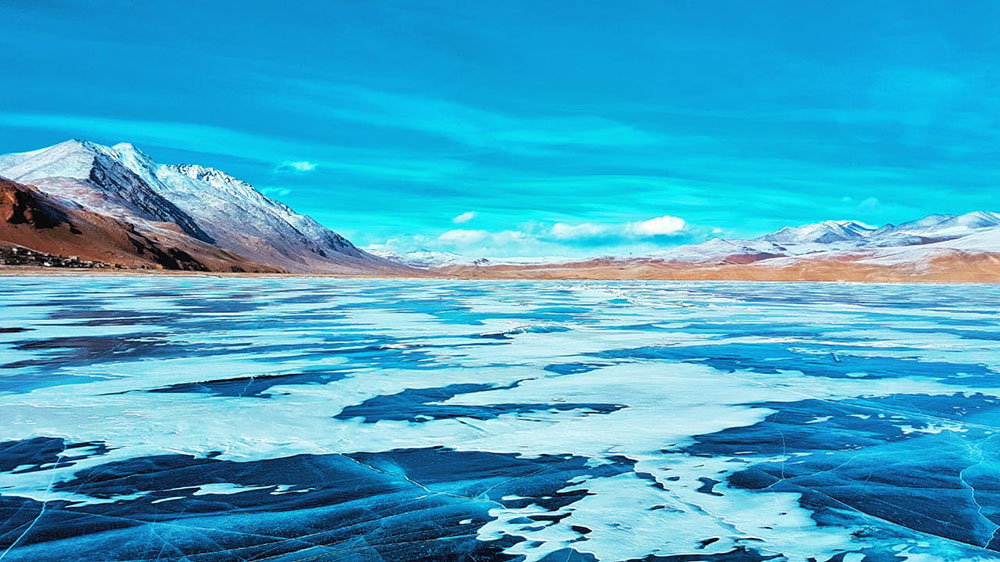 Tso Moriri Lake in January
The road from Leh to Tso Moriri remains open all year long. There could be snow on the road in winter but since there is no high-altitude pass, the chances of this road getting blocked are extremely rare.
The only pass in between in Namshang La after Sumdo but that is more of an easy drive rather than a challenge. You will have to find accommodation in Karzok Village and it will have to be a homestay.
For a list, please read Guesthouses & Homestays at Tso Moriri. Like Pangong Lake, Tso Moriri also gets completely frozen in the month of January.
Chushul Route & Hanle Village
The direct road from Pangong Lake to Tso Moriri via Chushul remains open in the winter season but you may sometimes not be allowed to go that way. Make sure you get a confirmation on it at the time of applying for the Inner Line Permit.
Hanle Village remains accessible as well. There are a couple of guest houses in the village where you can stay. If you wanted to go to Hanle but weren't allowed to go via Chushul, you can also drive via the Chumathang route from Leh.
Umling La
You will not be able to reach Umling La Pass in January. Due to its altitude, the pass gets buried under the snow in the winter season. You may be able to get to Hanle but will have to keep Umling La out of your itinerary.
Leh to Kargil Road
The road from Leh to Kargil remains open for all 12 months. There are high-altitude passes on this route that may get closed temporarily sometimes.
Even if that happens, you will at least be able to get to Lamayuru and visit the sightseeing places on the way like Magnetic Hill, Gurudwara Patthar Sahib, and Indus-Zanskar Rivers confluence. The road to Sham Valley, to the village of Hemis Shukpachan, also remains open.
Sham Valley
Sham Valley can also be reached easily in the winter season. The road to the valley bifurcates from the Srinagar Leh highway about 50 kilometers from Leh and ends in the village of Hemis Shukpachan. This is the same road that goes to Likir Monastery as well. For more details, please take a look at How to Plan a Trip to Sham Valley.
Zanskar Valley
Zanskar Valley cannot be accessed by road in the month of January. The farthest you can go is Rangdum in Suru Valley from Kargil but will have to turn back from there.
The road after Rangdum is declared open at the same time as the Srinagar Leh highway, in April. If there was a lot of snow, sometimes you may not even be able to get to Rangdum.
I believe that covers most of the tourist places in Ladakh if not all. If there was a certain place in your mind that isn't listed above, you can ask about it in the comments section towards the bottom of this page.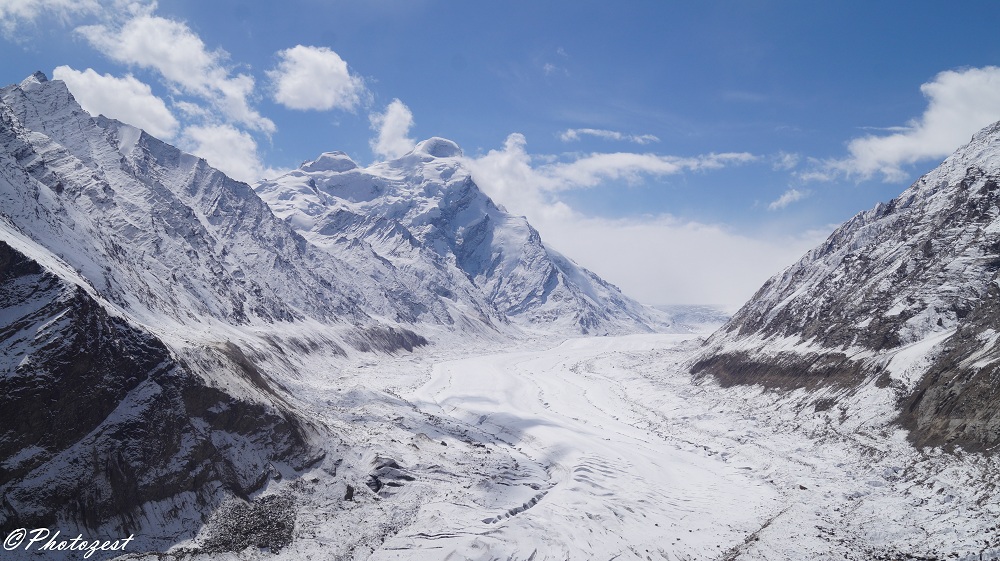 Weather of Ladakh in January
Cold, harsh, and unpredictable are the three words that describe the weather of Ladakh the best in January. Chances of snowfall will remain high at all times. The intensity of the cold can be imagined by the fact that even lakes like Pangong turn solid at this time.
There will always be a chill in the wind and you will have to keep yourself covered at all times. Even though it will be cold, the sun will still be very harsh and you can still get sunburn if you weren't careful.
Avalanches at high-altitude passes pose a real threat in the winter season. There have been accidents when locals, as well as tourists, have died in avalanches at Khardung La.
In 2015, an entire tourist family was buried in the snow in their cab and 2 people died. In 2019, ten people were killed and there have been several other incidents in other years.
Also Read: How to travel to Ladakh with children or infants
Temperature of Ladakh in January
The temperature in places like Leh City and Nubra Valley will either remain close to 0°C or a few degrees below it during the day. After nightfall, the temperature plunges even lower to -10°C.
At places like Pangong and Tso Moriri, the temperature can go as low as -25°C or even lower. At passes like Khardung La and Chang La, even during the day, it will always remain under 0°C.
Ladakh Winter Clothing
It goes without saying, you need to pack all your woolen and warm clothes. You must carry some good thermals, thick woolen, and a heavy windproof jacket. Good quality gloves and woolen socks are a must. If possible, find a pair of gloves that is also waterproof.
Along with your head, you also need to cover your ears, face, and neck. Carry a cap/muffler that can protect all. When deciding on the jacket, pick one that has a hood attached to it.
You do not need snow boots or anything like that. Just bring your regular shoes but pick the ones that do not allow the wind to enter. When packing your socks, opt for woolen ones. For more details, please take a look at Clothes for Ladakh Trip – What to Pack.
Other Items to Carry
Pack a pair of sunglasses to protect your eyes and a good sunblock lotion. Since it will be extremely cold, carry a lip balm and a good cold cream.
A medicine kit will be the most important thing to bring. Pack some basic medicines for ailments like fever, headache, cold, upset stomach, and body aches. Include a few Band-Aids and a pain relief spray as well.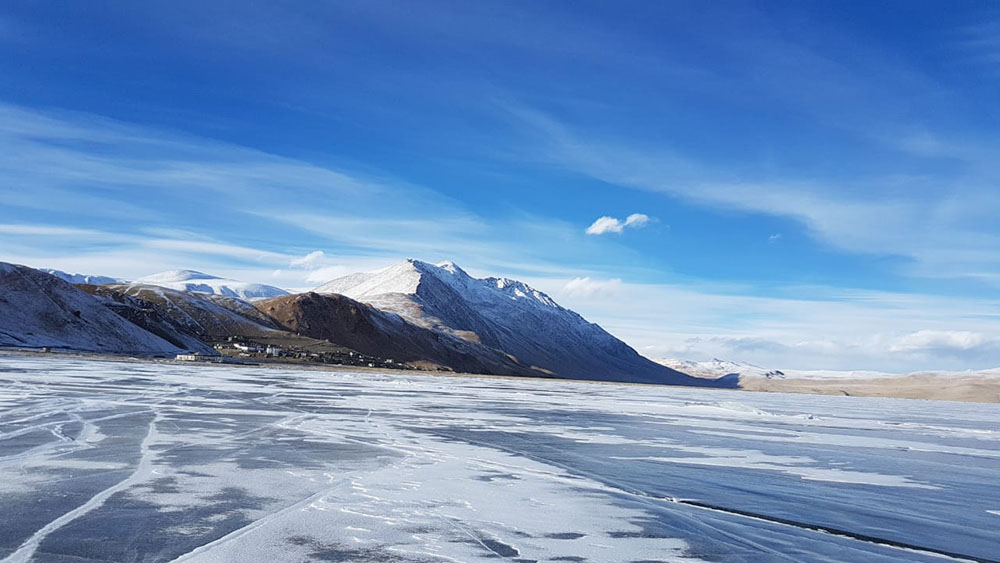 Mobile Network & Data Connectivity
BSNL has the largest network in Ladakh and works even in the remotest areas. The problem however is that the voice clarity may or may not be that good. The network is intermittent and will come and go as it pleases. Data connectivity would either be slow or not available at all.
Airtel and Jio work very well in Leh and Nubra Valley with 4G data speed. You will get reception even on Leh Kargil Road with these networks.
All other networks including Vodafone and Idea only work in Leh City. You will not get any service on these networks anywhere else in Ladakh.
The most important thing to remember is that only a postpaid phone works in Ladakh. If you have a prepaid connection, it will stop working the moment you land in Leh. For more details, please take a look at Mobile Network & Data Connectivity in Ladakh.
Medial Assistance
There is a large hospital in Leh that is capable of handling medical emergencies. It remains open in the winter season as well.
At other places, the only medical help you can get is at the Army posts but that will also be very limited. I believe there is a small dispensary in Nubra Valley but it may not be open in the winter season. For any medical help, you have no other choice but to return to Leh.
This is the reason why I previously mentioned that carrying a medical kit of your own is of utmost importance.
Inner Line Permit
For sightseeing in Ladakh, you will need to obtain an inner line permit from the DM office, in Leh. It is an absolute mandate even in winter and you will be required to submit photocopies of this permit at several check posts on the way.
You can either apply for the permit online or get it in person after reaching Leh. Please take a look at How to Obtain Inner Line Permit for Ladakh for more details.
Itinerary for Visiting Ladakh in January
Below is an example of an itinerary that you can follow for your Ladakh tour in January. If you were short on time, you can remove places and days to form your own final travel plan.
The plan below can be followed by private taxis, bikes as well as public transport.
Day 1 – Arrive in Leh. Rest at your hotel the entire day and allow your body to acclimatize.
Day 2 – Rest and Local Sightseeing in Leh
Day 3 – Sham Valley Tour. See tourist places around Leh City. If you were short on time, you can do this on Day or 2 itself provided that you were feeling well and were not down with AMS.
Day 4 – Leh to Diskit
Day 5 – Diskit to Turtuk. You can stay in Turtuk on this day but if you were short on time, you can skip it.
Day 6 – Turtuk to Panamik. Skip this day if you were short on time.
Day 7 – Diskit to Leh. You will have to come back since the Shyok route will not be open.
Day 8 – Leh to Pangong Lake
Day 9 – Pangong Lake to Hanle. This will completely depend on whether or not the route was open. If not, you will have to go back to Leh.
Day 10 – Hanle to Tso Moriri (Karzok). If you come back to Leh on Day 9, you will go to Moriri Leh via the Chumathang route.
Day 11 – Tso Moriri to Leh.
Day 12 – Fly Out
If you need assistance in planning your own itinerary out of this one, you can contact me on Instagram and I will be happy to answer any questions you may have.
Keep Buffer Days in your Itinerary
While traveling to Ladakh in January, it is safe to assume that it will definitely snow at high-altitude passes. There is a high possibility that you are in Nubra Valley and cannot return to Leh because Khardung La was all snowed out and blocked.
The same applies to places like Pangong and Moriri. Hence it is important that you do not bind yourself to dates strictly and keep at least 2 days as a buffer. In case you got stuck somewhere, you will be able to afford to be there for a day or two.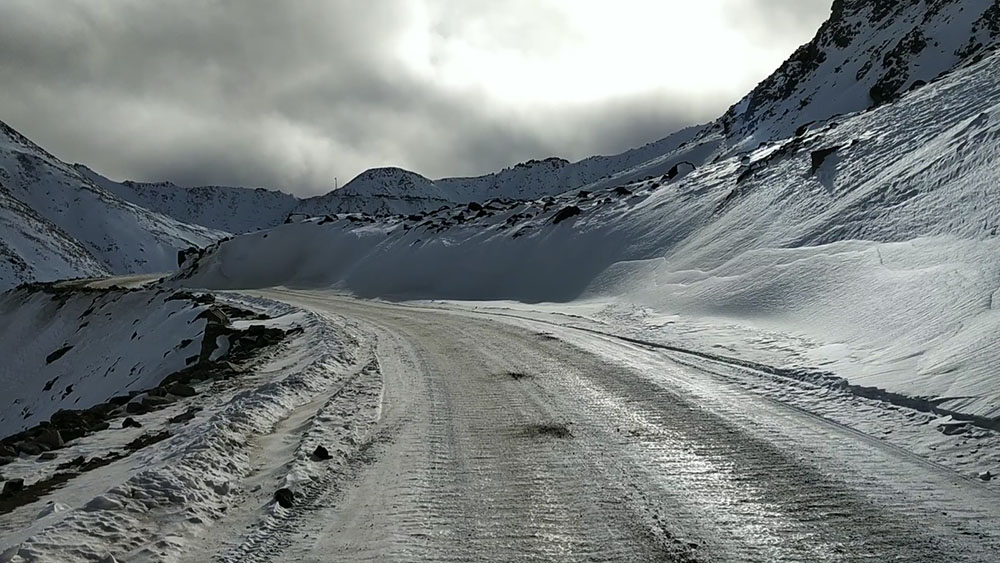 Acute Mountain Sickness
One of the biggest challenges of visiting Ladakh in January will be altitude sickness. Since you will reach there by flight, you can be sure that you will feel at least some symptoms of altitude sickness for the first couple of days of your trip.
Plenty of rest and not tiring yourself are the key factors here. The weather will be very cold and if you also throw altitude sickness in, it does not really paint a pretty picture.
Do not rush around on at least the first day of the trip. Reach your hotel and rest for the entire day. This will allow time for your body to acclimatize to the altitude and will make things easier in the coming days.
On Day 2, if you were still not feeling well, then continue to stay at the hotel. If your condition worsened, seek medical help immediately. The hospital in Leh is well equipped for handling medical emergencies, especially the ones related to altitude sickness.
For more information on what altitude sickness is, its symptoms, and tips on avoiding it, please read How to Handle Acute Mountain Sickness in Ladakh.
Ladakh Festivals in January
Monastic Festivals and Winter Games are organized in Ladakh during winter. Spituk Gustor Festival is celebrated in the monastery of Spituk which you can attend. The dates of this festival are usually toward the end of January or early February.
For more information on these festivals please read Festivals of Ladakh: A Colorful Celebration of Life. These are monastic festivals so their dates change each year. To know the festival date in the year of your trip, please take a look at Ladakh Festival Dates.
Be Prepared
You must prepare for the tough life that Ladakhi people go through in months like January and February. Running water will not be available and hot water will be provided in buckets in small amounts.
You may have to go without a bath for days. Morning business may have to be done squatting over a dry pit. There will be cold winds all around. Nights will be merciless with temperatures dropping down to as far as -30 to -40 degrees.
Your skin may get dry and start to hurt, your lips may get badly chapped. Worse, you may catch a cold or even run a fever. The first day in Ladakh, after you land, will be worse with such cold temperatures combined with acute mountain sickness. No, I am not trying to scare you but just listing a few things here so that you are better prepared mentally.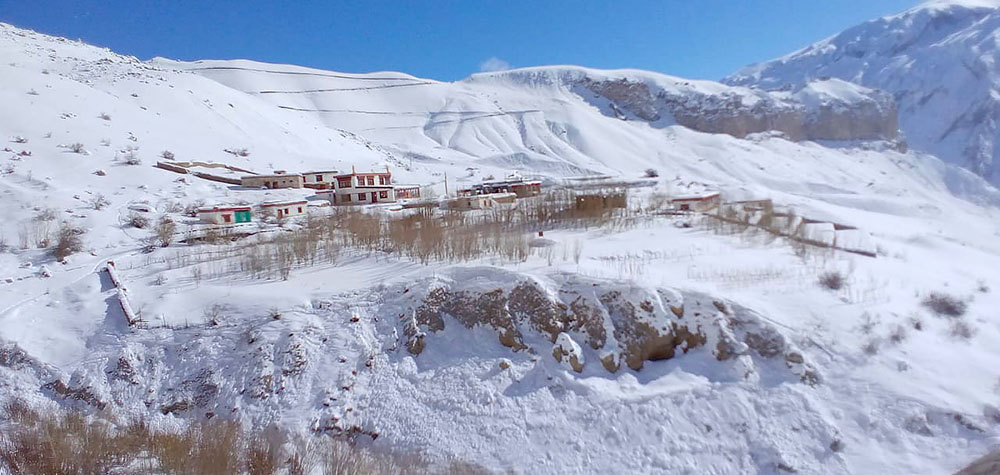 Reasons to Visit Ladakh in January
After the tips above, let me mention a few advantages of visiting Ladakh in January. There are not really many but I will list a few that come to mind.
Snow I believe is the one that goes without saying. Witness the valleys and hills of Ladakh buried under a thick sheet of snow in January. If your trip lasts a few days then in all probability, you will also catch a live snowfall.
Everyone has their own reason for going to Ladakh but the majority of the people want to experience peace and solitude, away from the busy cities and crowded tourist destinations. If you too fall in that category then you will not be disappointed at all.
A trip to Ladakh always means a lot of adventure which increases even more in the winter. Traveling on slippery roads through snow, freezing temperatures, cold winds, harsh weather, and tough living conditions make the trip even more adventurous than it will be in Summer.
Have you been to Ladakh before? Have you already seen the beautiful lakes of Pangong and Moriri? Do you want to see how they look like when they freeze and turn into a sheet of ice? Visit in the latter part of January and you will know.
Also Read: 11 Things you must NOT Do in Ladakh
Why you should Not Visit Ladakh in January
After the advantages, let me also list down a few challenges of being in Ladakh in the winter season. The cold weather will be the biggest reason of all. If you are someone who gets bothered by cold weather a lot then it is best to give up Ladakh entirely until next summer.
The second reason is that this trip will definitely cost you more than usual. The only way to reduce the cost is to plan in a group. Try booking your flight a few months in advance so you can get a good price.
The cost of living in Ladakh rises during winter so be ready to pay some extra bucks for hotels and meals. The biggest expense however will be of commute.
You will hire a private taxi which can cost several thousand as I explained above. Plan in a group of 4-5 people so that you can share the cost.
If you cannot go without a bath for even a single day, cannot squat over a dry pit, cannot work around cold, cannot stand the freezing nights, or fall sick quickly or often, do not go to Ladakh in January. If there is any medical condition involved like Asthma, Heart Disease, or cold-related ailments, you MUST NOT GO.
Last but not least, if you are excited about traveling on Manali Leh and Srinagar Leh highways, you should skip January and plan for the summer months. A winter trip will deprive you of experiencing both of these beautiful roads.
Leh Ladakh in January – Conclusion
I believe that covers most if not all that you should know about visiting Ladakh in January. If you have any questions, please feel free to ask in the comments section below. You can also contact me on Instagram to chat with me live or subscribe to my YouTube channel and ask a question there.
This error message is only visible to WordPress admins
Error: No feed found.
Please go to the Instagram Feed settings page to create a feed.