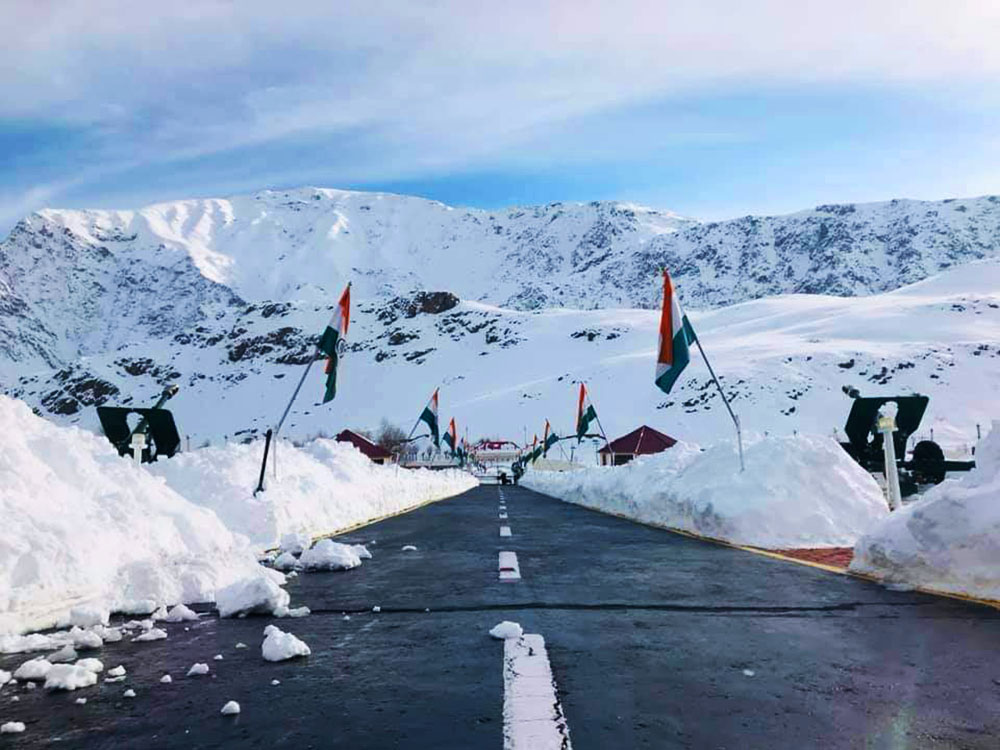 Can we visit Ladakh in February? The answer is that yes, it can be done. There has been a boost in tourism in Ladakh in recent years and it is visible throughout the year. You will now find tourists here even during the peak of winter and the number increases with each passing year.
But while the idea of visiting Leh Ladakh in February sounds intriguing and adventurous, a trip here at this time of the year is not everyone's cup of tea. Life in Ladakh in winter is harsh and there are several things you would need to keep in mind and prepare yourself for, both physically and mentally.
How can you plan this trip for the best and avoid hassles is what I will be talking about in this post. The information below is specific to the month of February but for any other details on visiting Ladakh, you can also take a look at How to Plan a Trip to Ladakh – A Complete Travel Guide?
How to Plan a Trip to Leh Ladakh in February?
I will break this article into three parts. First I will mention a few key points that you must remember while planning this trip. Then I will suggest an example of an itinerary that you can follow. In the end, I will finish the article with a few advantages and disadvantages of traveling to Leh Ladakh in the month of February.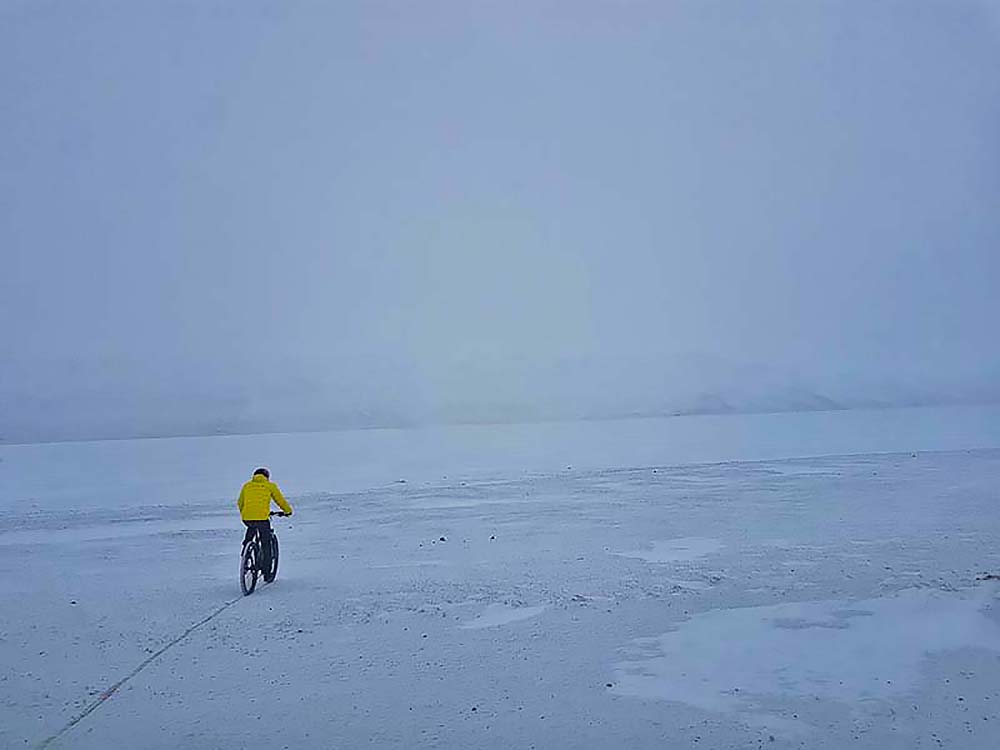 How to Reach Ladakh in February
Let us first take a look at how can you reach Ladakh and what are your choices for local commute. You already know that you cannot make it to Leh by road this month. The roads from both Srinagar and Manali remain snowed out this month and the only option you got is to catch a flight to Leh.
Manali Leh Highway in February
No, you cannot travel from Manali to Leh in February. At this time, Rohtang pass remains completely snowed out and opens sometime in April at the earliest. So starting from Manali, the farthest you will go is as far as the Gulaba check post.
Other than from Rohtang, other passes en route like Baralacha La also remain closed. So if you made it to Lahaul valley by Rohtang Tunnel, you will only be able to go as far as Jispa. Baralacha La actually receives even more snow than Rohtang and it is impossible to cross the pass by road in February.
The earliest you can plan a trip on the Manali Leh highway is either in late May or early June. For more details on this, please take a look at How to Plan a Journey on Manali Leh Highway?
Srinagar Leh Highway in February
Like Manali Leh road, this highway also remains completely blocked in the winter season. You cannot travel from Srinagar to Leh in February by road.
Even Sonamarg at this time is inaccessible. Starting from Srinagar, you will get only as far as Gagangor but will be stopped at the check post there. Zoji La, the most treacherous stretch on the entire highway, is buried under several feet of snow and there is no way you can cross it in February.
The earliest you can hope for this road to open is sometimes towards mid-April, not before that. From Leh side, however, the road remains open all the way to Kargil for all 12 months. For more details on this, please take a look at Srinagar Leh Highway Travel Guide.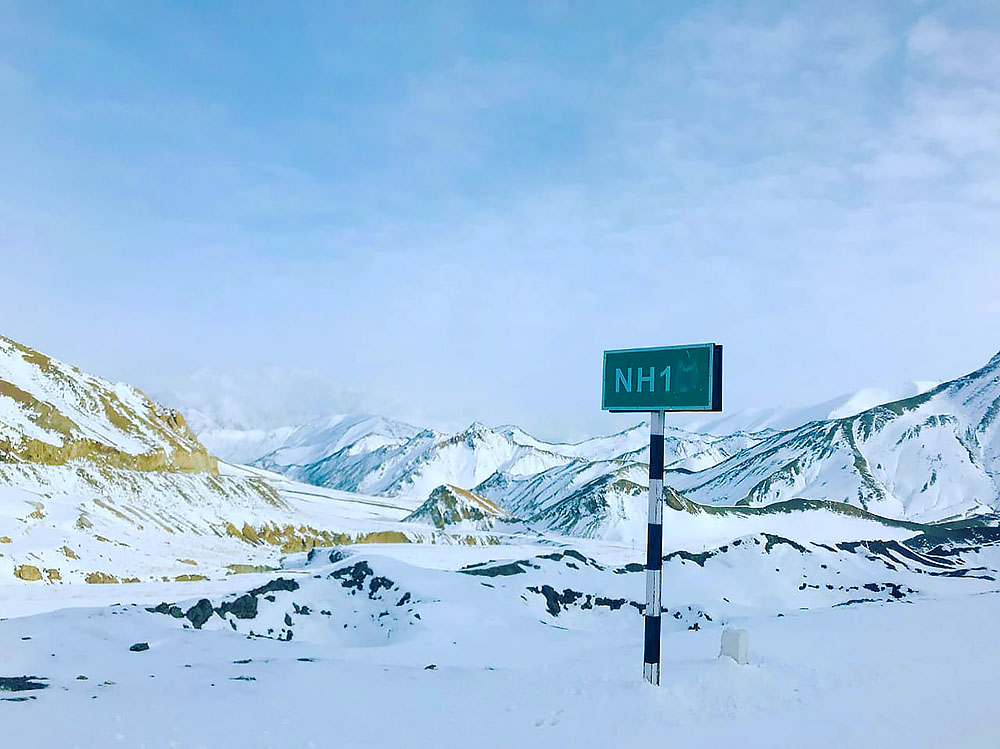 By Flight
This leaves you with only one choice in terms of reaching Ladakh, to catch a direct flight. Leh remains connected by Air for all 12 months and several major airlines operate daily flights in and out of the city. If you booked in advance, you may even get a good deal on the ticket cost.
The only catch is that due to the bad weather and only a few passengers, winter flights often get canceled. It has happened to me twice. You will be all set and ready to go with your bags packed and a day before, you will receive a text telling you that the flight has been canceled.
Public Transport
As you probably would already have guessed, no public transport is available to Leh in the month of February. Even within Ladakh, the buses from Leh to other parts of the region cease to operate due to the snow on the road and the risk involved. Even if there is a bus available, it will be just once or twice a month.
There could be a shared cab available but the chances of even that are very rare. With only a few travelers and almost no tourists, the drivers do not make their cabs readily available at this bus stand like they do in the summer season.
Hence, the best way to commute locally in Ladakh in February is either by a private taxi or a rented bike.
Private Taxi
Let us talk about taxis first. There are two benefits of hiring a private taxi. First of all, you are protected from the extremely cold weather. The second benefit is that you will be in the hands of a local driver who knows how to handle the snow and the tricky roads.
The only disadvantage is that it may cost you a bit. Taxis in Ladakh are not cheap and in the winter season, the charges may even go a little higher.  To get an idea of their charges, please take a look at Leh Ladakh Taxi Rental Rates.
Rented Bikes
This was not an option in the months of winter until a few years ago. But now, some rental companies remain open even in months like February. I will however strongly advise against using a bike for moving around in Ladakh. You may do so for Leh City but do not go towards Nubra Valley and Pangong Lake.
The biggest risk is snow and slippery roads. You will really need to be very good at the wheel to handle this. If you have never ridden a bike through snow, frost, black ice, and slippery roads, do not take this risk.
Moreover, riding a bike in freezing temperatures and ice-cold winds is anyway not that fun. If you fall ill, your entire vacation will get spent in Leh hospital.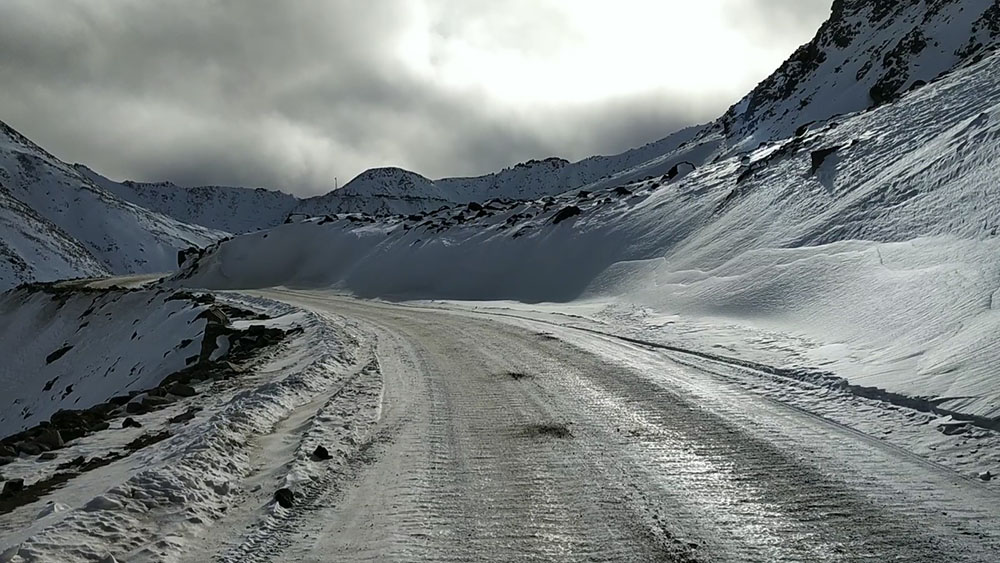 Where to Stay
Once you have landed in Leh city, your first concern would be of finding a place to stay. There are three things you will have to think about.
Accommodation in Leh City
Accommodation in other areas of Ladakh
Should you book in advance?
I am not a fan of advance booking no matter where I go. I like to arrive at my destination first, look for a hotel per my taste, and negotiate an on-the-spot deal.
But this is really a choice when options are ample. This as you realize is not the case when you are in Ladakh in February. At this time, most of the hotels remain closed and non-functional. Only a few remain open in which case I would strongly suggest that you book in advance.
Not only this would avoid any last-minute hassles for you and save you the trouble of hotel hunting in freezing temperatures, but it would also give some time to your host to prepare for your arrival.
Hotels in Leh
So does it mean that you will not get any hotels in Leh if you didn't book? Quite the contrary actually. Even if you did not have a prior booking, you will still be able to find a hotel easily even in dead of winter.
You will just have to walk around and search a bit. These days, as more and more people arrive in Ladakh in winter, a few locals have started to keep their doors for tourists open throughout the year.
The same is the case with Kargil as well actually. You can travel here from Leh city and will easily find a hotel to stay. For names and numbers of a few hotels, please take a look at Recommend and Budget Hotels in Leh City.
Hotels in Other Areas of Ladakh
Now, this can be a bit tricky. Finding a hotel in Leh is easy but not in other places like Nubra, Pangong, Moriri, Changthang, etc. Out here, there is a high chance that you may not find a place to stay at all.
So it would be better to book your stay in advance. But that will also be a problem since there is no phone connectivity as well. The best choice would be to book a taxi in Leh in advance and ask the taxi driver to make arrangements for your stay as well, as per the itinerary.
Continue reading for further details in this aspect. I will talk about it more later in the article.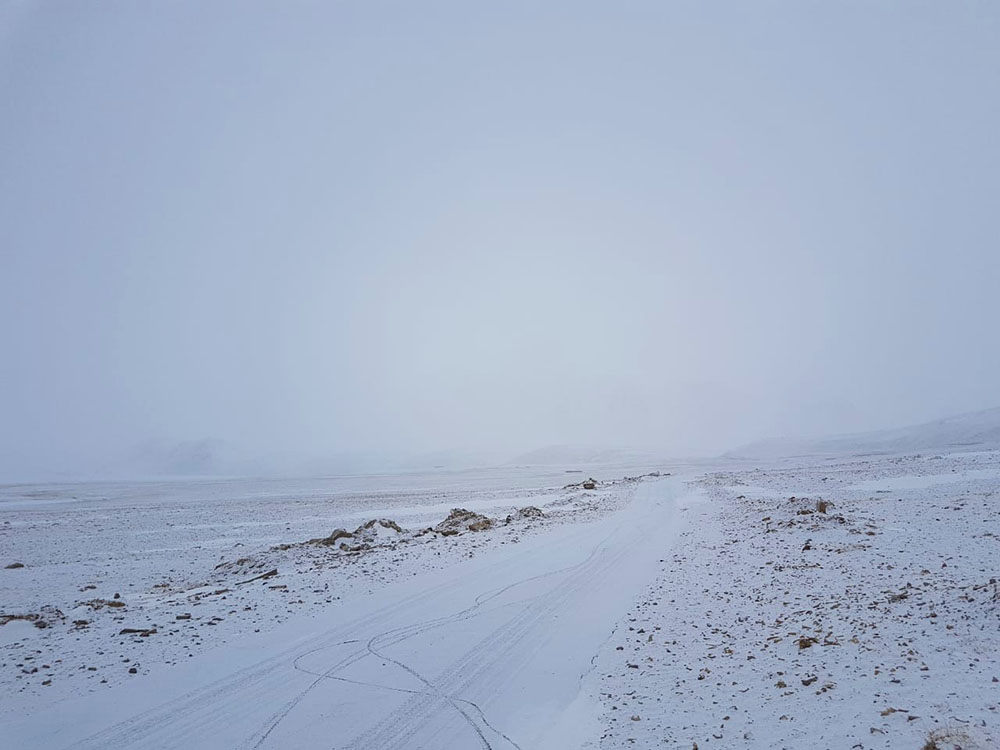 Sightseeing in Ladakh in February & Things to Do
So what do you see in Ladakh in February? Plenty of snow all around is a given but what else? Where can you go? The answer to this question is pretty much everywhere.
The internal roads in Ladakh remain open for all 12 months. Irrespective of your time of arrival, you will easily be able to travel to tourist destinations like Nubra Valley, Pangong Lake, Tso Moriri, and Sham Valley.
Leh in February
Contrary to common belief, Leh City is not actually completely deserted in winter. All the government offices, hotels, Army areas, grocery shops, few hotels, and restaurants remain open throughout the year. Have a look at the picture below.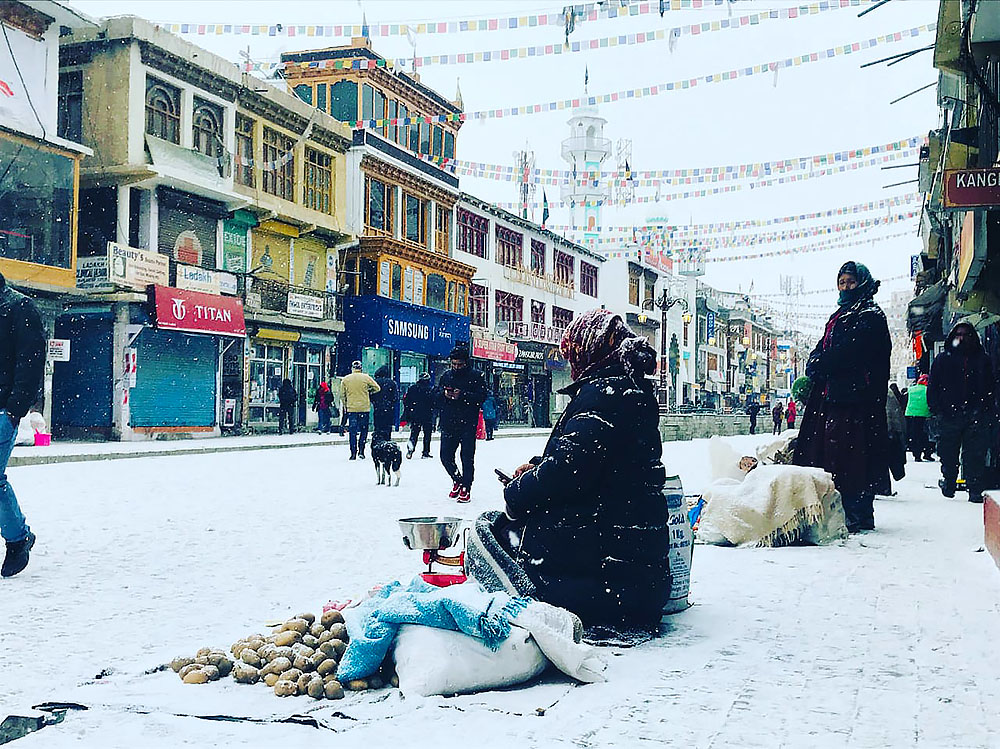 Nubra Valley in February
Nubra Valley remains open and accessible in the month of February. The only time you may not be able to visit is if there was snow blocking Khardung La. This usually happens immediately after a snowfall but Army clears the road just as soon as they are able to.
The road to Siachen runs through Nubra valley and is a very crucial one for the Army. So the valley actually remains connected to Leh town for all 12 months. Within Nubra as well, you will be able to visit all that there is to see.
There are guesthouses and homestays in Diskit, Hunder, Panamik, Sumur, and Turtuk that belong to the local villagers and remain open in the winter season as well. If you want to stay in the valley for the night then you can try Habib Guest House in Hunder. I stayed here during my winter trip and will definitely recommend it.
For a list of guest houses in other villages, please take a look at Guesthouses, Homestays, and Hotels in Nubra Valley.
In terms of sightseeing, you can visit all of the local attractions in the valley. For a day's stay, you can visit the monastery in Diskit, Hunder sand dunes, see Bactrian camels and take a dip in the hot water spring in Panamik. Turtuk also remains accessible so you can take a drive in that direction as well.
For a complete list of places to visit, please take a look at Tourist Places in Nubra Valley & Things to Do.
Pangong Lake in February
Like Nubra Valley, Pangong Lake too remains open in February. There could be a temporary closure if Chang La got blocked after a snowfall, but it will open within a day or two unless the weather was too bad. During the month of February, the lake remains frozen completely so you will actually be witnessing a white Pangong and not blue.
Accommodation at the lake can only be in the form of a homestay or guesthouse in the villages of Spangmik, Man, or Merak. There will of course be no campsites available at this time.
If you were Ok with staying a little far from Pangong, you can try looking for accommodation in Tangtse too, which is about 40 kilometers from the lake. There is a guest house here by the name of Changla Yakmik Guest House that remains open in winter.
Peace Full Guesthouse in Merak is right next to the lake and remains open in February. For some other names and their numbers, please take a look at Accommodation at Pangong Tso Lake.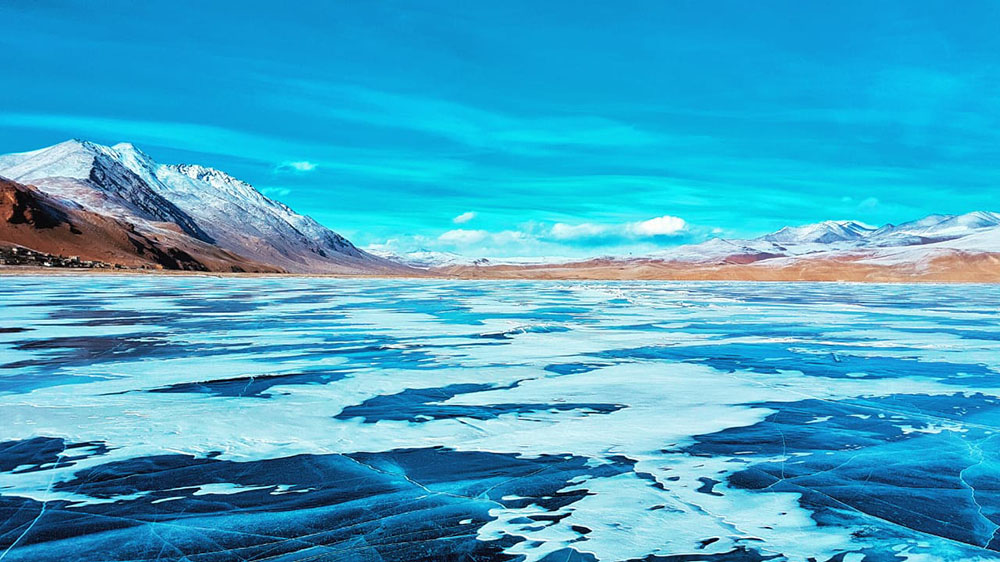 Agham Shyok Road
This is the road that connects Nubra Valley and Pangong Lake. Taking this route, you can travel between both places in about 5 hours. This road however remains closed in February so you will have no other choice but to come back to Leh first.
Do ask around in Nubra Valley though whether or not the road at the time was accessible before you make the decision though. Chances are that it will be closed because the Army does not clear it after a snowfall.
Tso Moriri in February
Tso Moriri is the only place that remains a bit dicey during February. The road here can get blocked after snowfall and Army doesn't usually keep it cleared all the time. So it is a possibility that you arrived in Leh but could not visit Tso Moriri because there was snow on the road. Your driver will be the best person to tell you at that time whether or not to go.
Also Read: How to Plan a Trip to Tso Moriri?
There is a guest house here by the name of Goose Homestay where I stayed and would recommend it. Another place that remains open in winter is Lake view Guest House. The last known number I had for them is 01982 – 264867 in case you want to call and book in advance.
Apart from this, the Hot Spring Resort at Chumathang which is on the way is also a great choice of stay. It is built just above the hot springs which kind of works as a natural heater; and keeps the place warm throughout the winter. For names and numbers of some other places, please take a look at Hotels, Guesthouses, and Homestays at Tso Moriri.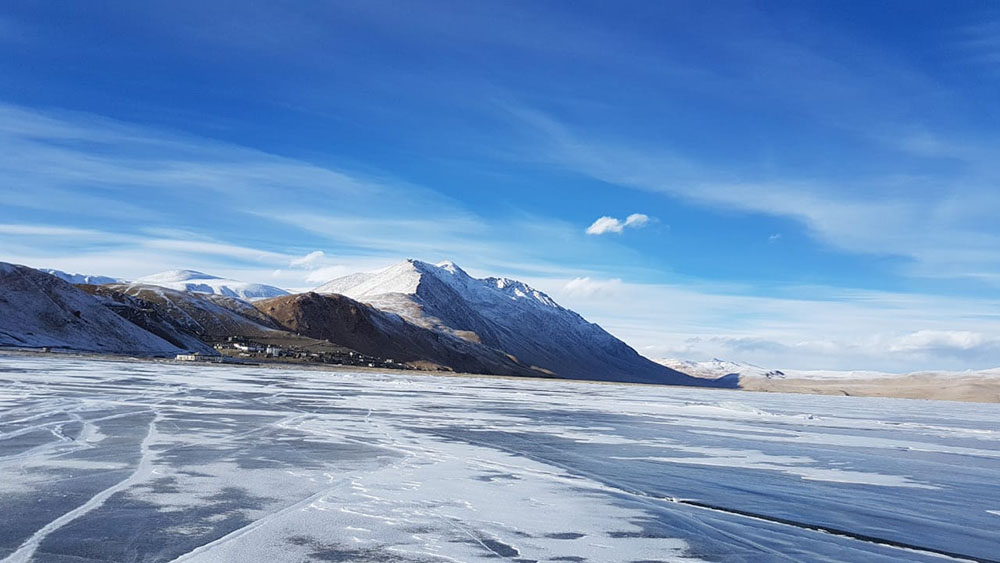 Leh – Kargil Road
The road from Leh to Kargil remains open in February. If you had the time, you can drive all the way to Kargil or Lamayuru. If not, go as far as the time allows, and one the way, you can visit places like Gurudwara Patthar Sahib, Magnetic Hill, and the Confluence of Indus-Zanskar Rivers.
Sham Valley
Sham Valley can also be reached easily in the winter season. The road to the valley bifurcates from Srinagar Leh highway about 50 kilometers from Leh and ends in the village of Hemis Shukpachan. This is the same road that goes to Likir Monastery as well. For more details, please take a look at How to Plan a Trip to Sham Valley.
Chushul Route & Hanle
Chushul route remains open in the winter season and so does the village of Hanle. This entire region is known as Changthang Valley. If you were planning to go this way, then Padma Guest House in Hanle is the only accommodation available. There is one more guesthouse in Hanle but it was closed the last time I was there in the winter season.
Finding accommodation at any of the other places like Chushul, Loma, Nyoma, Mahe or Sumdo will be very tough.
Zanskar Valley in February
Zanskar Valley cannot be reached by road in February. From Kargil, the farthest you may be able to go is Rangdum in Suru Valley but even that is not guaranteed. You will not be able to make it across Pensi La Pass and reach Padum in winter.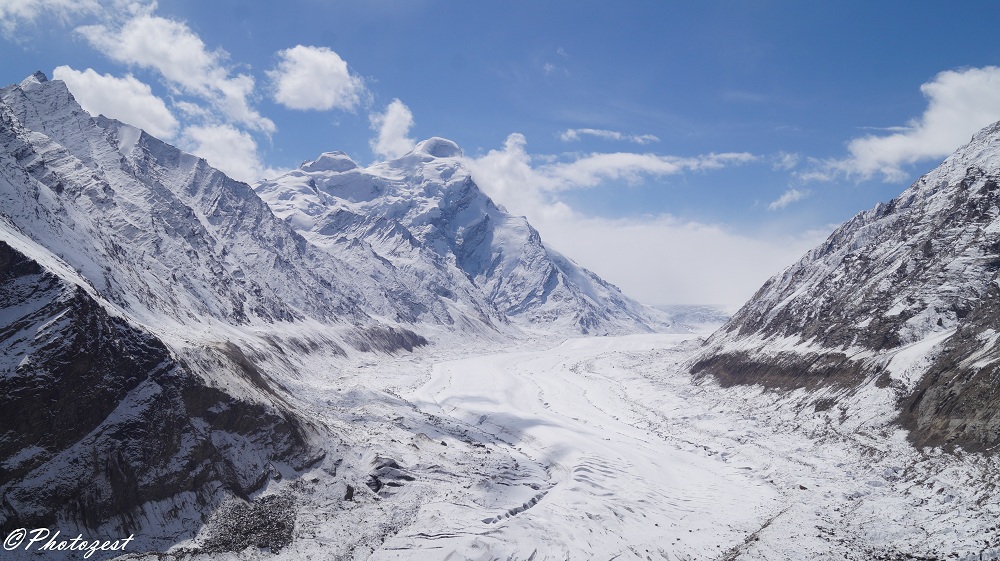 Snow in Ladakh in February
Will there be snow? Yes definitely. Will you catch a live snowfall? Yes, chances are quite high. Will there be snow all around, everywhere, and all the time? No. Even in peak winter, Ladakh is not a complete whiteout.
There may not be any snow at all on the ground in lower areas like Leh city or Nubra Valley. That only happens when there has been a recent snowfall leaving everything covered in snow. Otherwise, snow is usually available in ample towards high altitude passes.
Shopping in Ladakh
With about 80% of Ladakh closed, shopping options are almost next to none. There is not much that will be on sale at this time. You may however be able to buy some winter clothing and gear like shawls, mufflers, caps, etc. For more details, you can also take a look at Shopping in Ladakh – What to Buy.
Camping in Leh Ladakh in February
With weather that cold, you should not really be planning to camp anywhere in Ladakh at this time. Your accommodation at all the places should be inside cemented hotels.
Camping in open is a bit risky. You may get caught in bad weather or catch a cold which will very well ruin your trip. But if you do want to go camping then make sure you bring in the best quality sleeping bag to keep you warm in below 0 degrees temperatures.  You can also rent camping gear and sleeping bags in Leh city.
Ladakh Festivals in February
Monastic Festivals and Winter Games are organized in Ladakh during winter. Dosmoche Festival is celebrated in Leh, Likir, and Diskit. Yargon Tungshak Festival in Yaron (Nubra Valley), Stok Guru Tseschu Festival in Stok Village, and Matho Nagrang Festival in Matho Village are some of the other festivals that you can attend.
For more information on these festivals please read Festivals of Ladakh: A Colorful Celebration of Life. These are monastic festivals so their dates change each year. To know the festival date in the year of your trip, please take a look at Ladakh Festival Dates.
Chadar Trek in February
I have not really been on any winter treks in Ladakh myself but there are a few trails that remain open. Chadar trek is probably the best and most desired one. It can vary from 7 days to 14 days depending upon your schedule. Talk to any of the travel agents in Leh to inquire about either Chadar Trek or any other winter treks in Ladakh.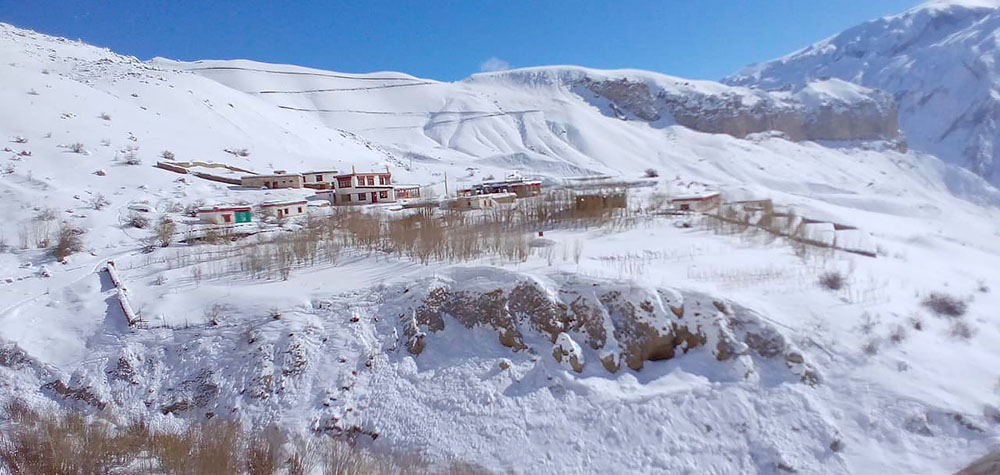 Ladakh Weather in February
The weather of Leh Ladakh in February remains to be cold, harsh, and unforgiving. I am not really talking about the kind of cold that people like you and I are used to in our home cities. What you should be expecting in Ladakh at this time is the extreme side of the winter season that can force even the locals out of the area.
Sun may go missing for several days altogether leaving everything all wet and foggy. It is the time when you may even get frostbite if weren't careful.
When the sun will be there in the sky, it will shine so bright that you may even get sunburn. Cold winds, freezing temperatures, blizzards, and snowfall are common things at this time of the year.
Also Read: How Safe is Ladakh for Tourists?
Temperature in Ladakh in February
On average, temperatures in Leh Ladakh in February will hover between 1°C maximum during the day and -10°C at night. The minimum number is just an average and is more applicable to Leh City.
The temperature at top of the passes and places like Pangong and Tso Moriri will be far low. At night and if the weather turned bad, it can drop as far as -30 Degrees Celsius.
Now with the temperature running so low, it is expected that water will freeze everywhere. I literally mean everywhere, even in the pipes. So there will actually be no running water in the taps. Some hotels in Leh may provide this but not the guesthouses and homestays in the villages.
Out there, hot water will be given to you in buckets and in limited quantity that you will also have to use conservatively. This also means that you may have to go without a shower for a couple of days.
Frozen water also means that there will be no running water in toilets as well. So your morning business would have to be done squatting over a dry pit. This is another thing you should consider before flying to Ladakh. If this makes you uncomfortable, don't go.
Clothes to Pack
The first thing you should be putting in your bag is a pair of good-quality thermals. When I say good quality, I mean thermals that can keep you warm but are also comfortable enough to sleep in.
Some heavy woolens would definitely have to be packed. You must also bring a warm, heavy and windproof jacket. Make sure that your jacket also has a hood to it to protect your face, neck, and ears.
Good waterproof gloves, shoes, woolen socks, cold cream, moisturizer, lip balm, sunglasses will be some of the other necessary items to pack. for more details on this topic, please read Clothes for Ladakh Trip – What to Pack.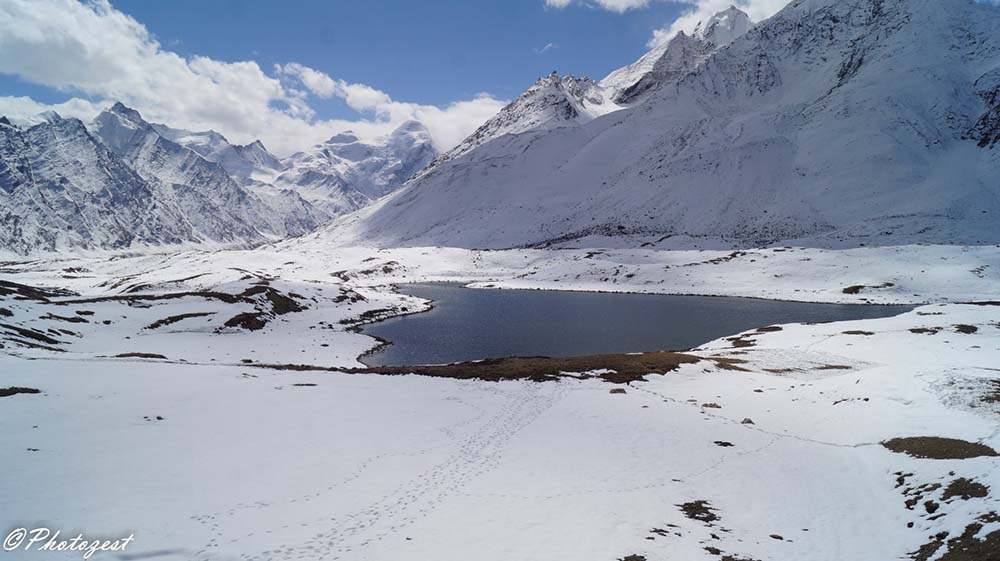 Acute Mountain Sickness
The risk of altitude sickness is always there with a trip to Ladakh. It increases, even more, when you catch a flight to Leh. Cold weather and winds can also make the situation worse.
How serious it is? Several tourists have died in Ladakh (including a friend of mine) due to altitude sickness so it is very serious. A slow gain in altitude is the best prevention against AMS which does not really happen in the case of a flight.
The best thing you can do is to take plenty of rest on the first couple of days of your trip. Do not run around or exhaust yourself and you should be Ok by Day 2. For more details on altitude sickness, and tips on avoiding it, please read How to Handle Acute Mountain Sickness in Ladakh.
Medical Assistance
My first advice here would be to not make this trip if there is any kind of medical history involved that can turn serious. You are going to a high-altitude place when it's freezing up there. Doing so with a serious kind of ailment is not really the best of the ideas.
With that being said, there are hospitals in Leh city that remain open in the winter season. Apart from the hospitals, you can also approach the Indian Army for medical assistance.
Hospitals however are only limited to Leh and Kargil only. There is no medical assistance available at Nubra, Pangong, or Tso Moriri.
As a precaution, please make sure that you are packing some basic medicines for cold, flu, fever, headache, stomach ache, etc. Also carry a good sunblock lotion, pain relief spray, and a few Band-Aids.
Inner Line Permit
The requirement for obtaining an Inner Line Permit remains applicable in the winter season as well. Without it, you will not be allowed to go to Nubra Valley, Pangong Lake, or Tso Moriri. The permit can either be applied for online or you can get it in person from the DM office in Leh after your arrival. For more details, please take a look at How to get an Inner Line Permit for Ladakh.
Itinerary for Visiting Leh Ladakh in February
Now let us talk about planning an itinerary for visiting Ladakh in February. The first thing that you go to do is to have a few days as a buffer over and above your actual travel plan. For a winter trip, this is actually of extreme importance.
There is a high possibility that you were visiting Nubra or Pangong and the weather closed in, forcing you to stay there for a couple of days till the roads were cleared. Sometimes even flights can get canceled.
You must be prepared to handle it. If your stay got extended by a couple of days, you should be able to afford to stay back without running into any kind of problem back home.
The second thing to do is to keep your itinerary simple. What I mean by this is to only include areas that are major tourist destinations. Do not plan on wandering towards places like Marsimik La, or other closer-to-border areas, or some internal routes like Shyok road.
An itinerary that I will recommend is as below.
Arrival In Leh. Rest and Arrange Permits – Day 1
Leh to Kargil – Day 2
Kargil to Leh – Day 3
Leh to Nubra Valley – Day 4
Nubra Valley to Leh – Day 5
Leh to Pangong Tso – Day 6
Pangong Tso to Leh – Day 7
Leh to Tso Moriri – Day 8
Tso Moriri to Leh – Day 9
Fly Out – Day 10
This is just a sample itinerary that you can tweak as per your own requirement. If you were short on time, you can remove any places that you do not wish to visit.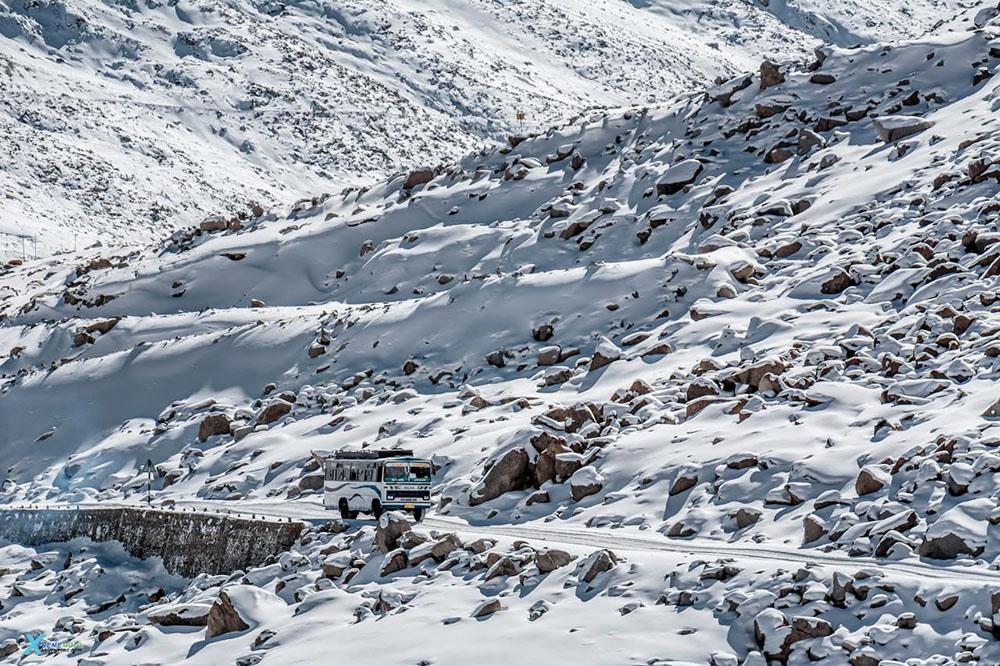 Other Tips for Visiting Ladakh in February
Mentioned below are a few other tips for visiting Leh Ladakh in February.
No Electricity
Yes, this too is a possibility. If the weather closed in and it snowed too heavy, the electric supply can get interrupted. It can be a few days before it is restored. On the safer side, carry a power bank to keep your phone and other electronics charged. If you own a DSLR then now would be a good time to arrange for a spare battery.
Rent a Private Taxi
The best way to plan this trip is to rent a private taxi. Bus service at this time is scarce and shared taxis too will be limited. Actually, it is possible that you may not find public transport at all so better not depend on it.
Leh Ladakh Bike Trip in February
With the recent boost in tourism, a few motorcycle rental agencies have started to remain open in winter as well. So yes, you can also rent a motorcycle but please be very careful and make a sound judgment.
Do not just rent a bike because you want to be adventurous. With weather that cold and snow/frost/black ice making roads slippery, this could prove to be a huge mistake and ruin your trip. Tourists have died at Khardung La in avalanches so my recommendation is to not take this risk.
Also Read: 15 Things that you MUST NOT do in Ladakh
Keep Your Expectations Low
Food will be very basic everywhere so you will actually have to keep your expectations low in this aspect. Do not go expecting a long list of available items on the menu.
Fresh vegetables in winter are not easily available and locals tend to stock up those for a few weeks. Whatever is put on your table is going to be very simple. You can either eat at your hotel or at any of the restaurants open in town. Neha Sweets in the main market in Leh remains open in the winter months as well.
In Leh City you may be able to find a good hotel but not in any of the other places. At places like Nubra, Pangong, or Hanle, you will be staying at either simple guest houses or as paying guests. Your stay will definitely be comfortable and warm but please do not expect a five-star hotel treatment.
Leh Ladakh Road Trip in February
Can you visit Ladakh by road in February? The answer is an immediate no. The only way to reach Ladakh in the month of February is by Air.
Both the roads connecting the region to the rest of the country will not be accessible at this time.  You will have to fly in and out of Leh city, and the only road you will hit in this journey are the internal ones within Ladakh. Once you arrive in Leh, you can then hire a taxi for local sightseeing to places like Nubra Valley and Pangong Tso.
Do Not Go if this is Your First time in Ladakh
A winter trip is best as your second or probably third time here. But if you have never been to Ladakh then I would recommend that you postpone the plan by a few months, and undertake this journey between May and September.
That way you would have already familiarized yourself with the region. You would know where to go, where to stay, what to see and what to expect. You would know what the terrain of Ladakh and its climate is all about before you come here in the extreme weather conditions of February.
Medical History
If you have any sort of illness that can turn serious, please do not take this chance. Or do not do it unless you have spoken to a doctor first. Anyone with breathing-related ailments like Asthama, or heart problems should avoid visiting Ladakh in such weather conditions.
If you are someone who is not fond of cold and falls sick often in cold weather,  you should give up the idea of this trip.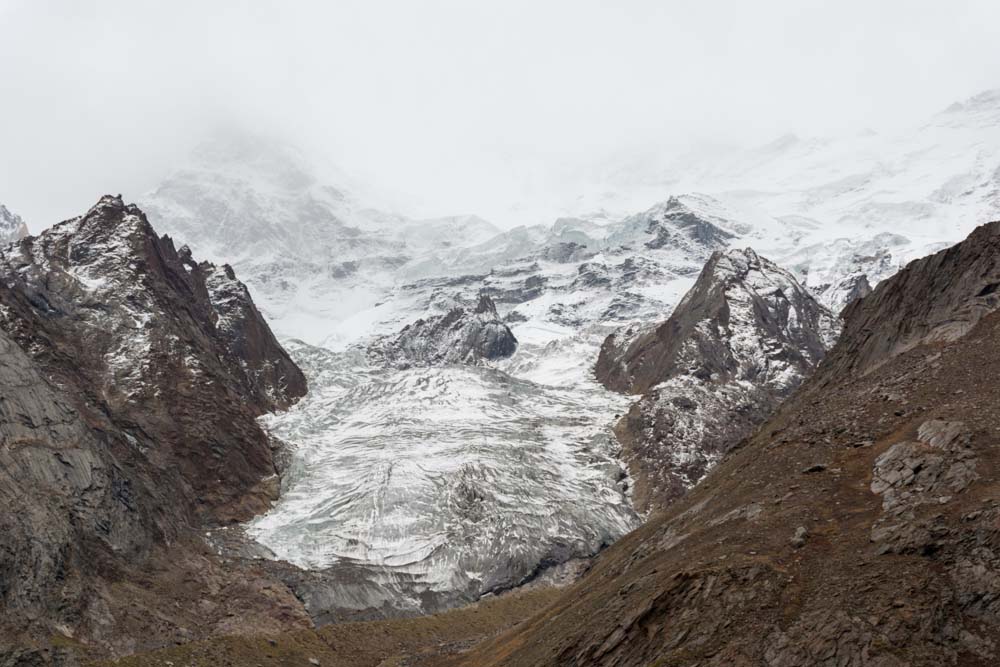 Leh Ladakh in February – Conclusion
The question that comes to mind is why anyone would want to visit Ladakh in such extreme weather? There can be but just two reasons for it. The first and probably the biggest reason is snow.
A winter trip to Ladakh guarantees that you will see plenty of snow and may even catch a live snowfall. I agree that there are other hill stations in our country where you may witness the same but not like the way it is in Ladakh. Entire valleys buried under several feet of snow are a sight available at only a handful of places in our country and Ladakh is one among those.
The second reason is an adventure. A trip to Ladakh will always have an angle of adventure to it which increases even further if you went there during peak winter.
Harsh weather, freezing temperatures, tough living conditions, only a handful of people around, slippery risky roads, and unpredictable roads are circumstances that anyone with even the slightest interest in adventure would really crave.
Tourism in Ladakh is on a boost and everyone seems to be going in that direction these days anyway. So yes, now a lot many can say that they have been to Ladakh and seen it all.
But how many can say that they have been there during peak winter? You do that and you have something to boast about. You will have images and stories that will leave people around you envious.
I hope the information above on visiting Leh Ladakh in February was of help. If you have any other questions, please feel free to ask in the comments section below or at our Community Forum, and I will be happy to answer.