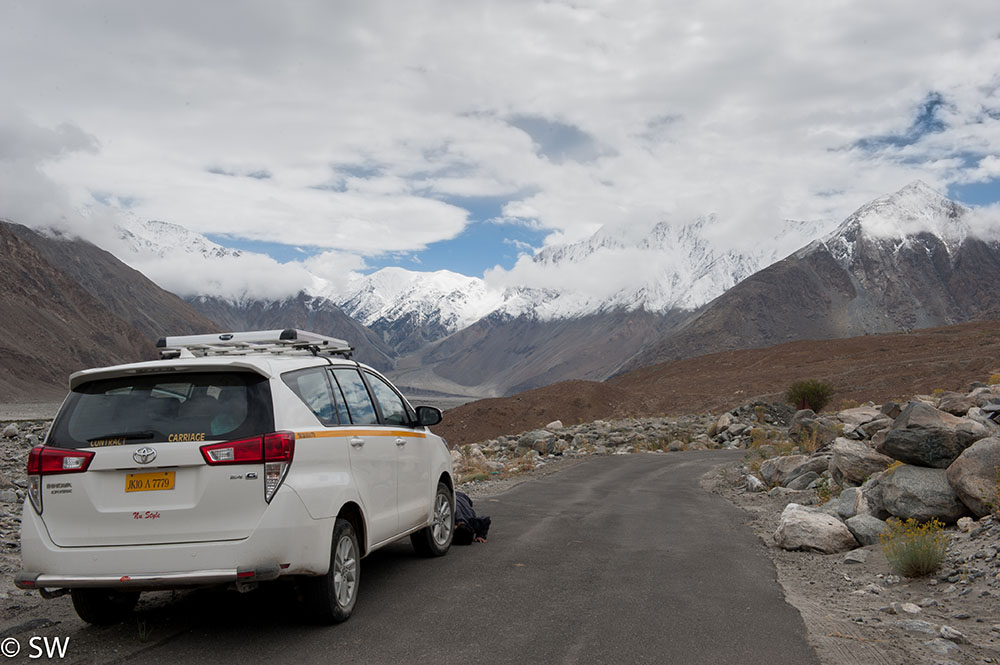 Ladakh to me is definitely not the place that a person would want to fly to. It is a place best traveled by road. But that is not an option that everyone has. A lot of people would want to catch a flight to Leh and spend the time they have in hand in Ladakh only. If you are also planning on doing the same, below is an itinerary for Leh Ladakh by Air that you can follow for your trip.
I agree that not everyone would be able to follow this plan to the last detail. But this should at least give you a fair idea of how you can plan your sightseeing. Depending on the number of days you have in hand, you can add or remove places from this itinerary.
The itinerary for Leh Ladakh by Air I am suggesting below can be followed in a private car, rented bike as well as by public transport. For other details on visiting Ladakh like where to stay, the best time to go, and what to see, please take a look at How to Plan a Trip to Leh Ladakh – A Complete Travel Guide.
Itinerary for Leh Ladakh by Air
Why did I say that Ladakh is best traveled by road? Because I believe that when it comes to Ladakh, it is not the destination that matters. The entire journey becomes an adventure and destination in itself. The fun begins right from the moment when you get inside your car or on your motorcycle to begin the journey and continues until your reach home.
But then there are times and situations when in the interest of time, flying to Ladakh becomes a necessity and we postpone visiting both the highways leading to at a later time. This could also happen if you were not confident enough of your driving skills or did not have a vehicle capable of handling the difficult roads.
Irrespective of the reason, a trip to Ladakh by Flight can be equally adventurous and fun. In the itinerary below, I will try to include all the famous tourist destinations that you should consider including in your trip. 
Day 1: Arrival in Leh
When flying to Ladakh, the first and foremost concern is in the form of high altitude acclimatization. Within a matter of hours, you reach from plains to thousands of feet up in the lap of the Himalayas. This can cause high altitude sickness in Ladakh and you should take precautions to avoid it the best you can.
You must allow at least a day (or two depending on how you are feeling) to allow your body to get accustomed to high altitudes. All the flights to Ladakh land there in the early morning hours. So after you reach Leh, check into a hotel and spend the rest of the day in the city itself.
Do not go to any other place. Do not exert yourself and just rest. If you did not get hit by AMS at all, then you are one of the few lucky ones. But if you did, allow some time for the symptoms to subside.
If by evening, you are feeling better, then you can consider taking a walk in Leh market or visit Shanti Stupa of Leh palace. Go to Shanti Stupa at the time of sunset as it presents a spectacular view of the sunset and the city. Below is a link to an article I wrote on how to handle acute mountain sickness in Ladakh. Please take a look so you can be better prepared.
Day 2: Rest in Leh
This day can be skipped if you were short on time or were not feeling the symptoms of altitude sickness anymore. If you are still feeling unwell, allow another day of rest and stay in Leh.
If you are however feeling better then you can go visit the places nearby. The monasteries in and around Ladakh are great places to visit. Thiksey Monastery and Hemis Monastery are both located at a short distance only.
You can also go for a drive on the Srinagar Leh highway. Just drive to a few famous places closer to Ladakh like Magnetic Hill, Indus and Zanskar River Confluence, Gurudwara Patthar Sahib, Hall of Fame, Buddha statue at Likhir Gompa, Alchi Monastery, and Basgo Monastery. All these places can be covered easily in a day and you can return to Leh by evening.
The important task for this day would be to arrange the permits for your trip ahead. Please take a look at How to get an Inner Line Permit in Ladakh for more details on this topic. If you were not planning on staying in Leh City for another day, then this task would have to be completed on Day 1 itself.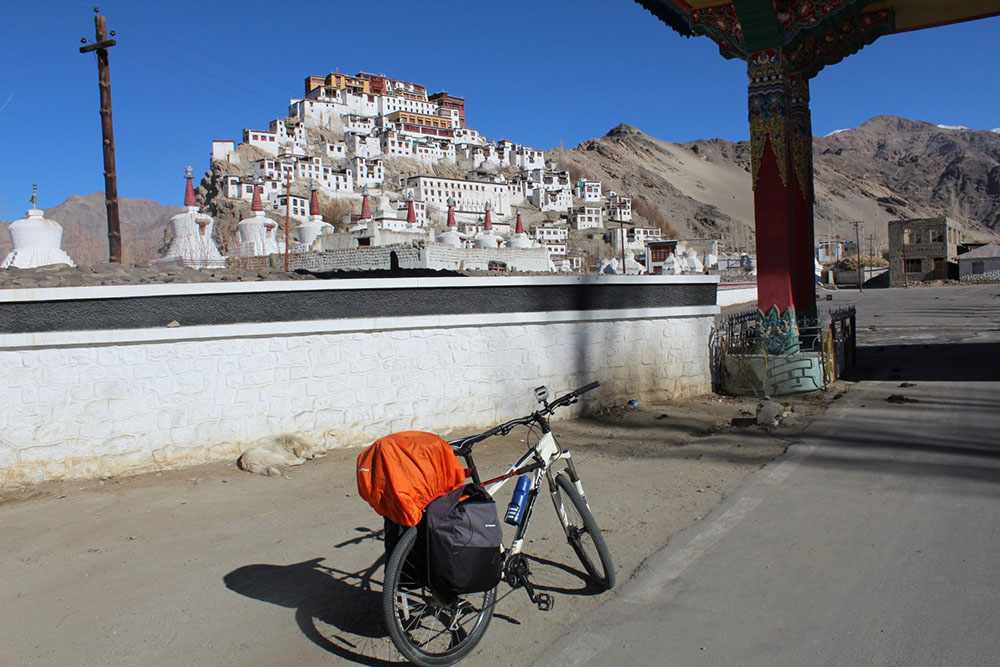 Day 3: Leh to Nubra Valley
By day 3, I am sure your body would have acclimatized to high altitude completely. Now you should have no problem crossing over Khardung La which not so long ago was considered the world's highest motorable pass.
Start early from Leh if you can but do not make it too late either. Khardung La is just 35 kilometers from Leh so you would reach there pretty quick. Spend some time at the top and on the other side of Khardung La, you will descend into Nubra valley.
Ever heard of Siachen Glacier, the world's highest battleground? This is where it is. The road you are on to would run through Nubra valley and would finally ascend to Siachen Glacier. Tourists are only allowed until Nubra valley and not beyond that.
Interestingly, Nubra valley is also the place where the Indian border touches both the Pakistan and Chinese borders.
In Nubra valley, on your day of arrival, I recommend that you drive towards Diskit/Hunder and stay at either of the places for the night. The road here is open until the village of Turtuk. You can definitely cross Diskit and Hunder and drive up to Turtuk but Diskit however is the best place to stay here.
Apart from the mesmerizing natural beauty of the place, you can also visit Diskit Monastery and sand dunes in Hunder. You should also see the two-humped camel, also known as Bactrian Camel, that Nubra valley is famous for. Please take a look at Leh to Nubra Valley Travel Guide to understand this route better and to also see a map of the place.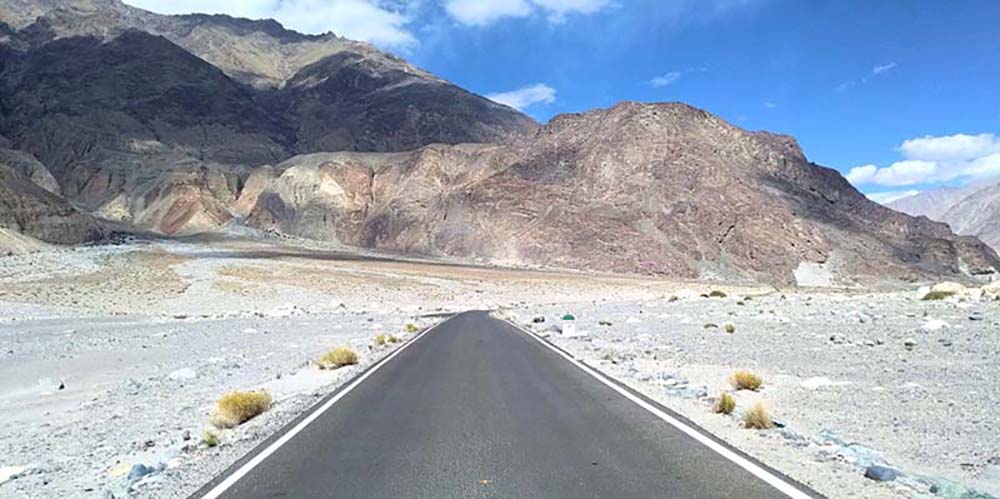 Day 4: Nubra Valley to Leh
Now there are 4 different ways how this day can turn out. You can either return to Leh from Nubra valley or you can continue towards Pangong Tso directly from Nubra valley via either Agham Shyok road or Wari La.
For the sake of this article, I would describe all three. If you had time in hand, you can spend another day in the valley and visit Turtuk and Panamik as well.
Day 4 (a): Nubra Valley to Leh
Assuming that you stayed the night in Diskit on Day 3, today you will be returning to Leh. But before you do that, take a turn towards Panamik village. If you had not yet, then I suggest that you take a look at the map I posted at the link above so you better understand what I am referring to here.
This road is open until Warshi village and you may drive all the way till tourists are allowed. Do visit the hot water springs while you are in Panamik. From there, it is a drive back to Leh on the same road via Khardung La that you took yesterday to reach Nubra valley.
If you are traveling by Public transport, this is the only option you have. There is no bus or shared cab available on Agham Shyok road or Wari La Pass. The only other option you can look for is to find someone who was heading straight to Pangong and take a lift. If not, you will have to board the bus or a shared cab back to Leh.
Day 4 (b): Nubra Valley to Wari La Pass to Pangong Tso
If you were traveling by a rented bike or taxi, you may choose to reach directly from Nubra Valley to Pangong Tso via Wari La pass. I have posted an article on this entire route with a map that you can take a read at Nubra Valley to Pangong Tso via Wari La.
Day 4 (c): Nubra Valley to Pangong Lake via Agham Shyok Road
Another easier and shorter route that exists between Pangong and Nubra Valley is Agham Shyok road. This way, you can reach the lake from the valley in only about 5-6 hours. I have explained this route with a map at Nubra Valley to Pangong Tso via Agham Shyok Road. This route is also doable only in a taxi or a rented bike.
Day 4 (d): Sightseeing in Nubra Valley
If you have a day to spare, I will highly recommend spending in Nubra Valley itself. If you stayed in Diskit, you can go to Turtuk today or Panamik. There are shared cabs and a daily bus available to these places from Diskit. So it is doable even if you were traveling to Ladakh by public transport.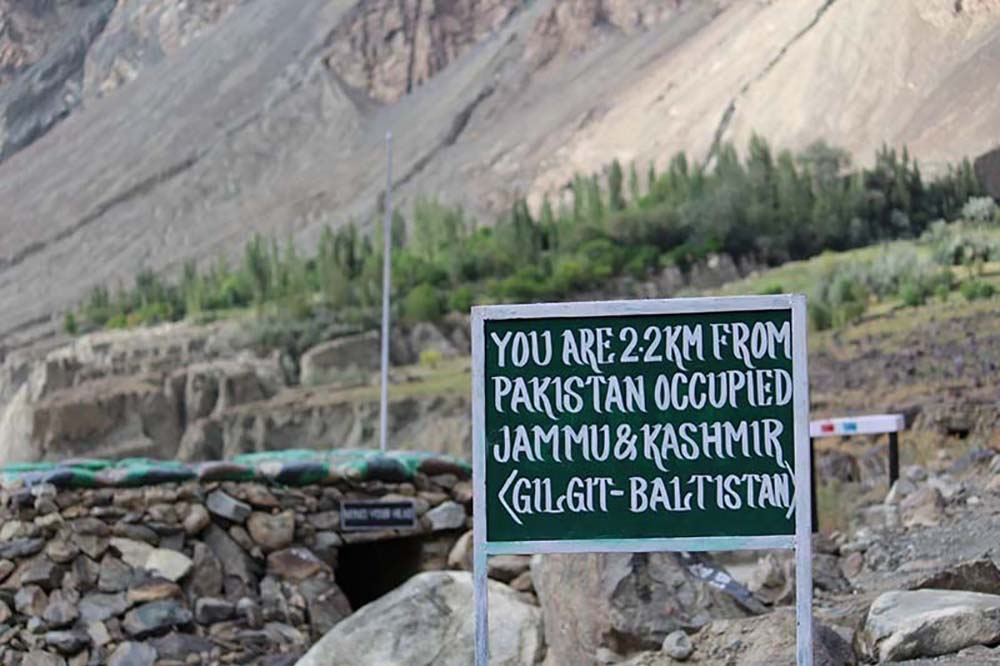 Day 5: Leh to Pangong Tso
I would assume that you returned to Leh on Day 4 and would call this Day 5. You can adjust the day count if you are planning to reach Pangong from Nubra directly. If you are already at Pangong on Day 4, then move to Day 6 in this article.
On this day, you would visit the famous Pangong Lake. From Leh, you would take the Manali Leh highway until Karu. From there, you would turn towards the mighty Chang La which once was considered as the third highest motorable pass in the world.
Near Karu, you can also see the Druk White Lotus School where the movie three idiots was shot (the Ladakh part). Shey Palace and Monastery and Thiksey Monastery are also on the way if you want to stop and pay a quick visit. The journey ahead is long so please manage your time accordingly.
Atop Chang La, you can pay a visit to Chang La baba Mandir and have a cup of tea at the army-run canteen. Once you start descending Chang La towards Pangong, you will reach the town of Durbuk. The only mobile phone tower in the valley is located here so chances are that your phone will show within range so if you want to call home, this will be the time.
From Durbuk, you will descend to the village of Tangtse and then straight to Pangong. Please read Leh to Pangong Tso Travel Guide to understand this entire route in detail and take a look at the road map. For your accommodation options at the lake, you can read Accommodation at Pangong Tso – Guest Houses & Campsites.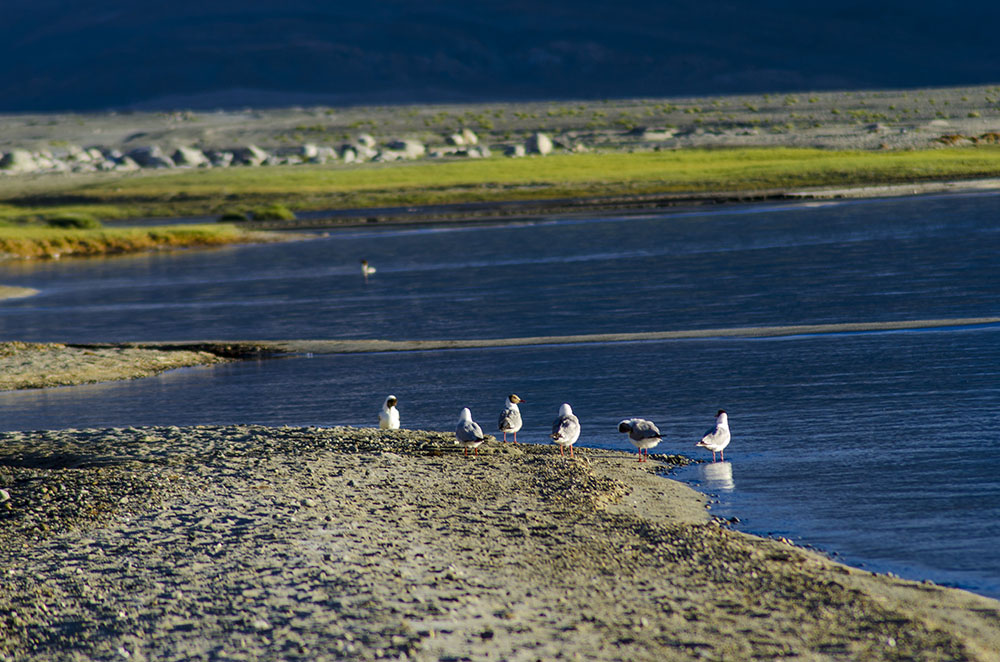 Day 6: Pangong Tso to Leh
This day again will have two different variations as mentioned below. Again, which one you chose will depend on your mode of travel. Your entire itinerary for Leh Ladakh by air will in fact heavily depend on your mode of travel.
Day 6 (a): Pangong Tso to Leh
Today you will return to Leh via the same road that you took yesterday to reach Pangong. Before you do so, do pay a visit to the army shop near the lake where you can buy monuments to carry back home.
If you reached Leh by Bus or a shared cab, this is the only option you have. The other route I will explain does not have public transport available at all. Not many tourists also go this way so your chances of hitchhiking are also minimal.
Day 6 (b): Pangong Tso to Tso Moriri (Karzok)
A variation to this day can be that rather than returning to Leh, you head straight to Tso Moriri via Chushul. Be advised though that this part of the journey needs permits that you would have obtained while you were in Leh.
You can either drive all the way to Karzok or you can add another day to the trip with a night stay at Hanle. This way, you will reach Hanle on Day 6 and go to Tso Moriri from there on Day 7.
If you do want to take this route, you will have to mention these places in your inner line permit. Otherwise, you will be sent back to Leh. For more details, please take a look at Pangong Tso To Tso Moriri Travel Guide to read more about this route.
Day 7: Leh to Tso Moriri
Today you will be visiting yet another beautiful lake of Ladakh, Tso Moriri. Unlike Pangong Tso, which is a saltwater lake, Tso Moriri has sweet water. It has a lot of vegetation around it, is a wetland reserve, and a sanctuary of migratory birds.
From Leh, you will again take the Manali Leh highway but this time only until Upshi. After Upshi, you will turn towards Chumathang and then dead to Karzok via Sumdo.
For more details on this route, please take a look at Leh to Tso Moriri Travel Guide. There are a lot of guesthouses and campsites in Karzok where you can spend the night, depending on your budget. Please read Guest Houses, Camp Sites, and Hotels At Tso Moriri for the names of a few recommended ones.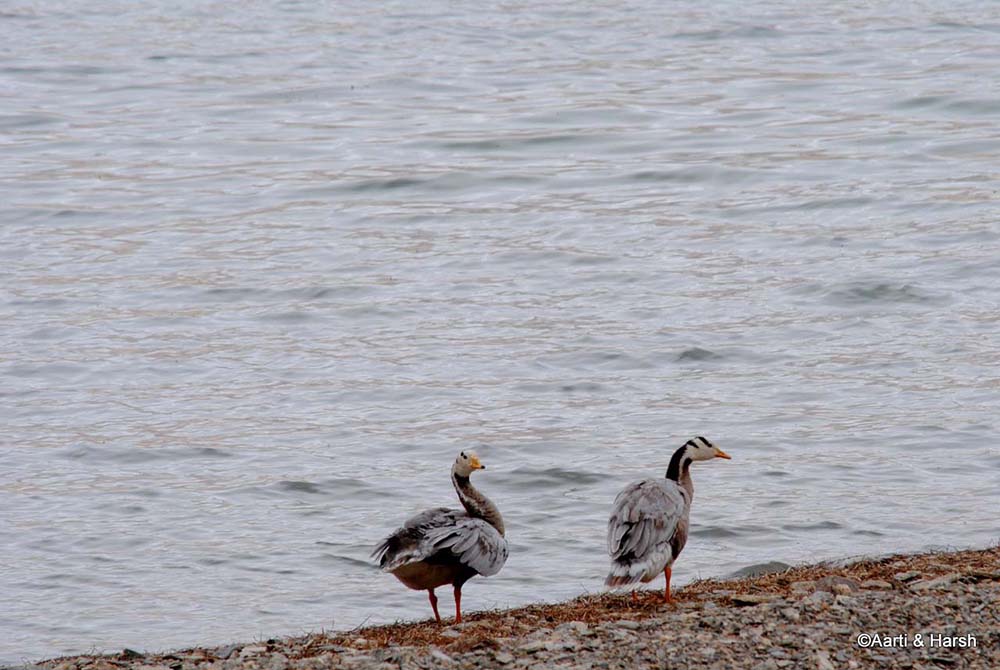 Day 8: Tso Moriri to Leh
Today you will again reach back to Leh. This time, however, you will take a different road and will also visit another lake on your way back.  From Tso Moriri, you will head back to Sumdo. But rather than continuing towards Upshi, you will take the road to Polakongka La, another high altitude pass.
On the other side of this pass is the beautiful Tso Kar. As a matter of fact, you will come across several other lakes as well which will be smaller in size but equally beautiful. Kiagar Tso and Spartspuk Tso are the two prominent lakes that you will notice.
After Tso Kar, the road will merge into the Manali Leh highway, just before Debring. From here you will start your journey back to Leh, crossing Tanglang La pass on the way. This pass was once considered the second highest motorable pass in the world.
Day 9: Rest in Leh
If time allows and you can spare another day, stay in the city of Leh and rest your body before you head back home. You can use this day to either just rest; or you can visit any of the nearby areas like Leh Palace, Shey Palace, Shanti Stupa, Leh market, or the nearby monasteries.
You can also take a drive on Srinagar Leh road until Lamayuru and return to Leh by evening. If you were short on time, you can remove this day entirely from your Itinerary for Leh Ladakh by Air.
Day 10: Return Home
On this day, you will fly back home with memories that will last a lifetime.
Itinerary for Leh Ladakh by Air – Conclusion
This was a basic itinerary for Leh Ladakh by Air that you can follow for your trip. It allows you to visit all major tourist destinations in Ladakh. You can either hire a taxi or rent motorcycles depending on your convenience. I hope this information was of help. If you have any questions, please feel free to ask in the comments section below or at our Community Forum, and I will be happy to answer.