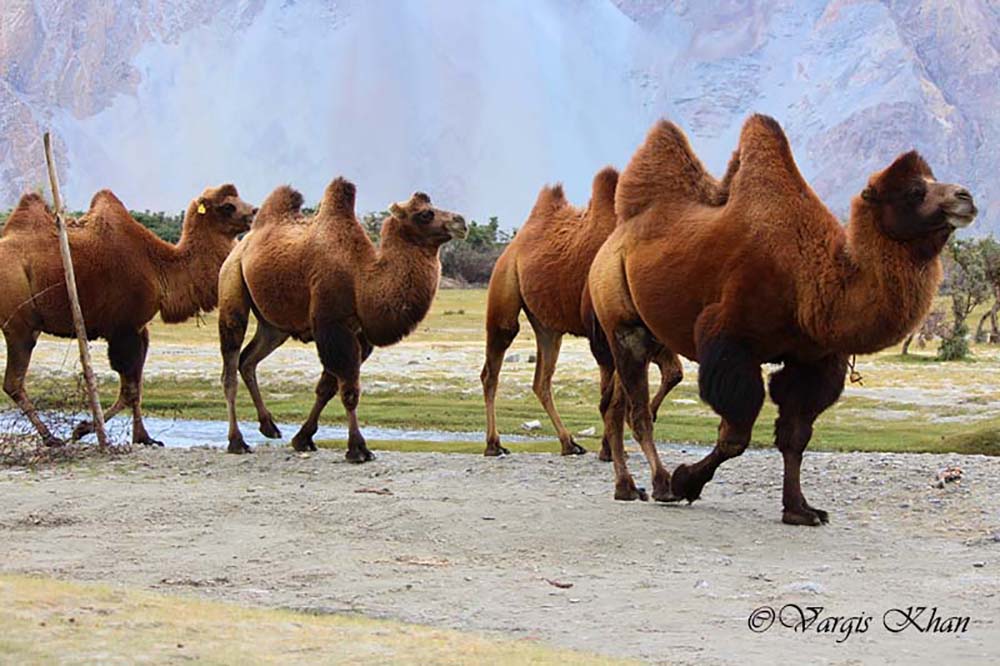 The entire Nubra Valley is a tourist attraction in itself and is one of the most visited places in Ladakh. There is nothing here that is not worth seeing. Right from the natural beauty of a cold desert to wonderful people living here, it is an experience that you will cherish for a long. There are however certain tourist places in Nubra Valley that become the highlight of the journey which I will list down in this article.
Most of the tourists spend just one day in Nubra Valley and move on either towards Leh or Pangong. In my opinion, you should stay for at least 1 day in the valley itself and explore. If could spare 2 days then you will be able to cover it in almost its entirety.
This will of course depend on the time you have in hand and the mode of your travel. For the sake of this article though, I will list down all tourist places in Nubra Valley that are worth sightseeing. If you also want to know the best way to reach here, please take a look at How to Plan a trip to Nubra Valley from Leh.
At the end of the article, I will also suggest an ideal itinerary that you can follow for visiting Nubra Valley.
About Nubra Valley
It is believed that the original name of the valley was Ldumra, literally meaning valley of flowers. Now also known as the "Orchard of Ladakh" it is a stunningly beautiful place that attracts thousands of tourists each year.
Nubra is a Tri-armed valley formed by Shyok and Nubra (also known as Siachen) rivers and is a prime farming land in Ladakh. The entire valley is a sight to behold in itself with its wide landscapes and Shyok river flowing through the mighty Himalayas.
Diskit is the largest town in Nubra valley and also its headquarters. The average altitude of the valley is about 10,000 ft.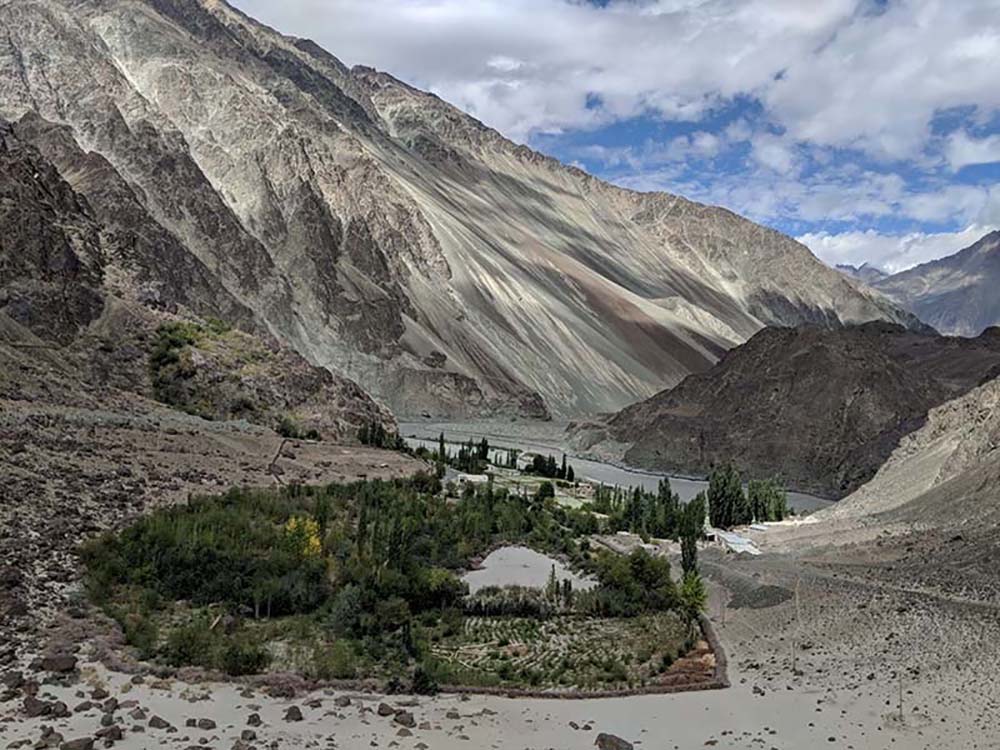 Tourist Places in Nubra Valley
There are plenty of tourist Attractions in Nubra Valley; right from the natural beauty of the place to the religious monasteries. Mentioned below is a comprehensive list.
Khardung La Pass
Once considered as the highest motorable road in the world (now this claim is disputed by most), Khardung La is one of the primary tourist attractions of the entire Ladakh region and not just Nubra valley.
At a height of 5,359 m (17,582 ft), this pass was built in 1976 by Border Roads Organization. It was opened for civilian traffic in 1988. The top of the pass is at a distance of about 35 km from Leh and the entire stretch is a steep ascent.
There is an Army-run canteen at the top that serves free tea to tourists and a souvenir shop (also run by the Indian army). The pass offers a panoramic view of the surrounding snow-capped ranges and steep valleys.
Khardung La is not exactly in Nubra Valley though. You cross the pass to enter the valley and thus, it also gets included as a place for sightseeing in Nubra Valley. If you were short on time, you can also just make a short trip to the pass from Leh without coming to Nubra. For details, take a look at How to Plan a Trip to Khardung La from Leh.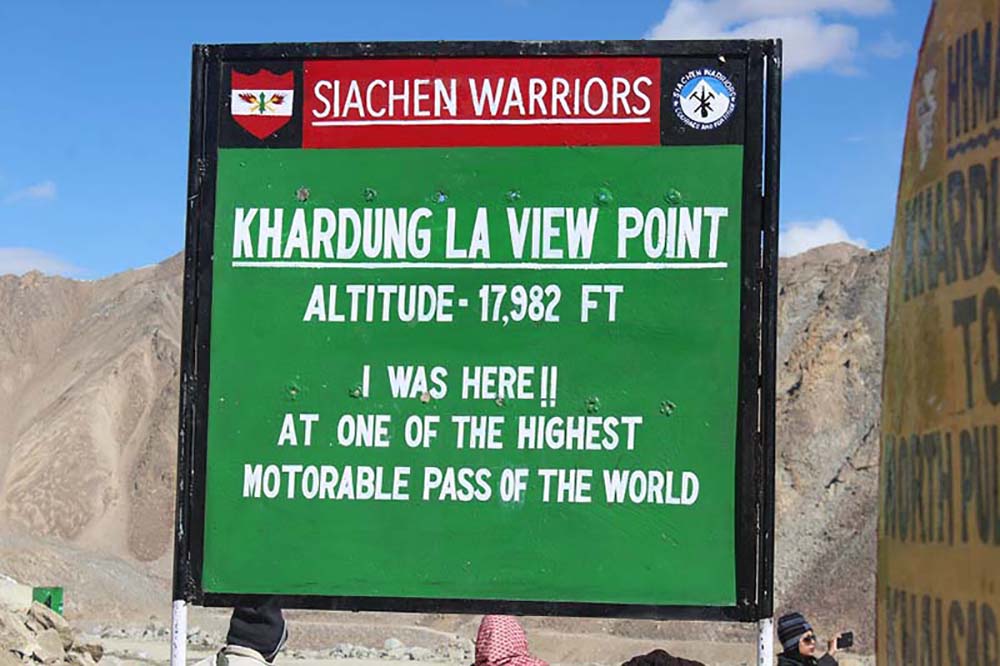 Hunder Sand Dunes
These sand dunes are located between Hunder and Diskit villages and present an amazing site of white sands. It is also among the top camping sites in Ladakh. Camel Safari is also available for tourists in these dunes.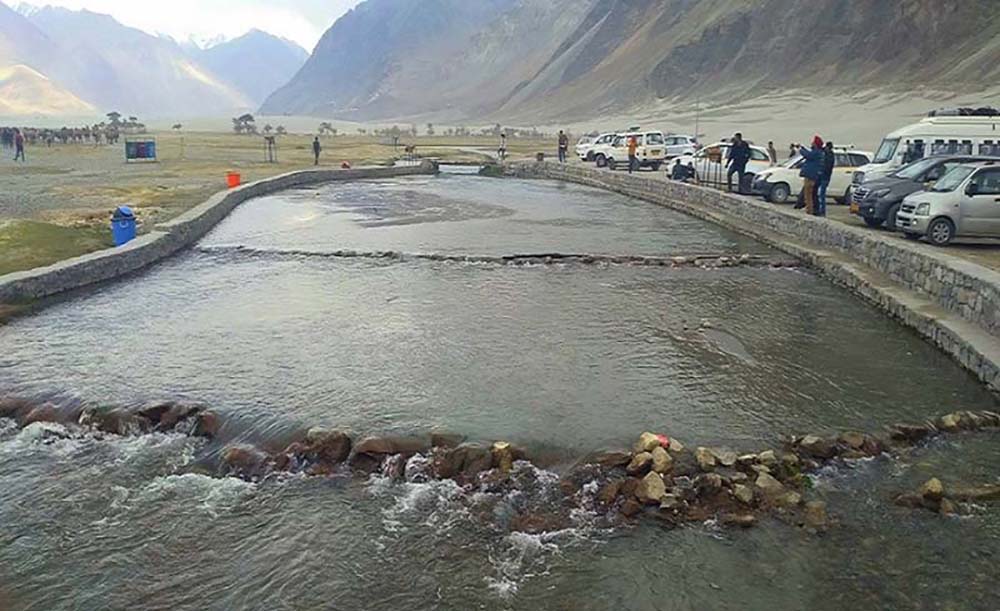 Bactrian Camels
Also known as the two-humped camel, it is a very rare animal with a population estimated at only two million all over the world. You will see camels all over India but a Bactrian camel can only be seen in Nubra valley.
These are found at Hunder and a camel safari in the sand dunes is one of the most popular tourist activities in Nubra valley. To know more about these camels, take a look at this wiki page, Bactrian Camel.
Maitreya Buddha
Located close to Diskit Monastery, it is an impressive 32-meter statue of Buddha that was built in 1996 and sits facing Pakistan. It is said to be built with three main functions in mind: protection, prevention, and peace.
The statue faces Pakistan and the reason for doing that is said to encourage peaceful relations between the two countries.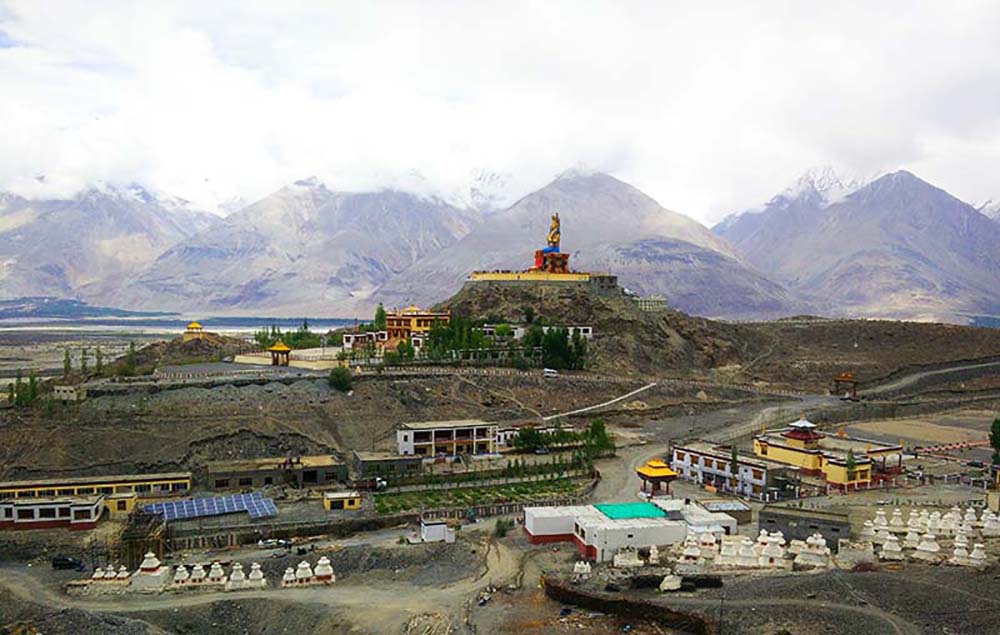 Hot Water Springs
Located in Panamik, Nubra valley's hot water spring is a must-visit. Villagers have built small bathrooms around the spring where you can take a dip in the refreshing water. The water of this spring is said to be curative, due to the presence of sulfur and other chemicals in it.
Samstanling Monastery
Located in Sumur village, this 140-year-old monastery was built in the 19th century by Lama Tsultim Nima and is home to more than 50 monks.
Diskit Monastery
Diskit Monastery is one of the oldest monasteries and the largest in Nubra Valley. Built in the 14th century, it is a popular tourist destination offering a spectacular view of Nubra Valley from its roof.
There is a statue of a Deity in the Gompa holding a mummified human forearm and head [believed to be of a Mongol Warrior] in its hand. For more details on this, please take a look at Diskit Monastery in Nubra Valley – Ladakh.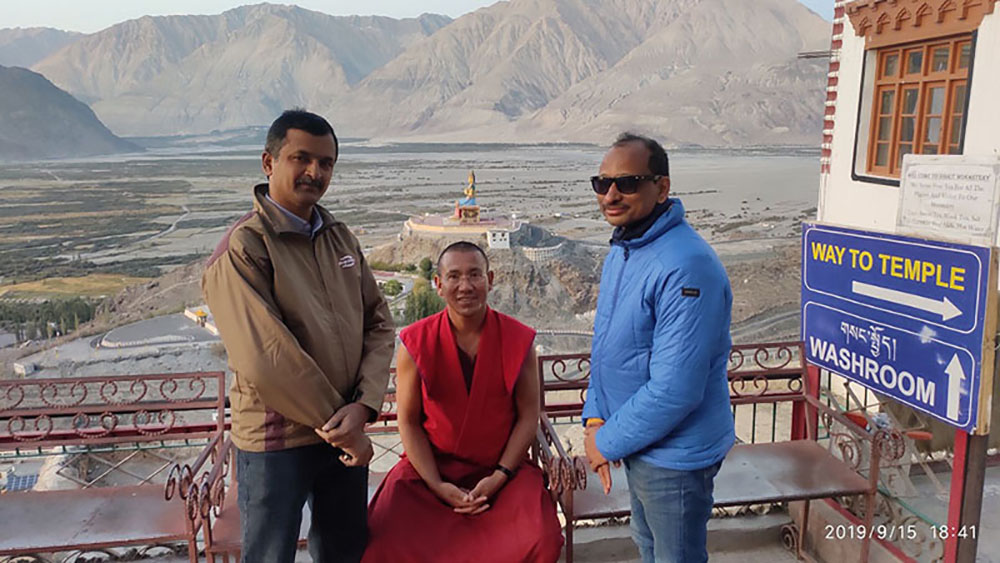 Yarab Tso Lake
Considered sacred, Yarab Tso is a small but beautiful lake located at a hike of about 15-20 minutes from Panamik. If you were staying in Panamik during your visit to Nubra, you can easily visit this lake in an hour and a half.
Ensa Gompa
A 250-year-old Monastery, Ensa Gompa is located near Panamik on top of a rock that overlooks the snow-capped mountains of Nubra valley.
It is a 6 hours trek to reach the monastery from Panamik. If you want to experience the true meaning of the middle of nowhere, here's where you should go.
Hunder Gompa
It is one of the popular attractions crossing through the Hunder Sand Dunes. The monastery is located in Hunder village.
Also Read: How to Plan a Trip to Leh Ladakh – A Complete Travel Guide
Lachung Temple
It is a beautiful temple located near Diskit Monastery. You can visit both the Diskit monastery and this temple during your visit.
Zamskhang Palace
Located near Sumur in the village of Kygar, Zamskhang Palace is believed to be the residence of the kings of Nubra. Long abandoned and standing in ruins, it is now a site of several tiny stupas. Authorities have now started restoration work of this ancient palace.
Shyok River
Shyok River originates from the Rimo Glacier, one of the tongues of Siachen Glacier, and then merges into the Indus river in Pakistan.
The alignment of this river is very unusual, flowing in a  southeasterly direction first and then after joining the Pangong range, it takes a northwestern turn, flowing parallel to its previous path.
Siachen River
Also known as the Nubra River, it is a tributary of the Shyok River which ultimately joins the Indus river to the east of Skardu in Pakistan.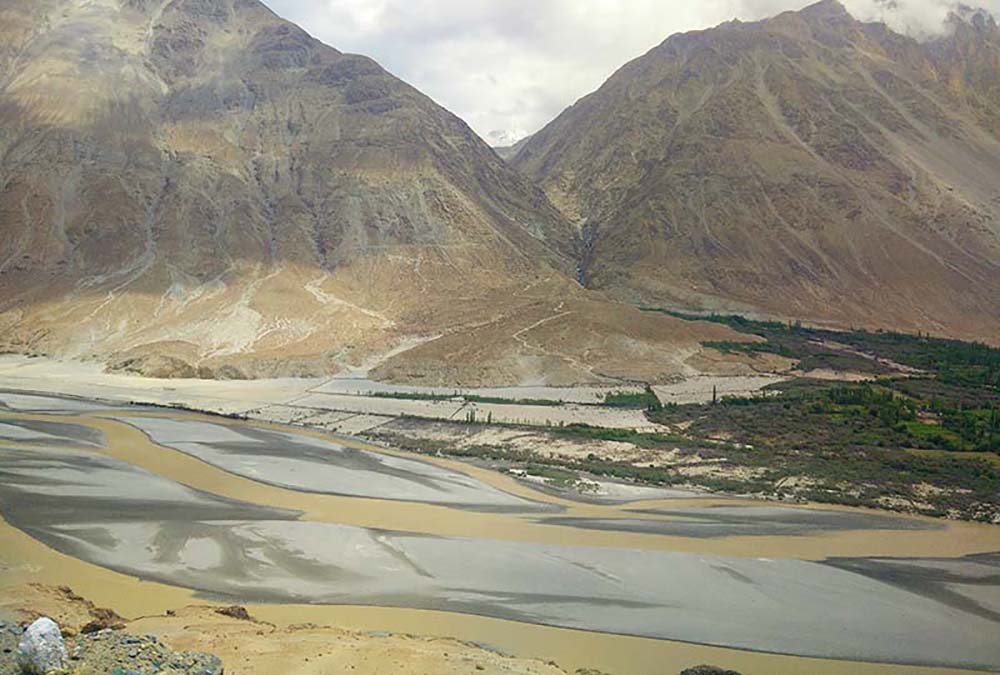 Road to Siachen
Experience the thrill of driving on the road that leads to the great Siachen Glacier. Warshi is the closest and last village on the road, approximately 16 kilometers from the Indian Army's base camp at Siachen Glacier.
Silence of the valley
I know this sounds a little off the track but you got to experience this. The nights of Nubra valley are so silently mysterious with only the sound of the wind to be heard. The calm and the peace of the entire valley are enchanting.
Natural Beauty
As I have already mentioned before in the article, do not travel to Nubra valley keeping a few places or destinations in mind. The entire valley is a tourist attraction in itself so take a drive and enjoy the natural vistas at every turn.
Also Read: Leh to Turtuk Village and Panamik – Exploring Nubra Valley
Waterfall in Turtuk
There is a small but beautiful waterfall located in Turtuk. If you were staying there for the night, you should visit this waterfall as well. It requires a couple of hours of trekking though. Just ask the villagers and they will point you in the right direction.
Siachen Base Camp
This is the latest addition to the list of the tourist places in Nubra Valley. Earlier, tourists were allowed to go only as far as Warshi Village. But now you can in fact go a little further and see the Indian Army's base camp of Siachen Glacier. This is where the soldiers are first trained for a few days and sent to their posts in the glacier.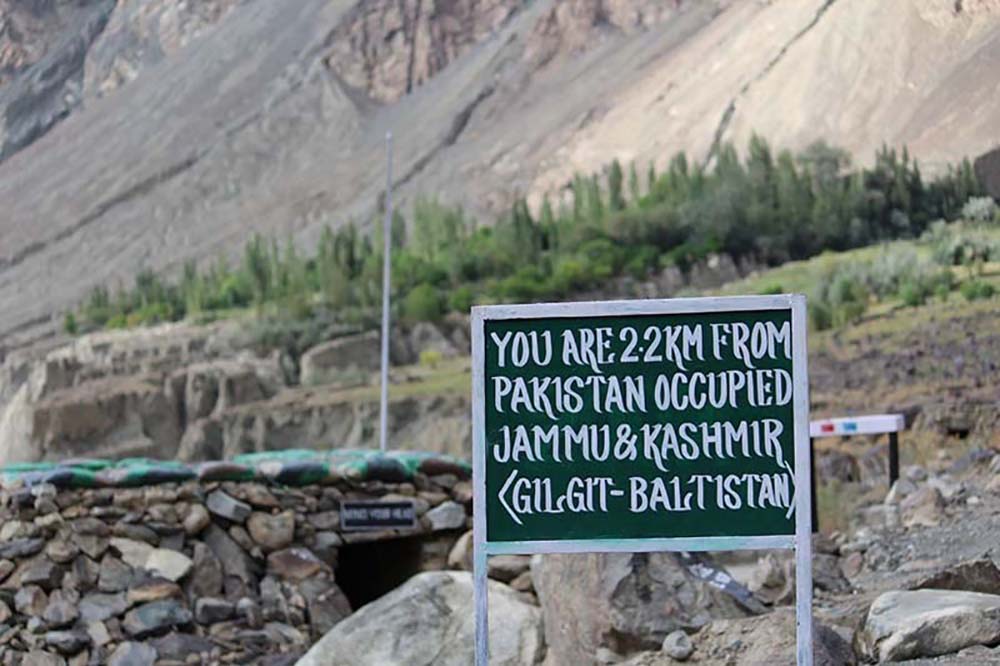 Towns and Villages in Nubra Valley
Mentioned above are what can be called tourist places in Nubra valley. Below is a list of all the towns/villages located in Nubra valley.
Khardung Village
Little before Nubra valley and a few kilometers down from Khardung La, this village is a sight for the sore eyes. Distant hamlets and their patchwork fields add a human touch to the muscular scenery and immense views, making it look like a patch of green in the lap of barren Himalayan peaks.
Khalsar
This is another small village that falls along the way. Right after Khalsar is the bifurcation where the road gets divided in two, one running towards Warshi village and the other towards Turtuk.
Sumur
As you take the diversion towards Warshi, the first and somewhat spread-out village you will come across is Sumur. It is quite a scenic village, surrounded by bright yellow mustard fields and vast stretches of grass and vegetable farms.
There are a couple of theories related to how the name Sumur came into existence. Some belief it to be derived from 'Sum-yur', meaning 'three irrigation channels', an assumption borne out by the three sources of water that feed the village.
Another theory however says that the name came from 'Sum Yul,' which means 'three settlements' based on the fact that villagers here occupied two other places in the valley before they finally set up home at the present site.
Standing behind and above the village, Samstanling Gompa is the main attraction of this village. A little detour will take you to another small village called Kygar, also known as Tegar and referred to as "Tiger" by the Indian army.
Zamskhang Palace which was home to the local governor back in the 19th century when Ladakh's royal family still resided in Leh's palace is located in Kygar.
Also Read: Turtuk Village & Thang | Exploring Offbeat Ladakh
Panamik
22 kilometers from Sumur is another small but beautiful village called Panamik. Believed to be curative, the hot water springs are the prime attraction of this village. Panamik also serves as the base for the trek to Ensa Monastery. A small hike of 15-20 minutes will take you to sacred Yarab Tso Lake, another place to visit here.
Taksha
It is another small village on the road.
Sasoma
Another village, no tourist place as such here though.
Warshi
It is the last village accessible to civilians on this road, unless you want to visit the Siachen Glacier base camp. 16 kilometers from Warshi is the Siachen base camp of the Indian army which makes it the least populated region close to Siachen Glacier. Earlier, tourists were only allowed as far as Panamik but in 2015, Warshi was opened for tourists as well.
Diskit
This will be the first major town on the second road from Khalsar, going towards Turtuk. Diskit is the capital and headquarters of Nubra valley. With the recent increase in tourism in Ladakh, it has converted into Nubra valley's commercial hub.
It is situated on the banks of the Shyok river and has many hotels, home-stays, and guest house options, some of which are open throughout the year. There are several small restaurants in the main market where you can enjoy some Kashmiri dishes as well. The main attraction of the town is the Diskit Monastery and Maitreya Buddha.
Hunder
Another major town after Diskit, Hunder is primarily famous for its mesmerizing Sand dunes and the two-humped Bactrian camels. It is said that Hunder was earlier the capital of what was known as the Nubra Kingdom in ancient times.
Ruins of buildings from that era are still present here, including the King's palace, the Langchen Khar (also known as Elephant's palace), and a fort called Gula at the top of the hill. There are also two Buddhist temples here known as the white temple (Lhakhang Karpo) and the red temple (Lhakhang Marpo).
Thoise
It is the next village after Hunder on the road towards Turtuk. This is the only large piece of flat land in the area and serves as a military airfield. The airstrip there is a critical facility used to supply men and material to the Siachen glacier and other border areas on the Indo-Pak border. Thoise stands for "Transit Halt Of Indian Soldiers Enroute" to Siachen.
Bukdang
Also known as Bogdang, upon entering you will realize that the majority of the population has turned from Buddhist to Muslim. This region is inhabited by Balti people. This entire area was taken over by the Indian army in 1971 before which it was part of Pakistan.
Turtuk
This is the last village on the road accessible by civilians. As you enter Turtuk, you will know what it means to be "frozen in time". One of the gateways to Siachen Glacier, it is the last outpost in India after which the Pakistan-controlled Gilgit-Baltistan begins.
The population here is mostly Muslims of Balti origin. The landscape here would turn from Barren Ladakh to green all around. You will find fields of everything from apricots, apples, tomatoes to cauliflowers and cabbages.
It was opened for Tourists in 2010 and people here primarily depend on agriculture and tourism for a living. It is a great place to spend a night. Accommodation here is very basic in form of homestays and a few guest houses which are big enough to hold 5 to 6 people and very clean.
The major attraction of this village is the beautiful and vistas and immense peace. It is also famous for walking sticks made from the horns of wild ibex. For more details, please take a look at Turtuk Village – How to Plan your Trip & What to See.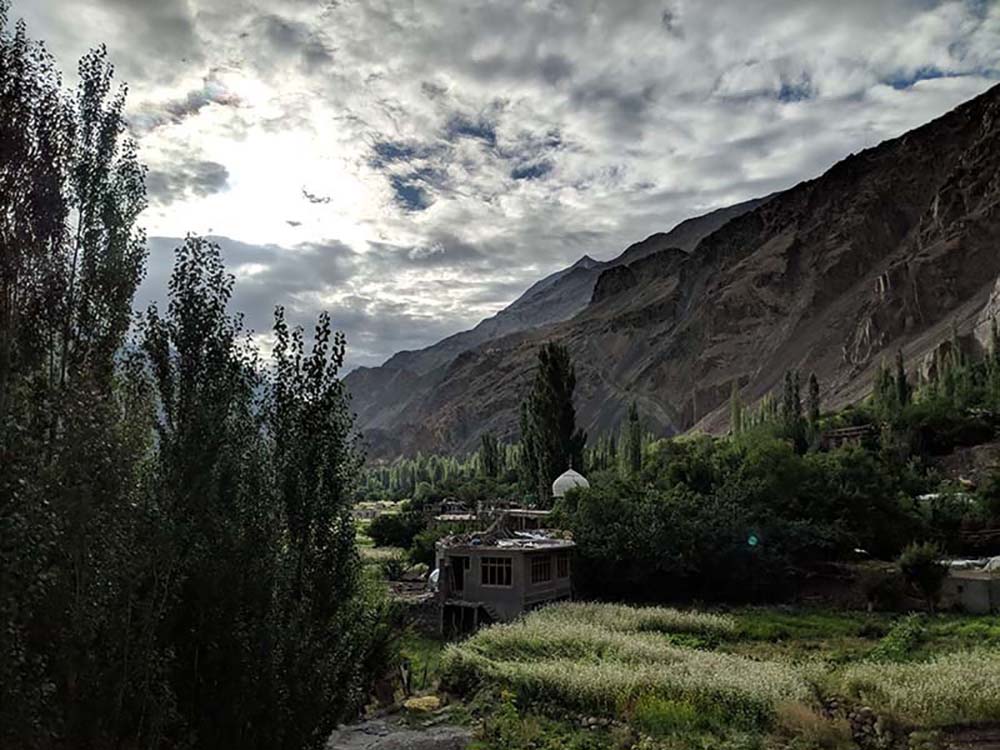 Itinerary for Nubra Valley
As you can probably guess already, visiting all these places would easily take 3-4 days. In my opinion, Nubra valley is a place where you can spend this much time easily.
However, most of the people just make it a journey for 2 days, Leh to Nubra on day 1 and Nubra to Leh on day 2. Some people stay here for a day which is highly recommended. Depending on how many days you have in hand, you can choose either of the following suggested itineraries for Nubra valley.
Itinerary 1: Nubra Valley in 1 Day
I would not recommend this but if you planning to do Nubra valley in one day then ensure that you start as early as you can from Leh. Cross Khardung La in the early hours and continue towards Nubra valley.
Once you cross Khalsar, you need to decide which road you want to travel on as doing both the stretches, (Warshi and Turtuk) in one day can become a challenge.
Alternatively, what you can also do is rather than driving all the way to Turtuk or Warshi, return from somewhere in between. For example, from Khalsar, take the road towards Diskit. Reach Hunder by noon, see the sand dunes and Bactrian camels and start your return journey.
Before Khalsar, take the road towards Warshi. Drive until Panamik, see the hot water springs and be on your way to Leh. Whatever you do, please ensure that you plan your journey in a way that sees you back at Khardung La top latest by 5 pm.
Also Read: Clothes for Ladakh Trip – What to Pack
Itinerary 2: Nubra Valley in 2 Days
This is the most common way of traveling to Nubra valley. If you have 2 days in hand, you can follow the following itinerary.
Day 1: Leh to Turtuk
Once again, start early from Leh. Cross Khardung La in the early hours and from Khalsar take the road towards Diskit. Depending on the time you have in hand, chose what places you can visit from the list I mentioned above and continue driving towards Turtuk for a night stay.
Another way of doing this is to continue driving all the way to Turtuk and make sure that you are there by noon. After sightseeing, start your return journey and stay at Diskit for the night. Diskit Monastery, Maitreya Buddha, Sand dunes, and Bactrian camels are a must-see.
Day 2: Turtuk to Warshi to Leh / Pangong Lake
On day 2, start early from Diskit and take the road towards Warshi. Drive all the way, visit Samstanling Monastery, Panamik hot water springs, and Yarab Tso on the way and start your return journey to Leh by 2 PM latest. Or you can take the Shyok route to go straight to Pangong Lake.
Itinerary 3: Nubra Valley in 3 Days
If you can stay in Nubra valley for a day then nothing like it. If you are doing this journey in 3 days, you will have plenty of time for sightseeing and will be able to cover most of the places. You can follow the following itinerary and from the list above, pick where you want to stop and which place you want to see on the way.
Day 1: Leh to Warshi to Panamik/Sumur
Start early from Leh, drive all the way to Warshi for sightseeing and return to either Panamik or Sumur for a night stay.
Day 2: Panamik/Sumur to Turtuk to Diskit
On day 2, drive all the way to Turtuk for sightseeing and return to Diskit for a night stay. If it interests you, you may choose to stay at Turtuk for the night too.
Day 3: Diskit to Leh / Pangong Lake
On day 3, you will return to Leh. Since you have some time in hand and if you are feeling adventurous, you may take the Wari La route for a return journey rather than coming back via Khardung La. Or you can take the Shyok route to go straight to Pangong Lake.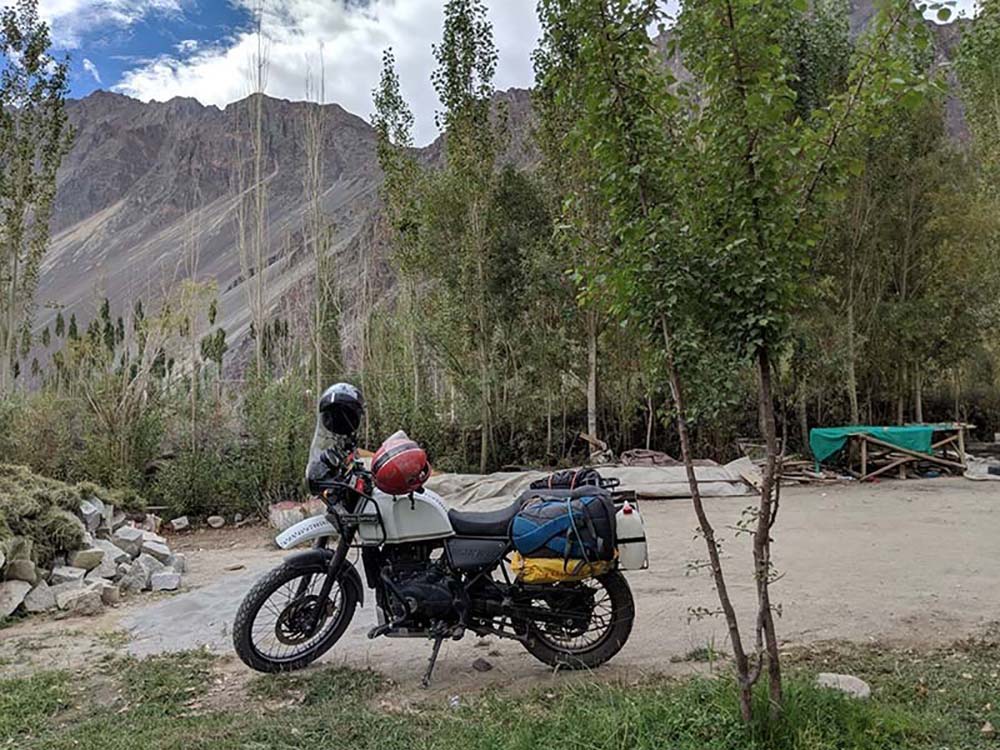 Best time to visit Nubra Valley
Tourist season opens in Nubra valley in April after the snow starts to melt and roads become more accessible to tourists. Before that, from January till March, the weather here remains extremely cold with only a handful of accommodation options operational.
Khardung La as well remains covered under a thick sheet of snow. So getting to Nubra valley in these months too can become a problem.
In April, as tourists start to visit the place, a few hotels and guest houses start to open up. This is the time when you will find the entire valley blooming with Apricot flowers.
From May till August, the tourist season remains at its peak and practically every part of Nubra valley is accessible. All the hotels, guest houses, homestays are fully functional, and finding a place to stay is no big deal.
September and early October are the best time to visit Nubra valley in my opinion. The entire valley at this time of year presents an enchanting view of colors all around. As the tourist season at this time is towards the close, there are not many people around however the hotels and guest houses are still operational.
November till late December will probably the worst time to visit. The weather at this time would be very cold but you won't catch much snow anywhere. I am making this statement on basis of the assumption that anyone coming to Ladakh in Winter will be after snow.
If you are visiting Nubra Valley in Winter, you will find plenty of snow at Khardung La; so much that sometimes the road may remain closed for days. There is however not much snow within the valley due to the fact that it is at an altitude even lower than the city of Leh.
Also Read: Which is the Best Bike for visiting Leh Ladakh
Best Vehicle for Nubra Valley
Road conditions in Nubra valley are not really that bad. You will find a lot of locals here driving around Maruti Alto as well.
The only challenge is of crossing Khardung La. So you really need to check if your vehicle is capable enough of high altitudes and has sufficient ground clearance.
However, if you have driven your car to Leh already, then you need not worry about taking it to Nubra. The terrain you would have already driven on is way worse than what you will find here. The same applies to motorcycles as well.
Things to do in Nubra Valley
After reviewing tourist places in Nubra Valley, let us also briefly talk about the different tourist activities that you can be a part of. Most of it is already covered and is derived from the information above. But here is a quick summary.
Camel Safar in Hunder
Camping in Hunder / Diskit
Trekking to Yarab Tso and Turtuk Waterfall
Motorcycling (You can rent a bike in Leh for this)
Photography
Tourist Places in Nubra Valley – Conclusion
I hope this information on tourist places in Nubra Valley and things to do was of help. If you have any questions, please feel free to ask in the comments sections below or at our Community Forum, and I will be happy to answer.