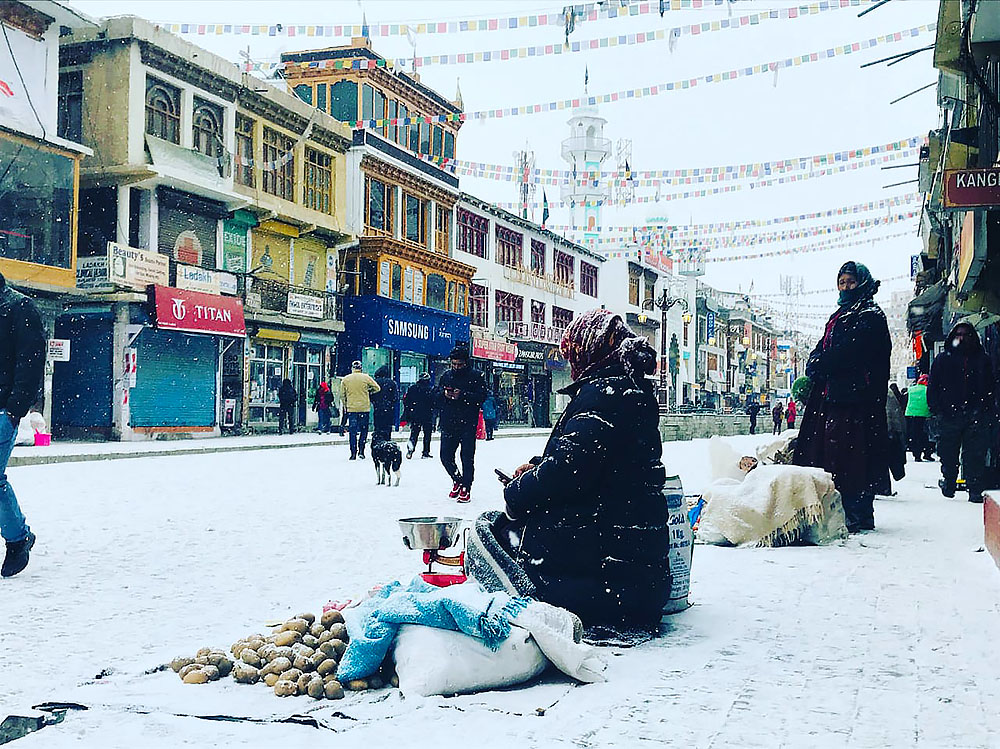 Can we visit Ladakh in December? The answer to this question is actually a yes. There are of course a few conditions that will apply. For example, it cannot be a road trip, you will have to prepare for extreme cold and will need to make all arrangements meticulously. But with a little bit of planning, you can definitely make a trip to Leh Ladakh in December.
Ladakh for a long time was only considered open for tourism in summer but things have started to change now. There has been a boost in tourism here and the effect can be seen throughout the year. You will find tourists here not only in Summer but in winter as well.
In this article, I will discuss a few tips on how you can plan to visit Ladakh in December followed by some details on how you can lay out your itinerary. To organize your trip to Ladakh, book a taxi, rent a bike, or get the best hotel rates, you can contact Kunal @ 9910402252.
If you have any questions, you can contact me on Instagram and I will be happy to answer. You can also consider subscribing to my YouTube channel and asking a question there.
How to Reach Leh Ladakh in December
I will be talking about visiting Ladakh in December in this post. But for a trip in any other month, you can also take a look at How to Plan a Trip to Leh Ladakh –  A Complete Travel Guide.
A common thought is that the roads across Ladakh get blocked during winter. This is true indeed but only partially. Only two roads that get declared closed for vehicular traffic are the Manali to Leh and Srinagar to Leh highway. They continue to remain closed for traffic throughout the winter season.
But the internal roads in Ladakh leading towards Nubra Valley, Pangong Tso, and Tso Moriri remain operational for all 12 months. There can be a temporary roadblock owing to the heavy snowfall but Army usually clears it as soon as they are able to.
The city of Leh remains connected to all the other areas of Ladakh so local sightseeing will not be a problem at all. The only condition that applies is that you cannot reach Leh by road and will have to catch a flight there.
Manali to Leh in December
There is absolutely no way that you will be able to travel from Manali to Leh in December. This road gets closed sometime in October and the high-altitude passes en route will all be buried under snow by December.
Even Rohtang Pass gets closed in winter so you will not even be able to start. The farthest you will go is the Gulaba check post, a few kilometers from Manali.
If you decided to go by Rohtang Tunnel, then you will only be able to make it as far as Jispa. Baralacha La receives an even higher amount of snow than Rohtang so you will not be able to proceed any further.
Even if by some miracle the road remains open a bit late, then Manali to Leh road trip in December is a very dangerous task and an unnecessary risk. Do not plan on doing it.
Srinagar to Leh in December
Like the Manali Leh route, the road from Srinagar to Leh also gets closed by November after it starts to snow at Zoji La. There were times when the Srinagar Leh highway was open in early December as well but it is a rare occurrence.
Even when it was open in December, there were temporary roadblocks every now and then. The entire road around Zojila was way too risky to be driving on. The danger of frost and black ice is another major concern.
By Flight
So how do you reach Ladakh in December then? Your only choice is to catch a flight to Leh. If you booked a few months in advance, you may even get a good deal.
But do keep in mind that the number of travelers at this time is very less. Even though there are daily flights scheduled, Airlines often cancel flights to Leh in the winter season.
You will be all packed and ready to go and suddenly you will receive a text from the Airline that the flight was canceled. This usually happens either because of bad weather or if there weren't enough passengers.
By Bus / Shared Cabs
Since both the highways leading to Ladakh will be closed, there will be no public transport available in December to Leh. Even finding a bus or shared cab within Ladakh may get difficult at this time.
Where to Stay
Finding accommodation in Ladakh may become a challenge in December. Some hotels in Leh city remain open but it is always better to inquire and book your stay. December is not the month of tourism. So if your hosts already knew when you would be coming, it will give them sufficient time to make arrangements accordingly.
Accommodation at other places like Nubra Valley, Pangong, and Tso Moriri can be a little difficult but not impossible. Campsites and guesthouses would mostly be all closed. So you will either have to stay at a homestay or a guesthouse that is being run by a local who lives in the village.
The phone networks mostly work in Nubra Valley for all 12 months so you can actually book your stay there as well. For a list of some guesthouses, take a look at Hotels, Campsites & Guesthouses in Nubra Valley.
In the case of Pangong Lake, you will have to look for a homestay in Spangmik, Man, or Merak villages. For Tso Moriri, you will have to ask around in Karzok. If nothing worked, then plan your trip in a way that you are able to return to Leh by evening.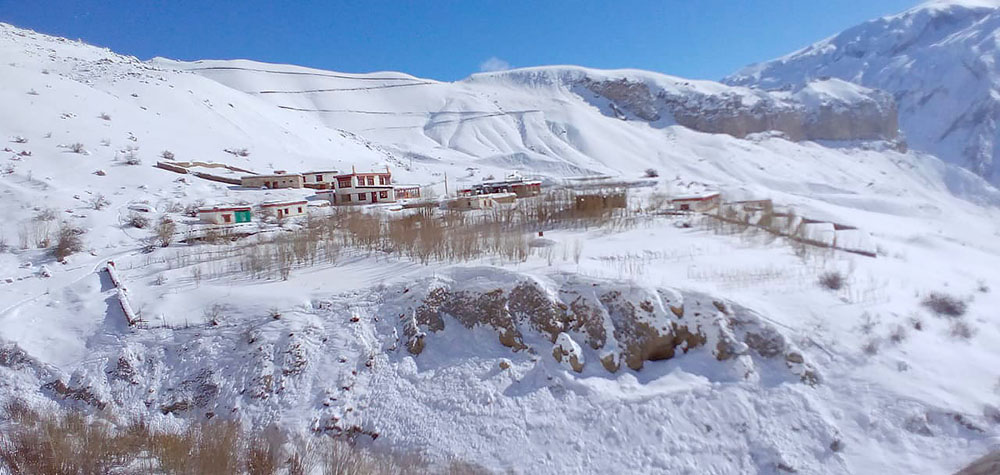 Sightseeing in Ladakh in December
Once you reach Leh City, you will be able to reach any part of Ladakh. For this, I will strongly recommend hiring a private cab and not renting a bike. The roads in December will be wet and slippery because of the frost and snow. So unless you have a lot of experience with bikes and bad roads, you should stick to a cab.
Another benefit of traveling in a cab is that it will protect you from the cold weather, which a bike won't. To know how much a cab will cost you for the trip, please take a look at Ladakh Taxi Rental Rates.
Earlier, bike rentals were not even available in the winter season but now a few of them remain open even in December.
Nubra Valley in December
The only time when Nubra Valley may not be accessible in December is if Khardung La was snowed out and blocked. However, even if that happens, BRO will clear the road and restore connectivity as soon as they are able to, provided that the weather clears.
In Nubra Valley, you can stay at either Turtuk, Hunder, Panamik, or Diskit. You can find accommodation in other villages as well but these places are where most of the tourists stay. The chances of finding accommodation also are the greatest here.
Some guesthouses may not be open in December but if you asked around, you will easily find a place to stay, if not a guesthouse then a homestay. For a list of places to visit in the valley, please take a look at Places to Visit in Nubra Valley & Things to Do.
Pangong Tso in December
Like Nubra Valley, Pangong Lake remains accessible in December. The only time when you may not be able to get here is if it snowed at Chang La and blocked the road. It won't be blocked for long though. As soon as the weather clears, BRO will restore connectivity.
The campsites near Pangong will not be available in December. They all wrap up by the end of October for the season. For accommodation, you must look for a place in the villages of Spangmik, Man, or Merak. If you are Ok staying a little far from the lake, you can ask around in Tangtse as well.
The direct route to Pangong from Nubra Valley via Shyok Road remains closed at this time. That only opens during summer. So after Nubra Valley, you will have to come back to Leh and go to Pangong Lake the next day.
If you were thinking of a completely frozen Pangong, then you will not find it in December. That only happens towards mid-January to Mid February. In December, you will find a blue Pangong and not a white one. There may be small patches of snow on the banks or floating in the lake but that will be about it.
If you want to see a Pangong like in the picture below, you will have to plan for January or February.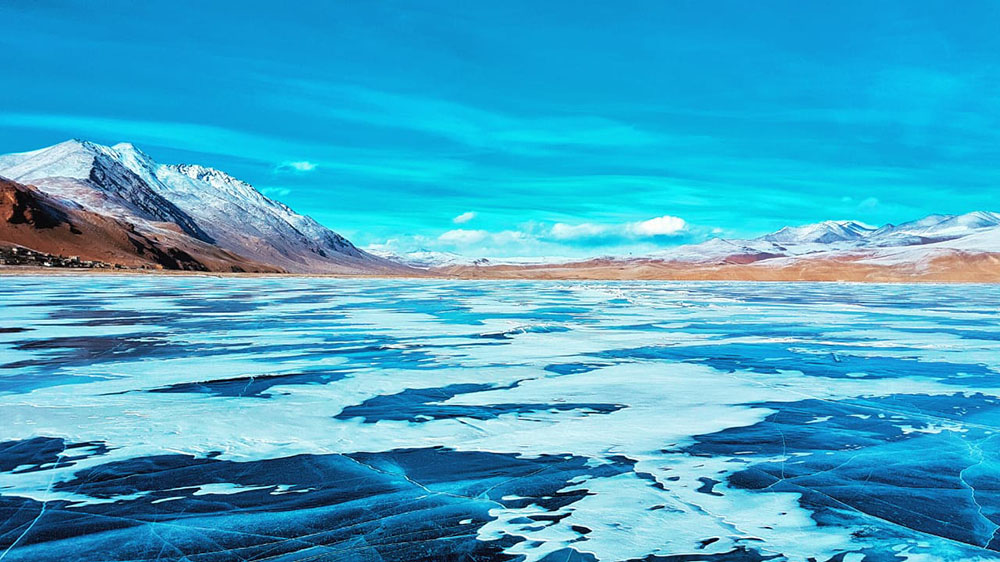 Tso Moriri in December
Like Nubra Valley and Pangong Tso, Tso Moriri also remains open in December and you will be able to plan a journey this way. There is no high-altitude pass between Leh and Karzok so the chances of this route getting closed are very less in December.
For accommodation, guesthouses and homestays remain open in Karzok village where you can stay. These are mostly the houses of the villagers only who stay there even in the winter season. For names and numbers of some places, please read Guesthouses, Campsites & Homestays near Tso Moriri.
So you should be able to find accommodation easily both at Pangong and Tso Moriri. But in case you were not able to, please plan your day in a way that you can return to Leh before dark if you could not find accommodation anywhere.
Chushul Route & Hanle
Even though the Chushul route and Hanle Village remain open in December, it is best advised to not venture in this direction. If the weather closed in and it snowed heavily, you may get stranded here for a while. But if you wish to cover these places as well, ask your taxi driver and keep a check on the weather before you go.
Leh in December
The first picture in this post is of Leh City in winter. You can see that even though it is snowing, the markets are open and there are still a lot of people around. Leh remains accessible for all 12 months by Air and some hotels now function throughout the year.
It snows in Leh in December but not that often. Even when it does, it usually melts away in a day or two. Most of the heavy snowfall is around the high-altitude passes in December. So do not be surprised if you did not see any snowfall in Leh while you were there.
All the tourist spots in the town will be open for visitors including Leh Palace, Shanti Stupa, Shey Palace, the local market, and nearby monasteries. For a list, please read Tourist Attractions in the town of Leh.
Leh – Kargil Road / Sham Valley
Kargil remains connected with Leh for all 12 months, except for times when heavy snowfall may temporarily block the route. You can plan a day-long drive on the Srinagar Leh highway and visit places like the Indus-Zanskar Rivers confluence, Gurudwara Patthar Sahib, Magnetic Hill of Ladakh, and Sham Valley.
If you had time, you can actually drive all the way to Kargil and spend a night there. If not, drive as far as you are able from Leh and return by evening.
Zanskar Valley
Zanskar Valley cannot be visited in the month of December. The connecting road from Kargil to Padum gets blocked in November and you will not be able to enter Zanskar. The farthest you can go is Rangdum in Suru Valley but will have to return to Kargil from there.
I think I covered all the major tourist spots above. If there was any left that was on your mind, ask me in the comments section below and I will clarify.
Snowfall in Leh in December
If the purpose of your trip was to find a complete white Ladakh and Leh city then you will be disappointed. Ladakh maintains its barren brown color even in the winter season.
Yes, there is a chance that it may snow in Leh City in December but the snow will not stick to the ground. It will melt away just as soon as it stops snowing and the sun comes out. During December, snow is mostly limited to high-altitude passes and the roads across.
Ladakh Festival in December
Monastic Festivals and Winter Games are organized in Ladakh during the winter season. Galdan Namchot Festival and Ladakhi Losar (New Year) are the two that are celebrated in December.
For more information on festivals in Ladakh, please read Festivals of Ladakh: A Colorful Celebration of Life. For the exact dates of the festival depending on the year of your arrival, please take a look at Ladakh Festival Dates.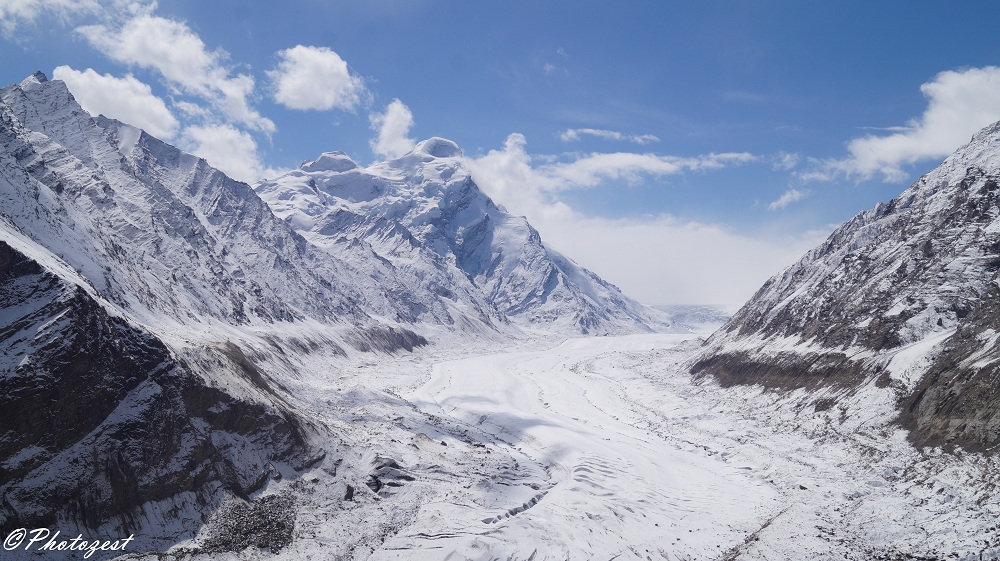 Weather of Ladakh in December

Life in Ladakh is tough during winter, and even some locals move out to warmer places for a few months. This is the time when even water in the taps freezes. Hot water gets limited and you may even have to do your business in a dry pit every morning.
The weather will be very cold and harsh and freezing is the word that describes it the best. Even if did not snow in Leh City or Nubra Valley, the cold winds will still make everything difficult.
You will have to keep yourself wrapped in woolen clothes all the time. If there was no warm water available, even washing hands will become a Herculean task.
Ladakh Temperature in December
The temperature will depend on the time of the day and where you were exactly. For example, the temperature at the top of the passes or in places like Pangong and Tso Moriri will be even colder than in Leh City and Nubra Valley.
 The historical average temperature in Leh City is around 5°C maximum and -5°C minimum during the day. During the night though, it will fall several degrees below 0.
At Pangong and Tso Moriri, the temperature can fall as low as -10°C even during the day. The temperature at the top of the passes will be even lower.
Clothes to Pack for Ladakh in December
This is related to the point above. Since the weather can at times turn to the extreme, you got to bring in all your heavy woolen clothes.
You must also carry some good thermals and a heavy windproof jacket. Good quality gloves and woolen socks are a must. If possible, find a pair of gloves that is also waterproof.
Along with your head, you also need to worry about your ears, face, and neck and carry a cap/muffler that can protect all. If your jacket had a hoodie attached to it, it will be of great help.
Pack a pair of sunglasses to protect your eyes and a good sunblock lotion. Since it will be extremely cold, carry a lip balm and a good cold cream as well. For more details on this topic, please take a look at Clothes for Ladakh Trip: What to Pack.
Inner Line Permit for Ladakh
Please note that for all of the places I mentioned above, you will need to obtain an inner line permit. The procedure to procure the permit is all online now and is very easy. You should be able to get your permit within minutes. For more details and step-by-step directions, please take a look at How to Get an Inner Line Permit for Ladakh.
Itinerary for Leh Ladakh in December
The first thing you got to do is to keep your itinerary simple. Do not include areas too remote. You should plan in a way that you reach Leh, visit Nubra Valley, Pangong, and Moriri Lakes, and be on your way back.
Areas like the Chushul route, Marismik La, Horla, and Charchagan La are best avoided while traveling so late in the season. In December,  you may not even get permits for these places and even if you did, the chance of getting stranded due to weather or a breakdown will be greater here in the offseason.
Your itinerary will really depend on how many days you have in hand but I will make a few suggestions; based on which you can prepare your final itinerary.
Day 1 & 2 – Leh
You should not plan anything for Day 1. Go straight to your hotel after you land in Leh and just rest. Let your body adjust to high altitudes and the cold weather.
Since you reached here by flight, the gain in altitude was tremendous. You reached from plains to 3500 meters in a couple of hours, that too when the temperature is at zero.
You must not stress or exhaust yourself, respect your body, and give it time to acclimatize. For more information on what acute mountain sickness is, please read How to Handle Altitude Sickness in Ladakh.
If possible, and if you have sufficient time, stay in Leh on Day 2 as well. Visit some local places like Leh Palace or Shanti Stupa.
Day 3 – 9
Avoid traveling towards a high altitude pass on Day 3 as well. If you are feeling OK by now, take a drive on the Srinagar Leh highway and see Magnetic Hill, Indus-Zanskar Confluence, and Gurudwara Patthar Sahib on the way. If the weather was favorable, you can go all the way to Lamayuru and see the lunar landscapes there and Maitreya Buddha at Mulbekh.
For Day 4, go to Nubra Valley and stay there. Nubra is at an even lower altitude than Leh so it will be good in terms of acclimatization as well. Do not go to Pangong on Day 4.
The night of your Day 4 will be spent in Nubra Valley. The next day, if by any chance the Shyok route was open, then you can go straight to Pangong on Day 5. Otherwise, return to Leh.
If you come back to Leh on Day 5, you will then go to Pangong Lake on Day 6. Start early in the day so that you are able to reach back before dark if you could not find a place to stay. You will then return to Leh on Day 7 or if the route ahead was open, you can even go to Hanle.
On the following day, you will go to Tso Moriri from either Leh or Hanle, depending on where you were. Spend a night in Karzok and arrive back in Leh on Day 9.
Keep Buffer Days in Your Itinerary



While traveling to Ladakh in December, it is safe to assume that it will definitely snow at high-altitude passes. There is a high possibility that you are in Nubra Valley and cannot return to Leh because Khardung La was all snowed out and blocked. The same thing applies to places like Pangong and Moriri as well.
Hence it is important that you do not bind yourself to dates strictly and keep at least 2 days as a buffer. In case you get stuck somewhere, you will be able to afford to be there for a day or two.
If all went well and according to the plan, you can use the buffer days to either rest in Leh or explore some other areas; or maybe to rest at home for a while after you returned from the trip.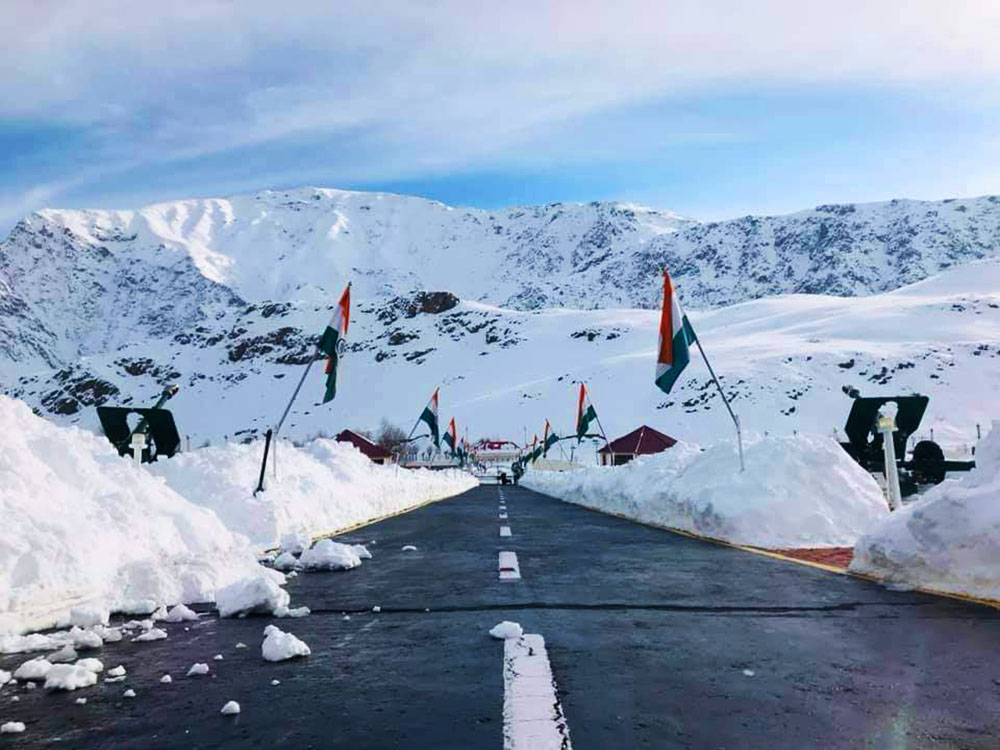 Mobile Connectivity in Ladakh in December
Irrespective of which network you were on, your mobile phones will work well in Leh. Airtel and Jio have very good service in Leh and Nubra Valley with good data speed. The weather could pose a problem. If the weather conditions were bad, you may get reception only in Leh and not in Nubra.
Another thing to remember is that only postpaid mobile connections work here. So if you are using a prepaid connection, your cell will not work even in Leh.
BSNL / MTNL has the widest connectivity here and will work even in places like Pangong. The reception will however be extremely bad and data connectivity next to none. For more details, please read Mobile Services in Leh and Other areas of Ladakh.
Medical Assistance
The hospital in Leh remains operational for all 12 months. So you will be able to get medical assistance if needed. There is however nowhere else in Ladakh where you may find a Doctor. You may be able to get some basic care in Nubra Valley but even that is not guaranteed.
It is of utmost importance that you carry your own medical kit with you. Pack some basic medicines for fever, flu, cold, headache, upset stomach, body ache, pain relief spray, and a few Band-Aids. The Army posts all over Ladakh can also help in case of an emergency.
Ladakh Bike Trip in December
If you want to make it a bike trip then you will have to reach Leh City by Air and rent a bike. You cannot bring your own motorcycle at this time. After the recent boost in tourism, some motorcycle rentals do remain open in the winter season as well. But only take this risk if you are sure that you can manage a bike across snow and slippery roads.
Even if you got a motorcycle on rent, I will recommend not taking the chance. Low temperatures combined with cold winds are not the ideal climate to ride a bike through hills. Then there is also the risk of snow and slippery roads which may result in a serious incident.
Also read: How to travel to Ladakh with children or infants
Public Transport in Ladakh in December
Public transport in Ladakh in December is extremely rare so do not rely on a bus or shared taxi. The best way out is to rent a private taxi for the complete trip. If you were planning a budget trip by public transport, better cancel the plan for now and think of doing it next year in Summer.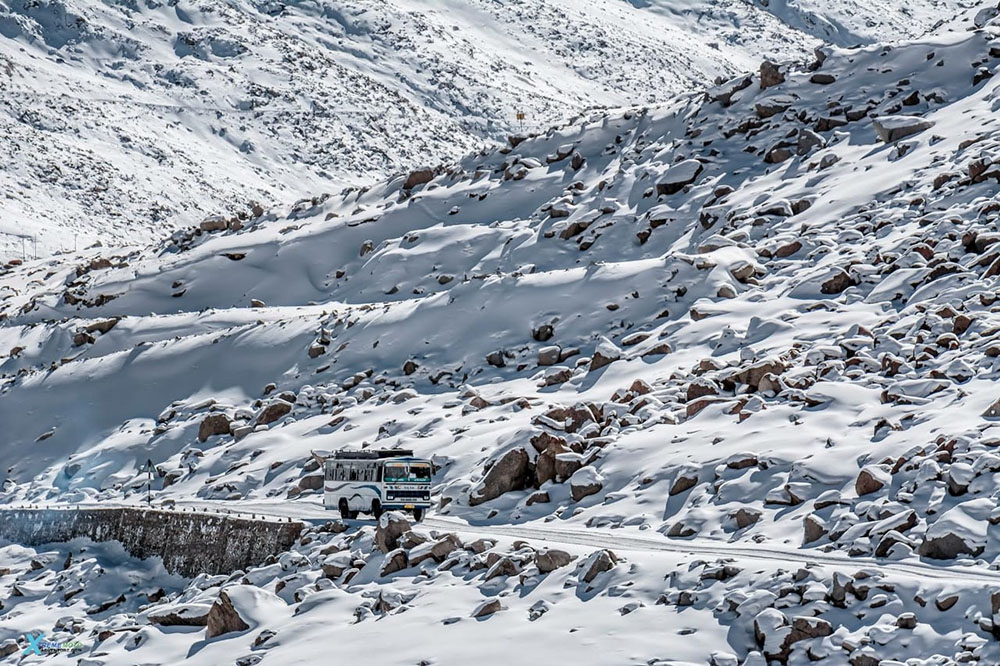 Why you should visit Ladakh in December?
If the idea of a live snowfall is on your mind, then chances are that you will catch one here in December. It starts to snow in Ladakh at a high altitude passes by September end.
Towards the end of December, snowfall may even occur at the lower altitude areas as well. If not a live snowfall then you will at least get to see plenty of snow around; while crossing passes like Khardung La or Chang La.
Since the tourist season has ended, there will be fewer people all across Ladakh. If you reached here seeking solitude and tranquility, the month of December will suit you just fine.
With the low number of tourists and only a few customers, you will also have the sole attention of your host at any hotel or homestay and will be treated very well.
Why you should not visit Ladakh in December?
One of the prime attractions of a trip to Ladakh is driving through the famous Manali Leh and Srinagar Leh highways. Visiting Ladakh in December will however deprive you of this journey. You will have to catch a flight in and out of Leh and will have to leave both these roads for another vacation at another time.
The chances of getting stuck at any place in Ladakh will always remain in winter. You may be out visiting Nubra and Pangong when either Khardung La or Chang La got snowed out.
In this situation, you will have to wait it out until the weather clears and BRO is able to remove the snow. There is no way that you will be able to make it back to Leh as long as the road remains blocked.
Not all of us are capable of handling cold weather that well. Nights in Ladakh in December will be extremely cold and even days will be no better. If you are someone who gets bothered by cold weather a lot then it is best to give up Ladakh entirely until next summer.
The cost of living also goes up in Ladakh in winter. You may even end up paying more than the actual charge for basic facilities and sundries.
Is it safe to travel to Leh Ladakh in December?
That depends entirely on you. Do not take any unnecessary risks, and you will be OK. You should not visit Ladakh in December if there is any medical history involved or if you are not someone who can handle the cold.
Do not rent motorcycles unless you are an experienced rider. Pack enough warm clothes and carry some basic medicines. Do not bring children or elders along at this time.
Leh Ladakh in December – Conclusion
I believe that covers most if not all that you should know about visiting Ladakh in December. If you have any questions, you can contact me on Instagram and I will be happy to answer. You can also consider subscribing to my YouTube channel and asking a question there.
This error message is only visible to WordPress admins
Error: No feed found.
Please go to the Instagram Feed settings page to create a feed.