Ladakh was a dream destination for us. It was planned and canceled a few times before we finally did it in and it turned out to be a trip of a lifetime! It was a journey filled with adventures and plenty of 4×4 action for a couple driving alone for 17 days in the land of high mountain passes – Ladakh! In this post, I will share details of our first leg of the journey, Delhi to Patnitop road trip via Manali and onward to Leh via Srinagar.
The trip gave us a taste of all kinds of adventures – a change of plans at the last moment, a long drive to Leh via Manali & Srinagar, a crazy ride with Kiangs, getting lost near a lake only to discover a relatively lesser used route to the elusive Chumur.
Also Read: How to Plan a Trip to Leh Ladakh – A Complete Travel Guide
The trip also included a visit to the charming Hanle, a drive to the beautiful Pangong Tso, conquering the highest "motorable" road in the world – Marsimik La, the discovery of another relatively lesser-known road from Changthang to Nubra, exploring the border village of Turtuk & finally followed by a crazy drive back home to Delhi via Manali.
The Travellers: Aarti & Harsh
The Machine: Our very own wild ass – Tata Safari 4×4, we call it Kiyang
The journey covered 4500 km in all and it took us 17 days to do it. Thankfully, both of us drive, making it possible to cover more ground per day without getting too exhausted.
Day 1 : Delhi to Manali: 560 km – 14 hrs
Everything was finally set! Our Safari, Kiyang, was with us, leaves from work had been applied for, and excel sheets had been drawn up! The preparation for the trip had begun soon after our brief trip to Binsar in April. Since time was short, a methodical way of planning was necessary.
Since we both are working and have little time apart from Sundays to get any work done, we decided to manage things effectively by splitting the tasks and bit by bit arranging items required for the trip.
Also Read: How to Handle Acute Mountain Sickness in Ladakh
Preparation
The most difficult things to procure were the accessories for the car including snow chains and a towing cable. However, a meet-up with a TBhp member, Aman, at his Noida garage convinced us not to take snow chains. As for the towing cable, it was quite a while before we found a good one, and if I remember correctly, it was a BCMTian (Bharat) whose post helped us out eventually.
As the D-day kept getting closer, the weather started playing tantrums. Nevertheless, we were sure that we would be able to do the Manali-Leh highway easily, and it was further supported by the fact that 5 days before our leaving we got reports that vehicles had started crossing Baralacha La.
But I guess the weather gods had something else planned. 2 days later, heavy snowfall forced Baralacha La Pass to close down again. It was then that we decided that getting snow chains might be the apt thing to do given the current weather conditions.
We pressed the panic button but were not able to find them anywhere in Delhi. Finally, we managed to get a contact in Shimla via Aman, who promised to deliver the snow chains to us in Delhi one day prior to our departure. We took the deal, and thankfully he kept his promise.
Also Read: How to Prepare your Car for Ladakh
Start of the Trip
So armed with our Nikon D3000 with a new 70-300 mm zoom lens, we left for Manali, still hopeful of doing the Manali-Leh highway. We had become increasingly despondent that we would not be able to cover all that we had planned, having made the wrong assumption that if Rohtang & Baralacha La are closed, most of the passes in Ladakh would also be!
So the plan was to cross Rohtang, if it was open, the next day, and roam about in upper & lower Lahaul till Baralacha La relents. However, fate had something completely different planned for us and our original itinerary literally went for a toss!
Our original plan without Chumur with 2 buffer days​.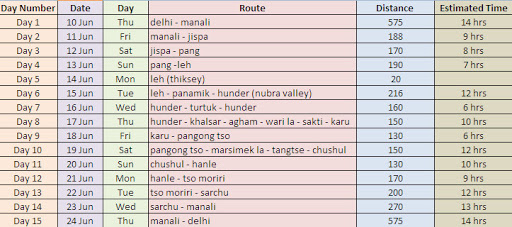 Bilaspur
We left our house at about 3:30 on the 10th of June, without further incidents managed to cross Chandigarh by 8, and reached Bilaspur by 11 am.
The submerged temples, with green patches around, were looking as beautiful as ever. We decided to go down to click some pictures. However, we were not able to find our way. After some offroading misadventure, we decided to abort the plan and moved on towards Manali.
One of the submerged temples at Bilaspur​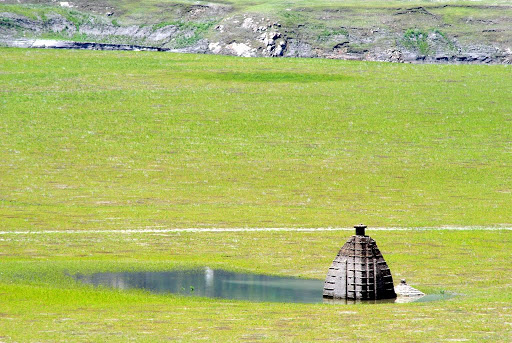 Our regular trips to Himachal meant that our route and time schedule to Manali was more or less fixed – leave Delhi early to reach Manali in time for a late lunch at our favorite joint, Il Forno. As the Outlook Traveller Himachal guide says, the owner of Il Forno, an old lady, "is from Naples and her pizzas are from heaven"!
Also Read: What Clothes to Pack for Leh Ladakh
As we approached Manali, it started raining, further dampening our hopes of crossing Rohtang the next day. Even while having lunch, we could see the storm on the peaks visible from there and knew that it was not a good sign.
Zoomed view of a storm on the peaks visible from Il Forno​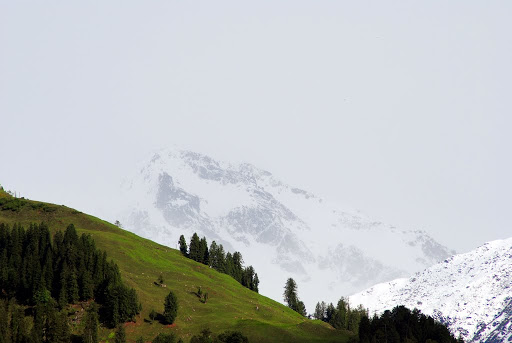 Manali
After checking into a hotel, we wandered about, asking local Manali taxi drivers about the road condition up ahead. All of them painted a very grim picture and said that it would take at least another day for Rohtang to open, and a good 5 for Baralacha to open.
One taxi driver explained to us at length the exact situation. As per him, he had been there a couple of days back and elaborated how glaciers had come onto the road. According to him, the highway would take at least another 10 days to get completely open till Leh.
Change in Plans
But as they say, every dark cloud has a silver lining, and soon after talking with him, we read on BCMT (via Tanveer, tsk1979) that the road till Hanle is open. We were overjoyed at this piece of info, and our earlier fear of roads and passes in Ladakh being closed was washed away.
We then immediately decided on taking the alternate route to Leh via Srinagar, so that we do not lose time and are able to at least cover all that we'd planned for Ladakh. The idea was that the Manali-Leh highway could always be covered on our way back.
Thereafter, we took out our maps, added up km, made an alternate itinerary, and went off to sleep. The next night's halt would be Patnitop, a good 500 km or so away, and we needed a good night's sleep. Now a Delhi to Patnitop road trip was also added to the itinerary.
Day 2: Manali to Patnitop : 490 km – 15 hrs
With a heavy heart, we abandoned all hopes of doing the Manali – Leh highway on our way up to Ladakh. All we hoped was that we could do it on our way back. The good part about the new itinerary was that we would approach Leh via a different route and come back by a different one.
Hoping that the Srinagar – Leh road was as beautiful as the Manali – Leh one, we set-off. And we were not disappointed at all! Although a little less difficult, the road offered some spectacular vistas along the way.
Also Read: Things to Carry for Ladakh Trip
The Route
But first things first, we had to come up with the best route from Manali to Patnitop. The ideal route seemed to be Manali – Mandi – Joginder Nagar – Palampur – Dharmashala – Pathankot – Udhampur (via Jammu bypass) – Patnitop. Although it did not look very interesting, we were nevertheless excited since this would be our first-ever foray into the Kangra valley.
The route turned out to be exactly what we'd expected – a boring drive. The few highlights were the shivering monkeys at the Pandoh Dam and the breathtaking first view of the Kangra Valley.
Kangra Valley
However, the population density in the valley and the traffic was quite a mood-spoiler. A good break from the monotony of the drive was a flock of eagles circling over a carcass right next to the highway. This gave us an opportunity to play with our new zoom lens.
The poor guy was freezing!​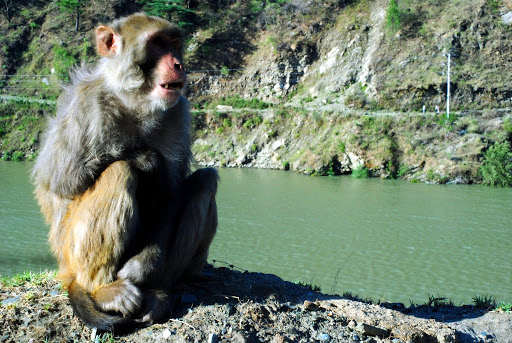 A panorama in the Kangra valley​

The Kangra narrow gauge​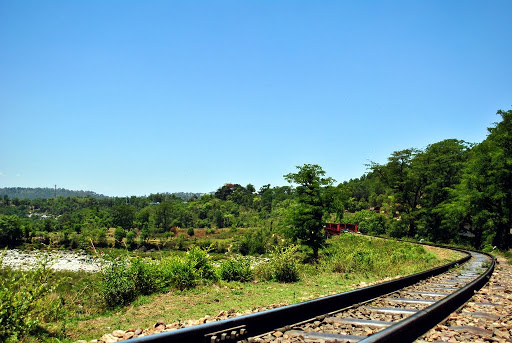 Lunchtime: An eagle circling over a dead cow​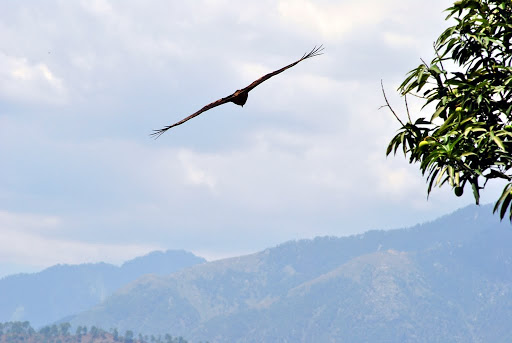 Siesta after a heavy lunch​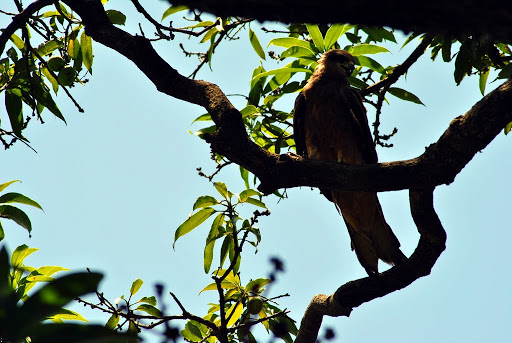 Pathankot – Jammu – Udhampur
Lunch happened at a roadside Dhaba an hour before Pathankot, and we were happy with our progress so far. However, an early end to the day was not what fate had in store for us. We hit a huge traffic deadlock as soon as we entered Jammu from Punjab. It took us about an hour to get out of that rut. Also, the highway till Jammu was under renovation, lowering our average speed.
Also Read: How to Calculate your Budget for Ladakh Trip
As we approached Samba, we started looking for the detour towards Udhampur; which would lead us away from the ugly traffic heading towards Jammu. It was a good decision in the end. The detour was quite scenic and running along the newly constructed rail line from Jammu to Udhampur. The rail link became operational in 2005. It has some of the most dramatic rail bridges I've seen in the country so far.
Operational: The bridge on the rail link between Jammu & Udhampur​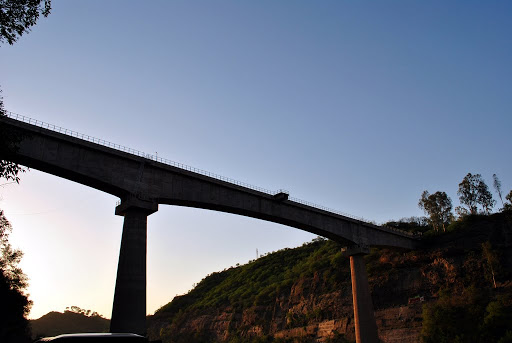 Patnitop
We managed to reach Patnitop by 9 pm. I must now digress to say that Patnitop must've been the most ridiculously priced "hill-station" I've ever been to!
The ugliest of hotels, with the ugliest of rooms, fleece the tourists by charging a bomb. The standards are abysmal, the service extremely poor and the rates obnoxious. And the icing on the cake is that Patnitop really isn't that beautiful! I would not suggest any fellow traveler to ever plan a night halt there!
Finally, a long day came to an end. Our Delhi to Patnitop road trip so far has been eventless and unexpected! Tomorrow was going to be a peaceful short drive to Srinagar. My first foray into the fabled Kashmir valley.
Journey Ahead: Patnitop to Leh Ladakh – Day 3, 4 & 5
The drive, however, had its own share of stories, with our towing cable getting into some serious action. I hadn't expected it to be used so early into the trip.
Delhi to Patnitop Road Trip – Conclusion
I hope the travelogue, pictures, and the information about Delhi to Patnitop road trip via Manali and Kangra valley were of help. If you have any questions or need any other details, please feel free to ask in the comments section below or at our Community Forum, and I will be glad to answer.