When someone mentions the name Leh, it portraits an image of a mysterious city, far and away. A dreamland that you heard and read so much about. A world different than ours, a destination that only a few have ever seen. I remember as children we used to read about Ladakh, how it is a part of our country and it always used to sound so enigmatic; even the very name of the place used to be enchanting back then.
The only pictures of Ladakh that I saw at that time were of high mountains with patches of green and snow at the top, and a tiny frame of a shepherd grazing his goats. "Beautiful" is the word that always followed the name Ladakh in my mind.
Leh City Travel Guide
To being with, I will share an old picture of Leh town that I found on the web. This was painted by Dr. Henderson who visited Ladakh in 1834.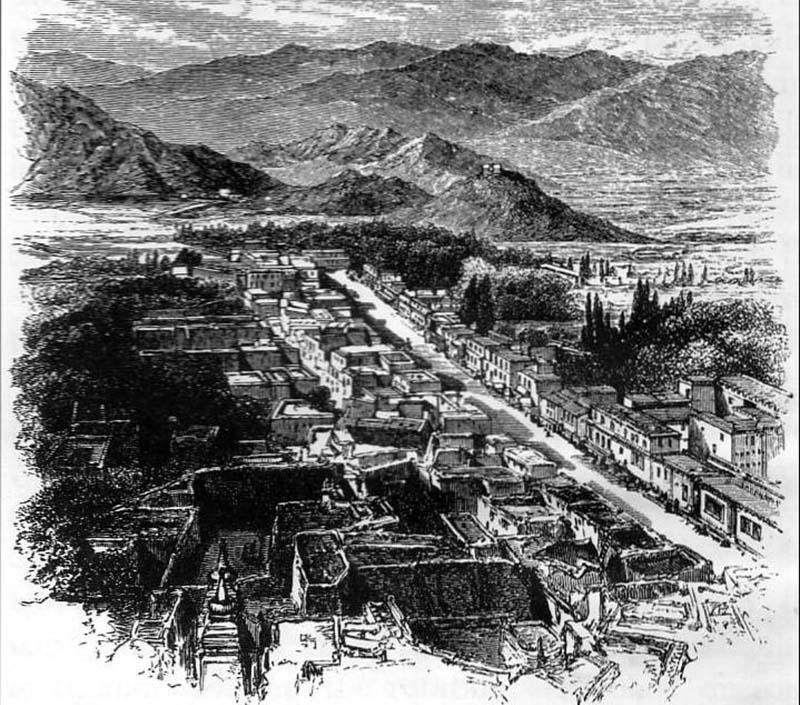 And this second picture I clicked back during my first trip to Ladakh in 2005.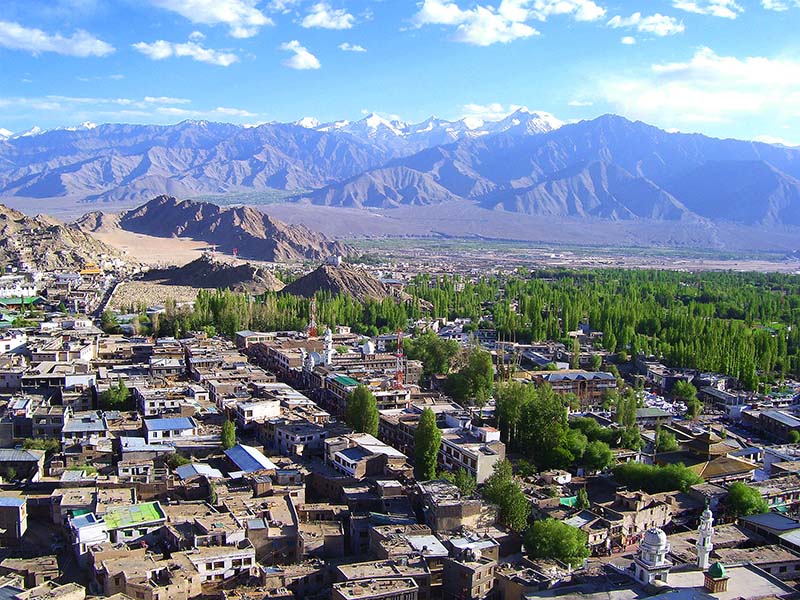 It would seem that both Dr. Henderson and I happened to be standing at the same spot while taking these pictures. Comparing the two, not much seems to have changed in terms of the landscape. But a lot has changed otherwise with the passing of time.
Ladakh is no longer the destination that you can only dream of. Over the last few years, it has come up as one of the most visited destinations in the country. The number of tourists increases each year and a lot of commercialization takes place.
It is no longer the craze for adventure enthusiasts, motorcyclists, or travel junkies. It is now rather a family spot as well because Ladakh has a bit for everyone. No matter what your passion is, no matter what you seek; rest assured that you will get it in Ladakh.
About Leh
The small city of Leh of course becomes the base for all tourism in Ladakh. When you plan a trip to Ladakh, it is the place you got to reach first and then travel any further.  It often gets considered as a place that you just go to in order to get the permits.
People think there is nothing worth spending time in the city itself and the places to see are Nubra, Pangong or Moriri. This however is not correct at all. There are several places in Leh city itself that are worth a visit. When you travel to Ladakh, you must spend some time, at least a couple of days, in Leh town otherwise your trip will be incomplete.
In this article, I will provide some information on tourist attractions in Leh city, accommodation there, and how you can plan a trip to other places in Ladakh from there.
Very few people know that Leh is the second largest district in India in terms of area, falling second only to Kutch, Gujarat. In ancient times, it was the capital of the Himalayan kingdom of Ladakh.
Recently, it was added to the World Monuments Fund's list of 100 most endangered sites due to increased rainfall from climate change and other reasons.
Leh has a cold desert climate. Winters are long and harsh, lasting from October to early March. Minimum temperatures fall well below the freezing point for most of the winter. The city gets occasional snowfall during winter. The weather in the remaining months is generally fine and warm during the day.
Tourist Attractions in Leh City
To be quite honest, the entire city of Leh in my opinion is a tourist attraction in itself. It is a historic city which means that they are plenty of monuments around that you can see.
Leh Palace, Shey Palace, Shanti Stupa, and several monasteries are just a few to name. I have put together a list of all the tourist attractions in and around Leh city in a different article at the link below.
You should in my opinion at least spend a couple of days in Leh and explore these places. Leh is the prime attraction of a trip to Ladakh and you cannot afford to miss the tourist places here. Take a look at Tourist Attractions and must-visit places in Leh City.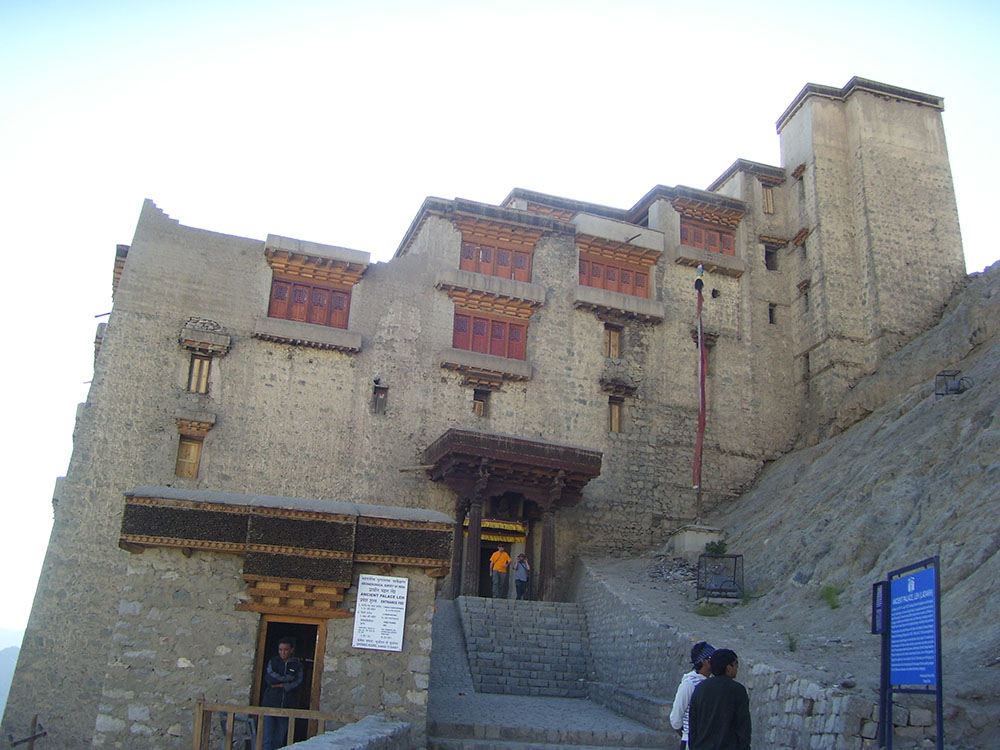 Accommodation in Leh
There are numerous hotels in Leh and more come up each year. No matter what your budget is, you will easily be able to find a place to stay in form of a hotel, guest house, or paying guest.
There are hotels available for as little as Rs. 500-800 each night. You can either book online or find one upon your arrival; both options are available; though I would prefer to find one on the spot. Booking online would only mean that you end up paying more and be deprived of the option of staying at some other hotel you may like.
At the link below, I have put together a list of some good budget hotels that you can take a look at. I have not of course stayed at all of them. Some I have and others were recommended by friends or fellow travelers. Read Good Budget Hotels with contact details for names and contact details of some recommended hotels.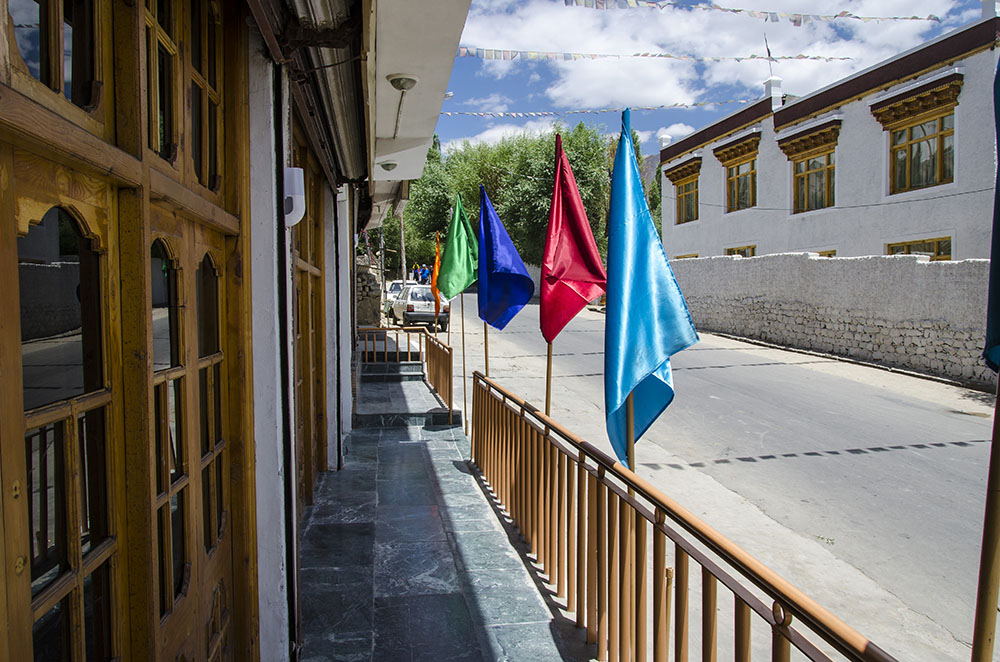 Leh Weather
Leh remains warm during daytime in summer, nights are however still cold. Winters are harsh with temperatures way below freezing point, during which the city is near abandoned as most of the population moves to lower areas.
Clothes to Pack
Contrary to common belief, you do not really need all thick woolens or furry jackets for visiting Ladakh; unless it is a winter trip that you have planned. Days here are pleasantly warm and you will be comfortably able to take a stroll in the city wearing just cotton clothes.
It is the nights when the temperature really dips but by then, you will be comfortably wrapped in blankets at your hotels. The most important thing to remember is to pack clothes that you can wear in layers.
You should pack plenty of cotton ones, a few light woolens, and a thick windproof jacket. This way, you can put on clothes in layers if feeling cold and take them off one by one if it gets warm.
Leh being a city and at a lower altitude as compared to Pangong Tso or Moriri, remains a bit warmer than these other places. As a matter of fact, if you started to walk around during noon, you will actually feel hot as the sun here is quite harsh.
During nights, however, if you are stepping out, you will definitely need to dress up warm. I have covered the topic of clothing for Ladakh in a different article at the link below. Please take a look at Clothes for Ladakh Trip: What to Pack for more details on how to pack clothes for the Ladakh trip.
Leh Altitude
Leh is at an altitude of 3,524 meters (11,562 feet)
Altitude Sickness
It is very rare that a person would suffer from acute mountain sickness in Leh city unless you reached there by flight. Traveling on either of the highways leading to Ladakh, via Srinagar or Manali, would mean that you have already been to higher altitudes so chances of AMS while in Leh are almost next to none.
However, most of the people flying to Leh will definitely suffer from AMS on the first couple of days of their arrival. It is best advised though to stay in the city itself for the first couple of days or until the symptoms subsides.
All other tourist places in Leh are at a higher altitude with exception of Nubra valley. Your itinerary should be in a way that you stay in Leh for the first few days after your flight lands. You can then go to Nubra valley and then proceed towards any other place.
This would give your body ample time to acclimatize. For more details on acute mountain sickness, what its symptoms are, and how you can deal with it, please take a look at How to deal with Acute Mountain sickness in Ladakh.
Banking Facilities / ATM
Last I was in Leh, I saw branches and ATMs of SBI, J&K Bank, ICICI, HDFC, and Axis Banks. A decade ago, only SBI and J&K Bank had branches there but with recent commercialization, other major banks have also opened up their branches there.
You will have no problem finding banking services or ATMs there. It is however recommended that you withdraw cash here before proceeding towards any other tourist place. ATMs for now are pretty much limited to Leh city only, nowhere else in Ladakh.
Fixed Phone, Mobile Network & Data Connectivity
No matter which network you are on, your phone will get cellphone reception in Leh city. While traveling by road, you may get off-network but your phone will come back alive in a couple of hours after reaching Leh.
Data connectivity has also improved greatly in the last few years. You will get 4G data with Airtel and Jio.
Fixed phones too are available at both hotels and Payphone booths. However, there is still no mobile reception at any other place like Nubra, Pangong, or Moriri. Please read Cellular services in Ladakh for more details on where can you expect connection and fixed phones.
Internet Service
There are internet cafes available in the city and most of the hotels/restaurants also provide Wi-Fi service. Internet speed however is about OK at cafes and very poor at hotels/restaurants. Internet too is limited to Leh city only, nowhere else in Ladakh.
Gas Stations / Mechanics
There are Indian Oil and HP gas stations in Leh that always remain functional during the tourist season. Mechanics too these days are in plenty.
Once again, these services too are only available in the city. There are no gas stations or mechanics elsewhere in Ladakh. You may find a mechanic though in Nubra valley but for just some basic fixes; they won't be of help in case of a major issue.
Medical Facilities in Leh
Leh has the only major hospital in all of Ladakh. The hospital is well equipped to handle medical emergencies. If you have a medical condition, it is best advised that you consult your doctor before going to Ladakh. I noticed a few small clinics as well in Leh. Dispensaries of course are available as well.
Car Rentals in Leh
In case you are looking for a private cab that you can drive around in Ladakh yourself, you will be disappointed. There are no self-drive rentals available in Leh or anywhere in Ladakh for that matter. If you need a private cab, it will come with the driver.
Bike Rentals
There are several bike rental agencies in Leh. Depending on which motorcycle you chose, the average rental per day comes out to be around Rs. 1200 to Rs. 2000 per day. Just take a stroll around the city and you will find multiple shops offering motorcycles for rent.
The option of booking in advance is available too but I would advise against it. It is best to first reach there, check the condition of the motorcycle, take a test ride and then book it once satisfied with its condition. For more details on renting motorcycles in Leh, please read How to rent a motorcycle in Ladakh
Conclusion
I hope the information above on Leh City was of help. If you have any further questions, please feel free to ask in the comments section below or at our Community Forum, and I will be happy to answer.