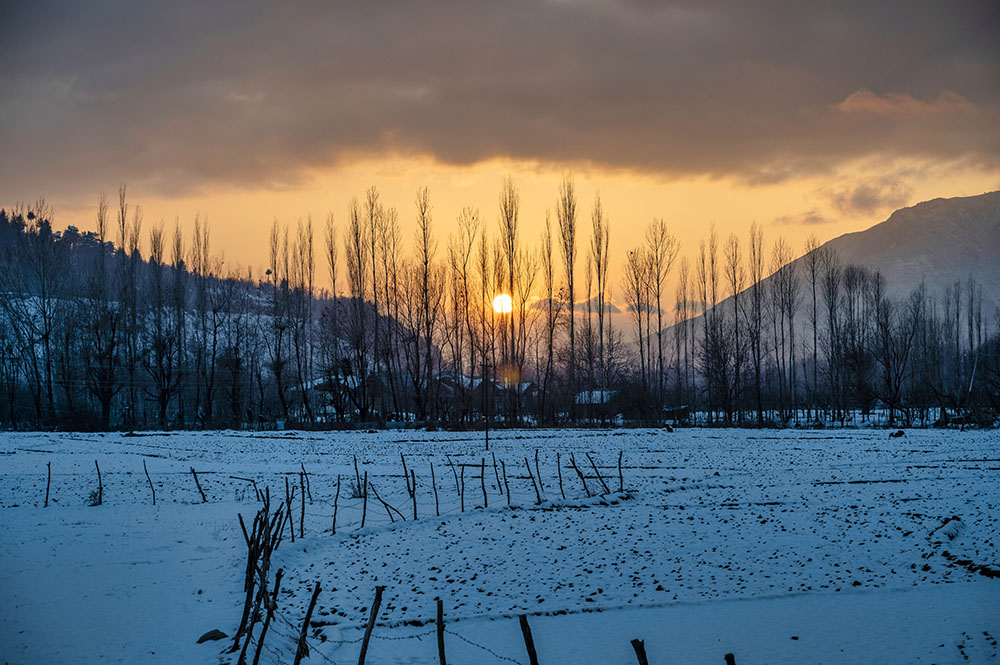 Can you plan a trip to Sonamarg in winter? This will depend on the time of your travel and the weather. Usually, Sonamarg remains closed in the winter season but this is changing fast. In the near future, the plans are to keep this tourist hotspot accessible for all 12 months.
There was a time when Sonamarg used to get closed for tourists sometime in late October or early November. However, in the last couple of years, it was only the months of January and early February when it was completely inaccessible.
In the next couple of years, after the work of the Z Morh tunnel is completed, tourists will be able to reach Sonamarg all year long, like Gulmarg and Pahalgam.
But for now, while planning a winter trip to Sonamarg, there are several things that you will have to plan for. Safety will be the first and foremost concern. Accommodation will come next followed closely by the accessibility of the place.
I recently returned from a 10-day long winter trip to Kashmir. On the 8th day of our trip, we decided to go to Sonamarg, details of which I will provide in the post below. To read the previous parts of the travelogue, you can follow the links below.
Journey So Far:
Below is a video of our journey on this day. You can also take a look at the video to get more details.
Sonamarg in Winter
For a complete travel guide on visiting Kashmir, you can take a look at How to Plan a Trip to Kashmir Valley. To get the best hotel rates, and taxi charges, and to organize your trip to Kashmir, you can speak with Kunal @ 9910 402 252.
It was the month of January when I was in Kashmir and Sonamarg was officially closed to tourists. We however still thought to take a chance and see if the cops in Gagangir would let us pass and go to Sonamarg.
Somewhere in my heart, I knew that our chances were dim. There were two avalanches in Sonamarg just a few days ago that resulted in the deaths of three local laborers.
After this accident, the entire town was vacated and no one was allowed to go beyond Gagangir. Even the officials involved in the Zojila Tunnel work were asked to leave Sonamarg and go back to Srinagar.
The Plan
We were also not eager to take any unnecessary risks. The plan was to ask the cops If it was safe to go to Sonamarg now. If they said yes and allowed us to proceed, we would go to Sonamarg. Otherwise, we would return from Gagangir.
Our chances also heavily depended on Mohsin. He is a local from Srinagar and runs a hotel in Sonamarg by the name of Hotel Barzman. I stayed at his hotel a few times and that is how we became friends.
So when we told him that we wanted to try going to Sonamarg, he agreed to accompany us. That way, he will also be able to go to his hotel and ensure everything is Ok.
So it was the three of us traveling in a Duster car – myself, Mohsin, and Lavish. The day was a Saturday and we started from our hotel at around 10 am.
Before I move on with the travelogue, let me provide some details on how the winter months in Sonamarg look.
Sonamarg in November
Winter arrives in Kashmir by the end of October. Passes like Zojila can get their first spell of snow in October itself but it is usually November when it starts to snow in and around Sonamarg town.
This is when most of the hotels start to close their doors for the season. Some hotels however remain operational throughout the month and you will be able to stay there overnight.
There was a time when the road to Sonamarg used to get closed in November itself. But lately, due to global warming, the intensity of the snowfall has been very low. It barely snows a few inches in November now and the snow usually melts away within a day or two after the snowfall.
Due to this, the road from Srinagar to Sonamarg remains open throughout November. As a matter of fact, in the last few years, even Zojila Pass has remained open in November.
So if you were planning a trip to Kashmir in November, you should be able to include Sonamarg in your itinerary.
You can even plan a night stay there but in this case, you should be prepared well for the extremely cold weather. The temperature will drop below 0 at night and it will get very cold.
You should also book your stay in advance to ensure you do not run into any trouble. While you are booking your stay, ask the hotel about their heating arrangements in the room.
Also Read: Places to Visit in Sonamarg & Things to Do
Sonamarg in December
Much like November, Sonamarg these days remains accessible for tourists in December as well. Even Zojila Pass and the entire Srinagar Leh route were open for most of December in the last few years.
The frequency and intensity of the snowfalls increase toward the end of December. This is when Sonamarg gets closed for tourists these days due to safety reasons.
But if you were planning a trip before December 20th, you should be able to include Sonamarg in your itinerary. This will depend on the weather at the time of your travel but chances are that the road will remain open.
The only difference between November and December is accommodation choices. Almost all of the hotels in Sonamarg will be closed in December and you will have trouble finding a place to stay overnight.
In December, my advice would be that you make it a day trip. Start from Srinagar early in the morning, go to Sonamarg, do some sightseeing, and return by evening.
Sonamarg in January
Sonamarg remains closed in the month of January for now. As I mentioned earlier in the article, the future plans are to keep this route open throughout the year but that will only happen after the completion of the Z-Morh Tunnel.
The Z-Morh Tunnel is a 6.5 kms long under-construction tunnel between Gagangair and Sonamarg. It is named after the Z-shaped stretch of road that the tunnel will replace.
Once completed, the Z-Morh Tunnel and Zojila Tunnel will help keep the Srinagar-Leh Highway open for all 12 months, providing year-round weather-proof connectivity to Ladakh.
The work is expected to be completed in 2023. If that happens, Sonamarg will remain connected to Srinagar from this year onward.
Sonamarg in February
The Srinagar-Sonamarg connectivity in February will also depend on the Z-Morh tunnel. For now, the road remains closed in February but once the tunnel is completed, reaching Sonamarg in February will not be a problem.
This however will also depend on whether it was safe to be in Sonamarg or not. The entire region is an avalanche-prone area and several people have lost their lives here in avalanches.
Let us see how it all unfolds in the future after the completion of the tunnel. Until that happens, Sonamarg will continue to remain inaccessible to tourists in February.
Sonamarg in March
Sonamarg remains open for tourists in the month of March. Until a few years ago, it used to remain closed in the early part of the month and would only open in the last week. But in the last few years, the road was open throughout the month.
To be on the safer side, if you were planning a trip in March, you would have to find out in Srinagar if tourists were allowed to go before including Sonamarg in your itinerary.
Another thing I should add here is related to taxi services. If you are told that Sonamarg is open and you find a driver to take you there, make sure that you clarify with him that it is Sonamarg that you want to go to and not Gagangir.
The local taxi drivers tend to fool tourists that way. Just to get a customer, they will lie that Sonamarg is open and bring you only till Gagangir. Sonamarg is another 10-odd kilometers from there.
So before you finalize the booking, please ensure that you clarify with him that he will take you all the way to Sonamarg and not return from Gagangir.
Also Read: Sonamarg to Thajiwas Glacier Trek
Public Transport in Sonamarg in Winter
There is no public transport for Sonamarg in the winter months. You will either have to go in your own car or rent a private taxi. You will not find a bus or a shared cab between Srinagar and Sonamarg in winter.
Depending on the weather, and the road conditions, shared cabs may continue to operate for a while in November. But as the number of travelers drops, public transport on this route becomes scarce.
Srinagar to Sonamarg in Winter
Now coming back to the travelogue, we started from our hotel at around 10 am. It was snowing in Srinagar the previous night and there was a lot of white to be seen all around.
We made our way through the busy Srinagar Ganderbal road and took our first break at Waterfall Dhaba near Wayul Bridge. There is not really a lot to write about this journey so I will let the pictures do that talking.
After a short break at Waterfall Dhaba and continued on our way. We crossed Kangan and as expected, were stopped by the cops just before Gund.
They asked where we were going and we said Gund. I did not want them to send us back right from that spot and not even allow us to go to Gagangir. That is why I lied, hoping they would let us go if we did not say that we wanted to attempt to go to Sonamarg.
Thankfully, the cops did let us go. They however asked us to take another road through the Gund Village, on the other side of the road.
Apparently, there was a steep climb up ahead on the main highway where vehicles were struggling to climb. This caused slow traffic and a jam at that spot. That is why the cops were stopping the oncoming vehicles.
Gagangir
Upon their advice, we left the main highway and go to the other side of the river after crossing a narrow bridge. As it turned out, this actually worked in our favor. The scenery on the other side of the road was even better than the highway.
There was a lot of snow in Gund and we were driving on a completely white road. We took breaks often to click as many pictures as we could.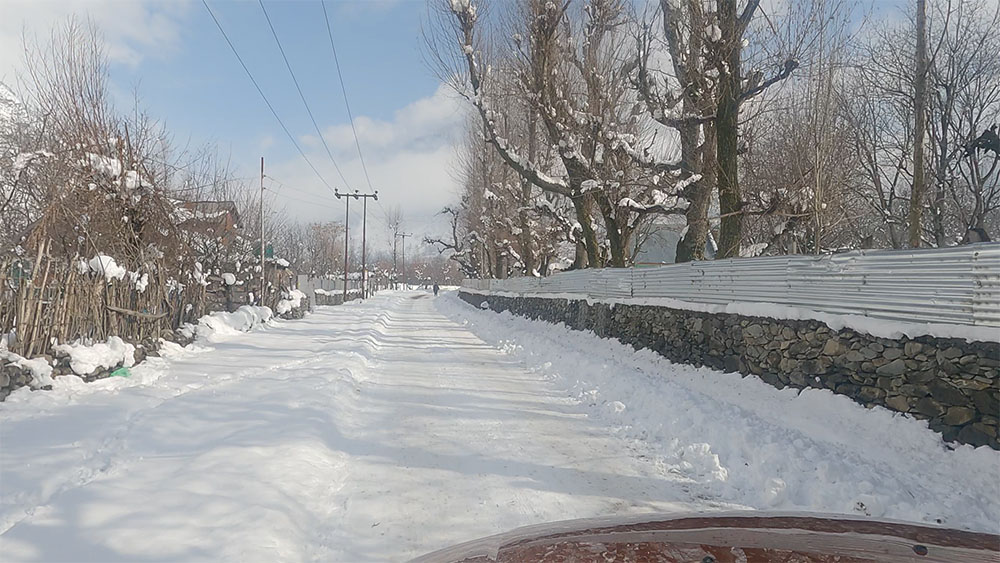 We got to the other side of the Gund village, crossed another bridge, and made our way back to the highway. After a drive of about 30 minutes, we finally reached Gagangir.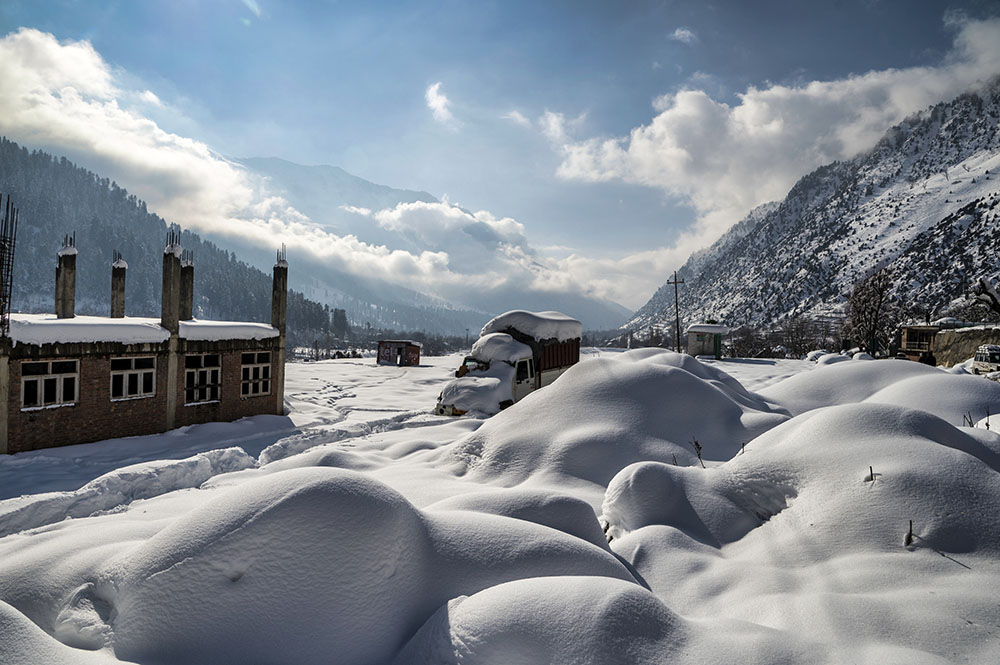 As expected, no one was allowed to go beyond Gagangir. We also decided not to take unnecessary risks and did not push the cops to let us go. They said it was not safe and we immediately walked away.
We took a brief break at Gagangir to get some tea and started on our way back. Breaks however continued to remain way too often.
Our progress on this day was way too slow. We reached Kangan at around 4 pm and stopped at a Dhaba to get an extremely late lunch ( or an early dinner).
Finally, we reached our hotel in Srinagar by 6.30 pm. Not much happened after that. We skipped dinner and talked about our plan for the next day for a while. After considering a lot of destinations that we could cover, we could not finalize either of them.
So we left it for the next day. I think a part of us did not want to go anywhere and just wanted to relax at the hotel in Srinagar.
Also Read: When is the Best Time to Visit Sonamarg
Day 10
As it turned out, that is exactly what we did. It was our last day in Srinagar and we actually did not go anywhere. In the evening, we went for a drive by the Dal Lake and Lal Chowk and that was it.
That was the end of our winter trip to Kashmir. On Saturday we went to Gagangir, on Sunday we just rested and then caught a flight back home on Monday.
The trip ended but we brought back tons of pictures and videos and memories that will last a lifetime. And yes, we also brought back a long list of places that we would cover on our next trip to Kashmir.
Sonamarg in Winter – Conclusion
I hope the travelogue, pictures, and information above on traveling to Sonamarg in winter were of help. If you have any questions, you can contact me on Instagram and I will be happy to answer. You can also consider subscribing to my YouTube channel and asking questions there.