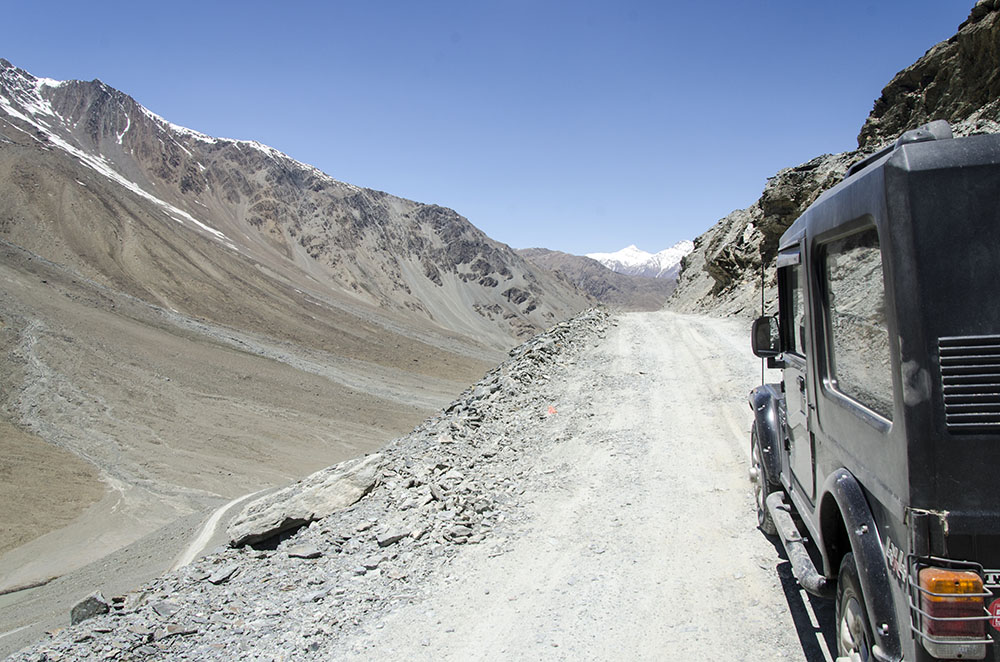 A journey to terrain like Ladakh is taxing not only for the traveler but also the machine. Before you leave home for this adventurous drive, you must fully prepare your car for a Ladakh trip. For the most part of the journey here, you will be pretty much in the middle of nowhere with the nearest help miles and hours away. Out here, even something as simple as a flat tire can very well ruin your day.
Hence it becomes of utmost importance that you pay close attention to your vehicle before starting the journey. Mentioned below in this article is a checklist of things you need to get taken care of and a list of items that you should carry.
Which car is best for a Leh Ladakh Trip?
One of the most frequently asked questions is whether or not a certain car is good enough for Ladakh. To be quite honest, the answer to this question is not really of the company but of type of the vehicle.
Without any doubt, a 4×4 SUV will be the best car for a Ladakh trip. You can take it anywhere you like and wouldn't have to worry about much. If not 4×4, then any other 2×4 SUV will do as well. Why the SUV? It is because of the good ground clearance it offers.
This however doesn't mean that you cannot bring a hatchback or Sedan to Ladakh.  A lot of people do it and you too can; keeping a few things in mind. A friend of mine in fact went to Ladakh in a 13-year-old Wagon R. Yes, you read it right. He just prepared well and successfully completed the journey without any problem at all anywhere.
You can read about his trip and experience at Leh Ladakh Trip in a 13-Year-Old Wagon R – Journey of a Lifetime.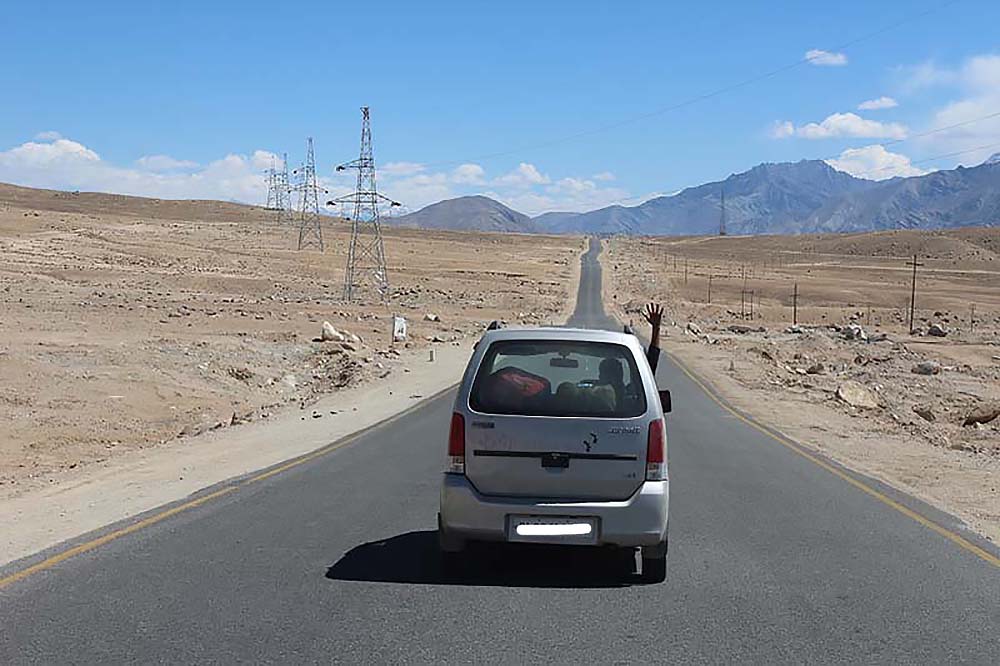 How to prepare your car for Ladakh Trip?
Now let us take a look at how to prepare your car for Ladakh so that your trip remains hassle-free. The first thing you need to keep in mind is that it is all about YOU and not your car. Remember that it is not the car that is taking you to Ladakh, but it is you driving it there.
You need to have some decent enough experience at the wheel, both in plains and the hills. If you do not then please ensure that you first drive around for a couple of months. Go up the hills a few times, and then plan your journey towards Ladakh.
For a successful trip, you really need to know your car. You need to know its limitations and how to maneuver it; especially around sharp turns and steep ascents.
It wouldn't really hurt to learn a bit of minor repair work yourself. I know it is not really something that you will become an expert on in a single day but things like changing the headlamp, replacing wheels, fixing punctures, changing fuses, and adding engine oil, coolant, battery water, etc are good to know details.
Let us talk about it a little more in detail.
Test Your Car
The first thing you need to do here is to test your vehicle. I know you drive it around every day but then looking for signs of trouble is not exactly on your mind, correct? Take it on the local highway and pay close attention to how your car is performing.
Listen closely for any weird noises, feel any shakes, and watch for signs of trouble in the gauges. Any grinding or moaning sound from the wheels means bad wheel bearing or worn-out CV joint.
If your car is pulling then there is a problem with wheel alignment or tires. A soft brake pedal means there is a problem with the pads or the fluid. If there is a squealing sound while applying the brakes, or your steering wheel or the brake pedal wobbles, it means that either the pads are worn out or the rotors are warped.
If your start-up is a bit slower, it either means corrosion (white chalky stuff on the terminals) or a dying battery.
Also Read: What is the Best Car for Leh Ladakh?
Get it serviced
This is the first thing you need to get done and carefully. If your car is showing above 5000 kilometers since the last service then it is best to get it serviced completely; even if it is sooner than the schedule.
If it has just been a couple of thousand kilometers since the last service, then get a complete vehicle health check-up done.
Mentioned below are a few things that you need to pay close attention to while getting your car checked. It is not something that we can all check on our own but you can use the below-mentioned item as a checklist while you are with the mechanic.
No Noise
By this, I mean tightening all nuts and bolts on the vehicle. Ensure that nothing is loose and there are no rattling noises anywhere.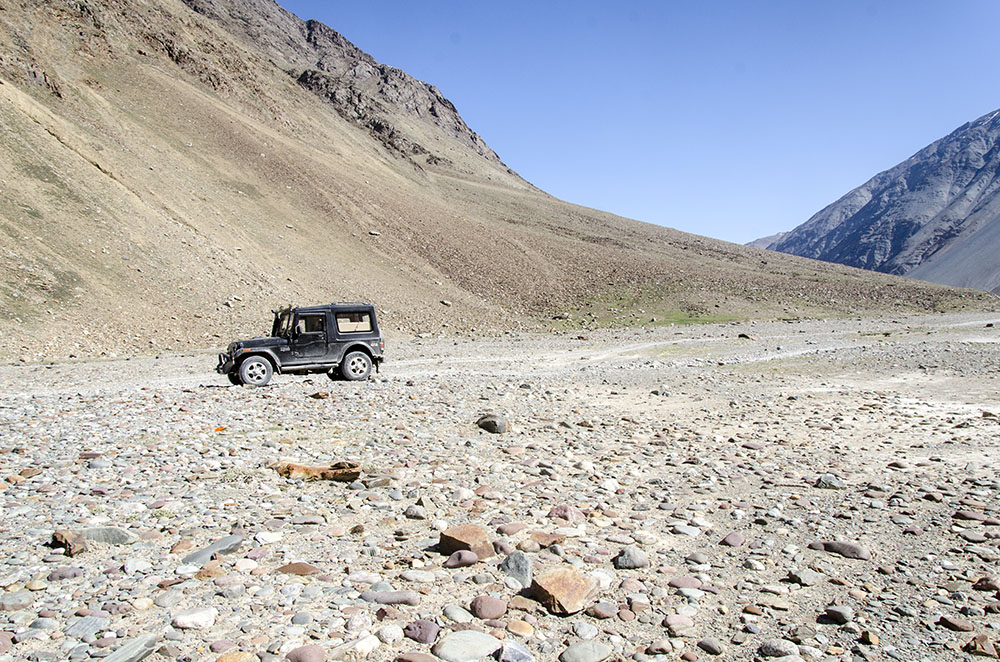 Electricals
Check the wires and connections. Ensure that the electrical system is working fine with no worn-out wires anywhere. A good practice would be to change the bulbs if they are a bit old. Get the alternator and starter inspected carefully and clean the connectors.
Battery
Your battery must be in good condition. If it is over a couple of years old, make sure that the terminals are corrosion-free. Top up the battery water and get a check done on electrolytes or output voltage.
Clean the terminals and it will be a good idea to apply petroleum jelly to them. Ensure that the positive and negative leads are tight.
Bleed the Brakes
A good practice before starting on the trip would be to bleed the brakes to ensure that they are working at their best. Driving in hilly regions means continuous use of brakes and you got to make sure that they are working to their best.
Get the brake pads/shoes checked and changed if needed. If the remaining life of brake pads is under 10,000 kilometers, then it is best to replace them.
Also, get the brake oil level checked before you set out. The condition of the brakes will be one of the most important parts of how to prepare your car for Ladakh. You do not want them failing you as you drive down a hill.
Bearings
Check bearings for any replacements and get greasing done as well for all the wheels.
Oils
Check engine, brake, and gear oils. If the last change was over 5000 kilometers ago, then you need another change. If under 5000, get them all topped up.
Also Read: Ladakh Road Trip in a Maru Swift
Coolant
Ensure that your car's coolant is topped up and check for any leakages. A trip to Ladakh means that your car will be on the road daily, driving at high RPM, traveling in a region that is bound to put stress on it.
You cannot risk the engine heating up there. As a matter of fact, inspect the entire cooling system closely. Check all the hoses, hose clips. They should all be properly tightened and replace if there is any wear or tear. Also, get the radiator tubes and fins washed and cleaned with a high-pressure water jet.
Clutch Plates
You will be climbing up several high-altitude passes and need to ensure that your vehicle's clutch plates are not worn out. If you notice any grey smoke, noise while you press the clutch or poor pick then it is time for you to change them.
Another check you can do yourself is to fully press all the brakes, put your car in first gear and slowly release the clutch. Notice how soon the engine stalls. An early stall means worn-out clutch plates.
If none of this occurs, you probably do not need to change but still ask the mechanic to test the clutch plates at the time of service.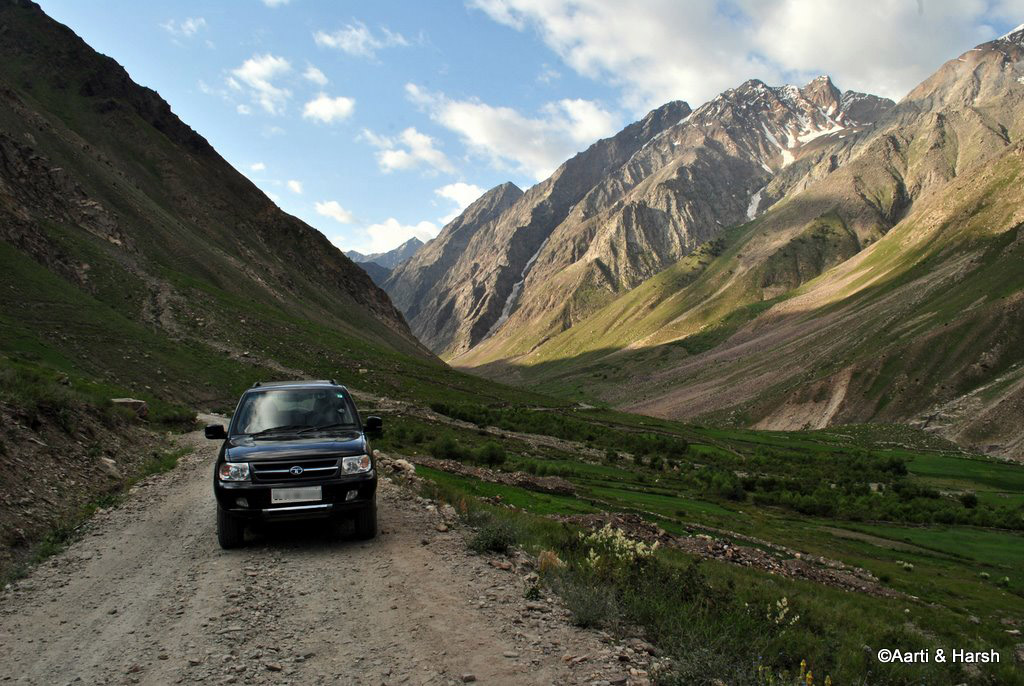 Suspensions
Check all the shock absorbents and get the leaf springs tightened. While your vehicle is parked on flat ground, look closely for any possible tilt on any side. If there is a tilt, you must get it corrected before heading to Ladakh.
Tires Condition
The next entry in the list of how to prepare your car for Ladakh is the wheels and tires of your vehicles. Check the condition of all 5 tires (including the spare). If they seem worn out, get a new set.
Steep high altitude passes, numerous water crossings, badly broken roads, and sometimes no road at all requires good sturdy tires to withstand it all.
A good way to check would be the old "One Rupee Test". Take a one rupee coin and put it in the tread. See how deep the coin goes. If it didn't go deep enough and the head of the Ashoka symbol is visible, then it is time to change the tires. Along with the tires, also check the rims for any possible bents.
Wheel Alignment
Get the alignment of both wheels checked and corrected if needed. The one rupee test I mentioned above can also be done for wheel alignment.
When you put the coin in the tread, the depth it gets buried in should be equal for all tires. If the coin is going less deeper in a particular tire, then the alignment is not right and that one particular wheel is eating more rubber.
As a thumb rule, if it has been over 3,000 kilometers since the last alignment, then best to get it checked and corrected a couple of weeks before the trip.
Also Read: Ladakh Driving Tips for a Self Drive Trip to Leh Ladakh
Belts
Replace the existing belts with new ones if they are over 3 years or 50,000 kilometers old. Also, check pulley bearings and replace them if necessary.
Wipers
Check wiper blades and replace if required. Also, check the wiper motor to ensure that it is working fine. Clean the windshield cleaner nozzles if required.
Filters
Get both the Air and fuel filter changed before you start on the trip and get a check done again after you arrive in Leh. Ladakh is a cold desert and there will be a lot of dirt on the road, easy to clog the filters.
Leakage
Check the belly of your car for any possible leakages or anything loose or hanging. Ensure all nuts are fastened and look for any traces of oil. If you see black oil, then your engine oil is leaking. Red would mean brake or clutch oils while a bit yellow would mean that your gear oil is leaking.
Underbelly
If you are traveling in a Sedan or hatchback with low ground clearance, installing an aluminum plate underneath can prevent damage to the belly of your car. It is actually available for all cars but in my opinion, it is a must if you are bringing a low GC vehicle to Ladakh.
Cabin
Check everything inside the cabin and ensure all is in place. Check all the gauges, switches (headlamp, indicator, and wipers), handbrake, pedals, window rollers, lights, locks (door, gear, and remote), and doors.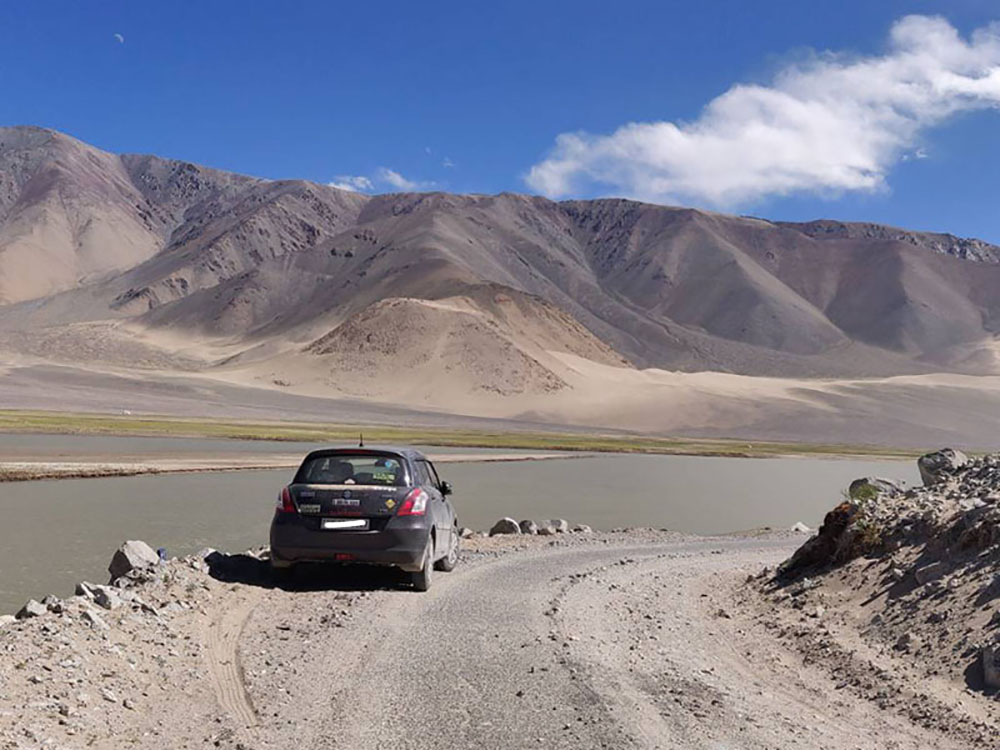 Necessary Spares to Carry

Once you have gotten the above-mentioned things taken care of, next in line is to get some spares that you must carry with you. This is an important part of your car preparation for a Leh Ladakh trip.
In Ladakh, you may find a mechanic but finding a spare part can sometimes still be troublesome. Mentioned below are a few items that I recommend you carry.
Tool Kit
I know that a tool kit usually remains in the car for most people but still thought to add it to the list. Ensure that all the necessary tools that came with the car are in there.
Engine Oil / Coolant / Battery Water
Carry about a liter of all these fluids. Check the level at regular intervals and top up when necessary.
Air Pump
This as I mentioned above in the article can really be a lifesaver if you have a flat tire or start to lose air pressure. Carry either a foot pump or an electric one.
Also Read: How to Plan a Trip to Leh Ladakh – A Complete Travel Guide
Puncture repair kit
This is another very important item on how to prepare your car for Ladakh, for both, tires with tubes or tubeless tires. Not only you should have this kit but also should know how to use it.
I have seen so many people stranded on the road because they either did not have the necessary tools to repair a flat tire or they didn't know how to use it.
Spare Bulbs
Carry a set of spare bulbs for headlamp and tail lights.
M-Seal / Electrical or Scotch Tape
Carry an electrical and scotch tape, can come in handy not just for the car but on several other occasions as well. M-Seal can help fix small cracks or holes and prevent leakage.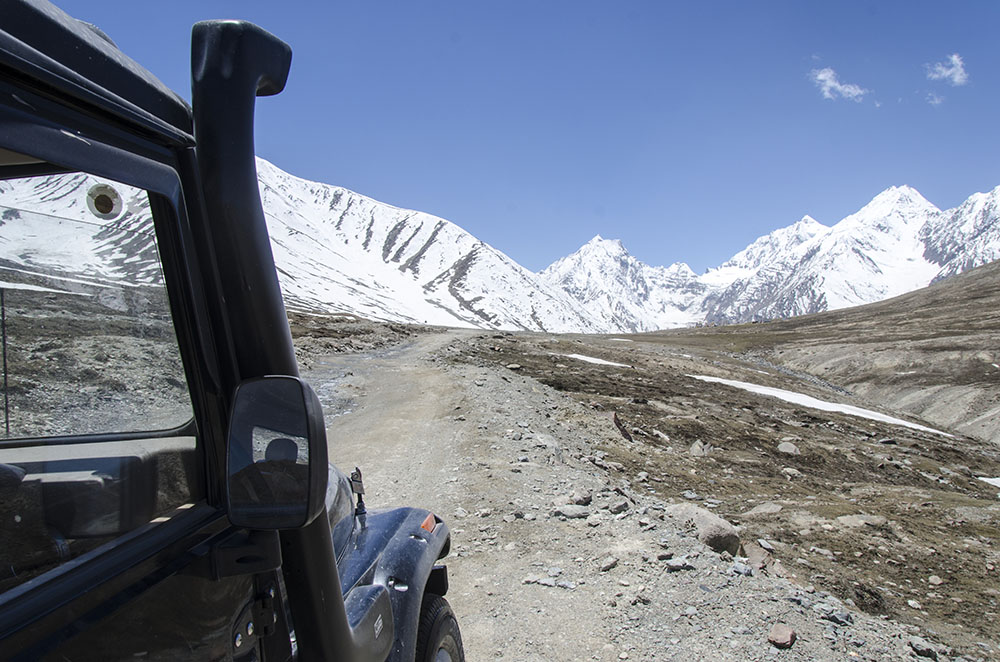 Jump Start Cable
A jump start cable can be of great help if your car's battery dies or if it refuses to start up early in the morning.
Screw Driver set
It is a good practice to carry another set of screwdrivers, apart from the ones that came with the tool kit. Look for a screwdriver set that has multiple attachments; possibly also includes a set of Allen keys.
Spare Can for Petrol / Diesel
There is no gas station in Ladakh except for the one in the city of Leh. Depending on your itinerary, you could be traveling on stretches where a single tank full will not be enough.
Carry a 20 liter can for spare fuel. Also carry a petrol pipe, in case you have to borrow petrol/diesel from someone if your car ran dry.
Wooden Plank & Towing Rope
A small wooden plank will come in handy if your car gets stuck in loose dirt, mud, or slush. A towing rope will be useful if your car dies on you and needs to be towed to the nearest mechanic.
Also Read: Clothes for Ladakh Trip – What to Pack
Torchlight
Not exactly a part of the car tool kit but I thought to add it here nonetheless. Carry a good powerful torchlight, will come in handy at several places.
Spare Key / Documents
Keep a spare key handy and ensure that you are carrying all your necessary documents with you inclusive of your driving license, RC, PUC, and Insurance certificate.
Travel Light
This doesn't really apply towards preparing your car but make sure that you are not over-packing. Carry whatever is really required. Carrying unnecessary things will mean too much weight in the car. Please make sure that you are not doing that. This also applies to traveling with too many people in the same car.
Avoid putting anything on the roof but if you must put something there, make sure that is not of too much weight. Heavyweight on the roof will make the vehicle tough to handle around those sharp turns in the hilly regions; making it prone to a rollover.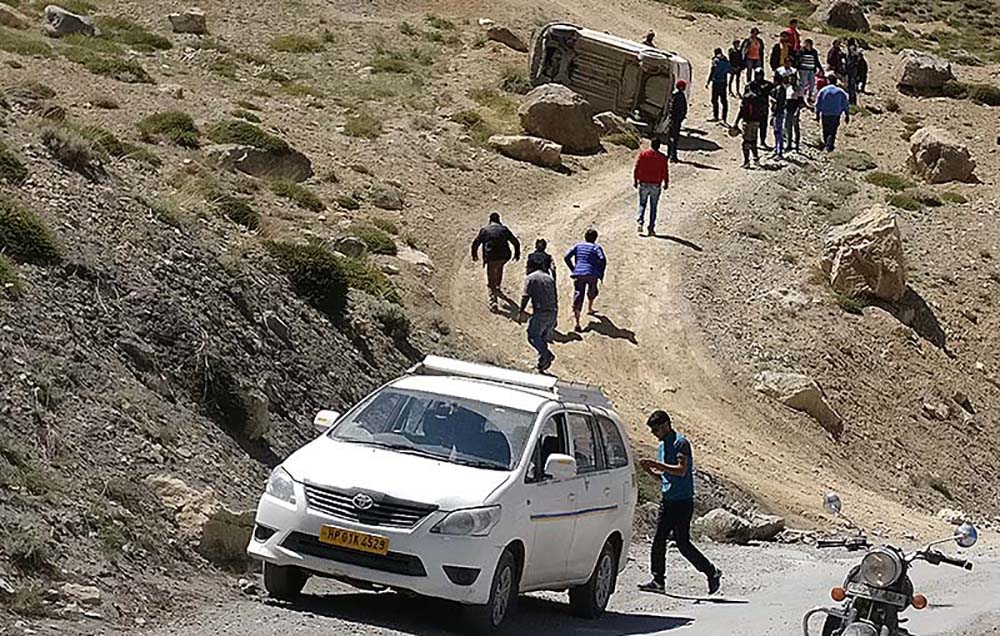 How to prepare your car for Ladakh – Conclusion
I am not really a car expert and my knowledge is pretty much limited to the basics; which I am sure anyone who owns a car will have. The information I shared above was a mix of my own knowledge and stuff that I read over the web.
I hope the details above on how to prepare your car for Ladakh were of help. In case of any questions, please do ask in the comments section below or at our Community Forum, and I will be glad to answer. If you have any other useful tips, please feel free to share them.