How much the trip is going to cost is probably the next question that comes in mind after you have decided on "where to go" part. Ladakh too is no exception to this theory. Lack of knowledge about the region makes people wonder about how much it will cost to visit Ladakh. Some think that a trip here is going to cost a lot and it is not a place for them to visit. This however is not completely true. Though different in several ways, Ladakh is still like any other tourist destination in our country. If you have proper planning, good knowledge about the place and a well laid itinerary, you can visit Ladakh on a moderate enough budget as well. In this article, I will provide some basic information and guidelines on how you can plan your minimum budget for Ladakh trip.
Also Read: How to Plan a Trip to Leh Ladakh – A Complete Travel Guide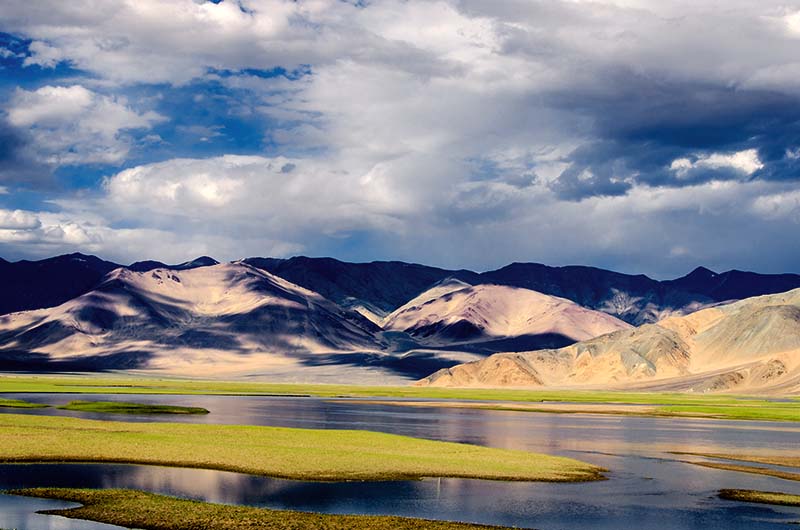 It goes without saying that Ladakh is not really your usual weekend getaway. It is not a nearby destination where you can just pack your bags and go. You will need to carefully plan your entire trip; make yourself aware of the destinations you would like to visit; and spare at least 7-10 days.
The high cost of the trip is a direct result of the number of days planned. Longer you travel your, higher your travel and accommodation cost will be.
Also read: Clothes for Ladakh trip: What to Pack
How much it will cost to visit Ladakh depends on several factors like how are you travelling, for how many days, where are you staying, what all places you want to cover etc. However if you narrow it down, the three prime factors that will impact your budget for Ladakh trip are your mode of travel, where you are staying and your eating habits. Rest all are just extension of these three factors. Get an estimate around these three, multiply it by number of people travelling, then number of days the trip will last and you will have your minimum budget for Ladakh trip.
Before going any further in the article, please note that Inner Line Permit was reintroduced for Ladakh effective 2017. No permit is needed to reach the city of Leh but you will have to obtain ILP in order to visit areas like Nubra Valley and Pangong Tso. Please take a look at the article below for more details on how to apply for Inner line permit .
Also read: How to Obtain Inner Line Permit for Ladakh
Acute mountain sickness is probably one of the foremost concerns that you need to prepare yourself for before heading to Ladakh. If you are catching a flight to Leh, this becomes of even more importance. Please read How to Handle Acute Mountain Sickness in Ladakh for more details on what AMS is, what its symptoms are and how you can tackle it better to ensure a hassle free trip.
How to Calculate Minimum Budget for Ladakh Trip?
I will break down the information and explain it from the point of travel expense, accommodation charges and personal expense that you may incur.
Ladakh Travel Cost
Your mode of travel will be one of the foremost deciding factors in how much your minimum budget for Ladakh would come out to be. Ladakh is a cold desert, very sparsely populated and hence the frequency of public transport is not that high due to which a major portion of the tourists would opt to travel using their own vehicle. Some of the other available modes of transport in Ladakh are bus, private cab, shared cabs etc and cost will vary will each mode of travel.
Private Car / Motorcycle
Though convenient in numerous ways, if you are travelling by your own car, fuel would be your biggest expenditure. Total fuel expense will depend on the mileage of your vehicle and the distance covered. Delhi to Leh via Manali is approximately 1100 kms, Leh to Delhi via Srinagar is approximately 1200 kms. A round trip to Nubra valley is roughly 250 kms, Pangong Lake is roughly 300 kms. A journey to Tso Moriri via Chumathang and back to Leh would be roughly another 500 kilometers. Please note that I am using the most common itinerary as an example here. If you have included other places like Sham Valley or Chushul route as well than the total kilometer count may change.
Keeping the above places in mind, total kilometers covered from Delhi and return will be between 3500 – 4000 kilometers. Taking in consideration a minimum average of 10 kilometers per liter, your vehicle would consume about 350 – 400 liters of fuel. Depending on the price of petrol or Diesel at the your time of travel and in your city, this should give you an estimated cost of how much the fuel expense would come out to be.
Also read: Mobile Phone services in Ladakh
Private Cab
If you are travelling in a private cab, then this will be your biggest expense. A private cab from Manali to Leh will cost anywhere between Rs. 15,000 to Rs. 20,000. For Srinagar to Leh, it will be anywhere between Rs. 12,000 to 15,000. A two way trip to tourist destinations like Nubra valley, Pangong Tso, Tso Moriri will cost you about Rs. 10,000 to 12,000 each (could even be slightly higher) for a 2 day travel. Covering all the places and provided that you were able to negotiate a bit as well, you total taxi fare will come close to between Rs. 50,000 – 60,000.
The most important thing you need to keep in mind though is that non-local taxis (rented outside Leh) are not allowed for sightseeing in Ladakh. If you have rented a cab in Manali or Srinagar, it is only good enough to take you to Leh but for visiting places like Nubra, Pangong and Moriri in Ladakh, you will need to hire another cab from Leh.
Shared Taxi
A great option if you are not bringing along your own vehicle but highly inconvenient. Tariff for these would be close to Rs. 2500 per person for Manali to Leh or Srinagar to Leh. Add a further Rs. 4000 – Rs. 5000 for local sightseeing in Ladakh so for shared taxis, your total travel expense would come to be anywhere between Rs. 8000 – Rs. 10,000 per person. These shared taxi services are run by local tour operators and if you are a single person, then it is a great option to save travel cost.
Bus Service
The cheapest option to travel to Ladakh but the only problem is then you are tied to the timings of the Bus. Your travel cost will go down considerably but Bus service is not really that frequent in Ladakh. At some places, it is not even a daily service, rather 2 to 3 time a week. Take a look at the article below for more information on Bus service in Ladakh.
If you are travelling in a Bus, then one way fare from Manali to Leh would be around Rs. 2,500 for a deluxe bus and Rs. 500 for a regular bus. From Srinagar, it is Rs. 1,000 for deluxe bus and Rs. 650 for semi deluxe and Rs. 500 for a regular bus. A round trip to Nubra would cost about Rs. 700 – Rs. 800 as bus charge, for Pangong it would be about Rs. 500 – Rs.600 round trip. For Padum in Zanskar, it would be about Rs. 2,000 round trip to Leh.
Also read: What to see in Ladakh – A Complete List
Self-Drive Cab
One thing that you must know is that there are no self-drive cab services available in Leh. So if you are travelling in a self-drive cab, I am going to assume that you hired it from your hometown to take it all the way to Ladakh.
There will be three costs involved here. One is of fuel, second of the daily rental; and third of the travel expense you will incur for local sightseeing which can either be a private or shared cab or by Bus. Fuel expense would cover the journey from your home town to Leh and back. Assuming you started from Delhi, it will be a total of about 225 liters of fuel; covering a distance of 2300 kilometers at an average of 10-11 kilometers per liter (minimum value I am taking in consideration here). Multiply this by the fuel price, add the travel expense in Ladakh plus the daily rental of the car based upon your choice and you will get a close enough figure.
Rented Motorcycles
The logic for self-drive rental applies to motorcycles as well. The only difference will be that when it comes to a motorcycle, you can chose to either rent it from your hometown or rent one in Leh for local sightseeing. Different companies have different rates. Assuming a overall and minimum rental of Rs. 1000 per day for a 10 day trip, renting motorcycles would cost you Rs.10,000 plus fuel charges.
Also read: 10 Reasons why you should NEVER visit Ladakh
Hotel Cost in Ladakh
Now since we have covered the mode of travel part, next in line is the accommodation part. All across Ladakh, you can easily find a decent enough hotel for as less as Rs. 500 to Rs. 700 (at an average). At places like Pangong where there are no hotels, you can easily find a Chadar tent offering you a bed for as less as Rs. 200 – Rs.300 per night, or a homestay at Spangmik for about Rs. 500 per day. So your average cost of accommodation would come out to be about Rs. 500 – Rs. 700 per day if you are travelling solo and about Rs. 300 to Rs. 400 per person if you are travelling with a friend. This is a minimum cost that I have mentioned here, rest will depend on your choice of accommodation.
Food Cost in Ladakh
Not much to say here really because it all depends on where you eat and what you eat. But there are several reasonably priced restaurant/dhabas in Ladakh. At an average, you will be spending minimum Rs. 300 – Rs.400 per person for meals daily.
Other charges
Depends on you completely. These could be of shopping, permits or any other personal expenditure that you will have total control upon.
Also read: A Detailed & Comprehensive Road Map of Ladakh
Conclusion
So to conclude it in the end, for your minimum budget of Ladakh trip, from the aspect of that you will be covering about 3000 kilometers starting from Manali and exiting at Srinagar or vice versa;
In terms of accommodation, meals and permits, you are looking at a minimum cost of about Rs. 800 – Rs.1000 per person, per day.
If travelling by your own motorcycle, your fuel cost would come out to be about Rs. 9000 – Rs.1000.
If travelling in your own car, your fuel cost would be anywhere between Rs. 15,000 to Rs. 20,000.
If you are renting the motorcycle, add another Rs. 10,000 to Rs. 15,000 as Bike rental in addition to the fuel.
If driving a rented self-drive vehicle, same as I mentioned about the motorcycle. Add your daily car's rental to the fuel expense.
Depending on the places you wish to attend, add up the total taxi cost that I have posted at the link above. This will be a whooping cost anywhere between Rs. 50,000 to Rs. 60,000 in total that you can divide among total number of people travelling.
If traveling by Bus, your total fare would come out to be close to Rs. 5000.
If travelling in a shared taxi, you are looking at a total fare of about Rs. 10,000
I hope this information was helpful. If you have any further questions, please feel free to ask in the comments section below or at our Community Forum and I would be glad to answer.