Is Srinagar Leh highway safe? This is usually the first question that gets asked when someone plans their road trip to Ladakh; and keep the road from Srinagar to Leh as part of their itinerary. Considering all the fuss that you hear about Kashmir everyday and all the violence; this question is definitely justified. After all, no one wants to be at a wrong place at a wrong time. Adventure and exploring new areas is fine but not really worth it if it poses a serious and unnecessary risk, isn't it? So how safe is Srinagar Leh highway? Can you travel on it without fearing for your own safety and that of your loved ones? If you too were wondering the same, then below is some information on the topic; and a few safety tips that I am sure can be of help.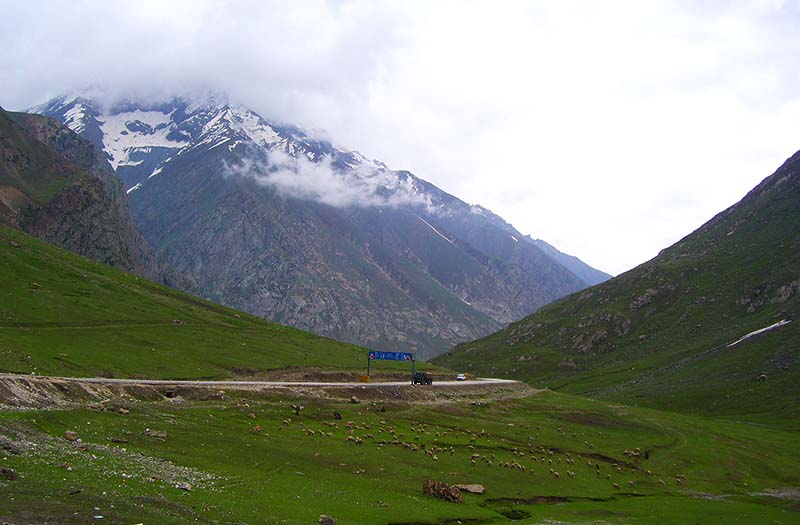 I remember the first time I was in Srinagar city about a decade ago. I was returning from Ladakh and got lost in Srinagar while looking for Dal Lake since we wanted to stay in a houseboat there. We started asking the locals for directions and all of them were quite humble and very helpful. They pointed us in the right direction but there was this one sentence that I cannot forget from that day.
"Aaiye Chaai Pijiye (May I offer you some tea?)"
Every single person that I asked for directions that day offered me a cup of tea. Some even invited me and my friend in to their homes for tea. I was so touched by the hospitality of those people that now with so many years gone, I still cannot forget this line.
I have been to Srinagar a few times after that but that my first impression of Kashmir and it still remain to be my only one. Whenever I was in Srinagar or anywhere else in Kashmir, I found it so hard to believe that it is the same place that we hear so much about in the news.
Also read: Srinagar to Leh Travel Guide and Road Map
The first thing to know is that tourism is a big part of Kashmir's economy; probably the biggest. A common man here depends a lot on tourism and will do their best to not disrupt a steady source of income. In a trouble stricken state where there are not many job opportunities; people wait for the tourist season to begin and suffer heavily if there is a decline in the annual footfall. Whatever it is they are angry about, a local Kashmiri will always ensure to not let a tourist get hurt because of it. Places that are popular as tourist destinations like Gulmarg, Sonamarg, Pahalgam, Yusmarg never really get affected by any violence.
Most of the protests and agitations most of the times are usually centered around Srinagar city. Even in Srinagary, you never will hear about any stone pelting incidents near tourists spots like the gardens or the lakes. Thousands of people including both Indians and foreign nationals arrive at Kashmir each year. Some visit just the Kashmir valley while others travel towards Kargil and then Leh. People even rent motorcycle and taxis from Srinagar for their trip so no, you will not be the only tourist in the city; and not the only person stuck if something goes wrong.
How safe is Srinagar Leh Highway
To answer this question, you will have to consider two sides of it. First one is that you just arrive in Srinagar City, stay for the night and be on your way to Ladakh the very next day. The second is that you want to go to Leh but first want to visit a few places in Kashmir valley as well.
Also read: Guest Houses & Hotels on Srinagar Leh Highway
If yours is the first case and that you have no intention of staying in Kashmir, then I will say that Srinagar Leh highway is quite safe. All that you need to do is to keep a check on the news. If there are news all over of ongoing protests, curfews, shootings etc then do not head towards Srinagar. I am not talking about the usual and regular protests that happen here on almost daily basis. I am referring to situations when it all sometimes gets way out of hand and a curfew is imposed. In case you are hearing any such thing in the news, then best to avoid Kashmir valley altogether.
If there is no such major incident in the news then it is quite safe to plan a journey on Srinagar Leh highway. If staying at Srinagar makes you nervous then you can head straight towards Sonamarg and stay there for the night. It is merely 2-3 hours of journey at most.
Safety of Srinagar to Leh route and Kashmir Valley
Now let us talk about when you want to do some sightseeing in Kashmir as well; either before heading towards Ladakh or while on your way back from there. What you must know is that things can change in Kashmir overnight and there is really no one who can tell you with guarantee that nothing will ever go wrong. There have been a few incidents in the past when a few tourists got caught in between and were hurt during stone pelting. To ensure this does not happen to you, I would recommend that you follow the below mentioned tips.
Stick to Major Tourist Destinations
Everyone loves to visit offbeat destinations, places that are not crowded and less visited. When it comes to Kashmir however, it is a really bad idea. Stick to main tourist places like Gulmarg, Sonamarg, Pahalgam, Aru Valley and Yusmarg etc. It is best to not plan a trip towards offbeat destinations like Doodhpathri or Bangus Valley. You actually need a permit for these two places and it is quite difficult to obtain one. Anantnag and Shopian are two more places where you often hear of violence erupting so it is best to avoid these as well.
Also read: Srinagar to Leh Bus Service: Fare Schedule and How to Book
Do not Wander
Even during your stay in Srinagar, do not wander towards areas like Lal Chowk or Old Srinagar city; areas where you have no business to be. Curfews and stone pelting incidents happen majorly towards this side of Srinagar and there is really nothing for you to do here. You will really not find any agitators, protestors near tourists spots so restrict yourself from wandering away. Do not go exploring in the city.
Trust Your Driver and Get a Good One
This will apply if you hired a local taxi and driver in Srinagar city. There will not be any violence at tourist spots but curfew usually gets imposed all over the city. If that happens that there will be road closures and traffic delays. In this case, your driver will come to the rescue; avoiding violence struck routes and getting you to safety. As I mentioned above, Kashmiris ensure safety of tourists so your driver will then take it on him personally to get you to a safe place. Being a local, he will also be able to talk out of a situation if you got in to one.
Stay at the Hotel
If there is any curfew or problem in the city, stay inside your hotel until things calm down. As long as you are in your room, there will not be any trouble at all. No one will come breaking doors to drag you out, that never happens.
Be Prepared for No Phone and No Internet
The first that happens in the valley in times of violence is a total closure of internet services and sometimes even all telecommunication services. When you plan a visit to Srinagar, you need to be mentally prepared for this. Landline phones however remain operational so you can use those to call your family.
Also read: Srinagar to Leh Travel Time and Suggested Itinerary
Carry Some Essential Medicines
As a precautionary measure, carry some essential medicines like for cough, stomach ache, headache, cold etc. If a curfew is imposed, even medical stores will be shut down.
Keep Buffer Days in your Itinerary
This is of extreme importance. When you go to Kashmir, you must have at least 2 days as buffer in your overall plan. This is just to make sure that if you got stuck somewhere, there will really be no harm done back home because of your delay. If everything went smooth, then you may stay in the valley for 2 days by choice or just come back home.
Have a local Contact
No I do not mean that you have a friend or family member in the city. But if at all possible, go with a local travel agent or at least hire a local driver. This way, if anything goes wrong, you will not be all on your own and will have at least one local contact to help you.
Also read: ATMs, Mechanics & Petrol Pumps on Srinagar Leh Highway
Is Srinagar Leh Highway Safe
So yes, traveling on Srinagar Leh highway is completely safe as long as you stick to main tourist spots; keep yourself away from troubled areas and follow the above tips I mentioned above. With all said and done, I will also like to add that I am not a Kashmiri. I live in New Delhi and have never lived in Kashmir ever. Whatever I shared here is based only on my own travel experiences.
If you have any other tips that can be of use to fellow travelers please do comment and share. If you have any further questions; please feel free to ask in the comments section below or at our Community Forum; and I will be glad to answer.